19 Simple Henna Designs: All the Inspiration You Need for the Upcoming Wedding Season
From intricate flowers to bold patterns, get inspired by these unique, simple henna designs and celebrate your Mehndi with your loved ones in style!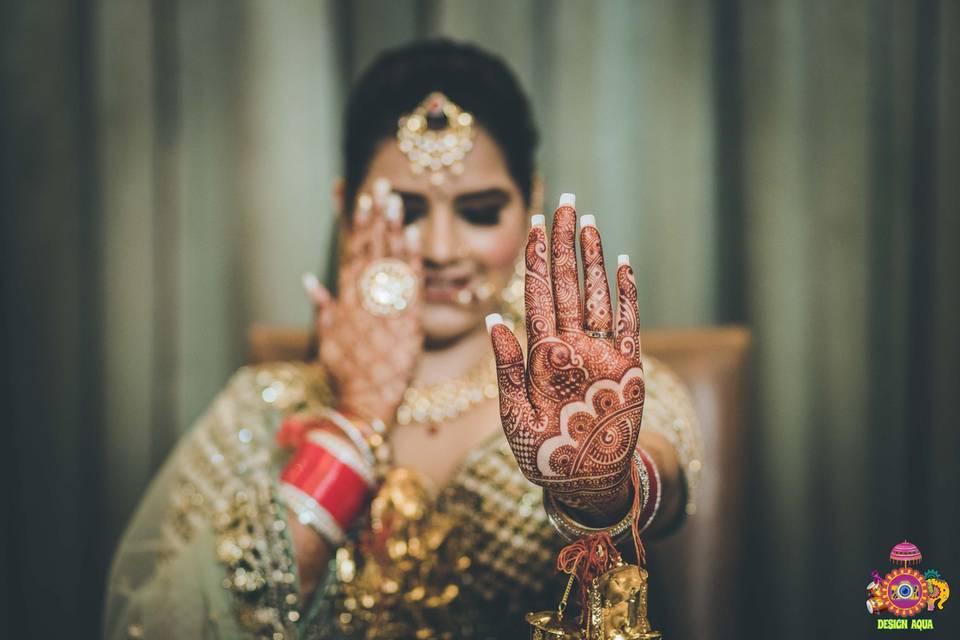 The Mehndi is one of the most fun and colourful ceremonies of an Indian bride's wedding. It's chockful of good times spent with loved ones. This ceremony also holds a lot of historical significance and is synonymous with happiness and positivity. The paste used in the henna is said to calm the bride before her big day and bring her good luck.
Mehndi designs have only become more creative in recent years as brides experiment with new patterns and motifs. Here are a few simple henna designs to give you some inspiration for your bid day.
1. Flowers and birds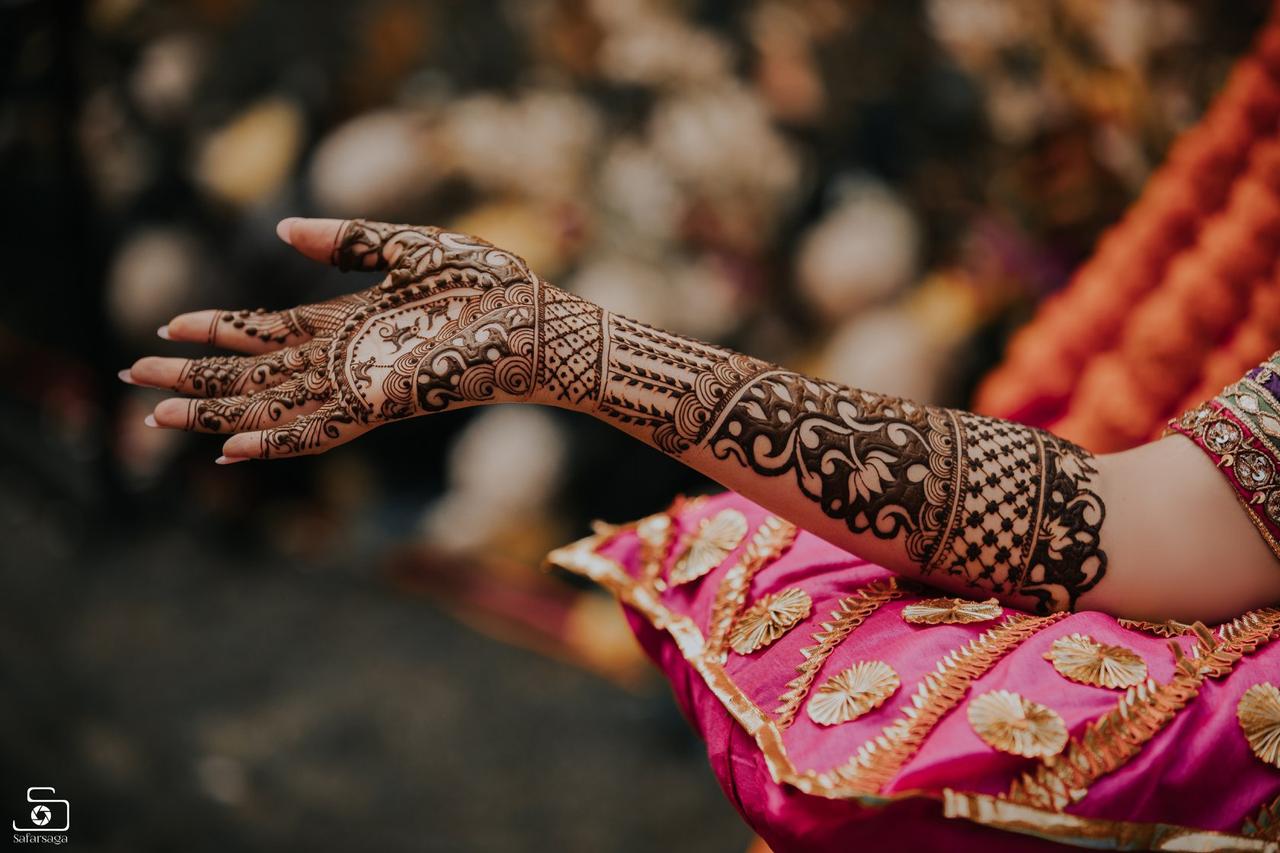 Mixed motifs are a mehndi favourite and this design features patterns of all shapes and sizes. From lotuses to leaves and a row of birds, this mehndi pattern has all the classic designs. This mehndi design plays with bold and light strokes to create a stunning masterpiece.
2. Diamond Diva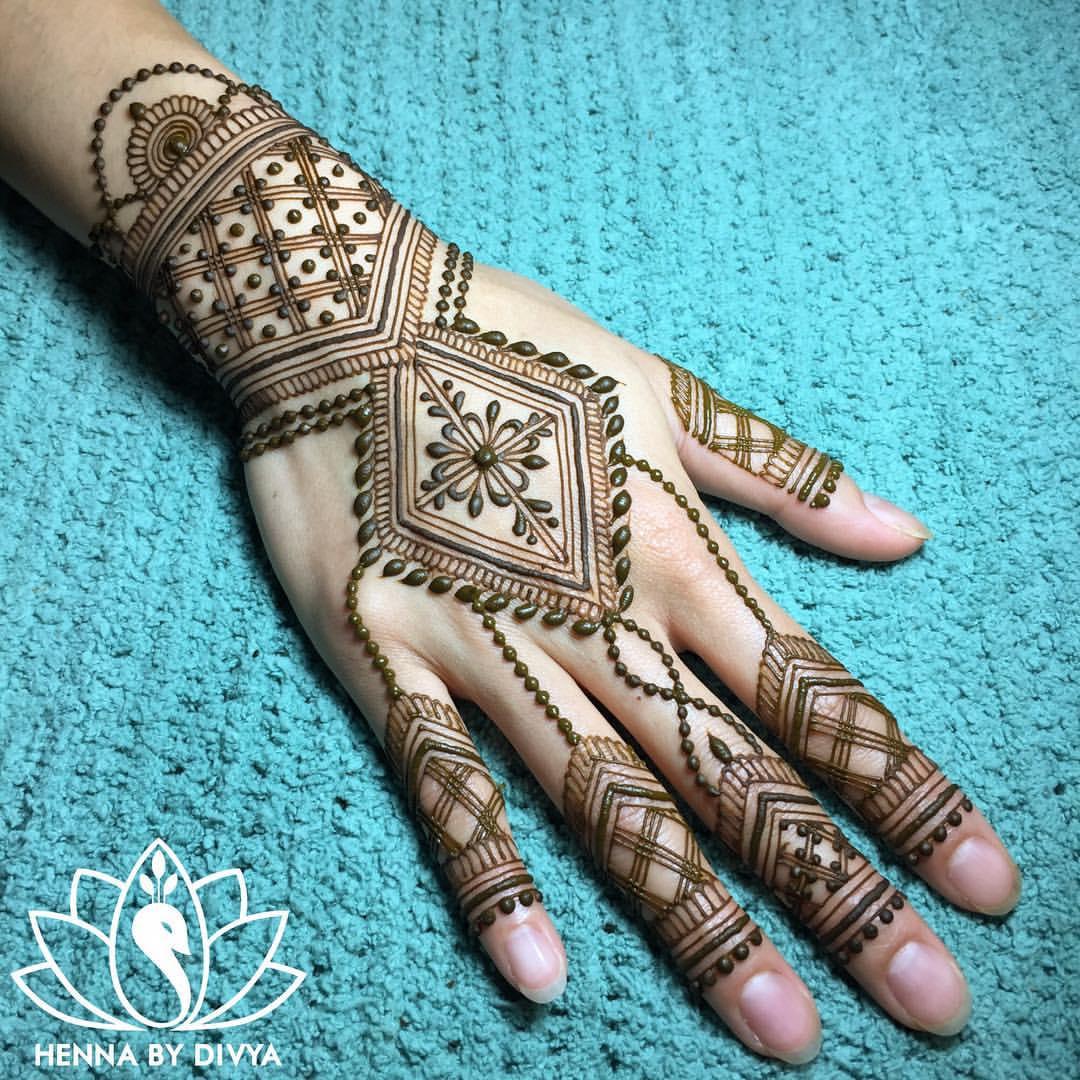 Image Courtesy: Henna By Divya
Shine on your wedding day in this beautiful diamond pattern. The centre of the backhand features a stunning flower-bordered by a dotted diamond. This pattern is imitated across the hand and enhanced with some circle motifs and double lined for added effect. This design strikes a balance between simple and grand.
3. Going in circles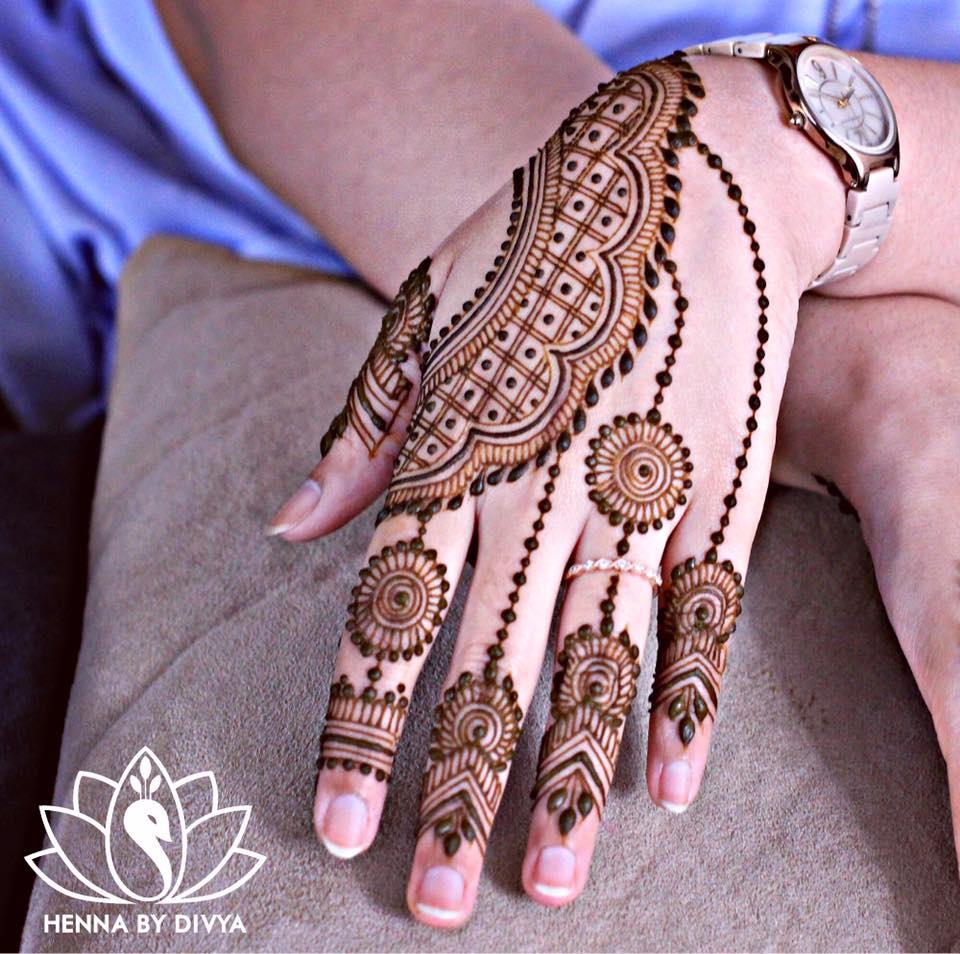 Image Courtesy: Henna By Divya
Get creative with circles in this minimal yet stunning mehndi design. A trendy crisscross pattern with dots lines one side of the backhand that is connected to the fingers with a beautiful circular pattern. If you are going for a cool and edgy mehndi design, this one's for you!
4. Floral minimalism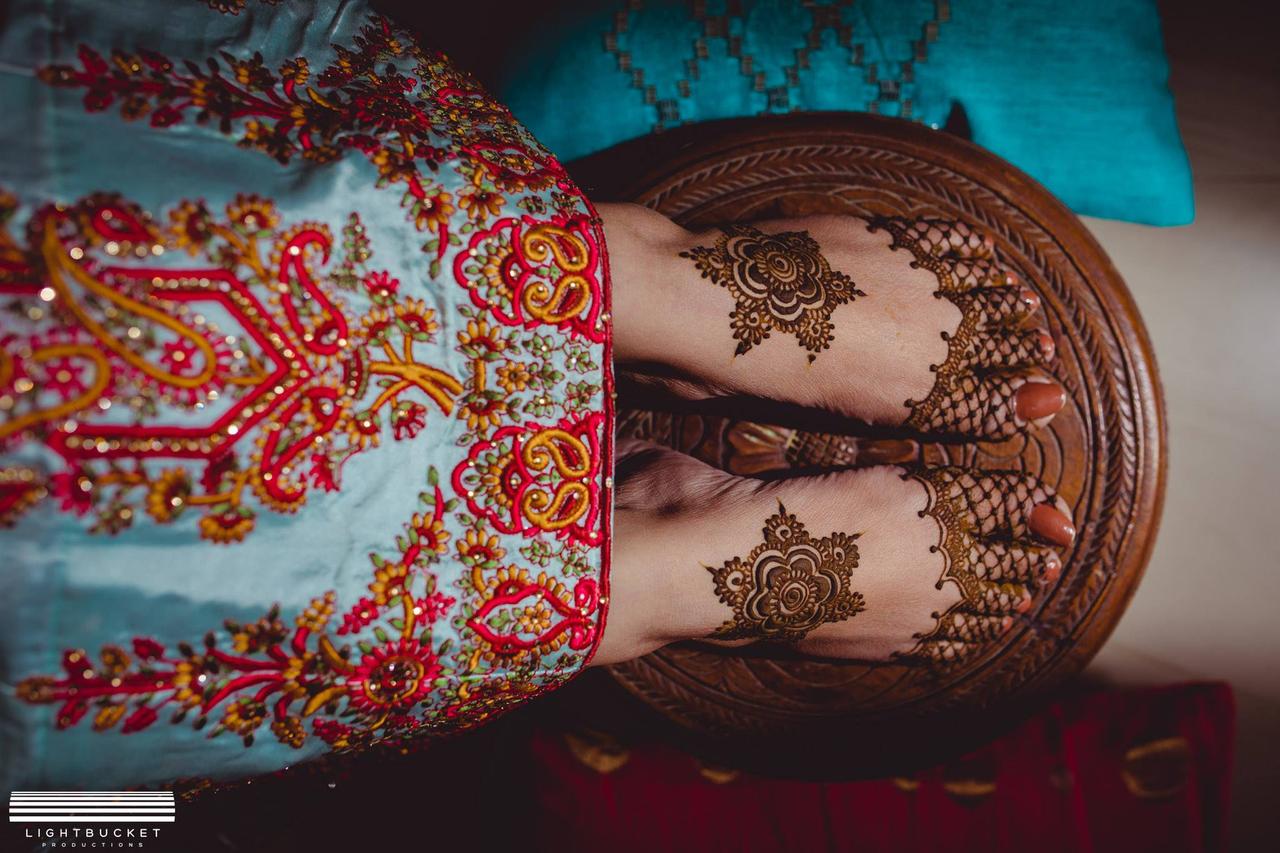 This intricate floral pattern is a must for all the minimalist brides out there. A simple but elegant floral design covers the center of the foot. This is enhanced by a netted design on the toes. When your mehndi dries up, the effect of the orange design on your foot will look spectacular. Match the nail polish on your foot to your bridal lehenga to complete this simple henna design.
5. Rani Raja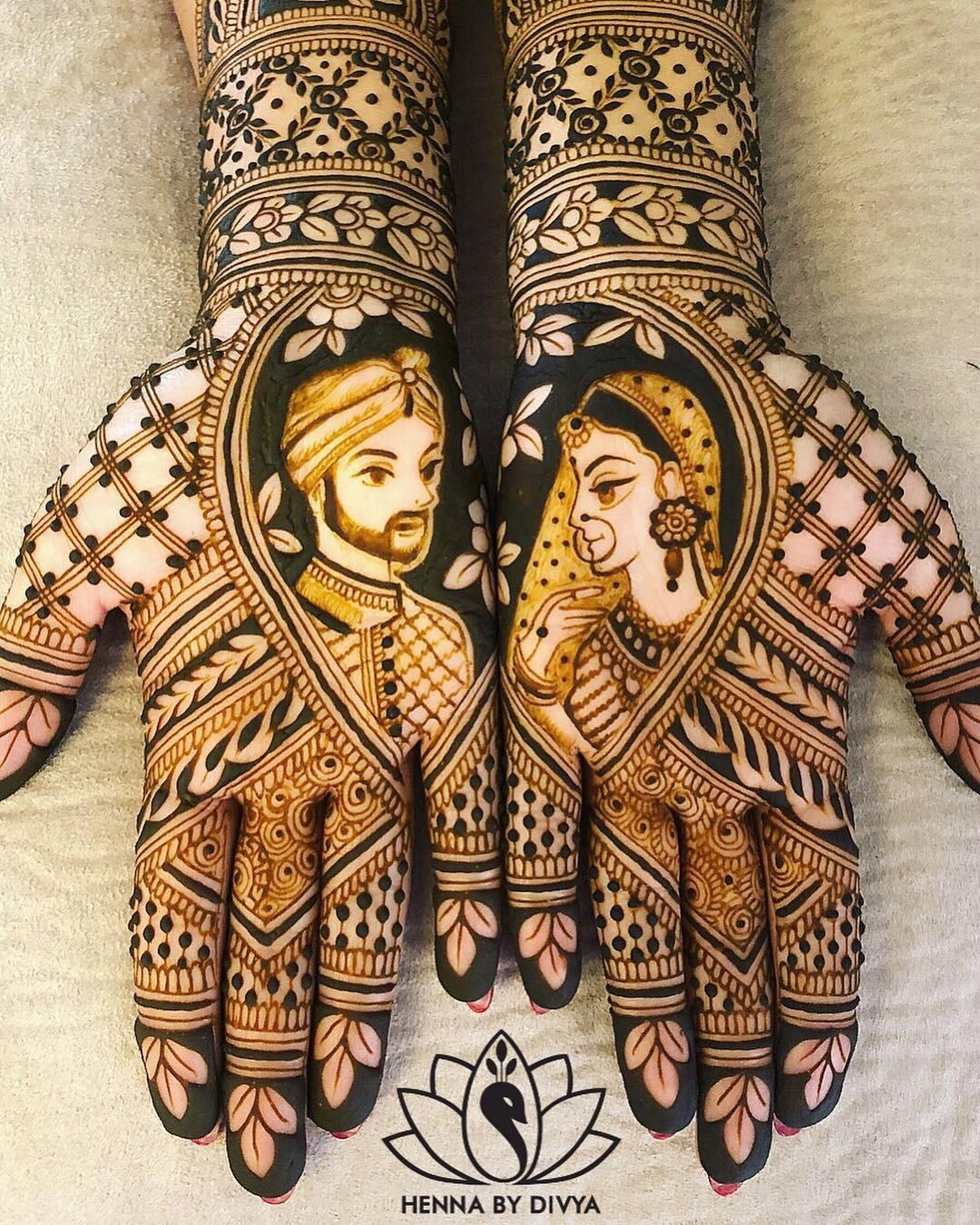 Image Courtesy: Henna By Divya
The Rani and Raja designs are usually very elaborate and cover the bride's hands right up to the elbows. If you want this get this look with a more minimalistic pattern, check out this beautiful rani and raja design that creates a picture worthy moment when you put your hands together. The intricacy achieved even in such simple henna designs is impeccable.
6. Mixed patterns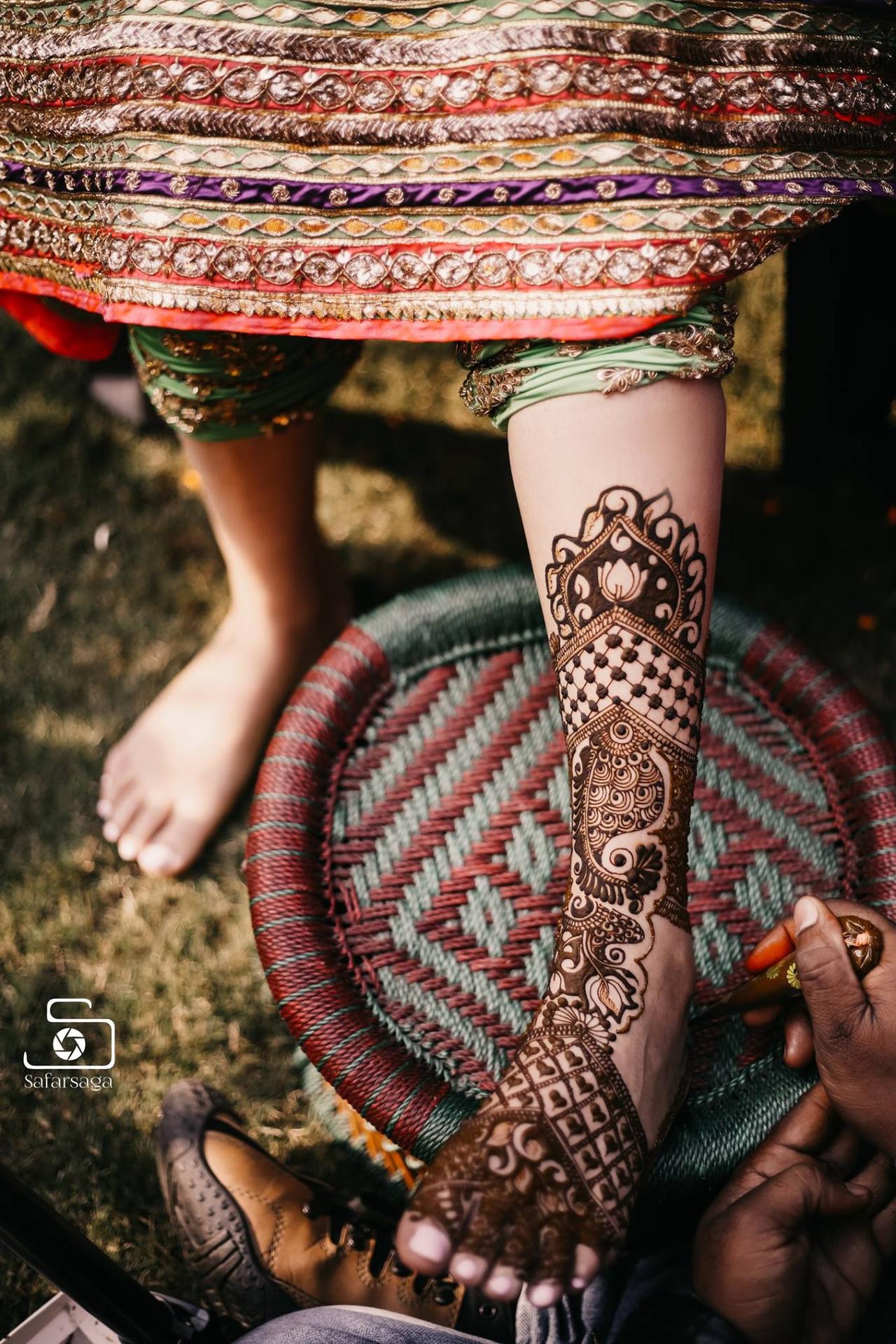 Go all out with such simple henna designs as this one; a mix of beautiful floral and heart-shaped patterns. The design includes a stunning lotus pattern and a zig-zag pattern embedded with hearts. This rich, traditional mehndi element is a must-try in your modern bridal mehndi for that cosmopolitan look.
7. A love story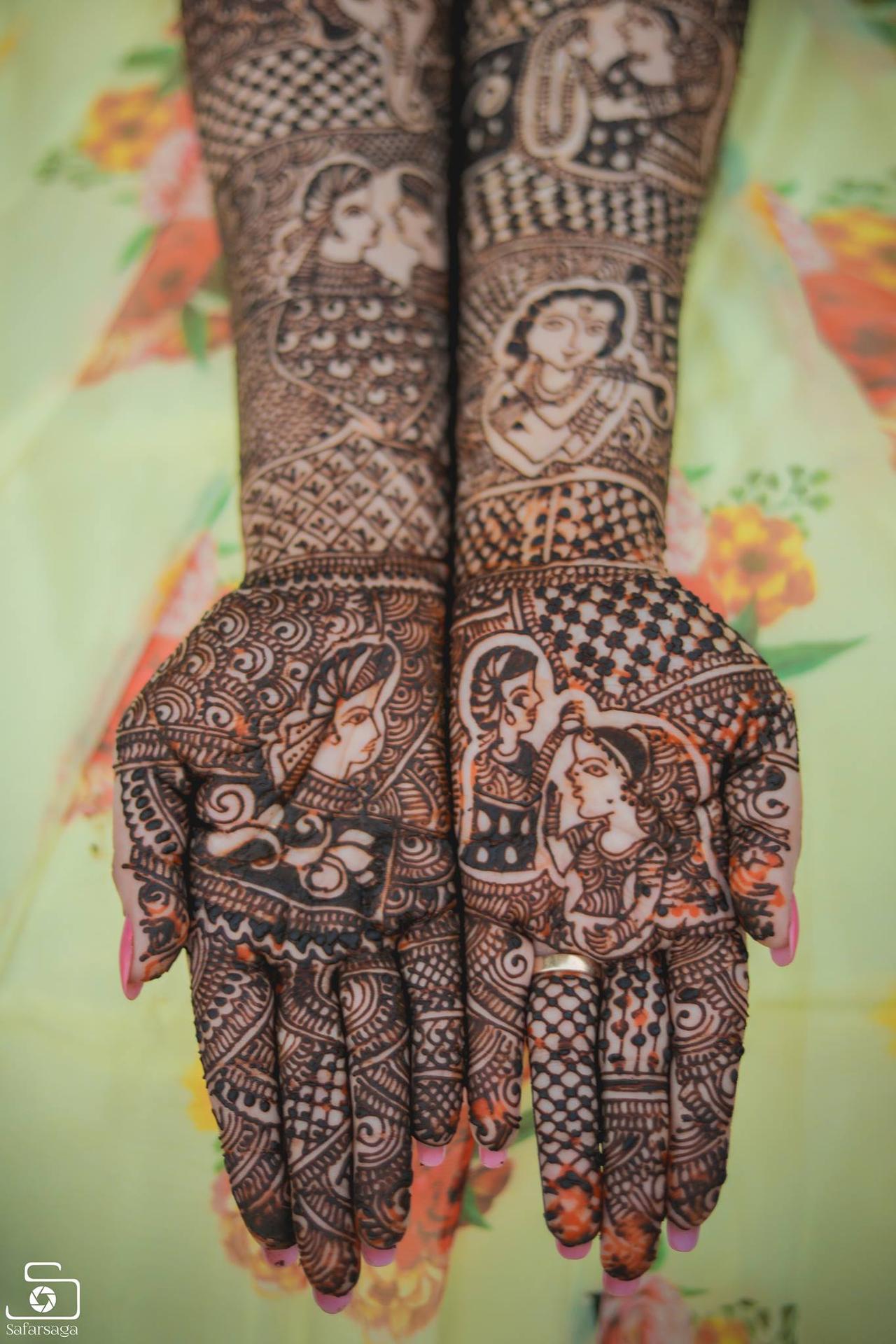 Let your mehndi design tell a story with this beautifully crafted henna design. The pattern features a Rani and Raja at different wedding ceremonies depicted on various parts of the hand. Celebrate your Mehndi with this fun and unique design.
8. Crisscross pattern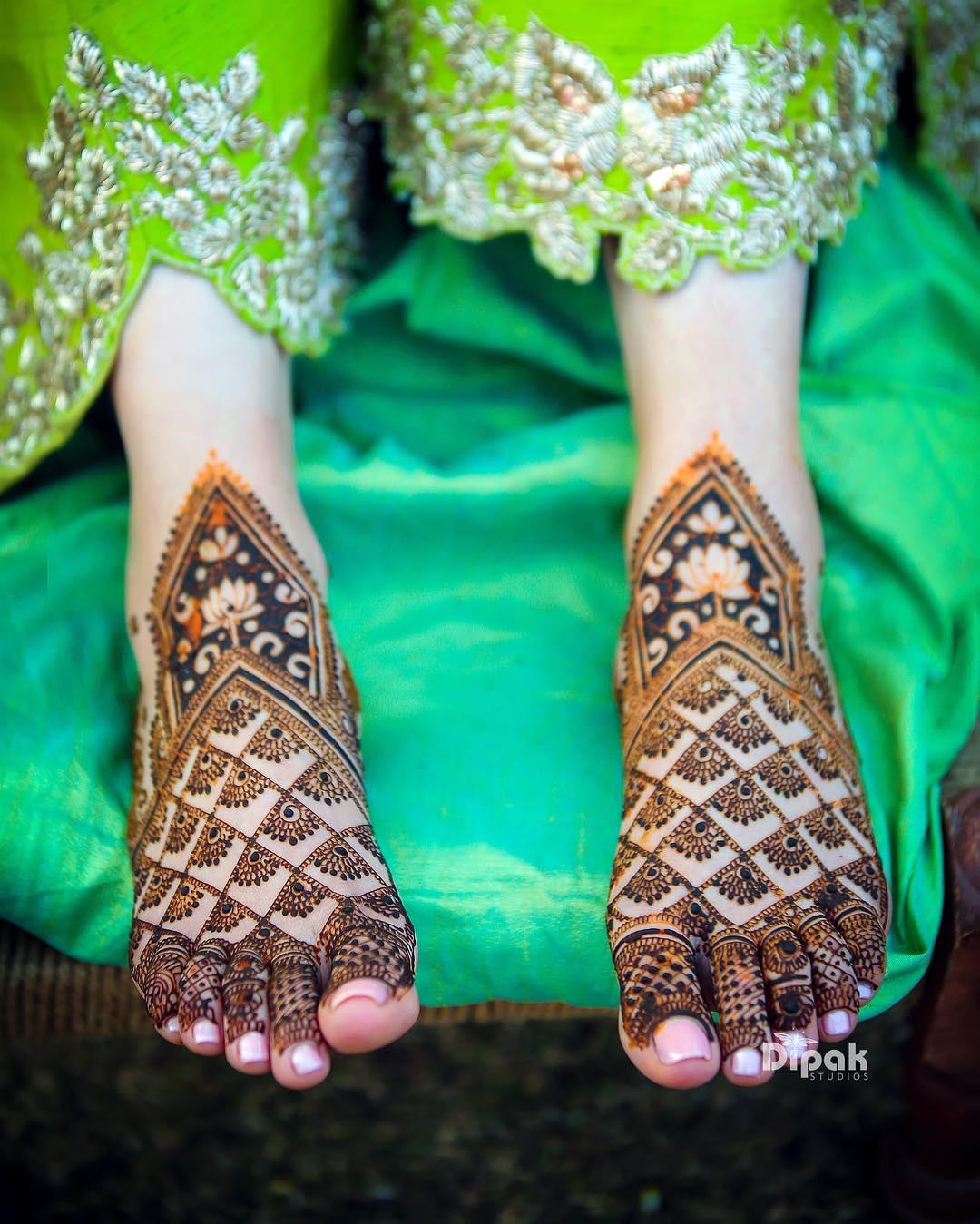 We are loving this aesthetically pleasing crisscross design with floral motifs. The upper part of the foot features a lotus flower that enhances the beauty of the mehndi design. The toes show a variety of zigzag patterns that add a unique touch to this elegant design. One of our favourite leg mehndi designs indeed.
9. Curvy patterns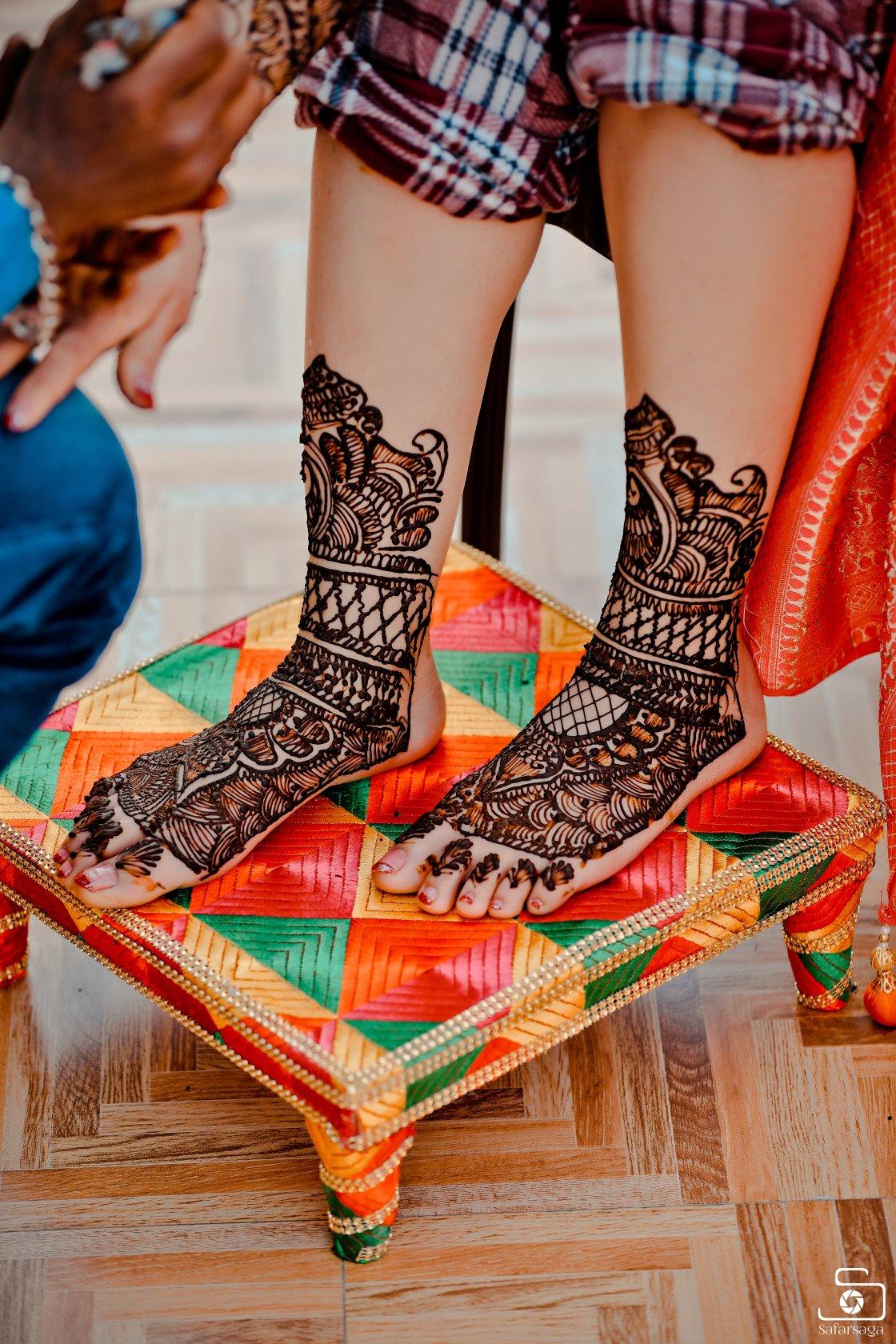 If you prefer a fancy mehndi pattern, this design is the one for you. Complete with arched design elements and a crisscross netted design, this pattern exudes festive vibes. This pattern is a labyrinth of circular strokes that's fun and festive.
10. King and Queen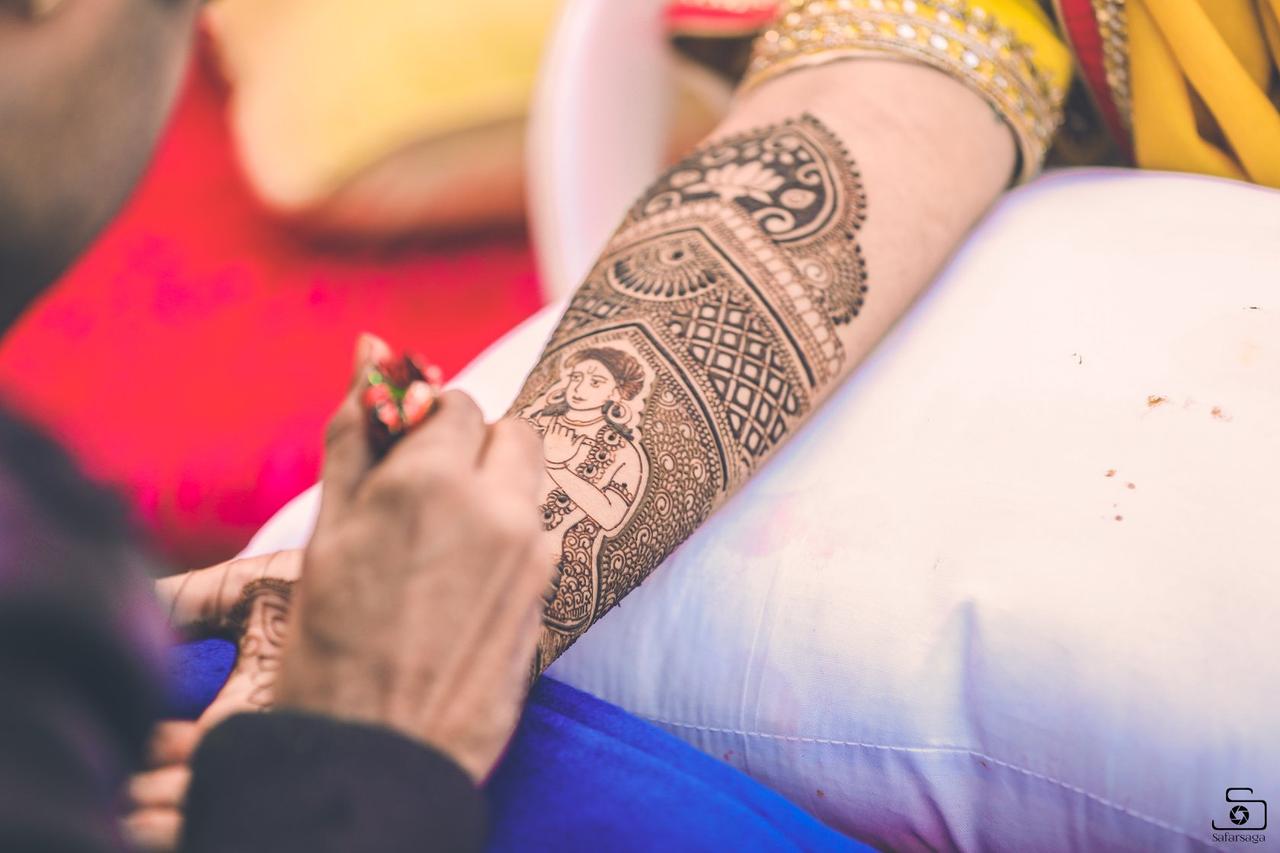 You can't beat the craftsmanship of this incredible pattern. The design incorporates numerous motifs and the amalgamation of these various designs go really well together. This design is a real piece of art replicated on the hand.
11. Minimalist pattern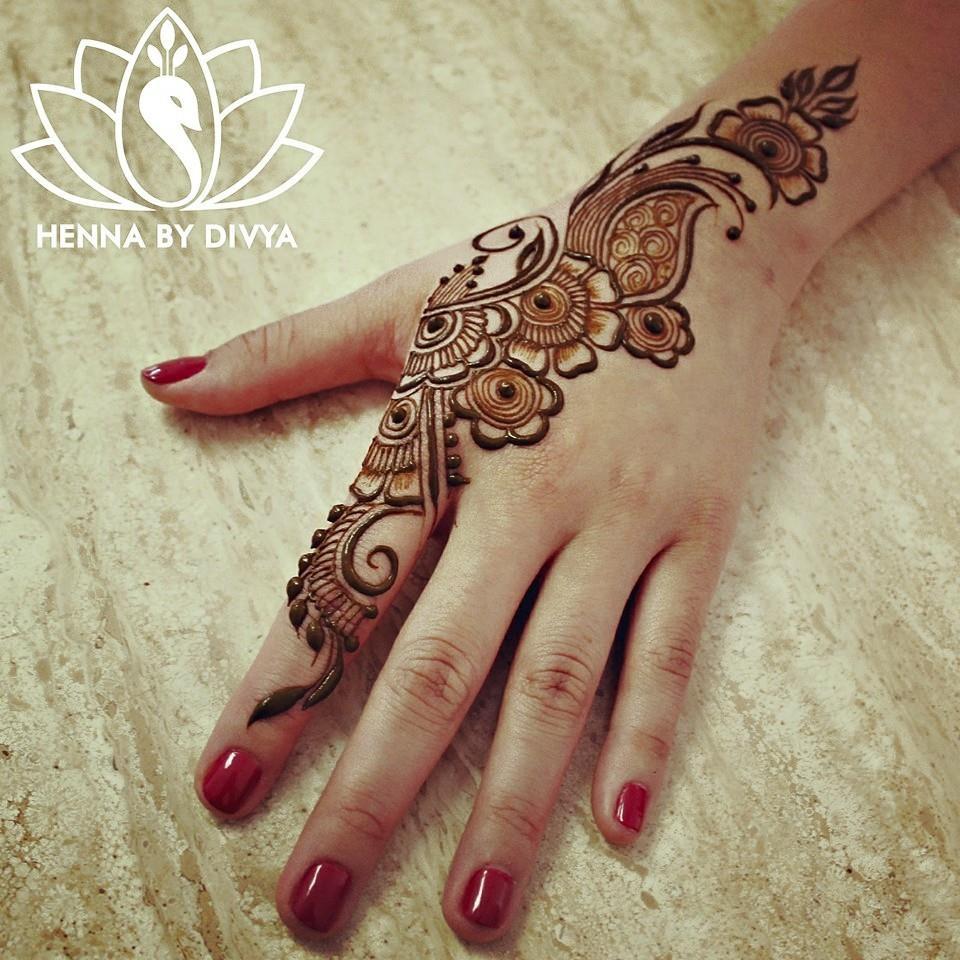 Image Courtesy: Henna By Divya
Such simple henna designs are great if you are going for a minimal, modern look. This classic floral motif goes across the hand features various designs and patterns is a favourite among many because it allows you to participate in all the mehndi games while keeping your beautiful mehndi intact.
12. Mandala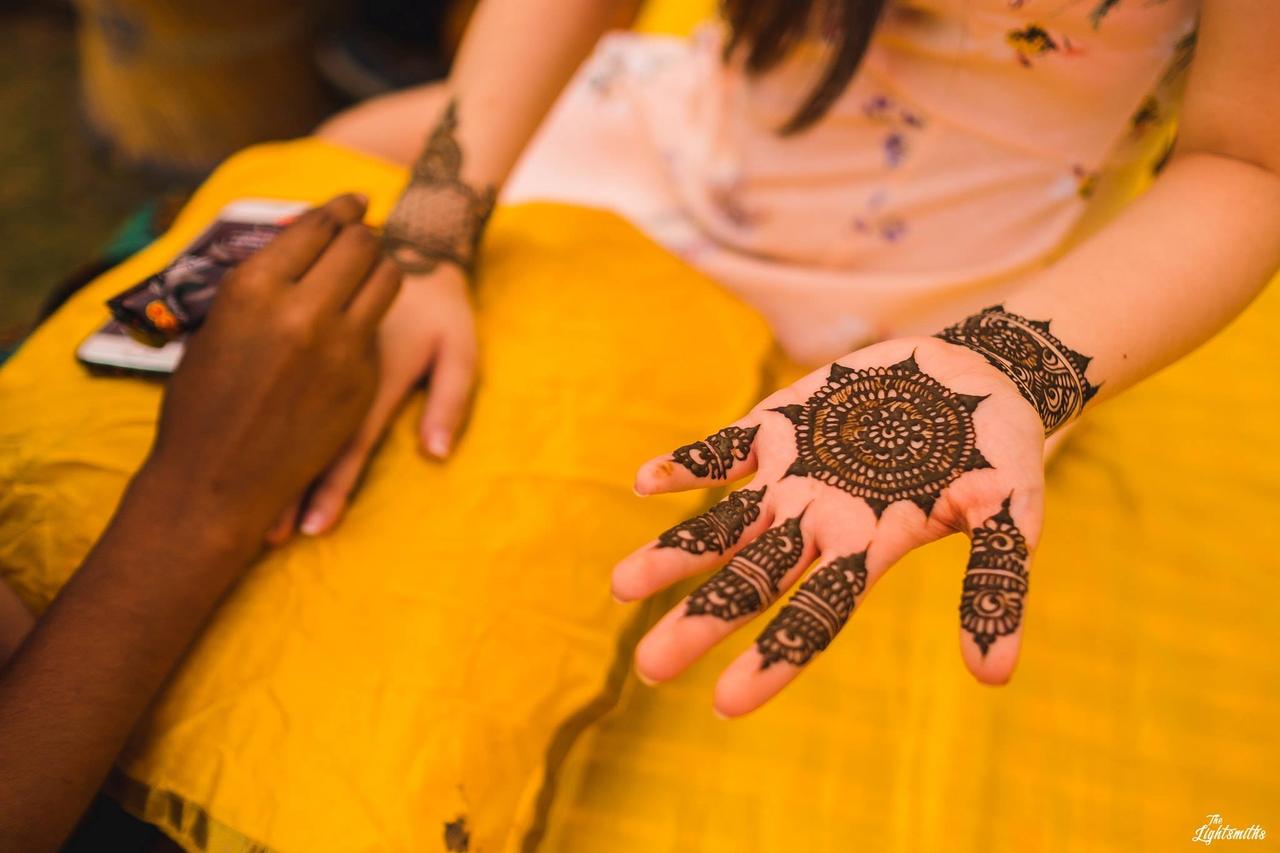 Create a beautiful and impactful mehndi design with this mandala pattern at the centre of your palm. This is enhanced by a funky motif on the fingers and hands. This adds a modern twist to the traditionally simple henna designs. You can try this out if you're not in the mood for something too elaborate.
13. Peacock feathers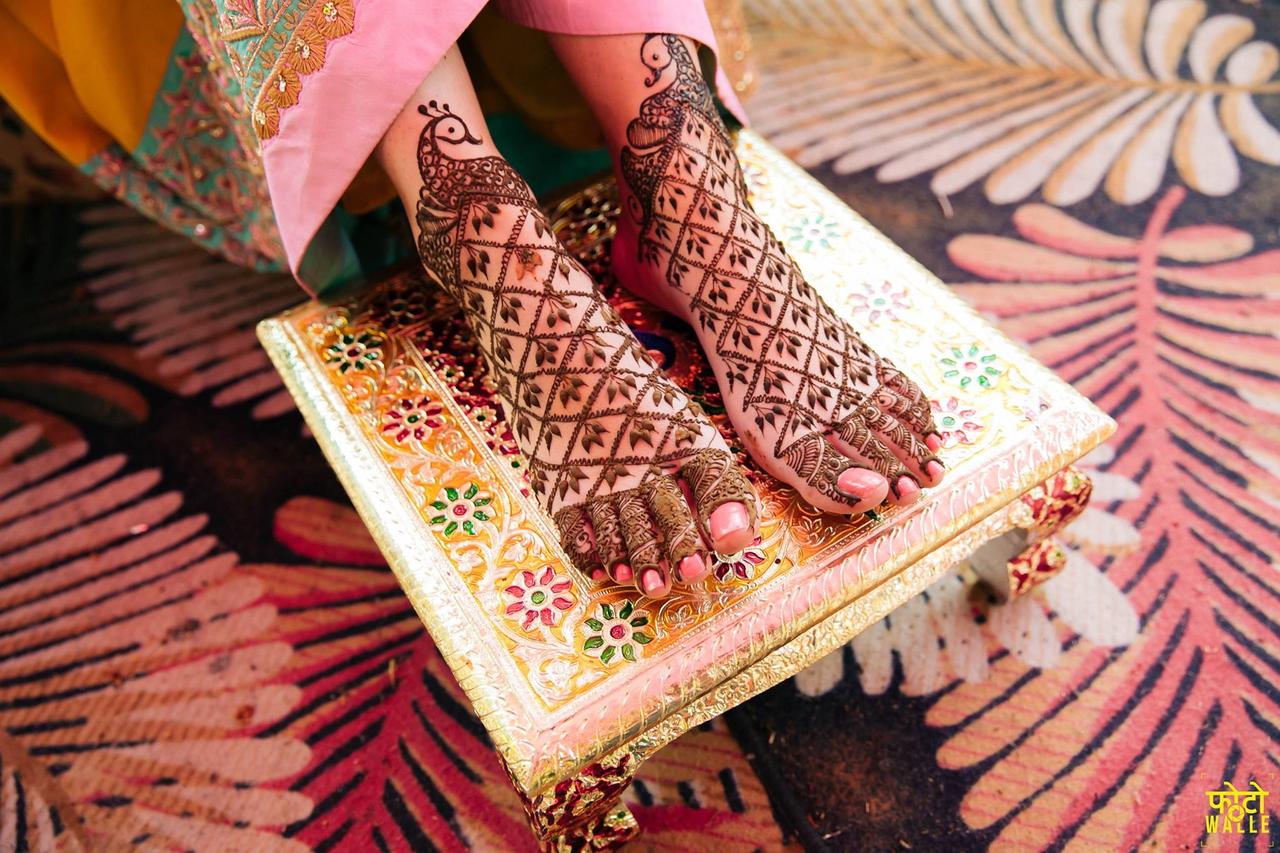 This totally unique mehndi design is must-try for all brides. The design starts at the ankle with a beautiful peacock head with its feathers spread in a beautiful leaf motif across the foot. You can mimic similarly simple henna designs on your hands as well.
14. All in the details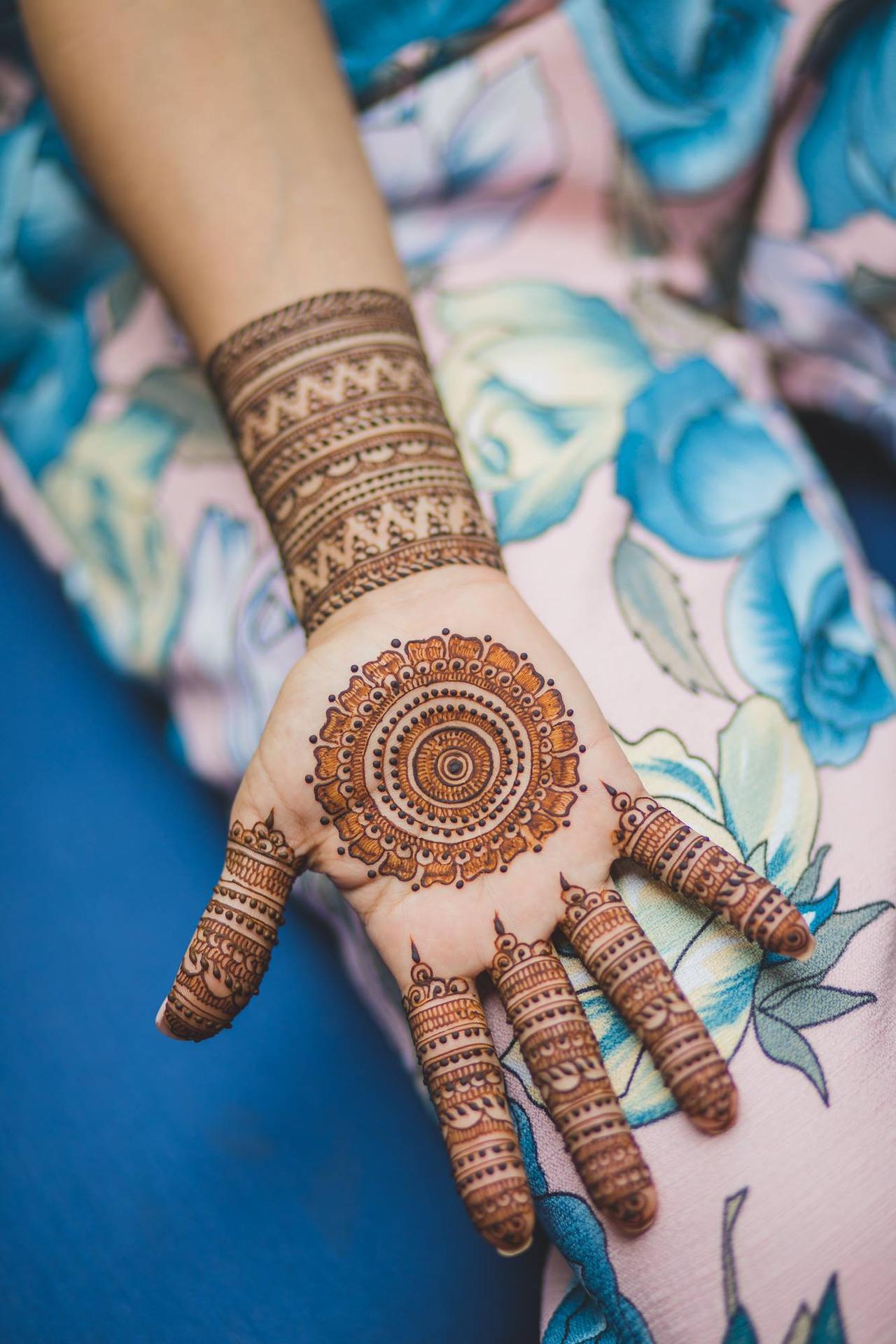 This specimen of simple henna designs takes the previous pattern a step further and adds more intricacy to the mandala. This incredibly versatile, aesthetically pleasing design and will go well with any outfit and look great in pictures.
15. Jewellery patterns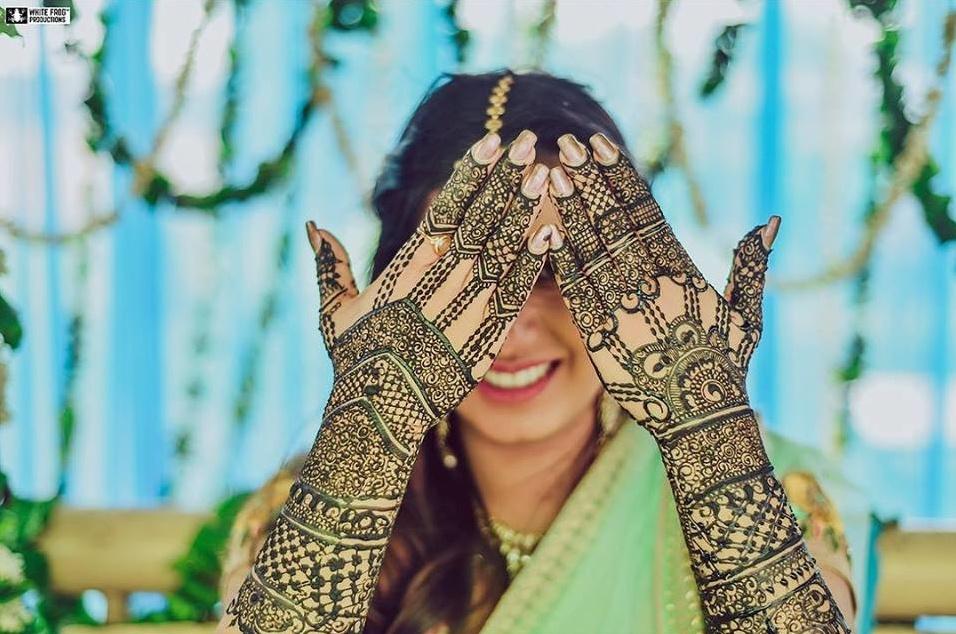 When it comes to your mehndi design, it's really a matter of going big or go home. This full hand mehndi design includes various designs and patterns that have been drawn to perfection. With this stunning design, your mehndi is all the jewellery you need!
16. Floral union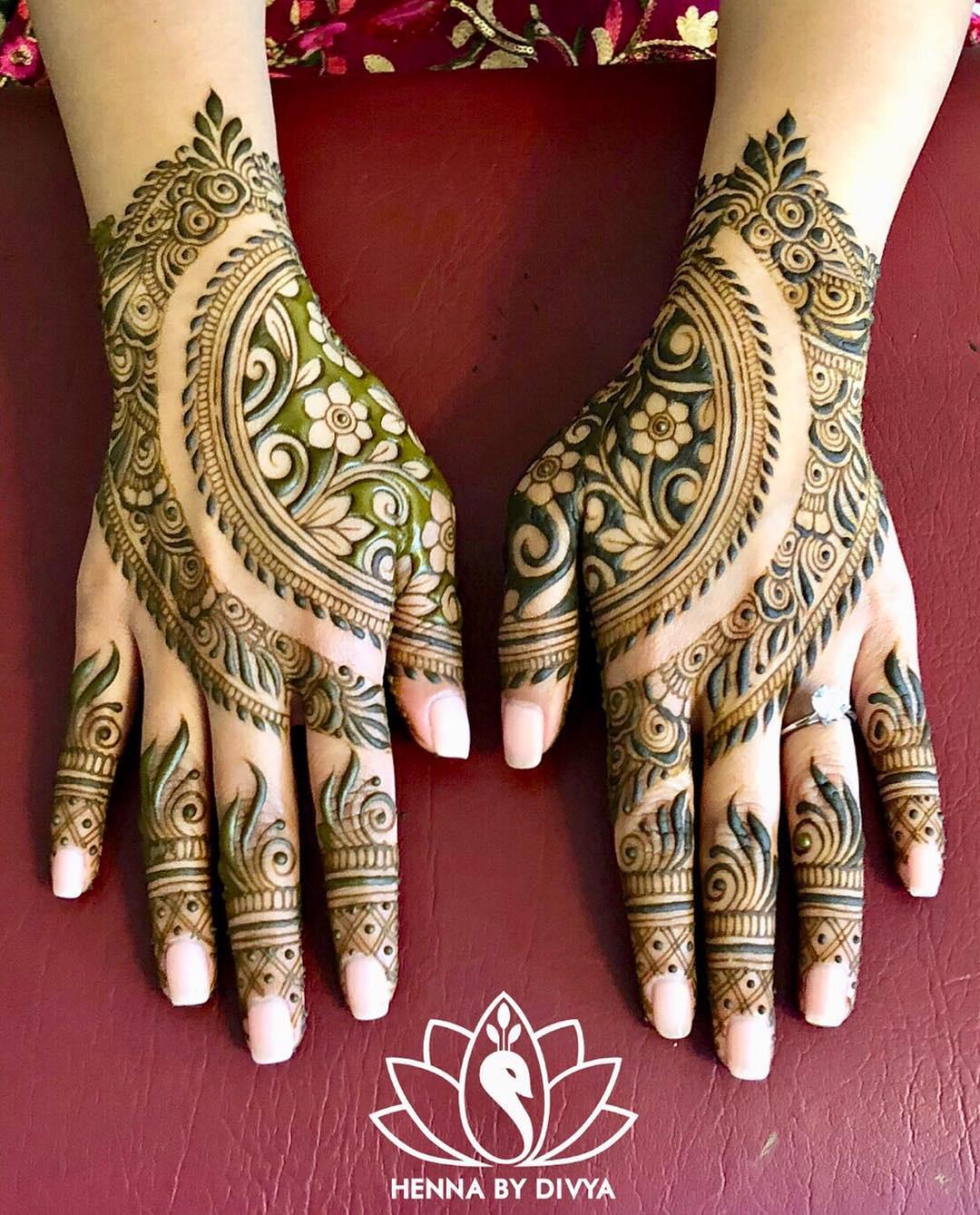 Image Courtesy: Henna By Divya
This beautiful yet simple henna design has an elegant floral pattern that is mirrored on both hands. With both hands put together, the design forms almost a full circle. This unique design is enhanced with a combination of motifs on the fingers.
17. Beautiful birds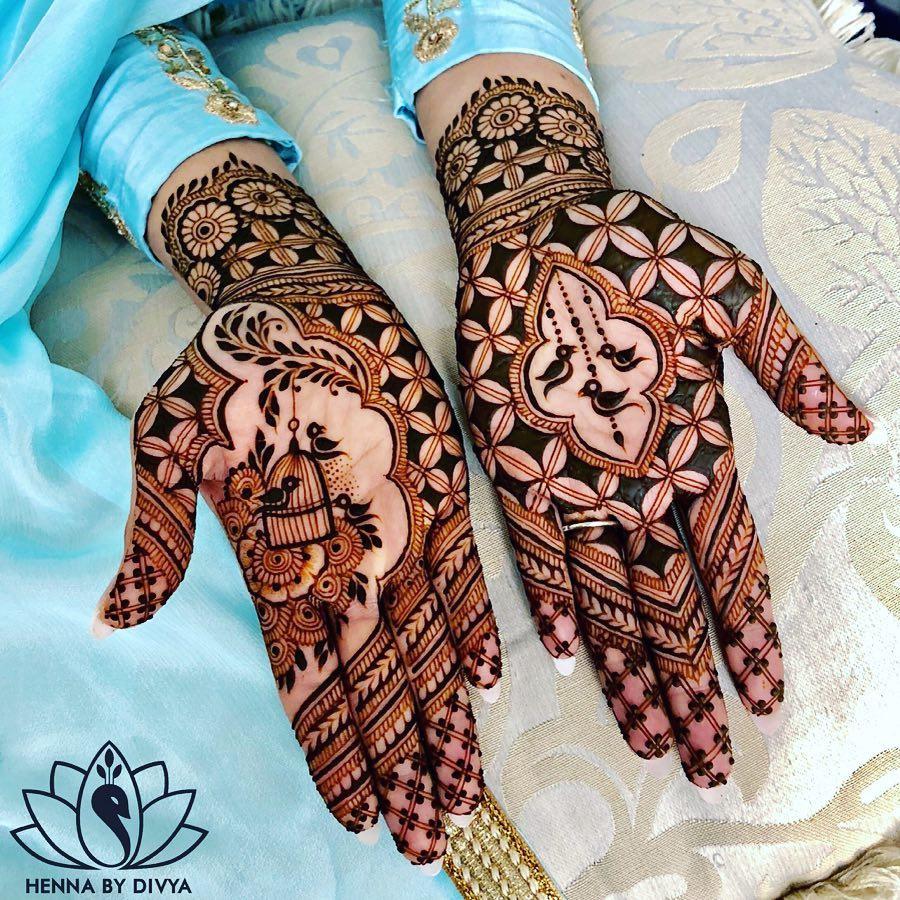 Image Courtesy: Henna By Divya
This stunning design contains two beautiful bird patterns on each palm. The design incorporates both thick and thin strokes with the different patterns that surround the depiction of the birds. The floral motifs on the wrists add to the appeal of such simple henna designs.
18. Elegant patterns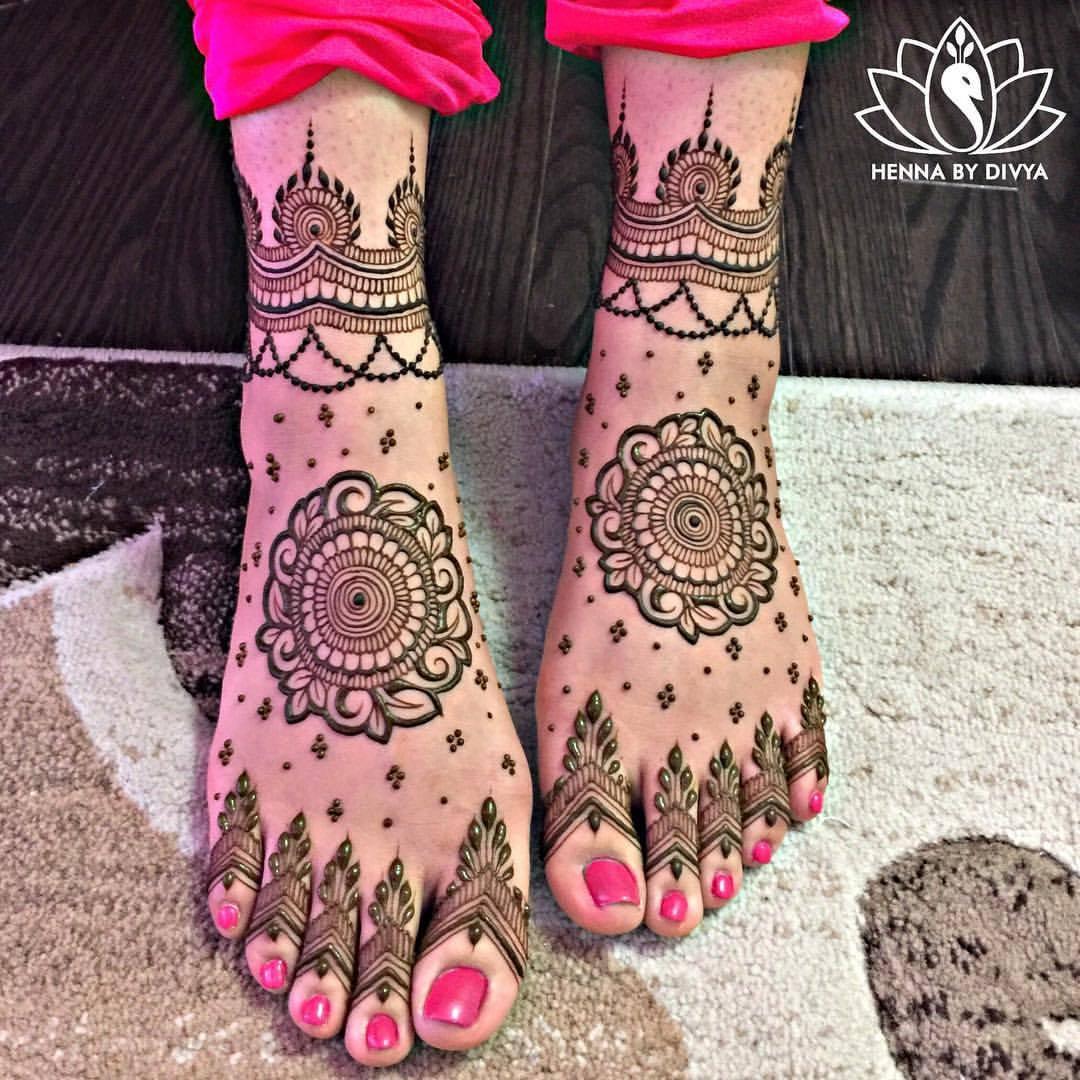 Image Courtesy: Henna By Divya
Unique mehndi designs aren't just for hands, check out this beautiful pattern that looks like anklets on both feet. Such simple henna designs are perfect for the traditional Indian bride as it features a combination of floral, lined and dotted patterns.
19. Pretty peacock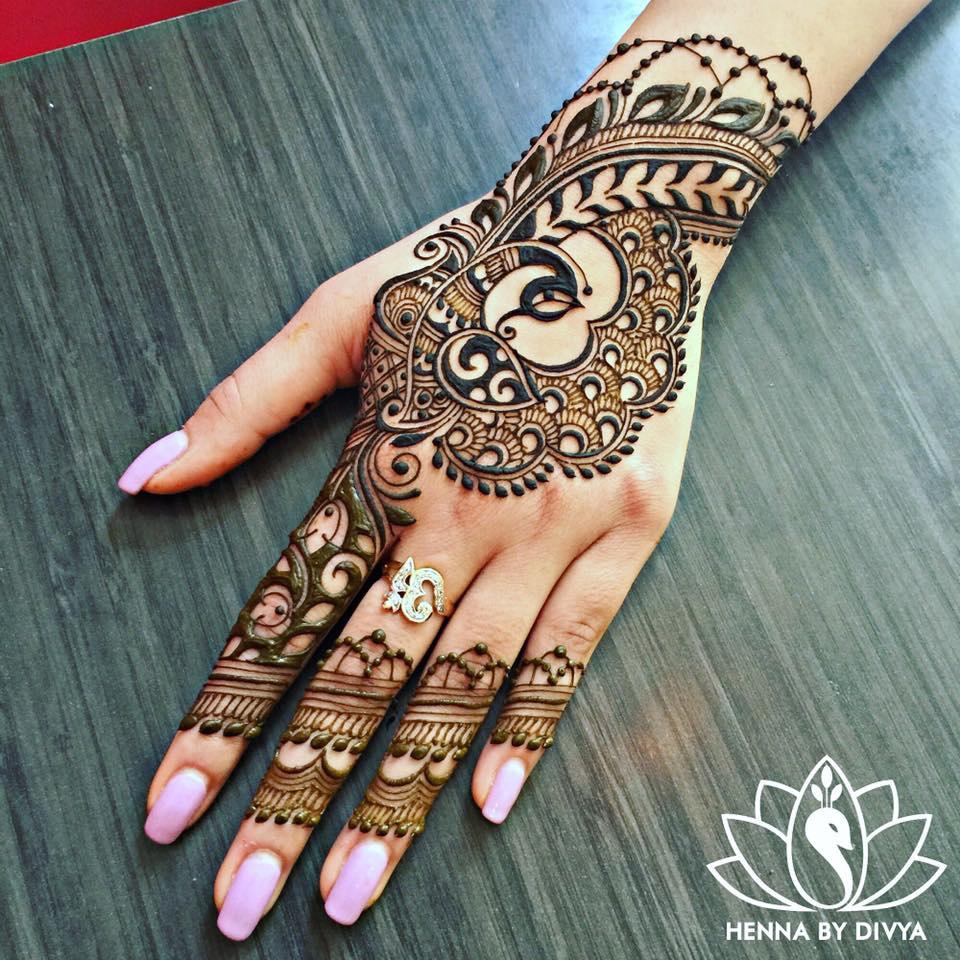 Image Courtesy: Henna By Divya
There are many unique patterns you can try with mehndi designs but you can't go wrong with a classic peacock. Simple Henna designs using this motif turn out as both elegant and trendy. The feathers of the peacock fan out beautifully across the hand and are connected to an intricately lined pattern on the wrist. This design is totally Instagram worthy.
No bridal look is complete without a mehndi design and the sky is the limit when it comes to choosing the pattern you want. Brides have become more creative when it comes to what they want their designs to look like as it is a great way to express their individuality. Use the simple henna designs shown above to inspire you to create your own signature pattern. Celebrate your Mehndi in style with these unique patterns before your big day!
Have any more simple mehndi design ideas? Let us know in the comments below!