The Freshest Wedding Dance Songs From Bollywood
Add these songs to your sangeet performances playlist and get set for the most enjoyable party of the year!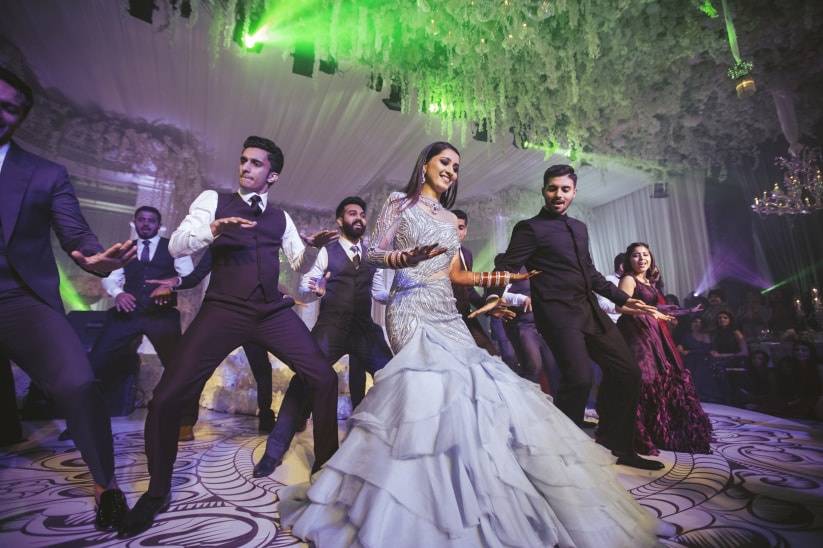 The wedding season is here in all its glory, which means it's time for the entire squad to get together for sangeet dance practice sessions! As anyone who's ever performed at a wedding would tell you, these practice sessions are the most enjoyable part of every wedding and will leave you with memories (and videos) that you'll value for the rest of your life. In fact, the Sangeet is almost healthy competitions that are fuelled by the urge to be better than the groom's or bride's side of the family. Cheating? Copying dance steps? Working on unique dances? All of these are just a smaller picture of the ultimate fun that is in store for you when the music turns up in the venue and you start with the Thumkas.
Even crazy discussions about the bridal lehenga, wedding invitations and wedding decor happen here. Luckily, Bollywood loves weddings just as much as we do, and gives us awesome Hindi wedding songs every year. Each year and in fact, year after year there is one song that is played in almost every wedding and it becomes an evergreen number to groove to. Dancing is very much essential part of the ceremonies as it is of the fun. Refer to our curated playlist of top Bollywood wedding dance songs and get-set for a rocking sangeet night!
Wedding Dance Songs For the bride and the bridesmaids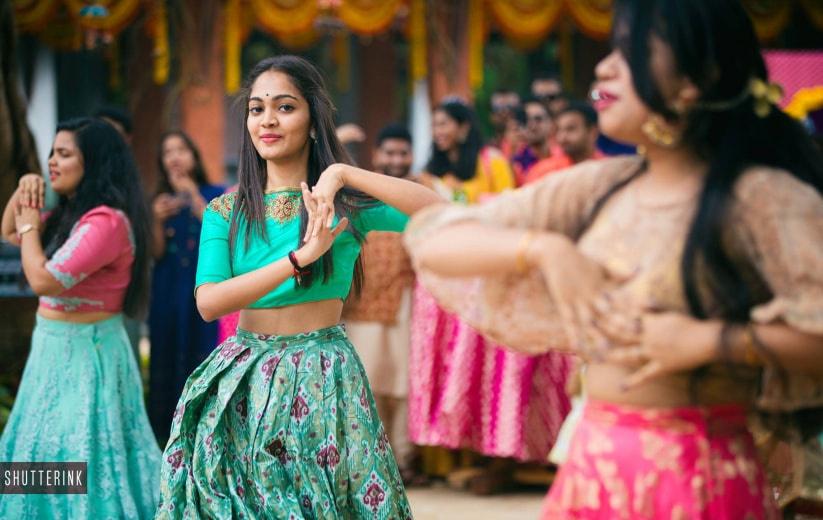 The bridesmaids' dance is the most glamorous performance of the night with lots of twirling girls showing off their best dance moves to some chirpy wedding songs. We suggest starting the night with this one because our lovely bridesmaids know how to get the audience's attention. From classy to dhinchak, we have wedding dance songs for all kinds of bride squads. What do you pick?
1. Laung Gawacha
Here, the groom's sisters take to the stage on the Nucleya reprisal for the hit number, choreographed by Lachak Choreography.
2. Lagdi Hai Thaai (Simran)
If you want ideas for a Lagdi Hai Thaai dance performance, we recommend a wedding video captured by CoolBluez Photography or this lip-dub version captured by Adjan Photos.
3. Girls Like To Swing (Dil Dhadakne Do)
Happy Dancing Feet used this song to choreograph a stunning bride squad dance performance recently. It is a song full of fun beats and fast notes that even the bridesmaids will enjoy and it is all about the twirl after all.
4. Chittiyan Kalaiyan (Roy)
Four years and more, after Roy released, this song is still entrenched in our collective mindspaces, often turning into a hot favourite for group dance performances. Consider using it for yours too.
5. Saiyaan Superstar (Leela)
Don't we all love to do the latkas and jhatkas to Bollywood numbers? Then this is one such song that will light the stage on fire when the bridesmaids board the stage to show you what moves they got this wedding season!
Wedding Dance Songs For the bride and groom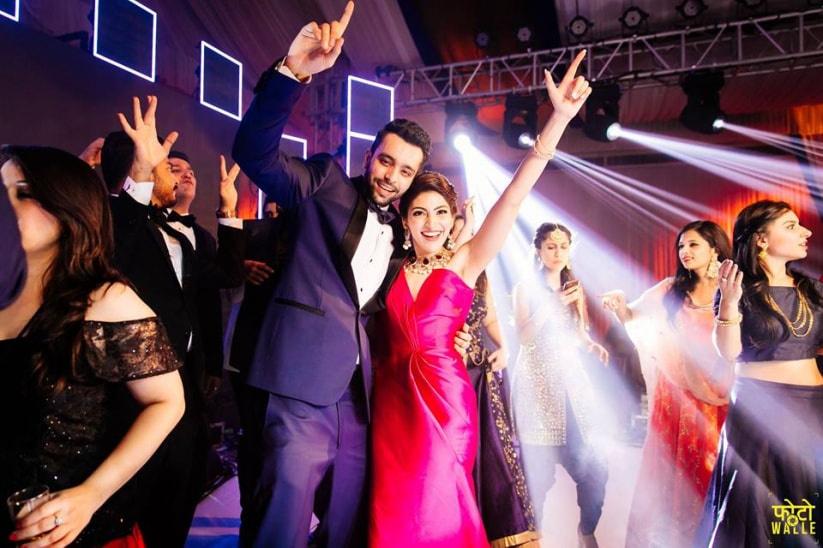 We love the romantic first dances in a wedding gown just as much as the crazy couple dance-offs. Get both moods together in your couple dance by creating a medley playlist. We suggest starting with a mushy Bollywood number and then surprising your guests with a fun wedding dance song that suits you as a couple. Here are some popular suggestions:
Wedding Dance Songs For the romantic couple -
We also recommend:
Enna Sona (Ok Jaanu)
Often, people combine an Enna Sona dance performance with 'Shape of You' by Ed Sheeran (like the Vidya Vox variant) or Despacito. You can take cues from how this couple did it. It's also a song that works well if the groom wants to sing paeans for his lady love, as captured in this wedding film for JasParam by Strange Sadhu Weddings.
Humsafar – Badrinath Ki Dulhaniya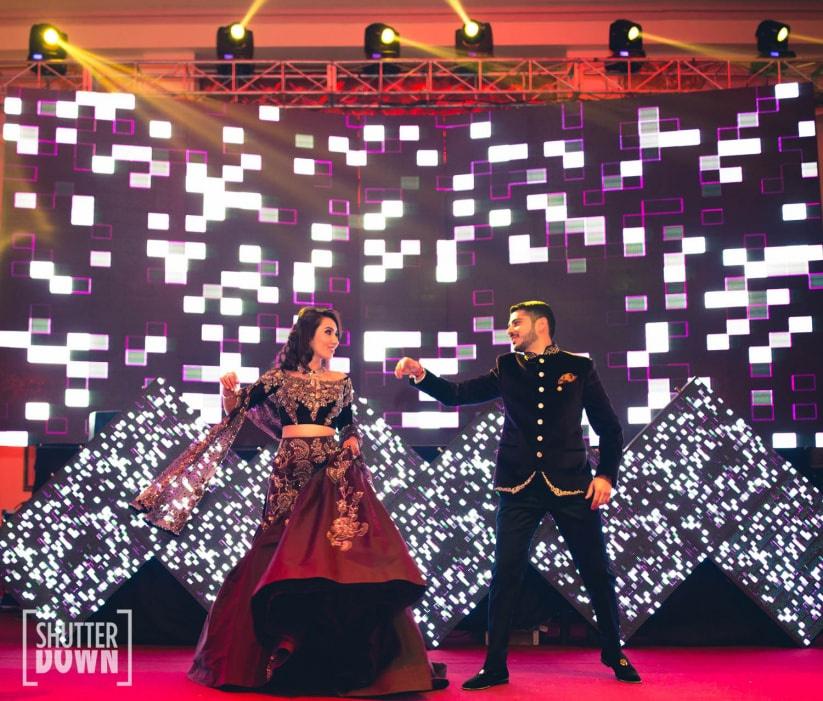 Wedding Dance Songs For the fun couple -
Rocket Saiyyan – Shubh Mangal Savdhan
Sweety Tera Drama – Bareily Ki Barfi
Wedding Dance Songs For the groom's squad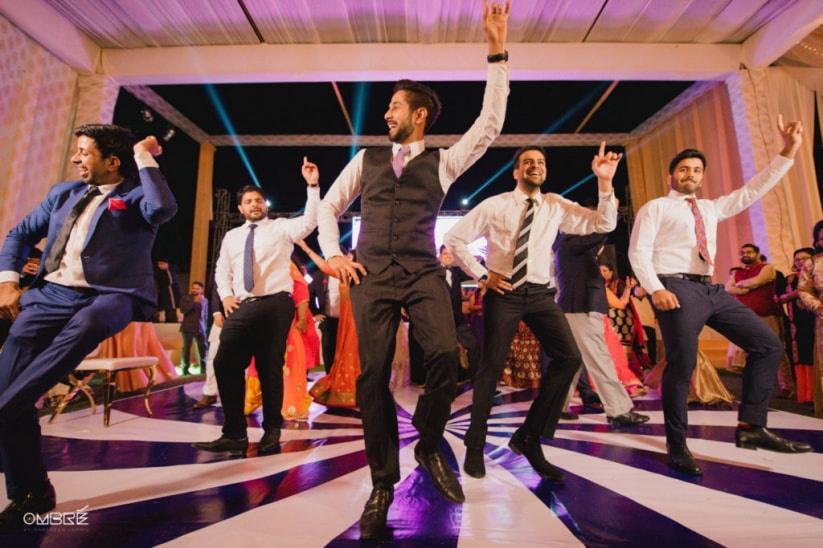 The groom's squad is responsible for adding swag to the sangeet, which is why they can pick almost any Bollywood wedding dance song and turn it into a sangeet number. Punjabi songs are a must-have here because even a bad dancer can pull off some fun dhol moves.
High Rated Gabru – Guru Randhawa
Cutie Pie – Ae Dil Hai Mushkil
Do we remember this dance video of the groom's squad dancing to these beats while looking dashing as ever? We do and this viral video has been an inspiration ever since and the swag of kurta pyjamas with shades has never left the list of dapper groom's squads. Put on a show with your best man and group of Gabru Munda's and take this dance party by the storm!
Wedding Dance Songs For the family members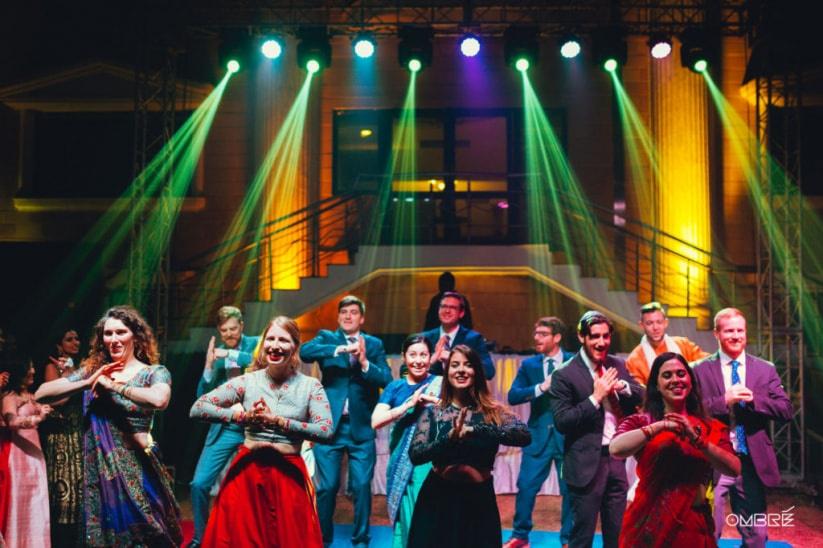 When planning the sangeet, you dare not ignore the family dance performances because nobody lights up the dance floor like the mama mamis and chacha chachis of the house. Watch them show off their Dharmender and Meena Kumari moves to some fun marriage songs and take the party by storm!
Galla Goodiyan – Dil Dhadkne Do
Navrai Majhi – English Vinglish
Everyone in the wedding party comes together for these 2-minute performances on such wedding dance songs that become the highlight of all pre-wedding functions. Don't forget the behind-the-scenes videos and boomerangs, which will always be special for you and your special ones. Don't hesitate to hire a professional wedding choreographer who will take away the stress of planning and make you enjoy the practice sessions even more. The other important partner will be your wedding videographers and wedding photographers, so make sure they know when the scale and style of your performances.
Now that you have this stellar list of wedding dance songs, get in touch with all of your friends and family members and prepare for a kick-ass family dance number and take the stage on fire! Have a dance-off with the groom's side of the family and put on a good show that nobody will ever forget! Happy dancing and don't forget to make new memories and have the time of your life!
Let us know which songs were the chartbusters at your Sangeet or Engagement party and add to our playlist of jazzy beats and help others rock the thumka on stage for their big day!