The Ultimate Wedding Playlist of 39 Latest Wedding Dance Songs
Weddings are incomplete without some Naach Gaana! From peppy dance numbers to set the stage on fire at your bestie's Sangeet ceremony to finalising your bridal entry song, you got to figure it all. Take cues from these popular wedding dance songs.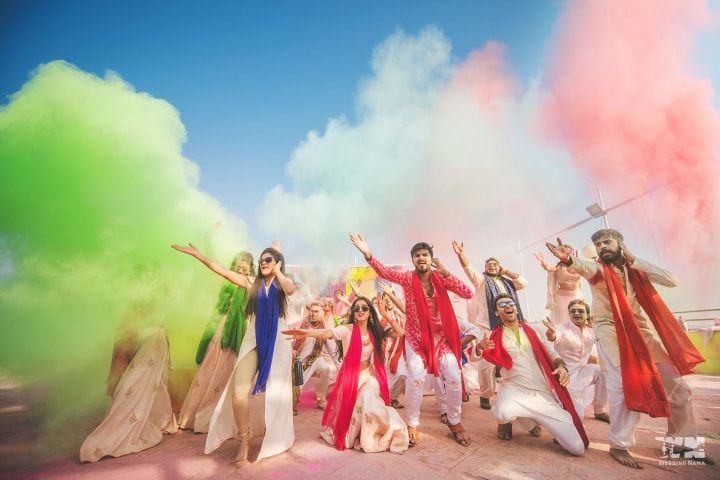 What is the most exciting part of attending your BFFs wedding? Is it the endless shopping spree? Well, yes to some extent but not exactly. For us, it is prepping up a dance routine for the Mehndi function and yes obviously the Sangeet ceremony. These two pre-wedding functions are the most awaited of them all and we'll help you understand why. We are sure by now you must have looked at the scintillating pictures and videos from the #Nickyanka's Sangeet ceremony. We sure did and couldn't help ourselves from gawking at their Bollywood inspired dance routines.
Music! Laughter! Dancing! Pictures! If you're getting married soon then you will find these songs suggestion super helpful in building your ultimate wedding playlist. From yesteryears dancing numbers to the groovy tunes of movies, these popular wedding dance songs are just what you need to put a musical spin to your functions.
Songs for the Bride's Squad
Sisters before misters! Yep, the mantra for life! From the bride's exhilarating solo performance to the group dance which will give the groom's side a run for their money, girls run the world! Begin prepping up for your songs playlist by including some of these popular wedding dance songs.
Solo Performance
Use one of these wedding dance songs to prep up for your IIFA worthy solo performance.
Makhna from the Movie Drive
Possibly the most appropriate song to perform in front of your family and of course, better-half. The time is yours, you all pretty brides-to-be, show off your feelings with utmost happiness and let your love language flow in the form of your stylish dance moves. Groove on the peppy beats and make tons of memories with your cherished ones. Ooze up the dance floor while you make gleeful eye contact with your Makhna.
Kithe Reh Gaya by Neeti Mohan
Is your partner a latecomer? If your partner goes off track on planned meetups, then this popular wedding dance song is perfect to express your nettle. Add a pinch of groove and elevate the atmosphere. Get along with your guests and shake a leg while you show your precious love to him and make sure you never have to say 'kithe reh Gaya' again. After all, a joyful beginning should always be a cherished one.
Lehenga- Jass Manak
It is super important to pick a track which is in trend and can make all your young guests groove. Nothing can be better than this lively and rhythmic song by Jass Manak. Learn a couple of necessary steps and burn up the dance floor with your classy dance moves. Don't forget to be so good that your partner manages to get you a 'Mehenga Lehenga'.
Lae Dooba from Aiyaary
Still, confused on that one song which will disseminate the vibe of romance and merriment? Fret not, as we have got you covered. This is one of the most popular wedding dance songs which elevates the atmosphere with positivity and encloses the meaning of togetherness. Ship your 'Ishq' to your beloved and rejoice with your loved ones.
Nai Jaana, Neha Bhasin
Put this track on, let your hair loose and unleash the diva in you. This had to top the charts. It is soulful and has a whirlwind of emotions to offer. Your handsome hunk sitting across the stage won't be able to take his eyes off of you. Thanking his lucky stars for having gotten you as a partner, he will surely feel like a blessed soul.
Naachu Mai Aaj Cham Cham, Baaghi
Express your feelings by dancing your heart out! Yes! Take cues from Shraddha Kapoor's moves. If you want to make it even more fun, then probably throw in some rain effect on the screen of your dance stage and let the magic take over the crowd.
Group Performance
Use one of these wedding dance songs to prep up for your IIFA worthy group performance.
Kamariya from Movie 'Stree'
What is better than performing on your #BestieKiShadi? Get ready to shake your Kamariya while you shower the atmosphere with all the sass and celebrate the new beginnings of your best friend. This song is going to set the stage on fire.
Luv Letter
Isn't it every bride's dream to watch her best friends perform on the stage on her wedding day? The best happens when this is executed in the form of a group dance performance. This popular wedding song is perfect for your girl gang. What you need to do to make it perfect? Deck up and fill the ambience with your charm.
Illegal Weapon by Jasmine Sandlas
Every bride-to-be must've showered 'Nakhre' on her better half. Why not perform with your bridesmaid on one such peppy Punjabi song and exhibit the feeling of merriment? This is one of the most popular wedding songs which creates a different level of excitement in the guests. Don't forget to capture the jolly expression of your partner!
Sauda Khara Khara from Good Newz
A bond is always 'Khara' where there is love and affection and this song is an absolute pick for your squad. Create a vibe of togetherness and make your guests tap their feet on this popular wedding song. After all, enjoyment is what we need in a big fat Indian wedding.
Tareefan from Veere Di Wedding
Have you ever pampered your girl with affection and a bag full of surprises? If yes, then this is the time to ignite the wedding dance floor with this lovely song. Create a vibe of 'Hor dass kinni tareefan chahida aa tainu' until she says ' Bohot Sari'. This is the most blissful way to make memories with your loved ones!
Morni Banke by Badhaai ho
Hey groom-to-be, planning for a stupefying dance performance with your bros? Woo your boo by giving a shoutout to her on this popular wedding song while you reveal your buoyant dance moves.
Desi Girl from Dostana
If you and your girlfriends are the 'IT Girls' then Desi girl is your jam for the night. All the more fun if the brides' brothers and male besties can plan a dhamaka performance for the bride. Some Latka-Jhatkas and you'll hear a few hearts break away as you and your gang make your way through the dance stage.
Twist Kamariya, Bareilly Ki Barfi
All the eating right, hitting the gym and stretching those hamstrings for months prior to the big day has definitely brought you in shape, hasn't it? So, twist your Kamariya and flaunt that hourglass figure with an electrifying number. This is one of the most popular wedding songs in the market currently.
Nachde Ne Sare, Baar Baar Dekho
All your BFFs dressed in some scintillating lehengas and sarees will set the stage on fire. A proper sangeet ceremony dance number, this song will prompt all your wedding guests to start dancing wherever they may be standing. A co-ordinated performance or an impromptu one, this song will surely turn your night into a star-studded affair.
Solo Performance
Don't we all love Ranveer Singh and his super cool aura? Wouldnt you wish to be a cool groom just like him, unafraid to put his feelings out and bring his A-game to his performance? Begin prepping up for your songs playlist by including some of these popular wedding dance songs for your solo performance and to shake a leg with your mates.
Tan Tana Tan Tara - Judwaa 2
Chalti Hai Kya Nau Se Baara? Your bride-to-be won't be able to keep herself from shouting YES out loud! Full of fun vibes and a catchy tune, this is the perfect wedding song for a groom-to-be.
Ban Ja Tu Meri Rani - Tumhaari Sulu
We know you popped the question and she said yes! But, how about you shout out one last time, in front of all your guests and ask her for her hand in the most Bollywood inspired way there is? Put your swag on and get going!
Nashe Si Chadh Gayi - Befikre
Pyaar Ka Nasha Alag Hi Hai Boss! We all have a poison to keep us going and your bride-to-be is the one poison who will keep you enticed all life long. So, let her know that she is the spice of your life with this popular wedding song.
Songs for Couple's Performance
Sohne Lagde by Sidhu Mossewala
There is always that one song which reminds us of our better half. This famous Punjabi song is surely to vibe on with your partner. Express your love story with this beautiful track because it's time to show the world how you both 'Sohne Lagde' with each other.
Do you know by Diljit Dosanjh
To all the hubbies-to-be, if your girl is crazy for Diljit Dosanjh then this is the time you hold the ball of love. Grab the hand of your cupid and reminisce the meaning of love with charming couple dance moves. Let each other know your feelings while you dance like entwined twins.
Tera Dhyaan Kidhar Hai, Tera Hero Idhar Hai, Main Tera Hero
Indian weddings are the perfect occasion for love at first sight to happen. Give your groomsmen a chance to find 'The Girl.' A synchronised dance performance with your squad and some sultry looks are just what's needed for one or two to fall in love.
Kaun Nachdi - Sonu Ke Tweety Ki Sweety
Songs for the Couple in Love
What good is a Sangeet night if you don't get to serenade your lady love? Keeping the feeling and the mood intact, we have curated for you a playlist of 6 popular wedding dance songs which are perfect for a couple who cannot take their eyes off of each other.
Duniya from Luka Chupi
All goes well where there is romance and wedding functions are a great way to evince this feeling. This Bollywood love song is perfect for creating a wall of passion and fondness and a little too much love harms nobody. Set up an 'aww' moment for your friends and family members while you enjoy the slow spins with your partner.
Tere Bin from Simba
It feels pure when someone is always there by your side. Put your heart out on each other with this popular wedding song. Begin the new life journey on a loving note and don't forget to lose eye contact with each other!
Mere Rashke Qamar - Baadshaho
So much nostalgia and a walk down memory lane, this song is exactly what you need to express your feelings to your beloved. You can't help yourself from humming as the song picks up the pace. Some dance moves, some role play, this wedding song is all you need to put your feelings on a display.
Zaalima, Raees
Which girl wouldn't want to be serenaded in SRK style by her hubby-to-be? Nobody! We are a Bollywood driven nation and we love all things Bollywood. This song is a catch, people. This is as romantic as it can get.
Radha, Jab Harry Met Sejal
Pour your heart out to your man with Main Bani Teri Radha. Have your wedding videographer capture this epic moment on the reel.
Tenu Leke, Salaam-E-Ishq
This song reminds us all of a dreamy Indian wedding sequence with the groom on a horse and the bride waiting shyly for him to come and take her away with him. Dramatic and lively, this is one crazy, romantic number guaranteed to get everyone dancing!
Songs for the Entire Family & Friends
A big fat Indian wedding is incomplete till all your Buas' Fufas and BFFs have danced their heart out together as one big happy family. Who can bring more fun and excitement to your ceremony more than your family and friends? Pick some of these popular wedding songs and create your own masterpiece.
Gallan Goodiyaan, Dil Dhadakne Do
Who can stop oneself from grooving to this wedding song? This song is the ultimate wedding sangeet song which will bring the entire family and friends on the dance floor, together as one. this is as epic as it gets guys!
Ishq Tera Tadpave by Sukhbir
Ever been to a wedding and blocked this song with an ultimate excitement? This is that one wedding Punjabi song which moves everyone from their place and creates a vibe of jam. The evergreen song 'Ishq Tera Tadpave' is one of the most popular wedding songs and definitely a green light for all the party animals. Chew the gum of hubbub and ignite the stage on fire.
Gal Mithi Mithi Bol from Aisha
A decent yet thrilling soundtrack which forms a hunch of delight and cheerfulness. Coordinate with your family members on this comforting song and make way for multiple rapturous memories. What are you waiting for? Grab a glass of wine while you enjoy with your closed ones!
Saddi Rail Gaddi Aayi, Rail Gaddi Mangal Singh
The quintessential wedding dance song. What is better than making a rail with your family and friends? Nothing! This song will ensure that even the non-dancer in your circle gets to become a part of your sangeet night.
Gud Naal from Ek ladki ko dekha to aisa laga
Let's admit, this is an absolute high-spirited wedding song. This is the most played wedding song where fam jam goes crazy on the beat of 'Gud Naal Ishq Mitha'. Get your 'Thumkas'' on while you make keepsakes with your lovelies.
Abhi Toh Party Shuru Hui Hai, Khoobsurat
This is the wedding dance song which will remind everyone that picture abhi baaki hai mere dost! It would be totally unwise to not include this in your wedding dance songs playlist. A wedding is an endless party and what better way to state the obvious than with this song?
Ainvayi Ainvayi, Band Baaja Baarat
This immensely popular film that focused on an Indian wedding planning duo had people all over the country dancing to "Ainvayi Ainvayi." this song is apt for a dance routine with your closest friends on your special day.
Chogada from Loveyatri
This song is a shoutout to all the guests who love to shower their blessings on the couple and make everyone move with pleasure and jollity. If you are looking for a perfect family wedding song this track is sure to count on!
Haseeno Ka Deewana Remix, Kaabil
If you want a face off with the groom squad, then there is no better song for you than this one. Add some spice and drama to you Sangeet ceremony with this song. Also, you can create a mashup of this with another one to give a competition vibe.
Balle Balle Ni Soniya De Rang, Bride and Prejudice
And, we save the best for the last. Hands down this one is the perfect song for a family to get their groove on. Your entire family can come together as one to give a rocking performance.
- Words by Vandini Nirwan & Surbhi Sachdeva