8 Dance Tutorials for Easy Dance Steps for Indian Wedding You Need Before to Get Your Hands on Before Your Sangeet Night
Want to learn some easy dance moves to perform at the next wedding? We thought so! That's why we bring to you these 8 tutorials that will help you rock some easy dance steps for Indian Wedding and other festivities. Take a look & get inspired!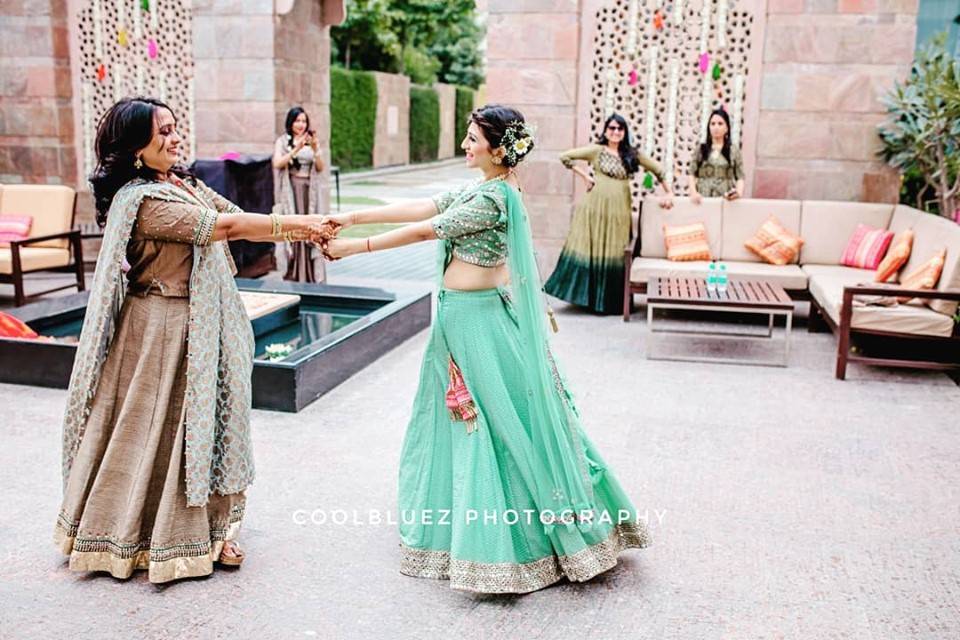 Weddings in India are a lavish affair, and one cannot imagine an Indian wedding without its fair share of dances. Dancing is an integral part of any Indian marriage and symbolises the joy and festivity associated therewith. Sangeet ceremony is the one where the bride's family members put forth dance numbers. Even the bride and the groom present a dance in front of their families just to have fun. Do you also want to learn a few easy dance steps for Indian Wedding, we share them with you.
1. Freestyle and Gidda easy dance steps for Indian wedding by Ripanpreet Sidhu
This is a very easy to understand video that teaches girls how to dance with easy breezy steps. Choreographed by Ripanpreet Sidhu, the video is meant for first-timers. Miss Sidhu has explained the steps in Hindi and in layman's terms. The dance styles that are explained here are Giddha and freestyle. The movements of hand, legs, knees and waist are all described in detail in this video.
2. London Thumakda easy dance steps for Indian wedding by Ria
The video choreographed by Ria is perfect for beginners as she takes them slowly through basic dance moves that are very typical of Bollywood. The dance number presented in this video is from the movie Queen, and the song is London Thumakda. First, she explains about the various hand, leg, waist and hip movement sans any music. Then, the steps are repeated along with the song. The language used is English and is pretty easy to comprehend.
3. Prem Ratan Dhan Payo easy dance steps for Indian wedding by Aditi Saxena
A simple video by choreographer Aditi Saxena, it explains every dance movement and step in detail. The song selected for this tutorial is Prem Ratan Dhan Payo and is explained in English. The steps are quite basic and relate to most Bollywood dance numbers. From intricate hand and palm movements, facial expressions to swirling the waist on beats, the video is self-explanatory. Any amateur dancer or even a non-dancer can learn immensely from it.
4. Traditional easy dance steps for Indian wedding by Lakshya Dance Unlimited
This video is choreographed perfectly and shows all the traditional Indian dance moves. The swirls, hand, palm and leg movements look very feminine. These steps can easily be learned by non-dancers as well for weddings and Sangeet functions.
5. Ladies sangeet easy dance steps for Indian wedding by Parveen Sharma
Shot by an individual choreographer, this video is meant for those who want to learn dancing for ladies Sangeet. The tutorial is divided into two parts - forward and backwards. In the forward section, moving the waist along with the legs is taught. The whole movement looks very feminine and is taught in a simple way.
It basically shows a technique that's called Lachakna In the first section, many hand movements are also shown. In the backward section, the same step is repeated, but, here, the waist movement is done backwards. Here too, hand moves are shown differently.
6. Laung Laachi easy dance steps for Indian wedding by Suraj Dance Fitness
Based on the song Laung Laachi, this video is choreographed by Suraj and it's quite a fast one explaining many steps in a systematic manner. From hand, leg, waist to hip movement, everything is well detailed. Dancers, as well as non-dancers, can learn a lot about dancing from this video.
7. Dholak easy dance steps for Indian wedding by Praveen and Manoj Sharma
If you wish to learn to dance on dholak, then this video is meant just for you. The two choreographers here teach you basic and simple steps that can be done easily on the beat of a Dholak, a traditional instrument used at home for the Sangeet. Some movements that you can learn here are the thumb, hand, waist, and leg movements. You will learn how to move your waist and hands simultaneously while dancing to the beats of the dholak.
8. Baarat easy dance steps for Indian wedding by Praveen Sharma
For ladies that always shy away from dancing at Baraats, here is a video presented by Praveen Sharma who teaches you the nuances of dancing like a pro at Baraats. Some of the steps taught here show you at least four different movements each relating to hands and legs. Twisting of the ankles is also shown as a step. The dance steps can be done by amateurs on Bhangra songs.
So, these are some tutorials to learn easy dance steps for an Indian wedding. You can either follow them step-by-step or mix it with some of your own steps to make it yours!
Did you all enjoy watching about these cool videos that teach you how to dance during sangeets and Baraats? Let us know through comments.