14 Dance Tips a Bride, Groom and Their Families Must Look at Before Their IIFA Worthy Sangeet Performance
Make sure it's a first wedding dance they all remember! We have curated a list of dance tips for brides, grooms, family and friends to have a mindblowing week of wedding festivities. Read on and perfect your IIFA worthy award show performance.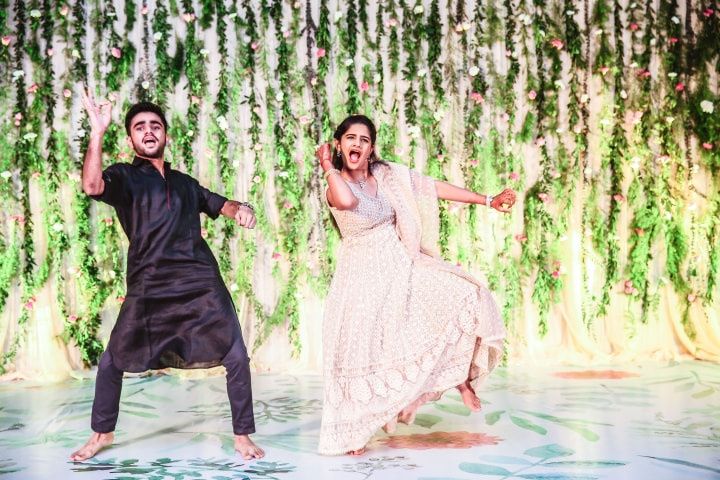 Wedding season is here and we know you have your Sangeet ceremony to prep for! Remember Sonam Kapoor's Sangeet ceremony and the myriad of practice sessions the Kapoor squad indulged into? We hope you get the picture! That is somewhat how your Sangeet preps are going to look like as well. Whether you are from the groom's side or the bride's, you don't want to look like a misnomer on the dance floor. Do you know? If you don't know how to dance like a pro at a wedding and don't have time to take dance lessons beforehand, then this piece of information is for you to take inspiration from. Read through these pointers and take cues on how to dance like Micael Jackson and set the stage on fire! Literally!
Dance Tips for the Bride-To-Be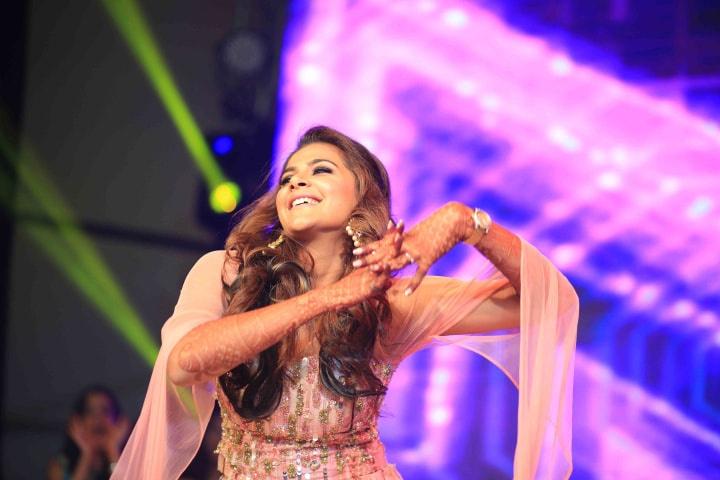 You're the Banno Rani and by default, your dance performance has to be full of swag. So these are some dance tips that you must abide by and we can assure you that your solo dance performance will top the charts.
Depending on your choice of outfit you must choose an outfit which is not that heavy. At no point should the weight of your bridal lehenga bring your swag element down!
Do not wear heels unless you're Beyoncé(go for custom sneakers or barefoot). Wearing footwear which isn't comfortable could be a painful idea since Indian wedding functions are long and you will have to meet and greet almost everyone present. So, ditch heels or stilettoes at the time of your performance and unleash the Madhuri Dixit in you in full swing.
The song (make sure you're comfortable with the song choice). Pick a song or create a mashup of songs that suit your vibe the most.
Wear breathable makeup that doesn't leave you sweating (you don't want your final look to have a freefall). Thanks to the Indian climate, a sweaty free fall is given. So, be mindful that your makeup doesn't wash away as you sway from one song to the next.
Don't turn into Monjulika. We know to have long open tresses is like a dream come true. But, not when you have to give your solo dance performance. Half updo or hair pins are your new best friends. Ask your hairstylist to give you a look that keeps the hair away from your face.
Dance Tips for the Groom-To-Be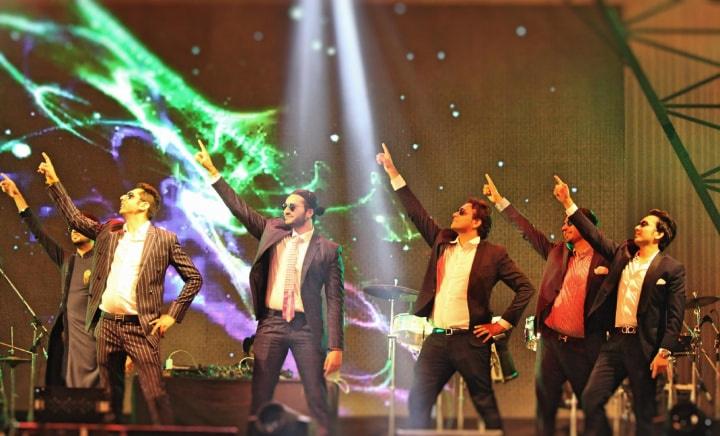 You're the Dulha Raja and by default, you're supposed to make your bride-to-be go weak in her knees. Put your 'Yeh Dosti Hum Nahi Todenge' swag on and show the wedding guests why your squad is legit goals!
Please do not wear a stole, you don't want to trip over your beautiful bride-to-be or worse your future mother-in-law. Can you imagine such a scenario? We sure can!
We agree liquid courage is important but not right before your Sangeet performance. Hold them shots for later! And, even if you have to keep them to a bare minimum and then post your kickass performance you can raise a toast or perhaps a dozen if you must!
If you're not as lit as Michael Jackson, get in touch with your wedding choreographer or better your groomsmen to keep you company as you perform. There is nothing better than a group performance on 'Tenju Leke Mai Jawanga.' You get the vibe, right?
Do not wear a Dhoti! We repeat do not wear a Dhoti or a Lungi for your dance performance unless you are as cool as Rajnikant!
Wear breathable clothes. Thanks to the freefall of sweat you don't want to look worn out on one of the biggest nights of your life.
Dance Tips for Your Entire Khandaan and Friends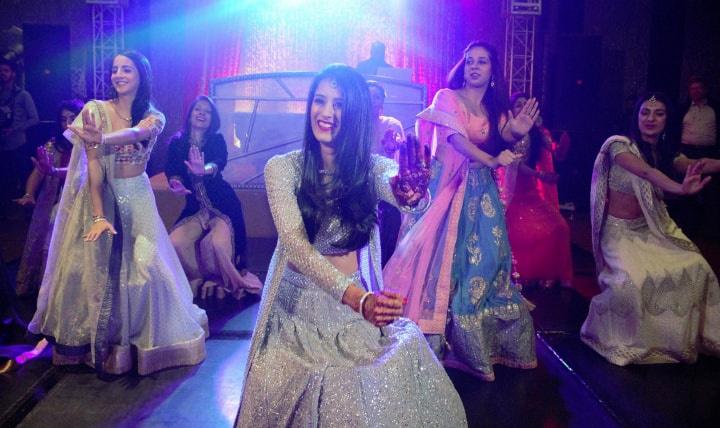 Remember 'Hum Saath Saath Hain' and how we all wished Ramkishan and Mamta(parents of that Sanskari Parivaar) could adopt us as well? Yes, that's how much we loved their Naach Gaana and dramatic performances at every family function. These dance tips will take you a step closer to that bright possibility and you can be assured that your dance performance on 'Chote Chote Bhaiyon Ke Bade Bhaiya' will be just as epic.
Practice, even if your Fufaji from Lucknow is yet to come, do not perform without a proper rehearsal. You don't want to give a chaotic performance.
Please keep the performance area in mind. If you're a bigger lot, then go for various group performances instead. There is no point in filling the stage with too many people. Rather, divide the group. Some take the dance floor as some perform right in front of the stage. This way you're literally all in this together! Remember High School Musical? Yes, that's what we're aiming for too!
You definitely need a wedding choreographer for this one. This is a must and you cannot wing this dance performance without hiring one.
The most important dance tip of all is that you must smile through it. It is a happy occasion so no grumpy facials. We know you'll get tired in the middle of the performance but you must put a game face on throughout. Remember there will be wedding photographers capturing every move of yours. So, one bad expression will lead to a dozen bad photographs. And, that is a risk you must not take.
According to us these are some of the most important dance tips and believe us you won't find them elsewhere. So memorise them by heart and prepare for your IIFA worthy Sangeet performance now!
Did we skip a dance tip or two? Tell us through comments!