"Recently, the hairstyle for Indian wedding game has moved to another level. Step into any wedding and you'll see women sporting messy up-dos, open hair with soft curls, side-swept hairstyles, a variety of braids and also experimenting with different hair partitions. Fret not! Most of these hairstyles can be achieved at home in less than 45 minutes," explains Pooja Sethi, a well-known makeup artist.
To know more about these trending hairstyle for Indian wedding ideas, here's the list of the various hairstyle for Indian wedding we couldn't take our eyes off of. So check out these hairstyle for Indian wedding ideas and get inspired to get your very own makeover!
1. Traditional Round Bun with Centre Parting
This hairstyle works great on brides for their wedding day. Here's how you do it:
"Untangle all the hair and apply a smoothening serum to remove any frizz, and then iron the hair straight. Put all the hair into a tight ponytail right above the nape of your neck, and make a simple round bun. You can use a doughnut stuffing for the same if you have thin hair. This looks great with a Maang Tikka or a Matha Patti", shares Pallavi Sehgal, makeup and hair expert.
"This up-do typically takes anywhere between 30 minutes to 60 minutes, depending on the quality of the client's hair. If they have frizzy hair, then more time is needed to straighten their hair," adds Pallavi.
Time taken to achieve this look: "This up-do typically takes anywhere between 30 minutes to 60 minutes, depending on the quality of the client's hair. If they have frizzy hair, then more time is needed to straighten their hair," adds Pallavi.
2. Cascading Braids
Braided hair has always made headlines. Every season, a new type of braided hairstyle starts trending.
"Loose, side-parted wavy braids along with floral or gem embellishments work well for both brides and guests. Brides can opt for this hairstyle for their Mehndi as it keeps the hair secured in one place. This hairstyle not only highlights your facial features but also adds charm to your personality," elaborates Deepika Ahuja, another professional makeup expert.
Time taken to achieve this look: "This hairstyle can take any time between 20-30 minutes", adds Pallavi.
3. Loose, Soft Curls
If buns and braids are not your thing, you can try styling your hair in soft curls. Soft curls or waves are a great choice if you don't like too much drama. Bride or guest, if minimalism is your thing, this is the perfect hairstyle for Indian wedding.
"This hairstyle seems to be the most famous choice while attending a wedding. All the hair is curled at the bottom using a pressing iron and a twisting hand motion. It's a super fast and easy hairstyle and goes well with every outfit", adds Pallavi.
Time taken to achieve this look: "This hairstyle doesn't take more than 15-20 minutes", shares Deepika.
4. Bun and Curls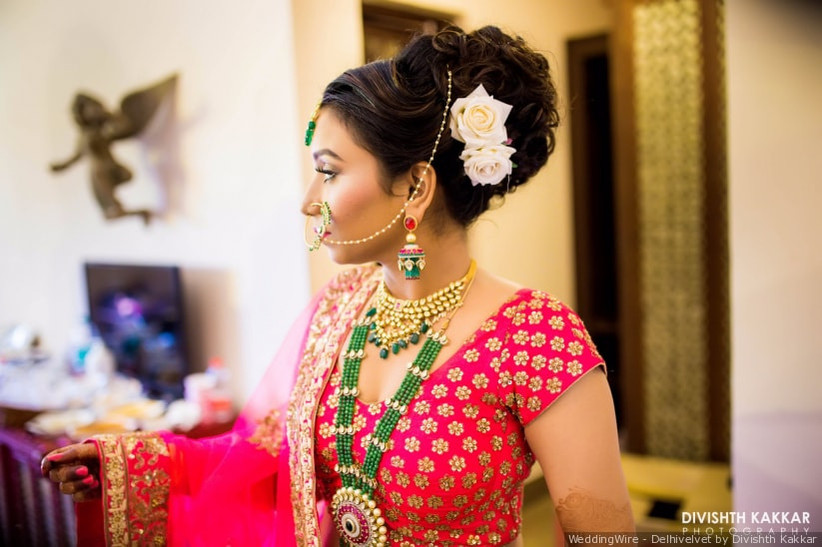 If you wish to magically add volume to your hair, then you can try a similar hairstyle. The soft curls and layered bun adds class to your look without going overboard. "The same hairstyle can be personalised according to each individual's outfit and occasion. A bride can use real flowers to add some drama, a guest can let the hairstyle be, as is," elaborates Deepika.
Time taken to achieve this look: "This particular hairstyle should ideally not take more than 45-50 minutes. Adding accessories may take some more time," adds Pallavi.
5. Royal Look
If your outfit looks nothing less than royal, then this is the hairstyle you should try. The pulled-back from the front look will help you achieve your goal – you'll look no less than a royal princess. Add a Matha Patti and you're done!
Time taken to achieve this look: "This style can be easily achieved in less than 15 minutes," shares Pooja.
6. Half open hair with a rose bun
Want a cascading set of curls snake behind your back without it becoming a mess? Choose a half-open hairstyle, like this half bun and half open combination. While it seems like something only an expert can pull off, a version of this can be easily done at your home.
Get the look by first partitioning your hair into two complete sets. Comb the top half well and tie it into a braid, leaving a section near your ears on either side. Then twirl these two segments individually and pin them into a circle at the back of your head (where you want this rose to appear). Next curl the braid around this central bun, into a looser setting. Pin it together too.
Now, come to the open section of your hair. Using a curling iron, take each strand and style it into loose curls. Be patient as this process takes some time.
Time taken to achieve this look: 10-15 minutes for the bun. 20-25 minutes for the loose curls, depending on your hair length.
7. Heavy Indian braid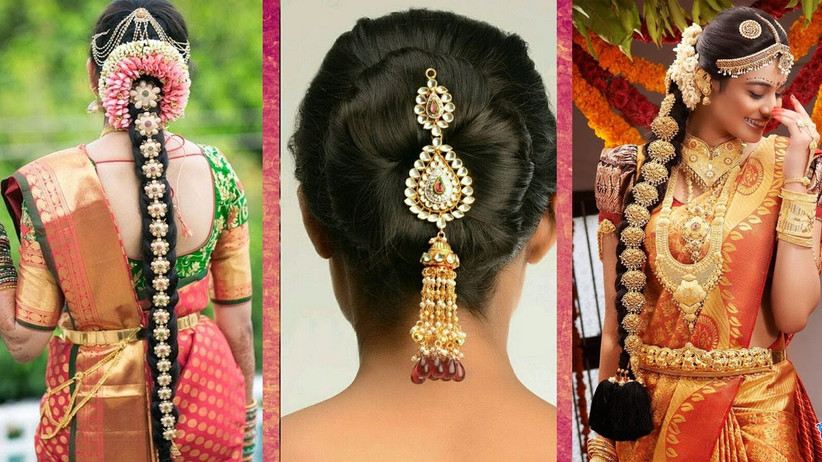 Image Courtesy: Youtube
If you have a south Indian bridal hairstyle in your mind, then you're either thinking of a thick braid or a Juda braid look. Use it for your lighter functions too as seen here.
How do you this? Begin by understanding that this look is three braids, not one. You can create two side braids to frame your face with your own hair and merge them into a larger one on the nape of your neck. If your hair is too thin for the task, don't worry and clip-on extensions instead. Then weave the rest into a thick braid. Add hair ties at regular intervals, so that it appears even thicker.
You can complete the look with floral hair accessories or even a conventional Poola Jada over it.
Time taken to achieve this look: 15-20 minutes
Pre-Hairstyle Hair Care Tips by Experts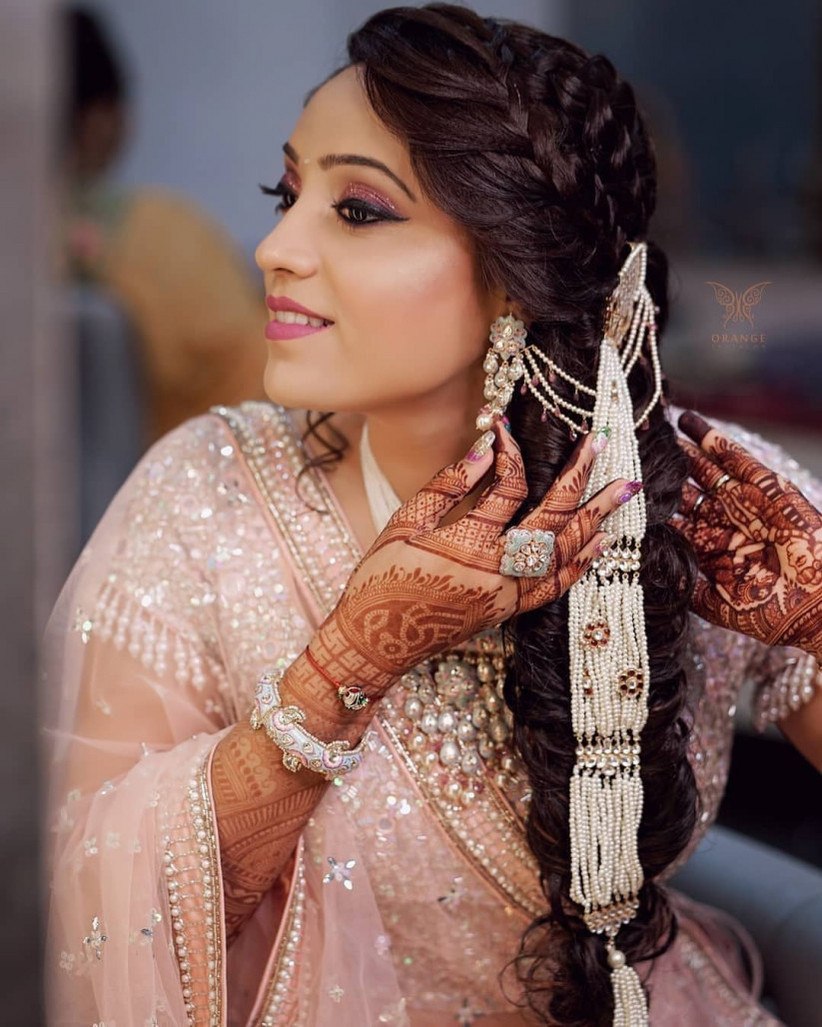 Image courtesy: Aanal Savaliya
Next, take these tips that all of these hair experts swear by. The stronger the hair, the better will the hairstyle look on you.
1. Oiling before bed:
Do not sleep with the oil in your hair. Oiling is great for a relaxing head massage and for blood circulation to your hair follicles, but most oils don't really help more than that. On the contrary, you end up using a strong shampoo and may use it twice to remove the oil, which will lead to dry and damaged hair.
2. Remember to condition:
Always use a conditioner after you shampoo. It helps to close your cuticles and protects your hair from environmental damage. What's more, use a hair mask, once a week, for deep conditioning.
3. Stop the heat:
Avoid heat styling tools for a while. Don't iron your hair at home, you might unconsciously be burning your hair and it will lead to breakage. The lesser ironing products you use on your hair, the lesser will be the hair breakage.
4. Go to the experts:
Get a good haircut or trim before the wedding. If you wish to change your hair colour, visit a good technician. Avoid using box colours at home.
Now that you've got many options in latest hairstyle for Indian wedding, don't forget to actually follow a hair care routine. Going for hair spas on a regular basis will bring volume and texture to your hair. And, there is nothing we love more than a long, lustrous and beautiful. Do we now? So keep these trendy hairstyle for Indian wedding on your fingertips and check out some hairstylists who will get the job done in half the time.
If you wish to find the perfect hairstylist who will give you a gorgeous look, check out the experts near you.