These Simple Hairstyles For Long Hair Are Ideal For All Brides!
Looking for simple hairstyles for long hair that are perfect for a bride? We have 9-amazing options for you that will force everyone to acknowledge your creativity!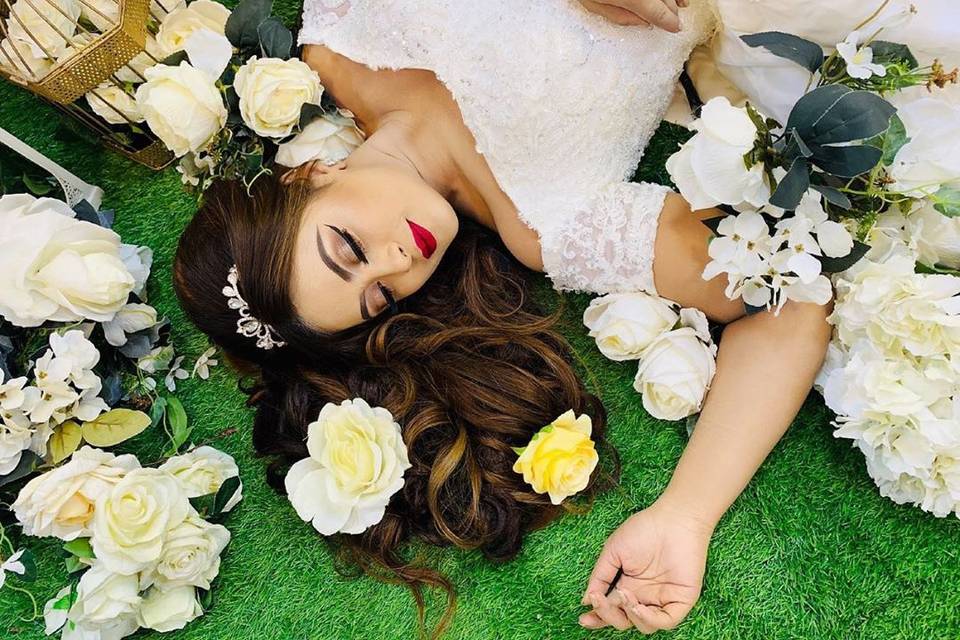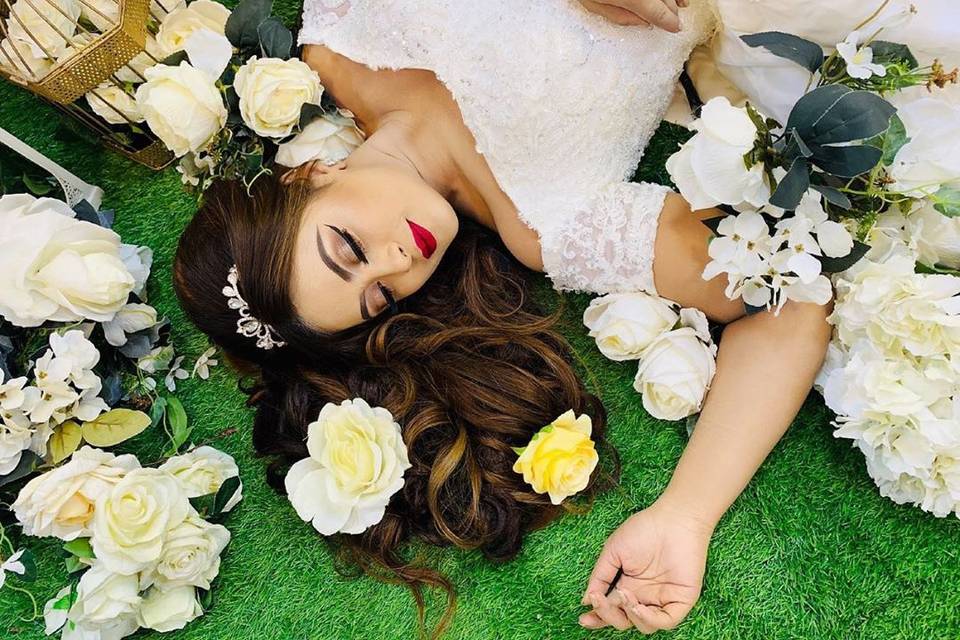 Image Courtesy: Elegant Makeover and Fashion
Getting married? You must be really worried about the outfits and the jewellery you will wear on your wedding and pre-wedding ceremonies. But you also need to start thinking about different hairstyles that you can have on these events that will look beautiful with your lehengas and sarees.
A hairstyle is just as important as the rest of your bridal look. Choosing one can be really difficult, especially if you have long hair. Therefore, to take off some tension from your shoulders, we have handpicked these 9 simple hairstyles for long hair that you can choose from for all your wedding functions.
Keep reading to see out what we have in store for you!
1. Rope twisted ponytail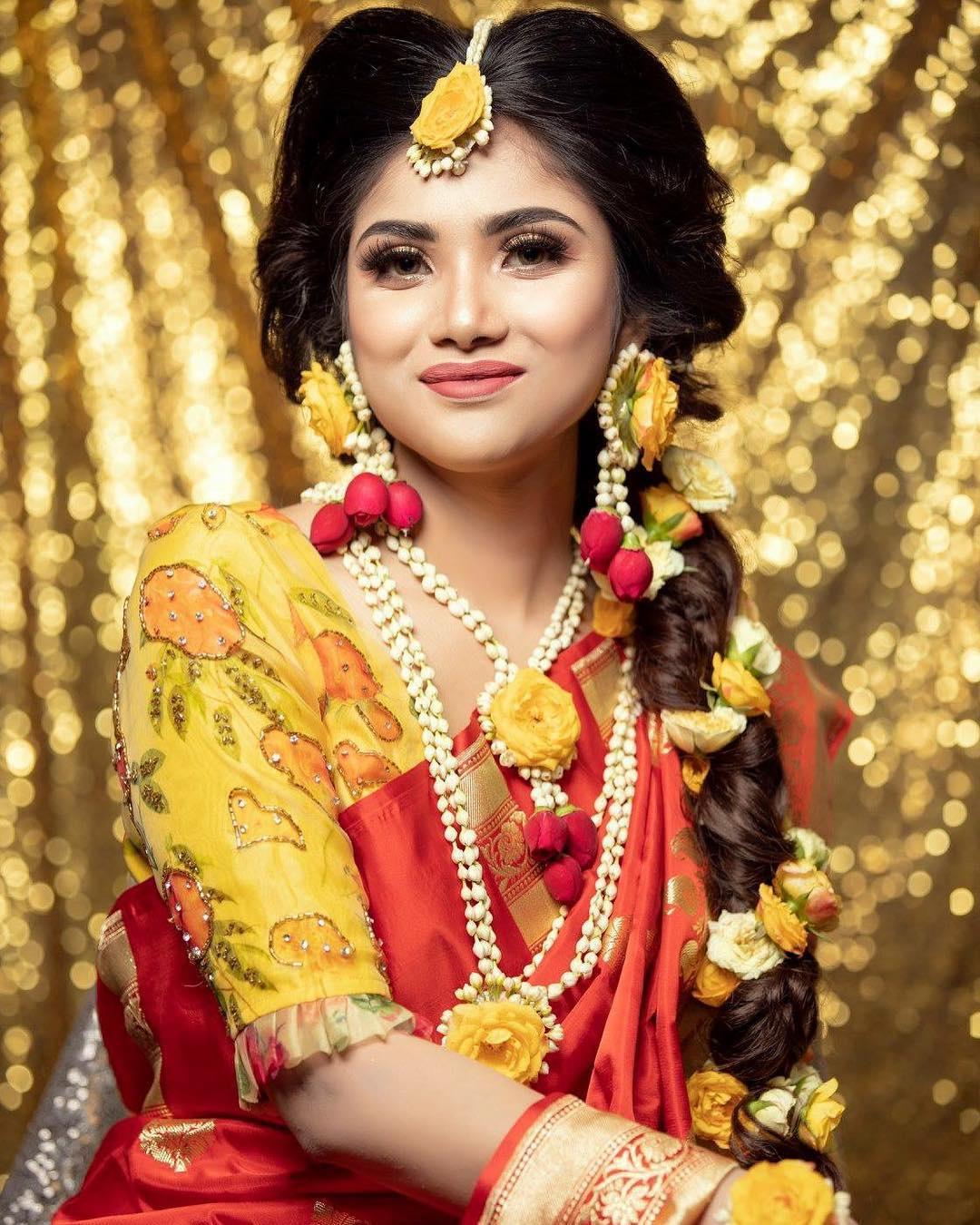 Image Courtesy: Elegant Makeover and Fashion
If you are looking for simple hairstyles for long hair for your Haldi or Mehndi ceremony, this one is the right one for you. The simple hairstyle has a centre parting and slightly puffy hair.
The hair is divided into 2 halves and a rope twisted ponytail is made with them. Decorate your hair with flower jewellery and accessories.
2. Half updo hairstyle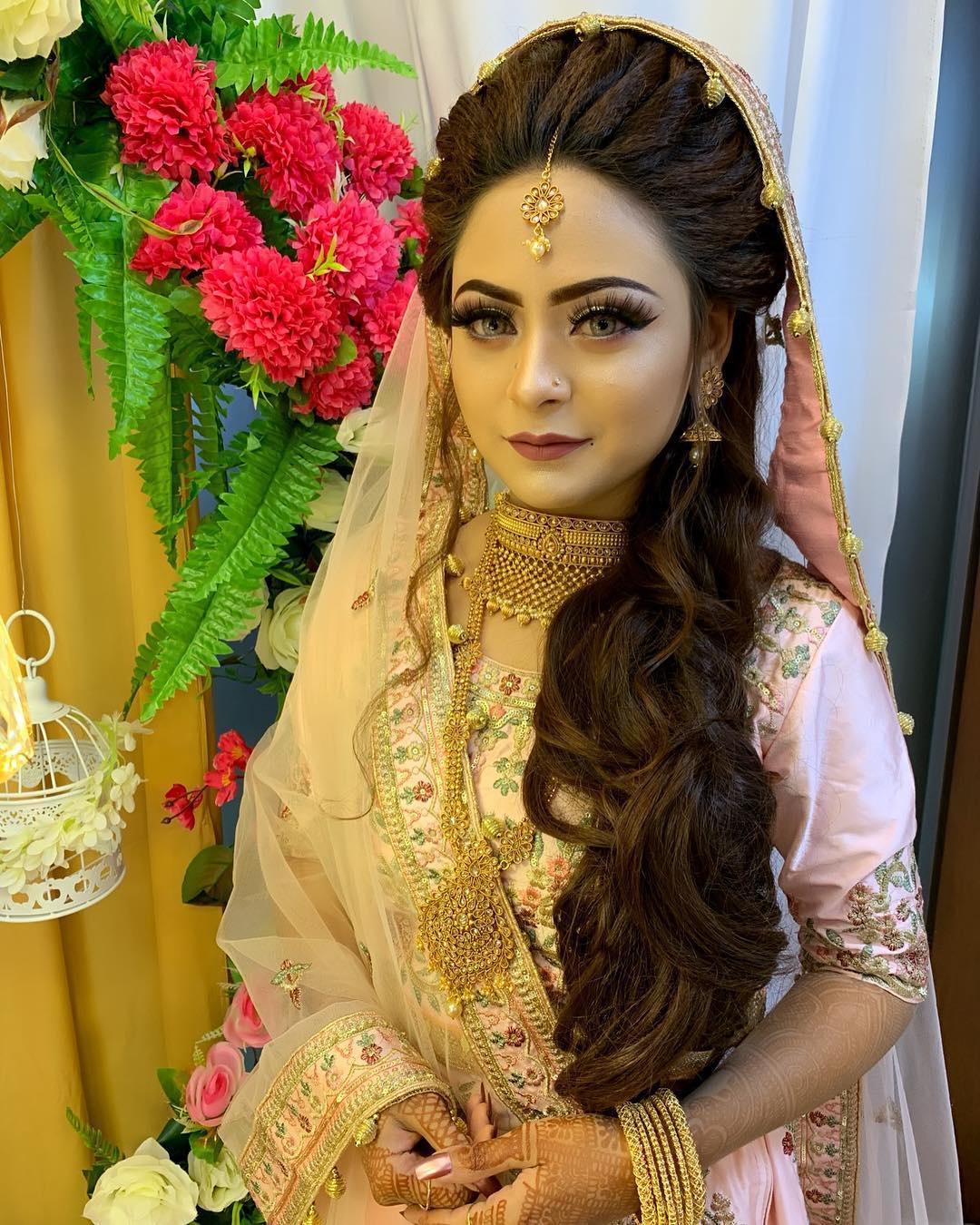 Image Courtesy: Elegant Makeover and Fashion
This is one example of simple hairstyles for long hair that do not come on your face. The hairstyle frames your face beautifully and highlights your cheekbones.
You can ask your hair stylist to crimp the hair to add more volume to them. Leave the lower half in soft curves and you are good to go.
3. Ringlets with a centre partition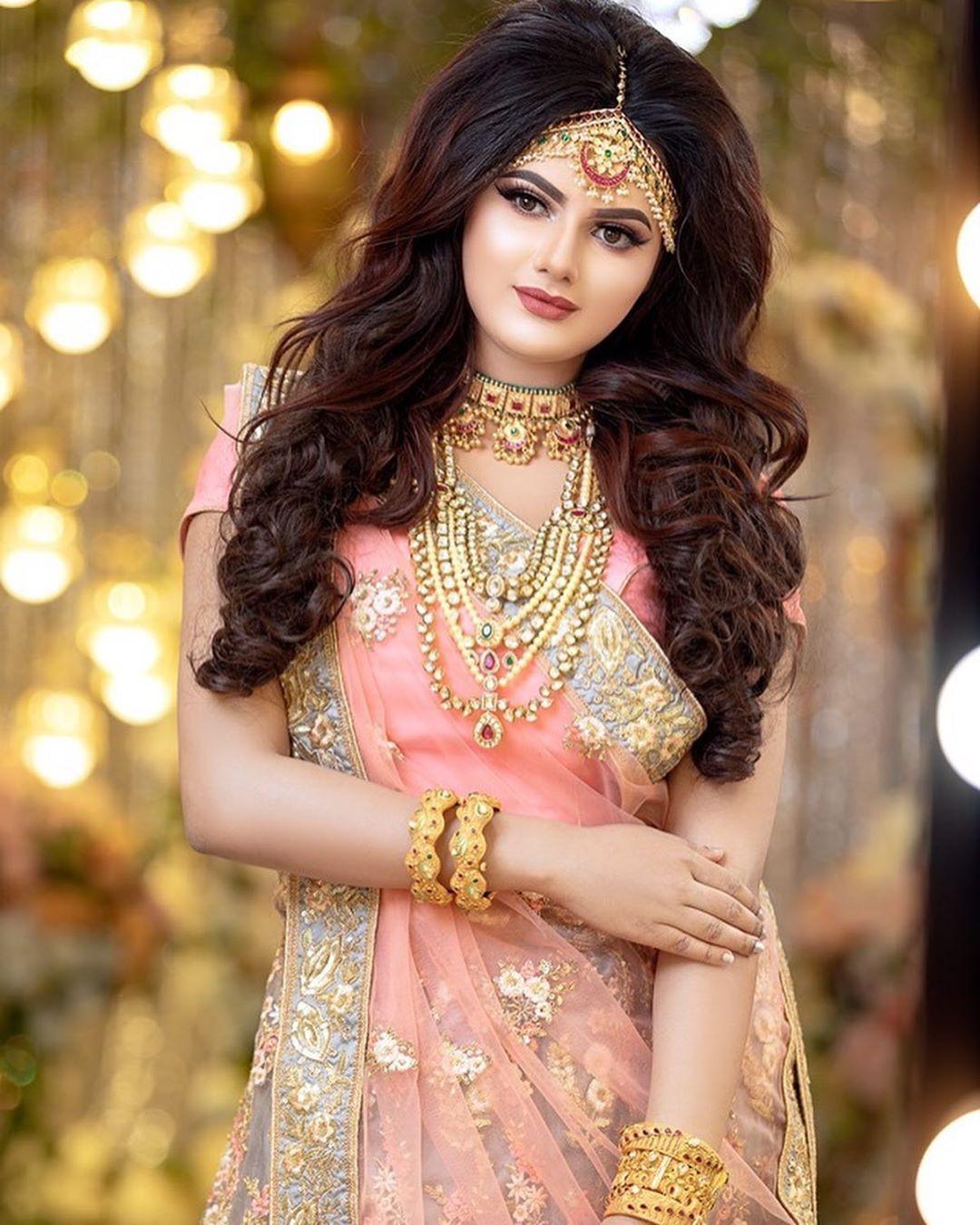 Image Courtesy: Elegant Makeover and Fashion
Ringlets are heavy curls that take a lot of time to perfect. Each ringlet is handpicked and placed in the hairstyle with precision. If you have long hair and are in search of simple hairstyles for long hair, we think your search is finally over.
Keep your hair in a centre partition and a small puff for a more voluminous look.
4. Straight hair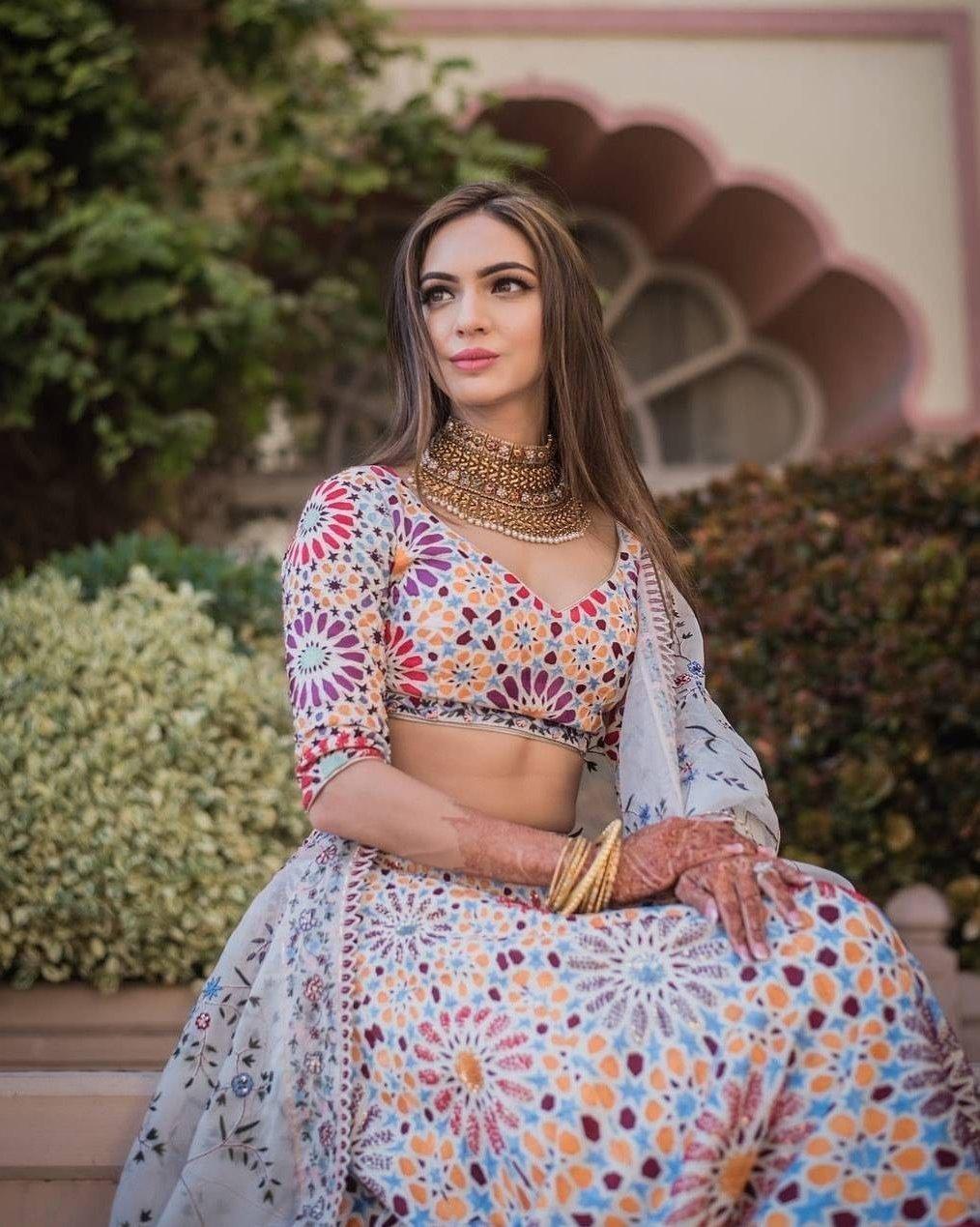 We know all this simple hairstyle for long hair (as well as short hair). This is the neatest and easiest hairstyle in the book. Straighten your hair for a sleek and modern look.
5. Simple fishtail with flowers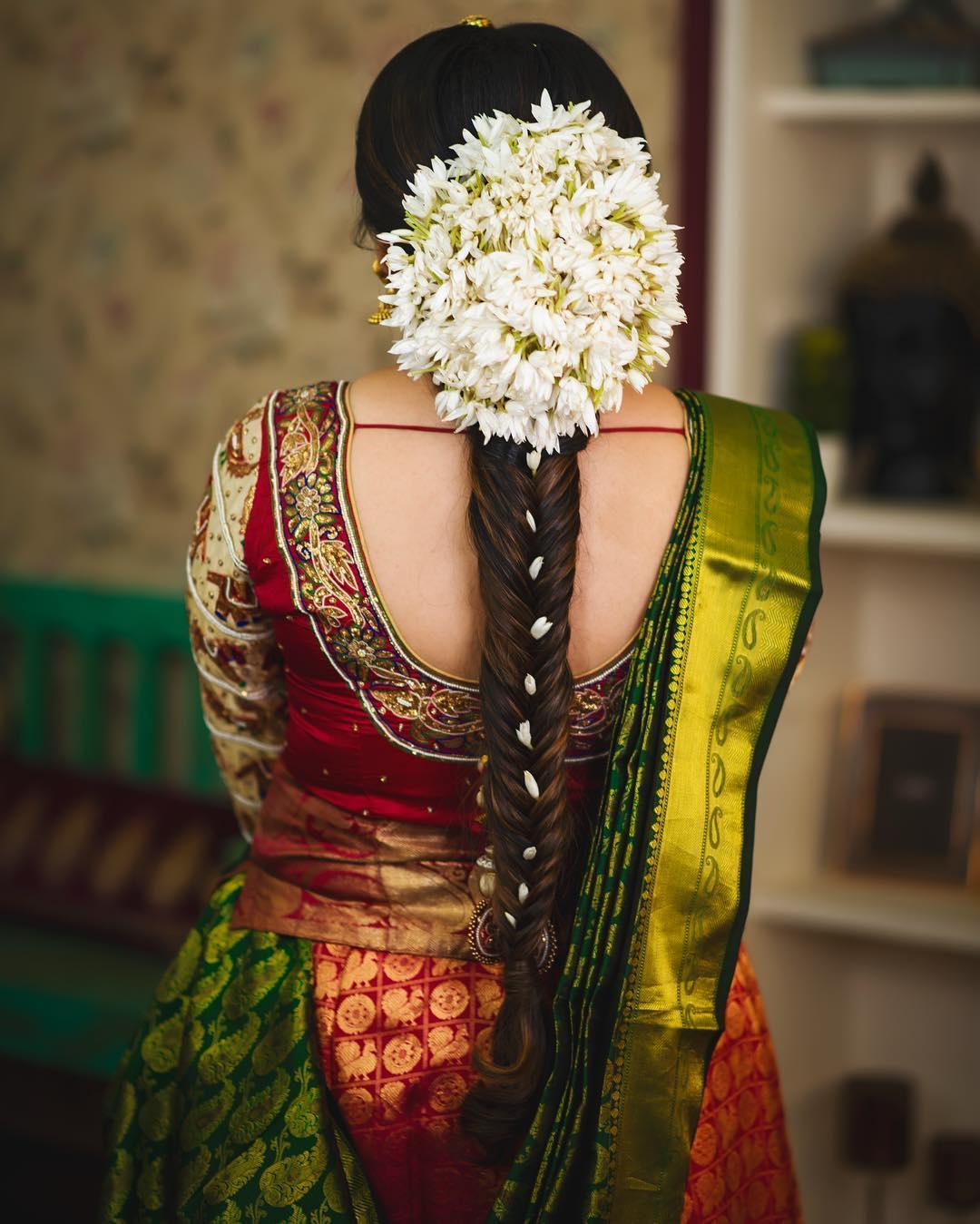 If you want simple hairstyles for long hair that will not take much time so that you can be done with it quickly, a simple fish braid is a perfect option for you. You can decorate them with your favourite flowers in many different ways.
One is exactly like the picture. Another way is to add 7-8 flowers like a rose in the braid itself in equal gaps. Time to give your florist a call and finalise your favourite blooms for your hair.
6. Heavy curls with a side partition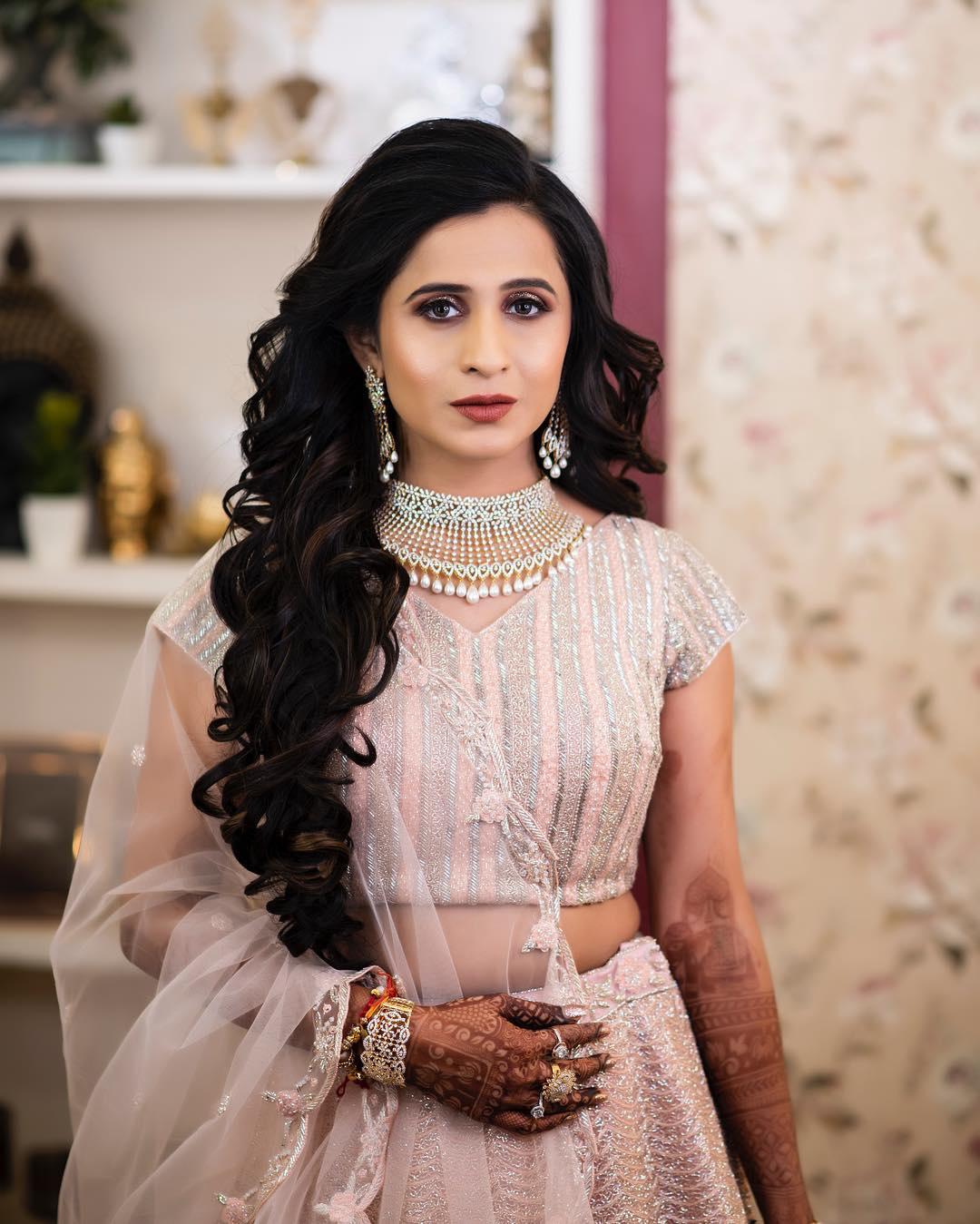 If you are looking for the quintessential simple hairstyles for long hair, this one right here is picture-perfect. The heavy curls or slightly lose ringlets look beautiful with a side partition.
The best thing about a hairstyle like this is that it adds volume to your hair and makes it look thicker than it is. You can keep this look simple by leaving your hair like this or add a hair accessory like a Jhoomar or Passa for a more traditional and heavy look.
7. Mermaid hairstyle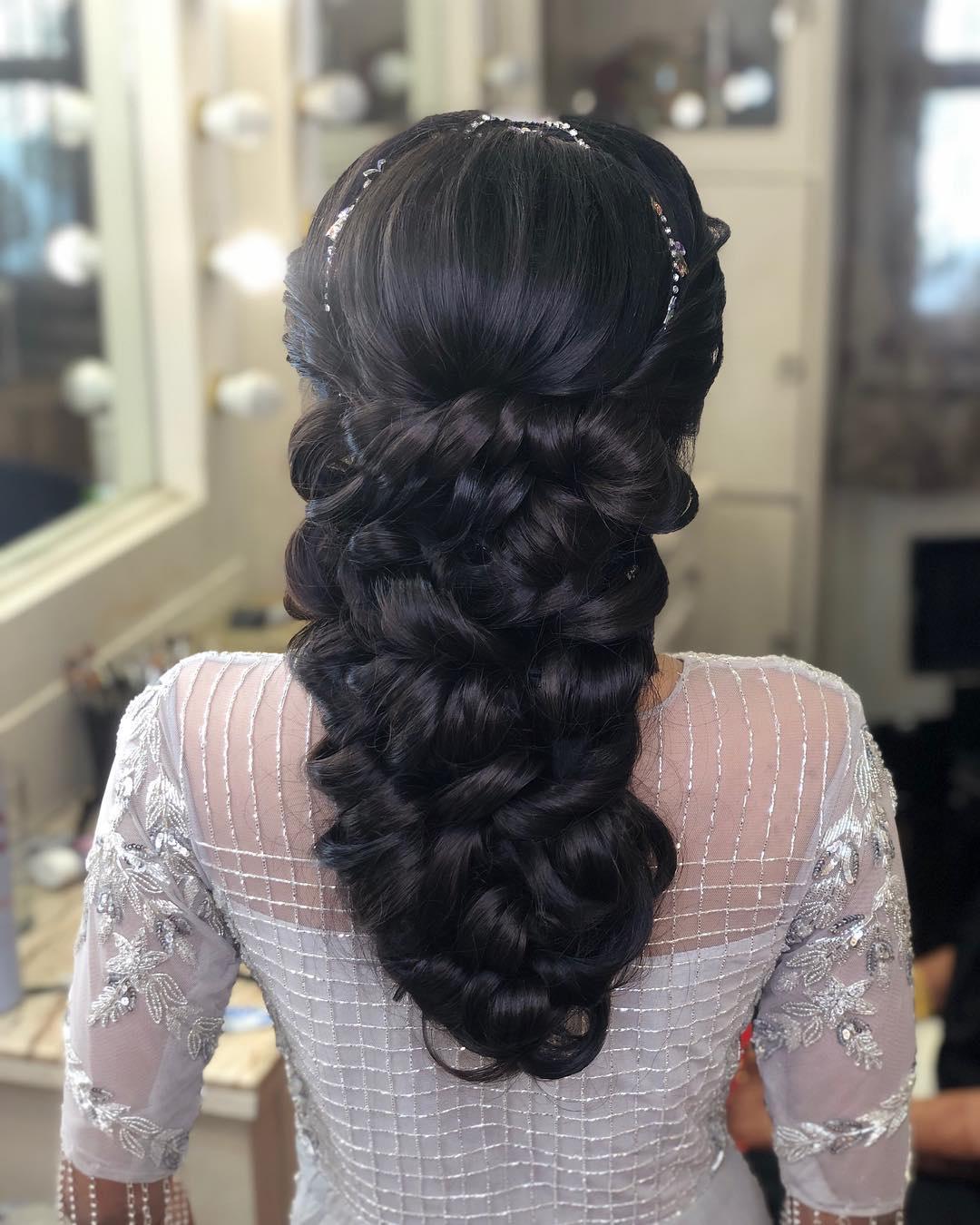 If you are looking for unique and simple hairstyles for long hair, this mermaid style bun should be the end of your search. Each strand is entwined into another, one by one.
This hairstyle may be simple but is very time-consuming. Only a hair stylist with a lot of experience in the industry can do justice to it. So, if you are getting this hairstyle for your wedding, hire a highly experienced hair stylist.
8. Messy bubble ponytail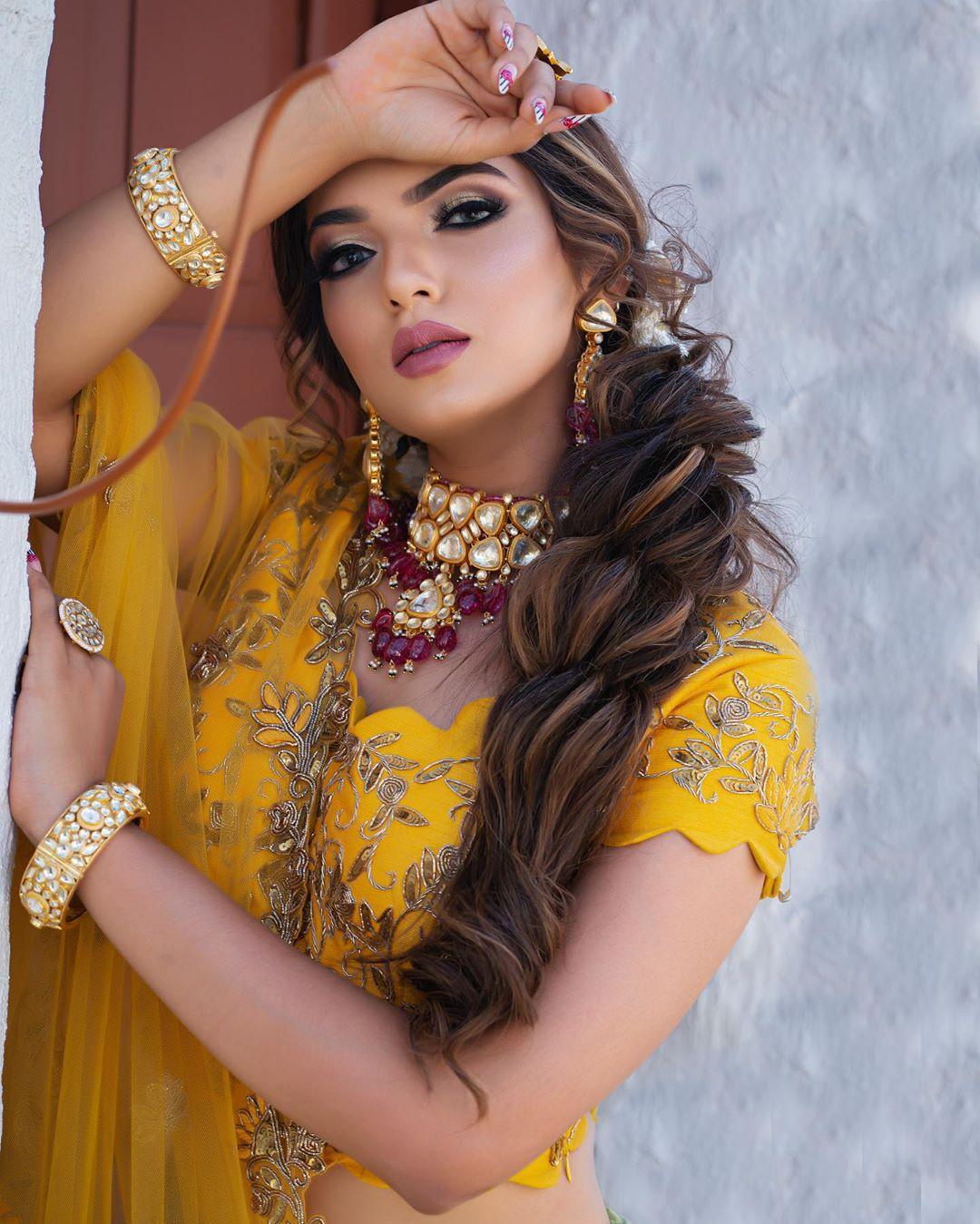 We are always on the lookout for new and simple hairstyles for long hair that are unique and easy to make. If you have heard of a bubble ponytail, then you know what we are talking about! For those who have not, a bubble ponytail is like a classic ponytail, except you tie an elastic after every 3-4 inches.
To complete the messy bubble ponytail hairstyle, loosen the hair from every ponytail. To create a messier look like the picture, use gel to get the desired look.
9. Messy fishtail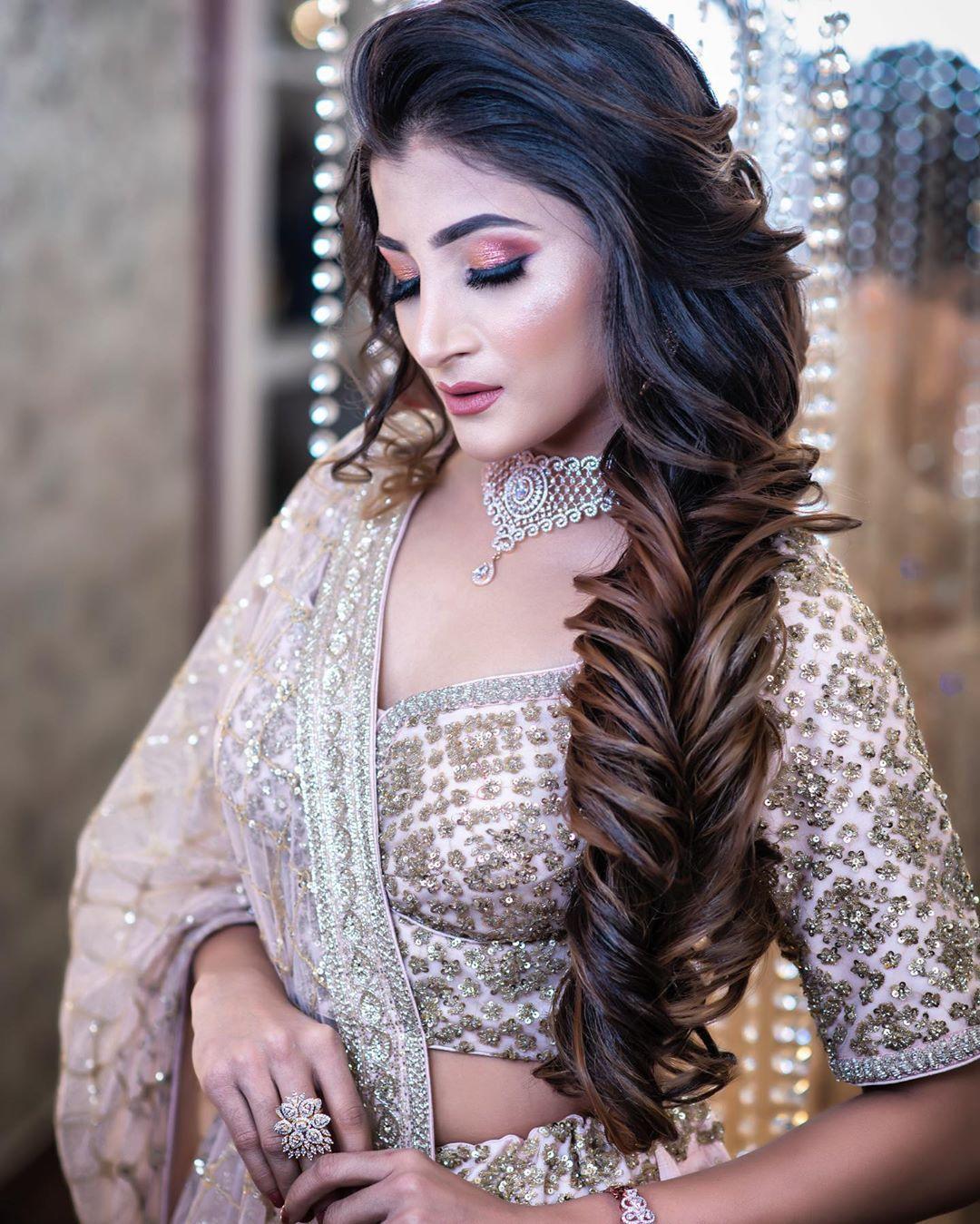 Another messy hairstyle that is very simple to make is this one right here. This hairstyle may look very intricate and difficult, but we assure you it is not. It is just a simple fishtail. To get this messy look, each braid is tugged lightly to loosen it a bit.
Maintaining your super long hair can be a task itself. Choose a hairstyle in which you feel the most comfortable and something that will go with your bridal lehenga or dress as well. We hope you found these simple hairstyles for long hair worthy of your time and attention!
Get in touch with our amazing hairstylists today!