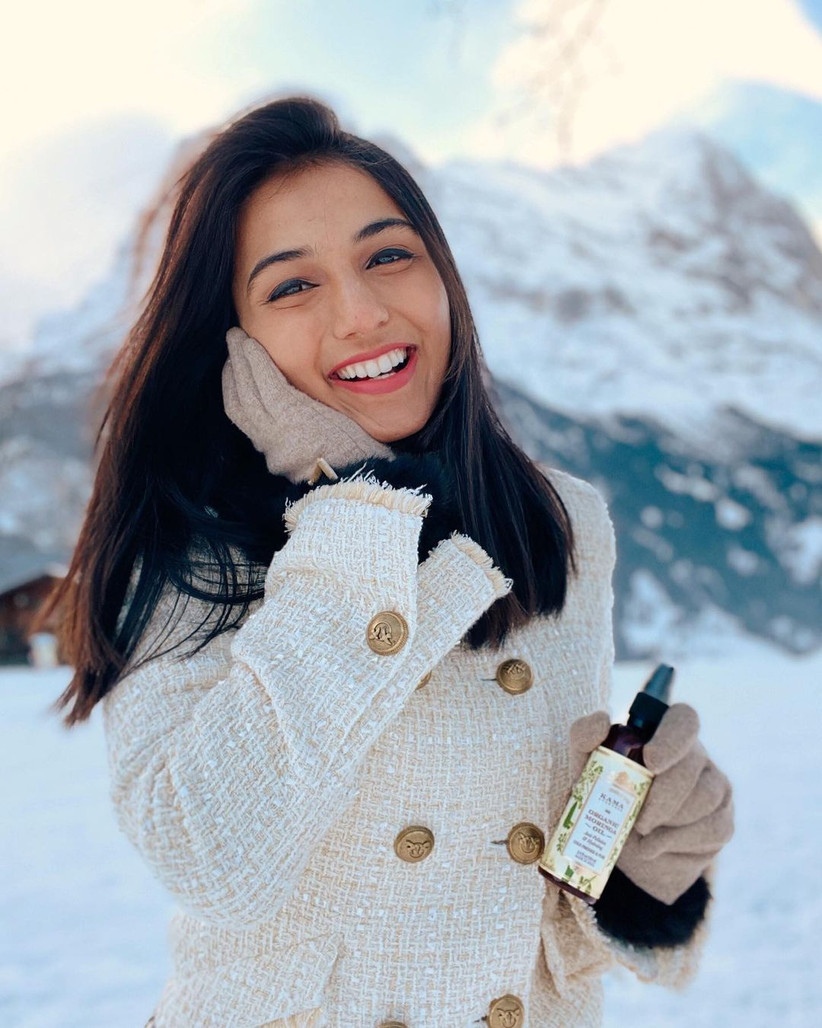 Image Credits - Masoom Minawala
In an inundated market, with innumerable beauty products that promise to deliver miraculous results, finding the right skin care routine to achieve that perfect acne free, dark spot free, glass like glowing, supple skin on your wedding day can be a daunting task. While you have your hands full with your wedding planning tasks, leave the skin care routine research on us!
With the expert inputs of Shahnaz Husain - the pioneer of herbal skin care in India, renowned Dermatologist, Dr. Mikki Singh and Amritha Gaddam - Founder of the Ayurvedic skin care brand, The Tribe Concepts; we have curated a step by step skin care routine for all skin types.
Skin Care Routine for Dry Skin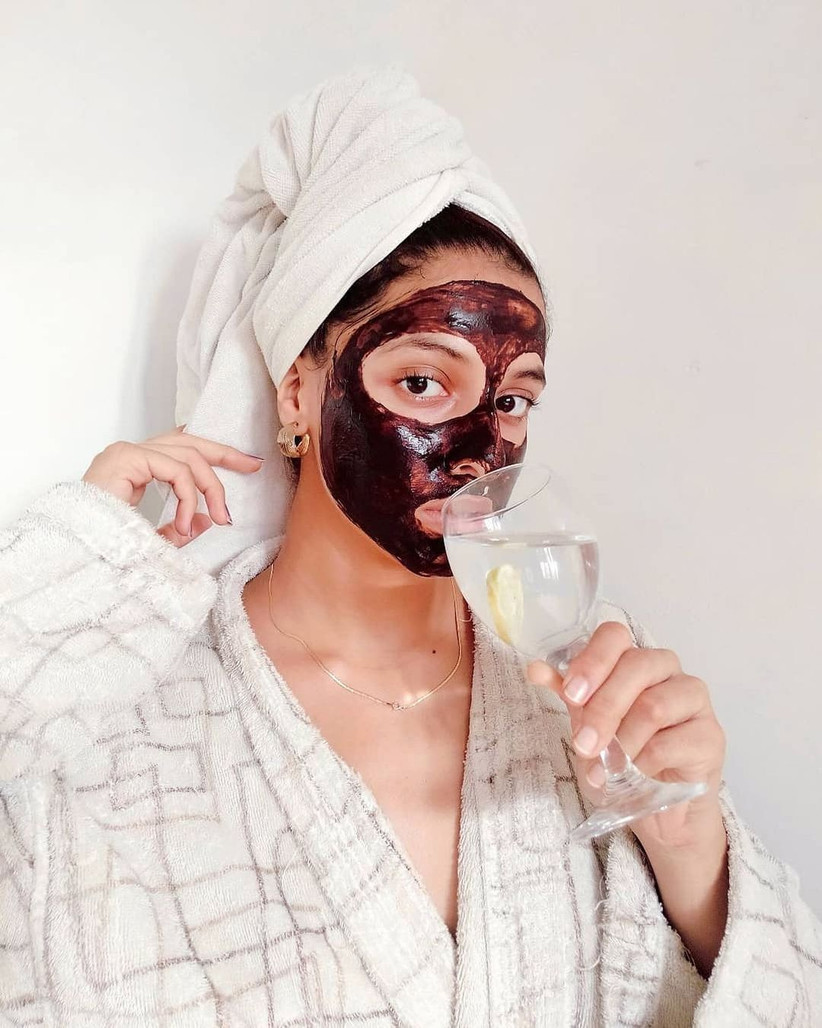 Image Credits - mCaffeine Official
The secret of good skin does not only lie in women's beauty kit, but also in their natural skin care routine. Good skin demands nourishing, care and time. If your wedding is round the corner and you are tired of moisturising your skin innumerable times a day to avoid constant itching and dry flakes, follow the steps suggested by Amritha Gaddam below and take good care of your dry skin.
Q. The Detailed Facial Care Process for Brides-to-be Who Have Dry Skin
Morning Routine:
Start the day with a nice detox warm water. Move on to washing your face with a gentle cleanser preferably one which is chemical free. Pat dry your skin instead of scrubbing with a towel. The Tribe Concepts has a beautiful Face Brightening Daily Cleanser which cleanses your face without drying it and lends an even toned glow from the first wash.
Move on to the next step which is toning. You can use Rose water toners easily available in the market or even make one yourself with a blend of green tea. Mist your face generously.
Winter care involves good moisturising since the skin tends to become taut and dry. Use a good moisturiser which is cream based to combat the dryness.
Night Routine:
Night routine is essentially the same as day except instead of cream based moisturiser, we highly recommend incorporating a facial oil like The Tribe Concepts 24k Kumkumadi Thailamin to your routine. You can massage with your finger tips or a jade roller/Gua sha to induce circulation which is much required for the pre bridal glow.
Masking: One of the most important aspects of facial skincare at home, irrespective of the season, is incorporating a good Mask+Scrub routine. Ensure you mask not more than twice a week with a good powder based mask which can also act as a scrub so you don't have to stress your skin with additional scrubbing. The Tribe Concepts Exotic Face Glow mask is perfect for retaining the moisture barrier and imparting an even toned glow.
Dermatologist Dr. Mikki Singh shares,
Use a soap-free face wash or cleanser to wash your face, use a thick moisturiser to nourish it and use sunblock to avoid pigmentation. These are the three simple and mandatory steps you need to take to fight dry skin.
Do not wash your face with hot water as that pulls away from the moisture from your skin.
Adding hyaluronic acid to your regime would be a good idea if you have extremely dry skin.
Using a moisturiser two to three times a day would be good. Post washing your face, pat dry it with a towel and apply moisturiser.
Using cream as opposed to a lotion would be a better bet. During winters, it is advised not to use astringents or toners as it dries out the skin.
Q. How to Take Care of Dry Skin in This Season?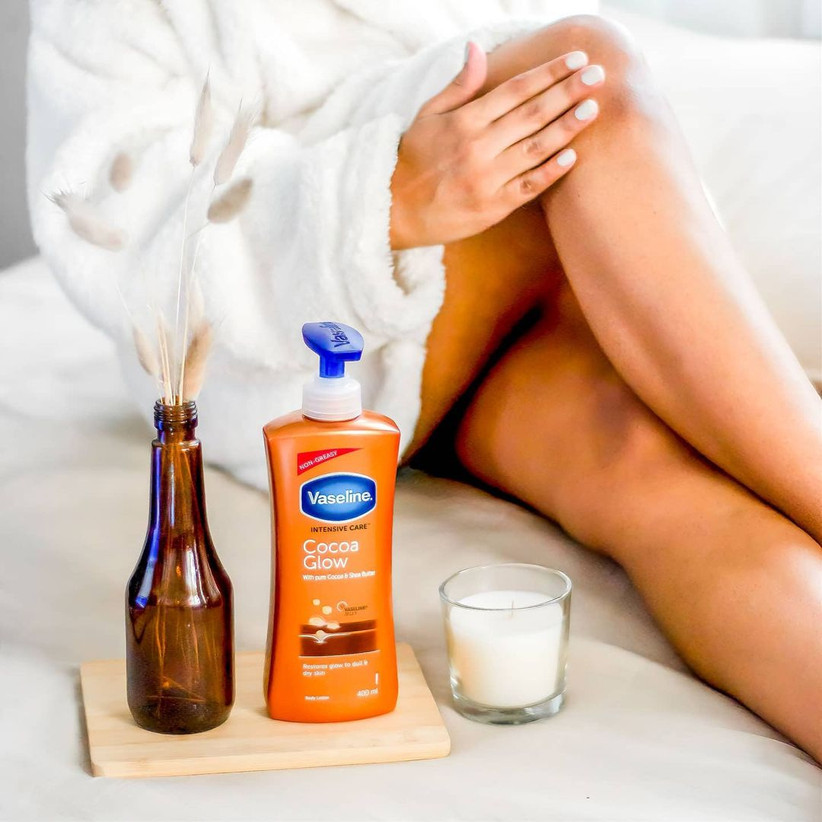 Image Credits - Vaseline India
Amritha Gaddam suggests:
One of the best ways to combat dry skin in the winters is to keep it moisturised and hydrated. Using natural ingredients instead of soap during bath protects the skin from chemical-based damages and harshness.
Ubtan Body Cleanser by The Tribe Concepts is a great substitute for soap as it is organic and offers the natural benefits of 11 Ayurvedic ingredients. It is extremely effective and nourishing for your skin making it soft, even-toned and moisturised.
While taking bath with hot water is extremely comforting during winters, one must avoid it. Instead, opt for lukewarm water as it helps to retain the natural oils in the skin.
- Tips to heal chapped knee/elbow and cracked heels in this season -
Do not use very hot or warm water to take a bath. Adding a tea spoon or two of olive oil to your water while taking a bath can help keep the skin moisturised. Do not rub the moisture out of the skin as the knee, elbow and heels have sensitive skin. Pat dry the body and apply moisturiser at least three to four times a day depending on the level of dryness.
For cracked feet, discoloured and chapped joints, there is no product which works better than pure coconut oil. The Extra Virgin Coconut Oil by The Tribe Concepts is extremely non greasy and works like a charm and will become a winter buddy in your vanity.
Another solution is scrub your feet with warm water and a pumice stone. It helps remove dead skin and dirt. Follow this up by applying a thick cream or oil on the cracked heels. You can even seal it with socks and voila! your feet are crack free.
Skin Care Routine for Sensitive Skin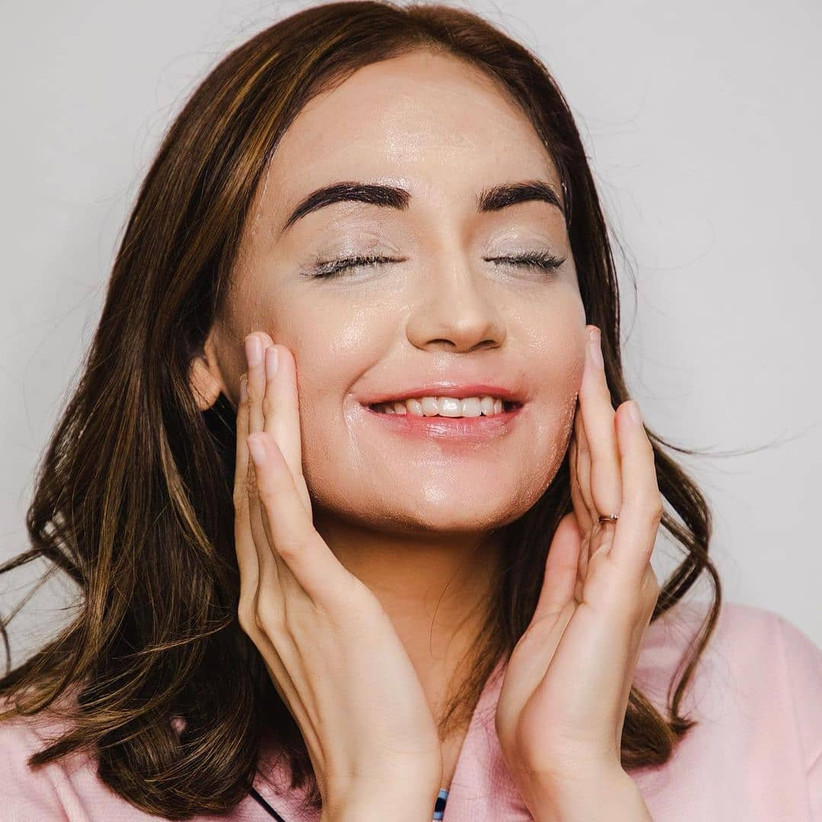 Image Credits - Ashima Makhija
If you are a bride-to-be with sensitive skin who is currently sailing through various markets of your city for trousseau shopping, taking measures to combat allergies, keeping your skin safe from pollution and being extra careful when your skin comes in contact with various fabrics and chemicals must be an every day story for you. Shahnaz Husain helps us curate a guide on caring for your sensitive skin.
Q. The Detailed Facial Care Process for Brides-to-be Who Have Sensitive Skin
For your daily facial care routine, cleanse your skin twice a day. Night time cleansing is more important, in order to remove pollutants and make up before bedtime. So, cleanse the skin daily at night and rinse well with plenty of plain water. Use lukewarm water.
If you have normal to dry sensitive skin, use a cleansing cream or gel. Or, take half a cup of cold milk and add five drops of any vegetable oil (til, olive or sunflower oil). Put this in a bottle and shake well. Use cotton to clean the skin with this natural mixture. Keep the left-over mixture in the fridge and re-use later.
If your sensitive skin is oily in nature, use a cleansing lotion or face wash. Oily skins also need deep pore cleansing. Mix rice powder with curd and apply on the face once or twice a week. Rub gently with small circular movements and wash off with water. Ready-to-use scrubs are also easily available. During the winter season, an oily skin may be prone to blackheads. You should definitely opt for regular clean ups in a beauty salon to get rid of blackheads.
The daily nourishing of normal to dry skin can be done at night, with a nourishing cream. After cleansing, apply a good cream (that has proven to suit your skin) and massage on the face with a few drops of water, with outward and slightly upward movements, for 2 minutes. Wipe off with moist cotton wool.
For oily or combination sensitive skin, mix three teaspoons oats with curd, honey and egg white or rose water. Mix everything together into a paste and apply on the face, avoiding your lips and the area around your eyes. Wash it off after 20 minutes.
The skin around the eyes is thin and delicate. It acquires lines and wrinkles easily. Apply an under-eye cream wipe it off after 15 minutes, with moist cotton wool. Or, daily apply pure almond oil sparingly and massage lightly, using only the ring finger, for one minute under each eye. Massage in one direction only.
Skin Care Routine for Oily Skin
Oily skin can be the most challenging skin type to manage, regardless of the season of your wedding. The constant secretion of oil can lead to break outs and dark spots that have the potential to ruin your whole look. Dermatologist Dr. Mikki Singh and Shahnaz Hussain share tips to control the oil on your face and body.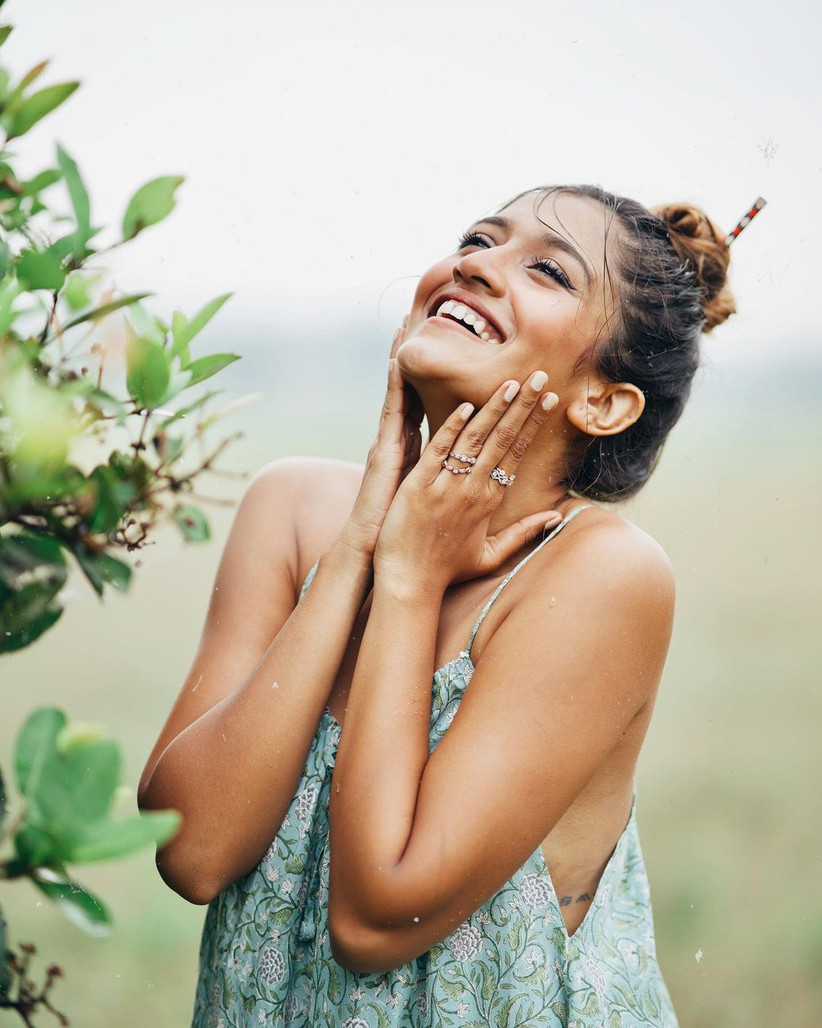 Image Credits - Larissa D'Sa
Q. The Detailed Facial Care Process for Brides-to-be Who Have Oily Skin
Dermatologist Dr. Mikki Singh shares -
Whether summer or winter, the idea is to reduce the oil being secreted. The best way to start is to use the right cleanser. A glycolic acid cleanser will reduce the oil on the face and washing your face two to three times would be a good idea if your skin is too oily.
Also in winter, people tend to use a thick moisturiser, however with oily skin, it is better to use a mild moisturiser. It is better to avoid serums and oils and apply a mild lotion like Rheacalm. This is a really good product for oily skin or even if you have sensitive skin, it works wonders. When you use this product, it is mild on the skin and breakouts that happen on oily skin are significantly less. It would be a good idea to use and cleanse your face with water-based products when you're using a lot of makeup which brides usually done due to multiple, functions.
Usage of oil-free, non-comedogenic and water-based products can be very helpful. Micellar water to remove your make up would be a good idea and then it is ideal to wash the face and nourish the face with a mild moisturiser.
- Tips for Brides With Acne Marks and Breakouts
Being a bride must be really stressful and one might have multiple things to do but the last thing you would want is breakouts during the wedding. You should always remove makeup before you go to sleep, no matter how tired you are! Cleansing your face and nourishing it with a moisturiser are steps that you cannot miss. Most brides use a lot of concealers to cover up their acne and scars, so be very careful as primers and concealers are two makeup products that can suddenly break out into acne. Use the right make up so that you don't see break outs closer to the wedding.
Q. How to Take Care of Oily Skin in This Season?
Shahnaz Husain shares, "In winter, the skin of the body also needs nourishing with oils. In the bygone days, 'ubtan' was made at home for skin care. First the body was massaged with til oil. Then home made ubtan was applied. This usually consisted of Wheat Bran (choker), gram flour (besan), yogurt (dahi) or cream of milk (malai) and a pinch of Turmeric (haldi). All these were mixed together and applied on the face and body, before bathing. The "ubtan" was washed off after half an hour, while bathing. It helped to clear the skin of dead cells, leaving it smooth, bright and almost translucent.
Another ideal way is to tie ingredients in a clean cloth, wet the cloth slightly and then rub the cloth bag on the skin while bathing. Mix powdered milk, ground almonds (badaam), rice powder and rose petals. The ingredients work on your skin, gently cleansing it and leaving it soft, smooth and vibrant. It also leaves the body naturally perfumed and as smooth as silk."
Have more questions about your pre-wedding skin care routine? Head to the 'Beauty section' of our Community page and post a discussion with all your questions. We will get back to you with expert approved tips for your skin care.