Beauty Experts Dispel 6 Myths About Dusky Skin
Experts from India's beauty industry crush ancient myths about dusky skin with the right dose of truth and tips.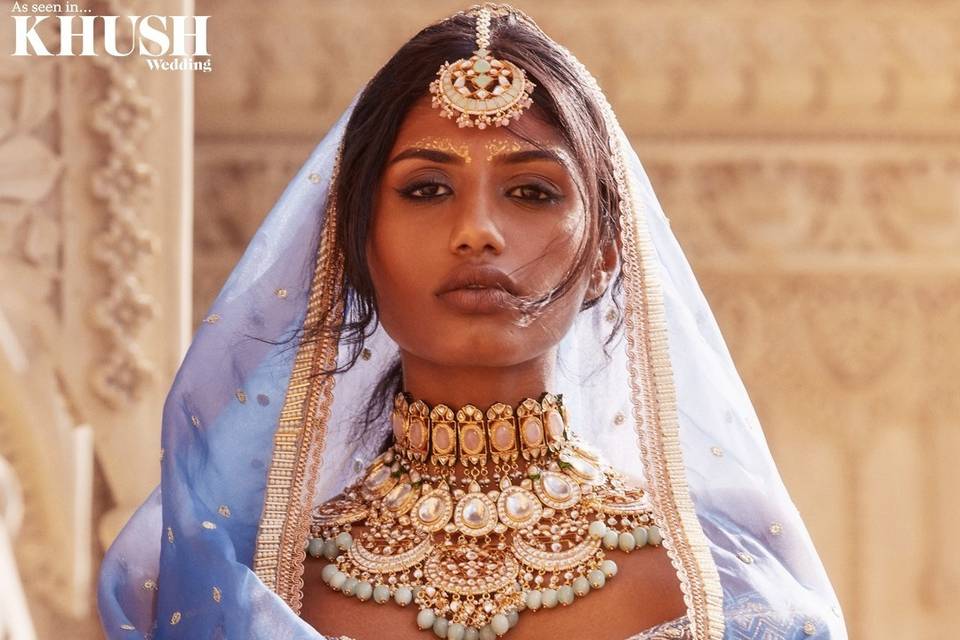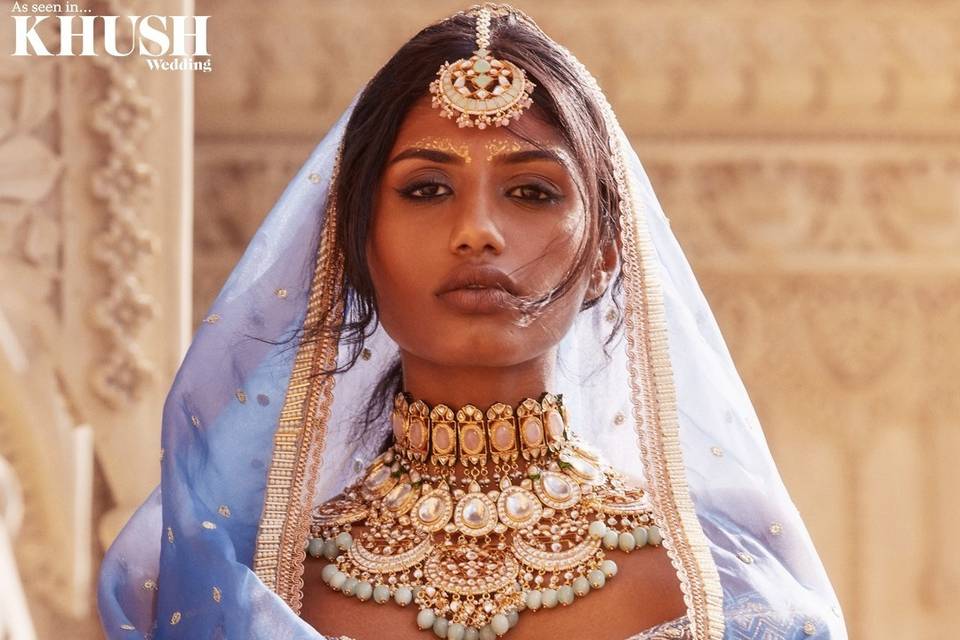 Image Credits - Kainoor Jewellery as seen in Khush Wedding
As a society, we have been circumventing around the fallacious definition of beauty for decades. Girls born with dusky skin have been belittled, forced to check their food habits, instilled with the fear of not being chosen as a partner for marriage, and wrapped in fairness creams and diy home remedies for fair skin from a young age.
The deep rooted discrimination and skin colour bias has also allowed foolish myths associated with dusky skin to spread like wildfire around the world. At WeddingWire India, we strongly believe that Beauty is not in the skin tone. We are committed to dispel any myth about dusky skin and discrimination that attacks the determination of strong and beautiful brides-to-be. In the same spirit, we delved deeper into the myths about skincare and beauty that have tied down the wings of beautiful dusky women for long with expert inputs from Stafford Braganza, National Makeup Artist & Technical Trainer, L'Oréal Paris, India, Dr. Blossom Kochhar, Founder And Chairperson, Blossom Kochhar Group Of Companies, and Bianca Louzado, Celebrity Makeup Artist & Owner and Founder of Code Beauty.
Find Top Bridal Makeup Artists in Your City
Myths About Makeup for Dusky Skin
Myth 1 - Nude makeup is not for girls with dusky skin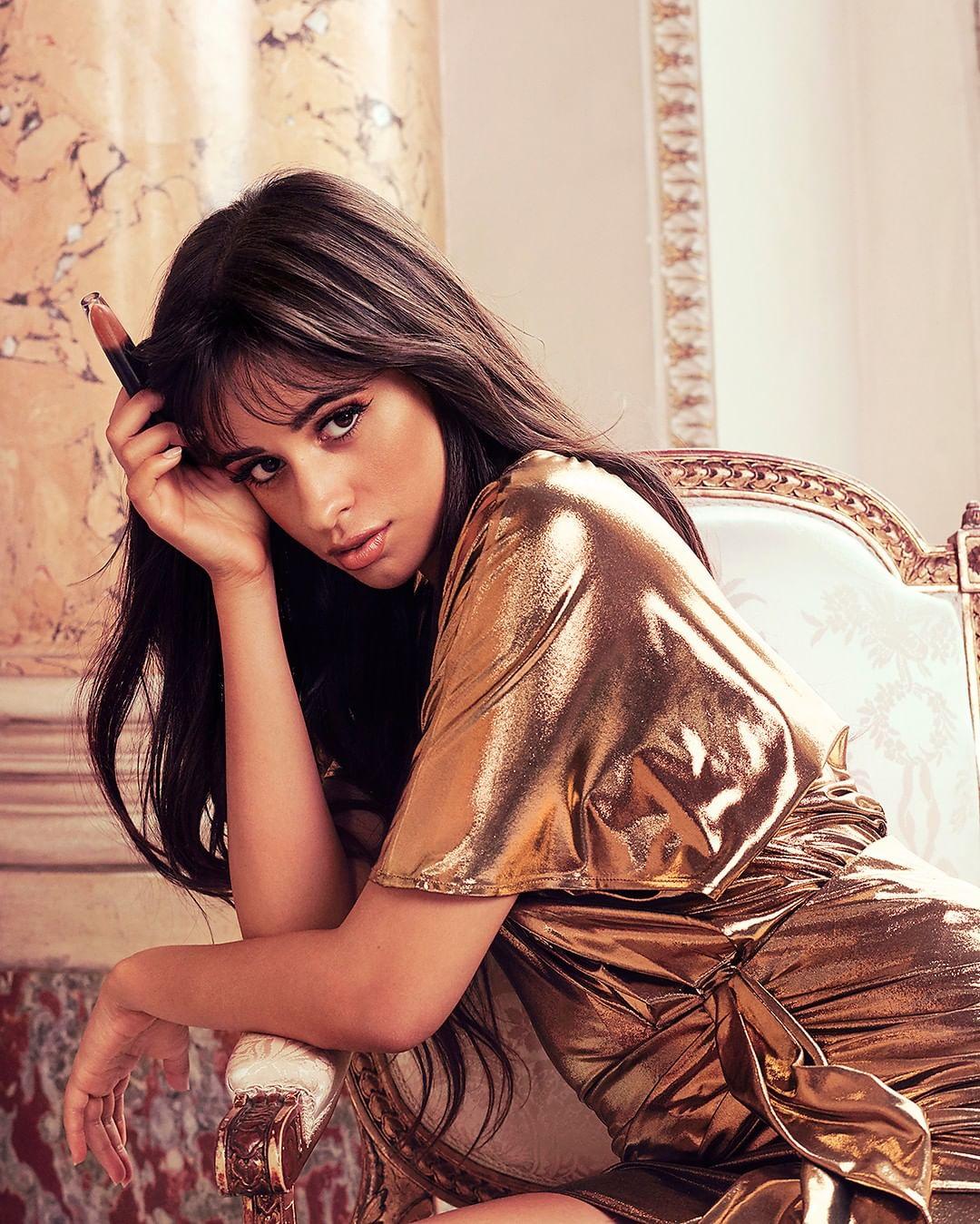 Image Credits - L'Oreal Paris
Stafford Braganza: Dusky-skinned beauties are the most compatible with nude colours because the shades contrast nicely with their complexion. I believe the duskier your skin tone, the better you can handle pigmented colours.
Makeup Tips: I suggest trying nude shades with light brown undertones as that will add to the natural glow of their skin and enhance their lips while complementing their complexion. I recommend the L'Oréal Paris Rouge Signature Matte Liquid Lipstick – 129 I Lead, as it does not dry out your lips and leaves you with a highly pigmented smudge-proof pop of colour. A soft bronze smokey eye shadow or cherry colour on the lids, neatly lined eyes and a subtle nude lipstick with brown undertones is the way to complete your look. And trust me there is no way one can leave the house without defining and enhancing those eyes, I'd recommend the L'Oréal Paris Voluminous Lash Paradise Mascara which gives intense volume. Tried, tested and my favourite.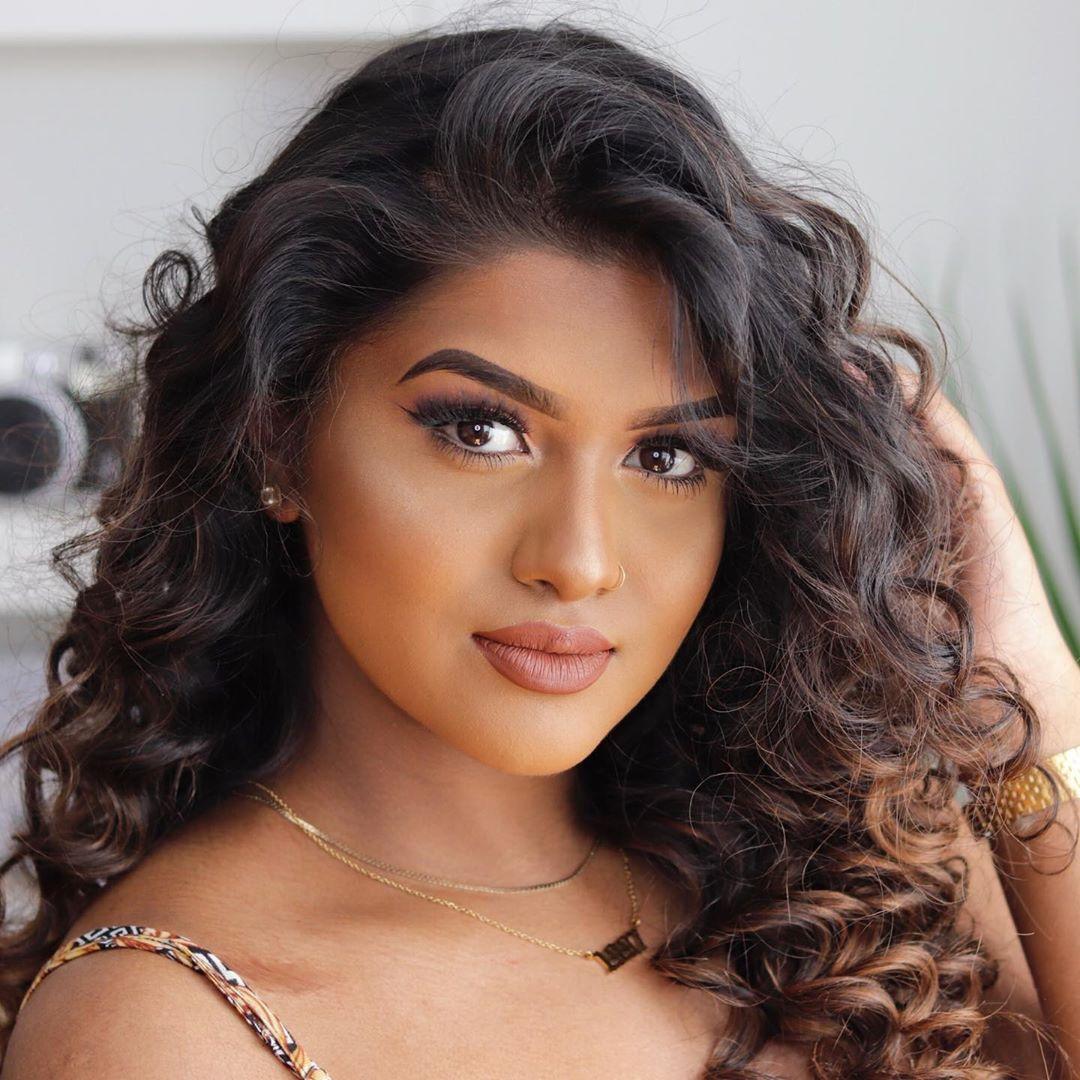 Image Credits - Mathusha Thurai
Bianca Louzado: My USP is a nude skin finish which has a luminous look and I do not restrict it to skin tones. In fact, applying nude makeup on a dusky skin toned model is something that I love to explore as it translates beautifully if it is done right. Nude make-up on a dusky skin tone is ever so flattering and certainly ups the oomph adding a touch of sun-kissed to the overall look.
Makeup Tips: There are different shades of nude and the intensity of nude deepens with that of the skin tone. I love the inclusive range of foundations and eyeshadows by Fenty, Nars, and Two-faced and would highly recommend them.
Also Read - Top Summer Makeup Trends and an Application Guide for 2022 Brides
Myth 2 - Bright lip shades like pink/red do not complement dusky skin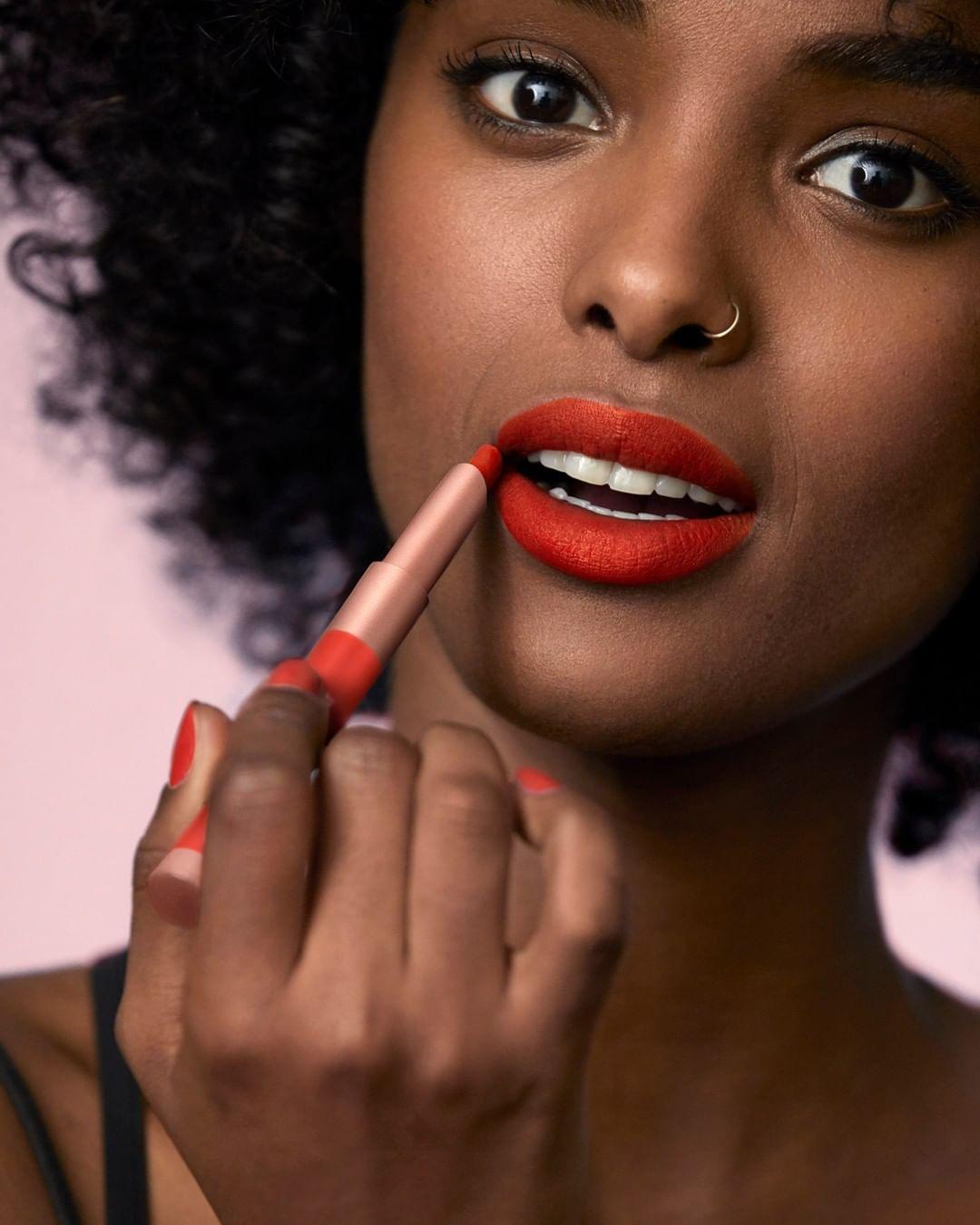 Image Credits - L'Oreal Paris
Bianca Louzado: Dusky women actually have the advantage of wearing more colours because of the rich, warm pigments in their skin tone - shades deep from red tones, warm nudes, browns, corals, hot pinks, rust orange to taupe are huge hits. When you are out shopping for that perfect nude lipstick, recognise the tint in your lips. The lipstick you choose should exactly mimic that tint and once you find a nude that you love, you can dab a hint of the coral or pink nude on top to give it a nice tint, but what's most important is that you define your lips with a lip liner in a medium brown to dark brown or plum, then go over with your favourite nude. You can then apply a beautiful transparent gloss and you would have nailed it!
Lipstick Recommendations: Lipsticks you could opt for - LOréal Colour Riche Lipstick in Brazil Nut, Nyx Butter Gloss in Ginger Snap, Nyx Butter Gloss in Praline, MAC smoked almond my favourite for warm skin tones, MAC matte whirl and Lip liners - MAC Spice, Hover & Plum.
Makeup Tips from Stafford Braganza: A bright red lipstick is the perfect way to make a statement wherever you go, and it makes your lips look stunning. Bold brows and daring lips are virtually fail-proof and always in vogue. Try the L'Oréal Paris Rouge Signature Matte Liquid Lipstick - 134 Empowered as it is the perfect red and leaves a long-lasting matte impact without flaking or smudging on your lips. Being a bold shade, it brings out the natural undertones of your skin. Deep shades like burgundy are also in trend and looks amazing on dusky skin. The L'Oréal Paris Rouge Signature Matte Liquid Lipstick – 141 Discovered is perfect for your festive season look.
Also Read - Trending Lip Shades for All Skin Tones
Myth 3 - Don't experiment with colours of your eye liners if you have a dusky skin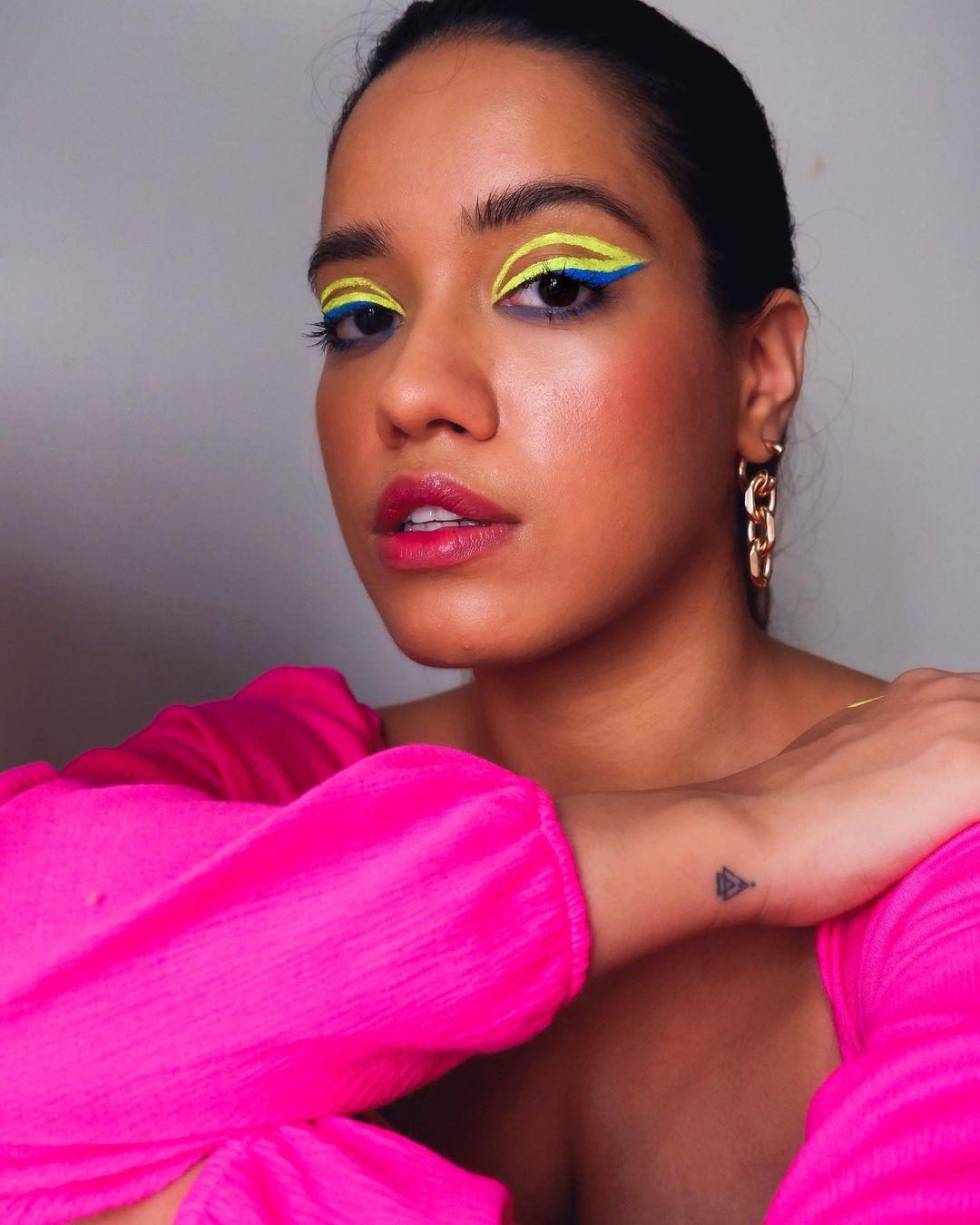 Image Credits - Debasree Banerjee
Stafford Braganza: When it comes to experimenting, I think a blue or a white eyeliner stands out well on dusky skin. But black has always been my go-to. Let's be honest, you can never go wrong with the classic black eyeliner. Regardless of what beauty products we use, it's always safe and best to have a black eyeliner which holds a lasting spot. They are known to give your eyes a sharp look by defining them, no matter if you have big or small eyes. And regardless of whether you want to give your eyes a casual look or a glam one, the L'Oréal Paris Gel Intenza Eyeliner will always be my personal favourite as it glides on easily and adds some definition to your eyes.
Bianca Louzado: Jewel tones like green, electric blue, purple, etc look like a dream on dusky skin tones. It could literally light up your mood and is a sure winner when you are amongst your colleagues who would instantly appreciate your eyes especially because it isn't the regular earthy tone on your lids. No one should restrict the colours you want to wear if you have a dusky toned complexion and you should be confident in wearing all shades.
Makeup Tips: Beauty blogger, Debashree has recently launched her new line of eyeliners so that would be interesting to watch out for. I have a soft corner for jewel-toned eyeliner by Make-up Forever and Urban Decay.
Also Read - Top Beauty Influencers to Follow for Dusky Skin Makeup Inspiration
Myths About Skincare for Dusky Skin
Myth 4 - Girls with dusky skin, do not need sunscreen
Dr. Blossom Kochhar: Women who have dusky skin are born with a natural SPF of 6 to 8 roughly (thanks to the melanin in the skin), however they do not have UV blockers to protect the skin from UV Radiation. It is advisable to wear sunscreen no matter the tone/shade of the skin.
Myth 5 - Ageing doesn't happen in dusky skin
Dr. Blossom Kochhar: Ageing happens regardless of the shade/tone of one's skin. UV radiation, eating habits, pollution, smoking, medication, weather(Dry skin), health, and lack of proper skincare routines affect the skin's elasticity. Use products that are rich in Vitamin E, Antioxidants and Collagen.
Myth 6 - Hyperpigmentation is irreversible on dusky skin
Dr. Blossom Kochhar: Hyperpigmentation is reversible. One, we need to understand the causes of pigmentation. Hyperpigmentation is caused by UV Radiation, Pollution, Smoking, Medication, Hormonal imbalance, and Pregnancy. Wear Sunscreen for starters, use moisturisers as they create a protective barrier against the environment, and drink a lot of water.
Tips: Patchouli oil helps to reduce pigmentation (1 to 3 drops in a small bowl can be used to wipe the face after cleansing), Facial Masks with Neem, Clove, Licorice (Majista) can be used. Our Anti-Pigmentation Glossy Pack, Anti-Pigmentation serums, and a regular facial every fortnight followed by home care routine incorporating the above mentioned can help you combat pigmentation regardless of your skin tone.
Surprised to know that your dusky skin doesn't limit your skincare and makeup options? If you have more doubts, ask away by posting your questions in our comments section below.