Few things are as empowering, as terrifying and as electrifying as embracing your true look for your big wedding day. Especially when you're bombarded with the need to be the most perfect, flawless and sculpted version of yourself. While we respected the bride who went no-makeup, we're bowled by those ladies who chose to go their true, CG self for their big day. This is a pean for those girls, the CG women, with a heady mix of hairstyles for curly hair.
Curly girls, we hear you. Your hair care regime is arduous. You wash, squish to condish, gel and deep condition, week in and out. So, when it comes to your big day, it's important that your curls get a chance to be in the spotlight too. We've asked around and put together a list of hairstyles for curly hair that can help you achieve the look you want to highlight.
1. Hairstyles for Curly Hair (Long curls):
Girl, you're patient. And it shows. Your tender, loving care for your hair has been with you, through thin and thick, bad hair days and satin wraps. And these gorgeous long, curls are simple, shining proof of it. So, now that it's time to style your locks in just the right look, you're looking for a bout of inspiration.
Here are some ways in which you can bring it to a head, like a true boss:
A. Cascading curls
If you have long ringlets that run down to the small of your back, then take your cue from the epic way in which this bride let them flow. Pinned in parts and left to cascade in others, this style is all about pins and painstaking care. Involve a friend, a bridal hairstylist or a bridal makeup artist to see the difference by trying this version of hairstyles for curly hair.
The cherry on top can be a hair accessory, a passa or a maang tikka.
Another bride, Prutha Amal Pai tried a similar look with a tiara on top. She said, "My hairstylist combed and teased the top of my head and the rest of my hair were left in tight curls."
B. Wild and bright – Long, open curls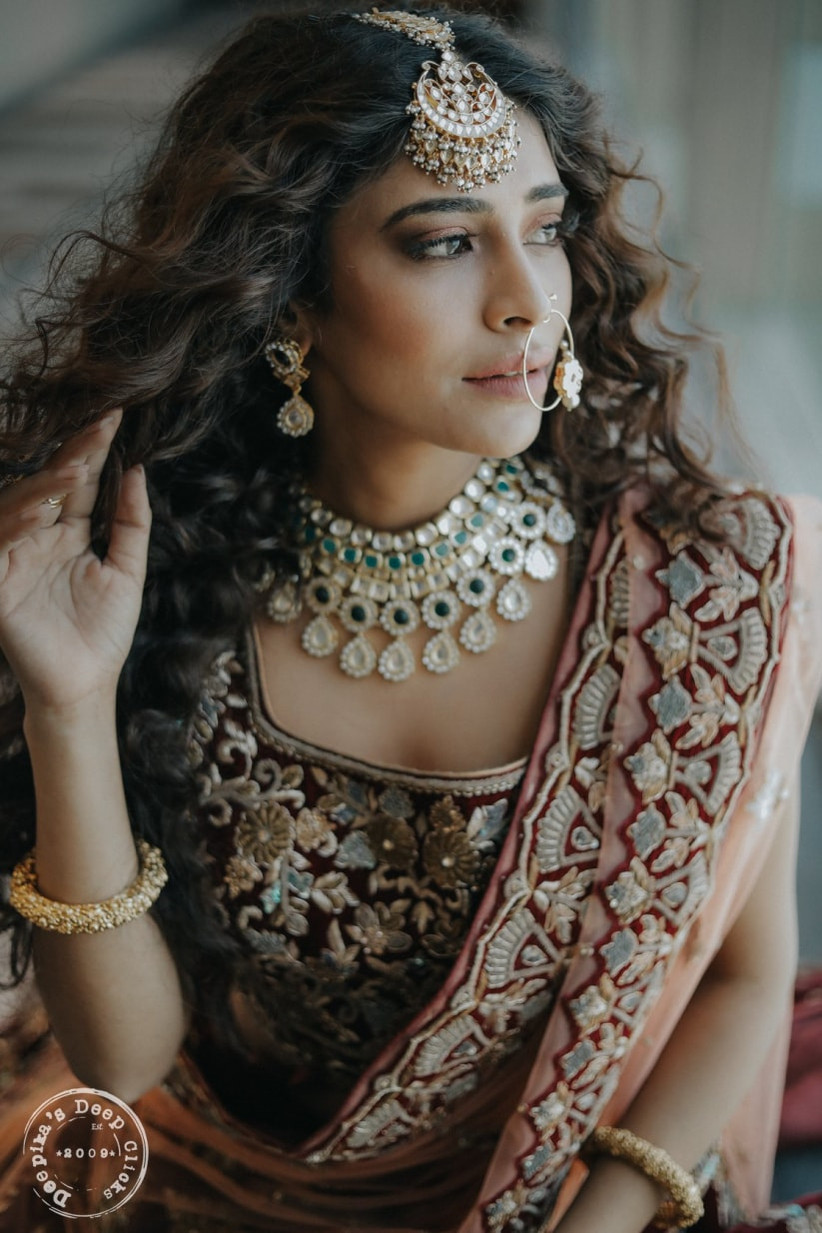 Image courtesy: Deepika's Deep Clicks
Prefer your hair the way the Gods made you? Then let them loose the same way. We love how this curly girl chose to leave her moistened locks (gelled to hold them in) just the way they are. Go for this bridal look and let the world know how much you love your locks. And don a Maang Tikka, just like her, as that extra bridal detail.
We love the bride gone wild look that Deepika's deep clicks as part of an editorial photoshoot. Use the same approach as your go-to set of hairstyles for curly hair by trying it on for at least your day or smaller, home functions.
C. The half and half
Have the best of both the worlds as you pin the top half of your ringlets and leave the rest to sway. This stress-free (we don't count the number of pins, nor the effort it took you) Indian bridal hairstyle will keep you on your feet – ready to swing, slide and sit for photos and killer dance moves alike.
The pinned-back approach also works for minor tweaks and changes to this set of hairstyles for curly hair by careful selection of the spot where you choose to pin back your curls - at the top of your head, behind it or even at the nape of your neck.
D. The tall braid
As any curly girl will tell you, that trying to tame your ringlets into a braid isn't as easy as it seems. Your voluminous hair will still tower through the look. Own it on your wedding day, by giving them breathing space on the top of your head, even as you plait them down the side. Depending on where you leave your braid when you're twisting it into position, you can gain a multitude of hairstyles for curly girls - the side braid, the long, central braid and several small braids.
For bonus points, add floral details like this bride in blue, down the length of your braid.
E. Oh, I'll behave
Really love how your bridal outfit looks on you, but don't know how to accommodate your towering curls? Go ahead and tame them into a bridal bun. However, do it gently and let your crown peep through underneath your beloved lehenga dupatta.
While pinning a messy to an ornate bun are daily hacks, you can work them fabulously by your choices in hairstyles for curly hair as well.
2. Hairstyles for Curly Hair (Medium curls):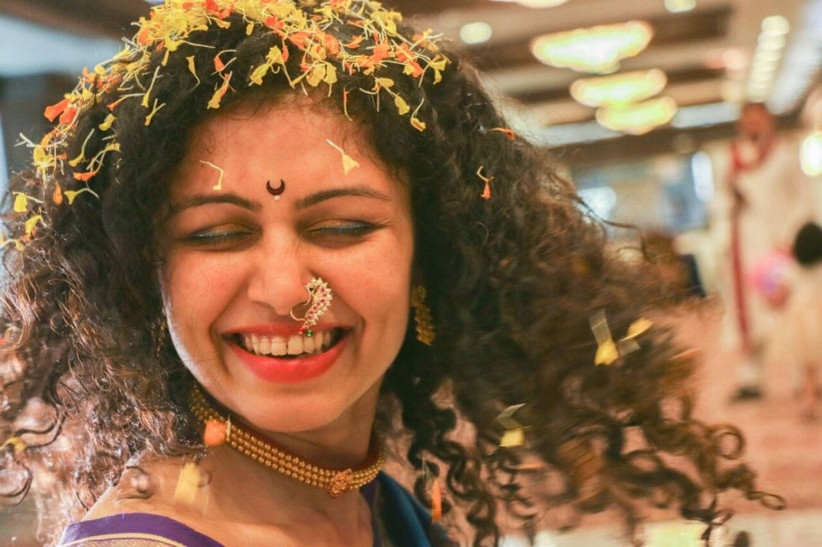 Image courtesy: Swati Hasolkar
Believe that your mid-length curls should also feature in your stunning bridal photos? Give them the room to do so with these mid-length hairstyles for curly hair. If you're good on your flaxseed gel and tight curls game, like Oshin Fernandes, a recent CG bridesmaid to her sister, then you can also add a fancy pin to the side and let them loose to the wind.
A. Side-swept half and half ringlets
Tuck in from a side and leave them loose on the other, we love how this bride in Azure has done justice to her medium-length ringlets. The look, which she employed for her engagement, allowed her to breeze through the ceremony, accommodated a change in jewellery and set the dance floor on fire with equal ease.
Try a shiny hairpin, a Maang Tikka or Matha Patti to make it a perfect 10.
You can also pin a minor selection and leave the rest to kingdom come.
B. Crown your mane
A sleek front, a shiny tiara and loose curls were the look of choice for this bride who was proud of her curls. The loose waves (typical for a 2B, 2C curly girl) have not been gelled and broken, which means that this style can work for most curly haired brides.
For added emphasis to such hairstyles for curly hair, add individual strands of baby's breath down the length of your locks. This creates a deep contrast and elevates the look to one worthy of being on such a list.
C. Tousled and tied back
Stray curls, falling down your back are still a popular romantic note. Add it to your bridal look this season, like this beautiful bride's Mehndi dress. She pinned her curls out of the way, slightly to the side, even as the errant strands, playfully kiss her back.
Apart from giving a carefree, playful mood to your curls, such hairstyles for curly hair actually require minimum fuss once they've been set into place.
D. The Pineapple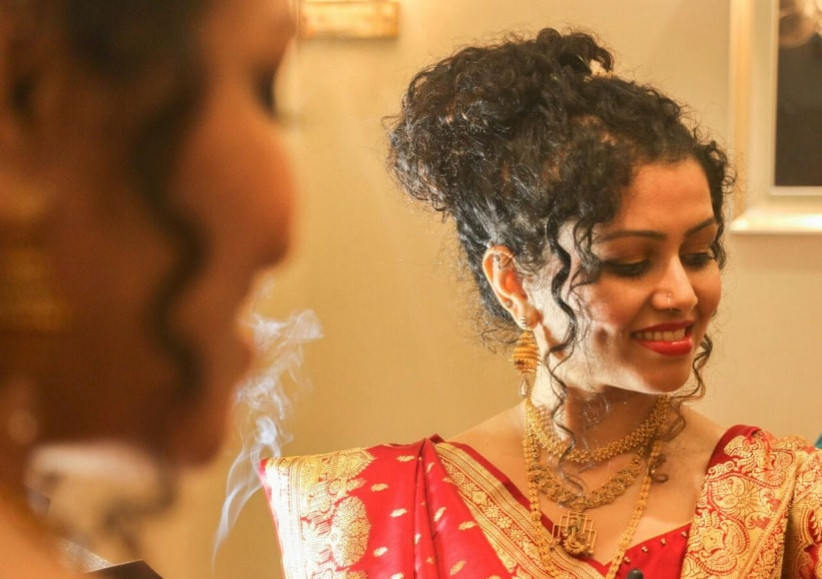 Image courtesy: Swati Hasolkar
A go-to nightly routine for most curly haired girls, a neater (or messier) pineapple will stand on its own as a special do, like how this real bride chose to carry for her big day. Decked as a
Bengali bride
Swati Hasolkar chose to bring her curls into the knot, leaving a few errant ones on the side. However, she gave the comb a miss, choosing to stand true with her ringlets for the day, under her
bridal mukut.
3. Hairstyles for Curly Hair (Short curls):
Have short curls, wiry on your head or down to your cheeks? You, my girl are a truly fierce woman, carrying the high, heavy ringlets right on top of your head (Especially if you're a 3A). So, why should your wedding day be any different?
Here are a few different hairstyles for curly hair you can choose for your wedding day:
A. Add hair accessories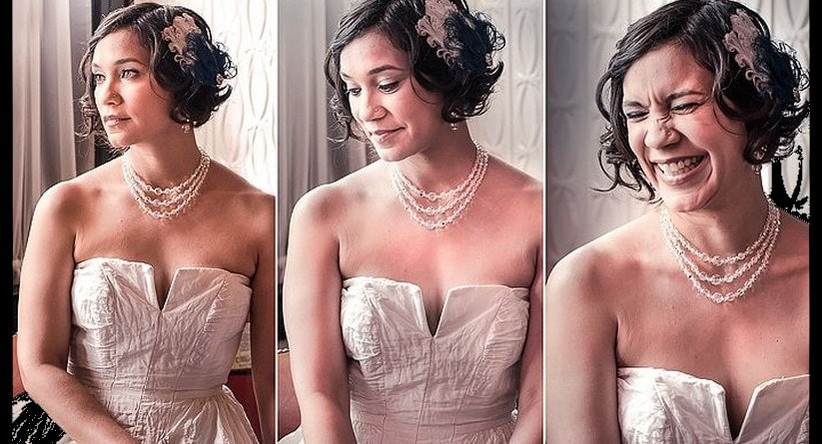 You could perk a tiara, a bejewelled hairpin or even floral accessories over your short do. Style it as per your favourite Day 1 routine (Clean, deep conditioned hair with a moisture lock and styling gel) and then prop the accessory of your choice on top.
If you're covering your do with a bridal dupatta or veil, then you might need more help. Pins and hairspray, please.
B. Add bridal accessories
Believe that your crown needs no cover? We hear from you. Style it with in-vogue bridal accessories like the Maang Tikka or the Matha Patti. Trust me, your everyday style will shine anew with these glimmering beauties.
You could also go full boho with a large, gotta jewellery piece as your Maang Tikka or tiara.
C. Crown it with flowers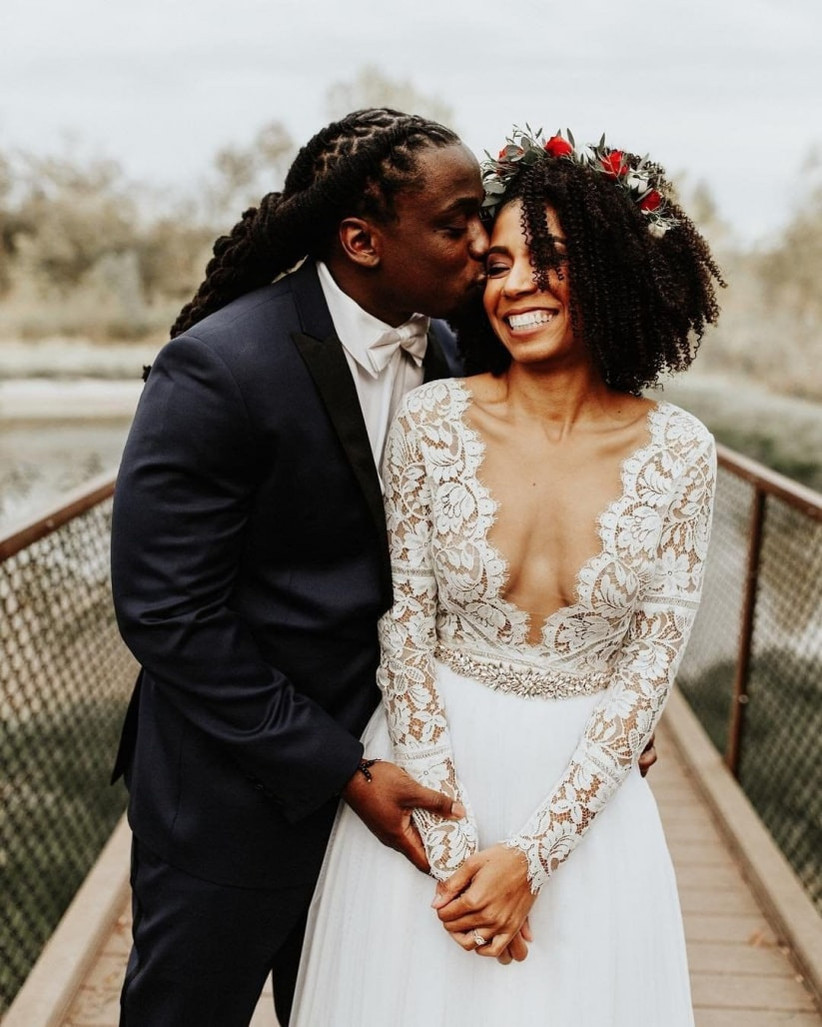 Image courtesy: WeddingWire US
Let 'flowers in her hair' be your bohemian point of call. Choose flower jewellery – from crowns to single-side sprigs for your hair. With the sheer range of flower jewellery these days, you could get a custom-made set in your favourite natural, or even artificial choice of flowers.
D. Tousled bobs, wild afros or sleek fronts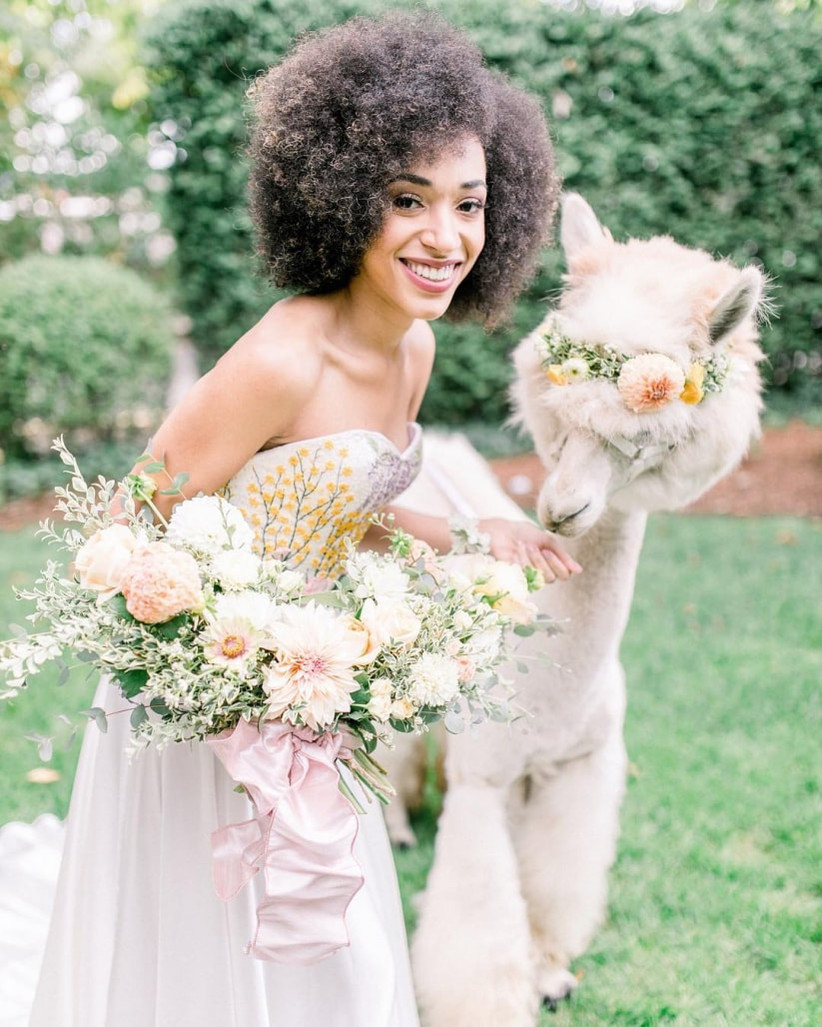 Image courtesy: Kirsten Wilson Photography from WeddingWire US
Hair accessories are not your thing? Then go as your true day look, with a possible hint of sleek, side-swept, short curls. You may also tuck and tie it in or leave it as the fierce crown the Lord intended it to be.
Tips and Tricks to Tame Your Mane
We know that it can get difficult to manage your hair, especially if you have curly hair. So we have put together some of the tricks and tips that will help you style your hair with grace.
Always comb your hair from top to bottom. Start from your tips to detangle your hair and gently work your way to the top.
Trim your hair regularly to avoid split-ends and frizzy hair. It would also make your hair look fresh and bouncy.
Try product cocktailing for a customised and personalised hair care routine. You can mix two three products that would suit your hair and styling needs.
Always rely on a wide-toothed comb for detangling and avoid brushes. Curly hair is much more fragile where each curl can be a breaking point and therefore this is the most gentle way to comb your hair without breaking them.
Use deep hair conditioning, it would not only keep your hair moisturised but also prevent them from breaking.
Skip daily shampooing as it can make already fragile hair much more delicate and rip them from natural oils.
Use pineapple trick for more defined curls. You can tie your hair up in a top-knot before sleeping as it would help in maintaining the natural volume of your hair.
Refresh your curls with a curling iron is the hair is unruly and a mess, as it would add definition and volume to your hair.
So girls own the day with these hairstyles for curly hair. And if possible, team them with the best set of accessories for any bride-to-be on her special day - a bunch of curly hair girlfriends as your bridesmaids.
In the end, it's your day, your moment and your look. Go to town with it!