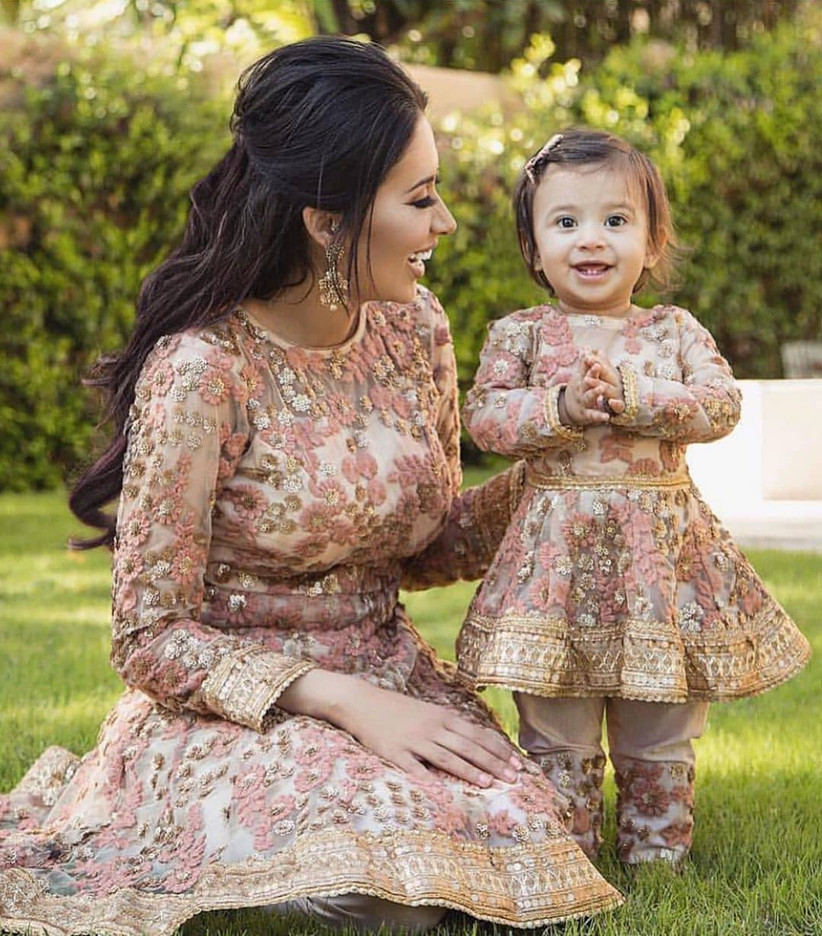 Image Courtesy: Wedding Bling's Instagram
Wedding season is the best way to channelise your most stylish self, be it glamorous wedding ensembles or super chic hairstyles. But, If you have a little girl around, who loves to follow your footsteps and her favourite playtime is to copy your glam-up session, then let's make this session more interesting with this super chic array of amazing hairdos, specially designed just for her!
1. Say It With A Cute Flower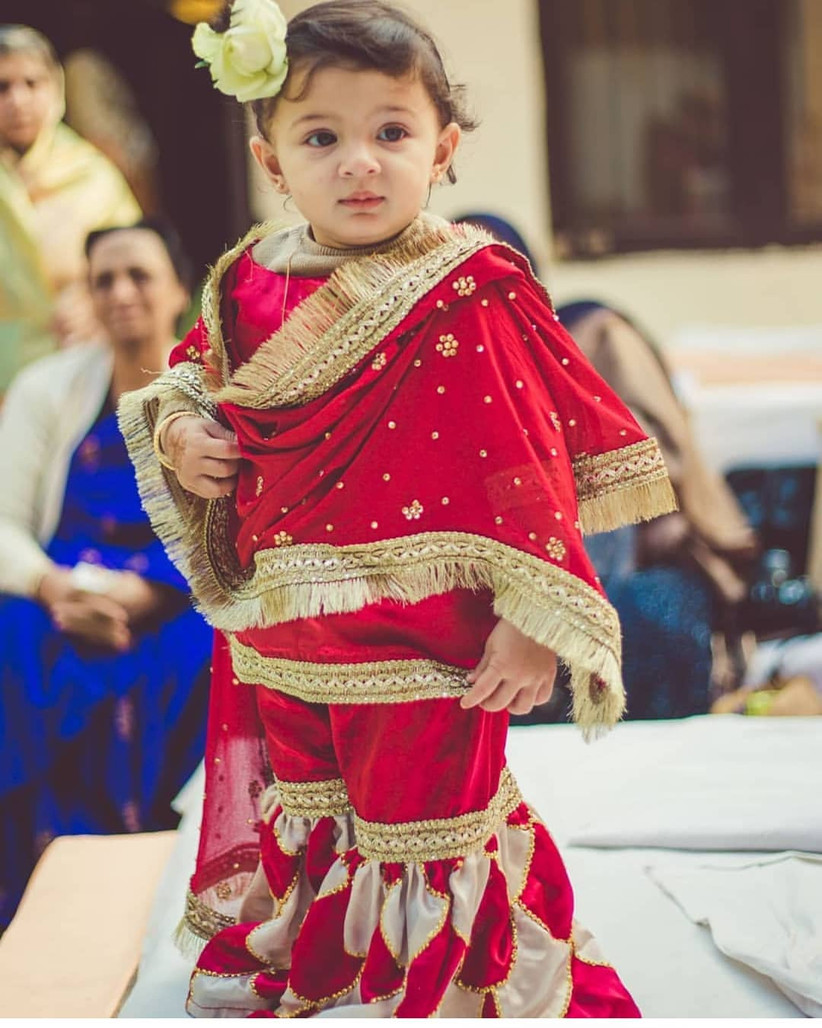 Image Courtesy: Eco Weddings
If your little girl has short hair just like this cutie here, then just follow this little fashionista's style and complete your little girl's wedding ensemble by adding this super charming flower to her hairdo. Hairstyle for Indian girls like this one is the easiest and most comfortable, especially for the toddlers this young. She can play around and be her super adorable self without any bother.
2. A Bun To Perfection
If your cutie has long and thick hair just like this little fashionista here, then this bun hairstyle would be the best option for her amid the stylish hairstyle for Indian girls. Just make a high-ponytail and roll that up in a clean bun, to make it cuter just take out those sideburns and curl them around your fingers. This is the best hairdo for super active children. You don't have to keep retouching the look.
3. The literal Princesses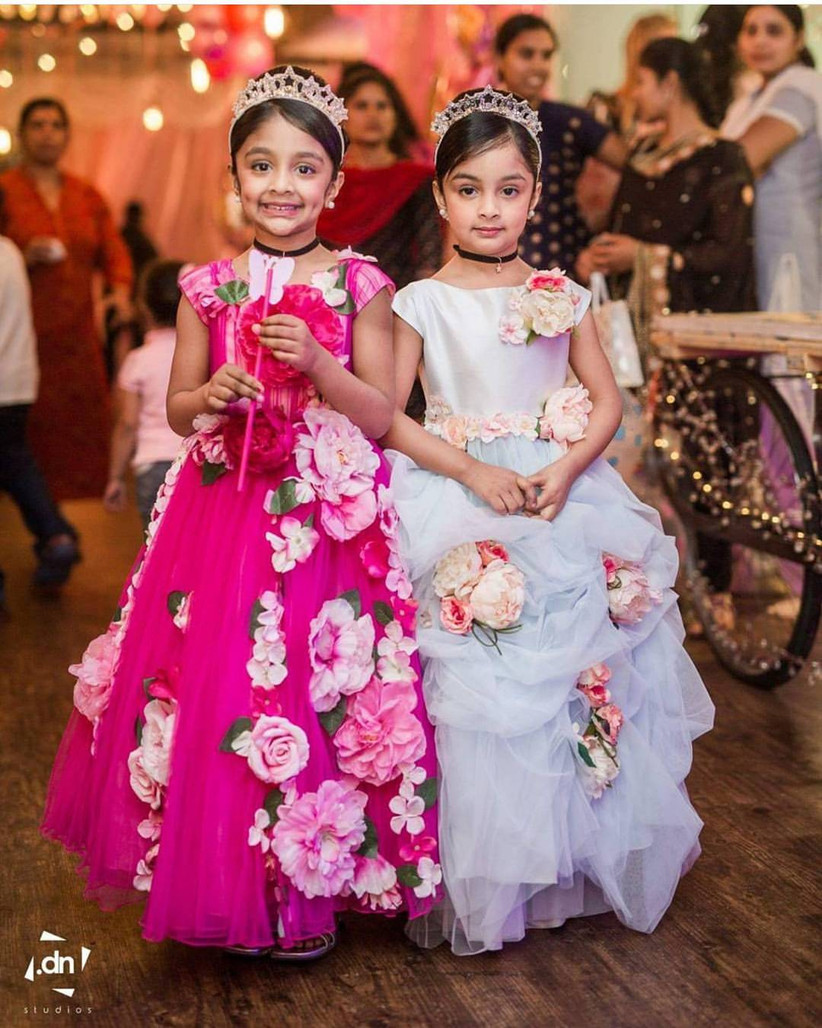 Image Courtesy: .DN Studios
If your little girl is planning to don a Disney princess outfit for an upcoming wedding, then you should complete her look with an actual crown. Brush her hair out in a clean side parting and secure the rest of the hair in a low bun. At last, place that beautiful crown and let her shine like an actual Disney princess. This style amid the hairstyles for Indian girls is best for the little Disney fangirls.
4. Secure It With Some Glitters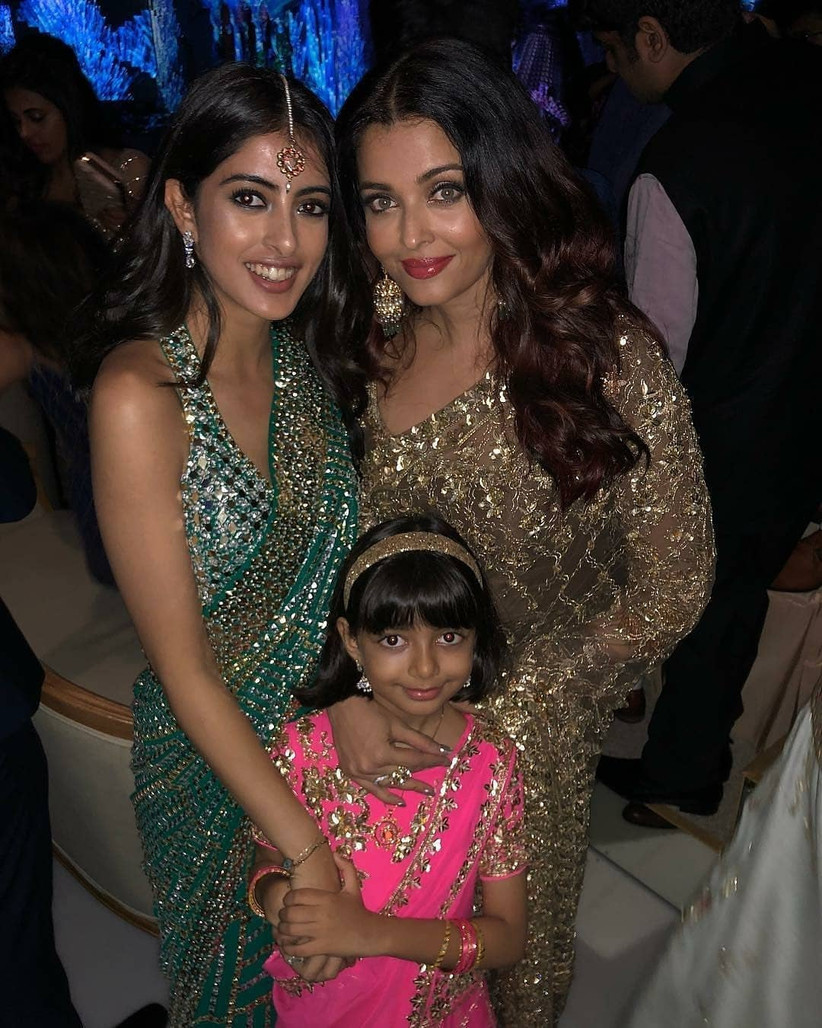 Image Courtesy: Aishwarya Rai Bachchan's Instagram
If your girl has that 90's classic hairstyle for Indian girls, the one with front bangs with ear-length hair then this hairdo is the one for you. For an upcoming wedding function just doll her up in a nice wedding dress for kids and complete the look with a matching hairband with lots of glitters on. This little accessory will do wonders for her already adorable look.
5. For Your Mini-Me Version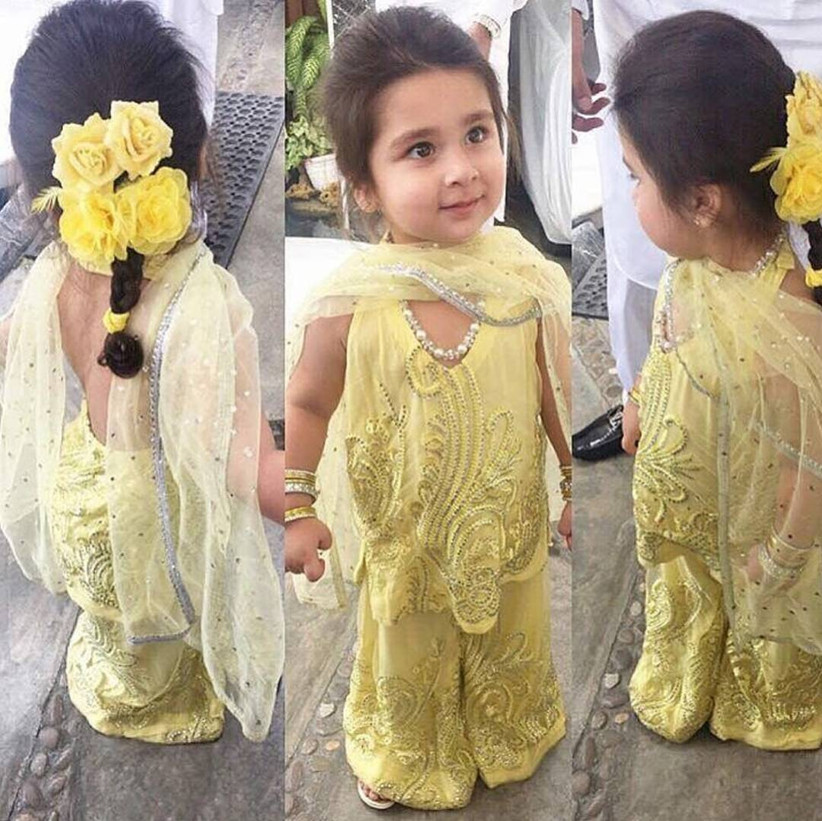 Image Courtesy: Stylepixx Media
If your little girl just loves to follow you around and it makes her the happiest when you twin with her, then let's make your twinning game super stylish with this chic hairdo. This hairstyle for Indian girls is the most fun number for her. All you have to do is to loosely braid her hair and just add some flowers with a matching hair tie. Her look and hair both would look super adorable and manageable at the same time.
6. Chubby Cheeks With Some Curls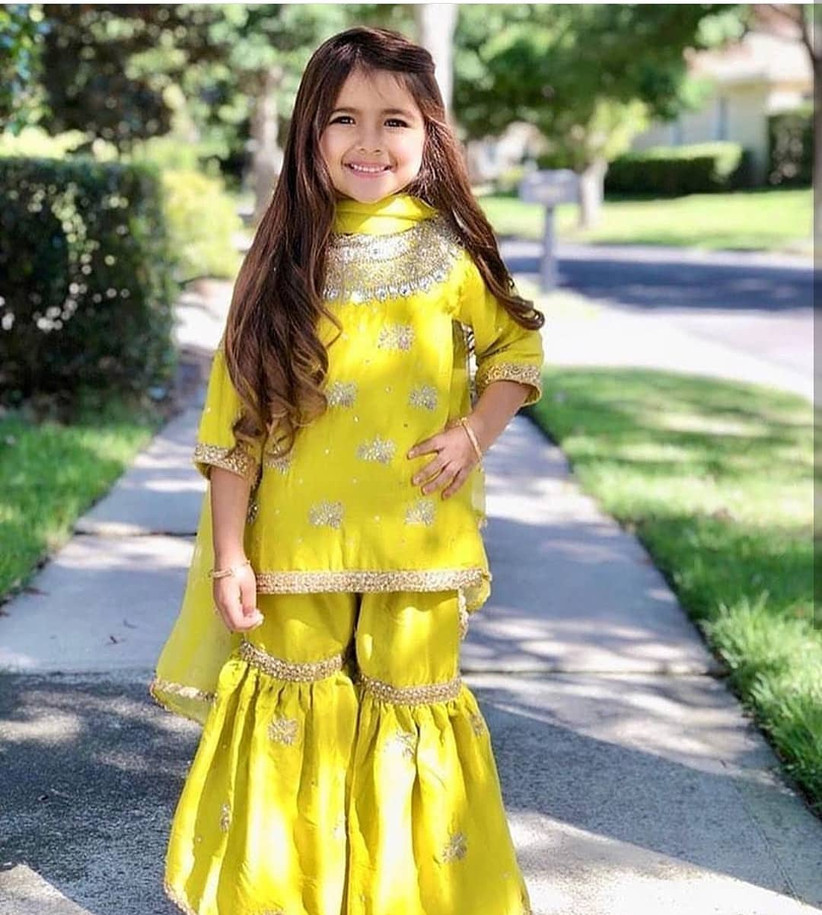 Image Courtesy: Timeline Studioz
To make your little princess stand out in the upcoming wedding function, add some soft curls to her look. Curly hairstyle for Indian girls is the best and most easy option. Those soft curls around her chubby chicks will make her look very pretty. Instead of using heated appliances, you should go for a natural method for her curls. For instance, just divide her hair into small portions and tie them around in little curls and let them sit overnight and the next morning you will have beautiful soft curls for her.
7. Middle Parting Hair Secured With Side Clips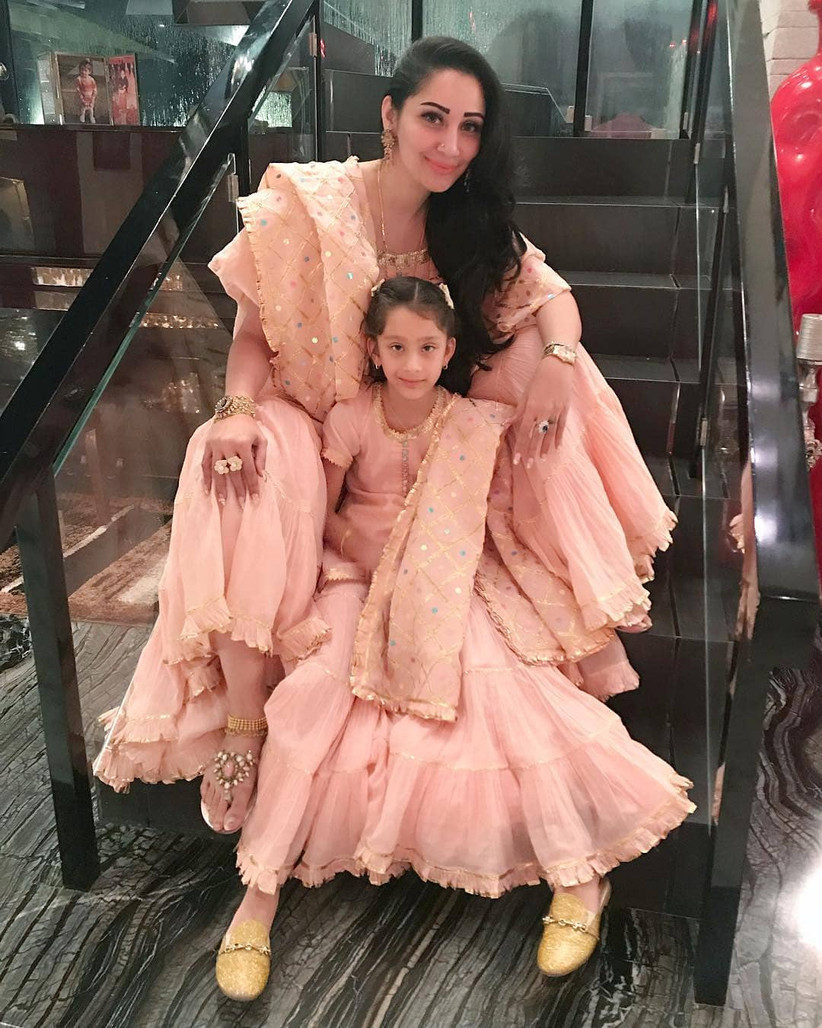 Image Courtesy: Manyata Dutt's Instagram
For the last minute easy-to-fix hairdo, try this super cute hairstyle for the Indian girls. Just do a middle parting of her hair and secure those partings with cute side clips. This would be the most convenient yet stylish hairstyle for your little girl. For the next wedding function, just doll her up in a nice outfit along with this super chic hairstyle.
8. A French Braid With Some Flowers
For a more detailed and outstanding look, try this super stylish hairstyle for Indian girls. Start with a clean side parting and now pick a chunk of front hair and roll them up. Secure that rolled hair with a bobby pin. Gather all the hair and fix a clean French braid. Complete this super cute look with some flowers and cute hair accessories.
9. The Rapunzel Hairstyle For Your Little Girl
If you are looking for a special kind of hairstyle for Indian girls then this could be the one for you. This is such a graceful hairstyle to don for the next wedding function. Just give her some soft curls along with a middle parting. Pick some hair from both the side and secure that hair with some bobby pins at the back. Now grab a beautiful bunch of exotic flower and decorate them around her hair. This beautiful hairstyle will turn out the most graceful one for your little girl.
10. A Cute Hairstyle For Your Tiny Tot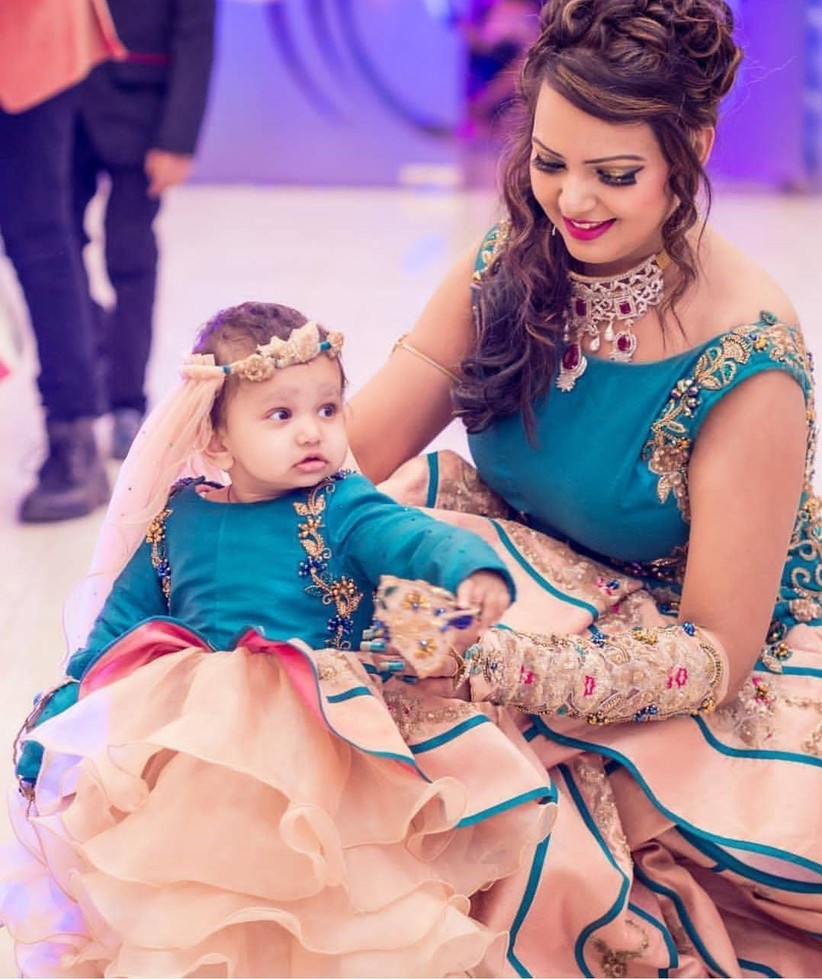 Image Courtesy: focus Photo Studio
Let your tiny tot shine bright for her first wedding function ever. If her hair is not long enough to make a ponytail then you can use a fancy hair accessory to glam her look. Like this little cutie here, all you have to do is to grab a fancy hairband, the one like this image, would be a nice option. This hair accessory is giving a cute illusion of dupatta, matching to her outfit. Adorbs Right!
11. Add A Piece Of Jewellery to Her Hairdo
If dressing up is your little girl's favourite pass-time and she loves to role play in your saree and jewellery then make her super happy with this hairstyle for Indian girls. For the next wedding function, make her wear an Indian outfit and to complement that, try this super easy hairdo. You can start with a middle parting and after securing those side hair with bobby pins, all you have to do is to place a beautiful Maang Tikka on the middle of that parting. Secure the Maang Tikka with a bobby pin and Voila! She is ready to shine.
12. How About A Half-Ponytail With A Chunky Hair-Tie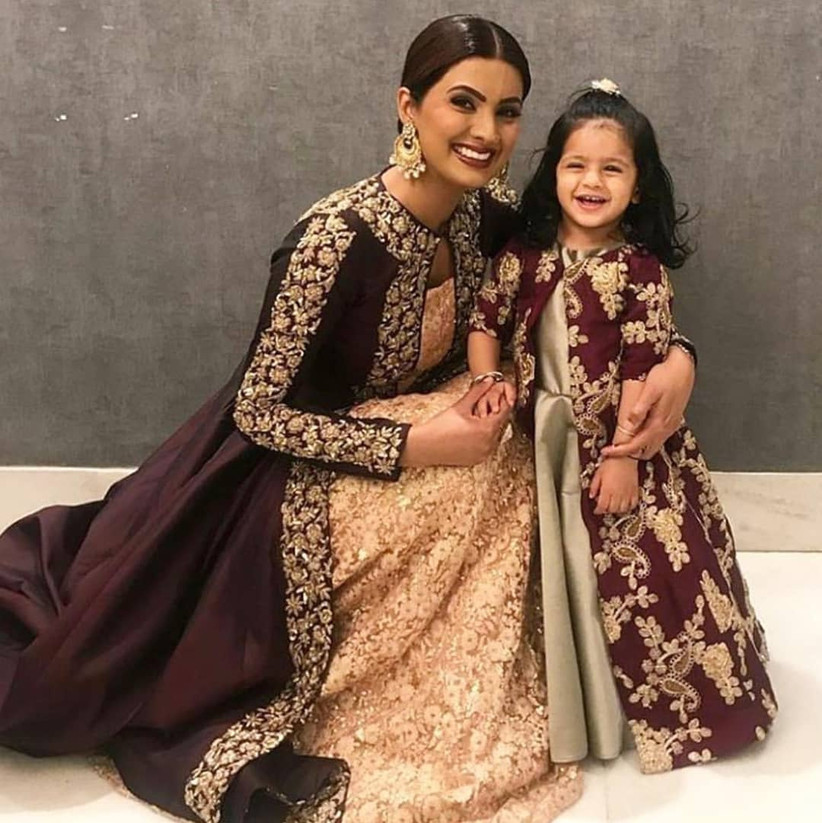 Image Courtesy: Harbhajan Singh's Instagram
After matching your mother-daughter dresses for Indian wedding for the upcoming wedding function, try this super adorable hairstyle for Indian girls. After twinning your outfit, all you have to do is to divide your daughter's hair into two parts and now secure the upper part in a half-ponytail. To make the look cuter, you can add a chunky hair-tie to her ponytail and Voila! You guys are ready to rock the most stylish mother-daughter twinning look!
Little girls are very precious. They just fill the wedding function with lots of laughter and innocent giggles. These young girls get very excited about their overall ensemble for the wedding function and to make them super happy, every mother or aunt should take this extra mile of efforts because we all know, they are totally worth it!
If you enjoyed this super informative article and you want some more wedding assistance for your BFF or your little sister then just sign-in and enjoy this beautiful experience.
Written by Nikita Sharma