13 Engagement Hairstyle Ideas To Get The Perfect Wedding Look
Looking for the perfect engagement hairstyle to match your attire? We've got you covered with the trendiest engagement hairstyles of the season! Read on to know.
Image Courtesy: Pictorizzah
Figuring out the perfect engagement hairstyle needs time and a lot of patience. The wedding day hairstyle is usually quintessential pulled back bun, so how can brides look different and show off their beautiful hair on the engagement?
When looking for engagement hairstyle ideas it is important to understand that everything needs to be considered to make it a complete and well put-together look. This 'everything' includes your engagement day attire, the shape of your face, the makeup style you are planning and even the accessories you want to add to your look. Engagement hairstyle inspirations range from mess-free buns to dramatic curls and soft waves to high puffs. Wedding makeup artists and hairstylists can create magic on their own, but with a little input and help from you, this magic becomes extraordinary. It's also important to note that an engagement hairstyle looks only as good as your hair; healthy hair that is well taken care of support different kinds of hairstyles and add an extra bit of shine and beauty to the engagement hairstyle.
Here are the latest 13 engagement hairstyle ideas to inspire you:
For The Love Of Curls and Ponytail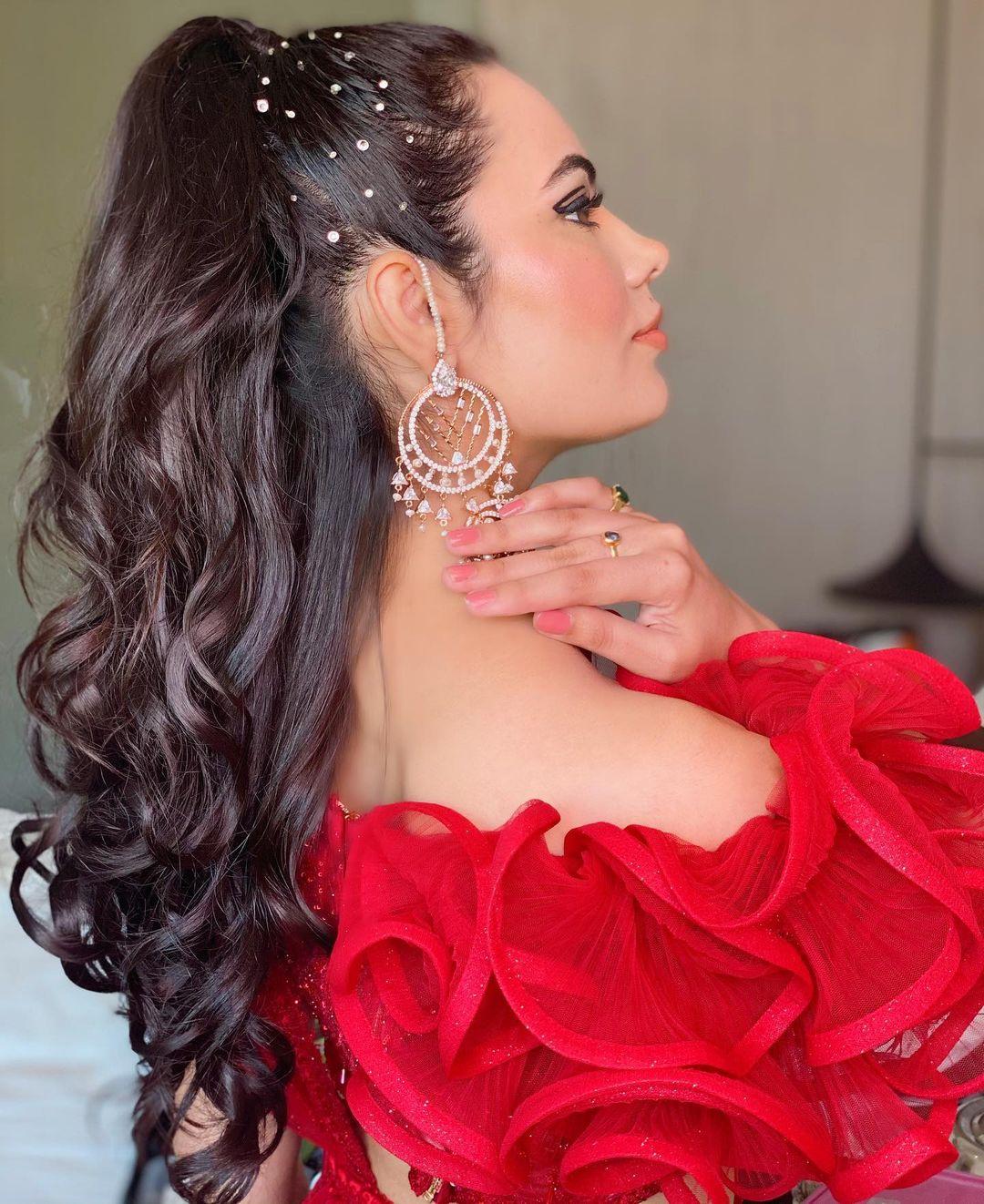 The feeling of commencing new beginnings with glam and glitz is out of the world. If you are looking for an elegant engagement hairstyle, then this lovely design is perfect to top up a party look with ease. The mesmerising curls accentuated with a high ponytail is surely a win-win! The dazzling hair diamond accessory is all your need to steal the spotlight for the night.
What do you require?
A hair curler, dazzling silver hair accessory, hairspray, and bobby pins to keep the hairstyle intact.
Symmetrical Curls With Bling Accessories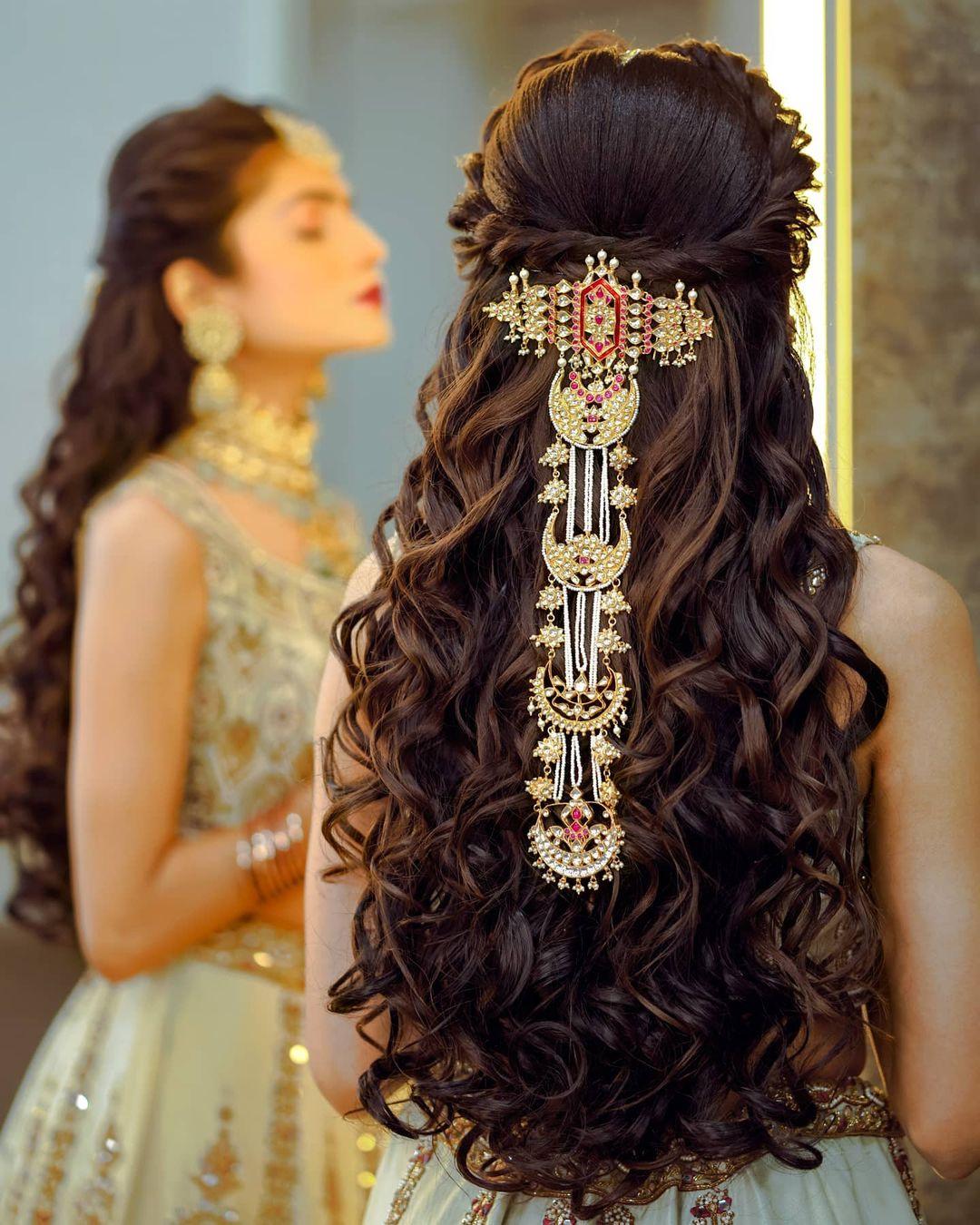 Image Courtesy: Aanal Savaliya
Walk like a princess with this beautiful curls hairstyle topped with a mesmerising crown braid. This display of art is a perfect hairstyle for engagement function. Adding variations to a hairstyle can level up the charm with a beauty spell. Decorate those pretty curls with a blingy hair accessory while you slay your day with happiness and bliss.
What do you require?
A thin curling rod will make the curls look smooth and symmetrical. A jewellery design hair accessory will level the look with grace. Don't forget to keep up with hairpins, thin comb and a long-lasting hair spray.
Layered Flower Hairstyle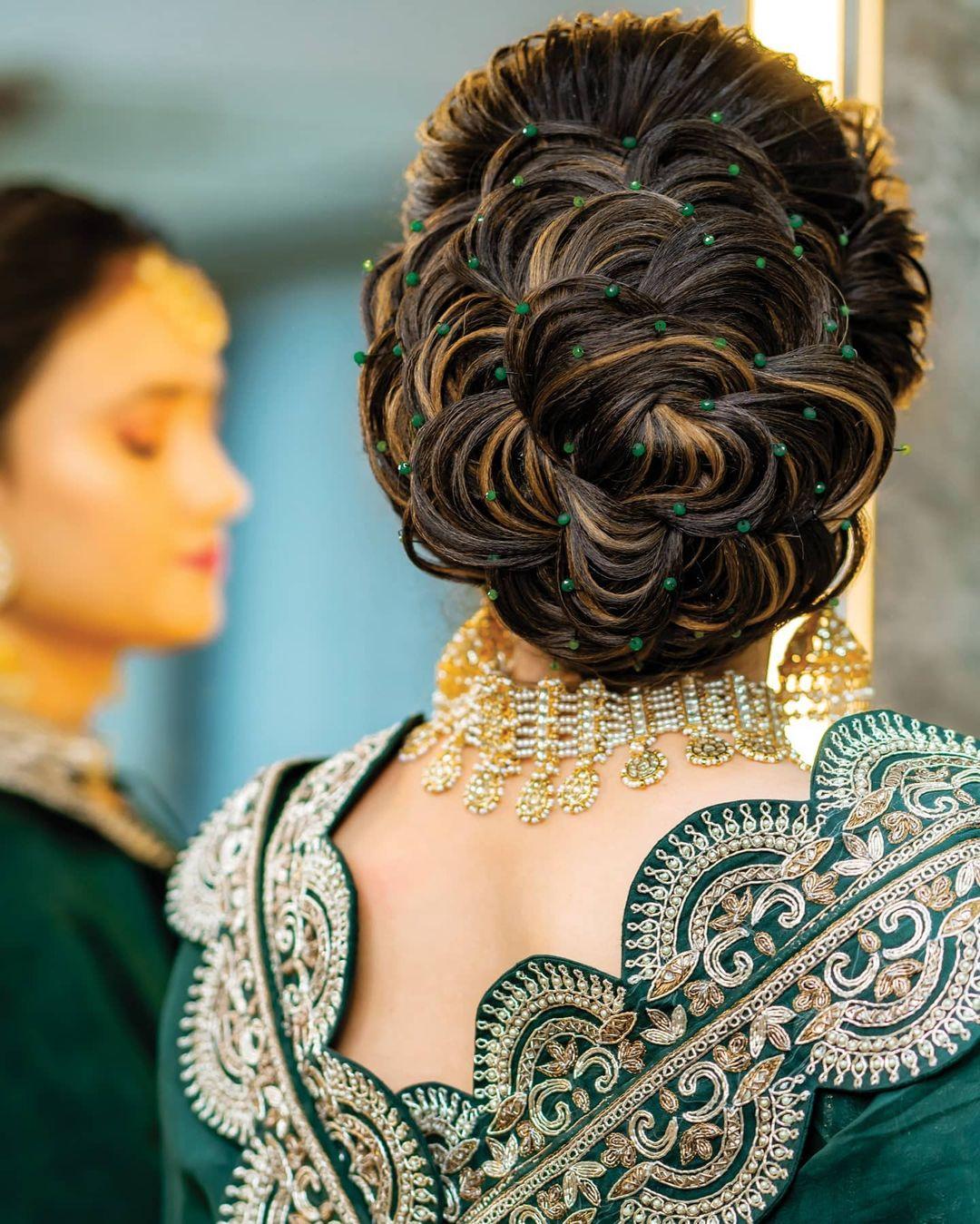 Image Courtesy: Aanal Savaliya
Looking for a regal yet a beautiful engagement hairstyle look? If yes, then this gorgeous flowery hair bun is all your need to slay the first function with beauty and bliss. A hair bun is always a go-to hairstyle but adding a pinch of trendy design adds an oomph to the look. The entire bun is made with layered style petals and we are swooning over the green beads. Try this for your auspicious day while you make tonnes of memories with your loved ones.
What do you require?
A tail comb will work the best to create tidy layers. An all-purpose comb is all you need to even the hair. Adding small beads elevates the engagement hairstyle with bling.
The Floral-Hair Bun Combination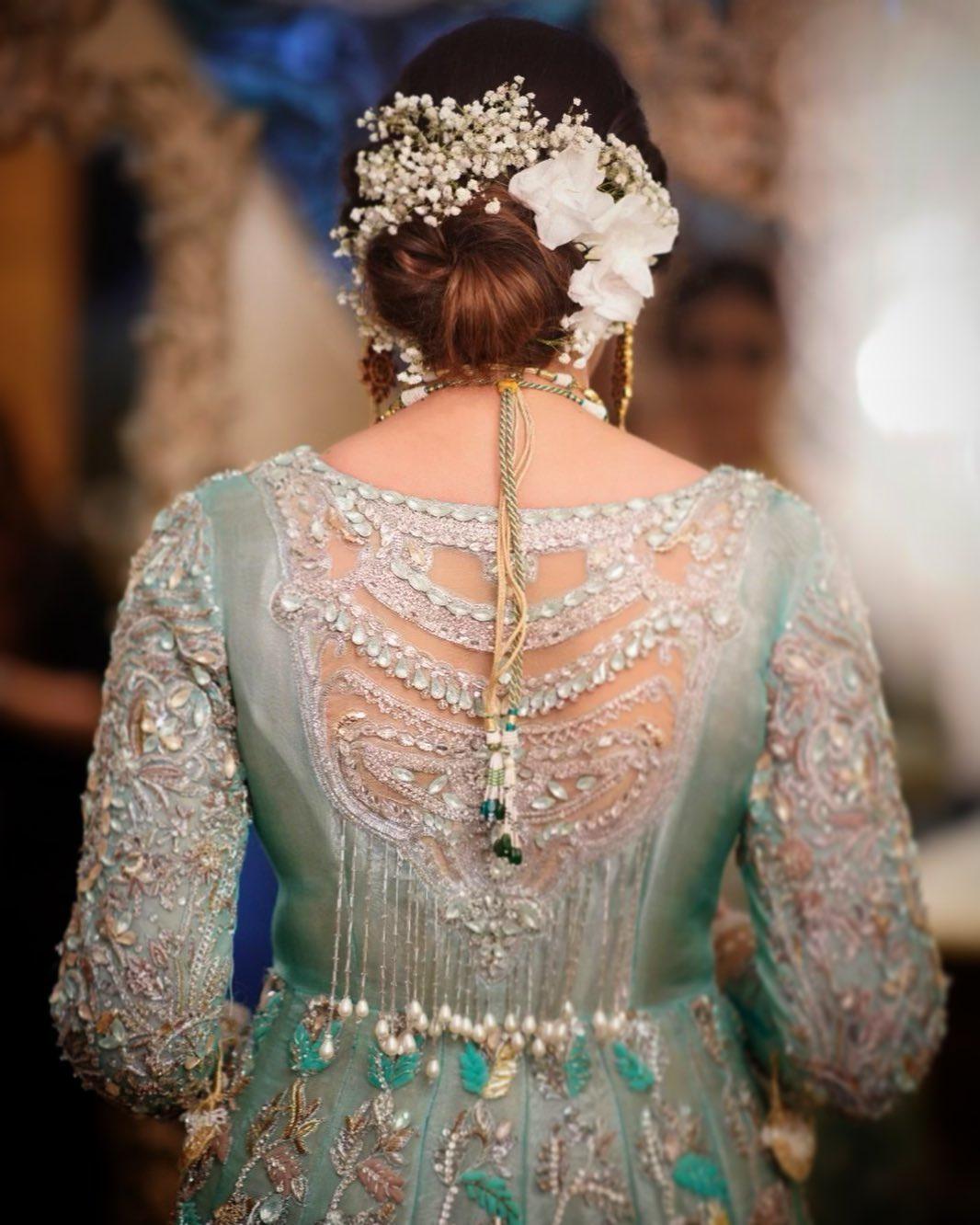 Image Courtesy: Zahra Shaheen
What's better than sailing the new beginnings in your favourite outfit and enchanting hairstyle? This floral bun is an ideal engagement bridal hairstyle and is worth bookmarking! Add surreal baby breath and white flowers to make the bun look beautiful. This look will top the engagement hairstyle with gown and elevate the aura with your mesmerising vibe!
What do you require?
To slay the hair bun look, all you have to do is create a simple bun with a centre partition. This can be done with a tail comb. Invisible bobby pins will work as a saviour to excel this fairy hairstyle.
Open Curls To Slay Your Day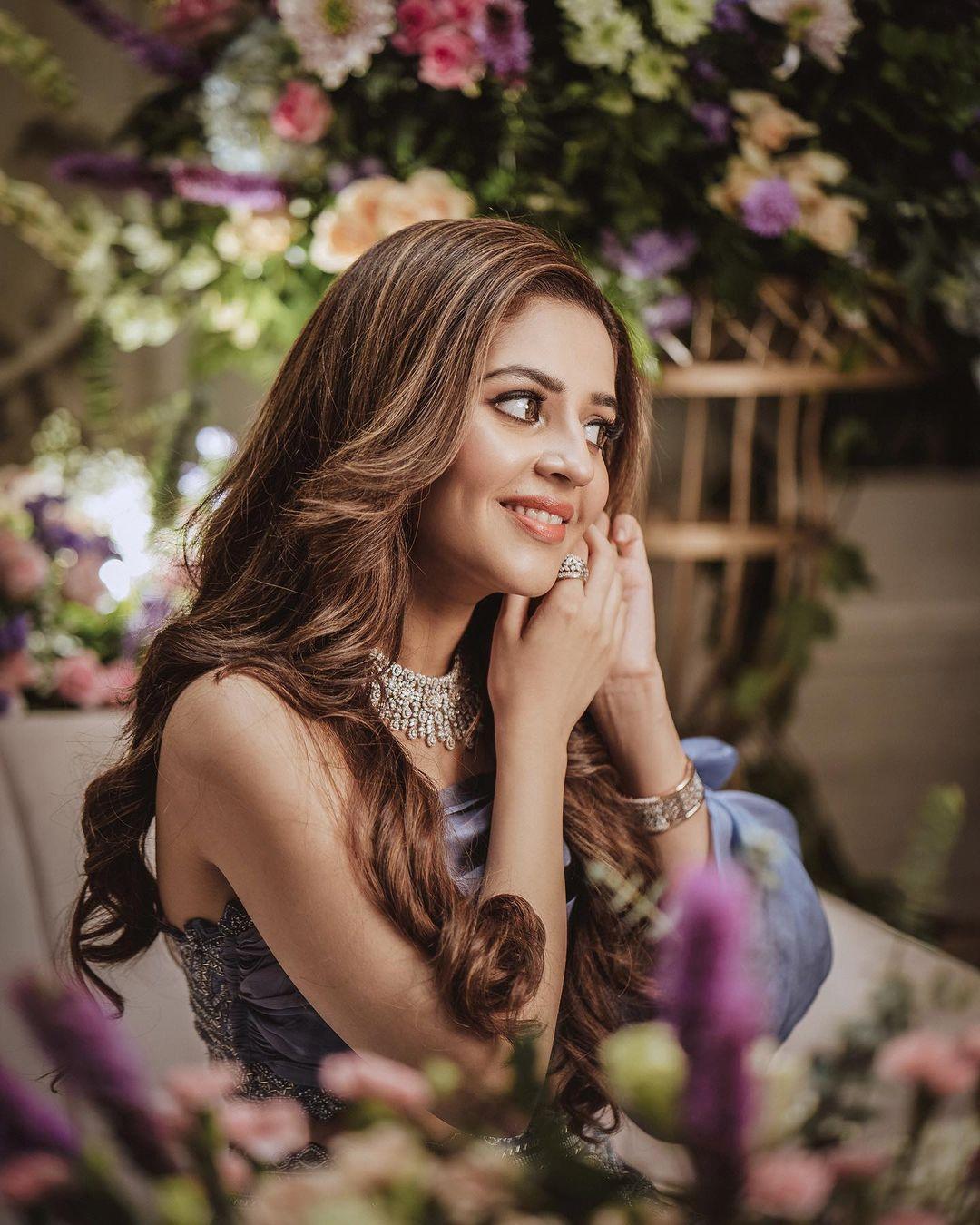 Sometimes going subtle with the hairstyle can level up the ambience with charm. To all the brides-to-be looking for an elegant and fuss-free engagement hairstyle, your fetch ends here! This hairstyle will complement an ultra-fine gown and will lift your fair-look with pizzazz.
What do you require?
This engagement hairstyle is an easy-peasy one. All you need is a thick hair curler and a perfect hair spray to make the look durable and fascinating.
The Braid Game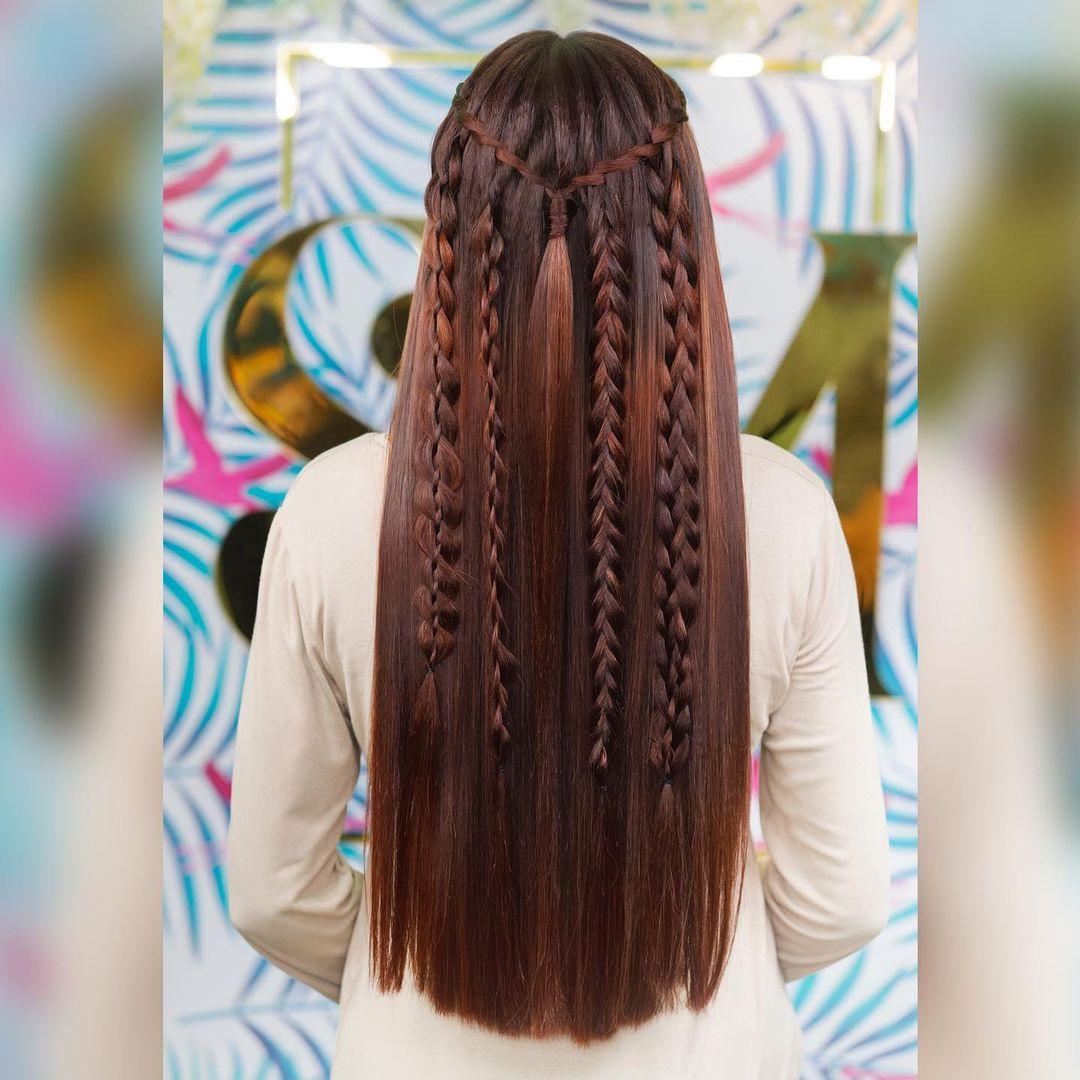 Have a soft corner for braids? This engagement hairstyle is ideal for you! Not one, but 4 different kinds of braids are highlighting this exquisite hairstyle. Pay attention to the details of the braids as we are already swooning over this artistic style!
What do you require?
A pack of invisible rubber bands, tail comb and a hair straightening is all you need to top your engagement hairstyle with eminence.
Shoutout to Hollywood Waves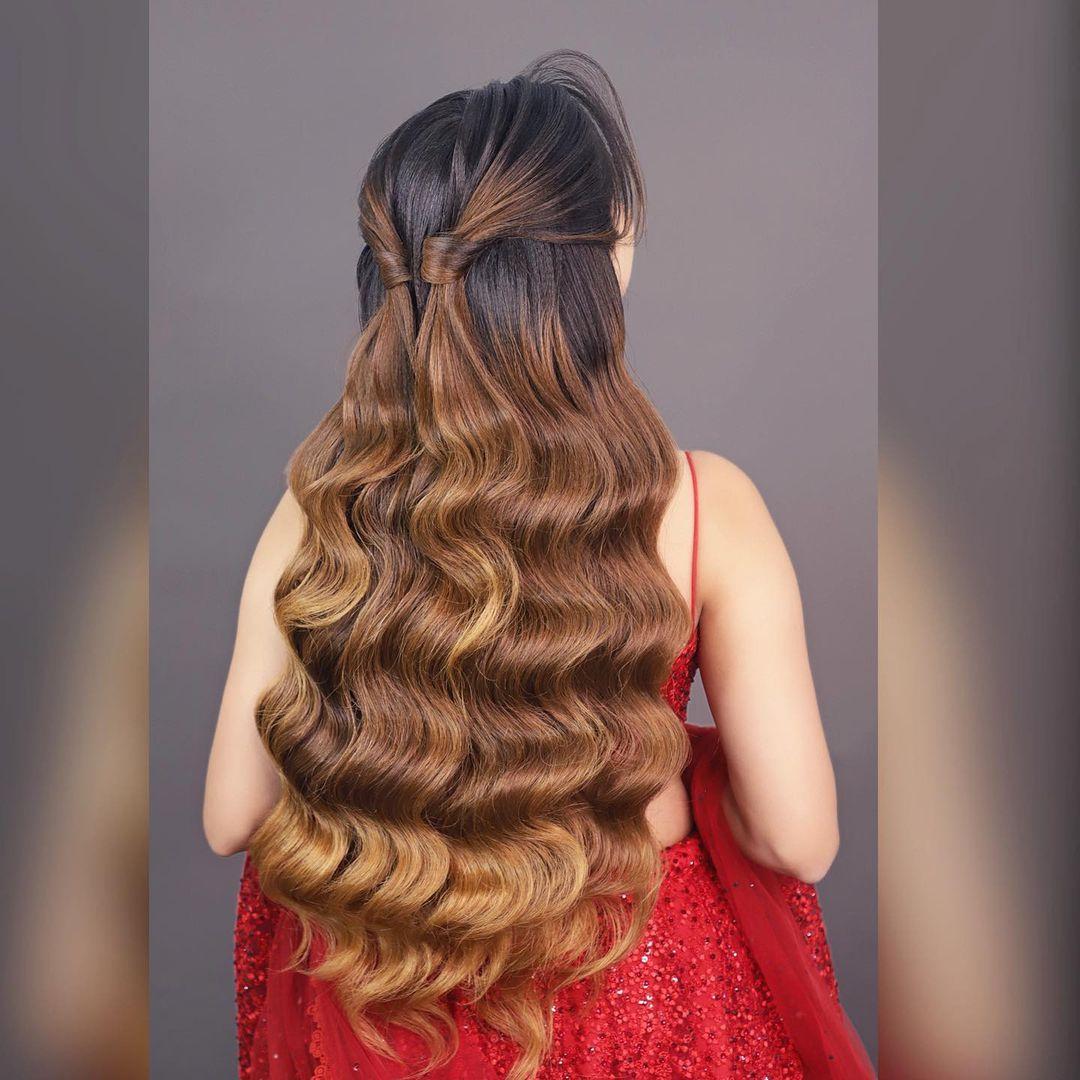 Image Courtesy: AM Craft by Abhishek Malik
The twist and turns are all we need to outshine this gorgeous engagement hairstyle! From giving equal partitions to adding smooth waves with a thick curler, this hairstyle for engagement function is a win-win! If you are that bride who loves everything imperial then this look is the best suited.
What do you require?
Oh, a tail comb, bobby pins and a curler are all you require to level up your diva look with grace and elegance!
Gorgeous Finger Waves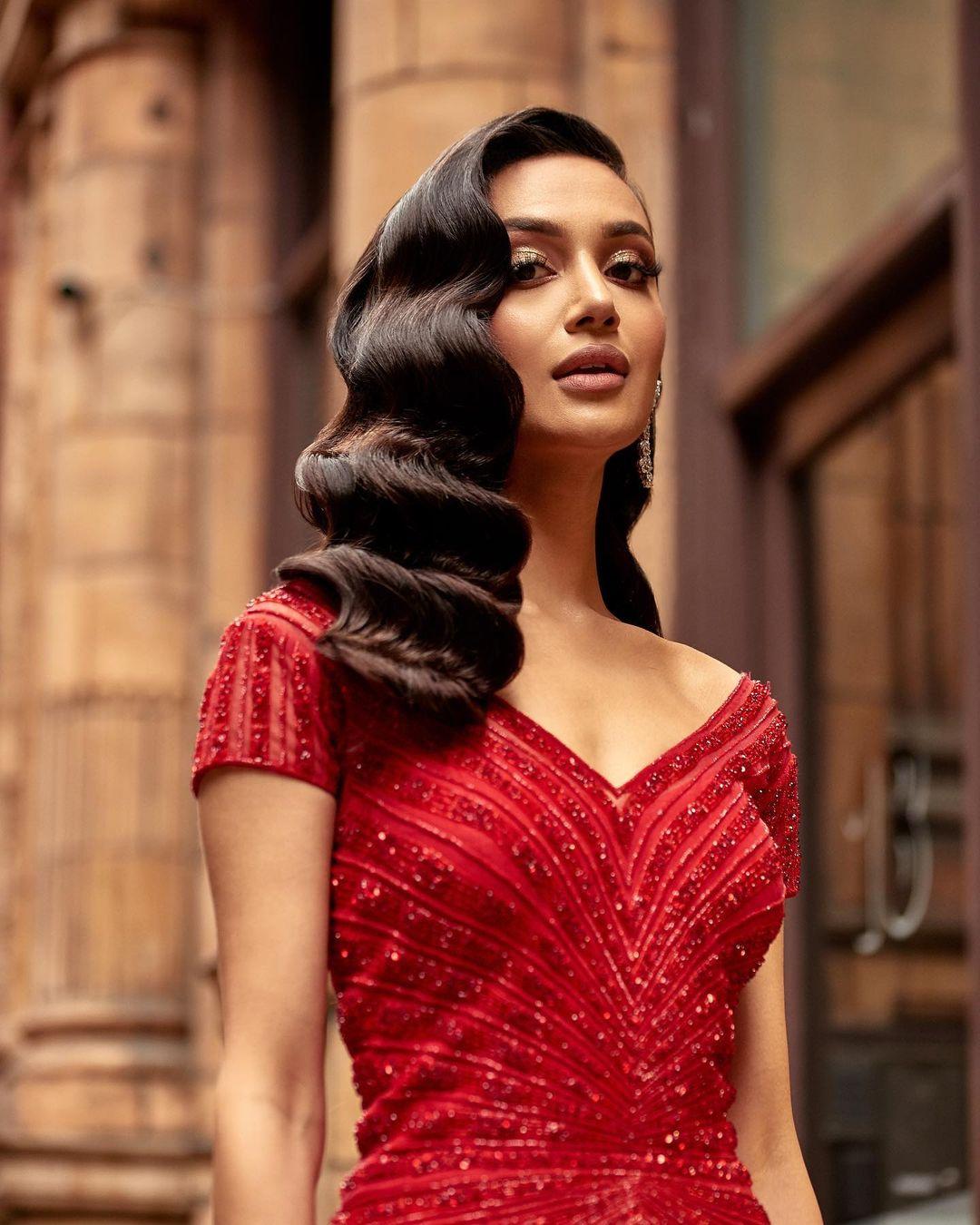 Image Courtesy: Aamir Naveed Hair
If you want to go for an easy-peasy engagement hairstyle then look no further. Giving an element of a retro look, this finger wave hairstyle is going to add a pinch of glamour to your engagement look. Keep your hair open with a side parting, and don't forget to spray well to give it a tidy surprise. To all the pretty brides looking for a royal engagement hairstyle look, this is it!
What do you require?
Lots of hair spray to keep the style intact, curlers and a comb to even out the wave with ease!
Messy Knotted Hair Bun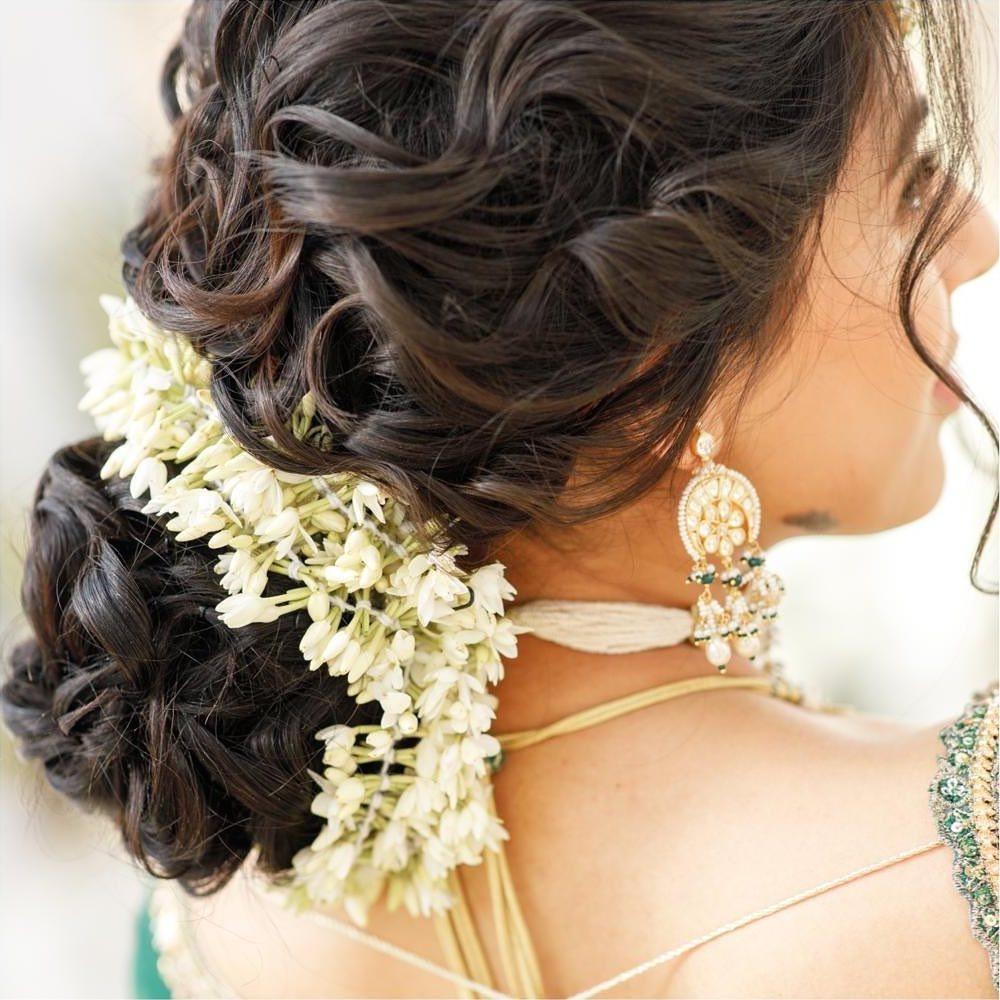 Image Courtesy: Aamir Naveed Hair
Wish to ace your 'Gajra Mohabbat Wala' moment? Opt for this magnificent hair bun adorned with scented 'Gajra' and hit the stage of togetherness with absolute glee. This hairstyle is perfect for the brides having thick hair, as it gives a sheer look to the messy knots. This engagement hairstyle will level the bar of trends with maximum convenience!
What do you require?
A hair sponge will do wonders to this lovely hair bun. For availing the perfect curls, an iron rod is a must. Invisible pins, rubber bands, and a hair spray are a go-to essential for this oh-so-pretty hairstyle.
Pulled-Back Medium Curls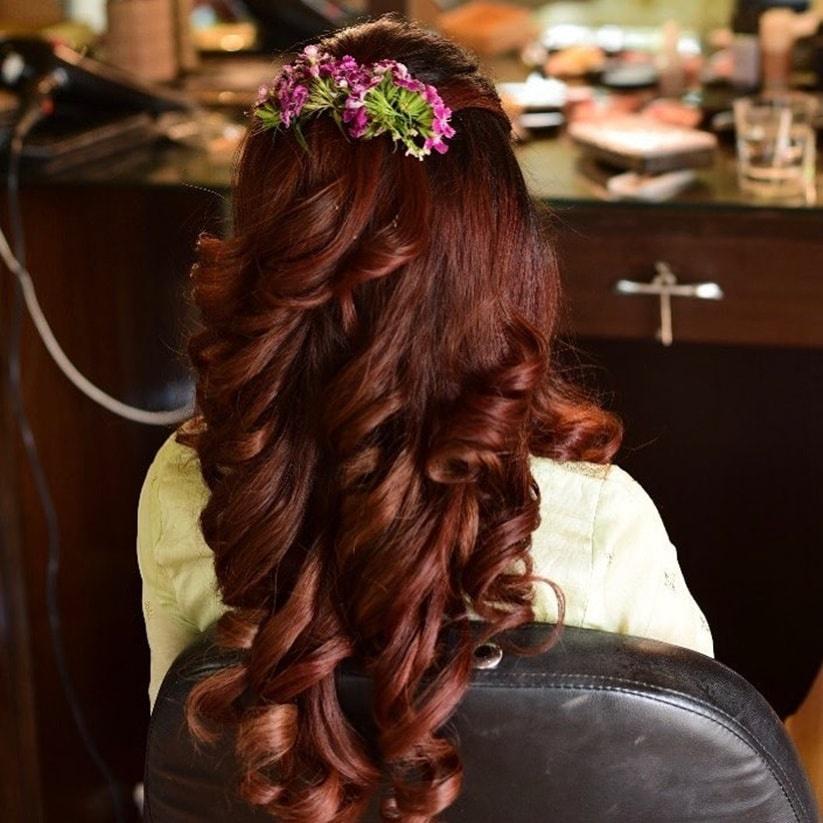 If you prefer to keep your hair off your face, go for this dreamy and dramatic medium curls pulled back engagement hairstyle. This allows you to create volume and give your hair a dramatic bounce. You can add a floral or jewelled pin at the top of the head to keep it all in place. For even more dramatic look, you could tightly curl the front strands and let them frame your face. You can take a look at some of the floral jewellery options too which will add some bespoke elements to your bridal hairstyle.
What do you require?
A fine-tooth comb, some serum and hairspray, a curling rod and a floral or bejewelled flat hair clip. You could also add glitter to the hair for that extra bling.
Try these add-on hair accessories
Add floral pins to accentuate such an engagement hairstyle.
Soft and Messy Bun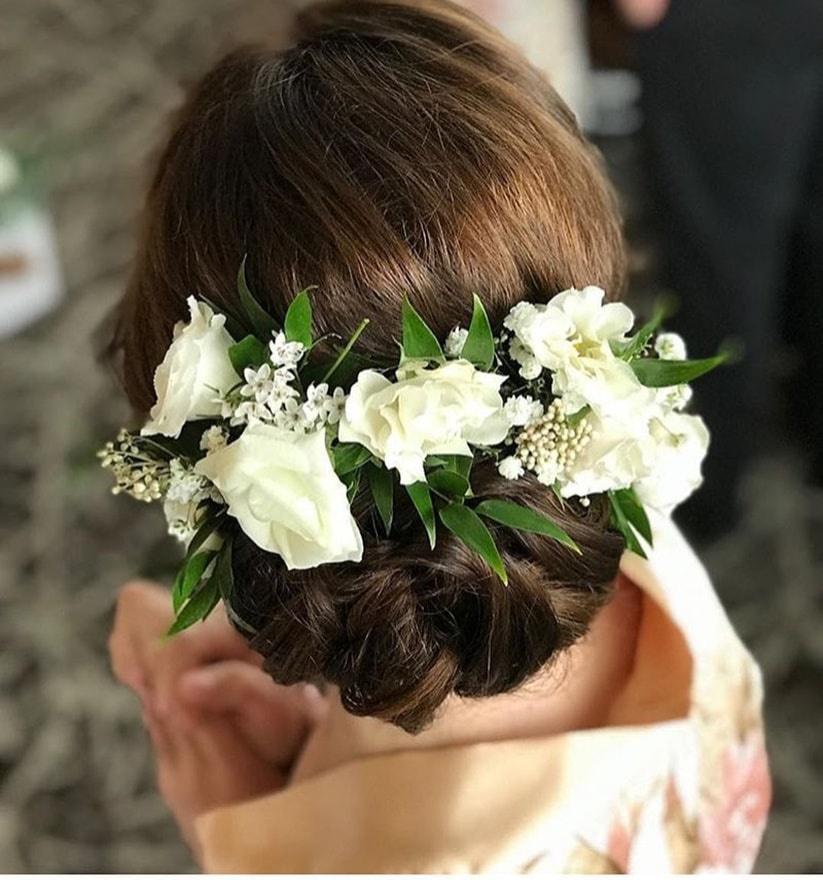 A soft and messy bun is all the rage when it comes to an engagement hairstyle. It allows you to sport an elegant look that is equal parts stunning and simple. Unlike the wedding bun, here the hair is put together softly, adding volume to the hair. It also has a side parting, with the bun leaning to one side or at the back. Some backcombing, soft curls and hair accessories like flowers, jewelled pins or hair stickers is all you need to create this look.
What do you require?
A fine-tooth comb, a hairbrush and curling rod, lots of hairpins, fresh flowers or metallic hair accessories and hairspray.
Try these add-on hair accessories
Add a floral band or a wreath of flowers to accentuate such an engagement hairstyle.
Elaborate Fish Tail Braid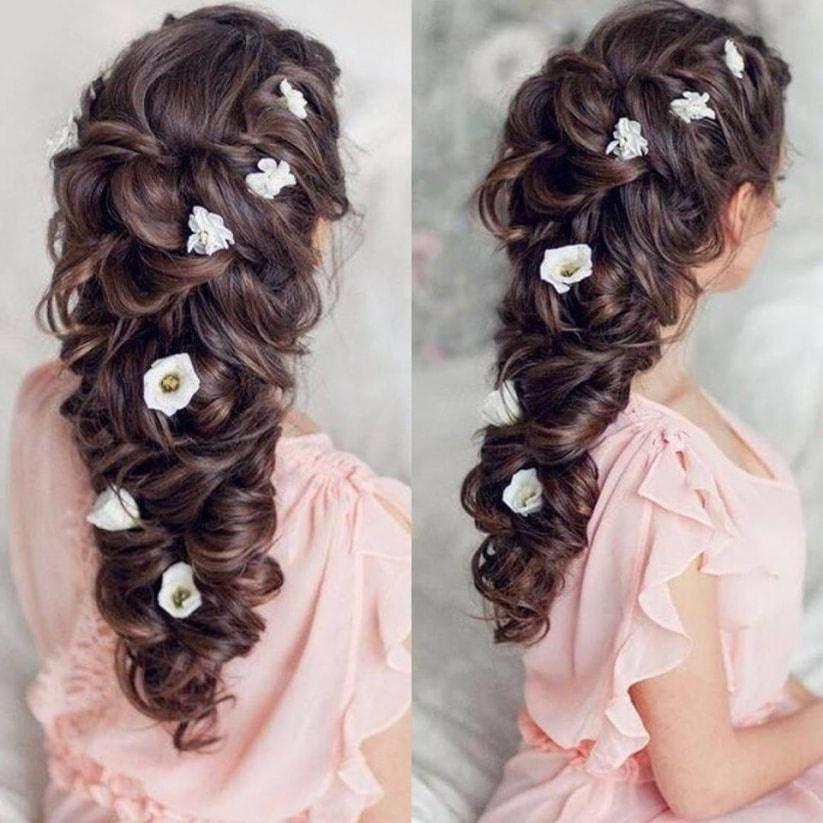 While a thin fishtail braid to one side is the go-to Mehndi and Haldi ceremony hairstyle, for your engagement hairstyle you can go for an elaborate one. This engagement hairstyle is a stunner that adds drama, style and elegance to your look. It requires carefully braiding the hair, flattening the strands and creating a basket-like weave that cascades to one side or at the back. Metallic hair accessories, small fresh flowers or glitter add to the intricacy of this engagement hairstyle.
What do you require?
This hairstyle requires a professional hairstylist as technique and finesse are key to this hairstyle. The hairstylist will use curling rods, serum, hairspray, pins and hair accessories.
Try these add-on hair accessories
Bejewelled pins and hair clips, albeit for a longer size, could work splendidly on such an engagement hairstyle. You could also insert individual blooms to complete the look.
Retro Curls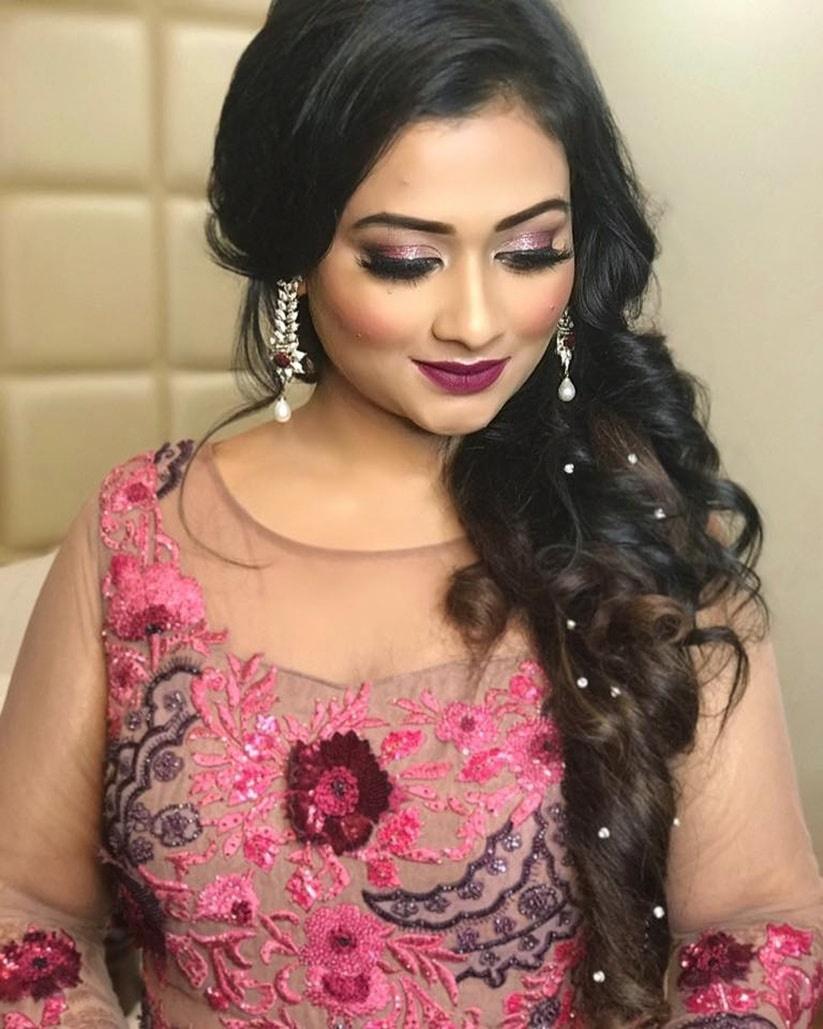 Unlike the soft curls, here the ends of the hair are given harder curls with the top part straightened out. This creates a dramatic bounce, without the hair looking to big. These retro curls, or hard curls, are further enhanced with glitter or metallic hair accessories. You can keep them on one shoulder or pull back. A straight side flick on the other side of the curls adds a soft balance to the look.
What do you require?
A fine-tooth comb, hairpins, curling rod, metallic hair accessories and hairspray.
Try these add-on hair accessories
Try adding small beads to add bling to such an engagement hairstyle.
Retro Bun with Puff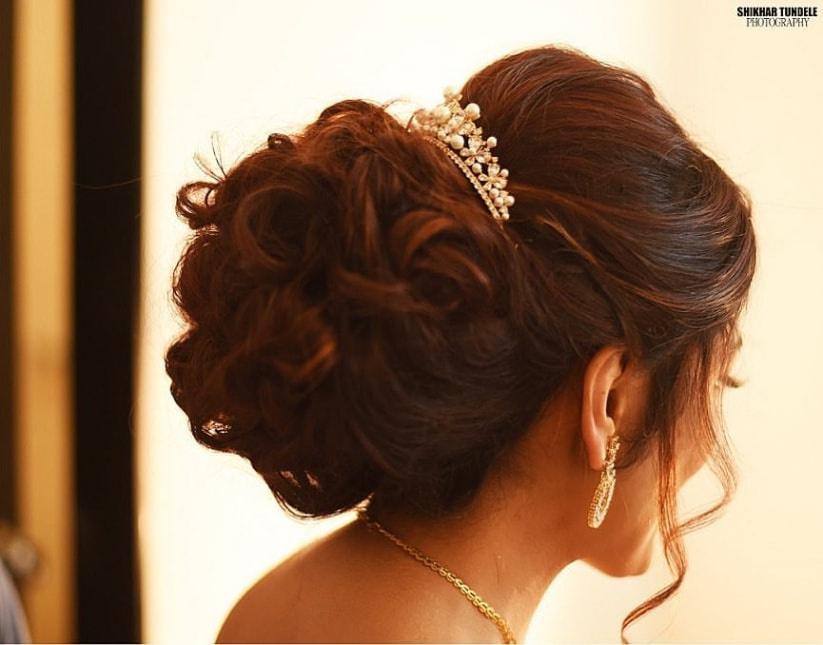 Unlike the soft messy bun, a retro bun comes with a puff at the top of the head to add volume and drama. The front hair strands are backcombed and put back creating a puff, and then tied back in a loose bun. The end of the hair is softly curled to create a large and voluminous bun. This creates a neat look in the front with a messy soft look at the back. You can also leave two curled strands framing both sides of the face. Add a tiara kind of hair clip at the top of the bun and you are all set.
What do you require?
This look is best created by an expert who can balance the neat front with the messy back, without messing it all up. The professional hairstylist will use a fine-tooth comb, a hairbrush, curling rods, hairpins, serum, hairspray and hair accessories.
Try these add-on hair accessories
A tiara, whether never hurt the cause with such an engagement, whether you choose a bejewelled piece or a floral piece. You may also try a small, ornate pin to work the look.
Finding the perfect engagement hairstyle isn't enough. To be able to sport and support a great hairstyle you need to step up and prep for it. Here are some quick tips to great-looking engagement day hairstyles:
Follow a healthy diet and exercise routine for healthy hair.
Oil, condition and wash your hair regularly
Go for hair spas and treatment regularly.
Avoid direct sunlight and pollution; cover your hair with a scarf when travelling.
Meet a dermatologist to check for any issues that require medical care and attention.
When looking for engagement hairstyle ideas it is equally important to look for a professional hairstylist who can help you achieve that look. Set appointments to discuss your needs and experiment with different styles before you finalize the final engagement hairstyle. And hey, make sure you try the engagement hairstyle with the engagement attire you are wearing to see the final look.
What engagement hairstyle inspired you and what will you be sporting?