40+ Fancy Blouse Designs That Serve the Ultimate D-day Looks
It is only essential to keep up with fancy blouse designs, as they keep on changing. What new trends have surfaced recently? What trends are hot sellers right now? Let's find out!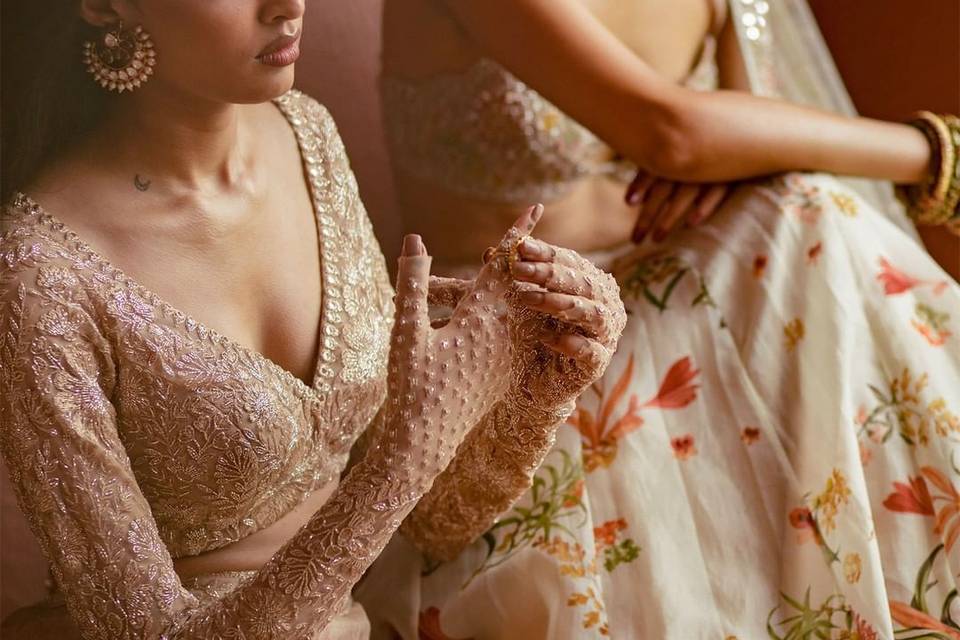 A fancy blouse can turn any basic saree style into a party number. Traditional silhouettes to designer twists, a blouse design can take up any trend and make it look appealing upon wear. So this season of weddings has seen ladies adorning some stunning blouse designs that have been worn for different wedding ceremonies. Some blouse designs have been intricate, some have been artistic and some have been minimal this season. Bringing a mix of all these fancy blouse designs together, we have compiled a list for the millennials.
In this Article -
1. Fancy Latest Blouse Designs
Fancy Latest Blouse Designs
It's natural to be worried about your looks for an even. You want to be the center of attention for all the right reasons, and you want your pictures to show a confident and happy woman. But how can you make an outfit like a saree a bit more modern and trendy without sacrificing the traditional silhouette and style? Well, that's what we're here to help you with!
Fancy New Blouse Design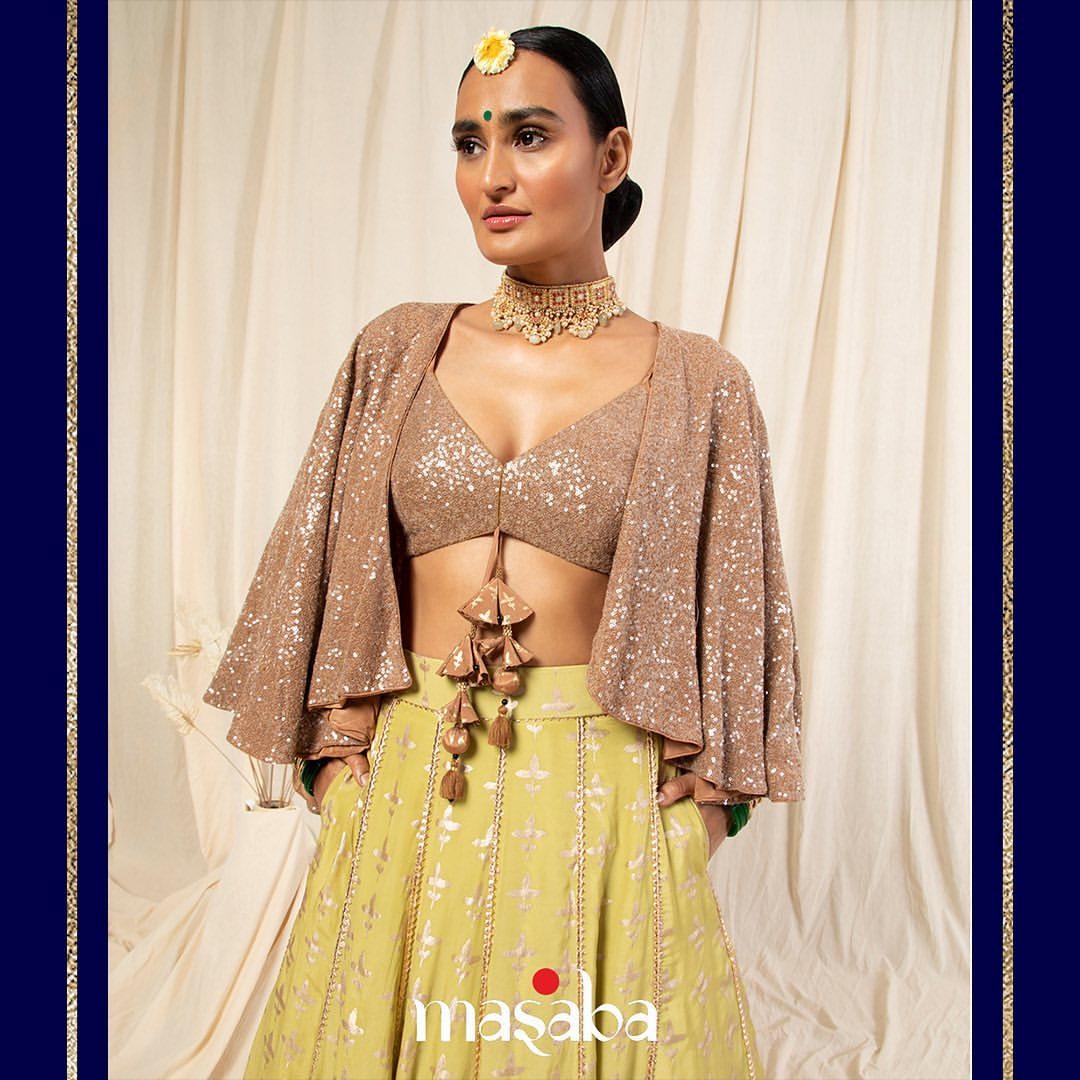 Image Credits - Masaba
Rose Gold is a color that is known for being versatile in terms of styling. It is also for the oomph and glamour it adds to every outfit. So while it will not necessarily take the center stage, it can be used along with almost every other color to make it the hero of the look.
Mirrored Fancy Latest Blouse Designs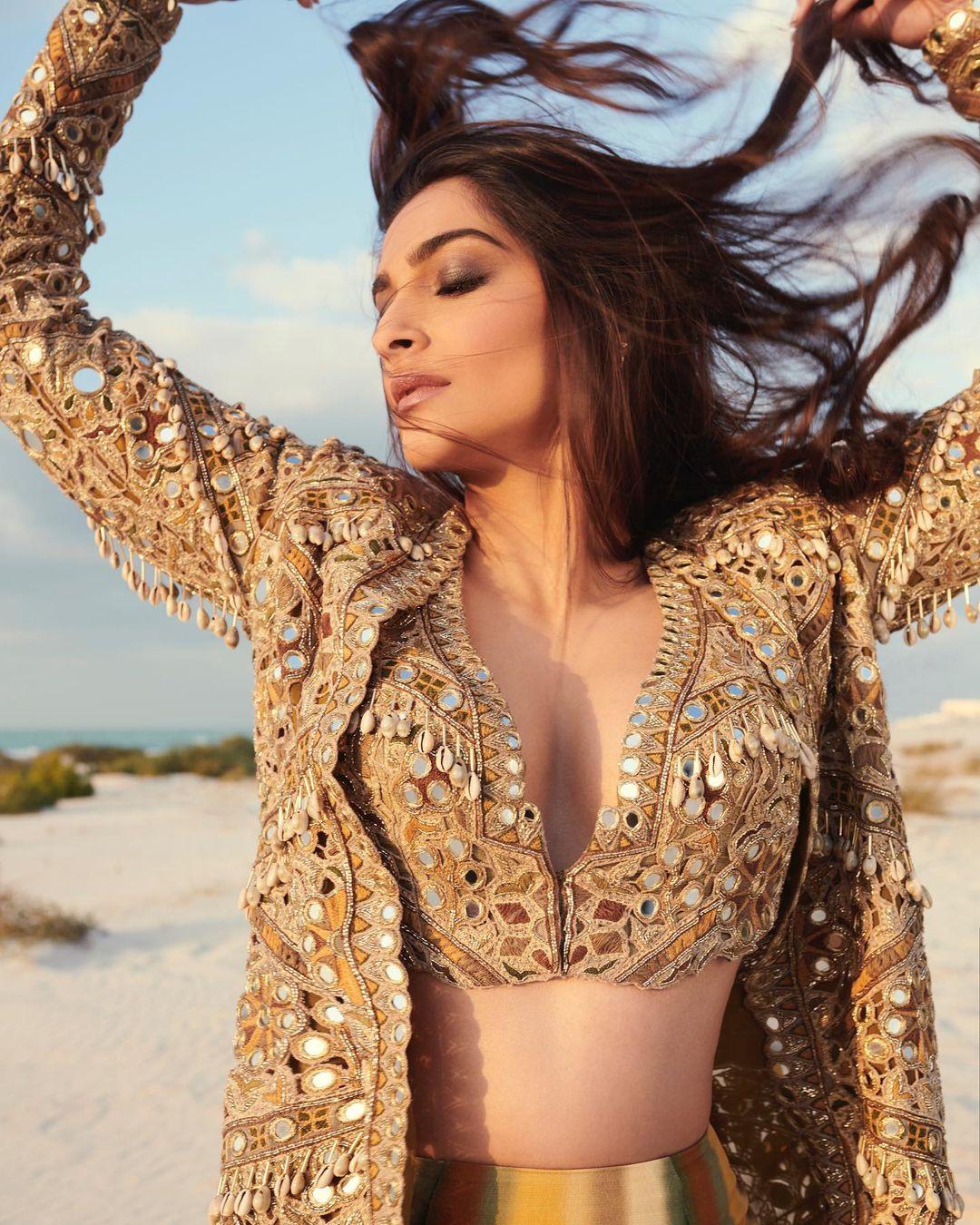 Image Credits - Pinterest
There's just something about the mirrored fancy blouse designs that give it a very elegant and feminine feel. This fancy blouse cutting design is simple and easy to pull off. It is something that will go with every body type (and most bridal hairstyles go with it too).
Stripped Fancy Blouse Sleeves Design
Image Credits - Janvi Kapoor's Instagram handle
Everyone knows that deep necks have that raw appeal that's incomparable to any other kind of fancy blouse-cutting the design out there. And that makes it perfect. A deep v neck cut can amp up your entire outfit with literally minimum effort.
Also Read - 50+ Latest Blouse Neck Designs To Inspire Your Festive & Wedding Wardrobe
Yellow Latest Fancy Blouse Design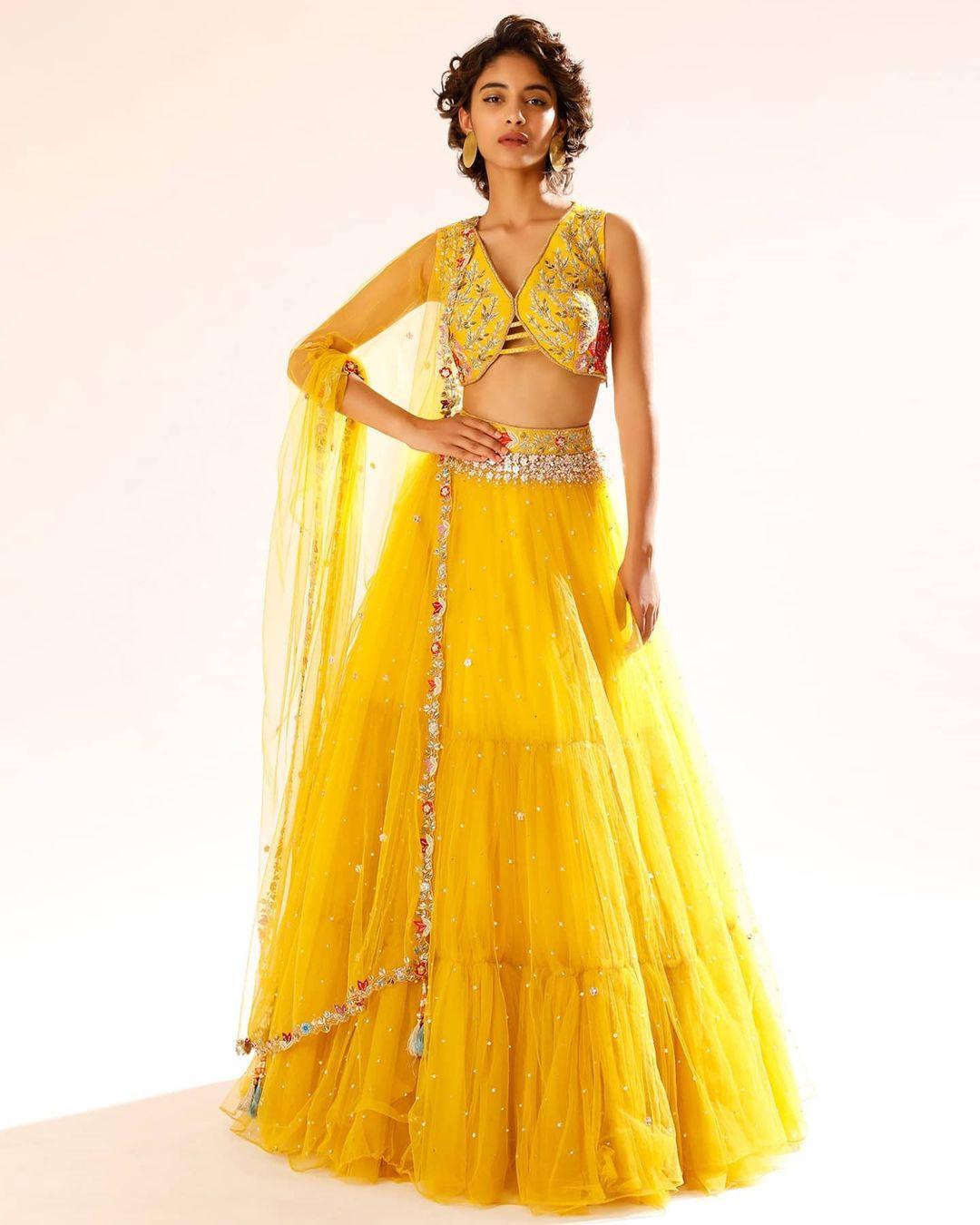 Not for the faint-hearted, this one is sure to make your outfit look fun and vibrant! Depending on what you feel comfortable with, you can go for a plunging neckline or just a classic v, it is all up to you!
Fancy Golden Blouse Design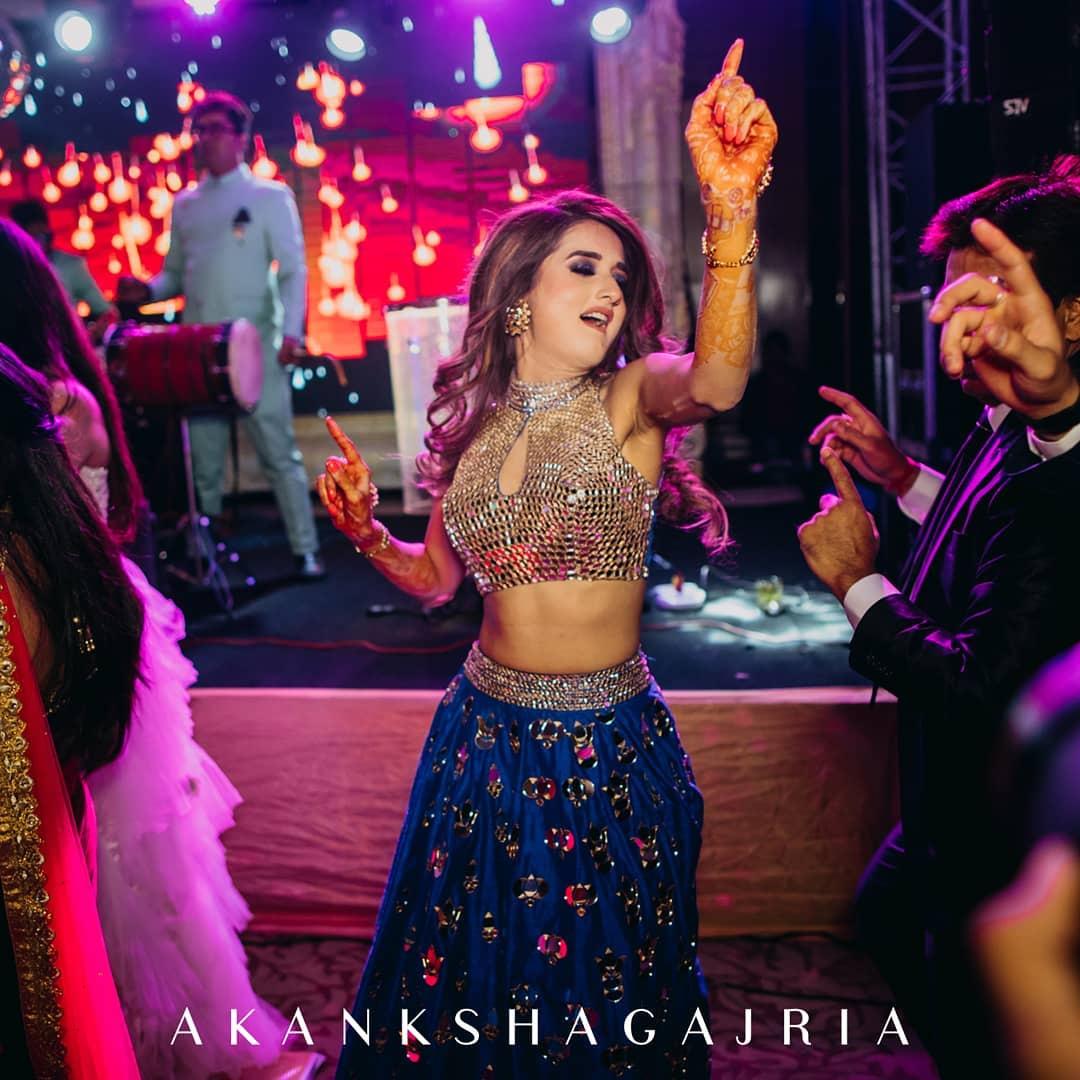 Image Courtesy: Akansha Gajria
You've probably seen this in at least one Bollywood movie and it'll make you look like you just walked off the set of one - especially with all the wedding lights, cameras, and action all around you! What sets this blouse apart is the keyhole detail under the neck, which makes the blouse more modern and edgy!
Also Read - Go for These Golden Blouse Designs to Look Stunning on Your Wedding Day
Sweetheart Neck with Frills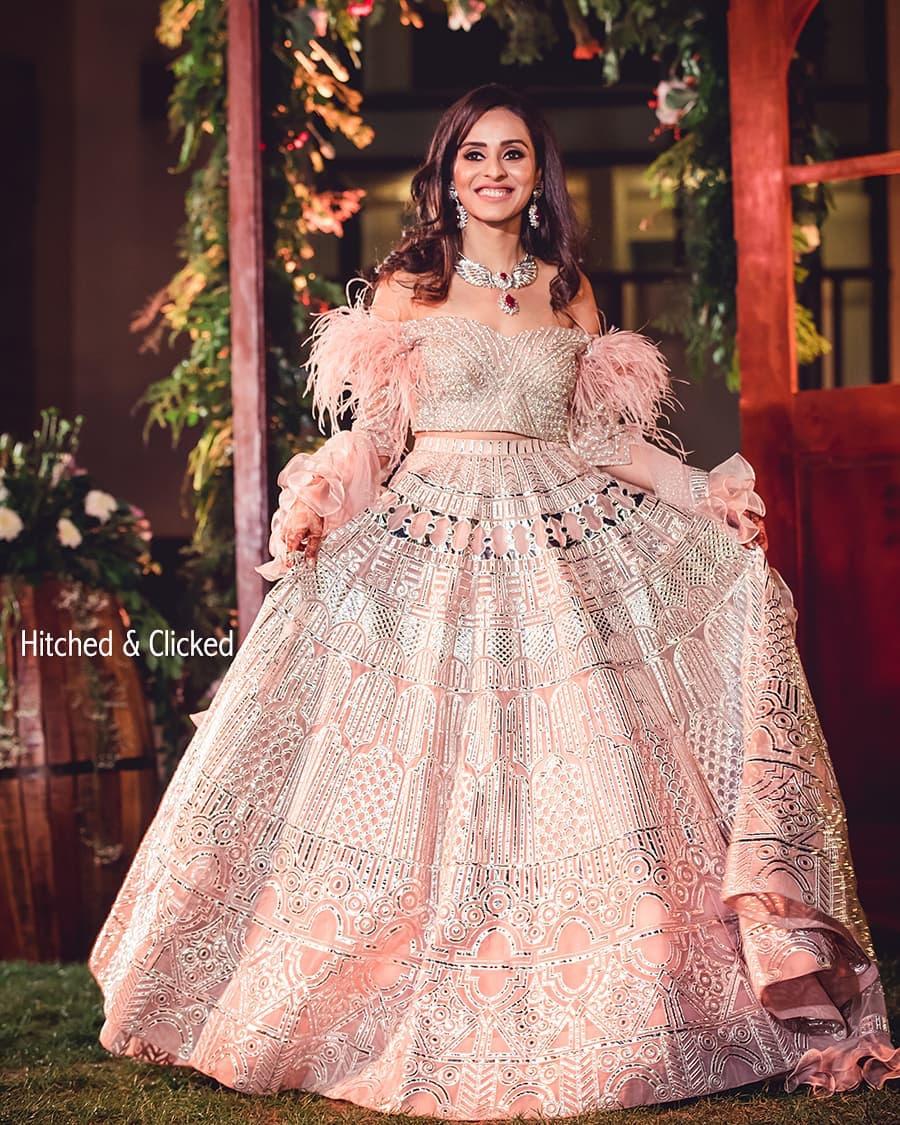 You can attach these frills in the same shade as your outfit or a series of contrasting layers. The fancy blouse cutting design in the picture is using frills of the same shade as the outfit but you can always use a combination of frills of different colors and textures that will complement your outfit as a whole.
Fancy Blouse Sleeves Design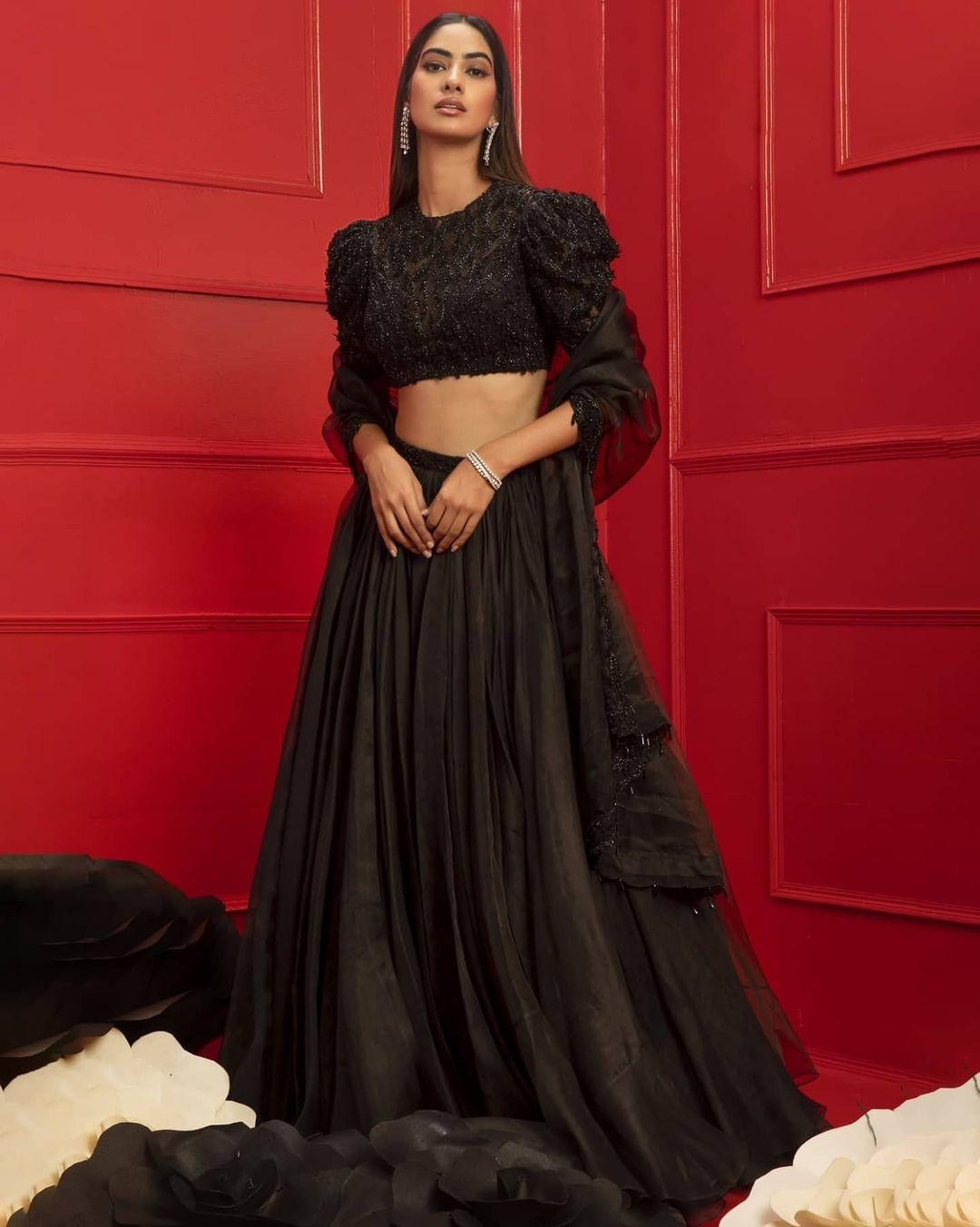 No introduction is needed, this one is an eye-catcher! Other than adding bling, this one also lets you play, embroidery, and detailing. While adding frills usually is economical, the final cost typically depends on the material and the amount of detailing you want to get done in the sleeves.
Black Fancy Blouse Sleeves Design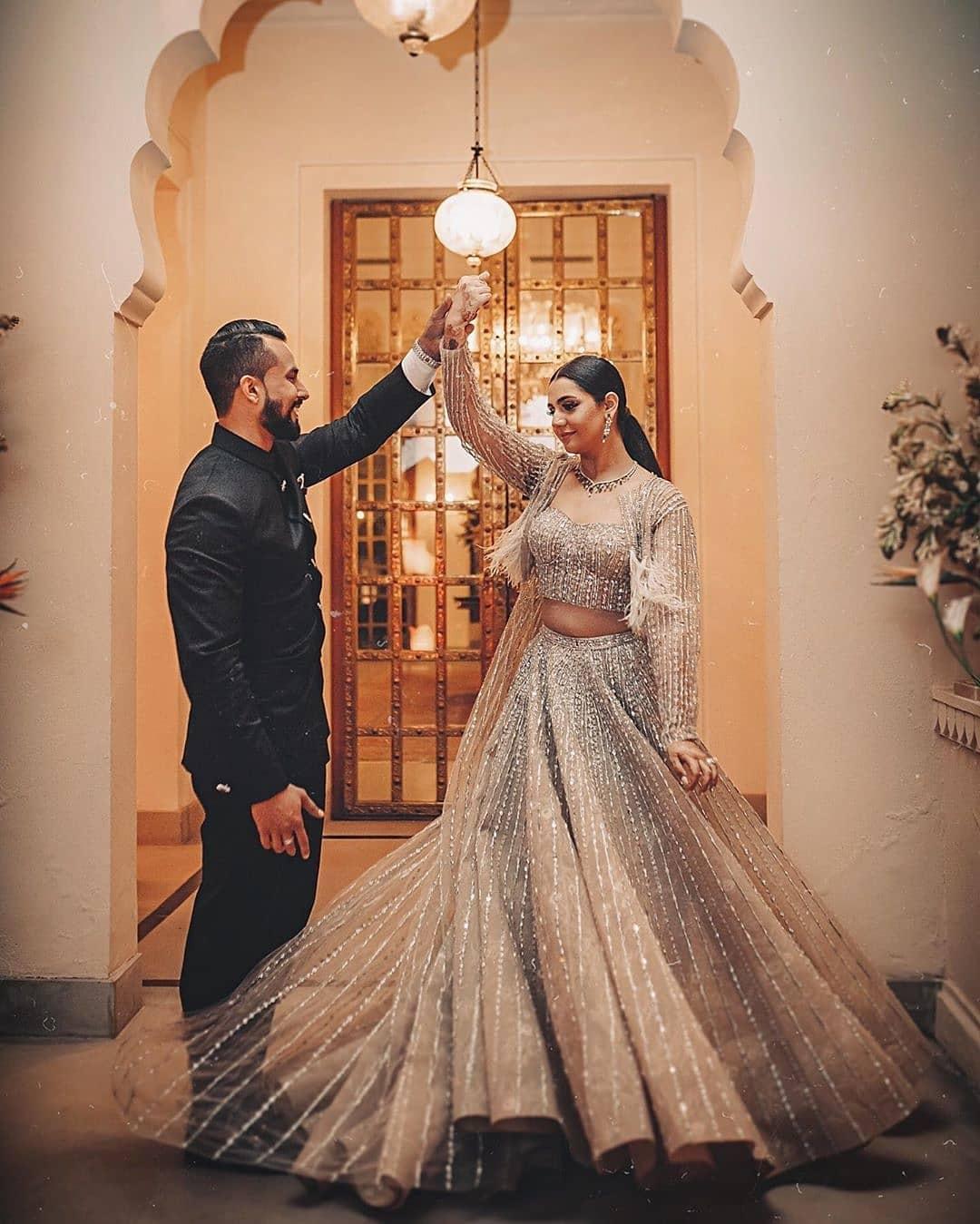 Image Courtesy: Shades Photography India
We found the perfect blouse sleeves for you. While the design is classy, the intricate work on it is far from simple. If you want to elevate the simple gold blouse, why not opt for a frilled gold blouse design and wow everyone?
Sleeveless Fancy Golden Blouse Design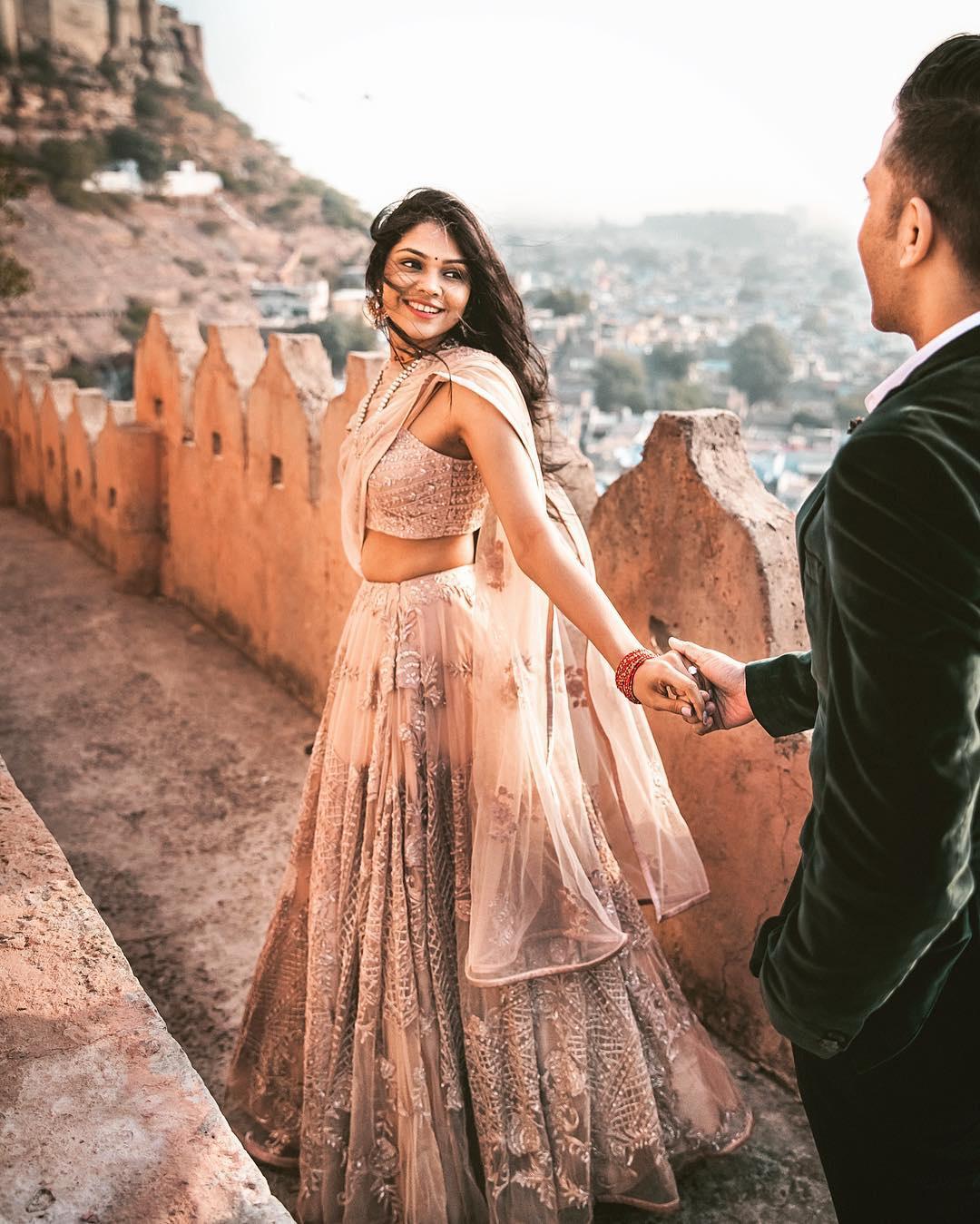 Image Courtesy: Shades Photography India
If you are looking for fancy blouse design images, showing off your collarbones and shoulders are pretty in right now. You may want to go and get it stitched right away!
Plunging V-neckline Fancy Blouse Design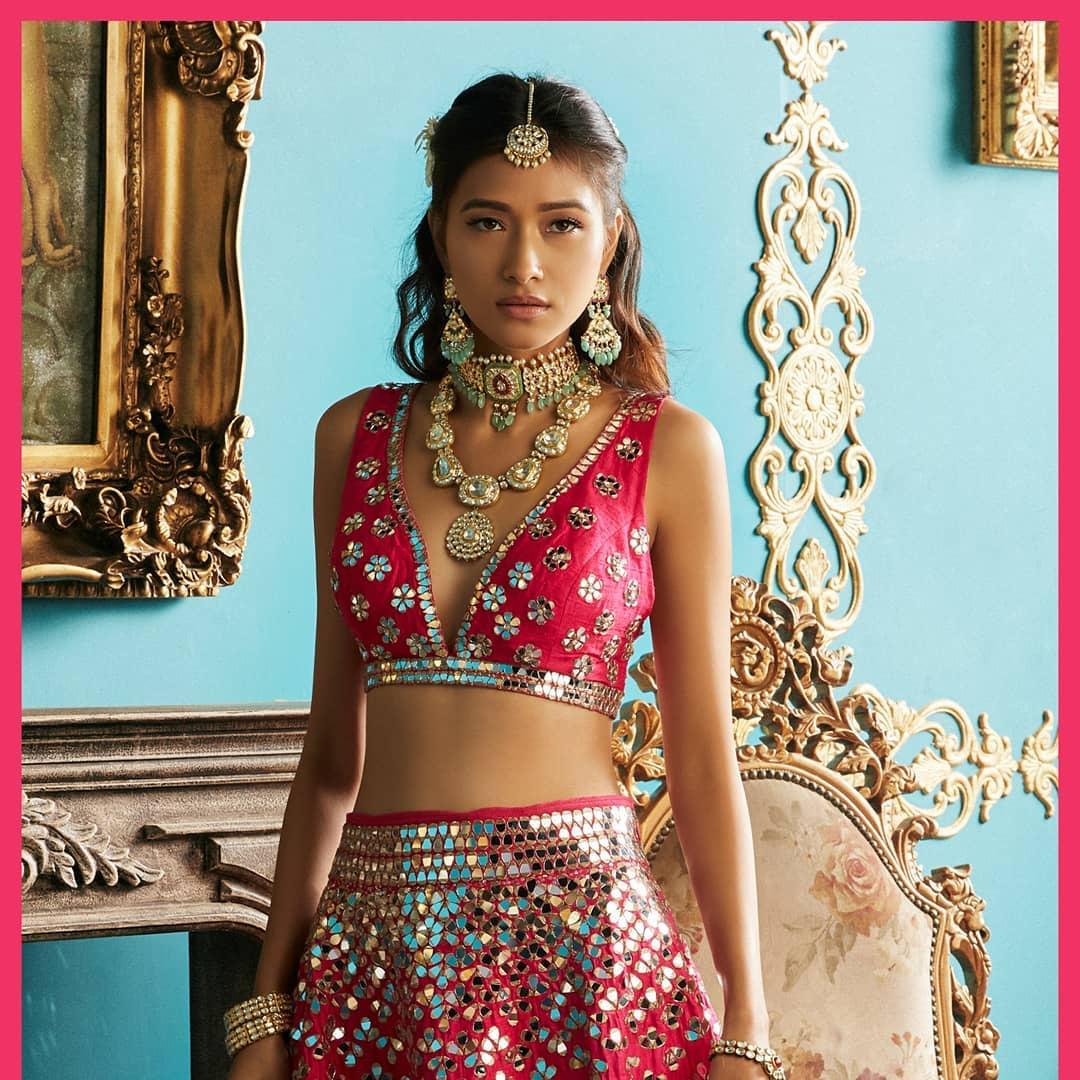 Image Courtesy: Akanksha Gajria
Some people are born to thrive in crowds. They feel the most comfortable when they are exposed to the world. If you are the same, you will love wearing this fancy blouse neck design and showing off your style to the world.
Pastel Blouse With Boat Neckline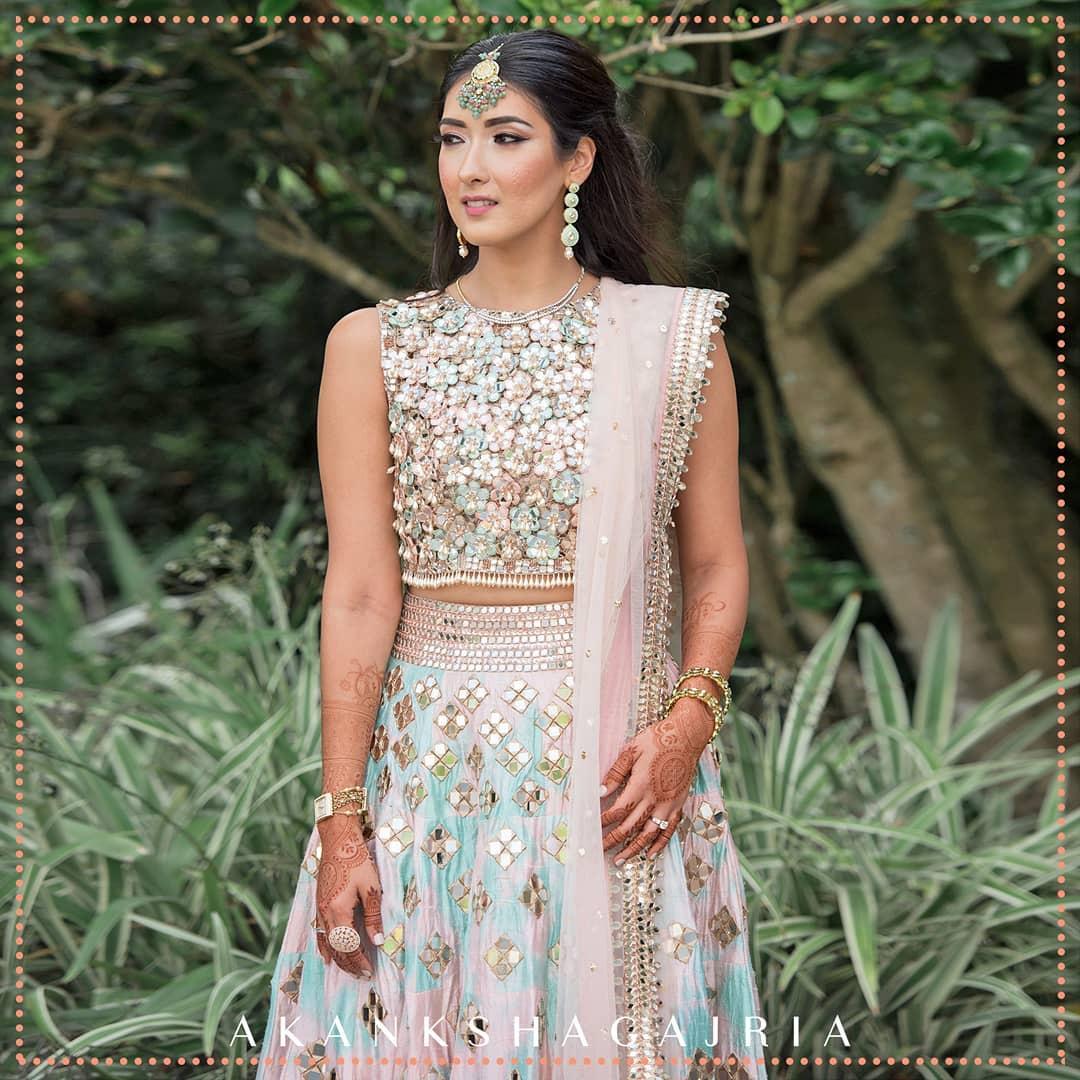 Image Courtesy: Akanksha Gajria
If you always want a little extra wherever you go, you will never be satisfied with simple and classics. When you are looking for blouses, always go with pieces that are a little different from the others, just like this pastel lehenga & blouse combination with mirror work embroidery and boat neckline!
Red Sequined Fancy New Blouse Design

Classic never goes out of fashion. The best part about choosing a classic style is that you can add new details to suit your personality, without feeling like you might spoil the whole look. We love how this bride has taken a classic red blouse with a round neckline and added sequins to glam it up!
Fancy New Blouse Design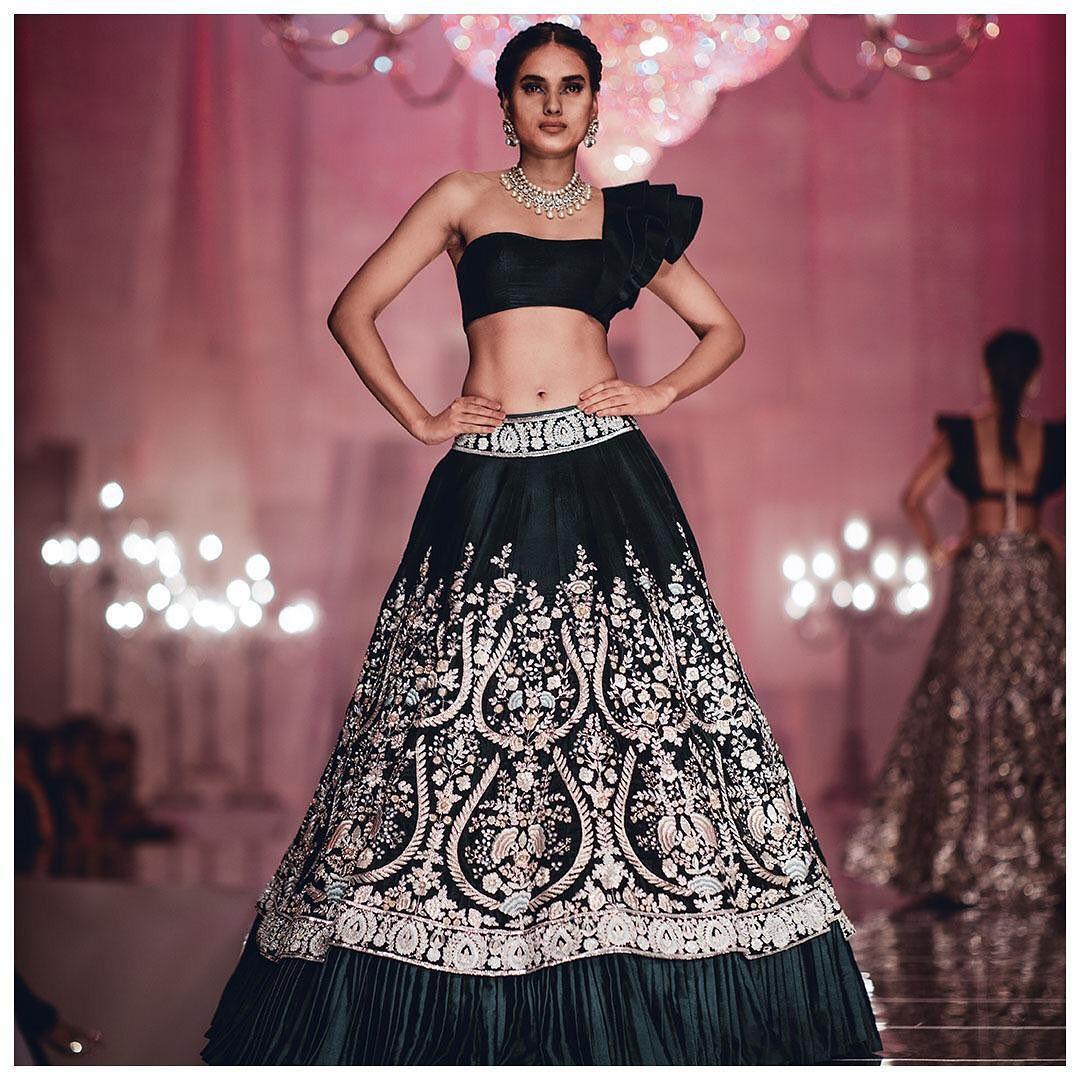 Image Courtesy: Manish Malhotra
Now beware, this is not for everyone! Black is a beautiful color and it goes with literally everything. So no thought process is needed there! But like the gold one, this gives you room to pair it up with other fancy blouse-cutting designs due to its sheer versatility. The best part about this is that you can use this even after the big day! Huge value for money there, don't you think? As you can see, it is so easy to spruce up your outfit. All you need to do is visit your tailor and how he or she these designs to get a killer look on your big day! These fancy blouse cutting designs were our favorite as they go with any saree or lehenga ensemble you choose to pair them with!
Fancy Latest Blouse Design With V-Neck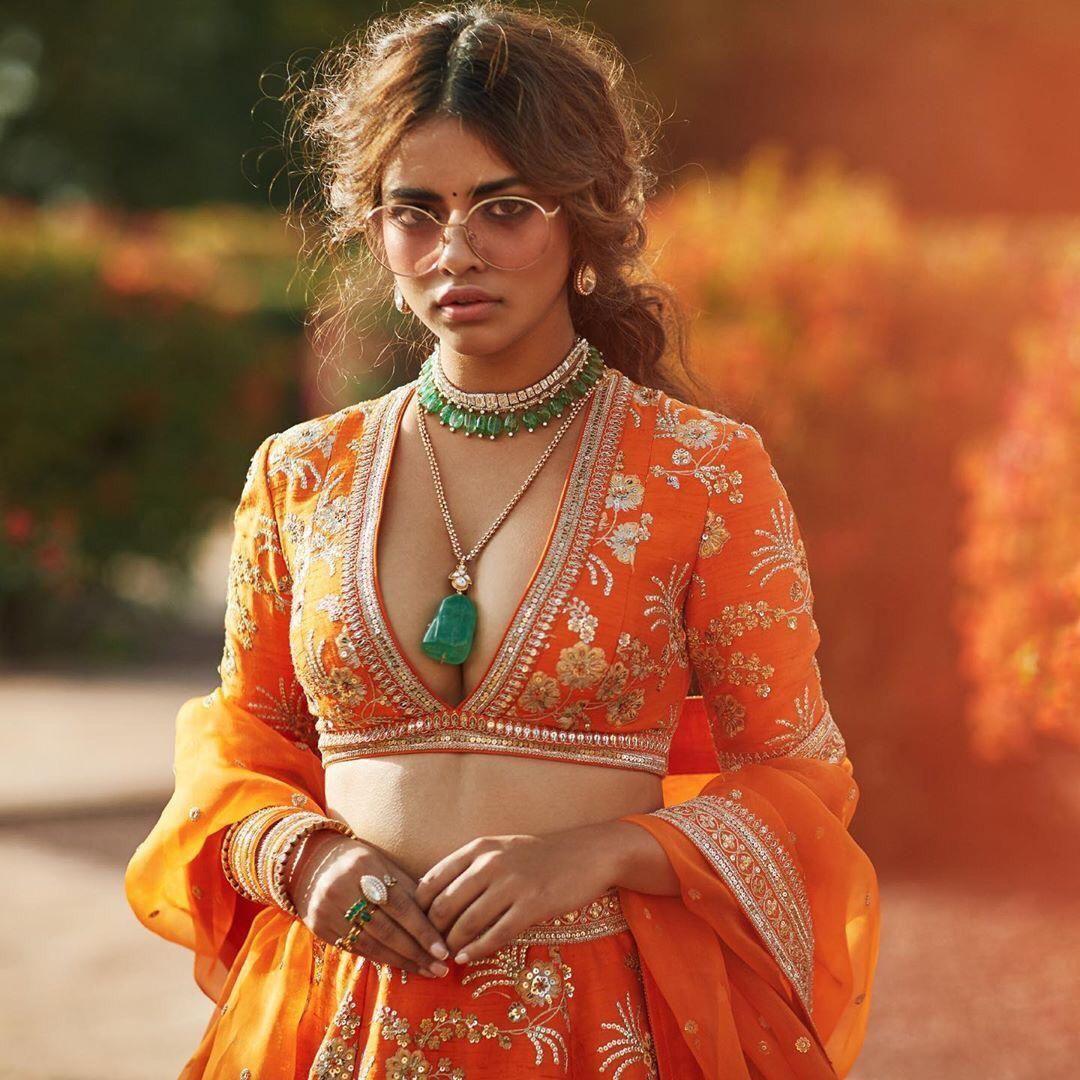 Image Courtesy: Sabyasachi
For brides who wish to wear a saree for their main wedding ceremony, a fancy blouse is a must! This beautiful v-neck blouse is one of the freshest trends that has surfaced and is getting much-deserved attention for its uniqueness as well. The orange embellished design of the floral Zari, complimented with half sleeves is a match for any traditional Indian saree or lehenga.
Sweetheart Fancy New Blouse Design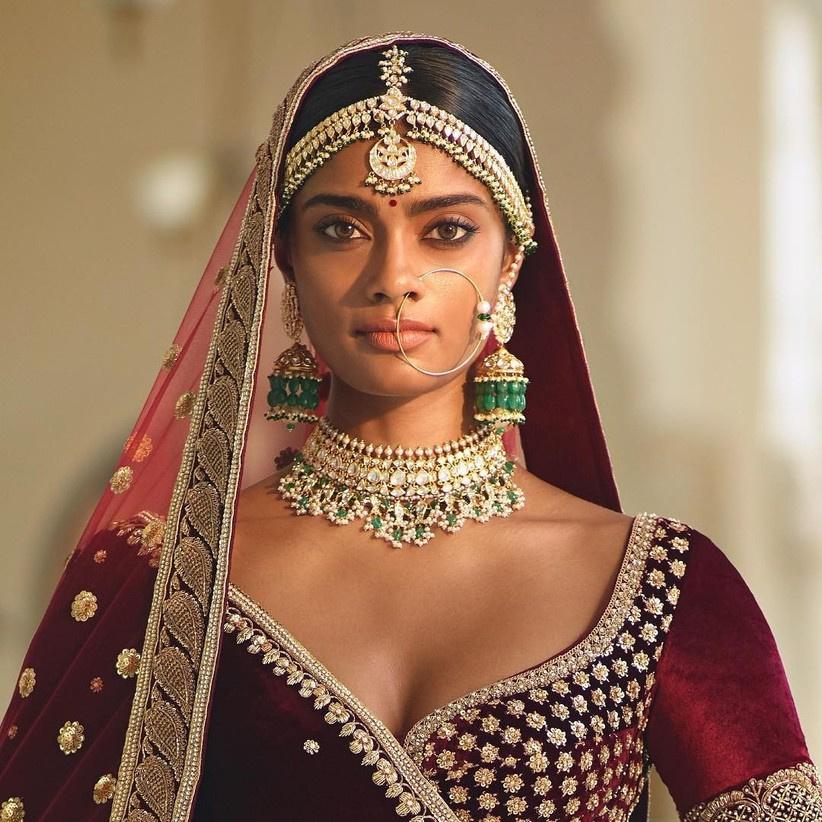 Image Courtesy: Sabyasachi
Choli designs are back and how! This velvet beauty by Sabyasachi is a work of absolute precision and the sweetheart neck just keeps it subtly sexy and traditional. The velvet work has picked up pace in becoming the IT trend and the royal feel that it adds to your bridal look is impeccable!
Scallop Trim V-Neck Fancy Blouse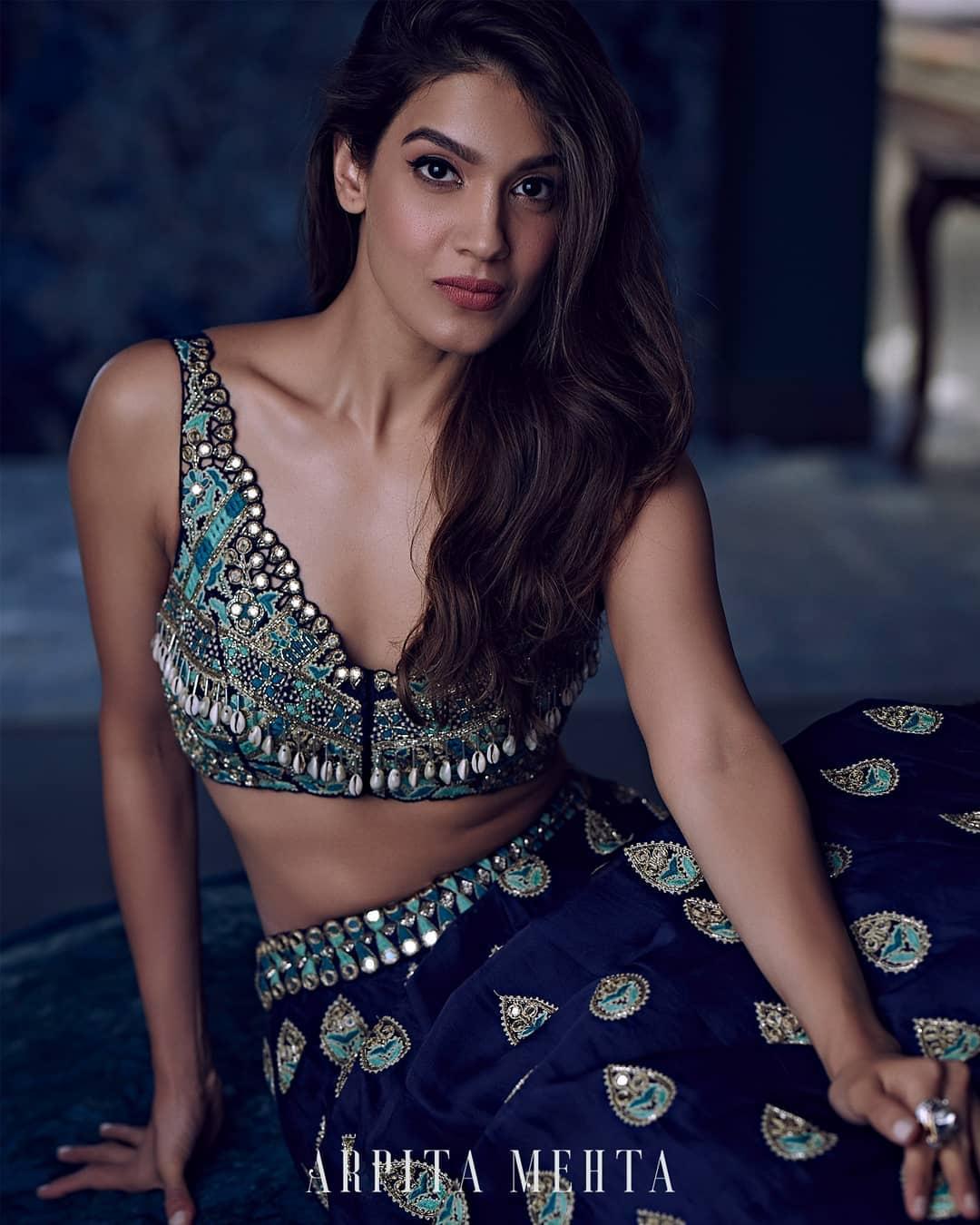 Sabyasachi has been the flag bearer of deep-V neck blouses with the most conventional outfits. Taking the deep-V blouse a level up this blouse flexes a scalloped hem with mirrorwork in it. The mirror work blouse in royal blue with the cowrie shells is an amazing piece of art created by Arpita Mehta and makes for a stunning outfit for your Sangeet night.
Sweetheart Neck Fancy Blouse With Cutout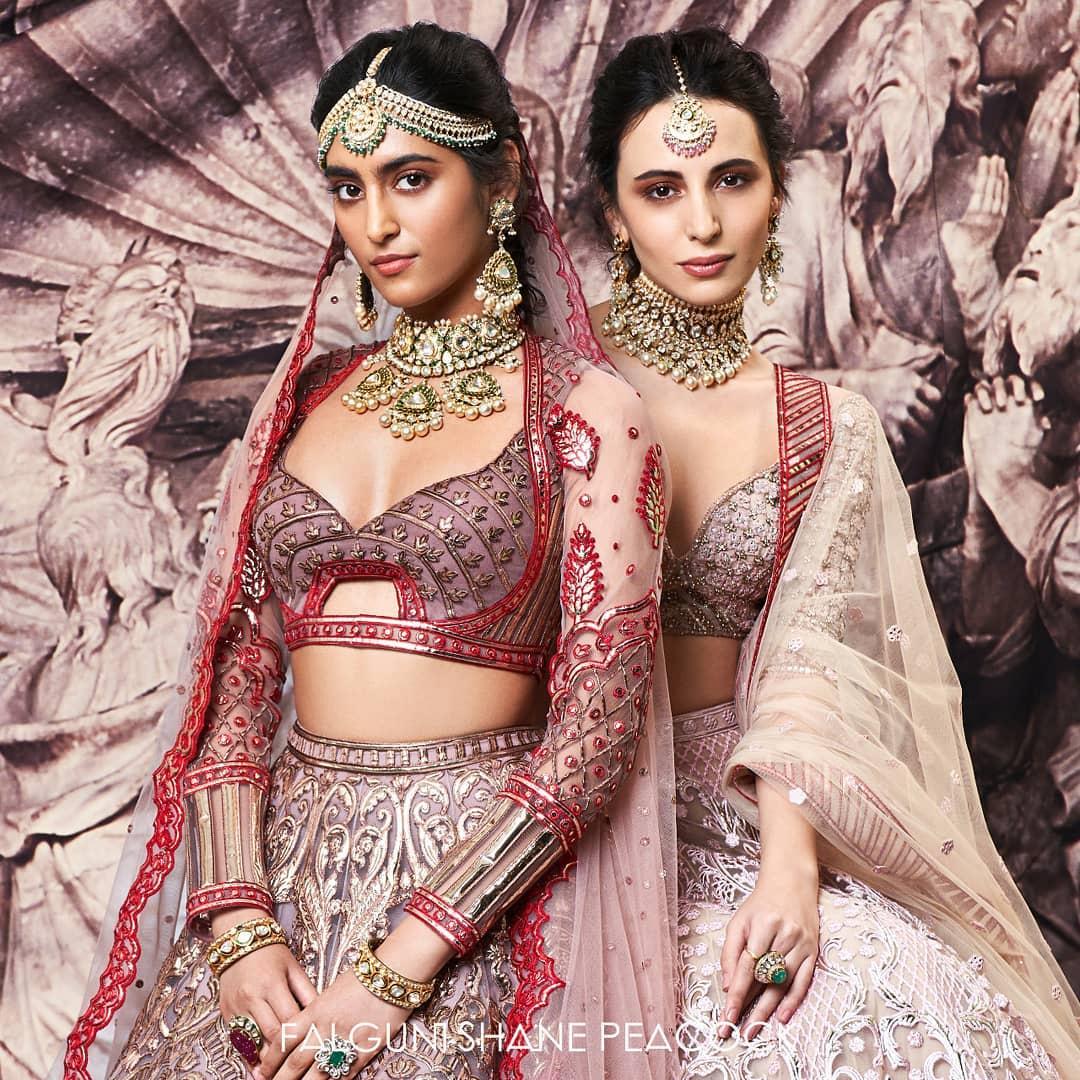 Image Courtesy: Falguni Shane Peacock
Sweetheart necks on blouse designs have their place in the fancy blouse trends that come and go. However, to enhance the beauty of a sweetheart's neck on your wedding blouse, the cutout near the front hem makes this handcrafted piece a super hit from the house of Falguni Shane Peacock.
Butterfly Boatneck Fancy Blouse Design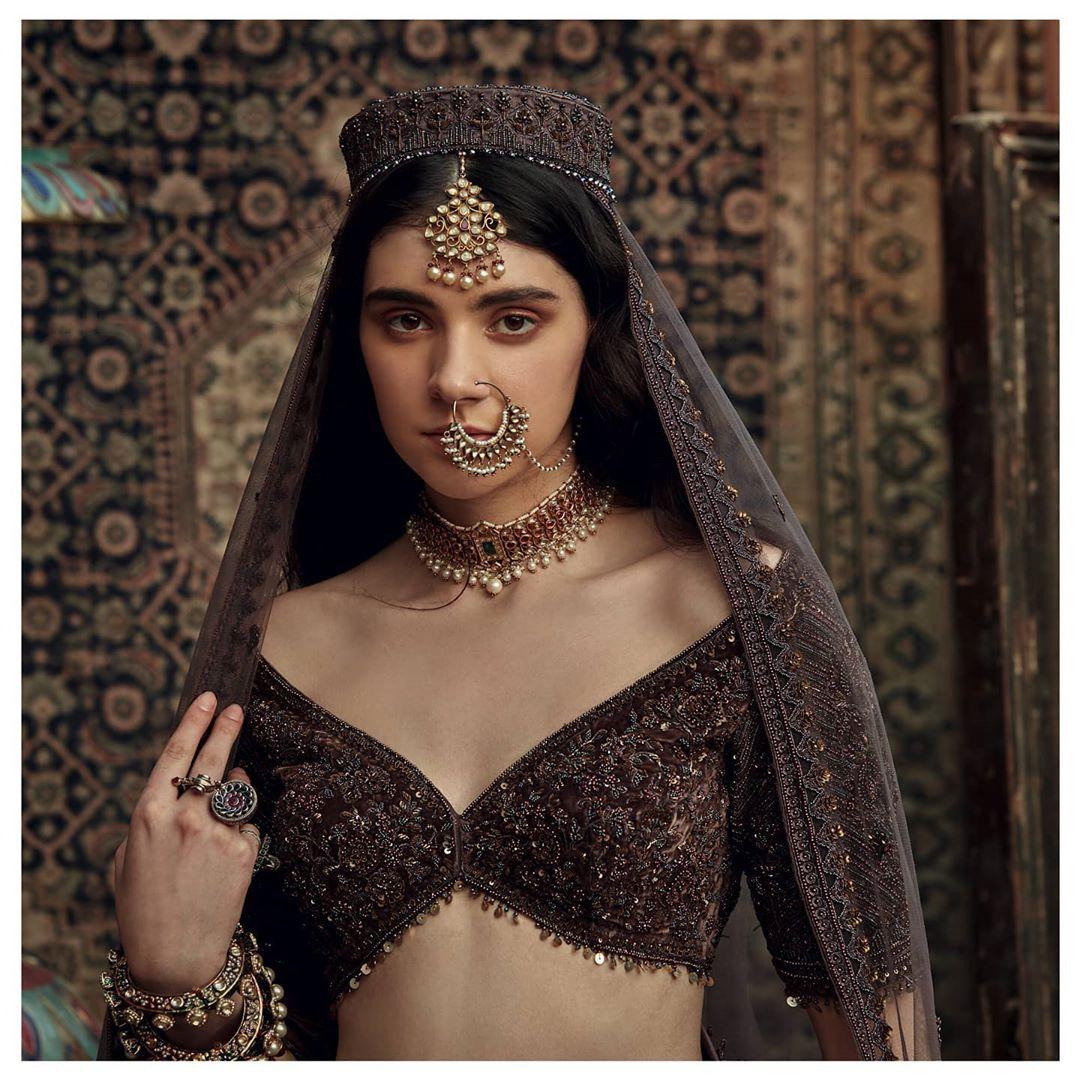 This gorgeous fancy blouse design image spits perfection. The butterfly neck that spreads out around the shoulders to give it a boat neck blouse shape with heavy sequin embroidery is a perfect pick for your cocktail celebrations. Pair it with a high waist lehenga or maybe a sequin saree to amp up your look. Sleeves make a lot of difference in the entire outfit and these fancy blouse sleeves designs are each a showstopping piece that you must take a look at.
Angrakha Fancy Blouse Design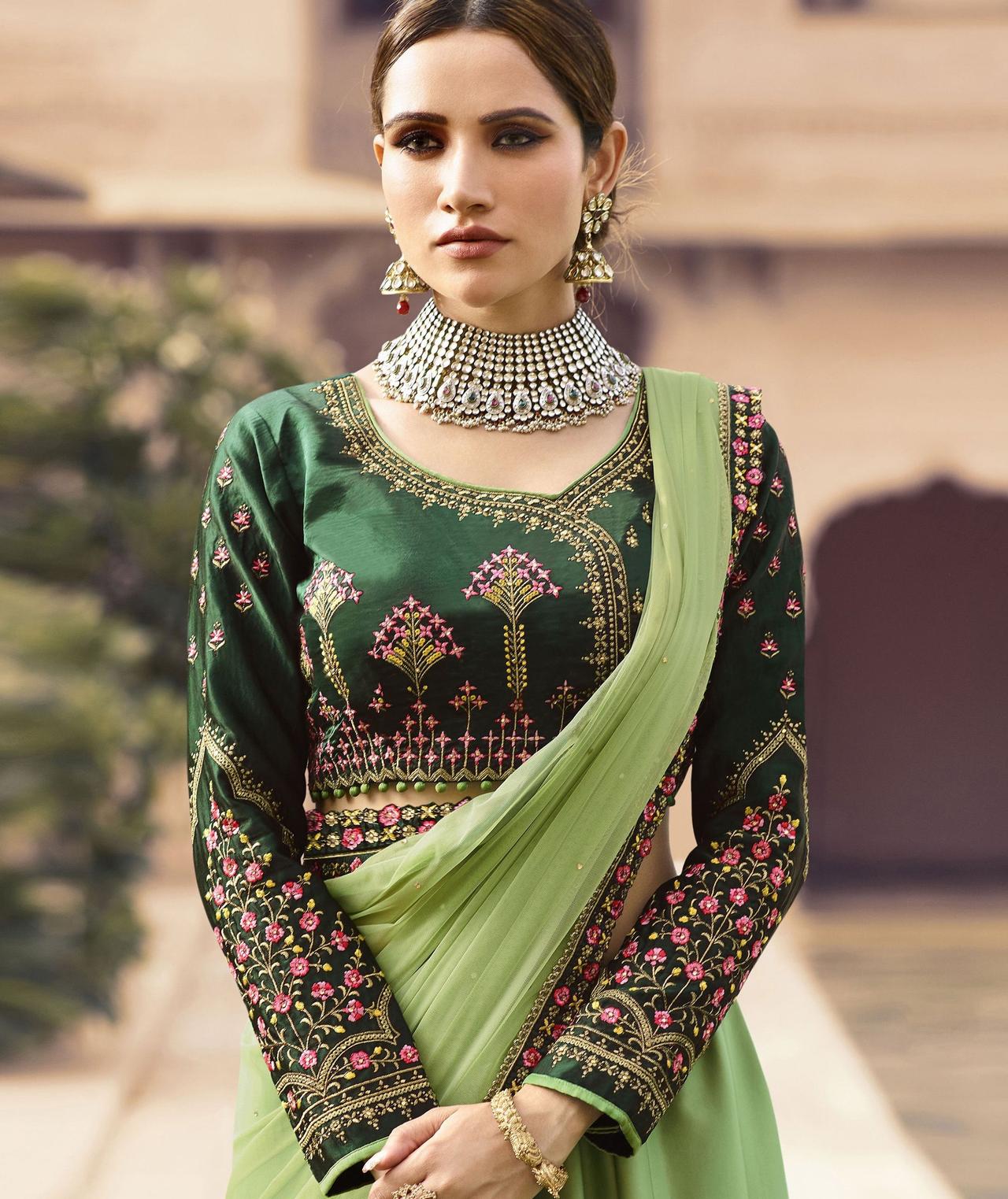 Image Courtesy: Pinterest
Now, this design has been derived from the royal style of the Mughals of India. The Angrakha design has usually been associated with Anarkali suits but many now designers have taken the trend and forged it as a blouse to go well with any solid-hued saree as well. Avoid wearing any necklace and rather invest in a pair of statement earrings to go with this look.
Layered Bell Sleeve Fancy Blouse Design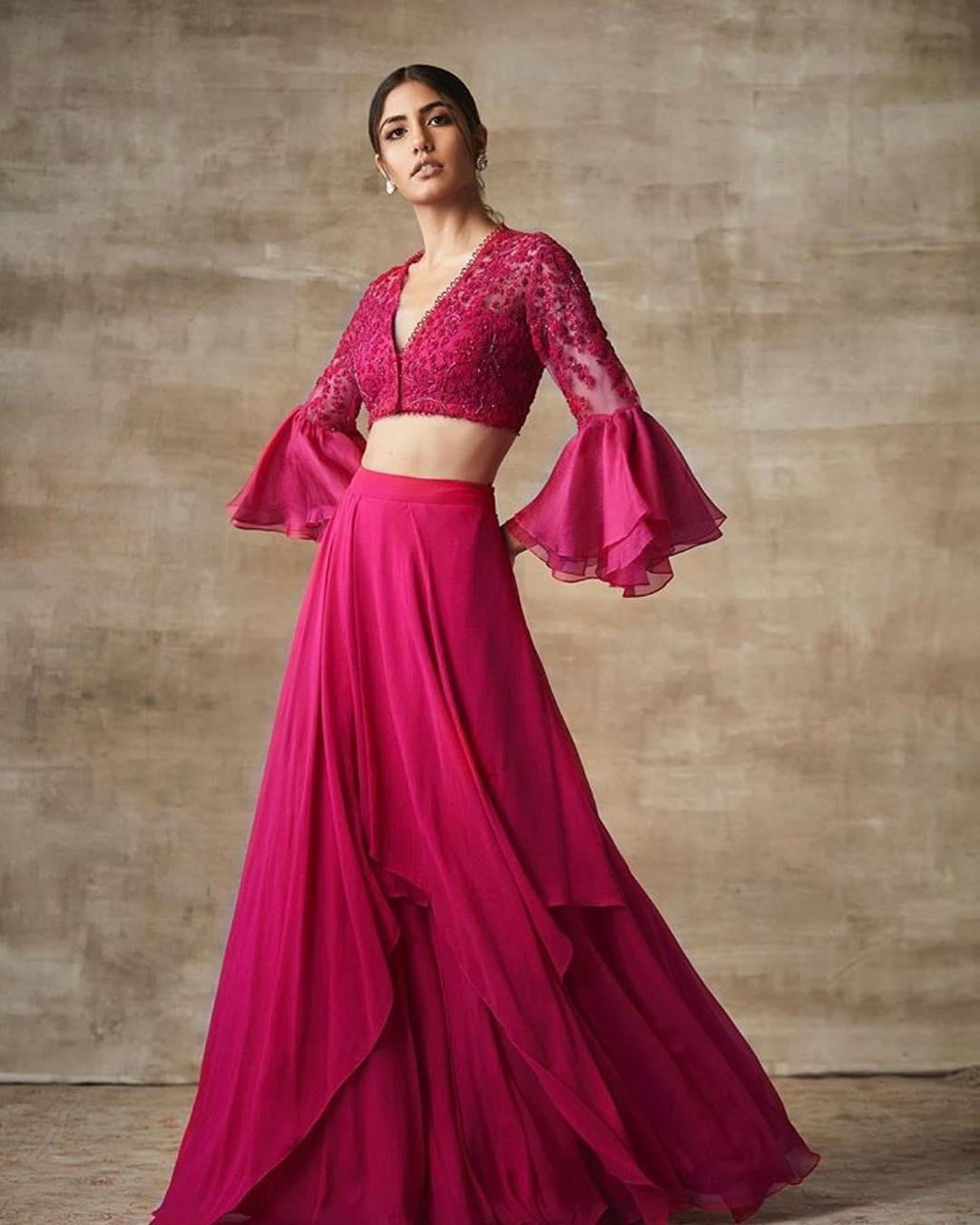 Bringing flares into weddings and making it all the more stylish, this Ridhi Mehra deep V-neck blouse with front buttons and a dramatic bell sleeve in Fuschia pink is a hoot. The receding embroidery towards the elbow adds to the beauty of the bell sleeves. Also what is better than bell sleeves - a layered bell sleeve to add to the volume. Pick this blouse to pair it with a lightweight lehenga or a lightweight saree for your pre-wedding ceremonies to wow the crowd.
Cold-Shoulder Bishop Sleeve Fancy Blouse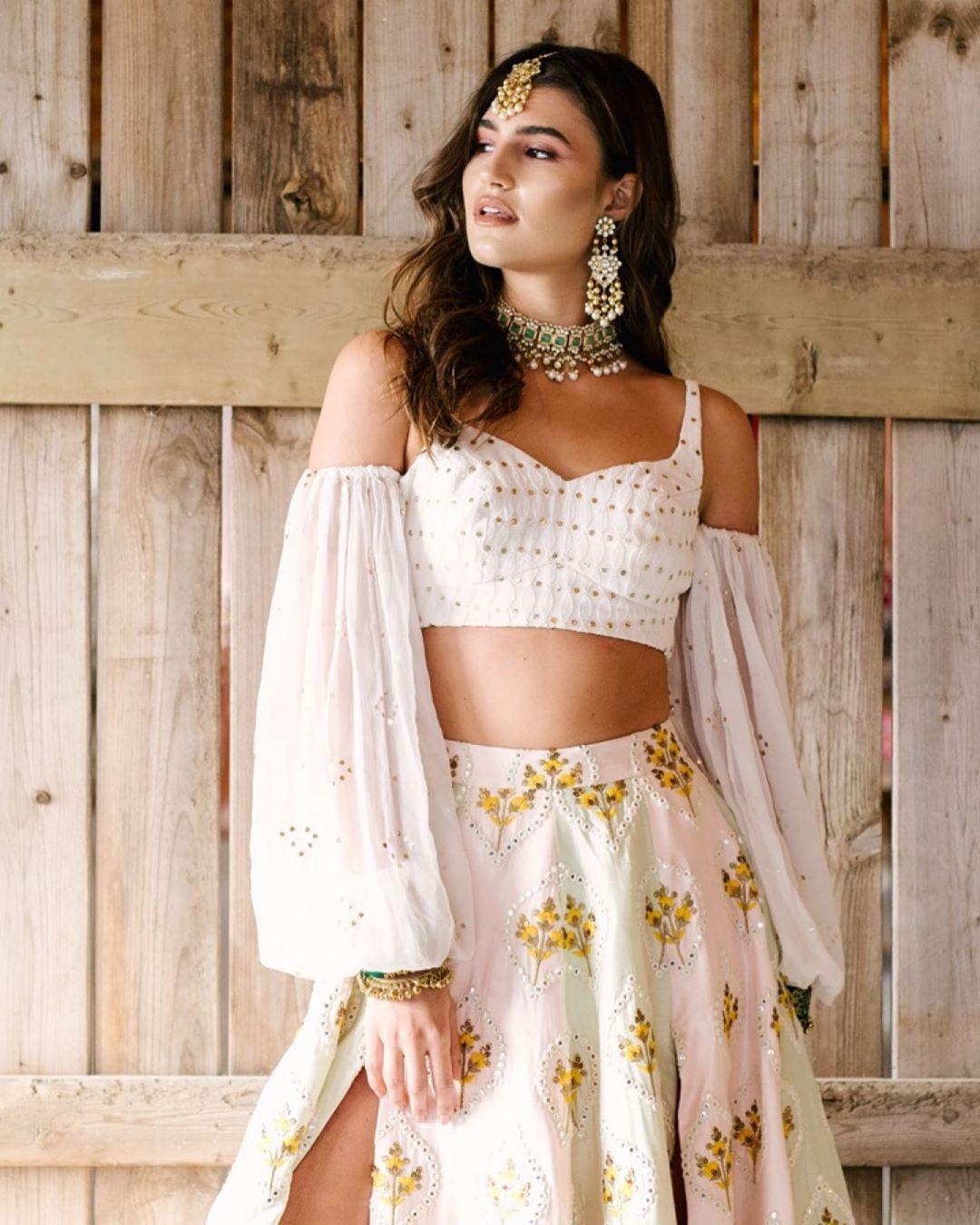 Image Courtesy: Mani K Jassal
This white cold-shoulder blouse with bishop sleeves is a millennial favorite by Mani K Jassal. The bright color makes it just perfect for your day's wedding or an intimate wedding outfit. Pair it with a yellow skirt for your Haldi ceremony and make those heads turn as you walk by!
Dramatic Puff Sleeves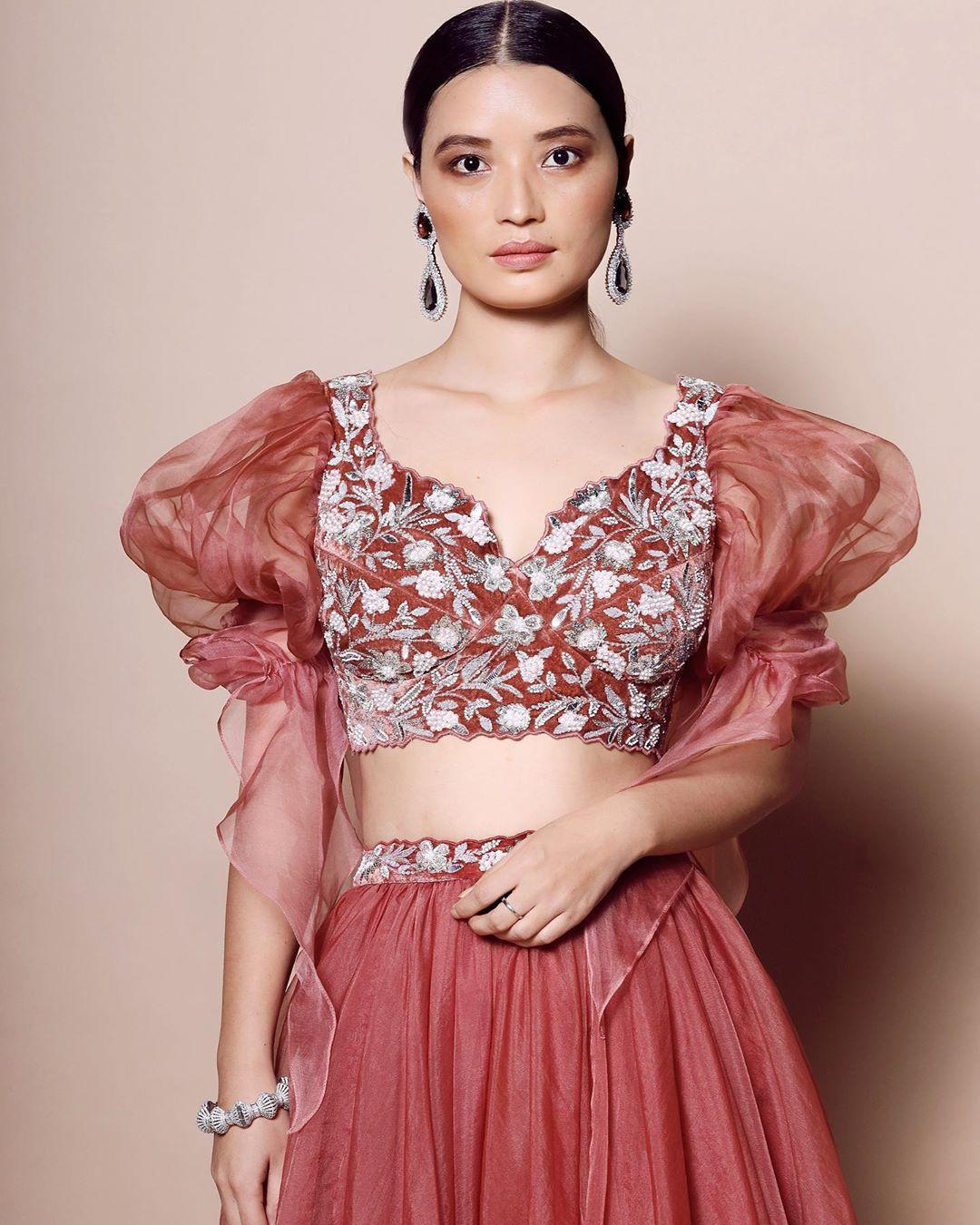 Image Courtesy: Mahima Mahajan
This crushed velvet peach-colored blouse flaunts a fully embellished bodice with a sweetheart neckline. However, what makes this blouse all the more gorgeous is the organza puff sleeves with a flowy ribbon in the end. Structured puff sleeves are without a doubt glamourous and this blouse sleeve design is a statement piece.
Off-shoulder Fringed Bustier Fancy Blouse Design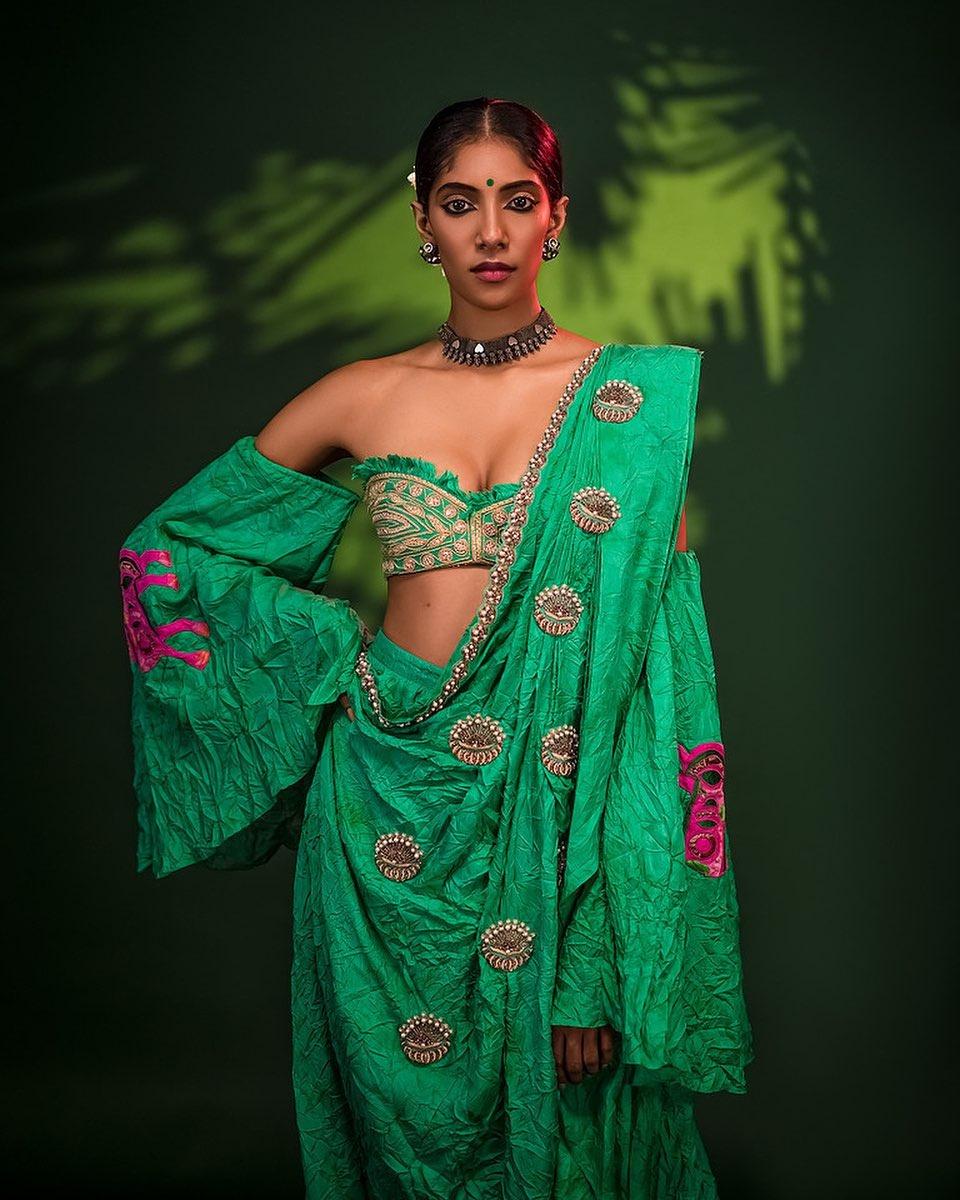 Image Courtesy: House of Masaba
This green crushed fabric blouse from the House of Masaba is a fancy saree blouse design you will fall in love with. The fabric is light and breezy making it perfect for summer weddings. Even though the bustier is off-shoulder with a fringed hemline and embroidered bodice, the flared sleeves attached externally with a pintuck add to its style quotient.
Double-strap Bustier Fancy Blouse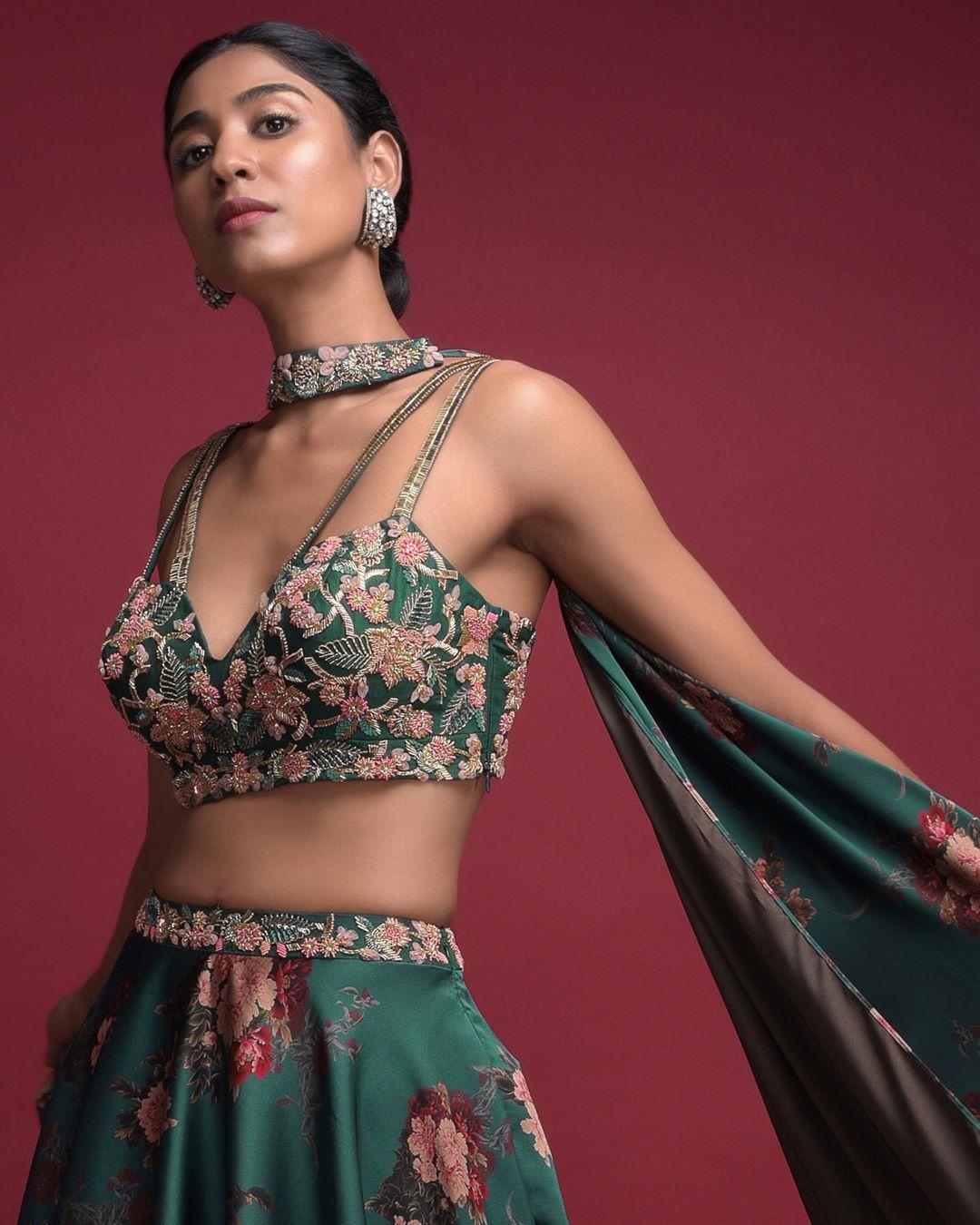 The emerald green bustier is exquisitely intricated with bugle beads, origami embellished floral jail, and further highlighting it with scattered sequins. This piece from Kalki Fashion is all about chic, couture, and pure simplicity with a strappy cut blouse that flaunts a plunge for maximum effect! This number will be the quintessential part of every girl's wedding wardrobe as it combines fashion and comfort effortlessly.
One-Sided Organza Bishop Sleeved Fancy Blouse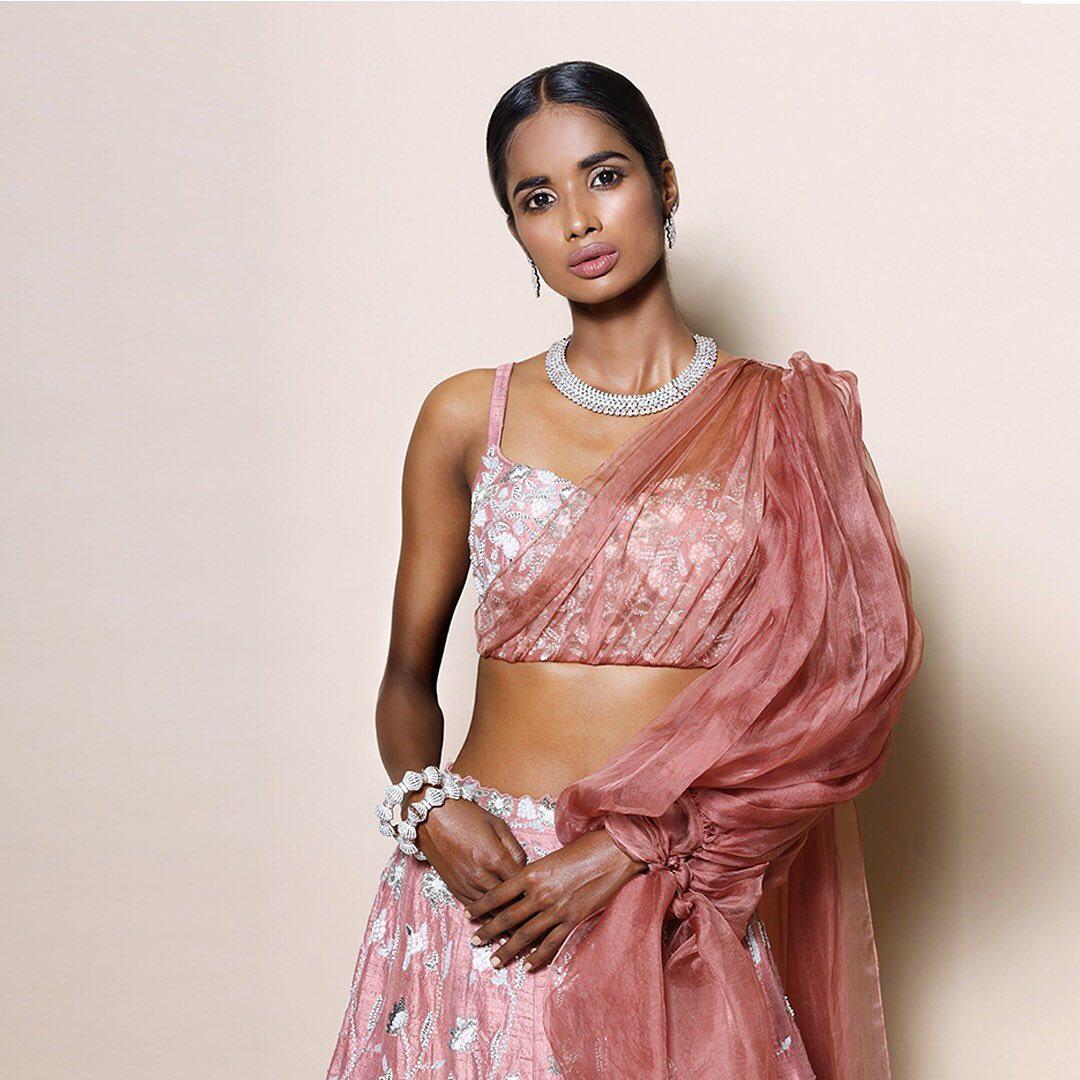 This raw silk corset blouse is a spectacle to be paired with a solid silk saree or even a silk lehenga. What adds to the impeccable design of this piece is the one-sided bishop sleeve with pin-tuck pleats in the organza. Bringing the red carpet straight to your wedding, this fancy blouse design is a superhit.
The One-Shoulder Heavy Fancy Blouse Pattern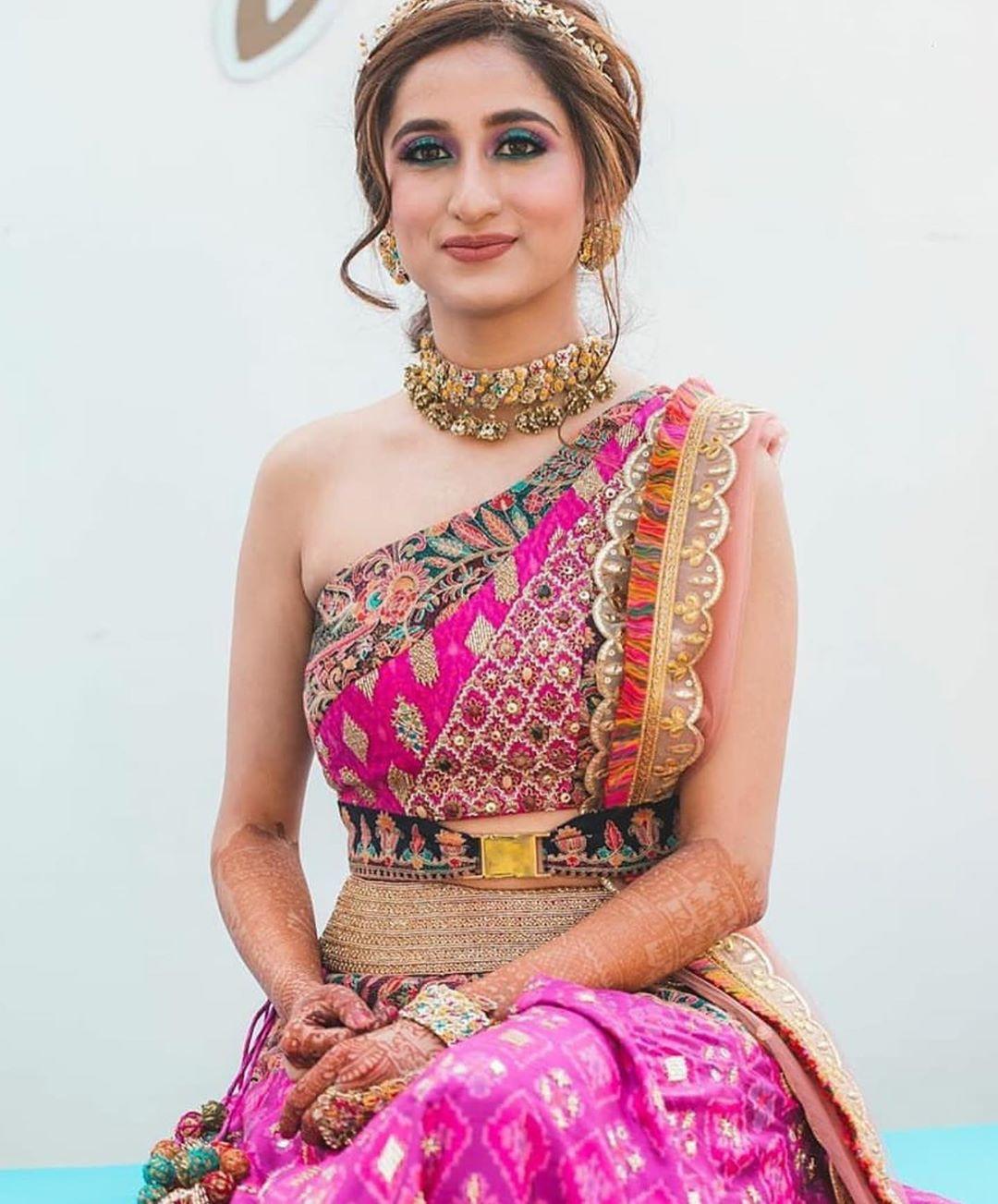 Image Courtesy: Indian Street Fashion Instagram
The one-shoulder heavy blouse with intricate embroidery is a beautiful blouse design for the brides as well as the bridesmaids to flaunt at the wedding. The blouse serves the looks not only to be paired with a lehenga but also with a saree. Pink lehengas have been a raging trend among the brides of today and this belted lehenga piece in pink just fits perfectly in any ceremony.
Cape Fancy Blouse Sleeves Design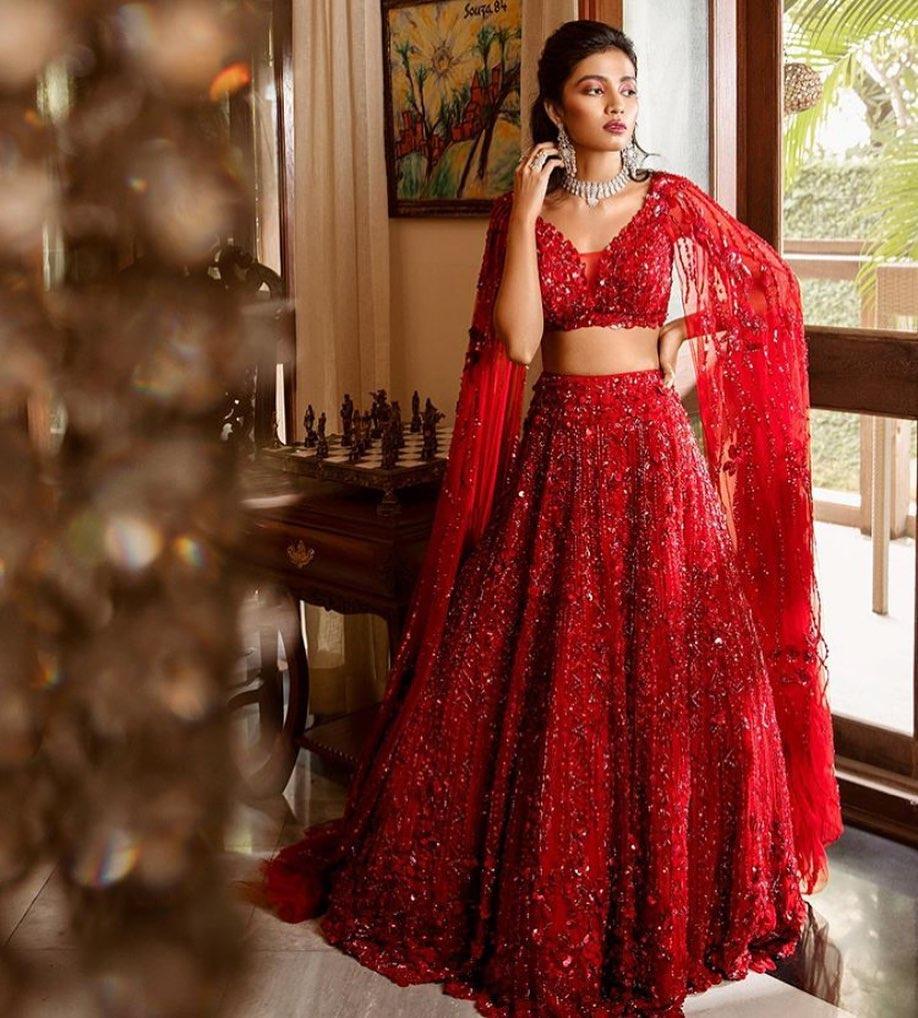 Superheroes have shown us what wonders a cape can do. Bringing the same fervor to wedding outfits, this cape blouse designed by Nadine Dhody is a catch. For a regal reception outfit or a fun Sangeet night, this red heavily embellished blouse design with cape sleeves is sure to be the talk of the town. A diamond jewelry set will be the cherry on top to complement the look!
Heavy Fancy Blouse Design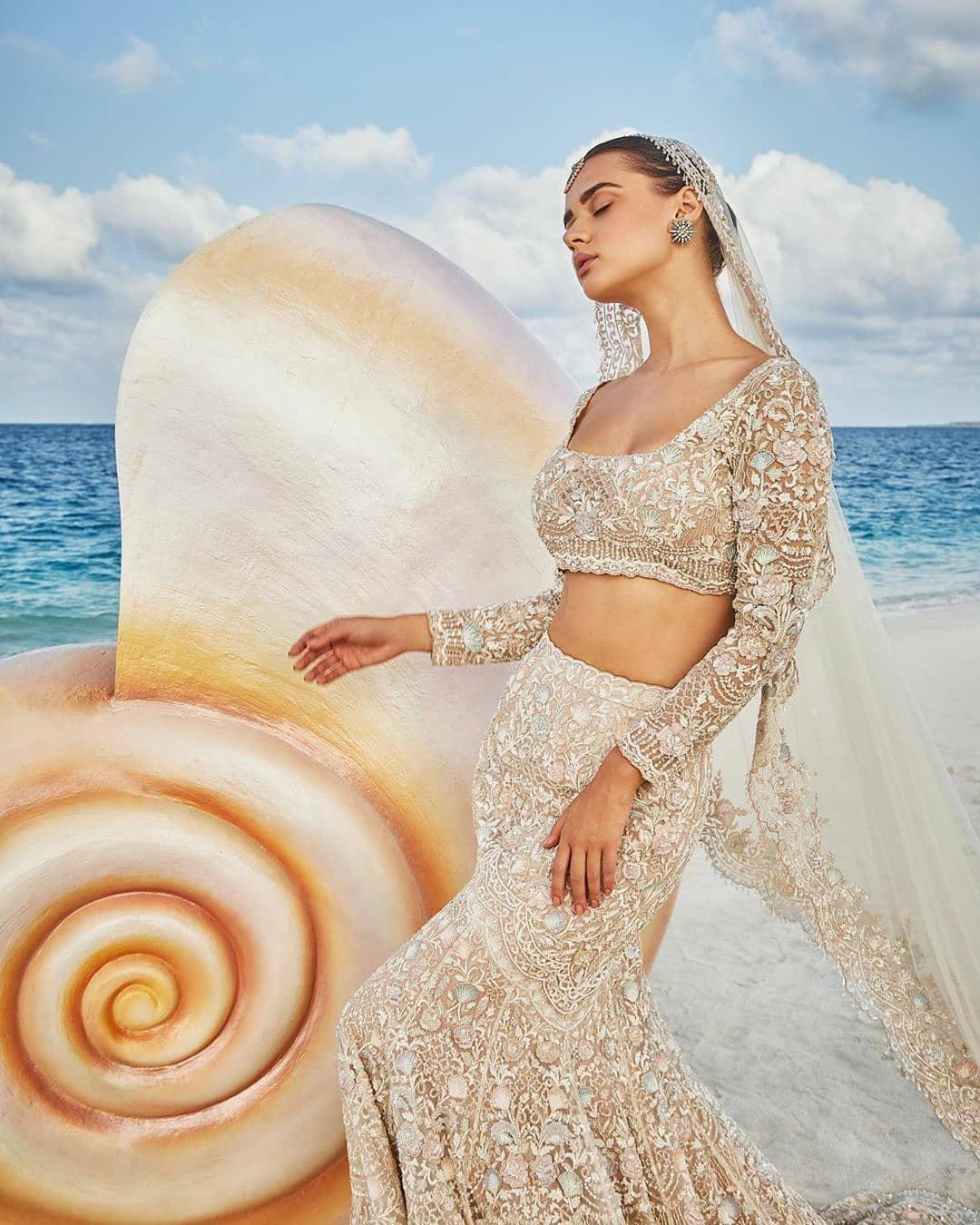 Image Courtesy: Kresha Bajaj
Kresha Bajaj designed this lehenga and called it Naia. The full-sleeved heavy blouse is a piece of exemplary art handcrafted with stones in over 20 colors to bring it to life. This white blouse is perfect to be paired with the mermaid lehenga or even a pastel-colored or white saree and will be a hoot if you wear it for your Indian Christian wedding.
Multi-Stranded Back Side Fancy Blouse Designs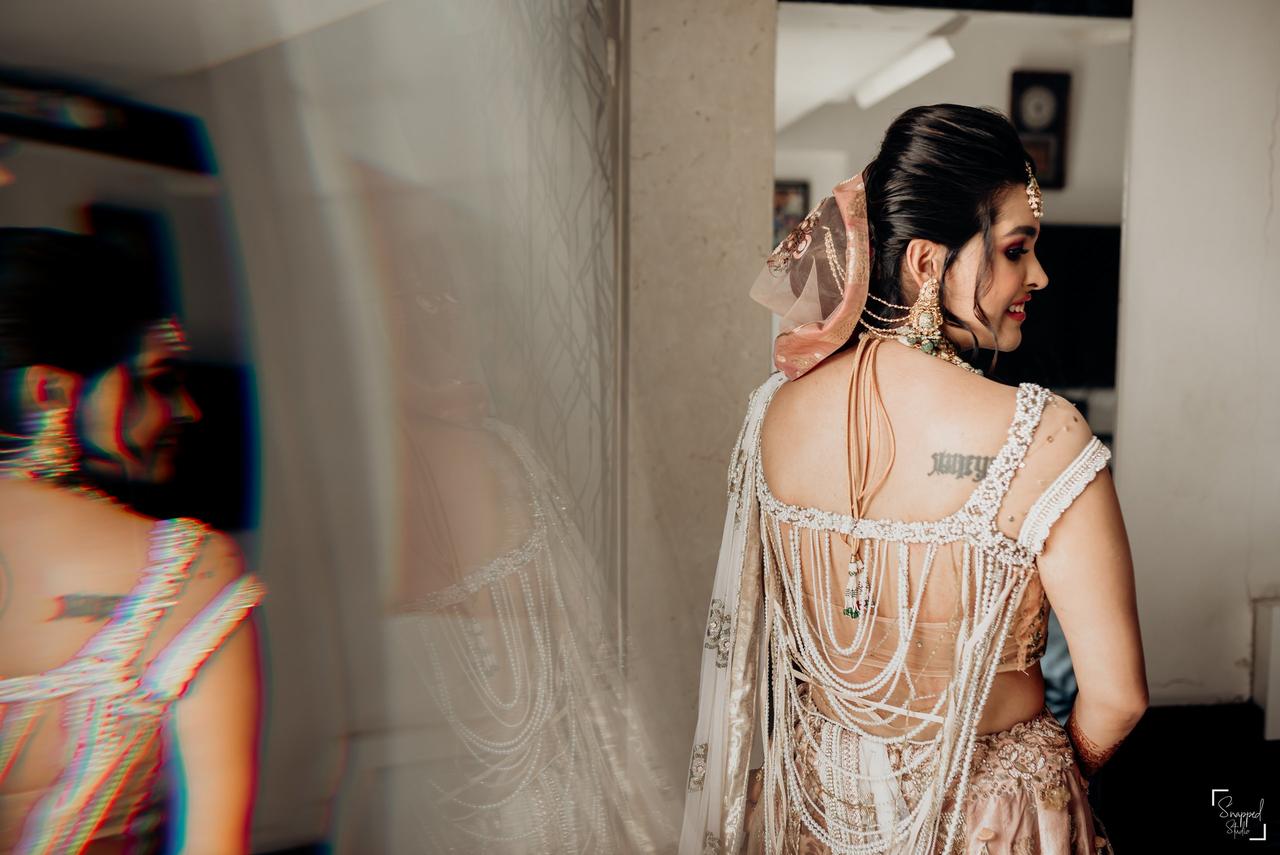 This real bride, Shreya, flaunted this stunning fancy blouse with multi-stranded beaded detailing on the back of her intimate wedding during the times of Corona. The lace attached with a soft transparent net on the sleeve is just a delicate detailing that makes the blouse wow-worthy.
Fancy Corset Back Side Fancy Blouse Designs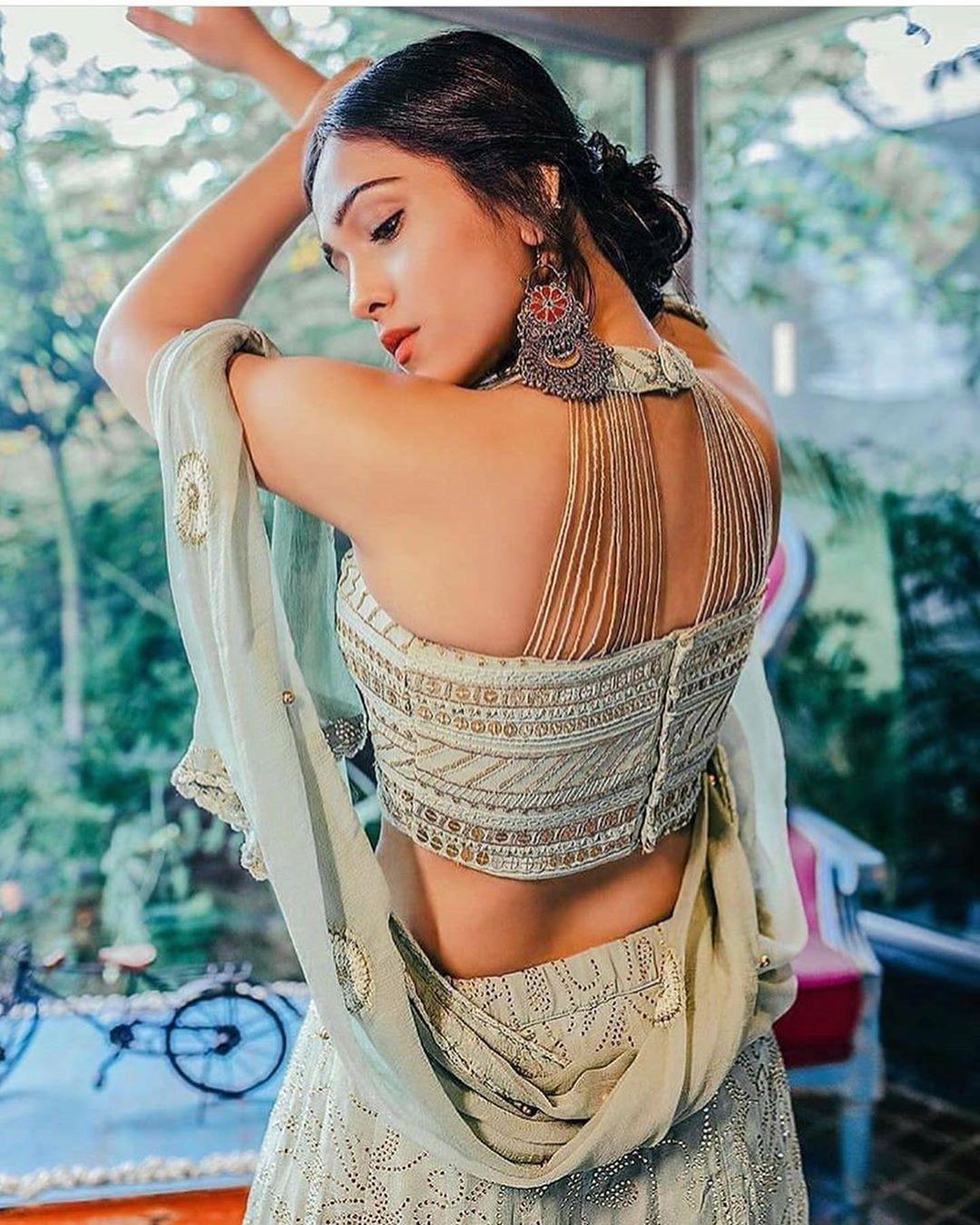 Image Courtesy: Desi Classy Brides Instagram
Adding to the bringing sexy back, this corset-shaped blouse with the multi-stranded beaded detailing that runs from the halter neck to the back makes this one of a kind. Perfect for a somber cocktail celebration, this blouse is sure to make them fall in love with your fashion statement.
Pearl Embellishments Back Side Fancy Blouse Designs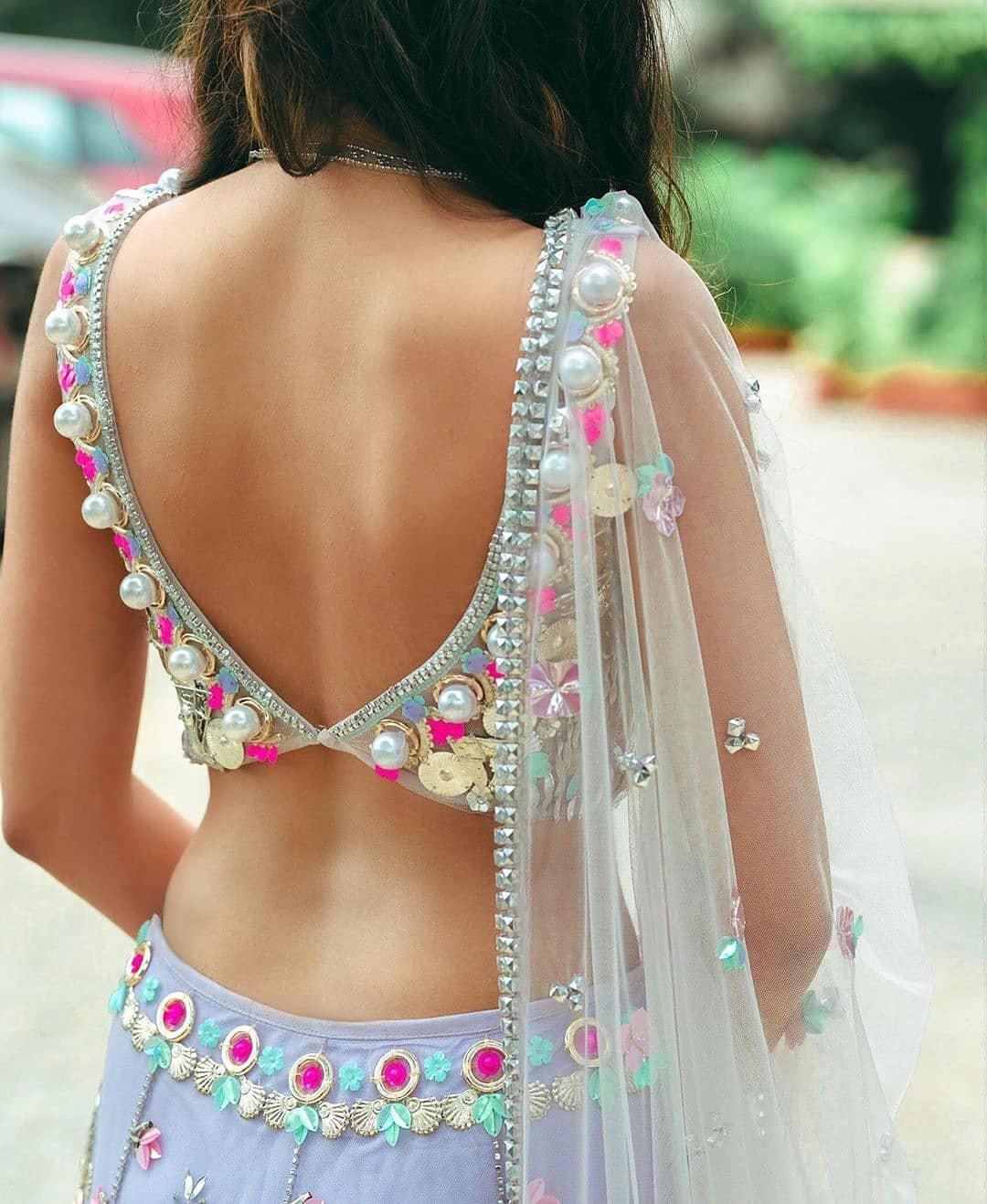 This head-turning piece of art has been created by none other than Papa Don't Preach by Shubhika. Keeping their signature styles of adding a dash of colors to make the piece pop - be it neon or bright pinks and greens, this deep-V back neck blouse design from the lilac Lehenga choli set is embellished with OTT pearls, reflective sequins, and glass beadwork. Keep the accessories minimal and let the designer blouse do the talking.
Keyhole Cutout Fancy Blouse Front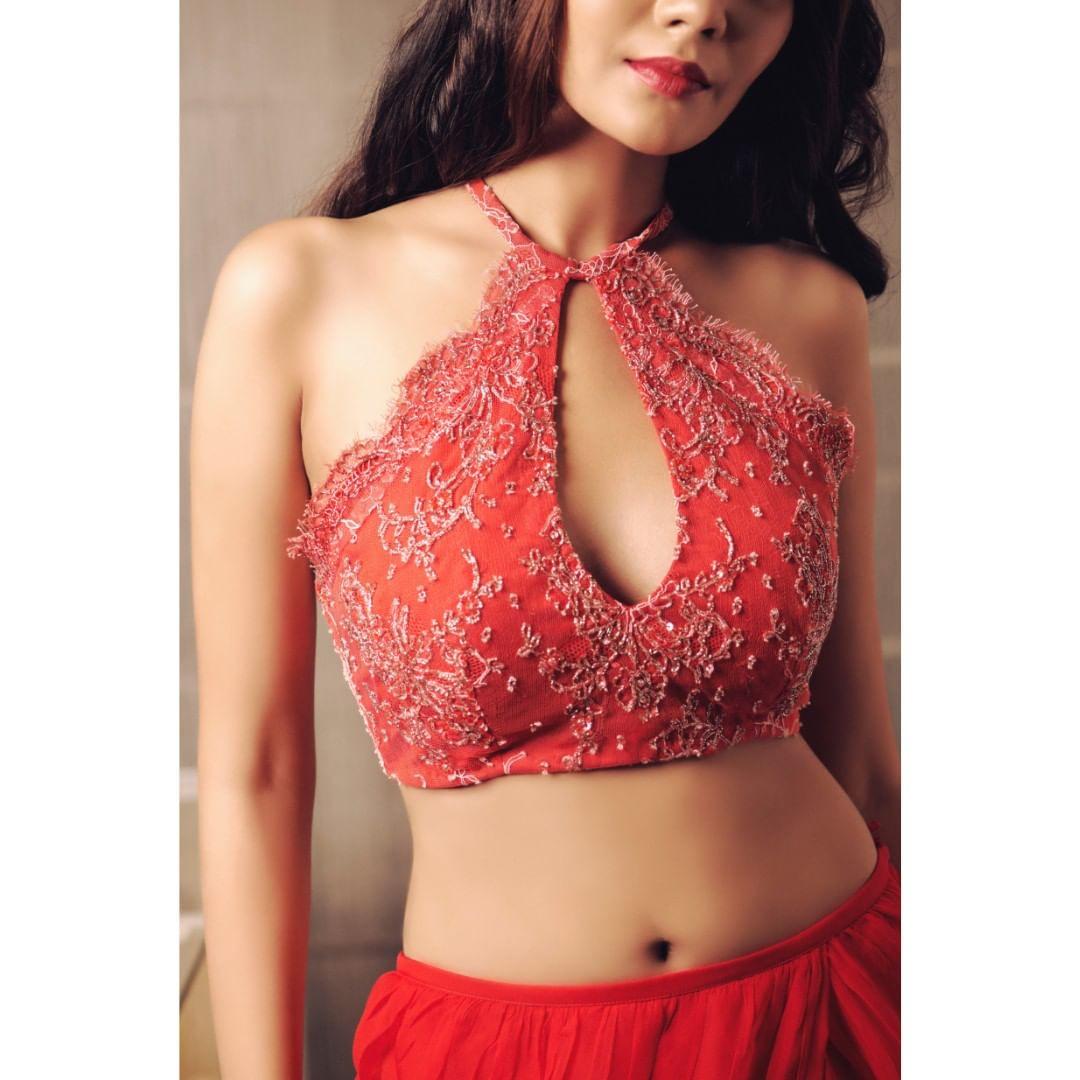 Image Courtesy: Shehla Khan
Emanating elegance through delicate embroidery by Shehla Khan, this red fancy halter neck blouse design with a deep keyhole cutout is a ravishing piece to be worn for a cocktail or a sangeet ceremony. Adding to the charm is the rough scallop-shaped hem of the blouse. Pair it with a red lehenga or a high waist skirt and a dupatta to rock the look.
Cutout Chantilly Lace Blouse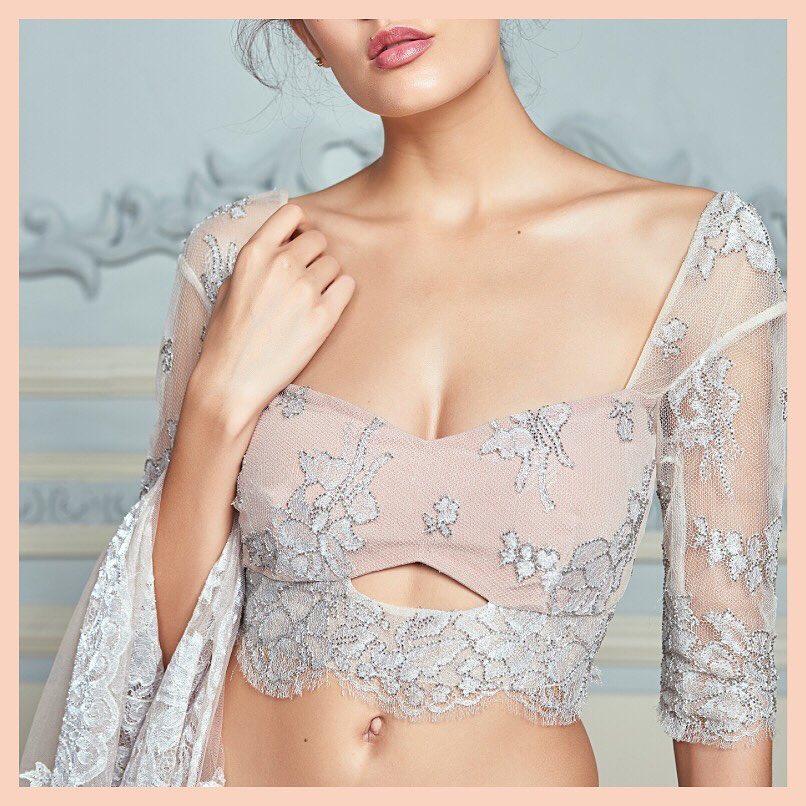 Image Courtesy: Shehla Khan
Another piece of absolute brilliance by Shehla Khan is this Chantilly lace blouse with a delicate cutout giving it the illusion of a bandeau top. The intricate embroidery running delicately through the piece adds to the charm of this fancy blouse. This can be paired with a saree or a lehenga for a day wedding ceremony.
Off-Shoulder New Fancy Blouse Design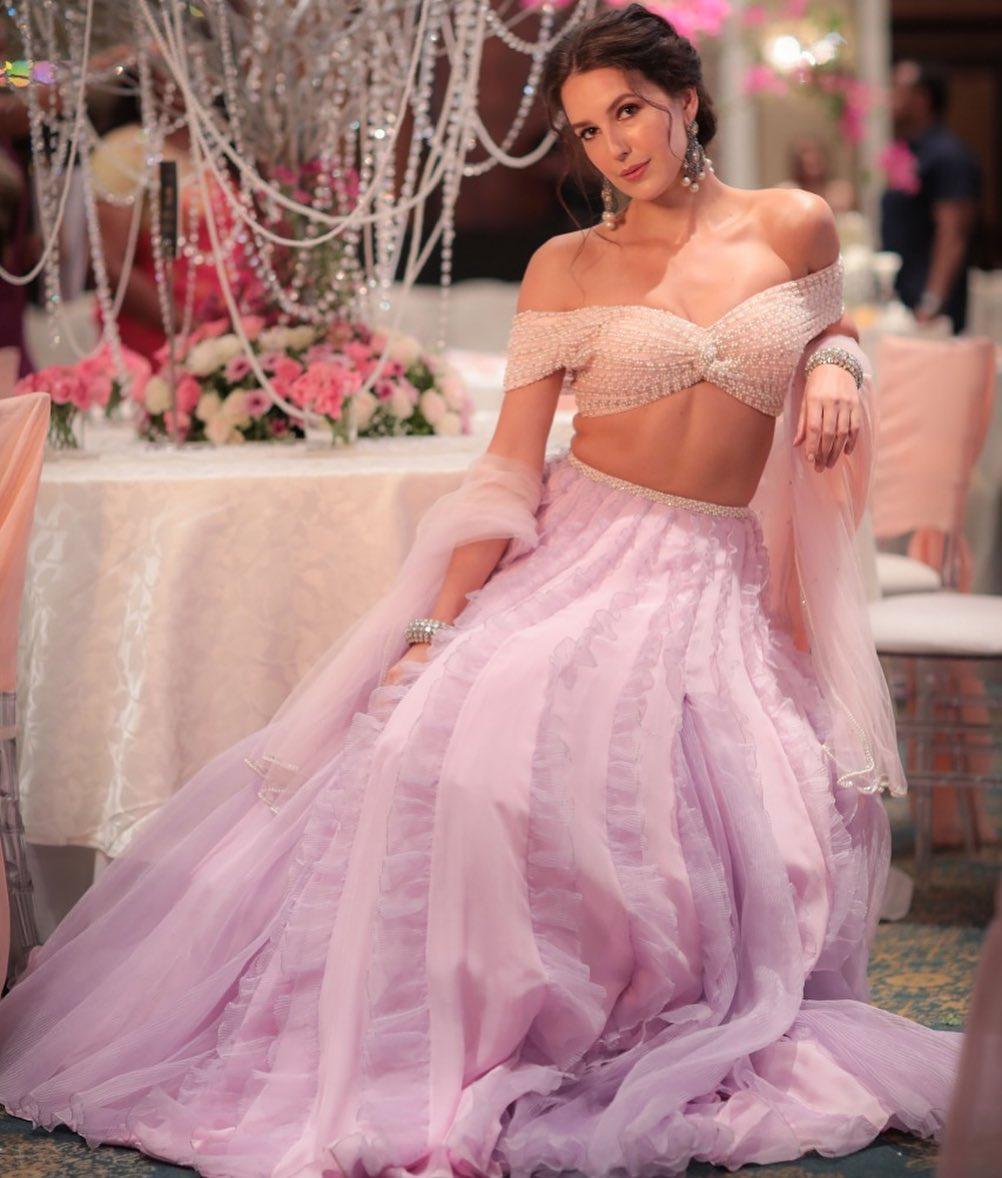 Image Courtesy: Shehla Khan
This off-shoulder pearl and crystal-embellished blouse with a lavender organza ruffle and pleated detail lehenga skirt by Shehla Khan is a hoot among the bridesmaids. Wear it for a day wedding by accessorizing it lightly or wear it with a beautiful diamond necklace during the night to look breathtaking.
Halter Neck Sequin Blouse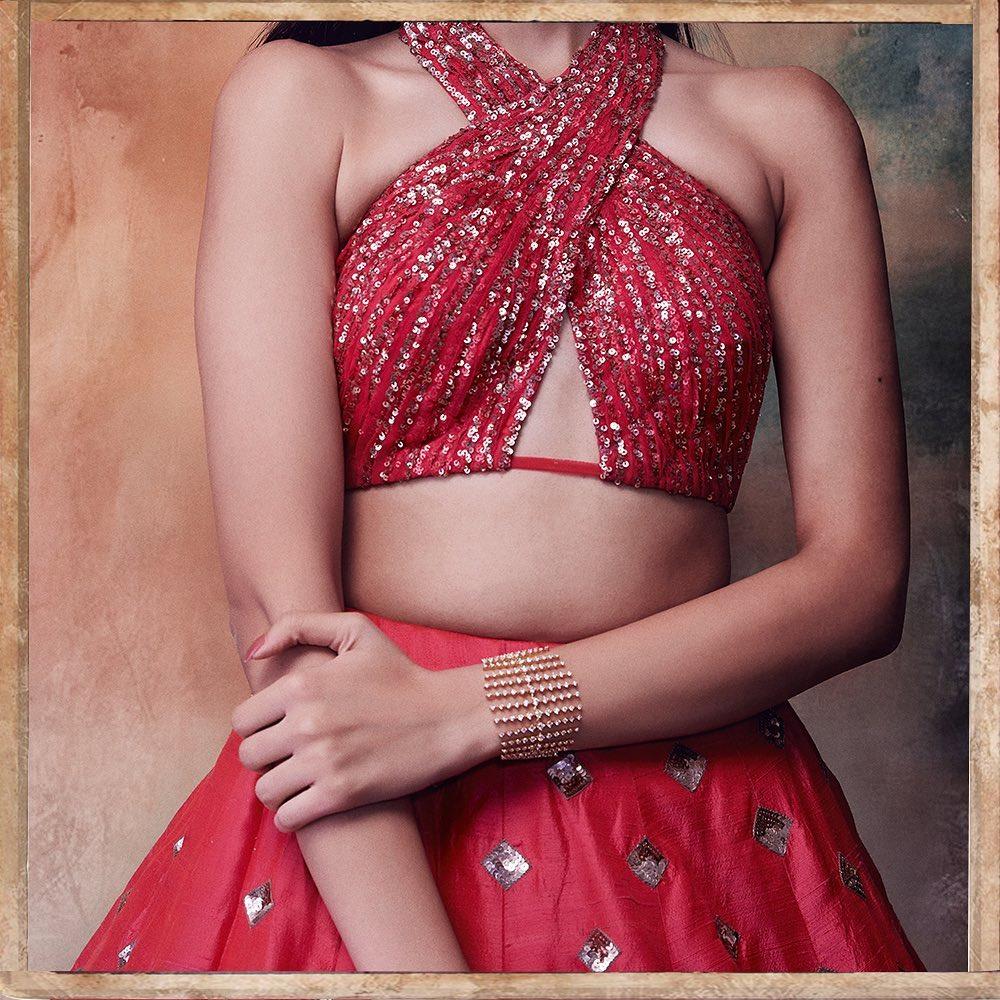 Flattering, unique, and bold, this cross-over halter neck blouse by Vvani by Vani Vats adds a pop of glitter to the occasion. Don this exceptionally classy and modern outfit with a matching red lehenga skirt on your engagement or your cocktail or maybe to your BFF's Sangeet night.
Fancy Saree Blouse Designs
Full-Sleeves Embroidered Fancy Saree Blouse Design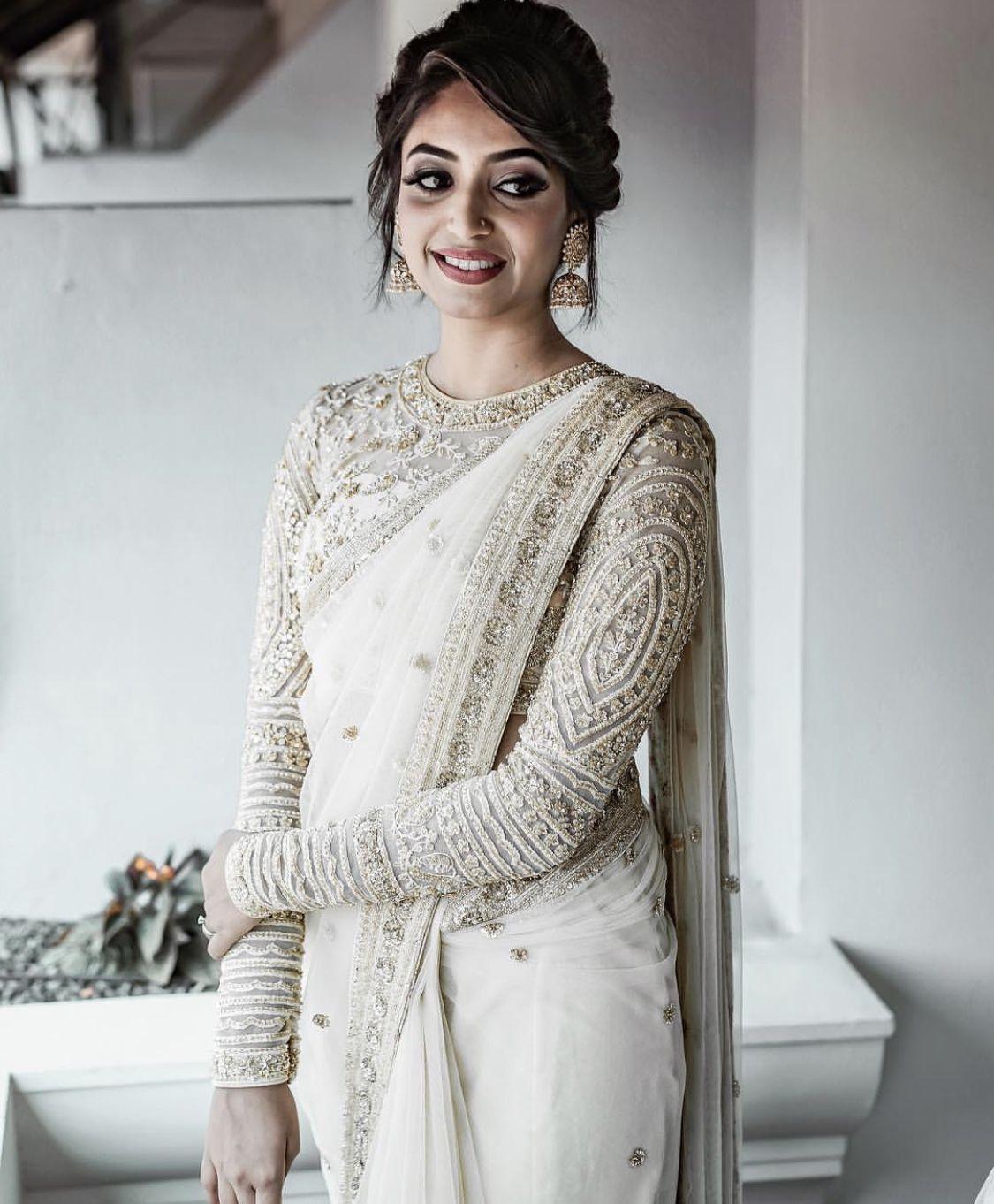 Image Courtesy: Pinterest
From the house of Sabyasachi, we have seen many retro-style floral full-sleeve blouses, but another retro-style blouse that is a big hit currently and will be in trend for a good while now is the embroidered full sleeve blouse that can be adorned with a simple saree, but we say that you listen to the expert and opt to match this gorgeous blouse design with world-famous a heavy silk saree instead. We say Chikankari rules!
Bell Sleeves Fancy Blouse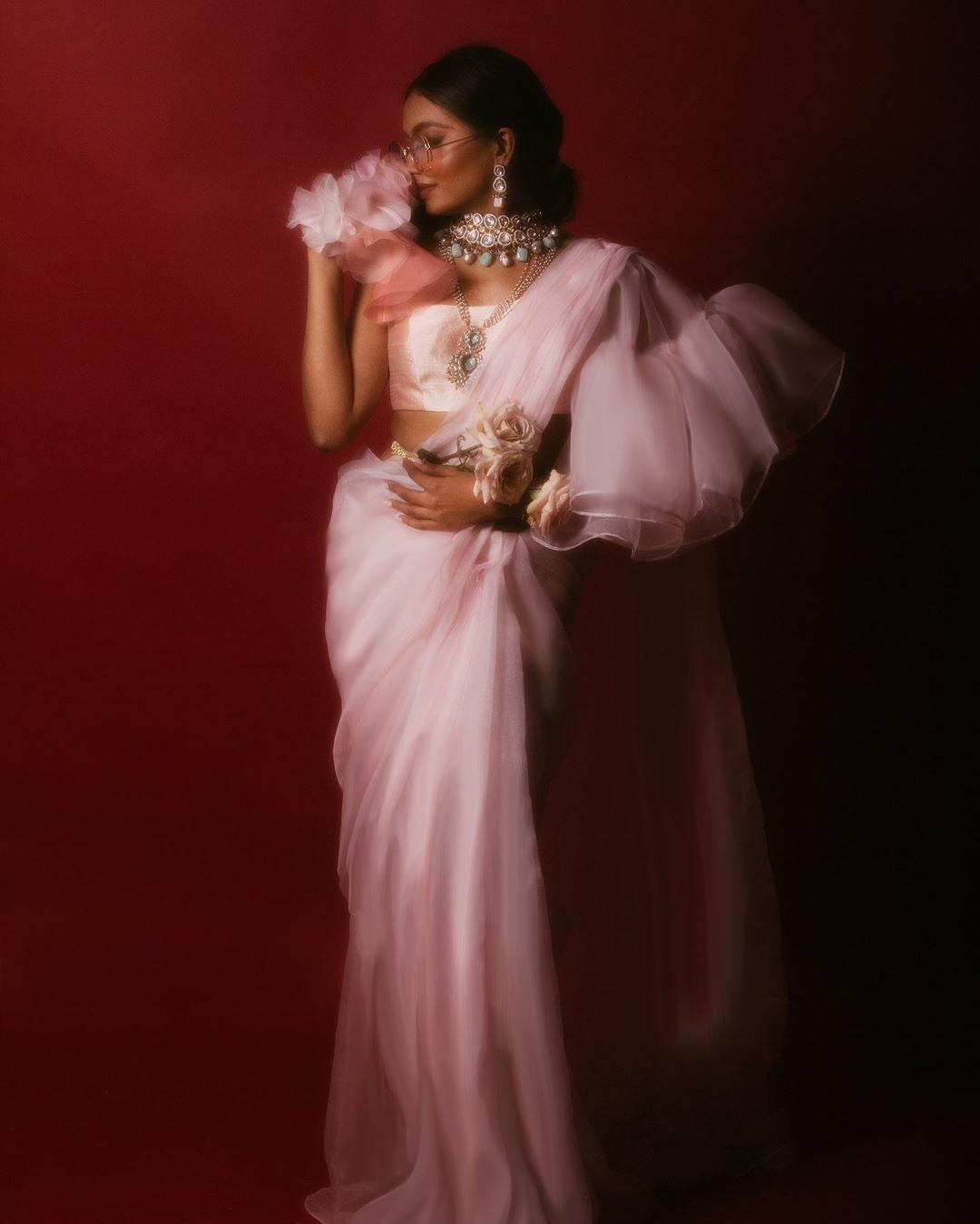 Image Courtesy: Mani K Jassal
The raw silk top paired with this breathtaking bubblegum pink organza saree by Mani K Jassal is a one-shoulder bustier with a dramatic ruffled sleeve nostalgic of an 80s Bollywood Movie, which we all know brought all the possible drama there could be! The pintucks in the flares of the sleeves add to the volume of the ruffles and we love it.
Triangle Cutout New Fancy Blouse Design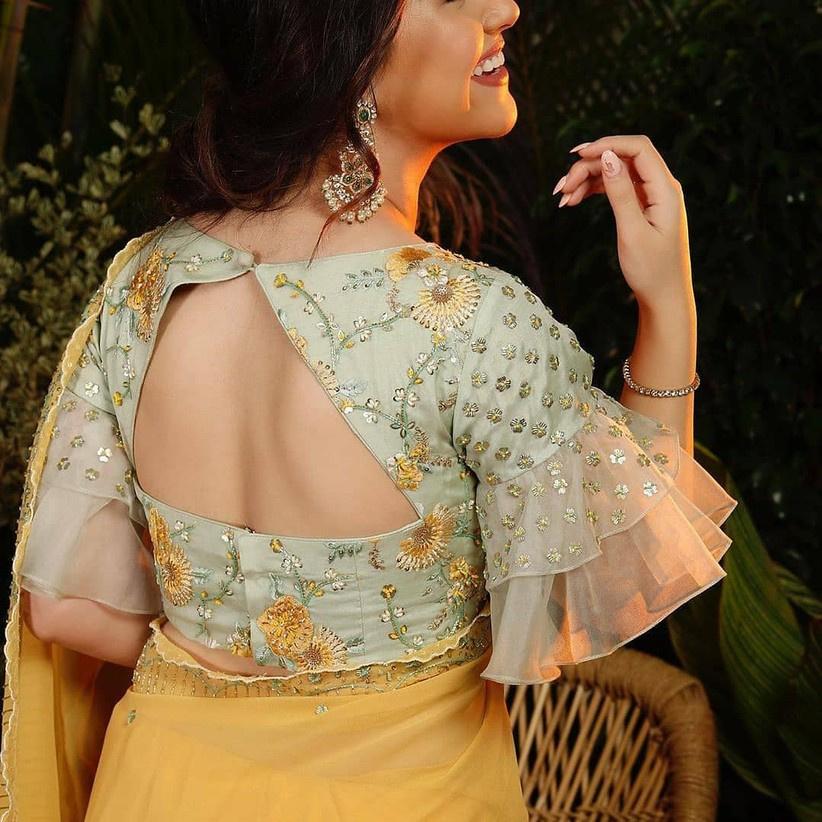 Image Courtesy: The Blouse Post
This fancy blouse design is perfect for Sangeet night, Mehndi and Haldi ceremony. The blouse design is known for its voluminous sleeves and goes very well with a basic saree for all wedding functions. Match diamond jewelry with this pretty style to create a stunning wedding look.
Zari Embroidered Fancy Blouse Design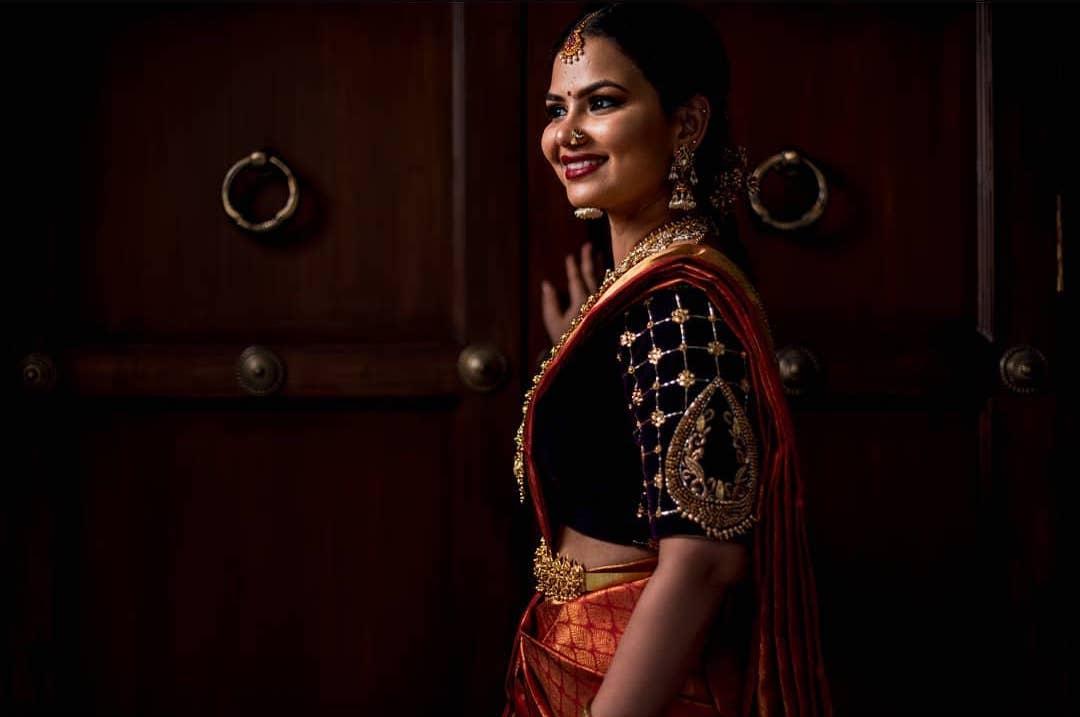 Image Courtesy: Miththam
Keeping it traditional this fancy blouse design by Adithi Udaya Kumar flaunts a jaali work with golden Zari embroidery on the sleeves. Keeping the simple blouse design intact, the heavy work on the sleeves makes this piece wearable with any traditional Pattu Saree or even Kanjeevaram silk sarees and can be picked for your temple wedding outfit.
Tropical Leaf Embroidered Net Blouse Back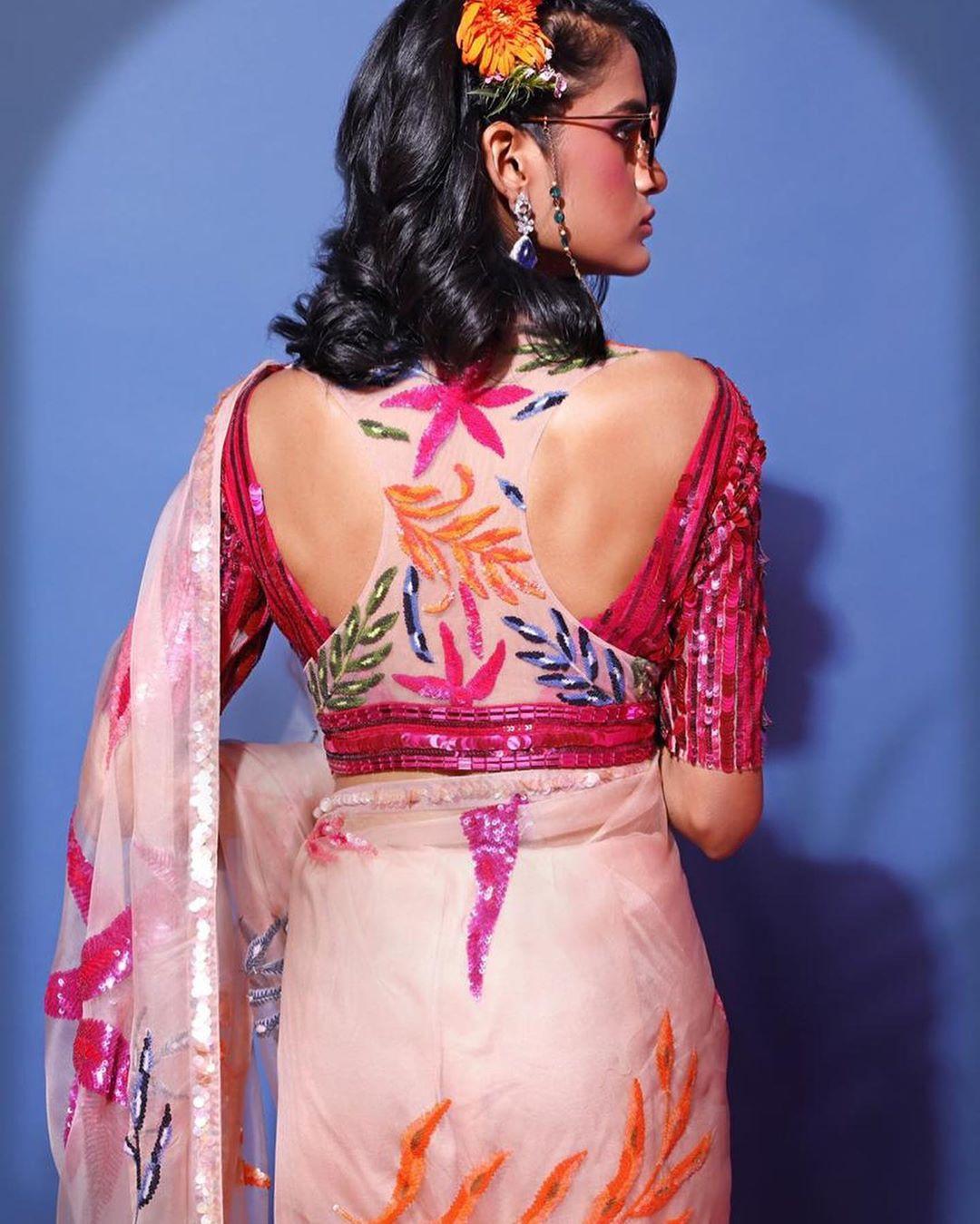 An exquisite statement blouse from the house of Mahima Mahajan, this sequin blouse with tropical colourful leaf motifs embroidered on the net racerback patch is a millennial beaut. Be it for your sangeet ceremony or your Cocktail, make sure to flaunt a twirl and let your wedding photographer capture the gorgeous blouse back design.
Bow-Back Fancy Saree Blouse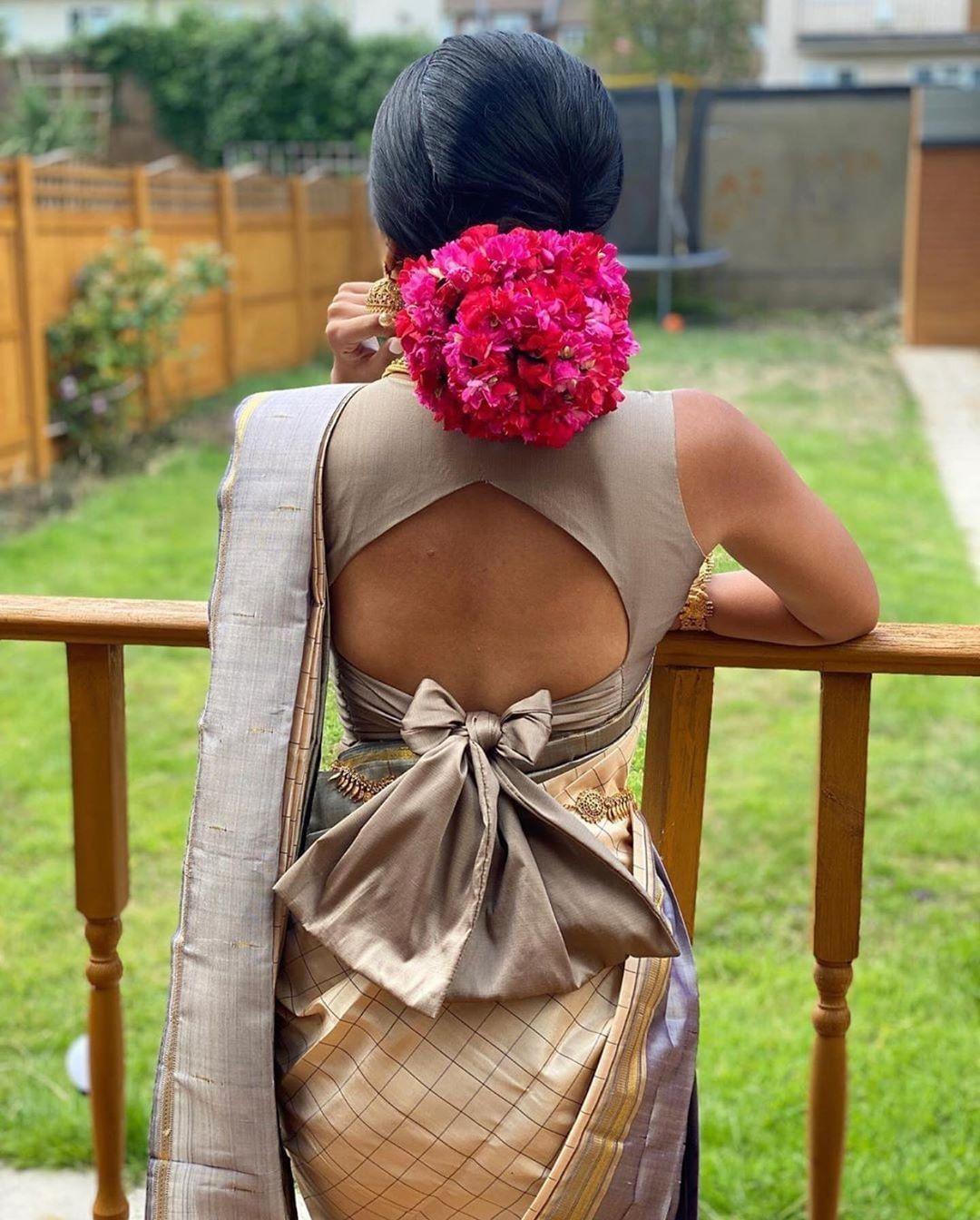 Image Courtesy: Revathy Tailoring
If you have to wear a plain saree to your cocktail or engagement the best way to amp up the look is to wear a fancy blouse. This fancy blouse for saree with the large bow detailing on the back can be the perfect blouse that makes for a statement outfit for the ceremonies.
The Fringe Blouse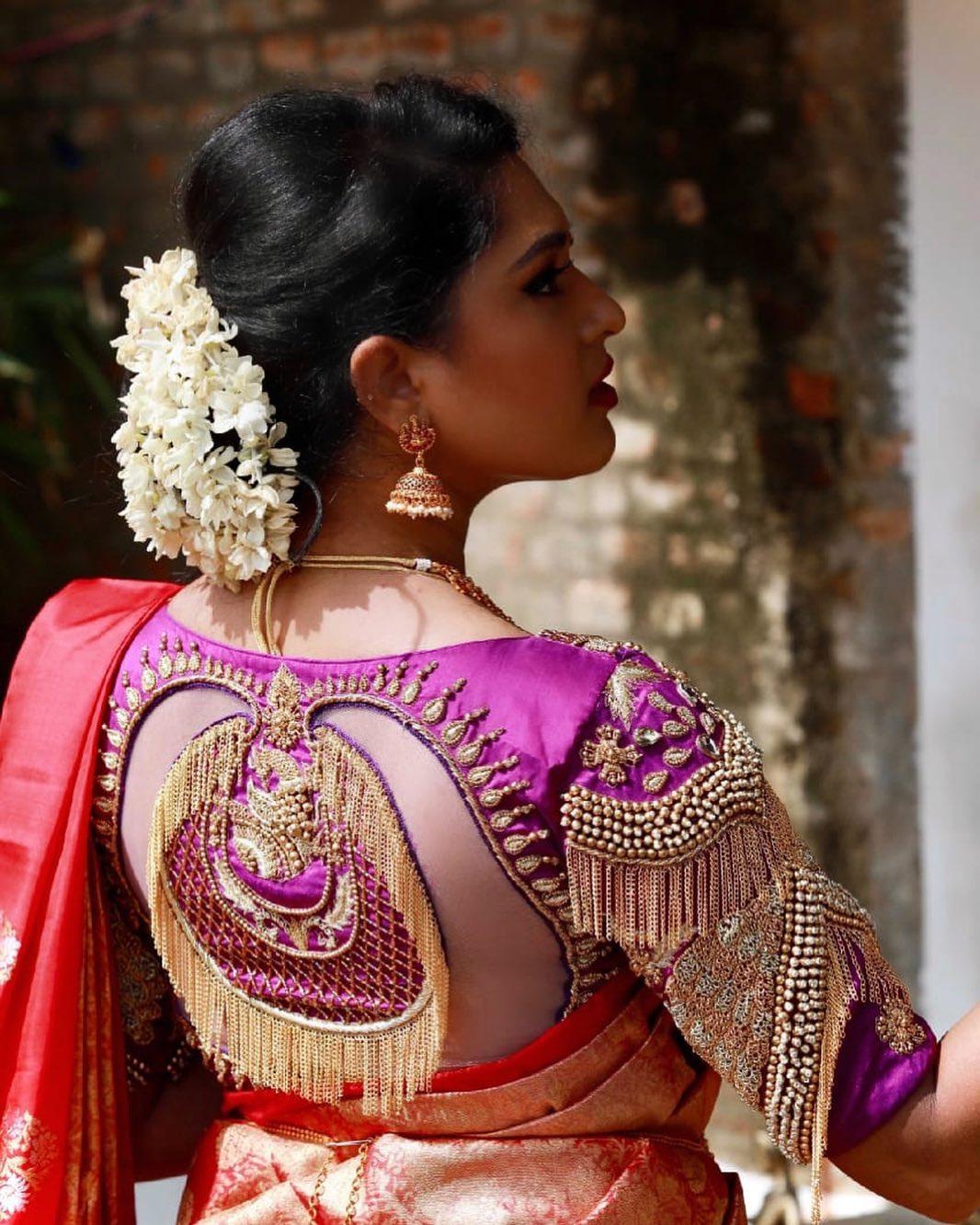 Image Courtesy: Nazia Syed Official
Metallic fringe embellishment is a big hit among designers currently. A fringe studded blouse will not only make the bride-to-be become the evident trendsetter in the house, but it will also convert a regular trousseau saree into a star-studded statement look like a pro.
The Cut-Out Fancy Blouse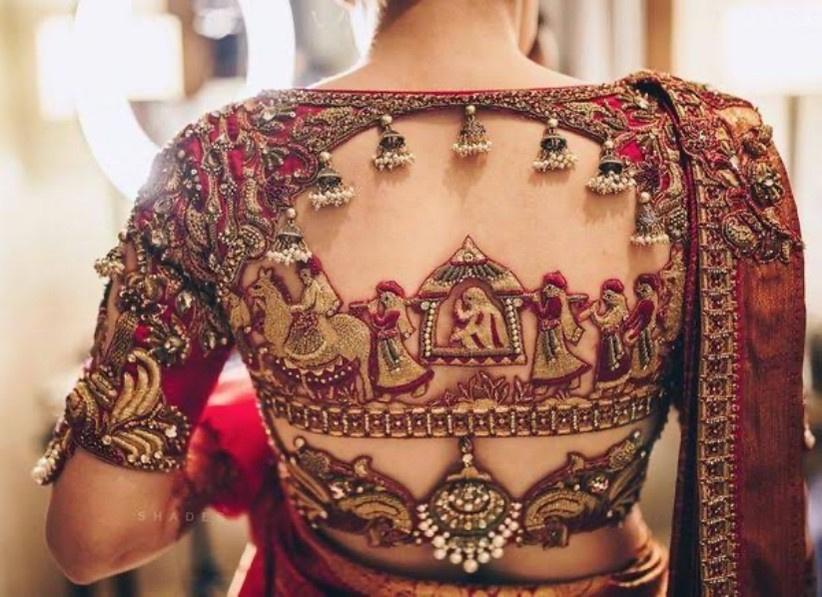 Image Courtesy: Shades Photography by Ashwin M.
The last decade was all about backless blouses and this decade is all about cut-out fancy blouse designs. Instead of going au-natural, opt to get cut-out style back design blouses that are available in different styles and often come embellished with tassels and fringes. The modest fancy blouse in this category that brides-to-be right now are in love with is the dome-shaped cut-out blouse.
Minimal Tassels Blouse Back Design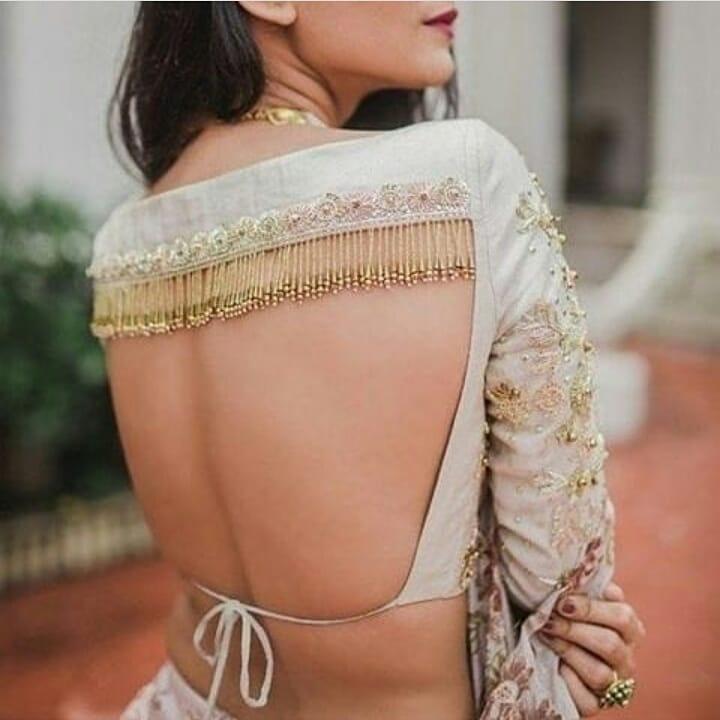 Image Courtesy: Pinterest
With more and more intimate weddings on the rise, minimal outfits have become all the more popular among brides. This backless fancy blouse design with minimal tassels and a tie-up detail with intricate booty work on the full-length sleeves makes this fancy blouse a perfect pick for your intimate wedding ceremony or a destination wedding.
Deep-V Back Neck Blouse Design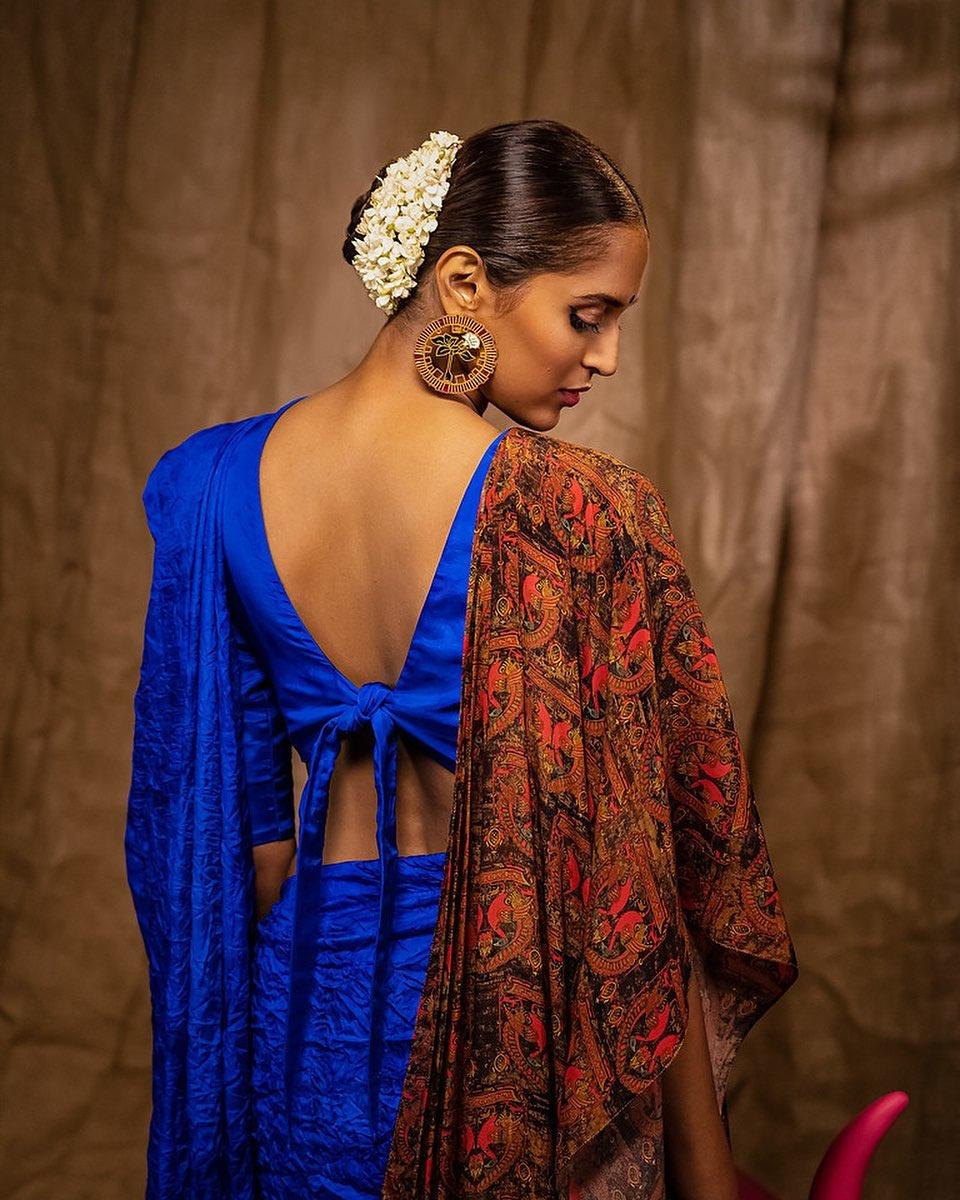 Image Courtesy: House of Masaba
Deep V-necks are not only popular for front neck blouse design patterns but also back neck designs. This royal blue piece takes traditions a notch higher with modern updates that are blended so beautifully in the blouse design. The simple blouse design is turned into a fancy blouse with a deep V-neck back that is complemented with a self-tie detailing.
Transparent Net Fancy Blouse Back Design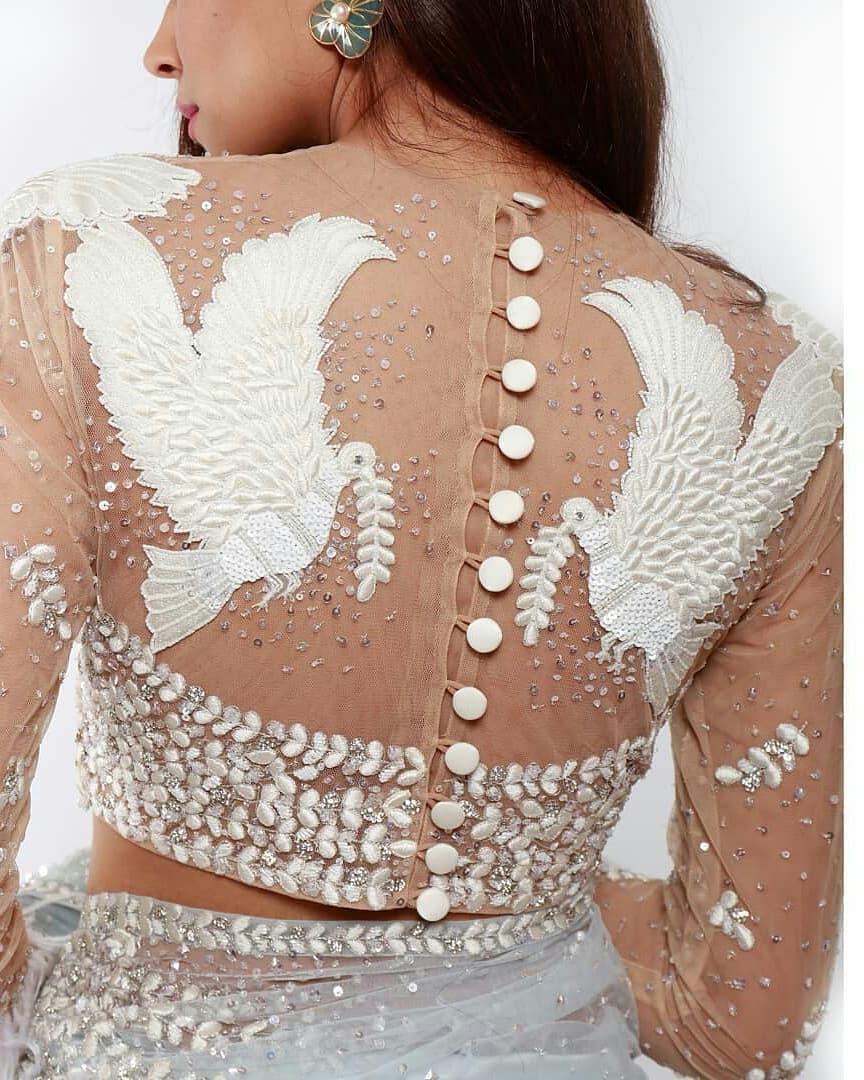 Image Courtesy: Krsna Couture
This fancy net blouse by Krsna Couture is bringing sexy back. The bodice details include delicate motifs of thread embroidery and sequin beading running scarcely through the net. The two doves along with the dainty white buttons are sure to steal hearts. There is no denying the fact that blouse designs are statement-makers which require the support of the right saree and matching set of wedding jewelry to complete the look.
If you have a blouse design that is intricate at the back, make sure the hairstylist keeps your tresses away from the design, to give it its much deserving attention. And because a blouse can be mixed and matched with innumerable designs of saree styles, it is a great idea to invest in a few for all the wedding and post-wedding functions, like a trendsetter!
The designers listed on our vendor's list have some stunning fancy blouse designs to offer every season. Find the ones nearest to your location today!
- With Words By Meha Khera
Read More -
Mehndi Design | Proposal Lines | Simple Finger Mehndi Design | Arabic Mehndi Design | Propose Day Quotes for Boyfriend | Wedding Anniversary Wishes for Sister | Change Aadhar Card Name after Marriage | Tamil Wedding Calendar | Simple Mehndi Design | Pre Wedding Quotes | Engagement Anniversary Wishes | Funny Wedding Wishes for Bestfriend | Blouse Design | Rangoli Design | First Night Tips for Bride | Wedding Anniversary Wishes