Light & Heavy Diamond Necklace Designs That Need Your Attention
Diamonds are every bride's best friend, which is why the struggle to find a perfect diamond necklace design for her wedding day is real.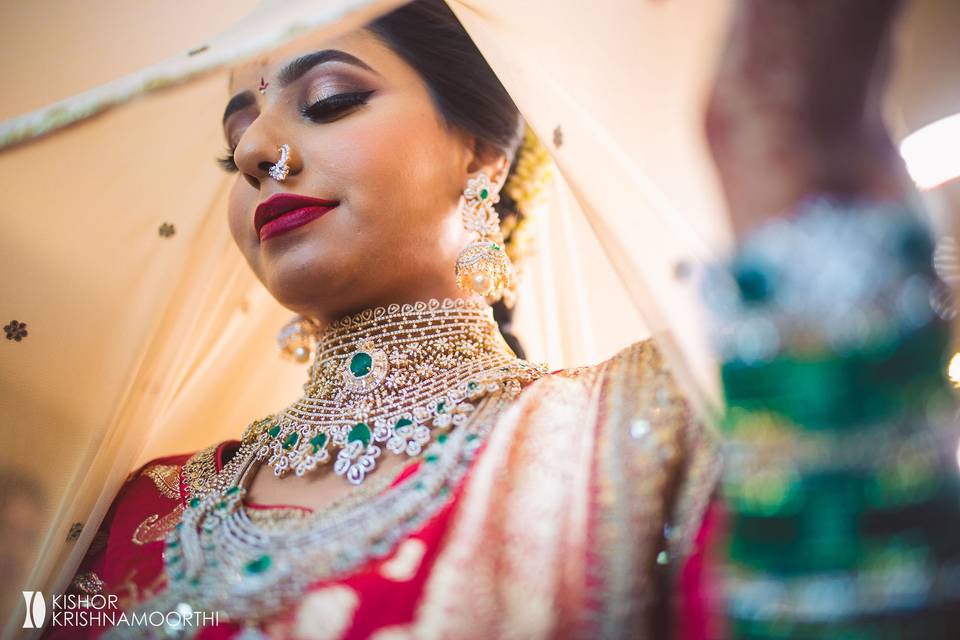 Just like the gold and Kundan necklaces, the diamond necklaces have innumerable styles and designs. For brides who have an innate love for diamonds understand how picking the perfect diamond necklace design can be quite nerve-wracking, therefore to help them pick something that they've always imagined wearing on their big day, we've put together a list of designs. From minimalistic to heavy styles, our list has diamond necklace designs of all kinds from the best jewellers around the country. So scroll through and find the one that you've been looking for all this while.
Waterfall Diamond Necklace Design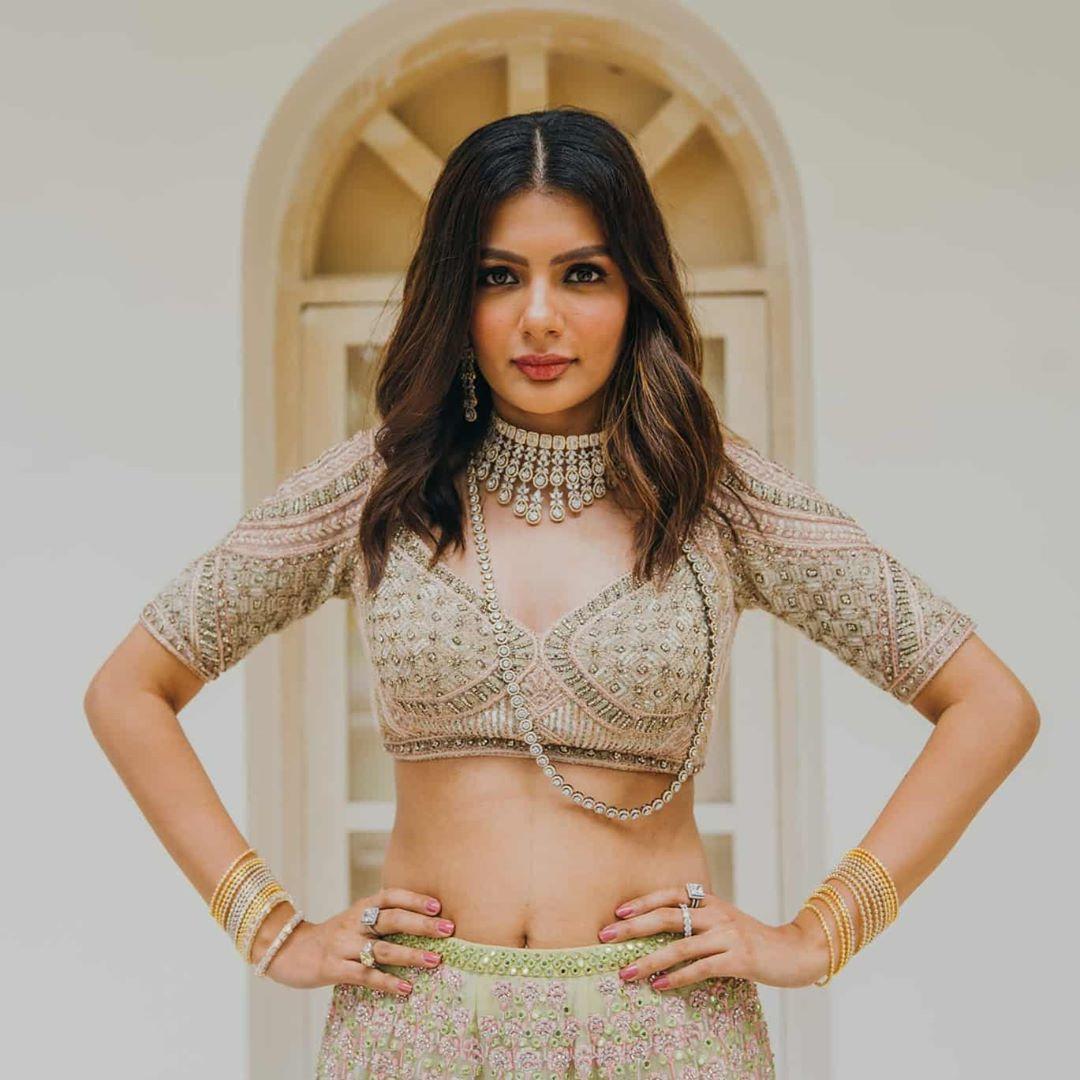 While the waterfall design can be of many kinds, this necklace design is one that uses diamonds in different shapes and sizes put together to look eye-catching. It is delicate as well as bold at the same time and one that is sure to get noticed. So, brides who can't decide between a minimalistic or maximalist pattern, this one from Minerali Store will just give you the right balance.
Fancy Diamond Necklace Design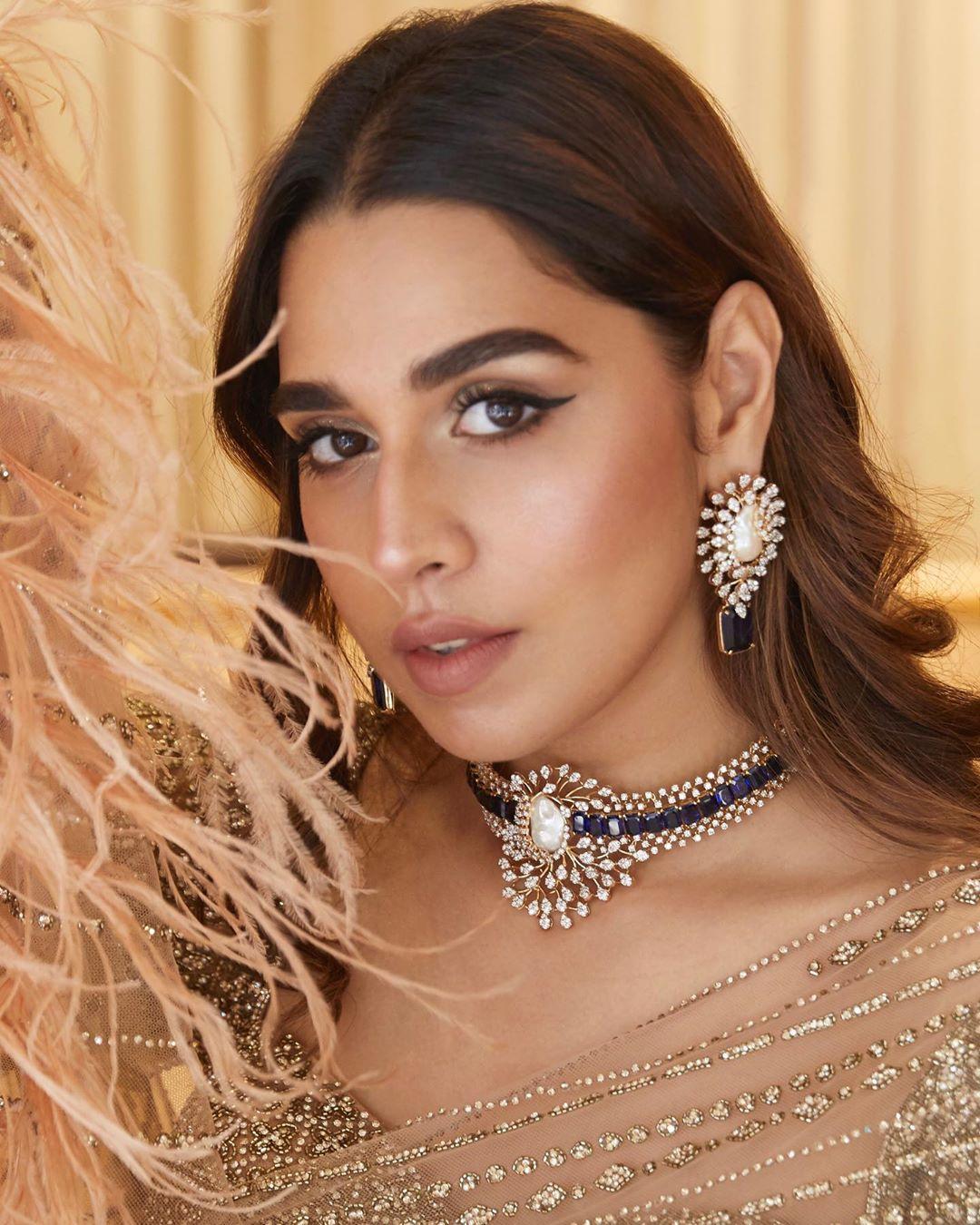 Image Courtesy: House of MISU
This designer diamond necklace design is perfect for the brides who want their jewellery to be one-a-kind. The choker pattern with an eye-catching flower design at the centre makes for a fresh addition to their jewellery collection. The sapphire stones all around the neck are validating this design in the most millennial way possible.
Multi-layered Collar Design with Solitaires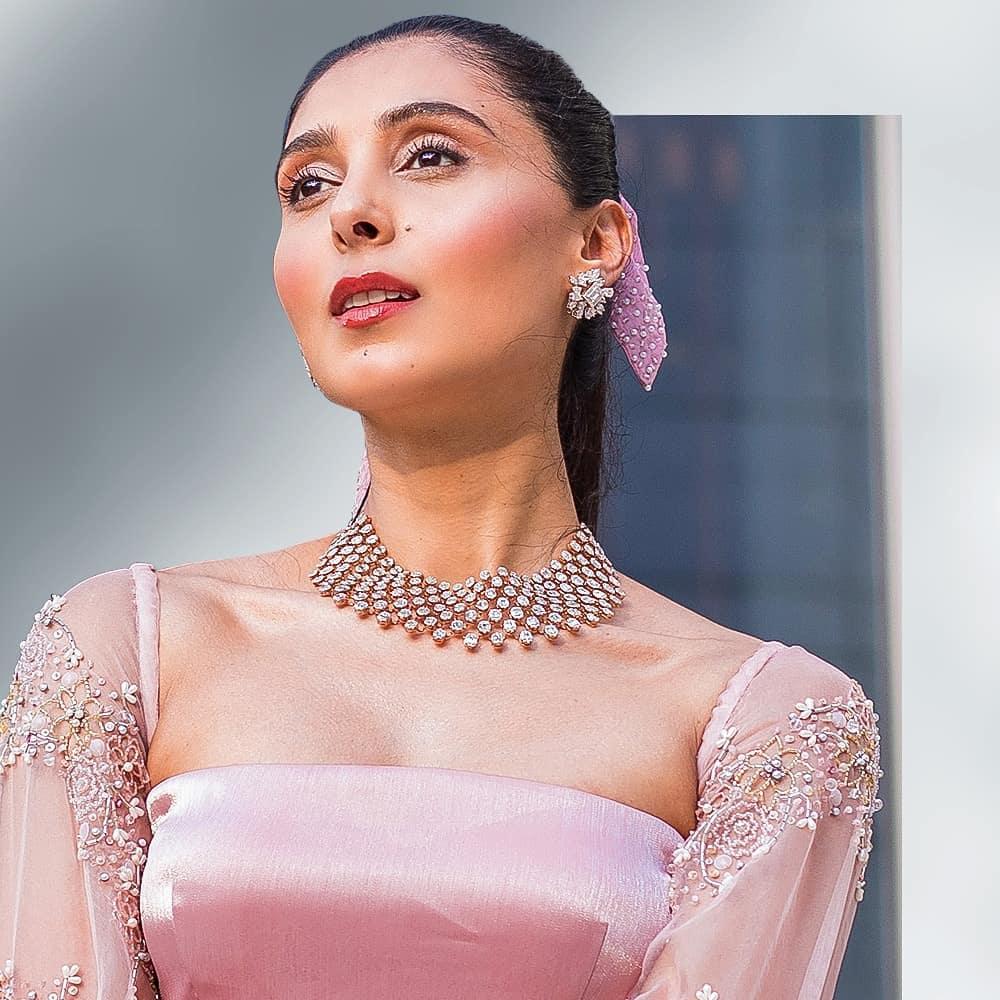 We can't emphasize enough on how beautiful this delicate diamond necklace design looks by Amaris Jewels. The solitaires placed in a beautiful multi-layered collar necklace pattern makes the piece ideal for any wedding ceremony. It is simple as well as eye-catching for the new-age brides who do not want their bridal jewellery to be OTT.
Choker Diamond Necklace with Emeralds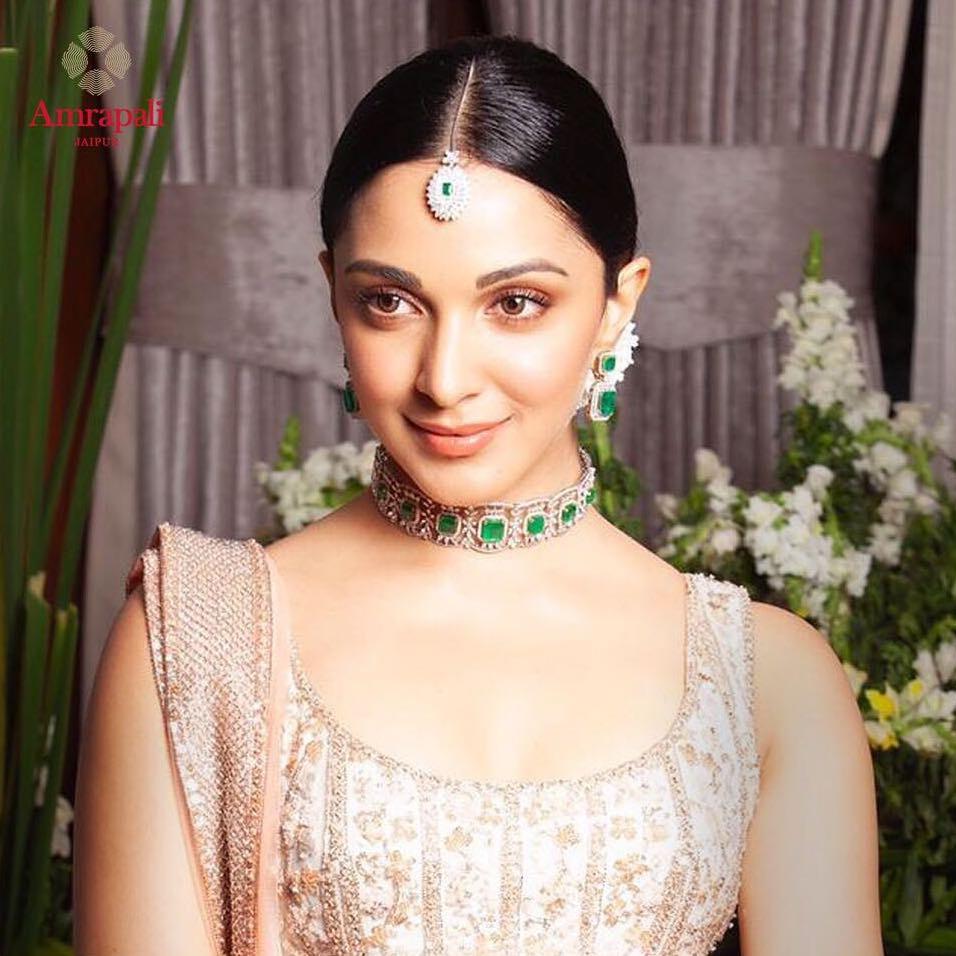 The next on our list is this beautiful diamond necklace design from Amrapali, a brand that makes every bride weak in the knees. The stunning choker necklace has emeralds studded in square shapes all over that adds colour to the look while also making it look one of a kind.
Statement Diamond Necklace Design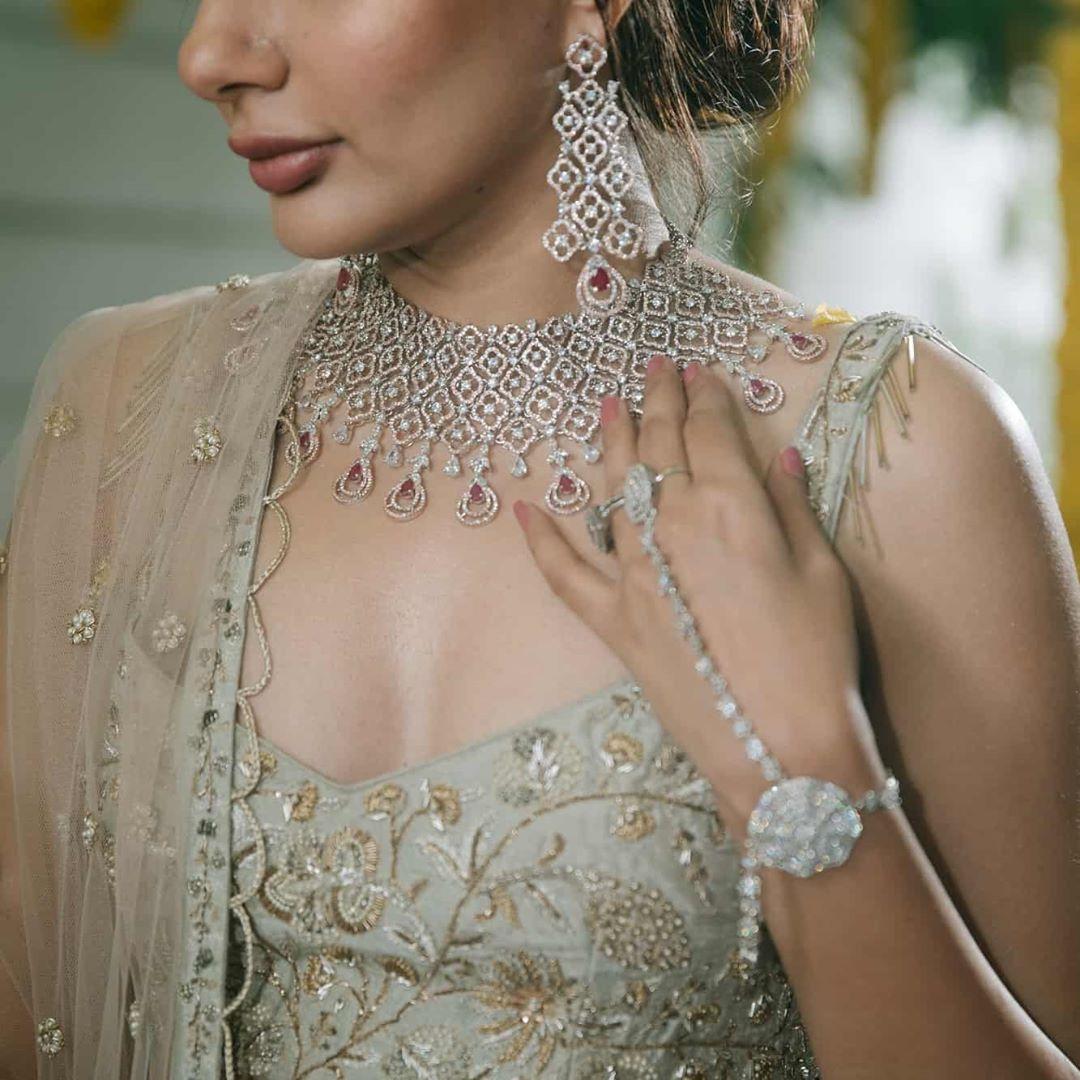 When we think of a statement diamond necklace design for the new-age brides, this breath-taking piece is what comes to our mind instantly. It has beautiful floral patterns with small diamonds in the middle that make it look, unlike anything you will ever see. With little ruby droplets added to the design, this one is officially the perfect bridal diamond necklace design with only diamonds and a little dash of colour.
Designer Choker with Rubies and Emeralds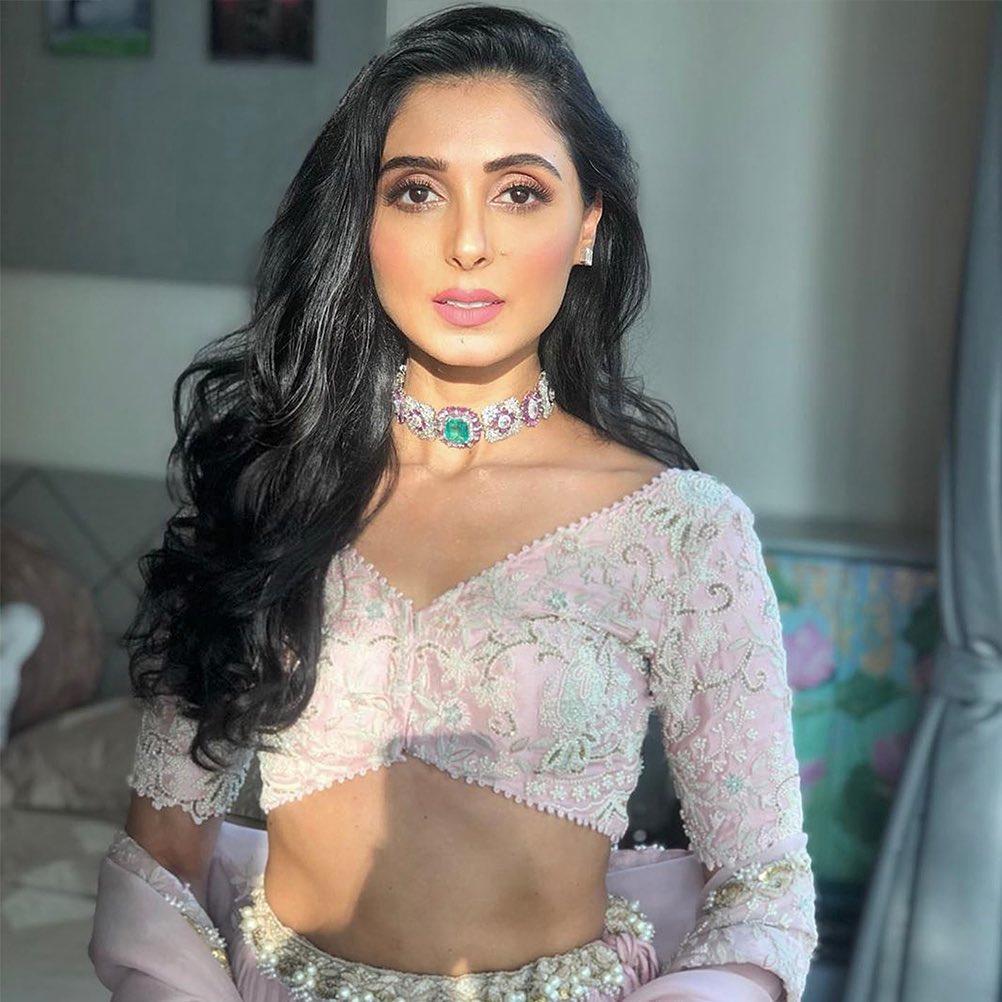 Image Courtesy: Birdhichand Ghanshyamdas
Amongst the many diamond chokers we've seen on brides, it is safe to call this one our favourite. Its stunning design and choice of gemstones are what draws the attention immediately. The big emerald gemstone in the centre along with rubies in a unique pattern is one that makes this one of a kind and something that the brides will cherish in their closets forever.
The Classic Diamond Necklace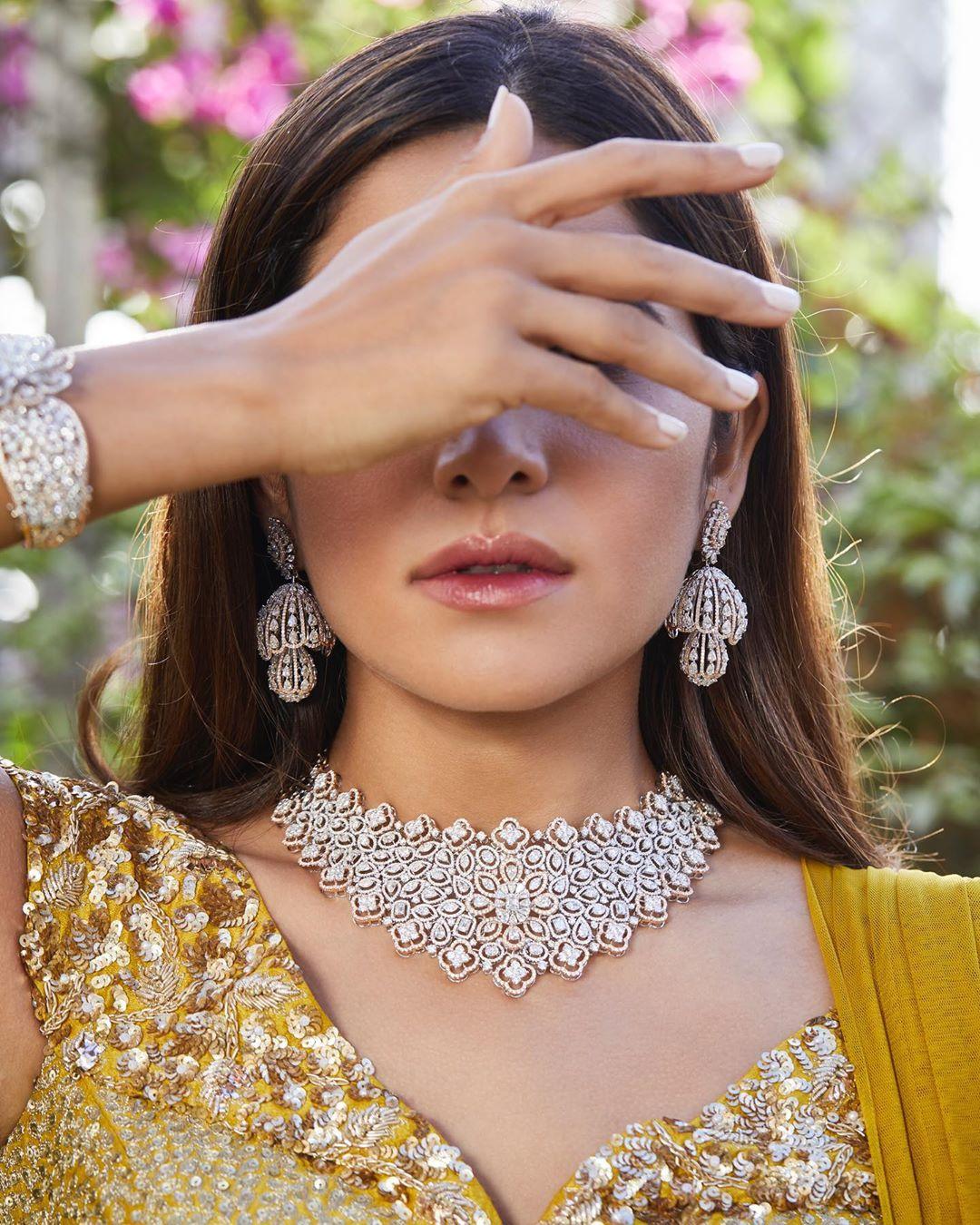 Image Courtesy: House of MISU
Next on our list is the classic diamond set that every bride wishes to own. While it plays around with different sizes and shapes of diamonds to make it look gorgeous, the fact of the matter is that we are sold the minute we see an all diamond necklace design. The floral pattern only adds to our love for this classic set.
Oh-so-Millennial Diamond Necklace Design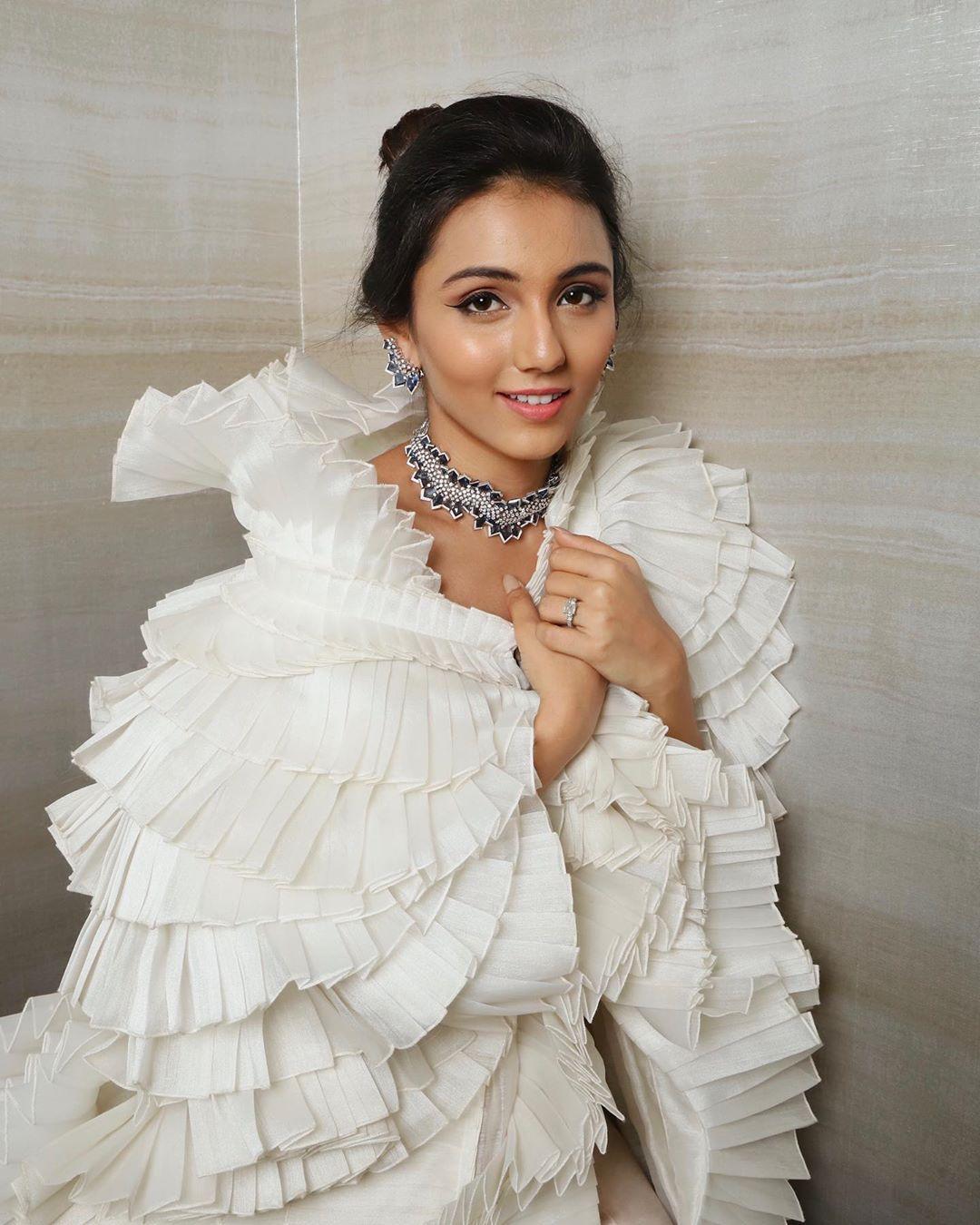 Image Courtesy: Masoom Minawala
Next on our list is probably the most trendy diamond necklace design that we have come across so far. Firstly it is the design that takes you by surprise, and secondly, the choice of gemstone establishes the fact that this is a millennial bride's choice. While emeralds and rubies in diamond necklace design have been around forever, sapphire totally defines this design as the new-age bridal jewellery.
Chunky Diamond Necklace Design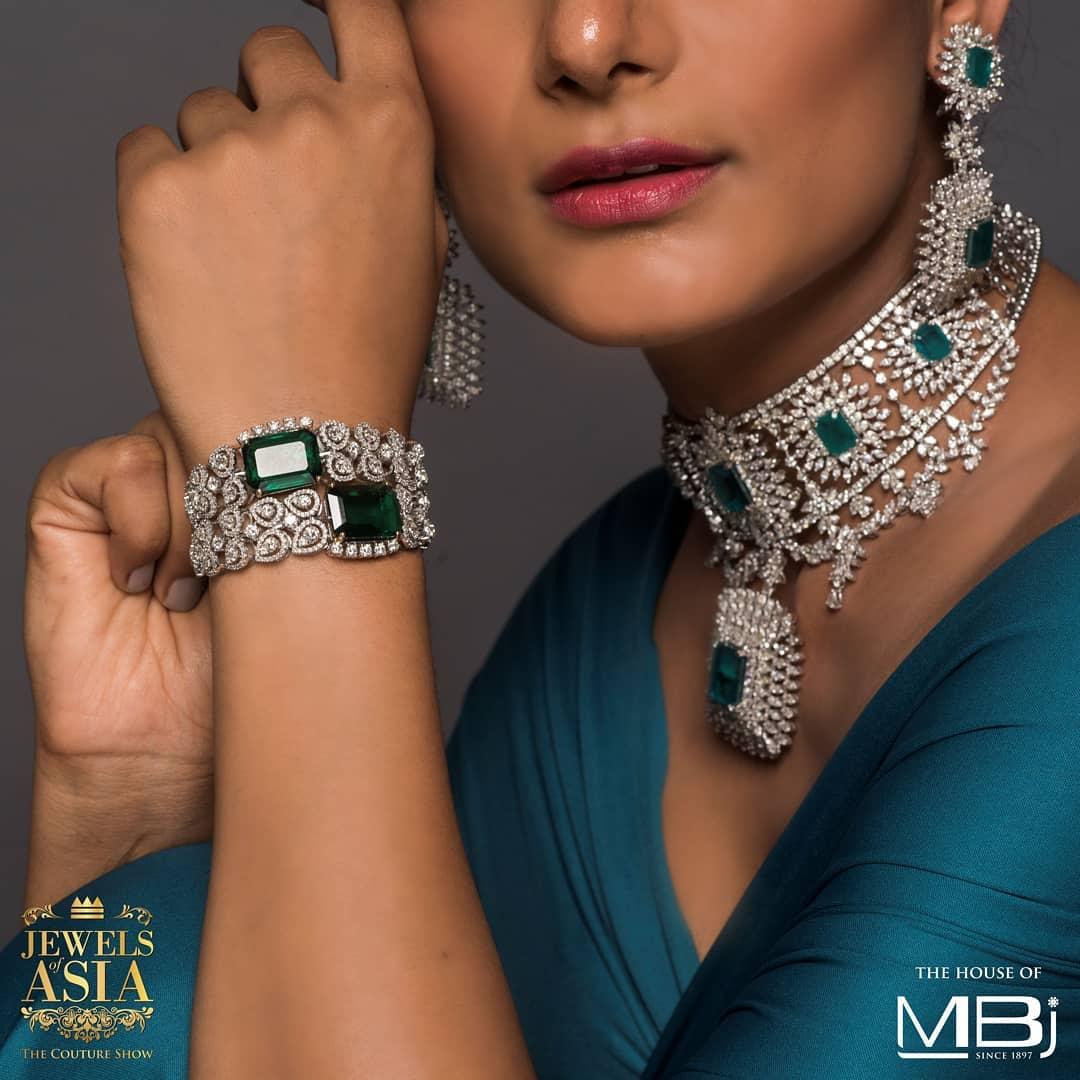 While we've had enough of the delicate patterns, this one is for the bold brides who love to carry something eye-catching. The choker pattern with a big centrepiece is for the new age brides who have a maximalist taste as you cannot miss the beautiful gemstones on this bold design. It is the choice of emeralds that make this chunky set even more millennial.
Geometrical Diamond Necklace Design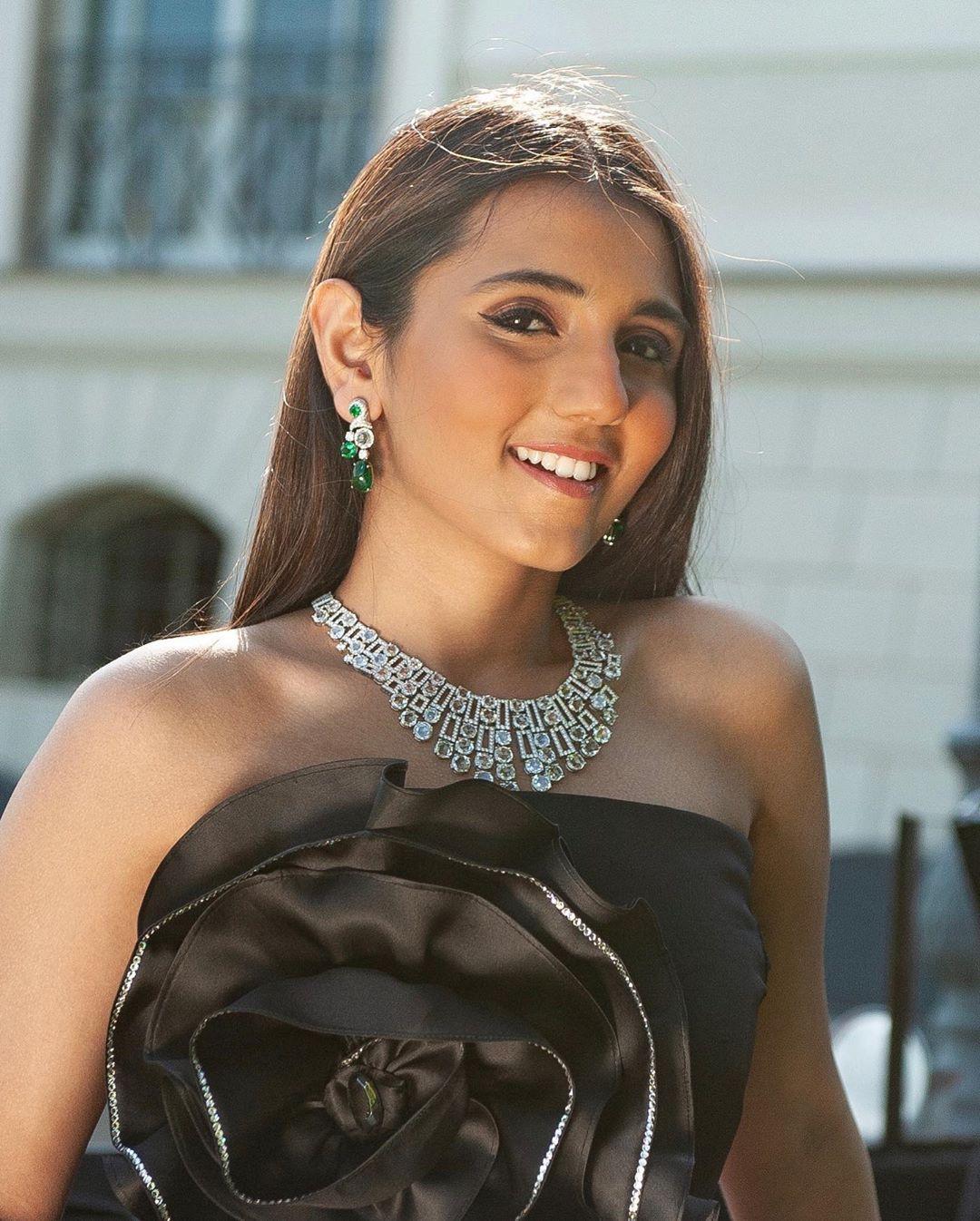 Image Courtesy: Masoom Minawala
This one is for the brides who love geometrical patterns in their jewellery as it puts together diamonds in geometrical shapes to make the design look breath-taking. If you do not want a diamond necklace design that doesn't overpower the outfit, this is the perfect fit for your big day.
Did you find your perfect match for a diamond necklace design? Well, we are sure you did because this list has it all. From designs by famous jewellers to designer jewellery that is unlike anything you've ever seen, you are sure to find your match and exactly what you're looking for here.
Tell us in comments, which diamond necklace design stole your heart at first sight.