The Resurgence of Red Lehengas 
The renaissance of red lehengas is a luxe trend that every bride will instantly fall in love with. Know more about styling your red lehenga right here!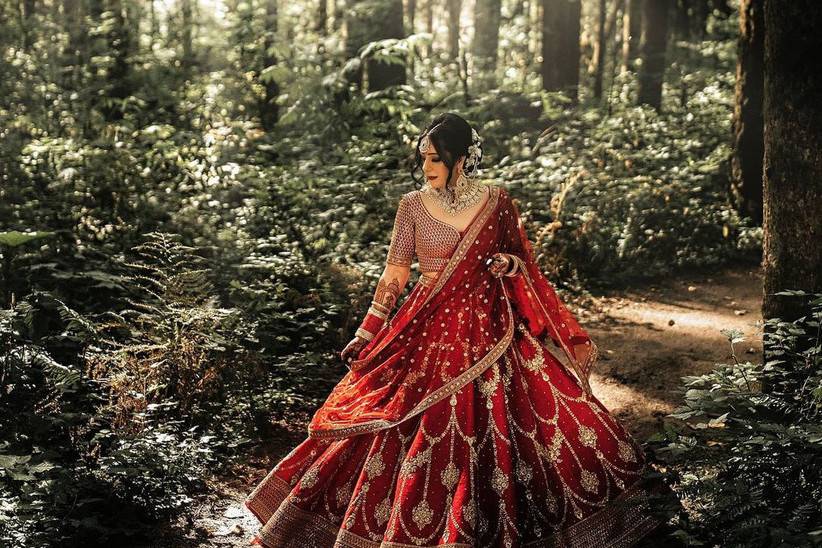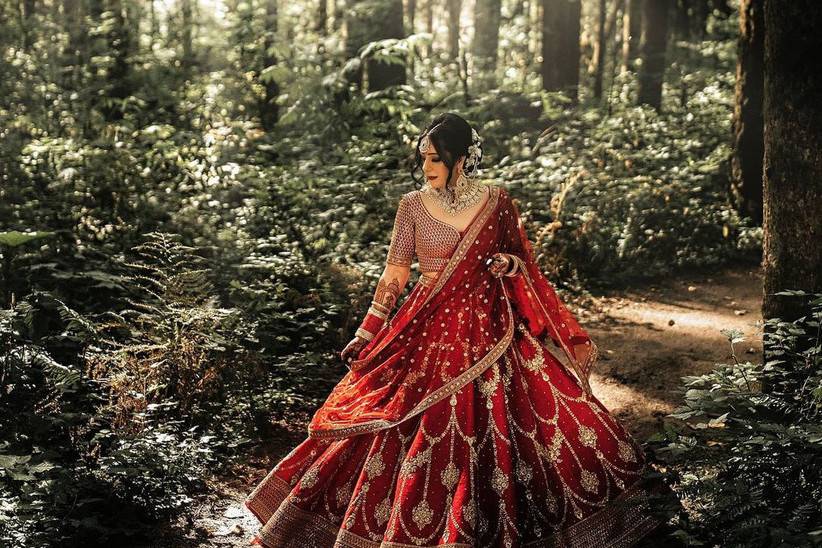 Image Courtesy: Amrit Photography
Red lehengas have made their magical resurgence and how. They have not only come back as a trend but also made it to the top with absolute extravagance. While we want to assist the millennial brides in picking their perfect red lehenga designs we also want to walk you through the different accessories - bags, belts, shoes, jewellery and makeup that will go perfectly with the red lehenga that is picked.
Another very significant outfit for the wedding is that of the groom's and now that the brides have picked their red lehenga outfits for the big day, we have put together the groom outfits that will complement these bridal outfits best. Read on to know more details.
The Red Lehenga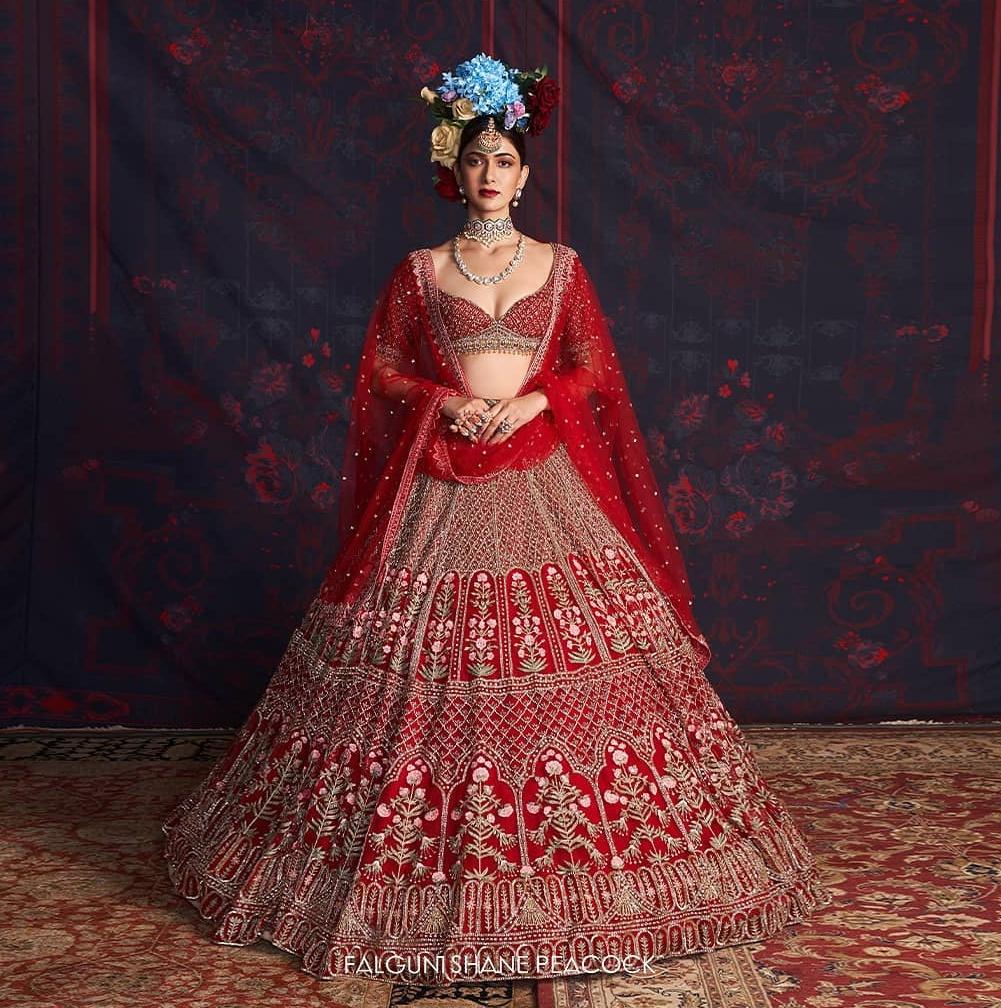 Image Courtesy: Falguni Shane Peacock
The colour red will always hold value in our culture and for more than one reason. Not only does the colour represent love and power, but it is also a colour that stands for piety. From the vermillion on the bride's forehead to a thread tied around the wrist, red is an important colour at weddings in general. A bride decked up in her red lehenga is not only a breathtaking look but is also a timeless beauty that is nurtured and cherished forever.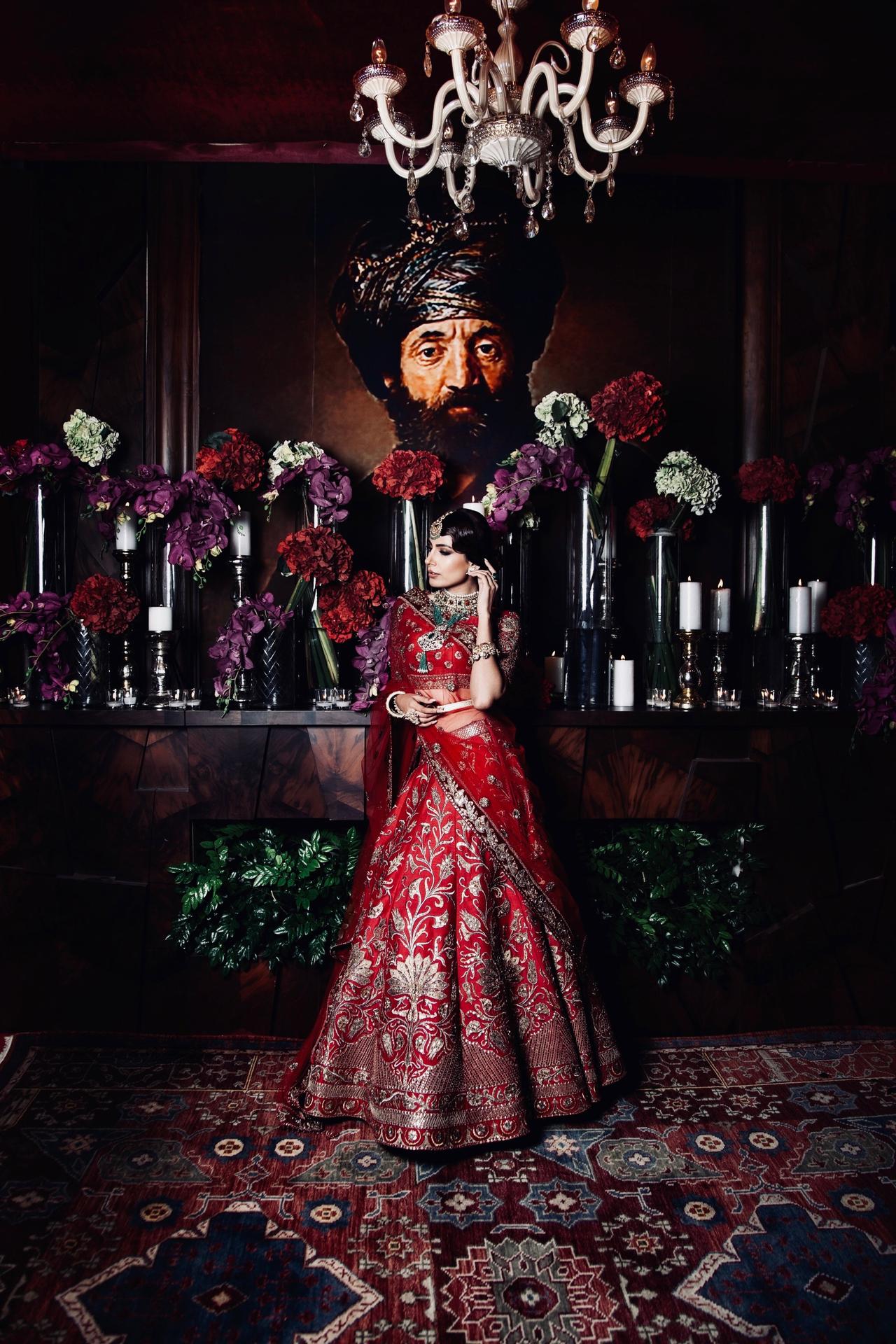 Upholding the shades of love, power, devotion, piety and royalty red will always be a luxe colour for the brides-to-be. This is why we have handpicked the latest collections of red lehengas designed by ace designers to help you pick the right one.

The Bags To Complement Red Lehenga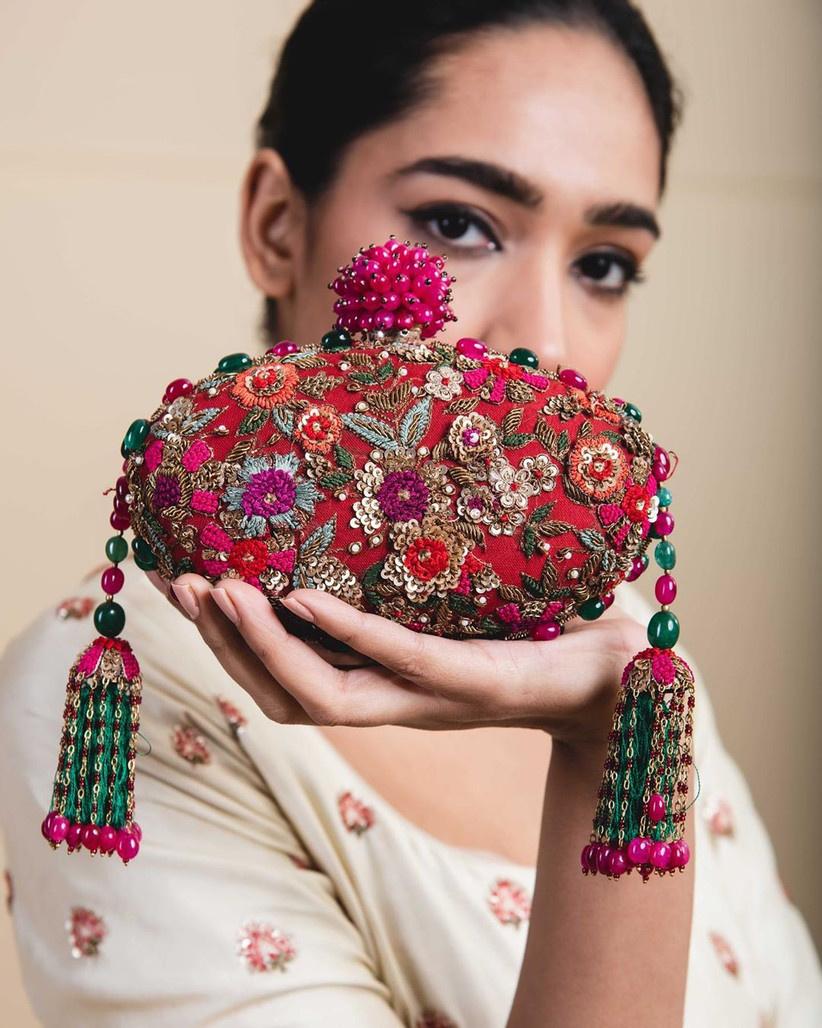 To complete the look on your wedding day, accessories play a very significant role. While you have picked out the perfect red lehenga you want to flaunt on your big day while walking down the aisle in a dreamy sequence, it is also important for you to start putting together the accessories that will go perfectly with your red lehenga. From the Potli bags to fancy clutches, every little detail matters because your wedding should be nothing short of a fairytale!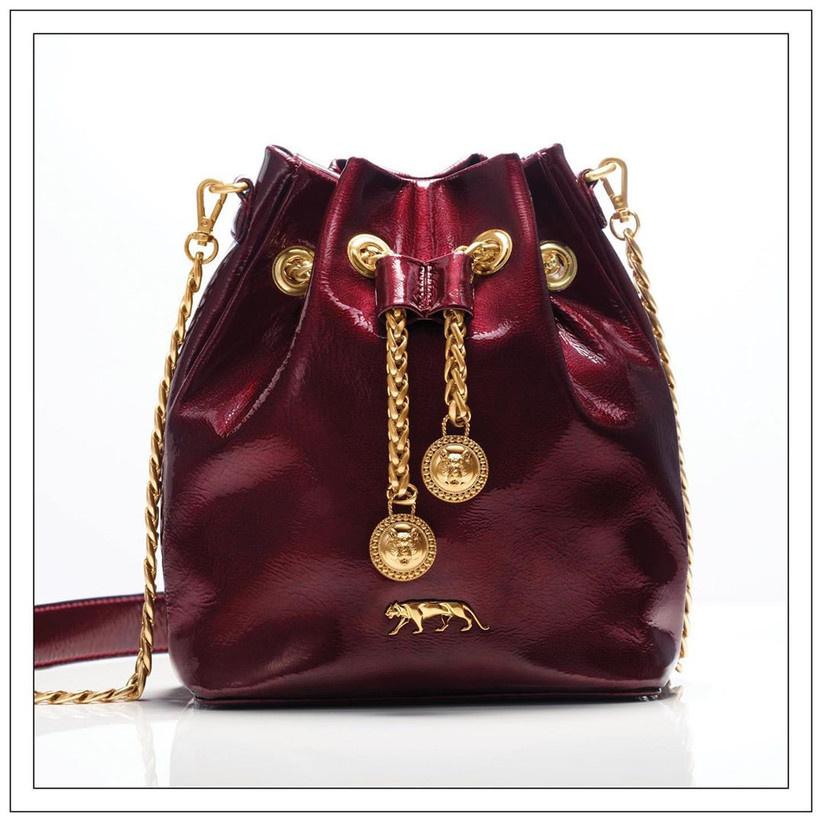 Image Courtesy: Sabyasachi
Jewellery for Red Lehenga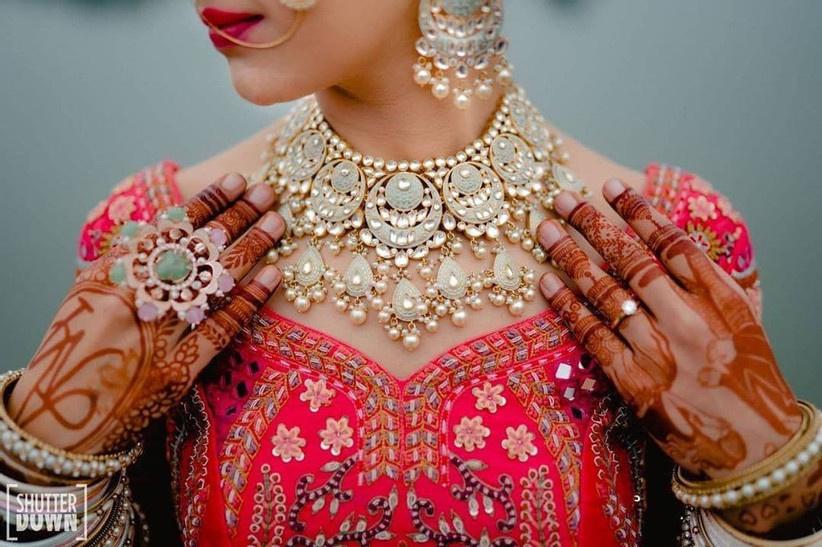 Bridal jewellery can make or break an outfit that you have in mind. Sometimes brides wear heritage jewellery too to uphold the age-old traditions of the family. Apart from that antique gold jewellery, diamond baubles, emerald jewellery and so on would also be just perfect to complement your red lehenga. Make the heads turn in awe of how gorgeous you look in your red lehenga and the perfect jewellery.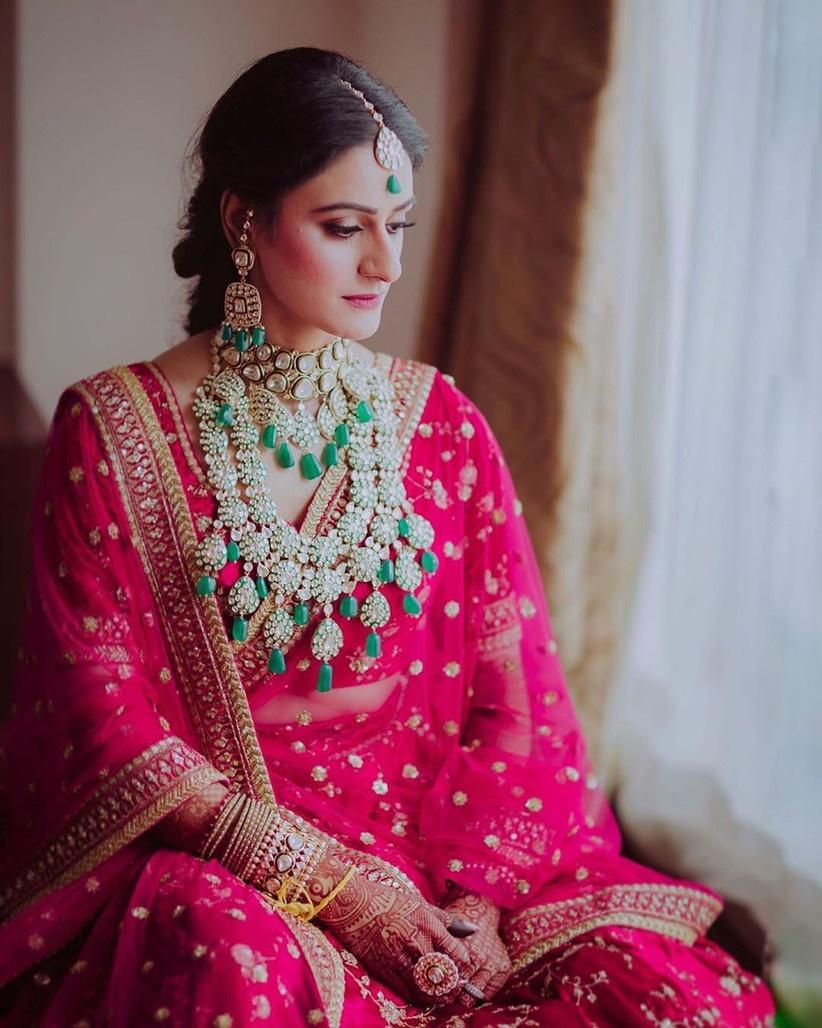 Groom Outfits that Complement A Red Lehenga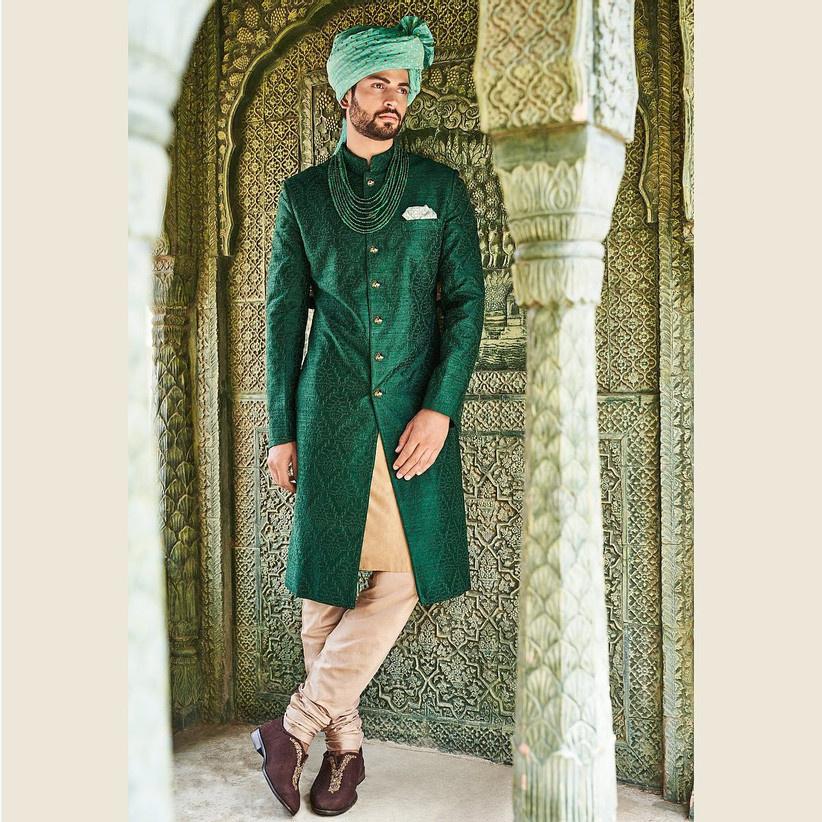 While the brides look breathtaking in their red lehengas, to pick groom outfits that perfectly complement the bride's lehenga can be a task. From ivory sherwanis to green and red ones and even a black Bandhgala the options are endless. While red is a traditional colour for the bride, the groom can try his luck with colours that add contrast to the bride's outfit if not match her to the T.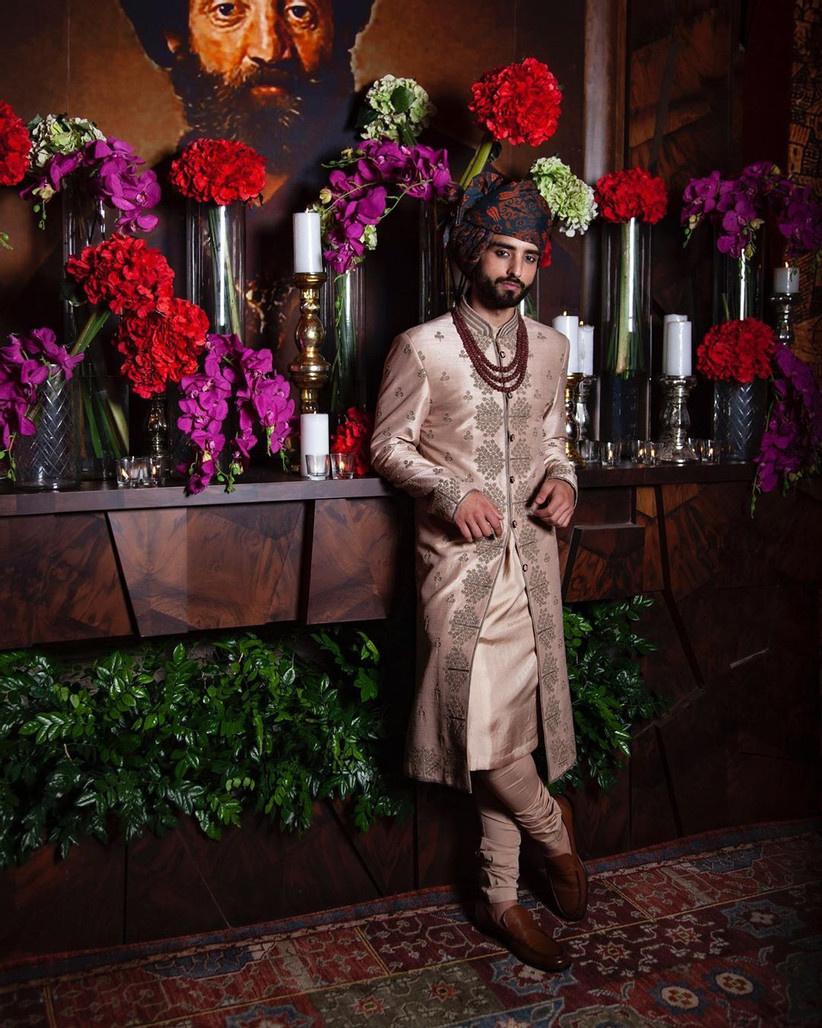 Footwear for Red Lehenga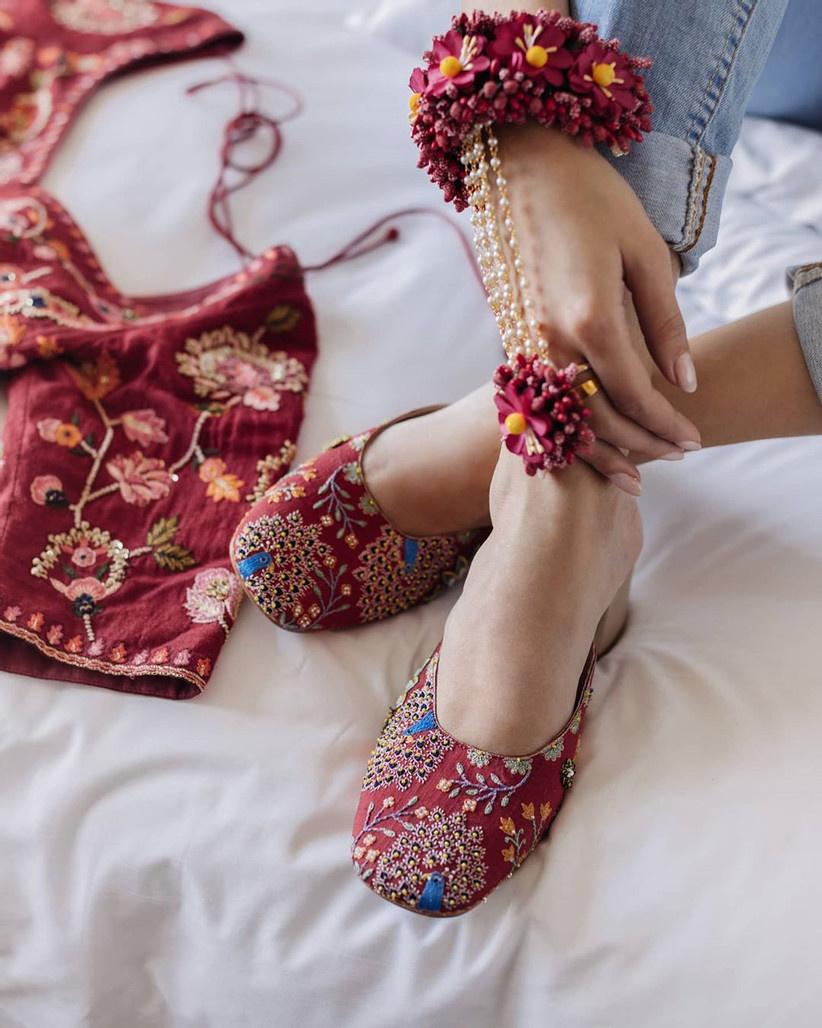 Image Courtesy: Fizzy Goblet
The footwear is also a very important part of your outfit for the wedding day. Keep it comfy yet quirky and stylish with the handwoven juttis that the millennial Cinderellas have picked over everything else.
The comeback of red lehengas after a wave of pastels in the world of couture is extraordinary. The luxury and magnificence that the colour brings is impeccable. Find out the best ways to pick your perfect red lehenga and make sure everything else complements the royalty.
If you are planning to pick your red lehenga too, get in touch with ace designers on board who can help you get your hands on the perfect one.