Latest Punjabi Juttis for the Desi Cinderella
Looking for latest Punjabi juttis for your trousseau? Here is a list of handpicked Punjabi juttis to add aesthetic beauty to your footwear collection. Read to know!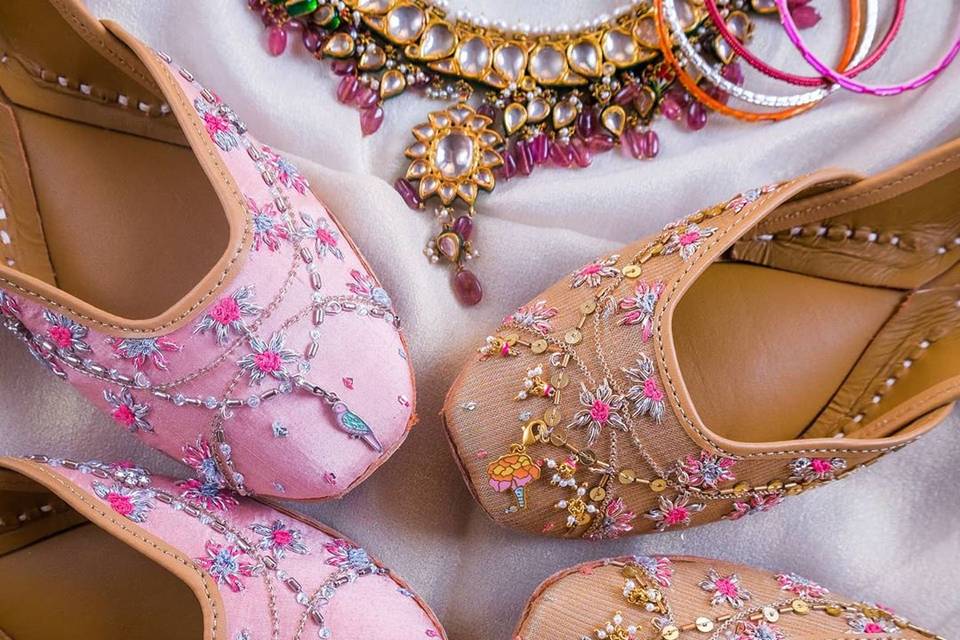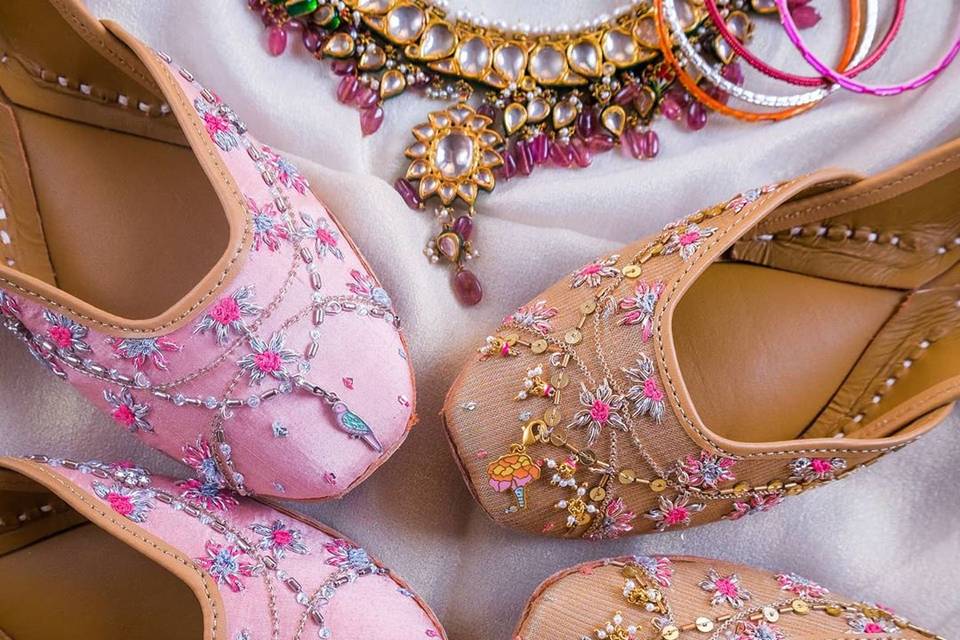 Image Courtesy: Fizzy Goblet
The traditional jutti was made of leather and the intricate embroidery constituted of real gold and silver threads. It was inspired by the royalty of India. Footwear designers have however gone out of the conventional ways and the traditional juttis have hopped on the same bandwagon of change. They have come with a fresh wave of quirk and alluring designs that will complement the new-age bride with utter perfection and we cannot keep calm!
Here are some of the outstanding designs from their latest Punjabi jutti collection that are a must-have in your trousseau.
Peach Embroidered Punjabi Jutti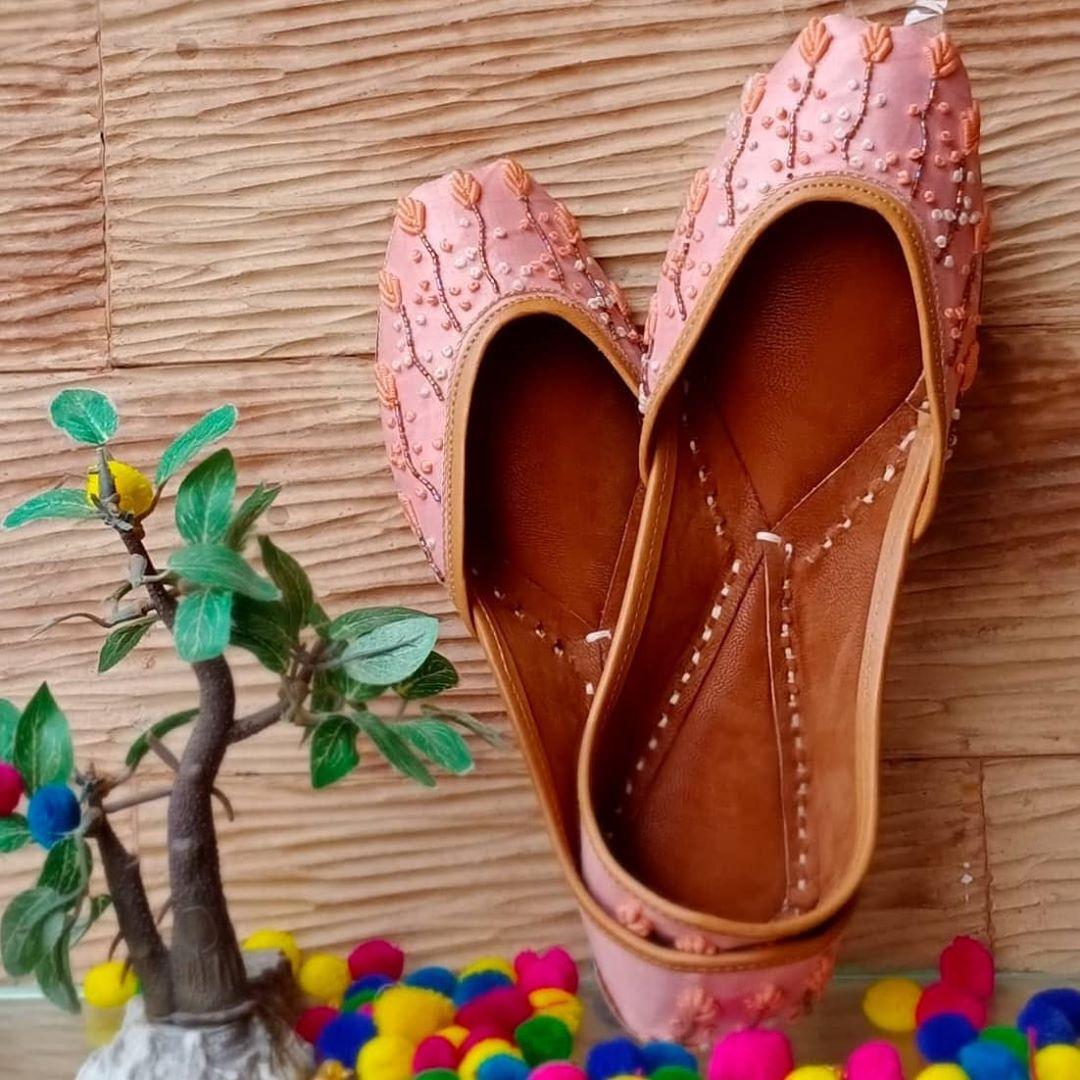 Image Courtesy: Jutti by VRPS
Embroidery on jutti is a very common sight. But the delicate embroidery on this jutti from Jutti by VRPS is a dainty footwear that will be just perfect for summers. The subtle colour of the pair makes it perfect for you to not only pair it with your traditional wear during occasions but also wear it with your daily OOTDs.
Faux Pearl Studded White Jutti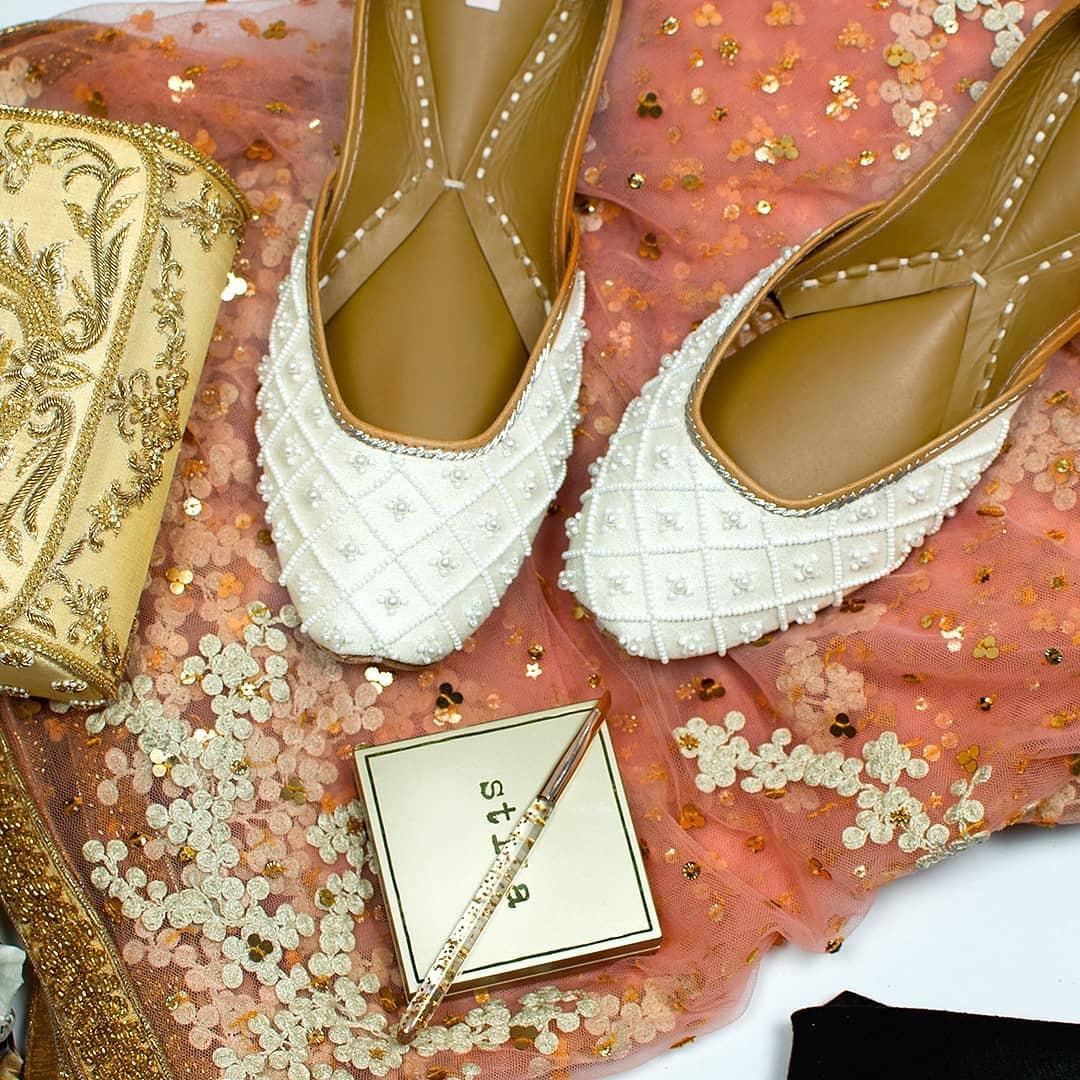 Image Courtesy: My Jivaana
This pristine white jutti with the sophisticated raw silk fabric is a dainty pick. The checkered placement of the faux pearl lines with the precision of the booti work adds to the subtle sheen of the pair. It will complement your attire well even if you plan to flaunt a plain white kurta with denim on a regular day.
Traditional Red Jutti with Golden Embroidery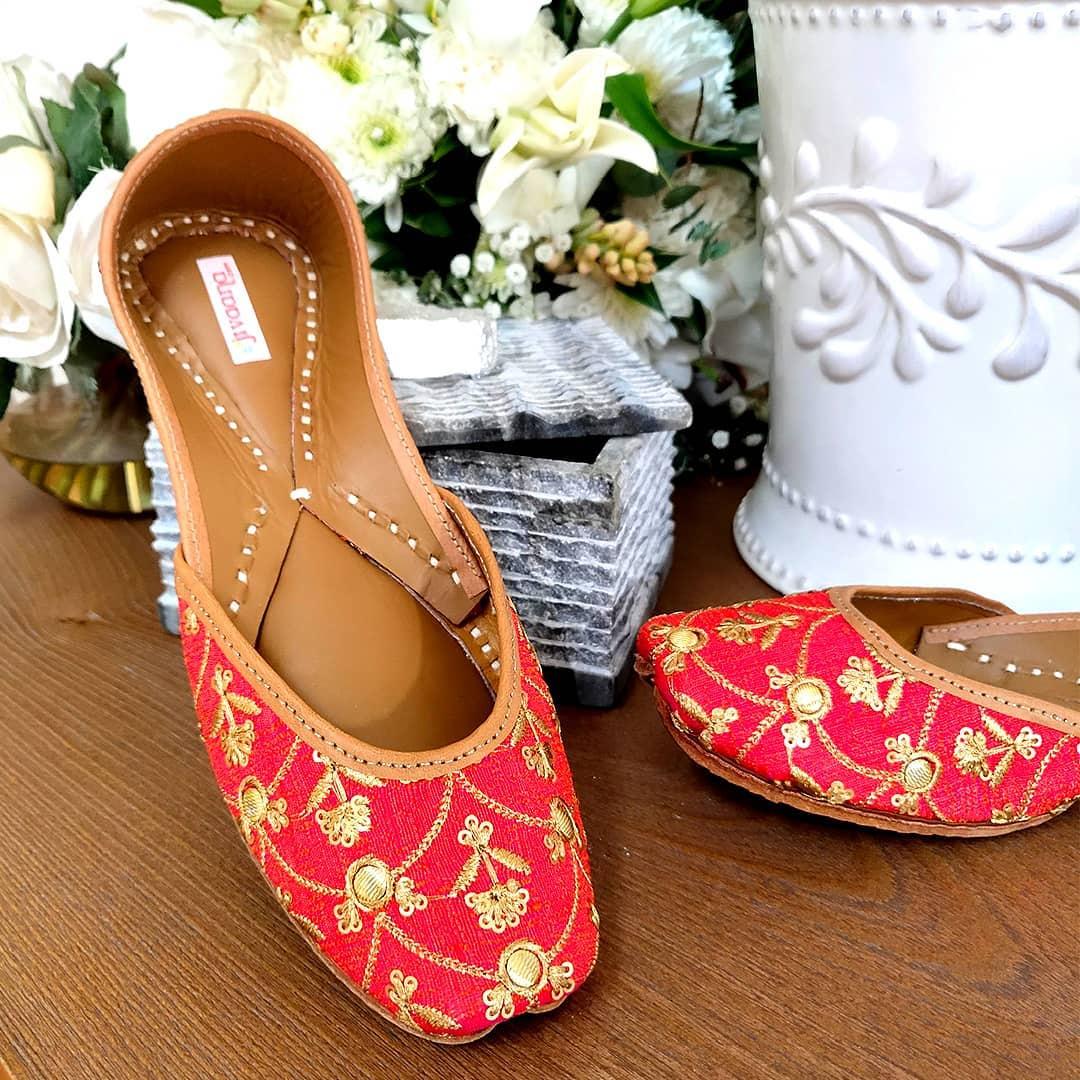 Image Courtesy: My Jivaana
Even though the traditional jutti has gone through a rigorous revolution from being conventional to quirky and stylish, there is nothing that beats a traditional red jutti with golden embroidery. This pair is just perfect to complete your bridal avatar with a beautiful touch of the good old fashioned jutti. The intricate embroidery using golden thread on red fabric has replaced the original Zari work on leather. But the look and feel of this jutti is oh so bridal!
Grey Sequin Punjabi Jutti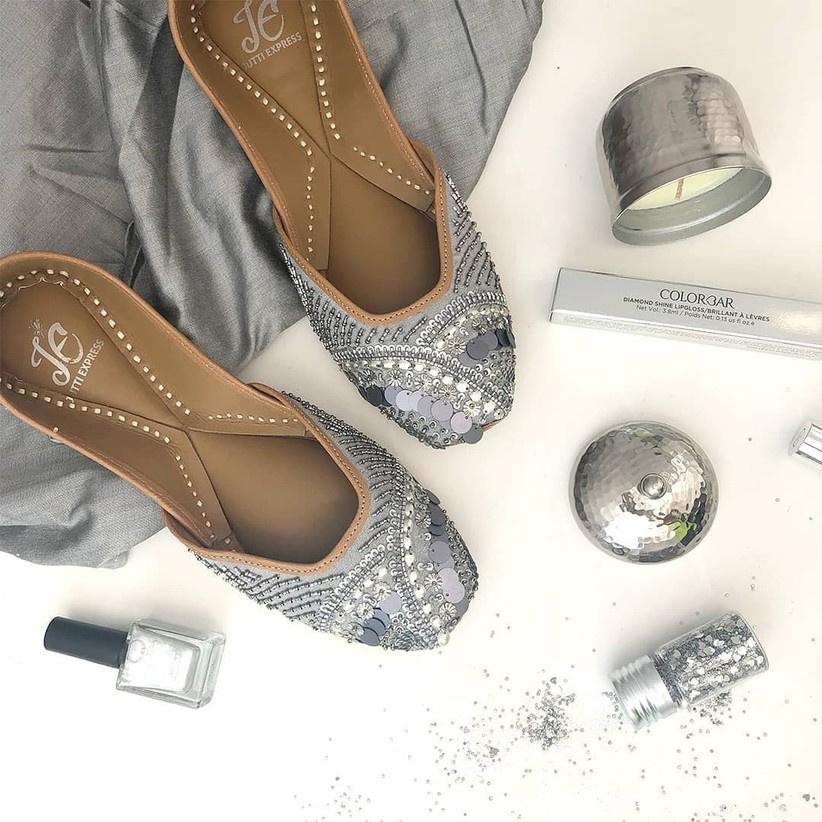 Image Courtesy: Jutti Express
Bringing the best of grey and glitter right at your feet, this pair is a gorgeous one. The latest Punjabi Jutti designs have explored many horizons of modifications and this pair of Punjabi jutti is all about glitz and glam. It is a perfect and comfortable pick for any evening ceremonies and will make you look bomb in your matching Anarkali suit. The detailing is praiseworthy!
Blush Pink Faux Pearl Embroidered Jutti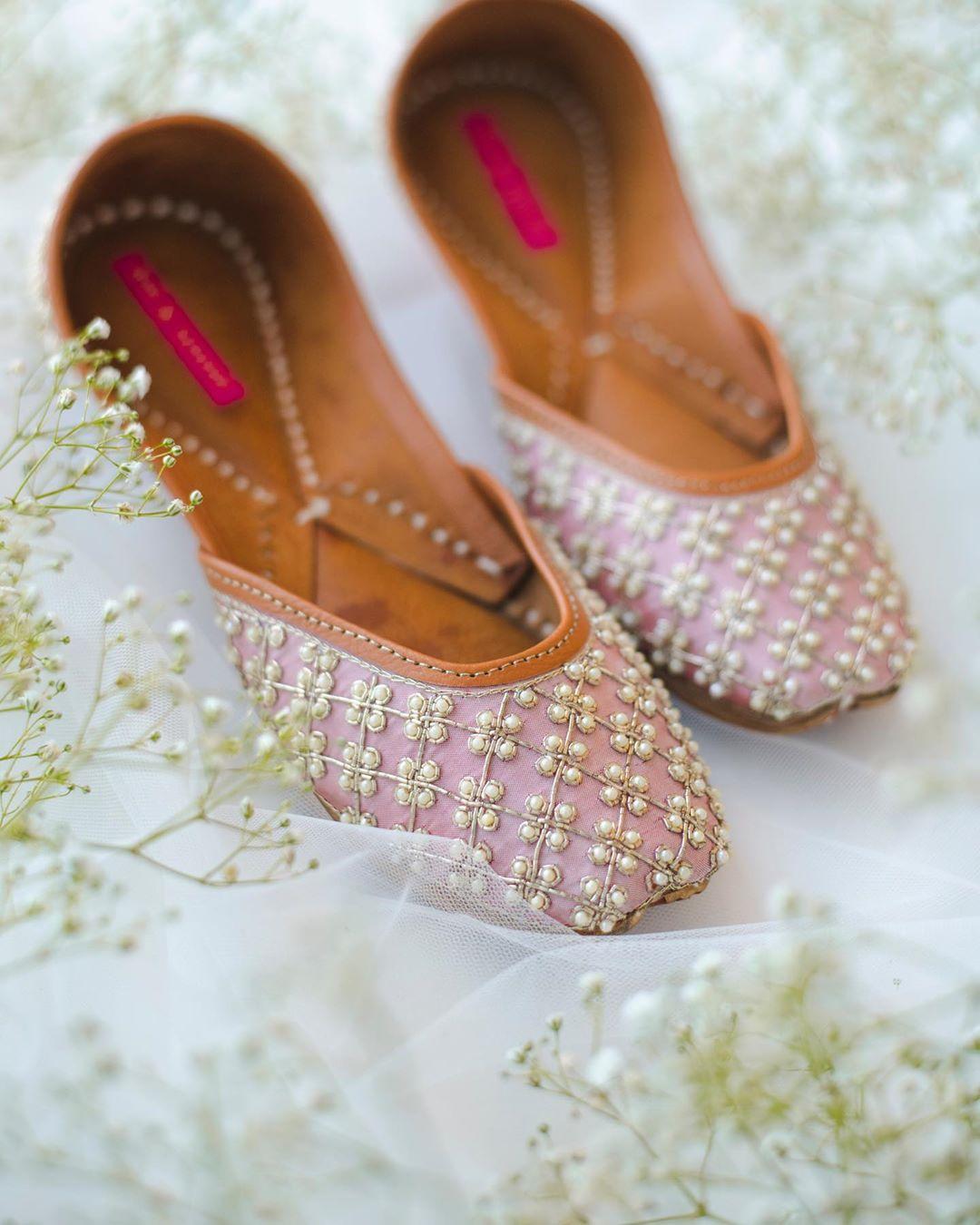 Image Courtesy: Pastels and Pop
Brides have not hesitated to step out of the conventional box of red lehengas and step into mesmerising pastel lehengas for their D-Day. If you are that bride who wants to twirl in a gorgeous pastel lehenga on your wedding, this pair of pastel blush pink juttis are a hoot. The intricate faux pearl detailing enhances the beauty of the colour of these juttis.
Yellow Raw Silk Embroidered Jutti Design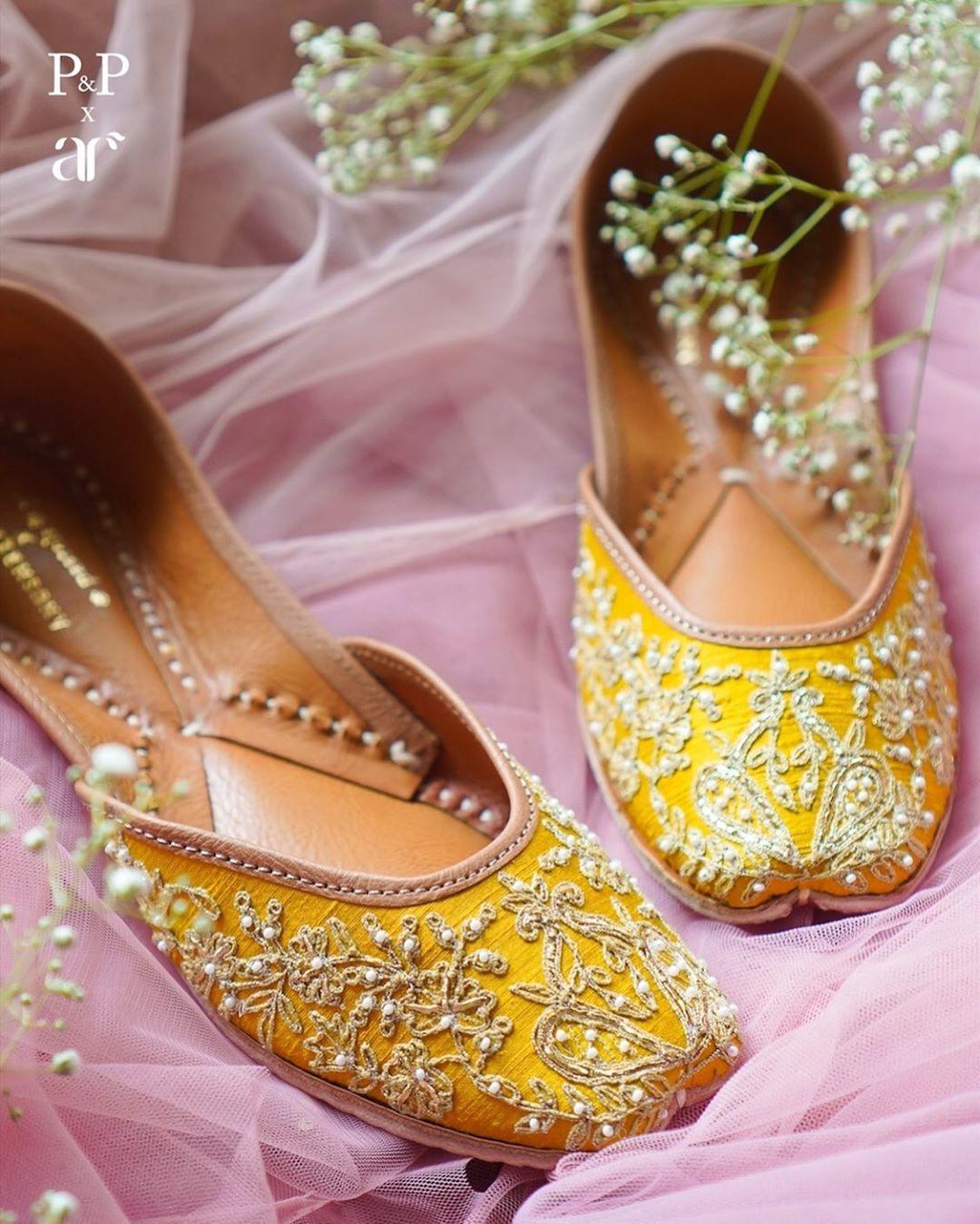 Image Courtesy: Pastels and Pop
Flaunting the quintessential touch of Anushree Reddy, the 3D embroidery and the detailing that explores the bright colour palette, makes this jutti an aesthetic pleasure to look at. They are absolutely light - to look at and to wear, both. This pair is a beaut and the happy yellow colour makes it fit for your Haldi ceremony to be paired with yoru yellow lehenga.
Powder Pink Latest Jutti Design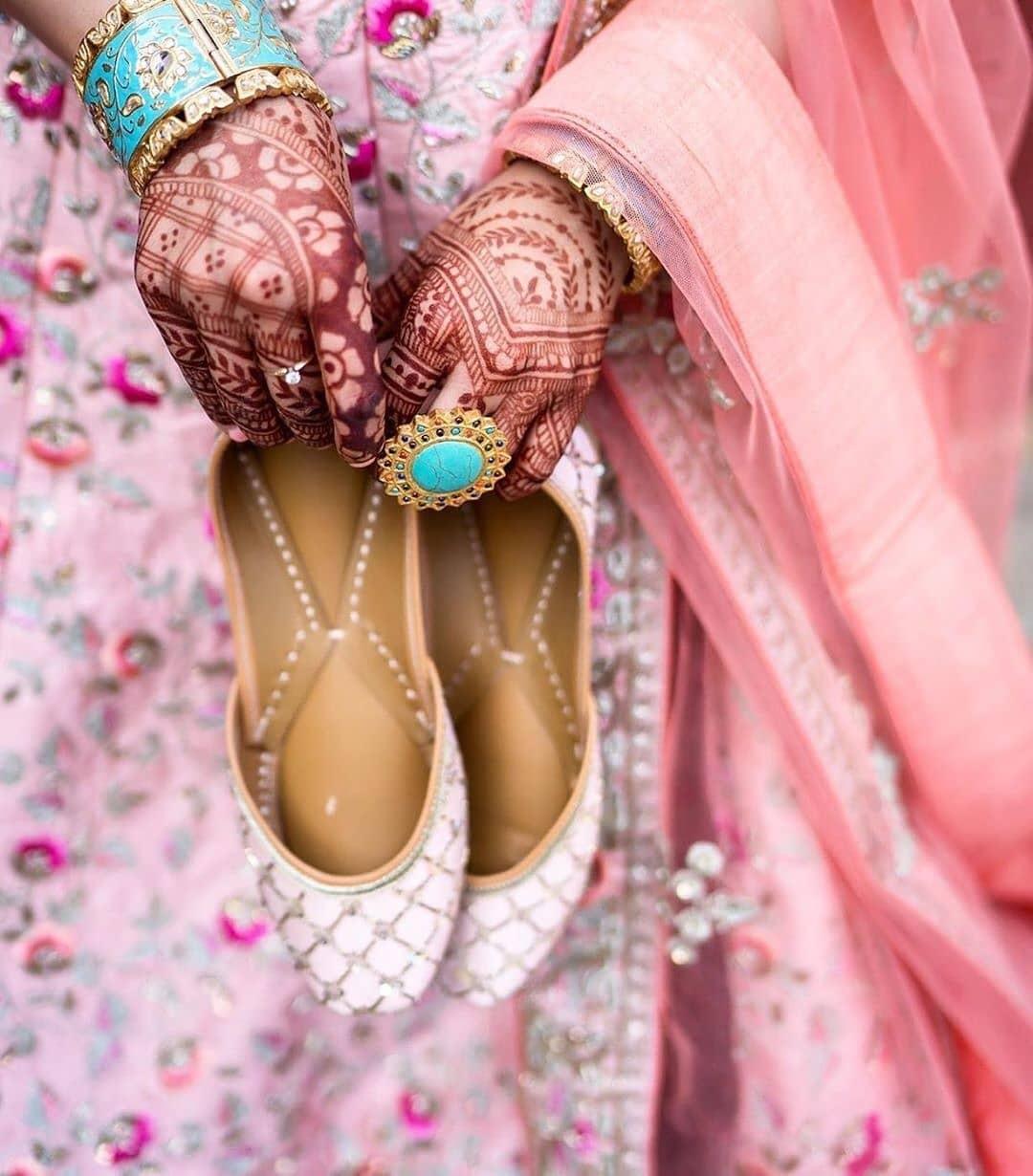 Image Courtesy: Virsa Couture
Pink lehengas are very much in vogue for the brides who do not want to pick a red or maroon lehenga. To complete the breathtaking look on your D-day or even on your pre-wedding ceremonies, these juttis would be an ideal pair. Keeping it light and simple, yet all wedding-y, even the bridesmaids can wear them with their bridesmaids' lehengas.
Sneaker Style Jutti Design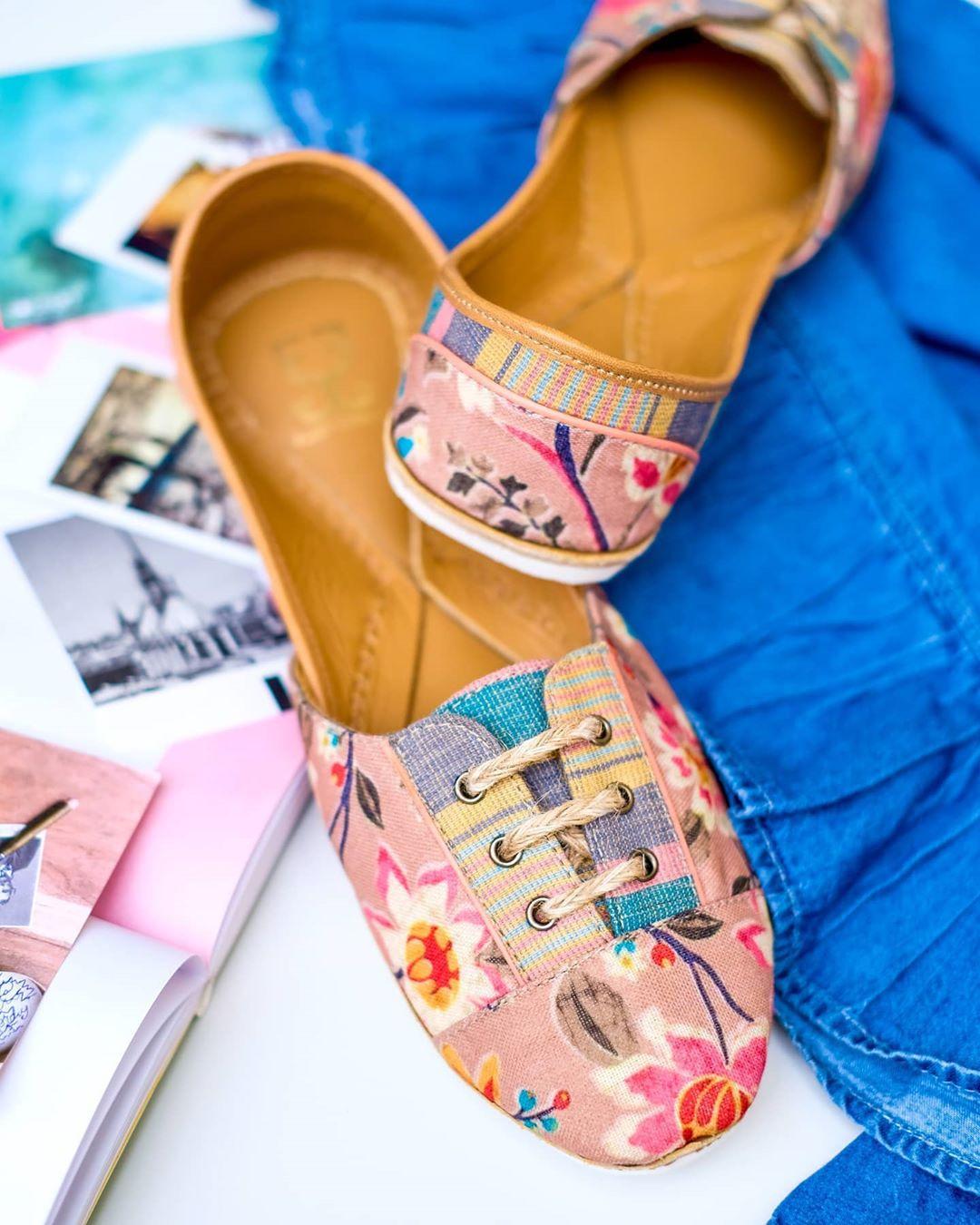 Image Courtesy: Fizzy Goblet
Just another beaut from Fizzy Goblet this sneaker-style jutti is the comfy sole-mate that will be perfect for any season. The bright colours in the jutti make it an adorable pair. If you are the woman who chooses comfort over everything else, these fashionable yet comfortable latest Punjabi juttis are sure to steal the show. The fabric is light and makes the footwear breathable and great for summers.
Golden Glitter Punjabi Jutti Design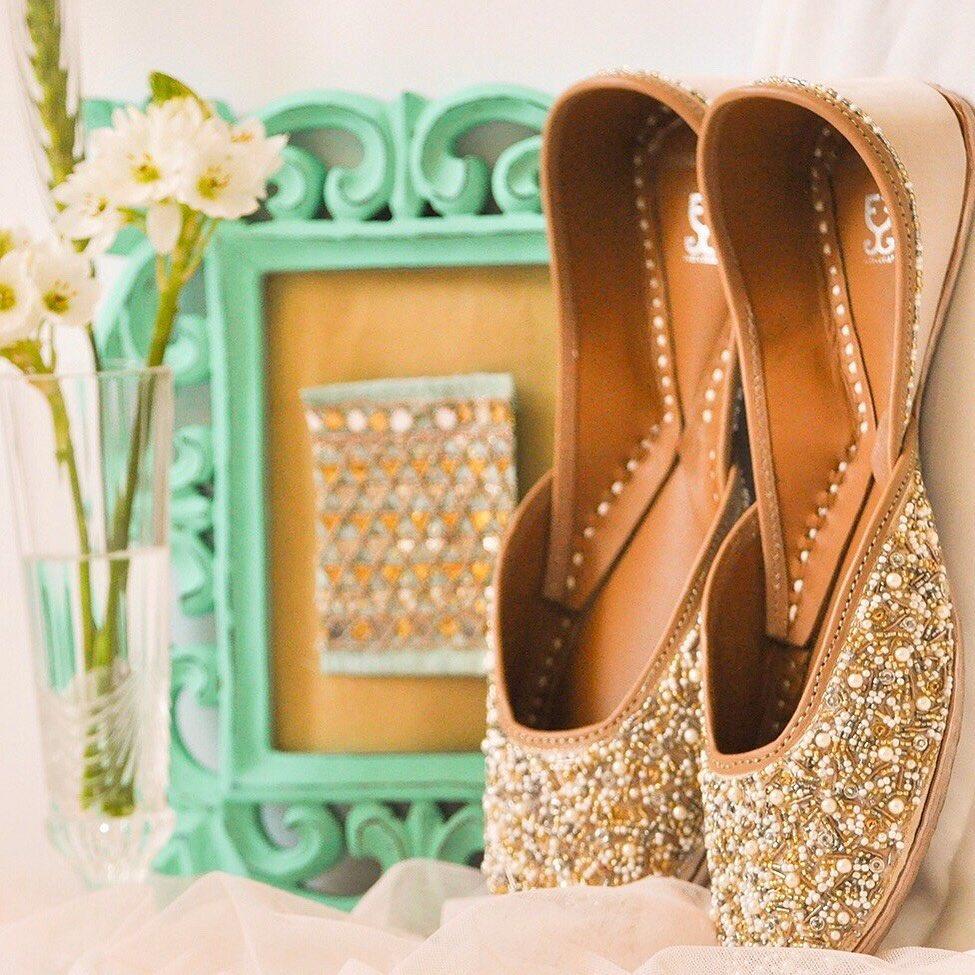 Image Courtesy: Fizzy Goblet
This glitter bomb from Fizzy Goblet is your go-to footwear for any occasion. They are lightweight yet glamourous and perfect for the party season. You could pair it with your Anarkali, or your golden lehenga and maybe even some lates gown designs. The ornate detailing using beads and sequins makes this pair a breathtaking piece of art crafted by hand.
Silk Thread Peacock Embroidered Jutti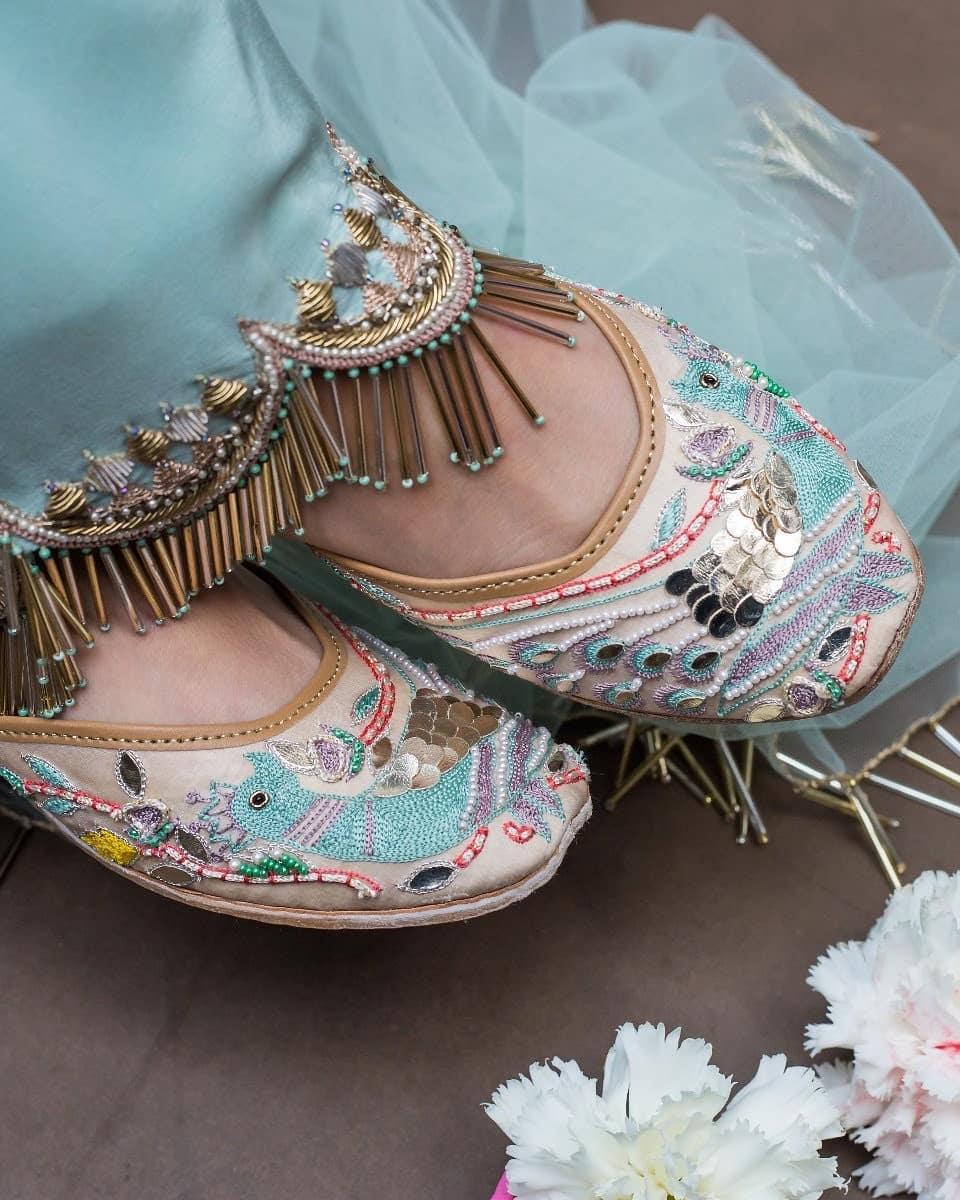 Image Courtesy: Fizzy Goblet
Payal Singhal's signature embroidery silk decks up the top of the jutti that also flaunts a comfortable cushioning on the inner sole to make it perfect for you. The intricate peacock detailing using silk thread on the soft pastel fabric is an impeccable jutti design that Payal Singhal has curated in collaboration with Fizzy Goblet. This pair is an absolute stunner!
Floral Embroidered Pastel Blue Jutti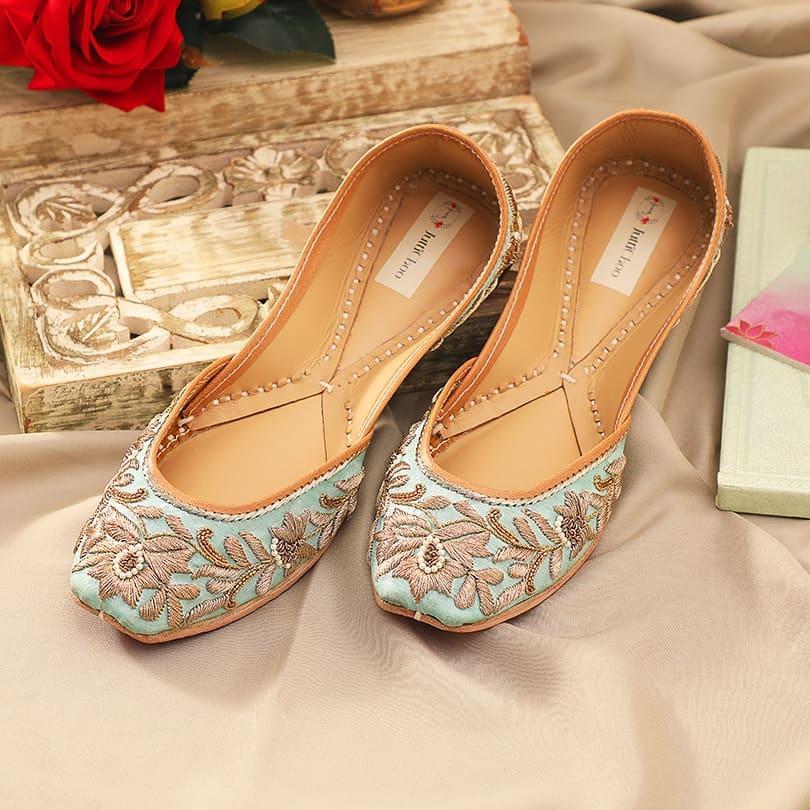 Image Courtesy: Jutti Choo
A beautiful Punjabi jutti made on raw silk with flowers and leaves crafted on it with hand embroidery from Jutti Choo is the desi Cinderella's glass slipper. Not only is this pair an elegant one, but it is also a charming pair that will be perfect with any attire of yoru choice. It is not only an occasionwear but also makes for a great regular pair of casual footwear.
Quirky Flower Embroidery on Jutti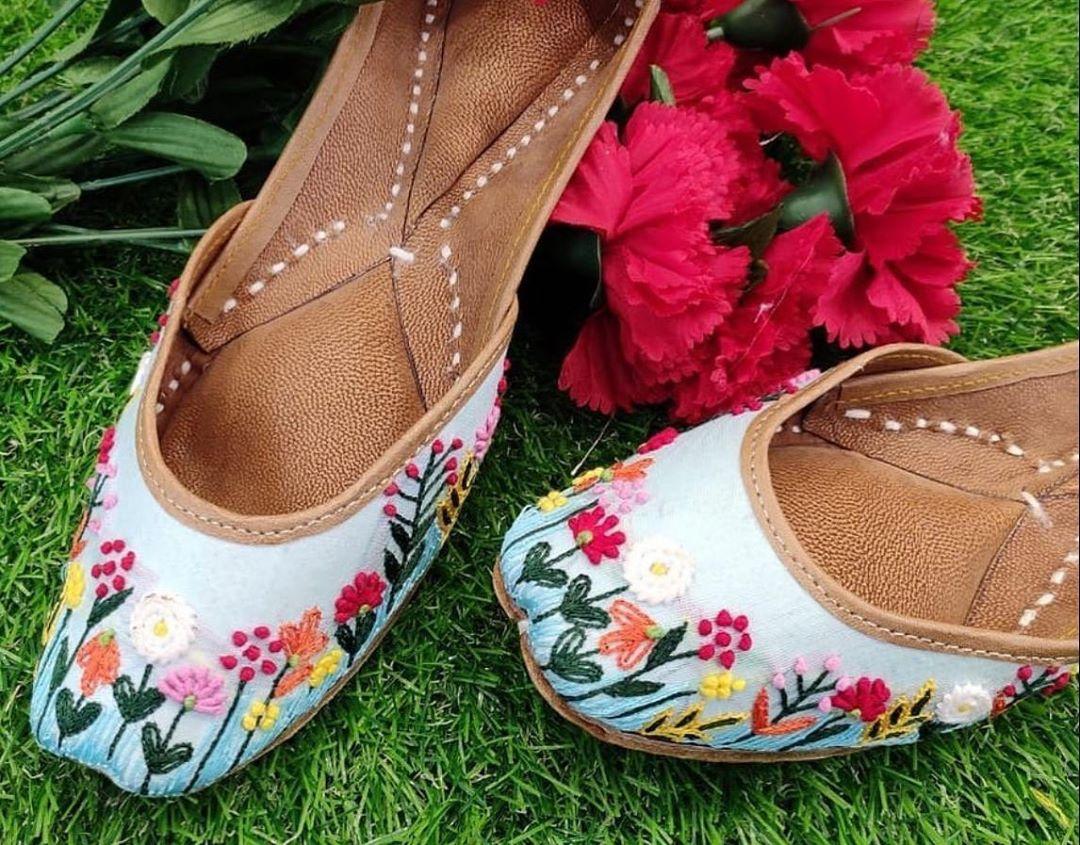 Image Courtesy: JuttiWali
It's feminine, floral and quirky. This graceful powder blue jutti with Mountmellick embroidery techniques that used colourful threads makes this pair of jutti an eccentric pair. If you are planning to wear a light blue lehenga on yoru Mehndi ceremony or your Sangeet, you can pair your lehenga with this pretty pair in blue to complete the look.
Bright Floral Print Punjabi Jutti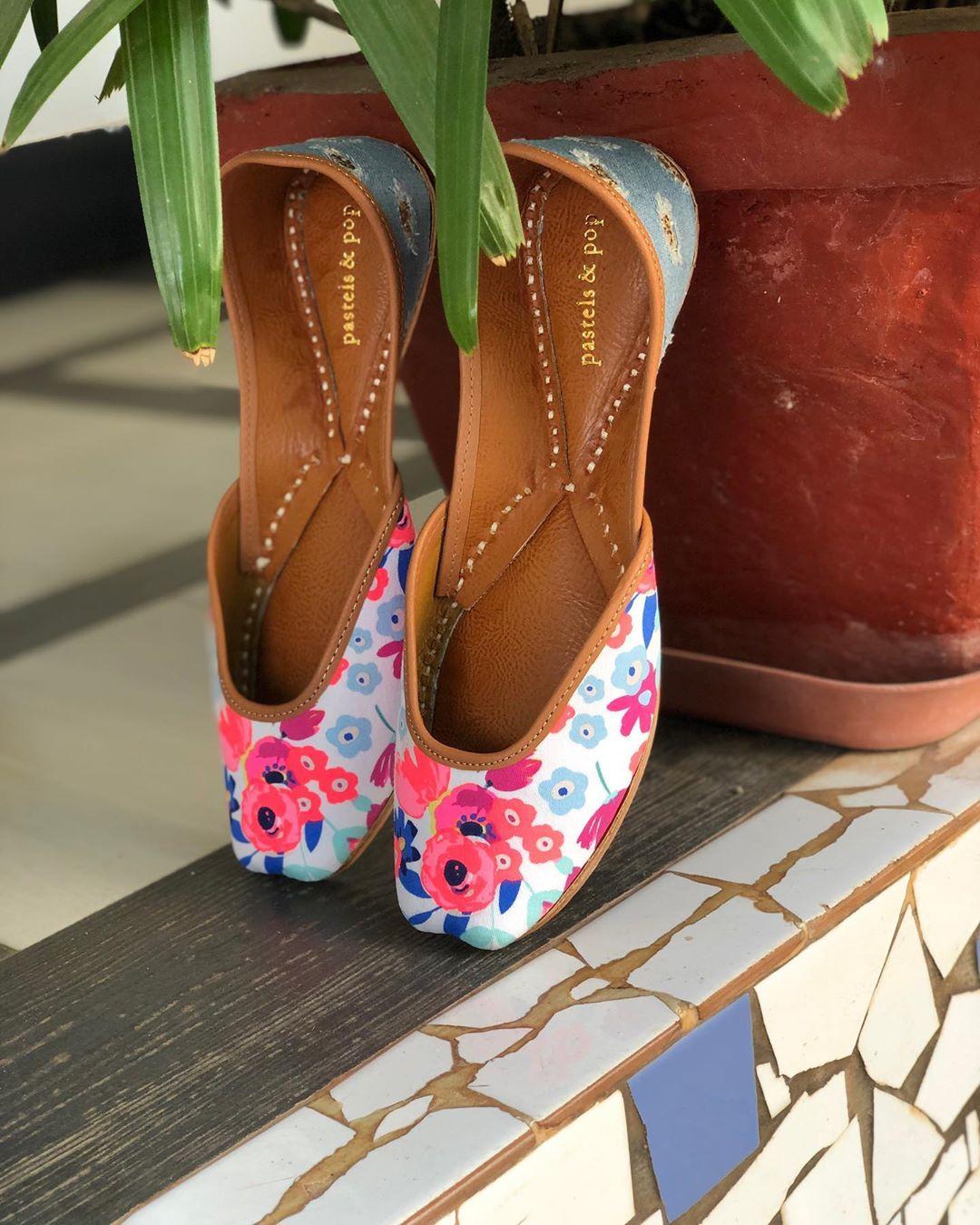 Image Courtesy: Pastels and Pop
All things bright and beautiful, this pair of floral jutti is a beaut! Pretty flowers in shades of pink and blue sit beautifully on a white base, while the back sports a ripped denim texture. This Jutti goes effortlessly with your favourite jeans or that fabulous summer dress and would also go with a pretty white suit or white Anarkali.
Black Punjabi Jutti with Heavy Work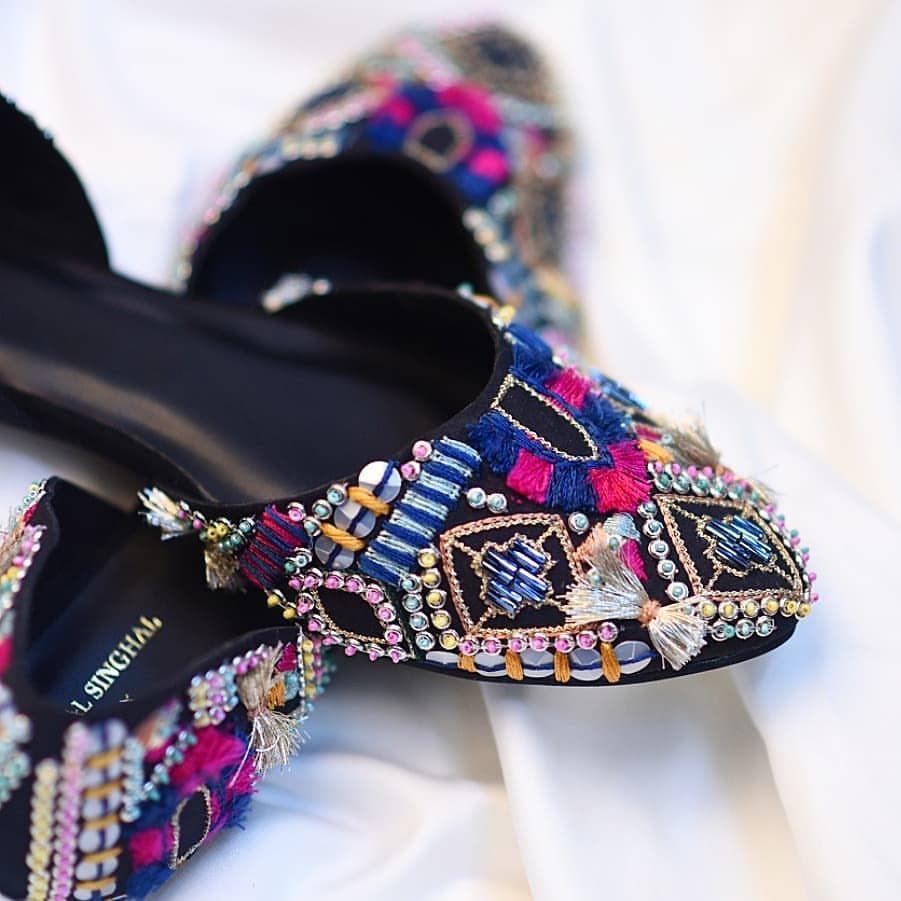 Image Courtesy: PAIO
The colourful appeal of Payal Singhal x PAIO Shoes Taylor D'orsays is enchanting. A beautiful design inspired by Bohemian colours combined with Indian sensibilities this pair is a stellar one. Taylor D'Orsays exude desire and sensuality. Traditional embroidery fused with artisanal craftsmanship emphasise a structured sophistication. Style this stunning pair with all your traditional outfits or pair them with a chic dress to make the heads turn.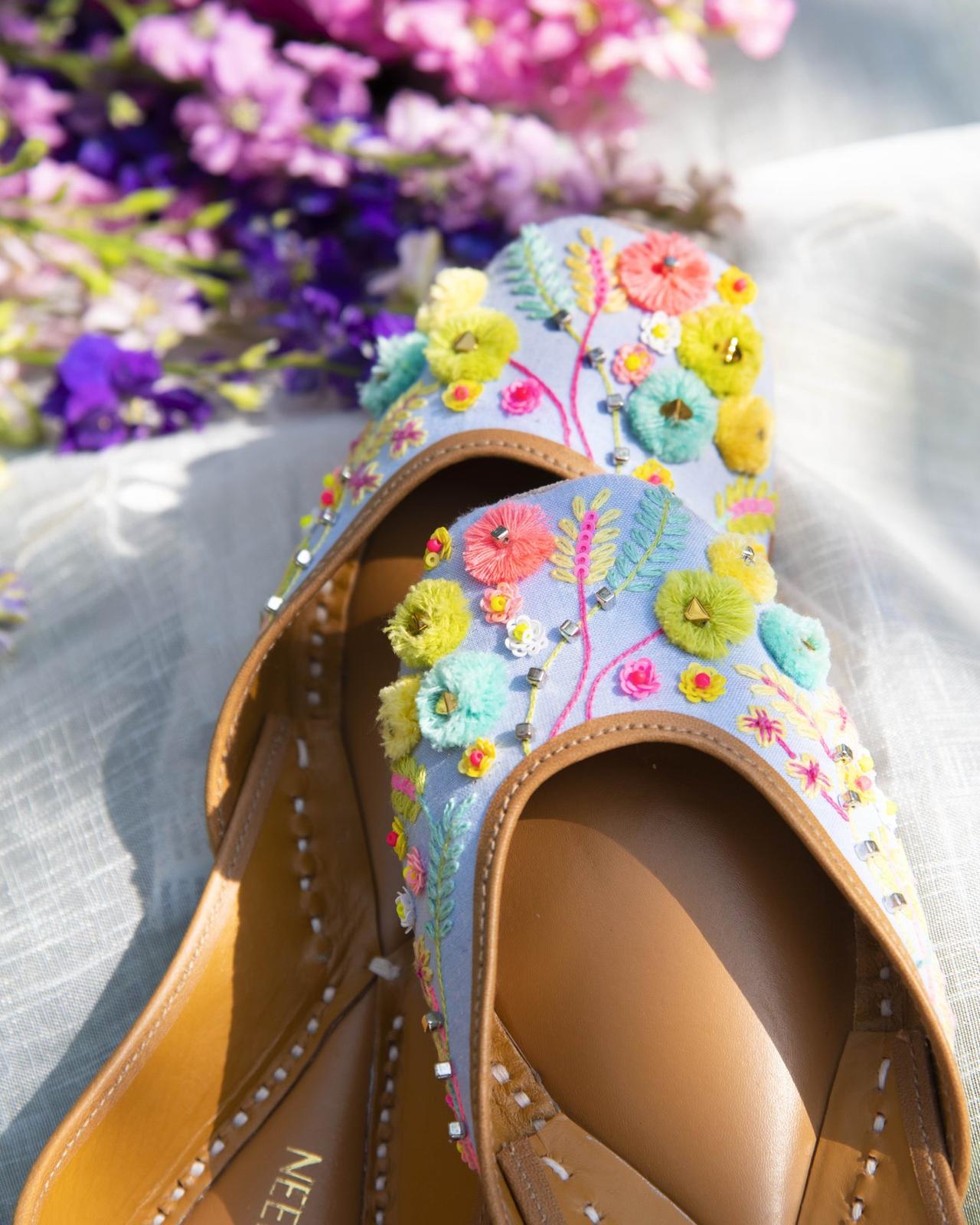 Image Courtesy: Needledust
Needledust's Summery Berry Picnic collection for the summer is full of blood prints mixed with textures and patterns in an unexpected and uniquely modern way. The style and colours are sure to refresh your soul. From soft and subtle colour to dramatic and daring embroidery, this fresh and quirky jutti is a HOOT! A refreshing palette of pastels and earthy tones balanced out with neons are handcrafted with love to make the pair a showstopper.
Each pair of these absolutely stunning juttis have their own story to tell. From intricate designs to unconventional colours and the total comfort, they make for the perfect footwear. The efforts that are put behind creating each pair is unfathomable because they are handcrafted with genius and perfection.
Make a style statement and don one of these latest jutti designs on your wedding or your BFFs D-day with a Punjabi suit or a lehenga. Get in touch with the photographers onboard to click some amazing pictures while flaunting the look.