10 Designs of Punjabi Juttis That Girls Can Flaunt on the D-day
A fine pair of Punjabi Juttis for women completes the ultimate look that the Punjabi Kudi wants to flaunt. The following are some designs that you can take ideas from.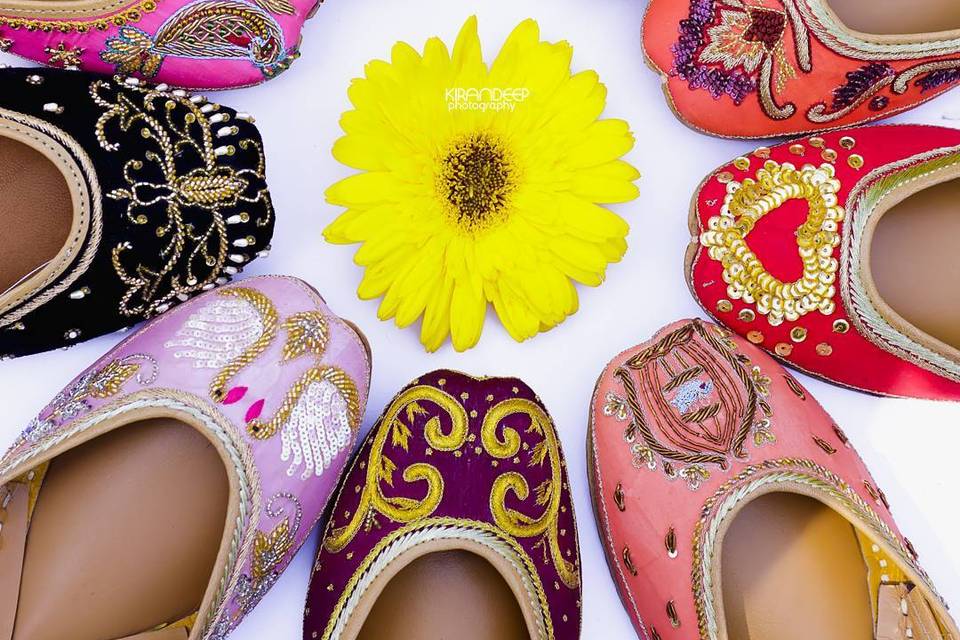 On a Punjabi wedding, it makes for a great idea to wear something that is traditionally Punjabi through which you can celebrate your culture and exude the desi vibe perfectly.
You can wear Punjabi suits with Patiala salwars with Phulkari embroidery if you want to fit in with the atmosphere of a Punjabi wedding. To add another element of Punjabiness, you can complement your outfit with a pair of traditional Punjabi Jutti for girl that will make for a solid fashion statement.
To help you in your Punjabi Jutti shopping, we have prepared a list of 10 unique designs for Punjabi Jutti for girl that you can seek inspiration from. Read on!
This Simple and Stylish Punjabi Jutti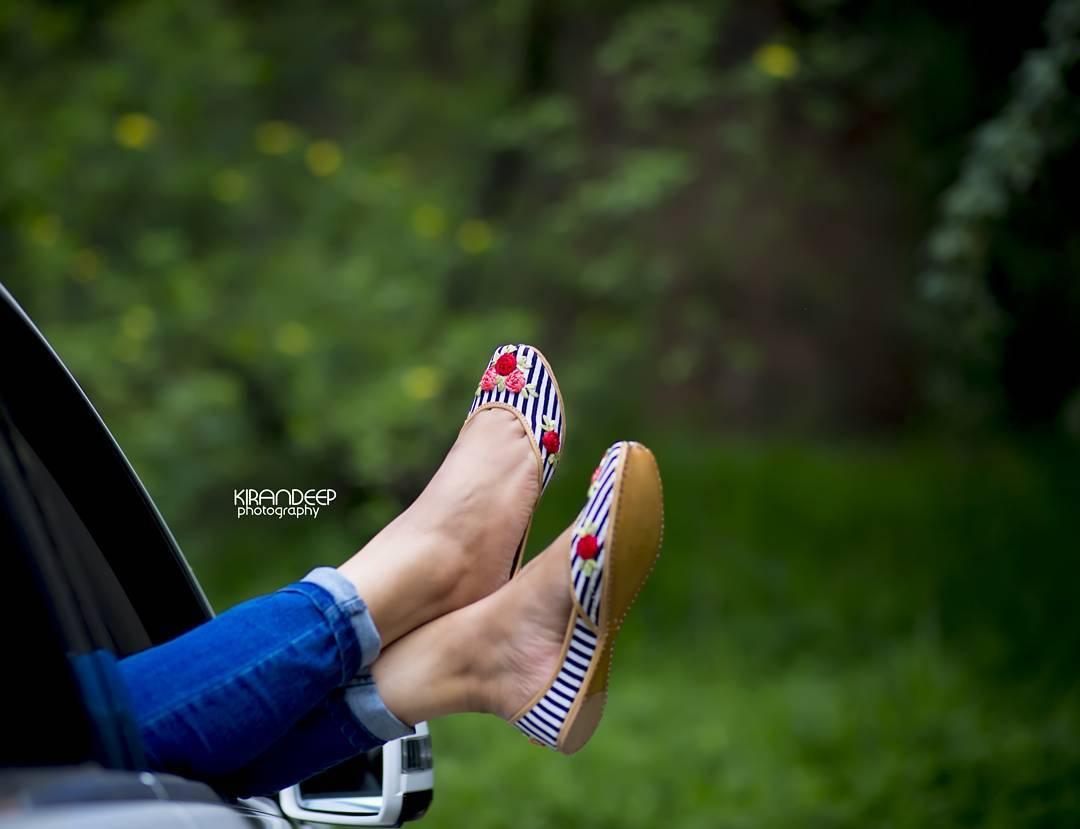 We start this list of Punjabi Jutti for girl with a design that is less on the traditional side and inspired from contemporary western footwear. This black and white Jutti with a delicate floral design makes for a good choice if you want to keep things simple and invest in footwear that you can even wear to other events apart from wedding functions.
This Blush Pink Punjabi Jutti With Golden Embellishments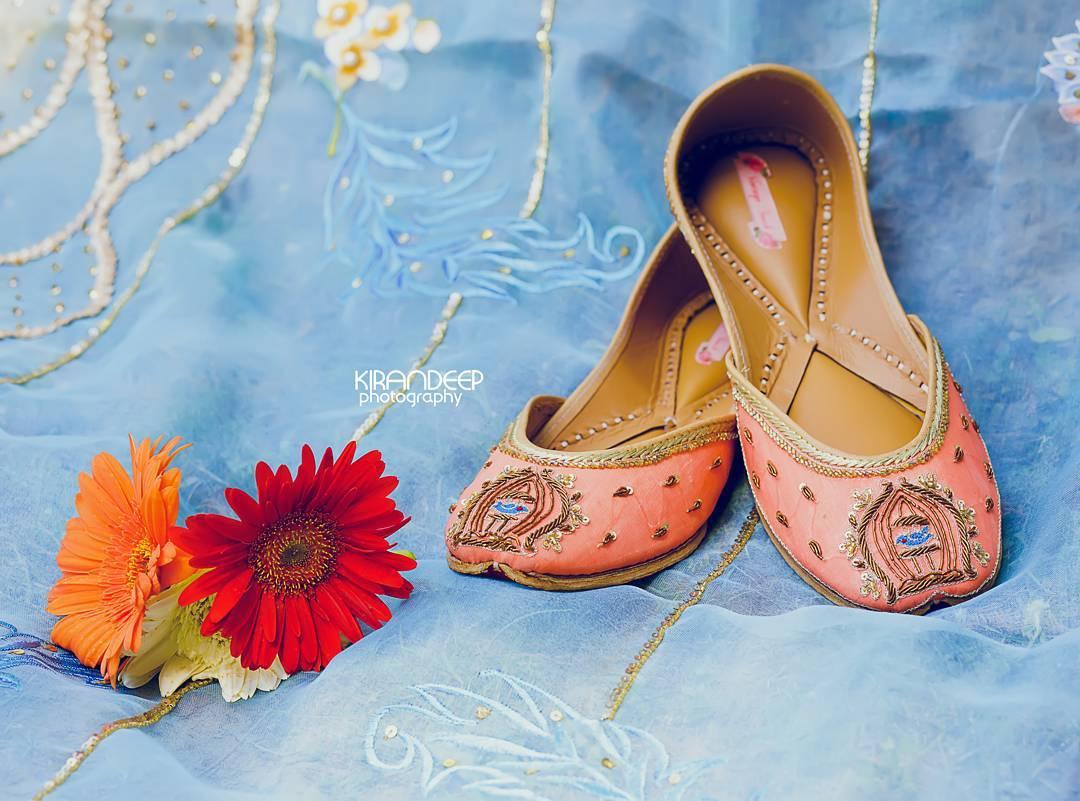 Here we have a beautiful pair of blush pink Punjabi Juttis with gorgeous thick embroidery work. The bird's cage design adds an artistic touch to its design and separates it from the usual designs of traditional Punjabi Jutti for girls.
This Golden Jutti With Stones Embedded All Over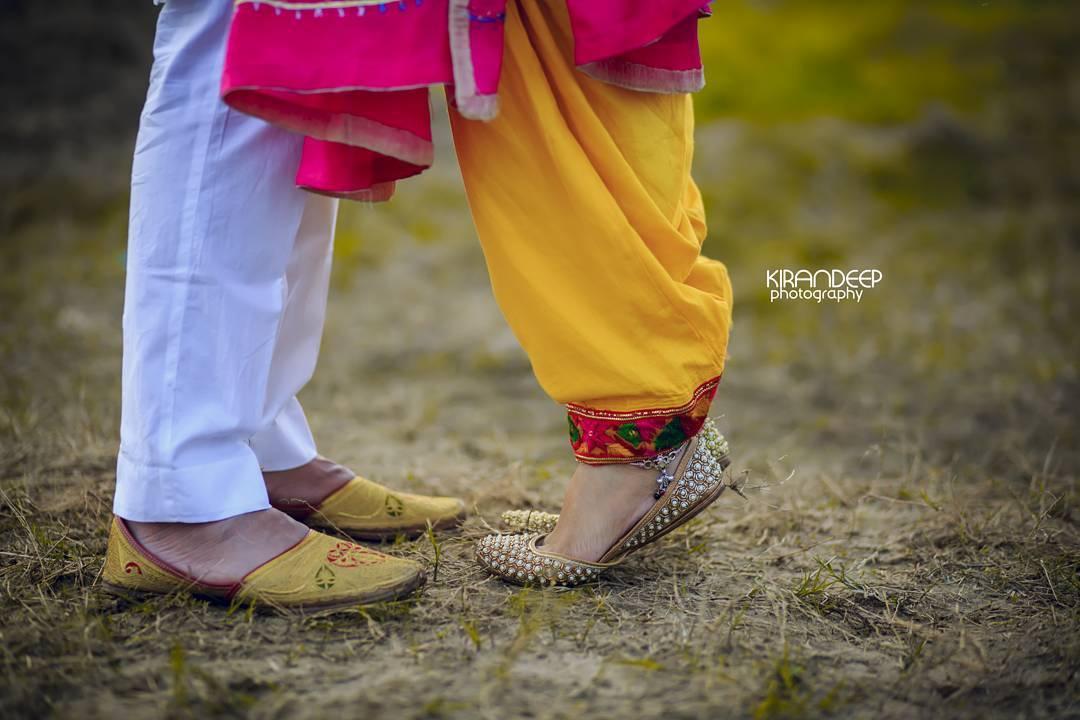 Gold is one of the most popular shades when it comes to Indian weddings. It brings an element of bling and flashiness that is synonymous to our big fat wedding celebrations. You can go for such a blingy Punjabi Jutti design studded with precious stones if you want to raise the bling factor with your footwear this wedding season.
This Traditional Mustard Yellow Punjabi Juttis for Women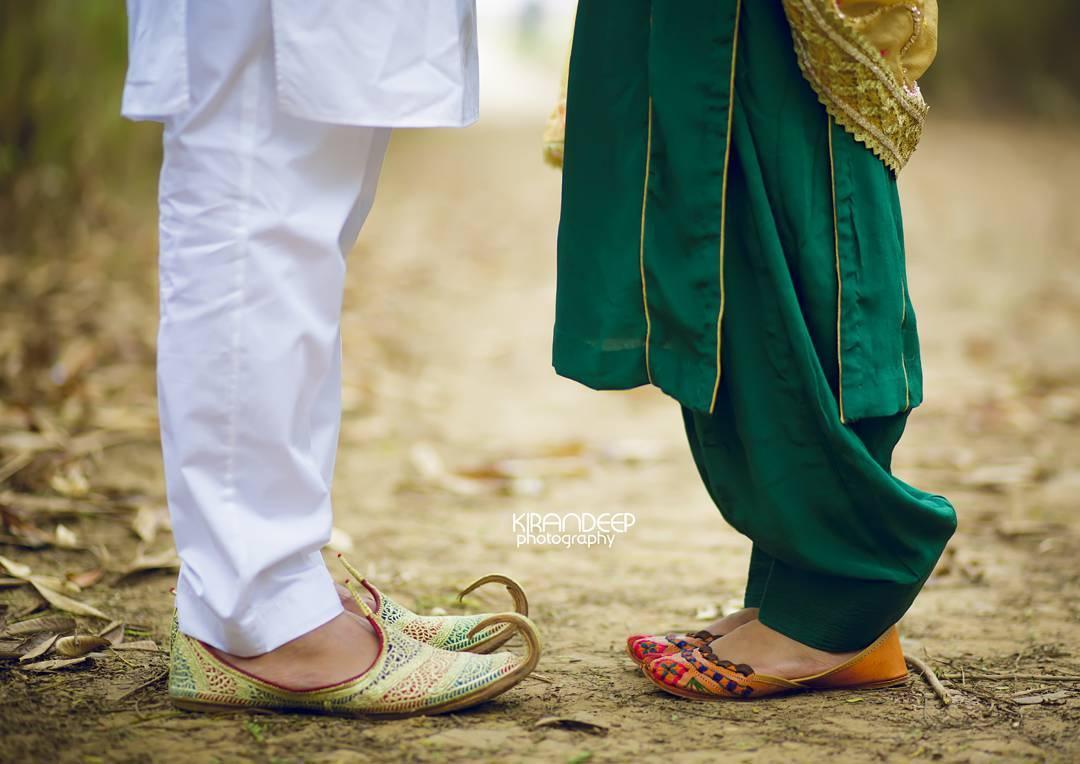 This mustard colour Punjabi Jutti for girl reminds us of the lush mustard fields that we associate with the state of Punjab and makes for a great choice of colour for Punjabi Juttis. The unique mustard colour Jutti with colourful embroideries in blue and red that brings some vibrancy to this pair of Juttis.
This Unique Pink Punjabi Jutti With Pearls and Gold Discs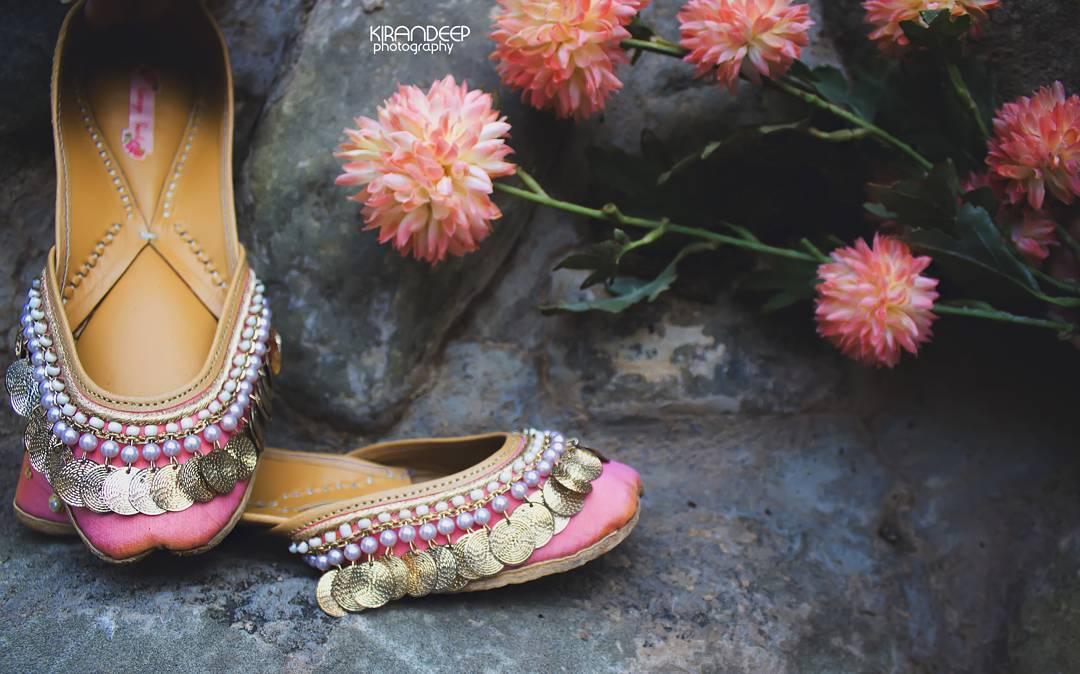 Next, on this list of Punjabi Jutti for girl, we have a design that you can go for if you want to wear footwear that stands out and makes a big fashion statement at a Punjabi wedding.
These pair of pink Juttis that is beautifully decorated with a row of pearls and some hanging gold discs will surely make you stand out from a distance during a Punjabi wedding.
This Pink Jutti With Silver and Gold Design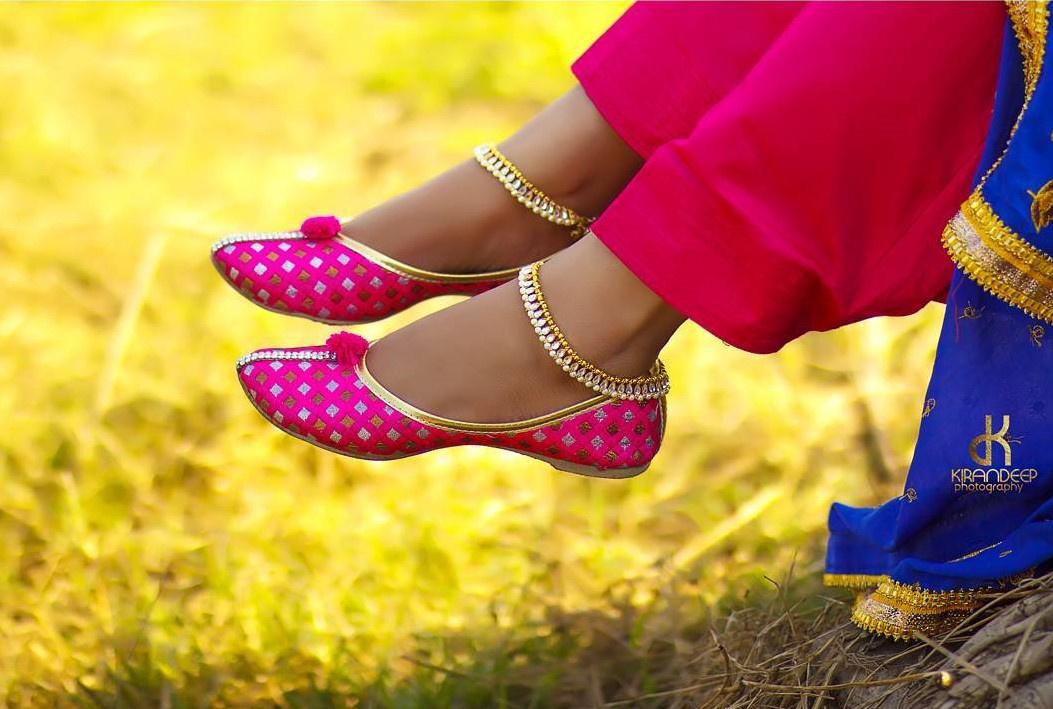 If you want to keep things traditional and elegant with your wedding footwear, these pink Punjabi Jutti for girl can be a design inspiration for you. Here, we see a bright pink Punjabi Jutti with a golden border and a tasteful print embroidery that would look good on women of all ages.
These Stunning Royal Blue Punjabi Juttis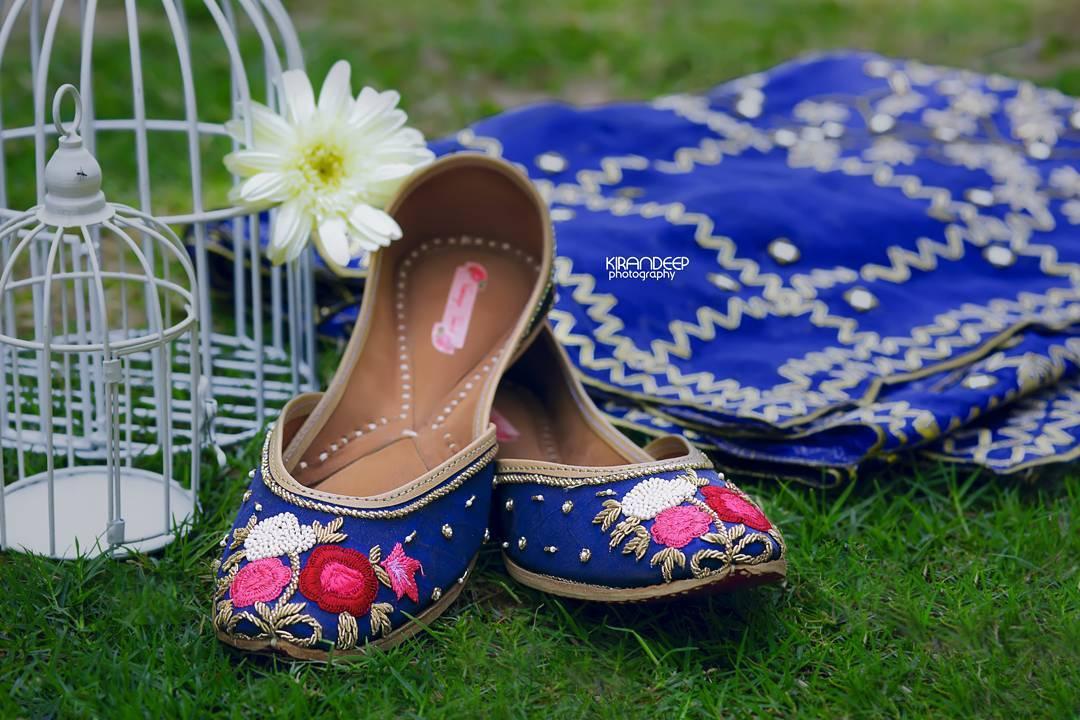 For the next entry on this list of Punjabi Jutti for girl, we have this beautiful footwear in an elegant royal blue shade that belongs to a class of its own. The thick and colourful floral embroidery work along with a contrasting gold border makes this a gorgeous design for a Big fat Punjabi wedding celebration.
This Understated Silver Punjabi Jutti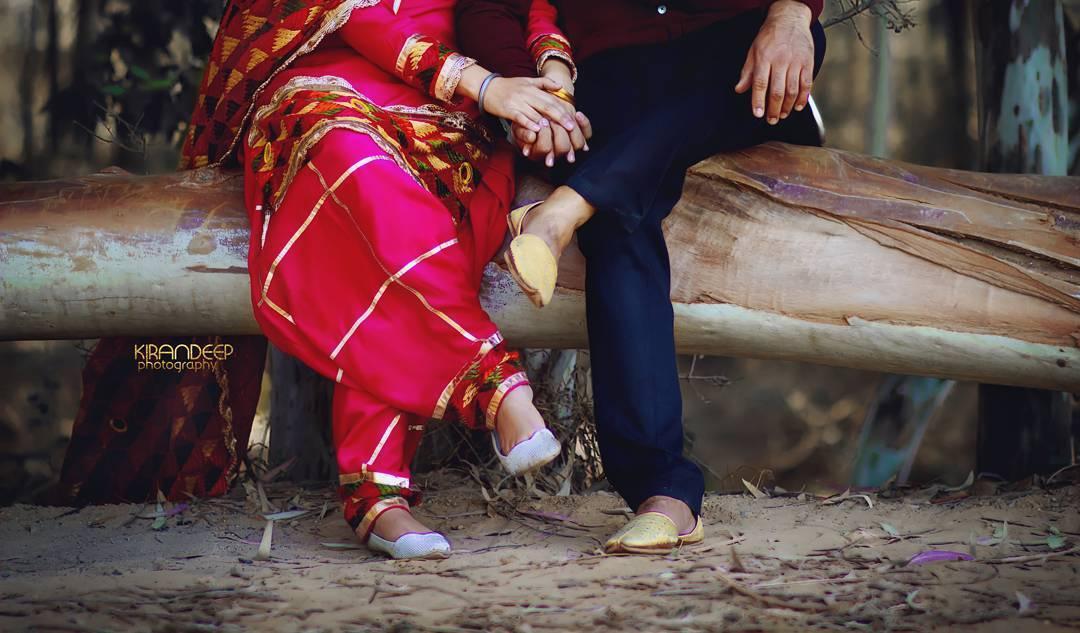 This minimalistic silver Punjabi Jutti for girl is another elegant number that will go well with all kinds of outfits and makes for a safe bet to wear to a Punjabi wedding celebration.
These Sleek Looking Sky Blue Punjabi Juttis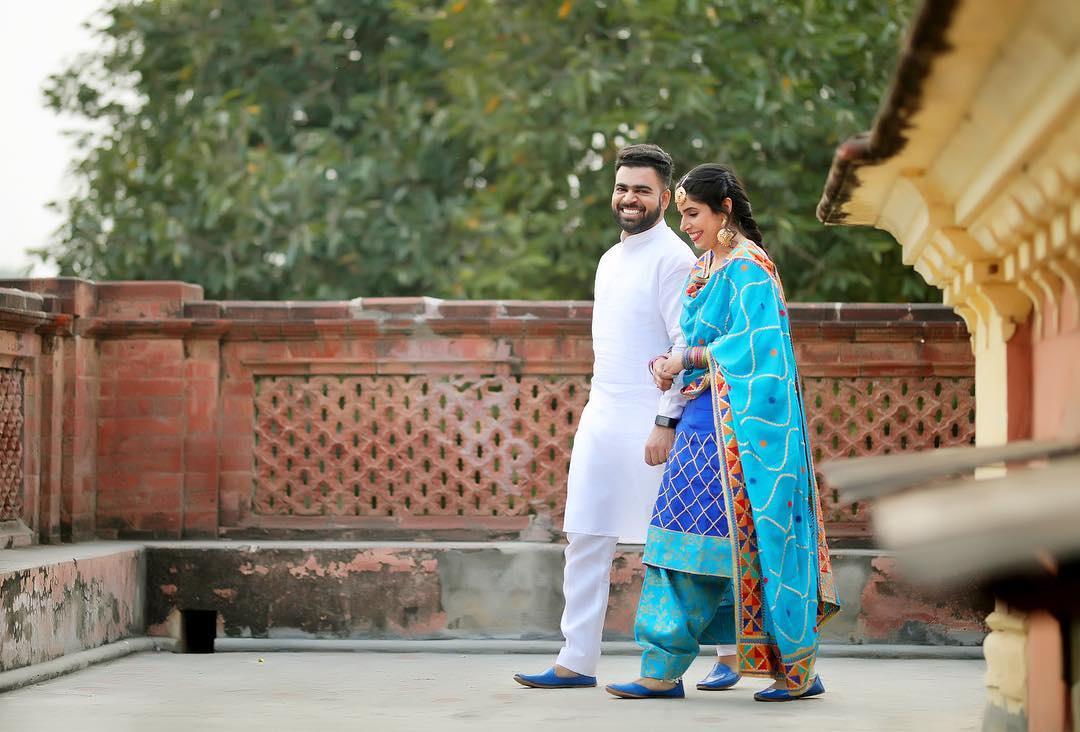 Bright colours that pop from a distance are an integral part of Punjabi fashion. These bright colours reflect the vibrant culture of this region. You can pair you blue Punjabi suits with such matching footwear and even colour coordinate your footwear with you partner as you can see in the above image.
This Bright Yellow Punjabi Jutti Design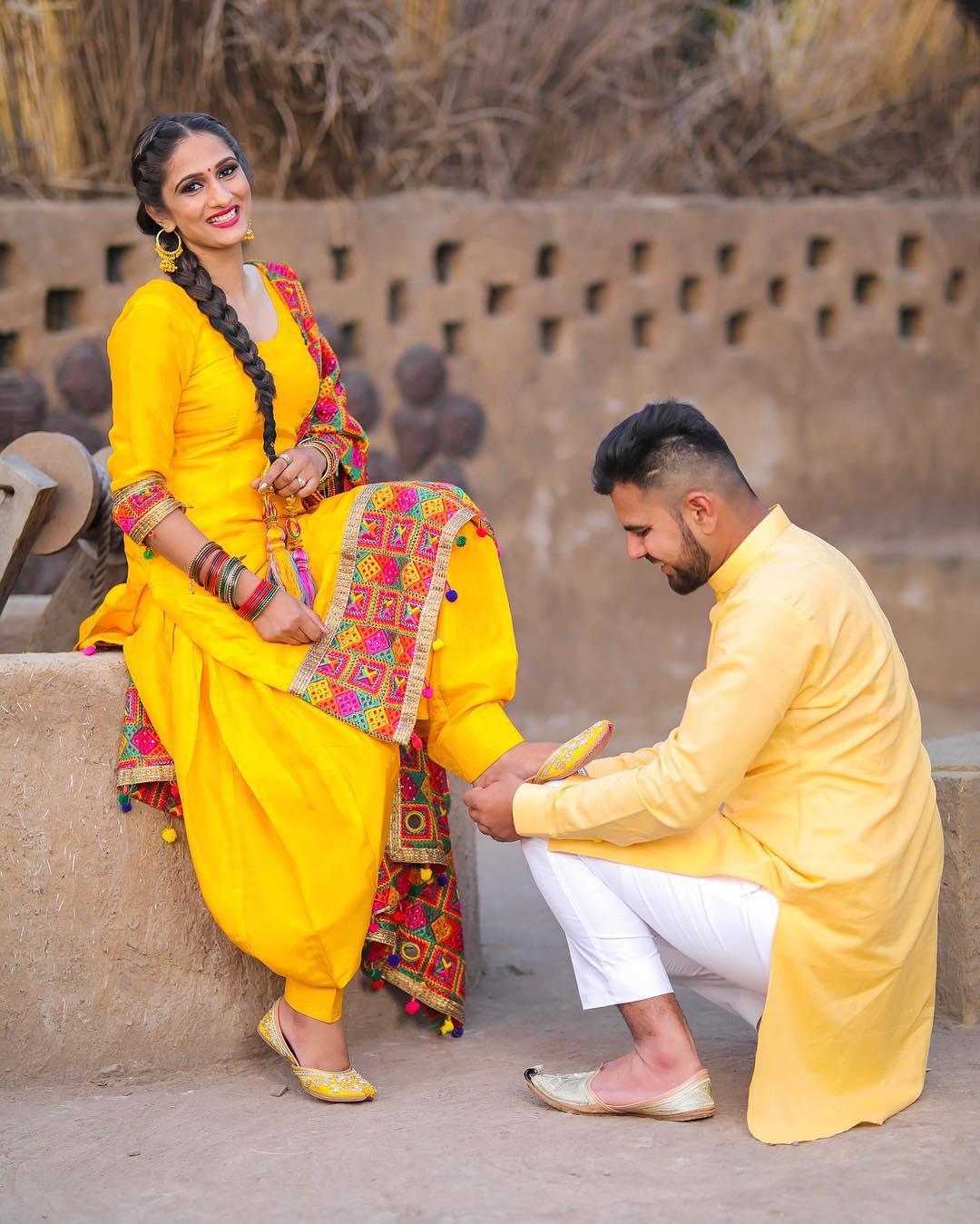 To conclude this list of Punjabi Jutti for girl, we have another bright pair of Juttis that are so symbolic to Punjabi culture. If you are going to wear a bright yellow Punjabi suit for the wedding, you can pair it with such matching Juttis to make your look feel complete.
We hope that this list of pictures of Punjabi Jutti for girl leaves you with plenty of ideas before you go shopping for footwear to wear at a Punjabi wedding. Feel free to share your inputs in the comment section below!
Make sure that all aspects of your look are perfect! Head down to these makeup salons near you for a great look!