10 Beautiful Punjabi Wedding Couple Shayari from Popular Punjabi Songs
If you think Punjabi songs are all about showing off we're about to prove you wrong! Here is the magic of Punjabi Shayari from popular Punjabi songs!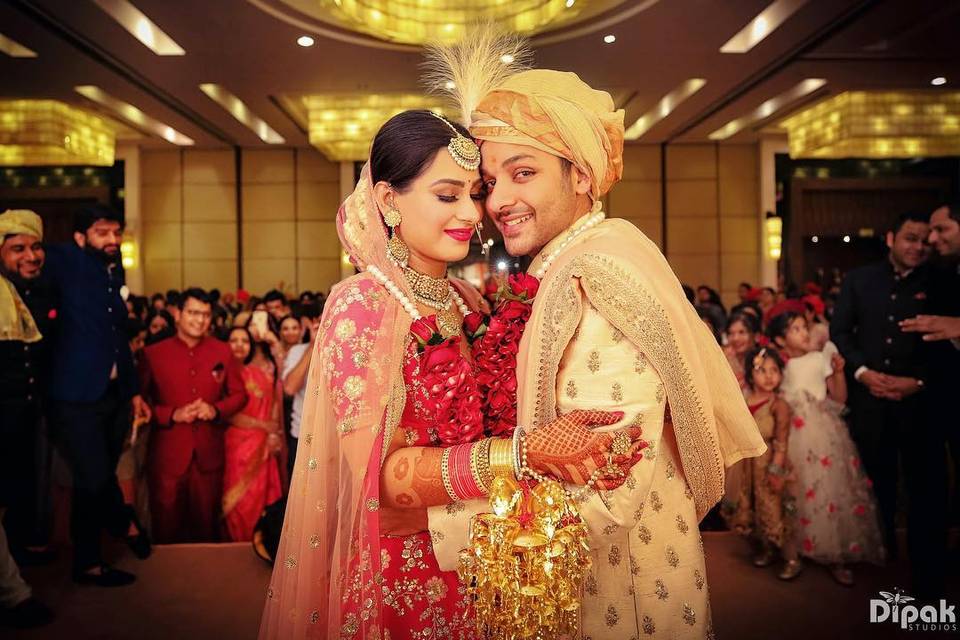 Punjabi is a beautiful ancient language that boasts of rich history and beautifully written literature. If your big fat Punjabi wedding is near and you're looking for Punjabi wedding couple Shayari, we've got you covered. You can use these Punjabi wedding couple Shayari in your wedding card, at the beginning of your dance performance, during rituals after marriage, or to express your love for your partner through a text.
You can also use a mix and match of these couplets on your Sangeet night as a couple.
1. When you love more than love itself
"Main pyaar ton vadh tainu pyaar karaan
Tainu sajjda sohne lakh waar karaan
Je din nu keh dein tu raat maahi
Ve main raat samajh aitbaar karaan"
This soulful song is all about expressing your true, undying love for your partner in the purest form possible. You can use this Punjabi wedding couple Shayari to express how much you love your partner and how your trust in them will never fade.
2. Life is a beautiful dream together
"Main jadon tere khwaban wali raah turreya
Main tureya bada na methon jaave mudeya
O jiven rainde panne naal panne jud'de
Main ravaan tere naal ohna wangu judeya"
When falling in love feels like a dream your love story surely becomes more beautiful. Say these beautifully written lines to your partner to express how you both will always be together like pages of the same book.
3. Love is god
"Mera yaar hai rabb varga
Dildar hai Rab varga
Ishq karun ya karun ibadat
Ikko hi gal ae"
When everything else fades away and your partner starts to become the centre of your world, life becomes meaningful. With these lines, express how your beloved is no less than the almighty to you. To love is to show the almighty reverence, after all.
4. The colour of their love
"Meri zindagi de vich mere sajjna vey
Mere ton vadh khaas jagah vi teri aa,
Tere har ik hukam layi eh haan meri
Raazi rakh ya nah razza vi teri aa,
Tere samne beh ke sun ni teri main
Mere bin koi tainu hor bulaave nah!"
Does your sweetheart hold a very special place in your heart and life? Then, this Punjabi wedding couple Shayari is your chance to express your feelings. Use these magical words to express how you will always be by their side, loving them unconditionally.
5. The promise of a beautiful tomorrow
"Tennu har gal dassange
Tennu har gal dassange
Akhaan ch wasa ke mahiya
Tere naal hi hassange
Akhaan ch wasa ke mahiya
Tere naal hi hassange"
Promise your partner a beautiful life together with these meaningful lines. Belonging to a tradition of Punjabi songs, this Punjabi wedding couple Shayari says how you will always be honest with your partner and willing do anything to keep them happy.
6. When you get lost in their eyes
"Teri akhiyan ch noor kinna saara
Gallan ch sukoon si sajna
Mainu lageya Allah ne awaaz maari
Bulaya mainu tu si sajna"
The deepest form of love can be seen in the eyes of your beloved. Share how looking into their eyes sways you and calms you at the same time. This shayari will also let you express how you see your god in them.
7. When it's been a year
"Likhe si sanjog sadde tere naal ve
Hasde hasaunde langh gaya saal ve
Dhanwad tera dil deya raajeya de wang
Raniyan de rakhi hoyi aan
Sohna te patandara tu khaas koi na
Ve gallan mithiyan di patti hoyi aa"
This Punjabi wedding couple shayari is perfect if it's been exactly a year since your Roka or engagement. With this fun and loving Shayari, express how you both were destined to be together. The witty last line says even though he's not that handsome he still managed to woo you.
8. For your precious love
"Meri hun vich tu disda
Jithe jithe chale maahi
Jee kare othe othe bichh ja"
For love so deep and pious that you cannot let your partner go away from your vision even for a second, this is the perfect Punjabi wedding couple shayari. Derived from classic Punjabi tappe, these lines are utterly romantic and demand to be felt.
9. When you cannot stay apart even for a moment
"Bann thann ke mutiyara aaiyan
Aayiaan patola bannke
Kanna de vich peepal pattiyan
Baahi chooda khannke"
Mere sohneya sohneya ve
Ve maahi mera kitthe naiyo dil lagna
Mere sohneya sohneya ve
Ve maahi mera kitthe naiyo dil lagna"
If you cannot stay apart even for a minute now, this should be your perfect pick for Punjabi wedding couple shayari. Start with praising your partner for her bridal glory and end with how you cannot live without them now.
10. I am here to take you along
"Main ta jind meri tere piche haariya
Main ta tere utto jaan baithi vaariya
Main tan tere naal sachi laayi yaari ve
Mainu chaddi teri ishq khumaari ve
Mere dil da eko supna
Tenu apni bana ke main ta le jaana"
When you are at the venue to take her along with you forever, recite this Punjabi wedding couple Shayari. With these lines, you begin with how you have gladly dedicated your whole life to your partner and fallen in love with them. Now, your heart's only desire is to marry them and make them yours forever.
Cherish the purity of love and beauty of marriage with these mesmerizing Punjabi wedding couple Shayari. Along with meaningful lyrics, you can take a look at the amazing videos of these Punjabi songs for your own wedding video inspiration. If you are a non-Punjabi getting married into a Punjabi family, you can surprise and please your partner with these beautiful lines that they will remember forever.
Do you have a favourite Punjabi Shayari for weddings? Share with us!