The Complete Guide to Bridal Footwear Trends - Choose Your Shoes Wisely
From wedges to pumps, traditional Juttis and modern sneakers; modern brides have a lot to choose from when it comes to bridal footwear. Here's a low-down of all you need to know to make your choice.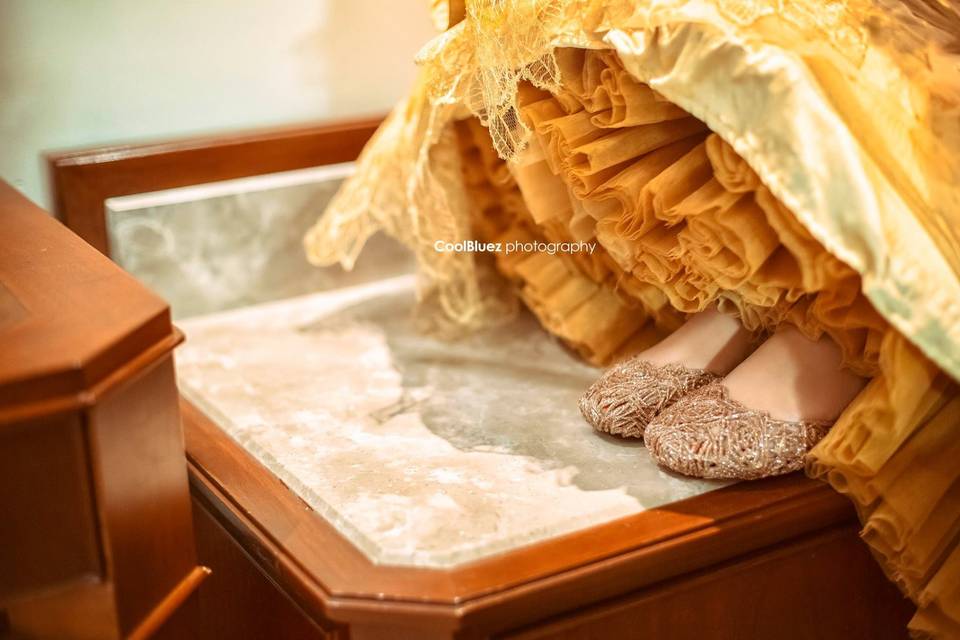 Aren't we all a bit guilty for bombing our fat paychecks on our massive shoe indulgence? We all know that to top off the perfect outfit and flawless makeup look, one needs additional ounces of glam to notch up the style quotient. If you're someone who resonates with each line here, needless to say, this piece is exclusively for you.
Not only do we talk about the latest bridal footwear trends but also show you how it's styled and carried off with élan. Shoe designers are incredibly changing the Indian bridal footwear ecosystem by designing chic, comfortable and glamorous pieces for the modern-age brides-to-be. Before you finalize your look, you need to do some research on what is the best footwear for your wedding. Here are some of the trends that new-age brides are raging over.
1. Sneakers & Shakers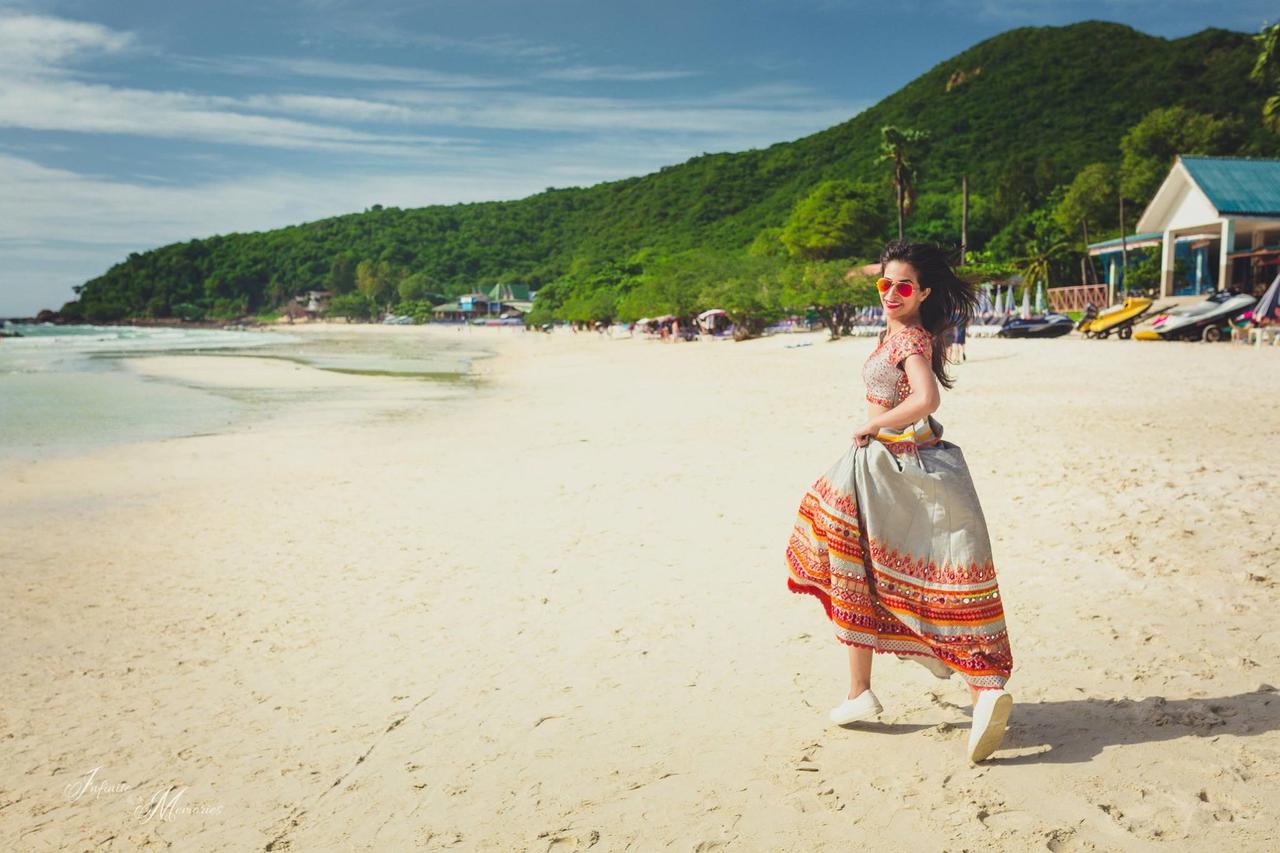 The ever-so-stylish and uber-comfortable sneakers are hands-down every Indian bride's go-to footwear. Thanks to Rhea Kapoor for flaunting them effortlessly with her slick designer lehenga choli during Sonam Kapoor's wedding ceremonies. Followed by Vaani Kapoor dancing her way in shoes and lehenga choli in the recent movie Befikre. The trend picked up well amongst the brides-to-be and there was no looking back.
Don't you want shoes which will make sure you rock the dance floor on your sangeet or wedding throughout the night, without having to worry about blisters the next day? We bet you won't regret wearing shoes and showering some love to your feet.
Style Tip: Go for shoes that reflect the glamour and uplift your bridal fashion. Look for gold or rose gold accents in platform style shoes to give you an accentuated height while balancing with a structured look for the D-Day.
2. Pumps for Days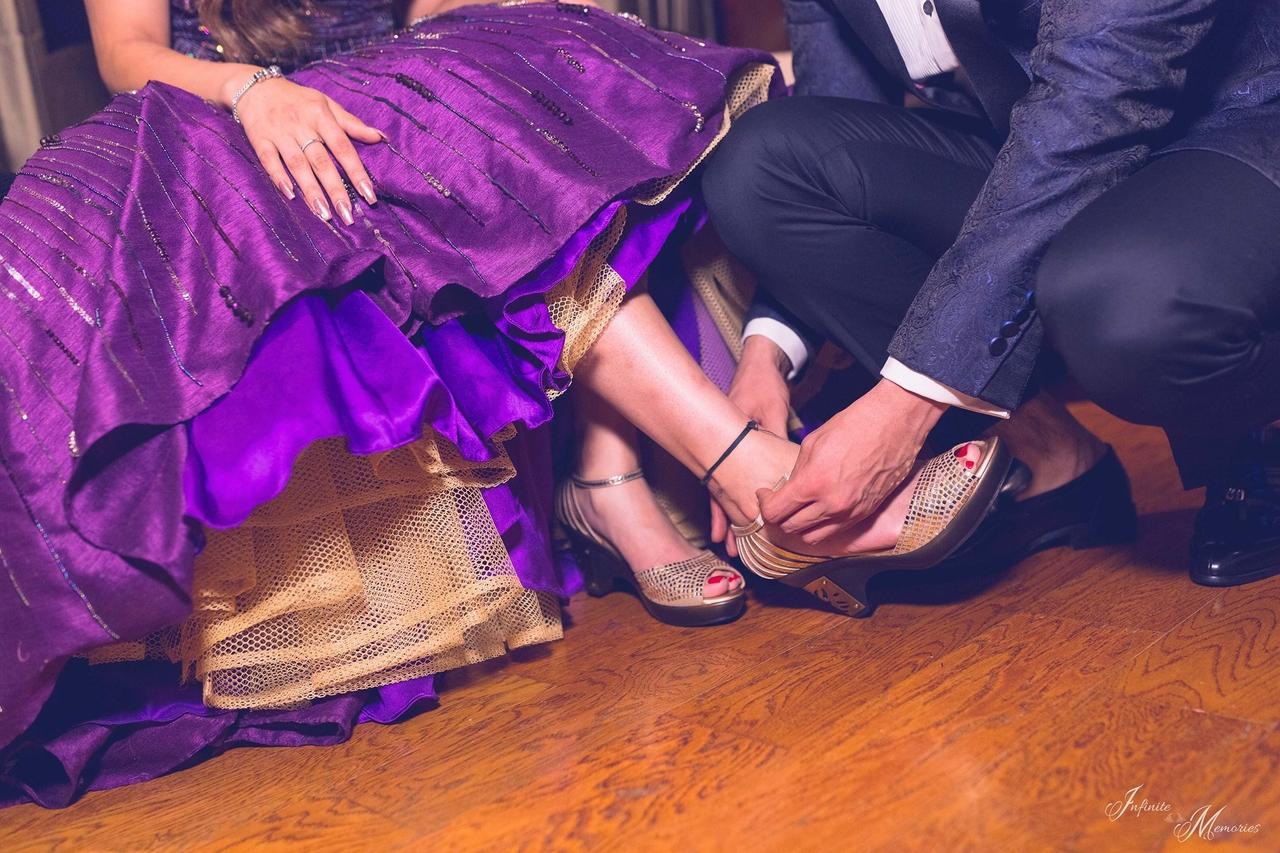 If there's one timeless footwear present in your wardrobe throughout your life, they got to be your pumps. Godsent bridal footwear in a humongous range of shades and textures, they offer the right amount of feminity and grace. The latest trends in bridal pumps are gold and silver based meshwork and matte look.
To further innovate your basic pump style, how about an ankle strap to give you the Disney princess look of your dreams? Impressionable heels featuring contemporary design templates are also in vogue this season. Here's a little more information on how to choose the perfect type of heels for your big day.
Style Tip: Ditch the basic pumps and invest in a flamboyant pair that adds a dash of glamour and elegance. Feathers, tassels, fur and pretty details on your bridal footwear will instantly amp up your look.
3. Traditional Mojris or Juttis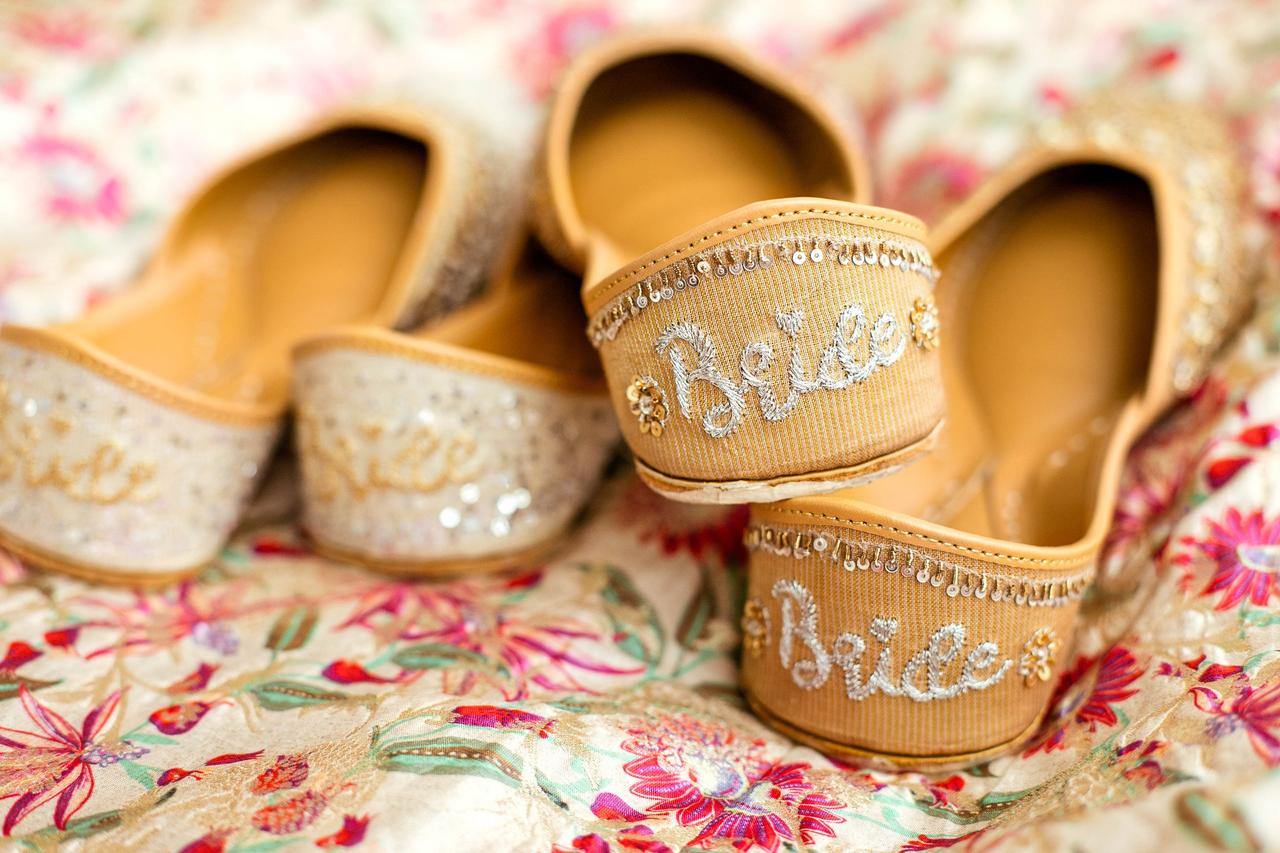 We all like to play with our traditional accessories and the quintessential Mojris or Juttis offer just that. They keep you grounded (quite literally) and allow you to run around in your lehenga oh-so-effortlessly (not that you have to). Bridal Juttis are one of the latest trends in bridal footwear, thank God for upcoming brands like Fizzy Goblet, The Needledust to disrupt the niche market for brides with their exotic offering.
Available in glitzy, quirky, pastel-esque, floral designs, brands also offer bespoke services so as to coordinate your attire with the footwear. Invest in classic Mojris, to use them long after the wedding is done and dusted. Mirror-work or embroidered or embellished with stones, Juttis that are earthy and solid-hued will be your favourite footwear forever.
Style Tip: Get your Juttis customised by getting them embroidered in your signature style. "Pataka Bride" or "Jugni" are some of the quirky templates you can emboss on the Juttis. You could also colour coordinate your outfit and Juttis using the fabric of your lehenga to customise them. Also, get your lehenga tailored w.r.t length beforehand for a hassle-free Jutti experience. Find the best vendors for your bridal lehenga ASAP and get to work.
4. Stalk them Blocks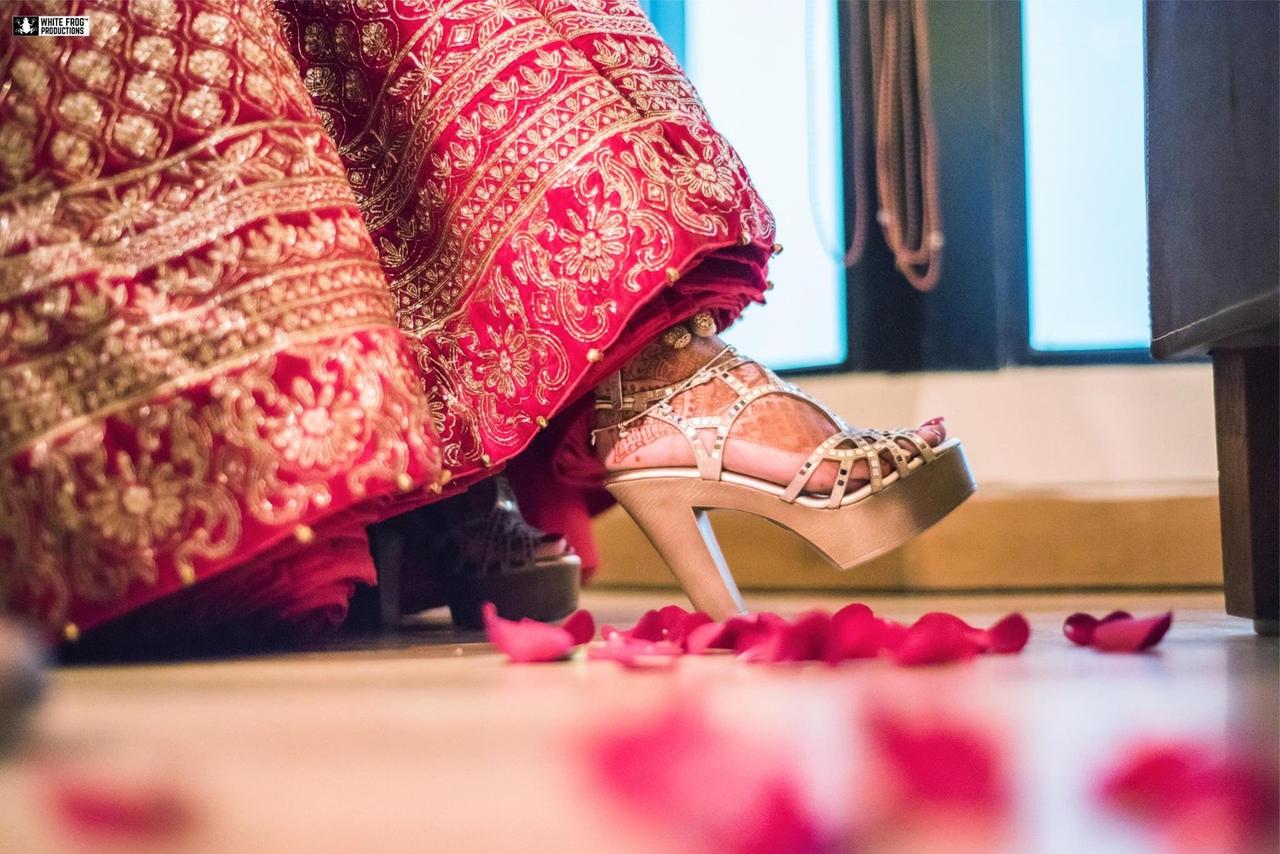 Ever since the 80's fashion and our mommy's wardrobe became a thing, block heels witnessed a major comeback and how. The current fashionistas are obsessing over block mules so much so that you can easily spot them on the streets. Bridal footwear and block heels are such an evergreen combination we can't get enough of.
First things first, the weight of your feet is evenly distributed that leverages your look and a never-ending collection of block heels for brides-to-be will de-clutter the chaos of choosing the best one. Still in doubt, just block it out!
Style Tip: Go for block heels with the additional support of straps on the ankle to offer you robust support and help you withstand the tumultuous wedding affair easily.
5. Classic Wedges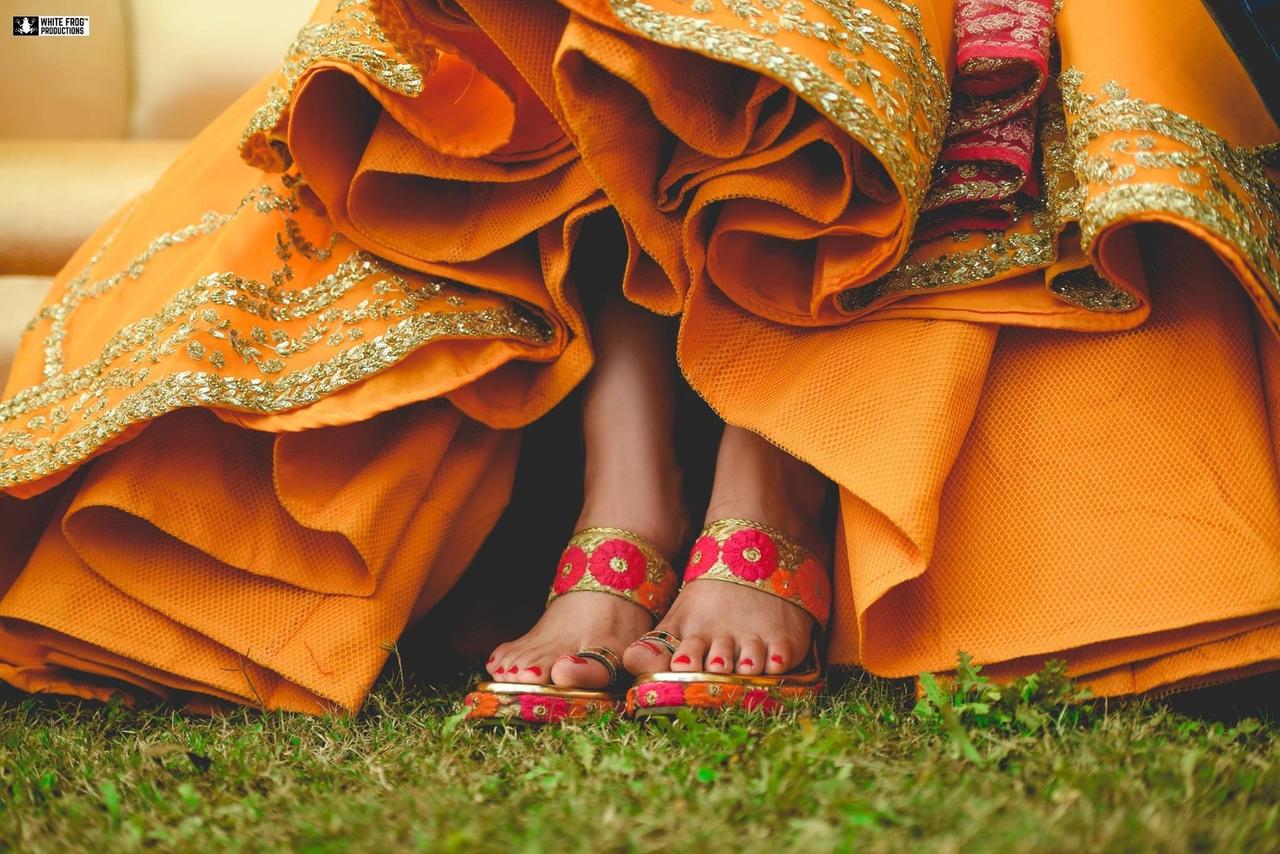 No matter what the trend reports say, or the fashionistas rage about, let's admit it, we have all seen our mothers wearing wedges and we always dreamt of wearing them too. So why think twice before hauling them up for your dreamy bridal footwear? Exclusive designer wedges are on the shelf of every top footwear brand offering you ultimate comfort and gorgeous designs.
Weddings can be tiresome and extremely exhausting for brides who have to stay upright and attend all the guests with a wide smile and aching feet for hours. We feel the pain, thus, comes in wedges for the rescue. Elevate your chic quotient with scintillating designer wedges.
Style Tip: Wedges come in a variety of styles, however, pick the ones that have a cushiony base or a thumb insertion. The latest trends hovering the wedges market has designs on the surface of heels for added glamour.
6. Strappy Affair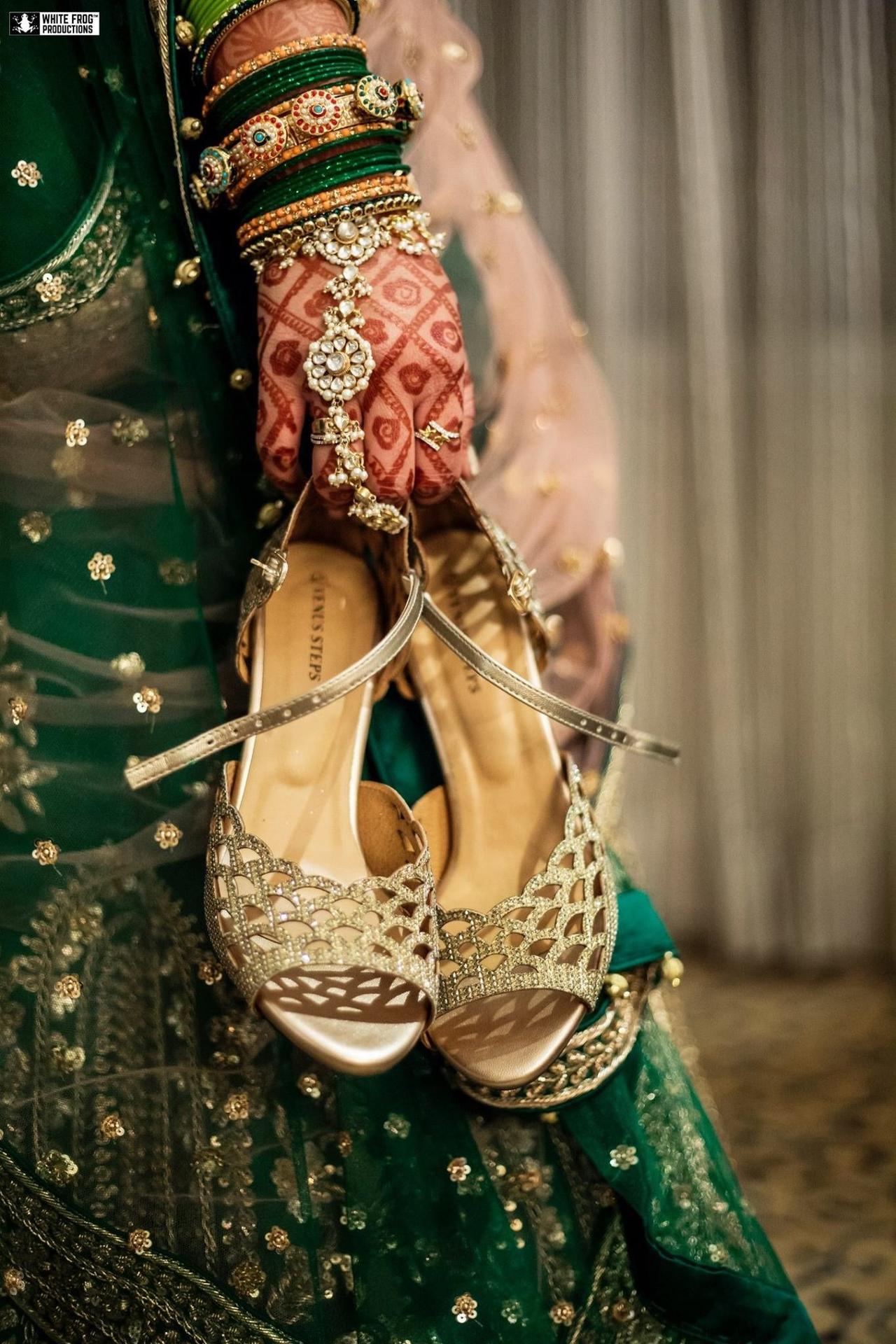 Bridal footwear trends are umpteen and no matter how beautiful they all look, they come with their share of painstaking problems. Not with the strappy heels or strappy pumps or strappy blocks, we bet you they are the real saviours. Straps not only grip your ankle well but also offer agile support to let you sway for hours or meet & greet on your toes all night long. Look for high-quality bridal footwear to nourish your feet and give them some love.
Style Tip: Get your straps customised and flaunt them at parties or receptions even after the wedding.
7. Belle Ballerinas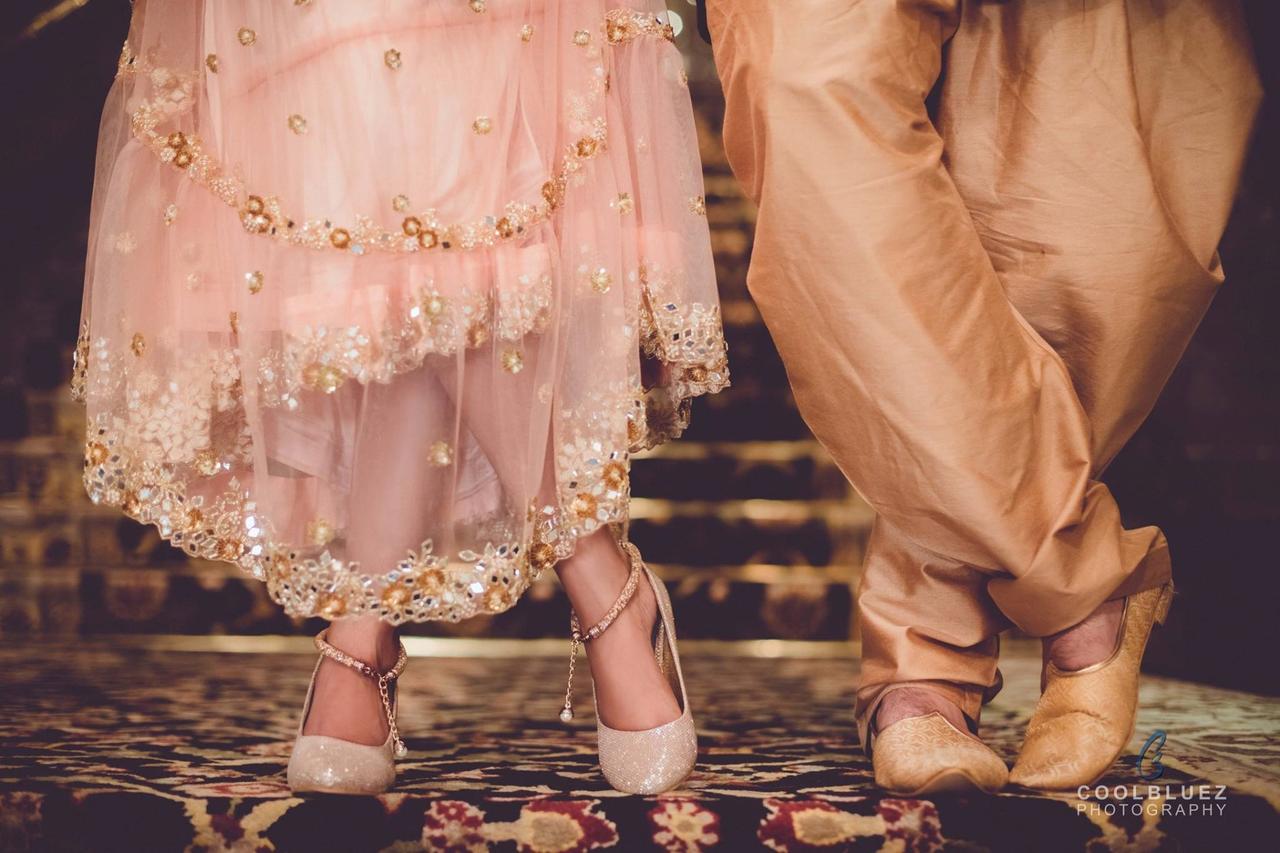 So French and so chic, ballerinas work brilliantly with ethnic ensembles and Indian brides are heavily investing in them, not just for fancy parties et al but formal or casual wear too. We won't be surprised if you have a stock of ballerinas in your closet. Mesh designer ballerinas or subtle embroidered ones will certainly add oomph to your look.
Style Tip: Go for ballerinas with details like an ankle strap or customise them with glitzy sequins or even studs.
Having learnt about the various trends and how to pull off your dreamy pair of bridal footwear on D-Day, which one truly made your heart skip a beat? We certainly are a big fan of traditional Mojris and Juttis making their way into the bridal market and brides-to-be are largely investing in this kind of comfortable footwear. Get them customised or look for classic pair, you cannot go wrong with them!
Tell us your favourite bridal footwear and which one would you invest in.