18 Bridal Jutti Online Stores To Get A Dainty Set of Haute Shoes
If you're looking for comfy fashion footwear, Jutti is the way to go. You say it seems too basic to be a part of your bridal trousseau? We say read on and prepared to be surprised.

Your feet will take quite a toll when you have to keep hopping from one wedding event to another in the seemingly endless saga that is your wedding. And you can't be wearing heels all day long for all your big and small events. And that's when a bridal Jutti will come to your rescue giving the perfect dose of bling while being easy on your feet.
You can pair them with your Mehndi lehenga or dance away in them at your Sangeet night. Juttis have got your back. The easiest way to get your hands on some of the trending designs is by ordering them online. So here, we explore all the online stores where you can find the perfect pair of bridal Jutti.
1. Needledust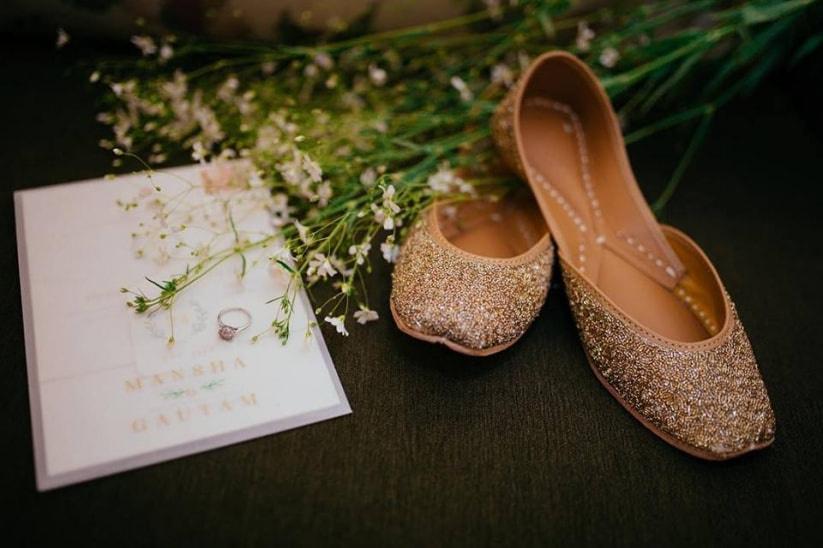 Photo Courtesy: NeedleDust
This Shahpur Jat store houses some of the trendiest bridal Jutti pairs. Their latest collection with Abu Jani Sandeep Khosla is exactly what every bride-to-be dreams of.
Starting Price: ₹ 2700
2. Fizzy goblet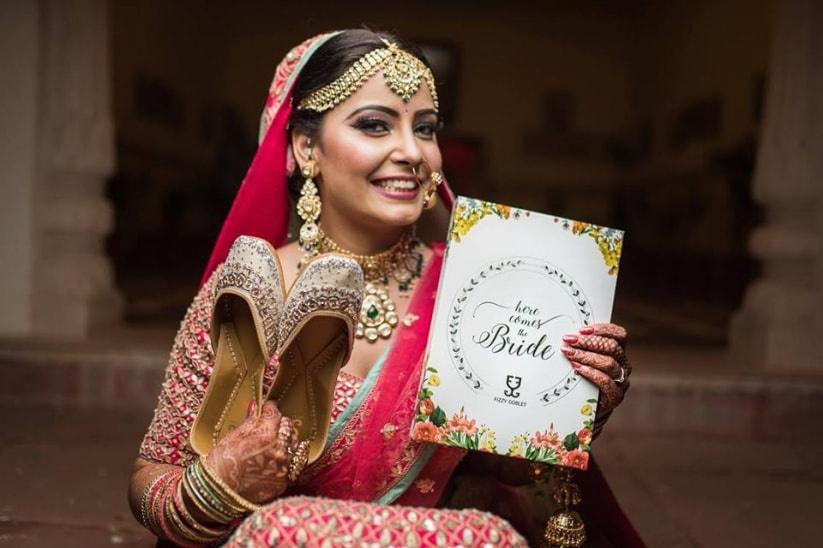 Photo Courtesy: Fizzy Goblet
This Noida-based online store offers special bridal boxes. These handcrafted designs traverse all sides bridal designs, apt for the minimalism lovers, the quirky ones, the traditionalist and Patakha bride. You can also find brogues, slip-ons, loafers and sneakers at their online store that match your style.
Starting Price: ₹ 2800
3. Vian Label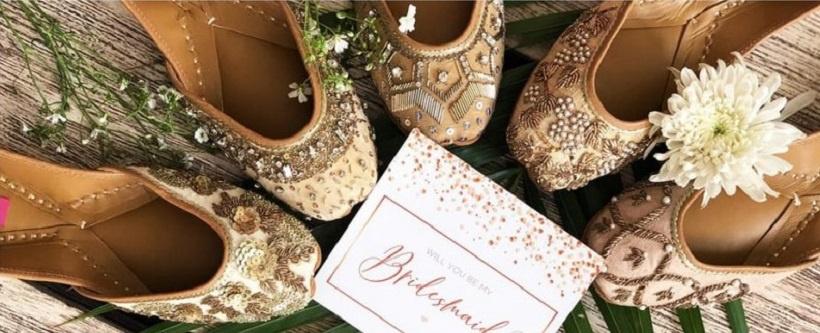 Photo Courtesy: Vian Label
The best part about getting your bridal Jutti from Vian Label is that you can also get a matching clutch along with it. Flaunt that amazing combo at your Sangeet ceremony or other pre-wedding events.
Starting Price: ₹ 2000
4. Purely Lush
Photo Courtesy: Purely Lush
Printed play on bridal Jutti never looked as amazing as it does on Purely Lush's online store. Carefully handpainted to look like masterpieces, you will find colours to easily match your bridal dresses.
Starting Price: ₹ 1200
5. Coral Haze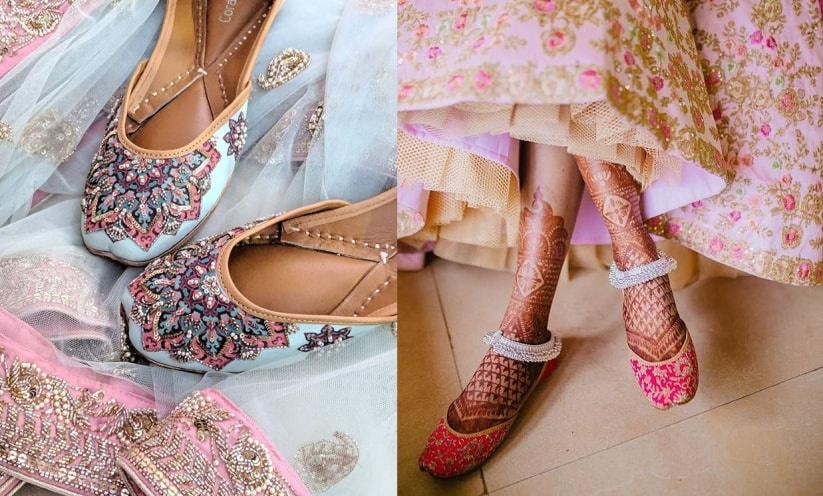 Photo Courtesy: Coral Haze
If you thought bridal Jutti designs couldn't be enchanting, you need to check out Coral Haze asap. Perfect for both the bride and her bridesmaids, you find all sorts of edgy designs at this online store.
Starting Price: ₹ 1500
6. Jutti Choo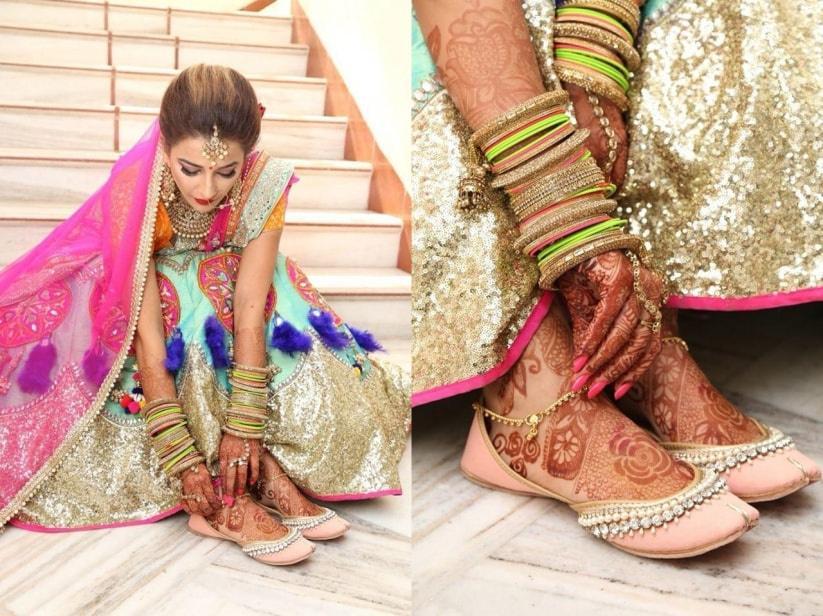 Photo Courtesy: Jutti Choo
Jutti Choo crafts bridal Jutti with embellishments that will floor you. They have all kind of millennial prints and designs, basically, something for every kind of bride.
Starting Price: ₹ 1775
7. Juttigram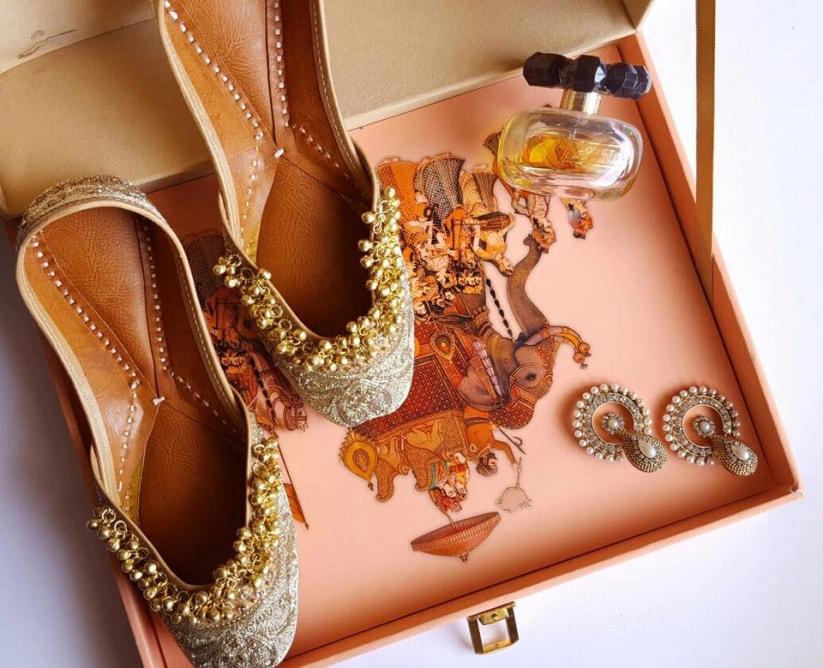 Photo Courtesy: Juttigram
Juttigram's whimsical bridal Jutti designs are what this online store is loved. One of their Juttis should definitely be a part of your bridal emergency kit in case your bridal heels leave you high and dry.
Starting Price: ₹ 1950
8. Pastels and Pop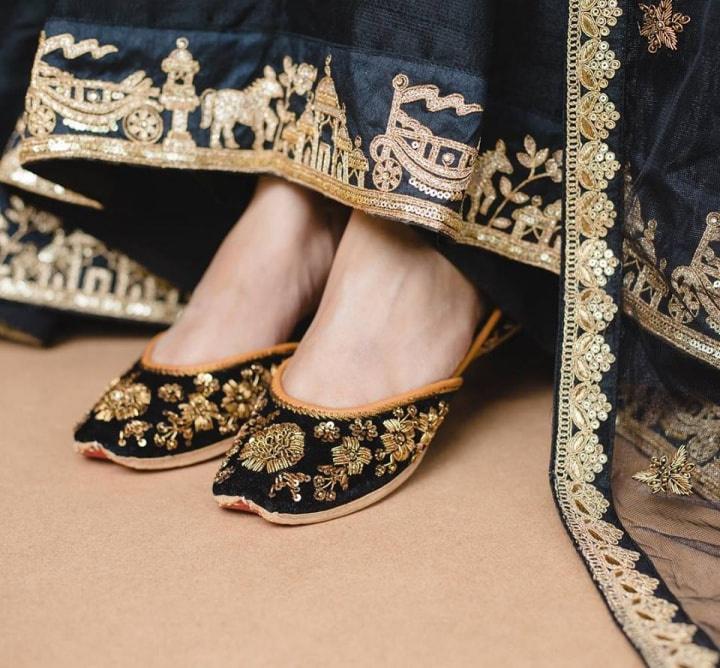 Photo Courtesy: Pastels and Pop
After you explore the range of bridal Juttis, you'd want to part with your bridal heels. They also offer men's Jutti, so you and your soon-to-be husband can get complementing pairs of footwear and flaunt the matching outfits head to toe.
Starting Price: ₹ 1800
9. Being Traditional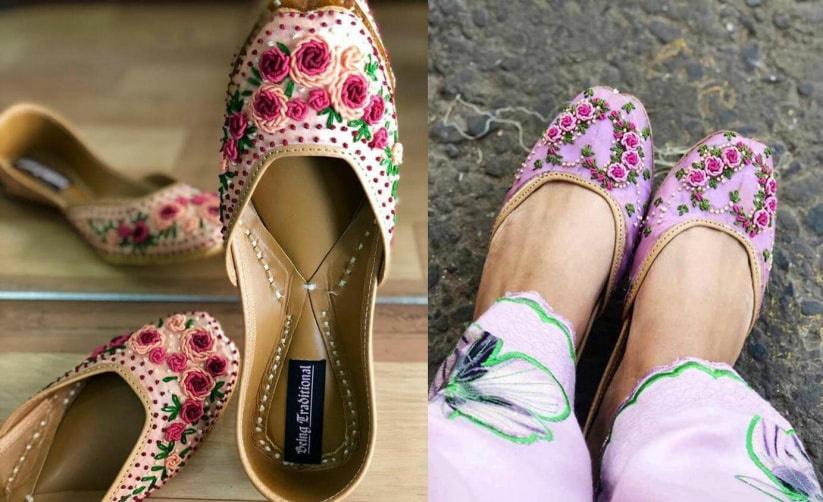 Photo Courtesy: Being Traditional
Want to make a style statement without the bling? Well, Being Traditional knows how to do just that with cool embroidery designs. They also offer matching clutches for some selected designs.
Starting Price: ₹ 1200
10. Peshkadmi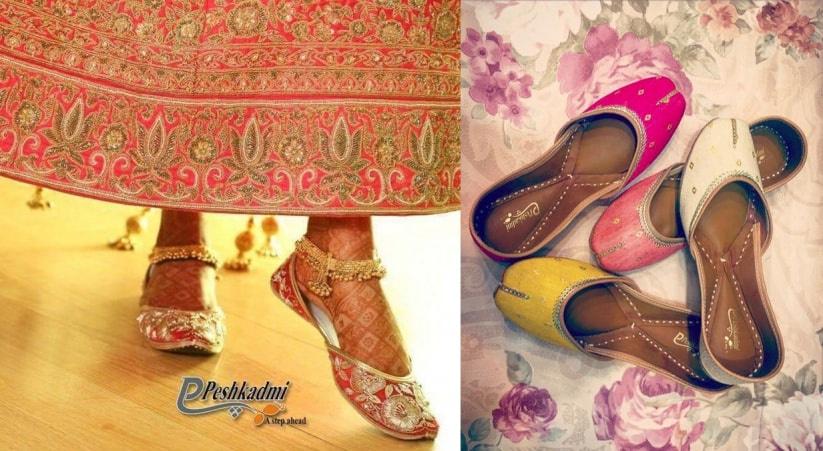 Photo Courtesy: Peshkadmi
Does a pair of bridal Juttis that match perfectly with your bridal lehenga sound too good to be true? Well, Peshkadmi makes it come true for you. Their Jutti designs in mettalic shades are the ones you should be hoarding, right about now!
Starting Price: on request
11. Rustic Tilla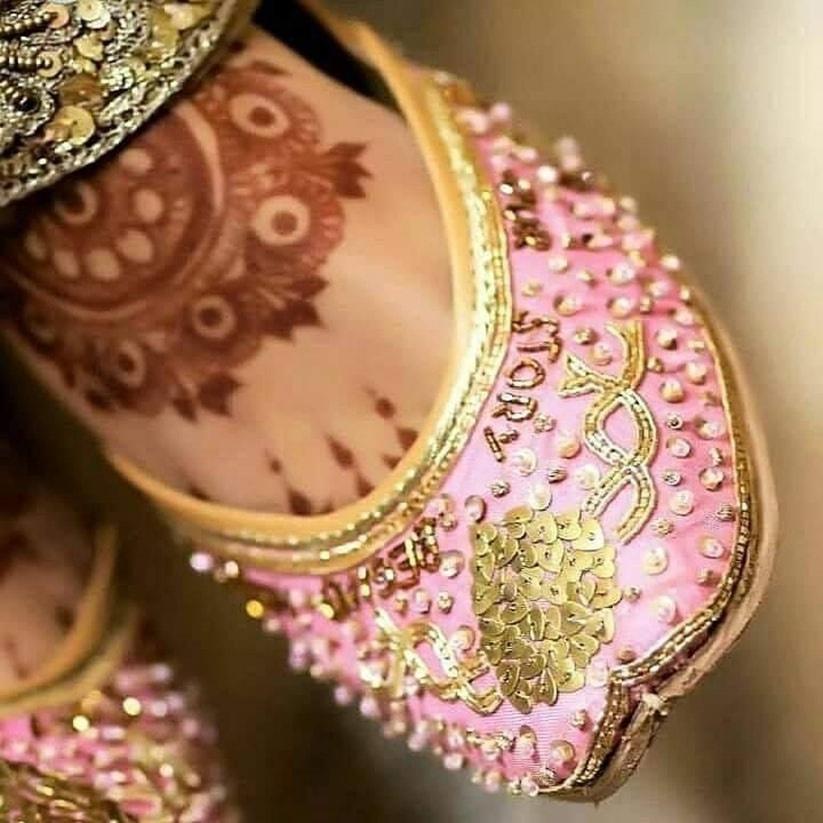 Photo Courtesy: Rustic Tilla
Reveal your millennial style with bridal Juttis from Rustic Tilla. Their embellished footwear is just what you and your bridesmaid need to rock that epic Sangeet dance performance.
Starting Price: ₹ 1400
12. Folkkari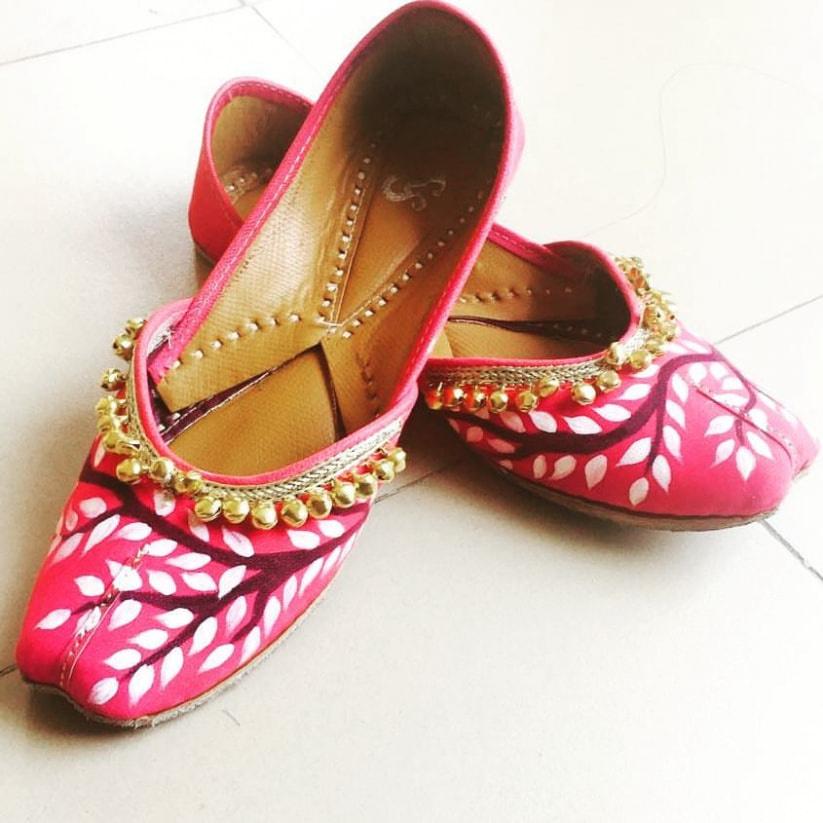 Photo Courtesy: Folkkari
Hand-painted design matched with comfortable Juttis is a match made in heaven. Don't believe us? Try Folkkari's Juttis for yourself and your opinion will surely change. Brwose their fulkari designs as well for that traditional galore.
Starting Price: on request
13. Mojari Flake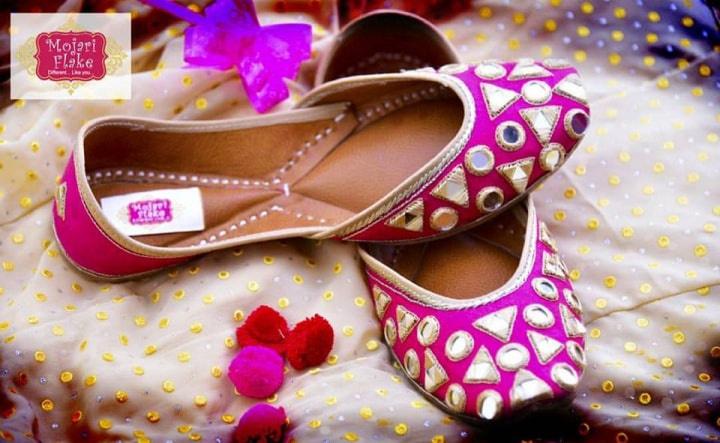 Photo Courtesy: Mojari Flake
Their special bridal Jutti collection is a treat for sore eyes. They know exactly how to balance bright colour and blingy embellishments to craft Juttis that will take your heart away. Don't say we didn't warn you.
Starting Price: ₹ 1690
14. Panache - An elite affair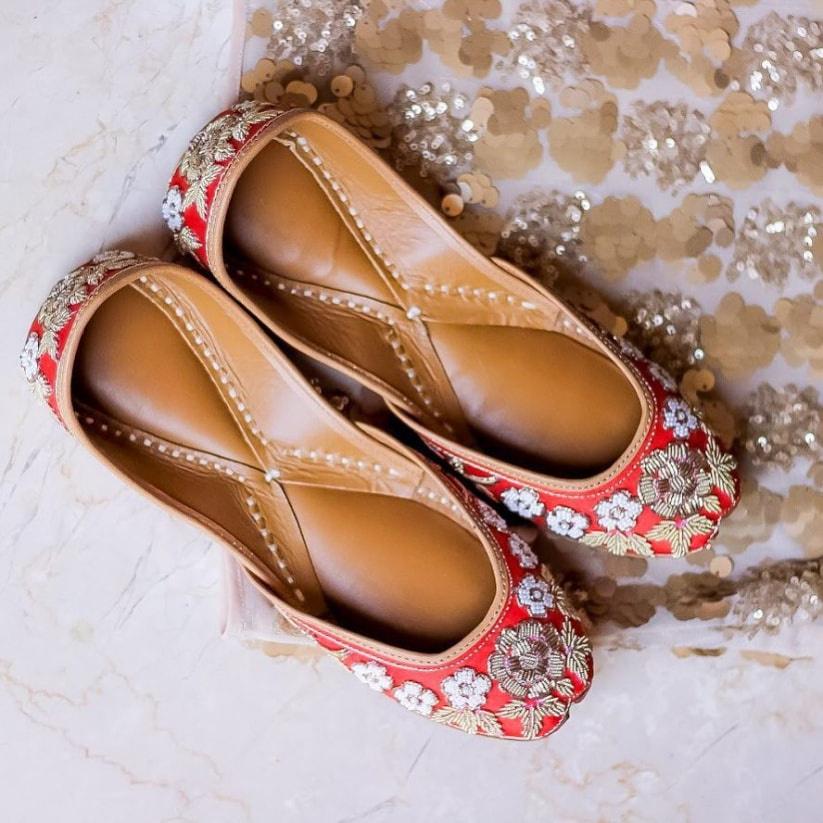 Photo Courtesy: Panache - An elite affair
If you're the kind of bride who likes to make a subtle statement, then Panache - An elite affair is your best bud when it comes to bridal Juttis. Traditional fabrics in unique designs is what we liked the most about this brand. They also have a Phulkari collection that is worth checking out.
Starting Price: ₹ 1200
15. Love for Jutti
Photo Courtesy: Love for Jutti
From funky owl designs to embellished black and golden ombre, they have all kinds of designs. If your wedding functions are too close to go for bridal shoe shopping, you can just order from Love for Jutti and be sorted.
Starting Price: ₹ 1399
16. Saya India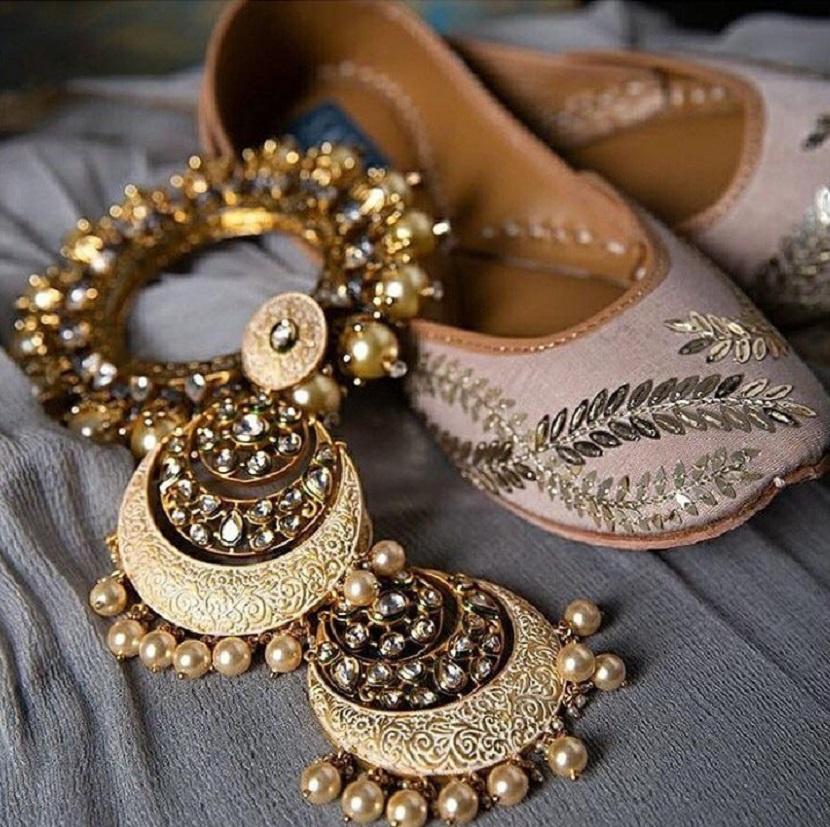 Image courtesy: Saya Creation on Instagram
Celebrating beauty through design,
art, quirk & lots of handcrafted juttis💫
Shop with Saya & contribute
towards a child's dream✨
DM to order💌wa.me/919205776278
https://www.instagram.com/saya.india/
17. All about sole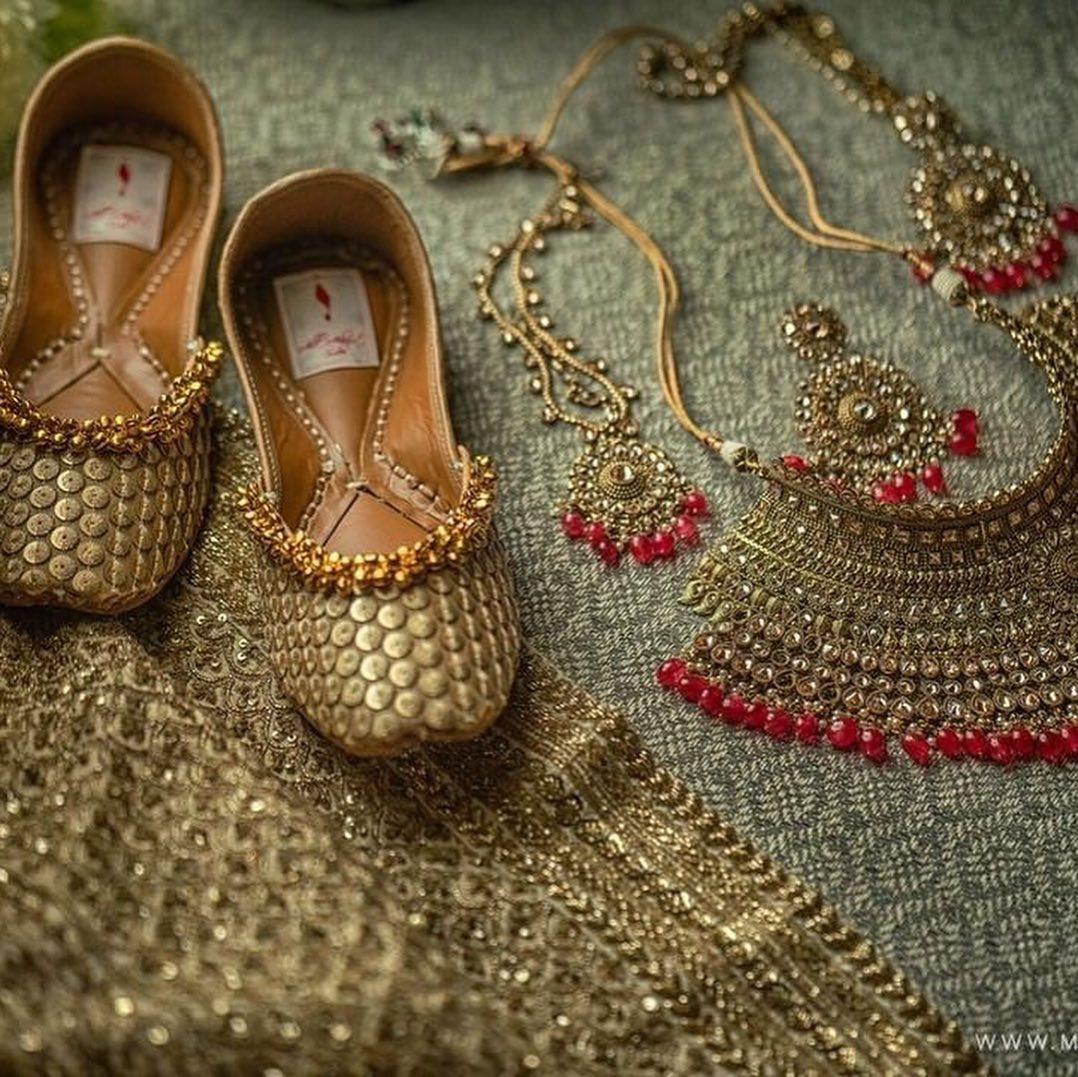 Premium and Imported Handcrafted leather Footwear.
Payment through COD/Bank Transfer/Tez/Paytm
https://www.instagram.com/all_about_sole/
18. It's Sugar Plum Official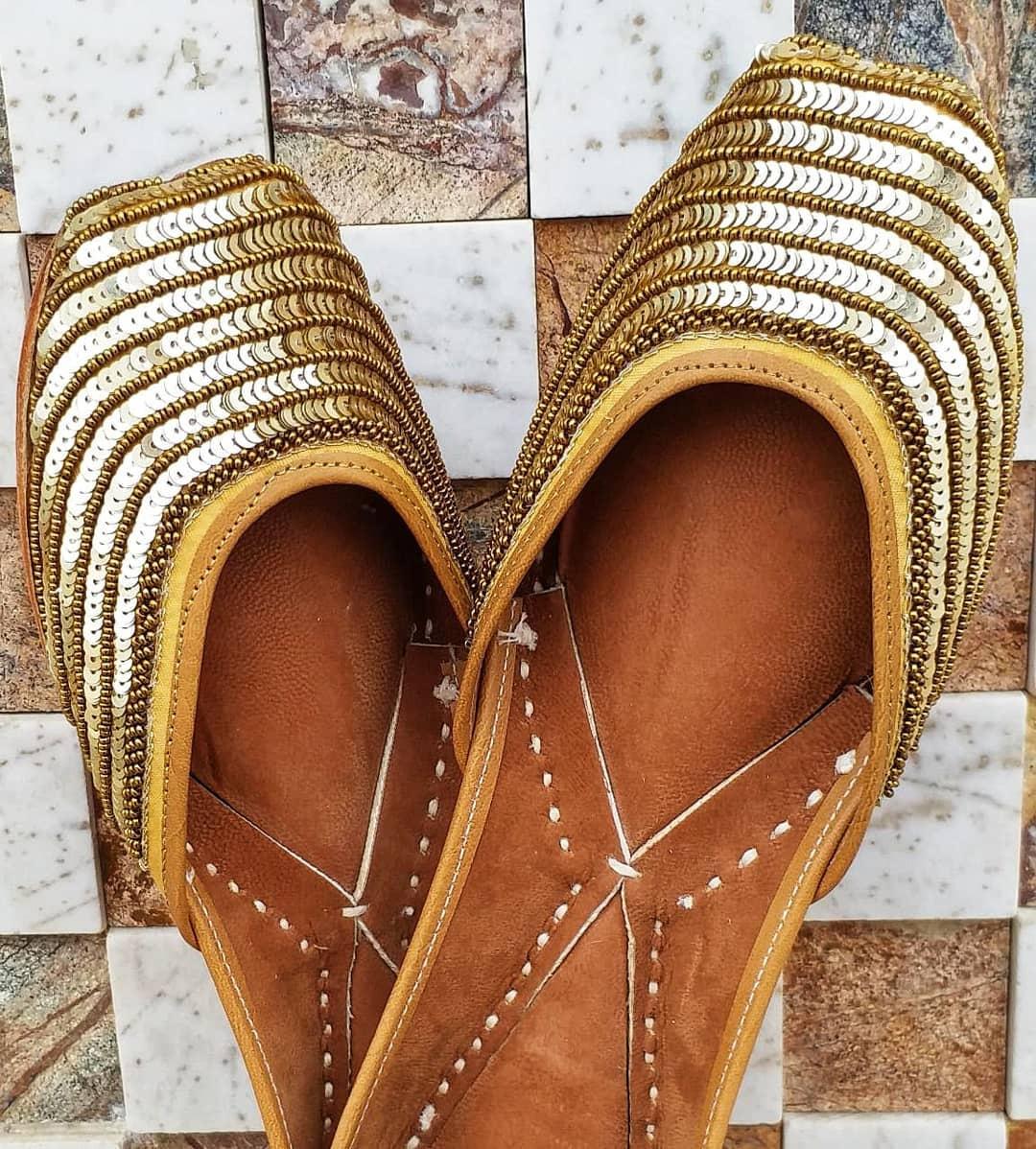 We're just finding new homes for our intricated, crafted and chosen juttis and imitation jewellery in an everyday runway of new hopes and designs.
https://www.instagram.com/itssugarplumofficial/
We can safely assume that we have given you all the inspiration you needed for your bridal Jutti hunt. Now all you have to do is hit the online stores that match your vibe and order the perfect pair for yourself. To avoid getting a nasty show bite from your new Juttis, oil the edges and keep it in the sun for a while. Since their base material is leather, it will expand due to the heat. Then all you have to do is bring them in and put them on so that they can contract and take the shape of your feet. Pretty handy, eh?
Do you have more online stores to add to our list or perhaps, some useful hack? Write to us in the comments below.