A Much-Needed Guide For Brides to Choose The Perfect Type of Heels
Can't wait to dance and celebrate your wedding with your friends and family? Well, you must know that your choice of heels plays an important role here too. Let's list down types of heels to choose from.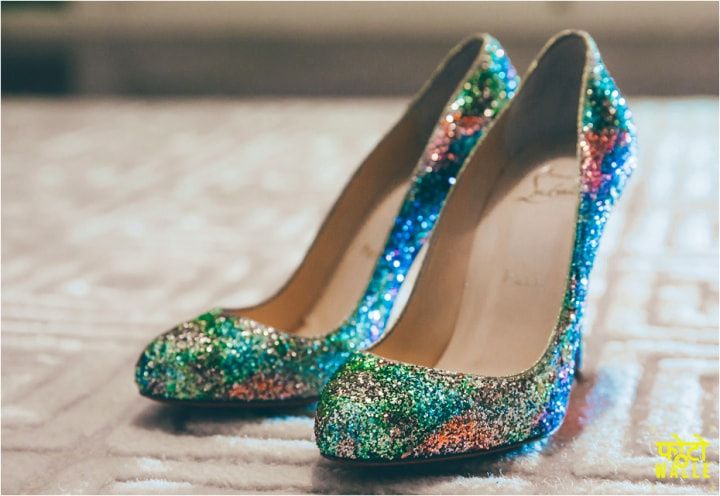 Picking the right shoe is just as important as picking the perfect outfit. A lot of your mood, energy and comfort on the wedding day depend on the type of heels you're wearing. All said and done, you definitely want to choose one that is trendy too. Have you ever sat down to analyse what all goes into making this decision right? Well, that's what we are here to do. Our guide will not just educate you about the different types of heels available in the market, but also help you decide which one is perfect for your big day.
1. Stiletto Heels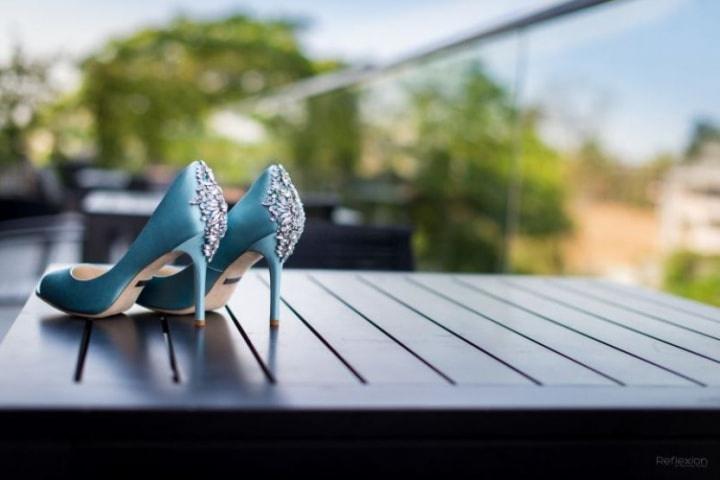 Image courtesy: Reflexion by Nishchay Shinde
Let's start the list with the mother of all heels. Stiletto is the most widely known, worn, and loved the type of heels. These classic pairs of heels is one that every bride needs to own. It is usually 4 to 6 inches elevated and closed at the front. Out of the million different designs available, a bride must choose one that not only complements her outfit but also adds the right pop of colour and design to her entire look. And well let's be honest, stilettos are not really the most comfortable type of heels that you will choose, but shoe inserts could definitely help you reduce the pressure on your toes and heels. The soft transparent silicon ones provide a lot of comfort for the bride to dance and move around freely.
2. Kitten Heels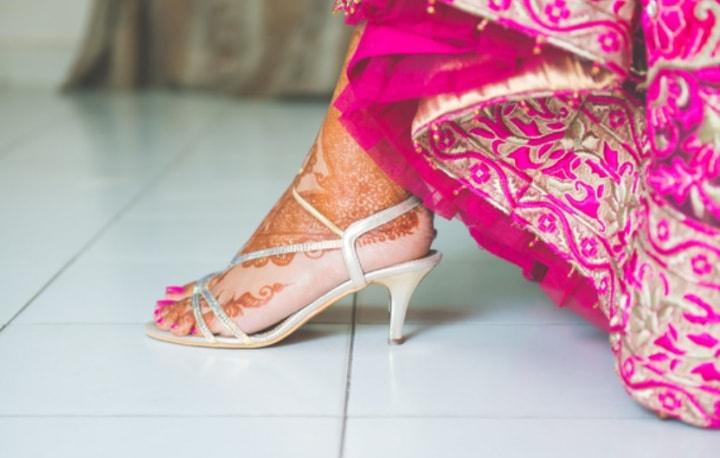 Image Courtesy: Taaniyah Seyth Photography
For the brides that are high on the comfort quotient when it comes to heels, kitten heels are a must buy as they balance your feet in a way that not much pressure is put on your heel and toes. Platform heels are a perfect choice for the Sangeet ceremony as well as it makes dancing with shoes on extremely comfortable.
3. Wedges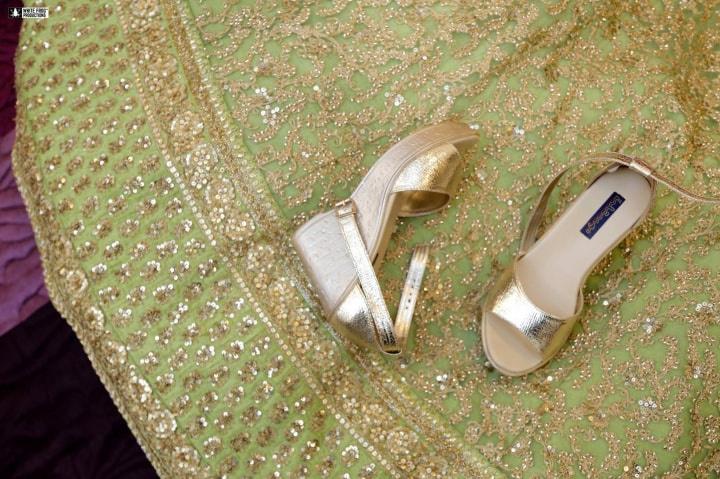 Wedges are another extremely comfortable type of heels that not only go with every type of outfit but also add a lot of glamour to them. They are elevated, but unlike other heels, the weight is equally distributed throughout and therefore makes you feel much more comfortable than wearing any other type of heels. Choose the ones that have a lot of embellishments and crystals as it will complete your look and also complement your outfit perfectly.
4. Pumps
Image Courtesy: JSK Photography
Pumps are another type of heels that are high and maybe a little uncomfortable as compared to wedges and Kitten heels. From the small functions to Sangeet and Reception, you can wear them with any outfit, and it looks great. Today's brides believe in choosing one that is flashy and hip as it adds a chic touch to the entire bridal look. If you are someone who gets blisters very easily, then taping your toes while wearing pumps work to avoid them.
5. Ankle Strap Heels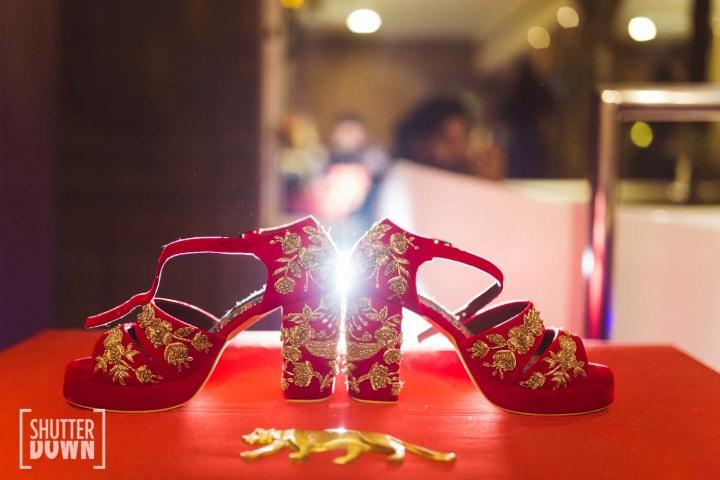 Although considered as a type of heel that goes best with office formal wear, this one can be chosen by brides who love the idea of having a secure pair of heels. The ankle strap not only makes it comfortable for you to move around but also makes you feel like you're feet are in control. Ankles strap helps avoid fumbling on the floor or any other kind of discomfort. Ankle strap heels come in a variety of designs and it also allows you to choose the heel height that you are comfortable with.
6. Block Heels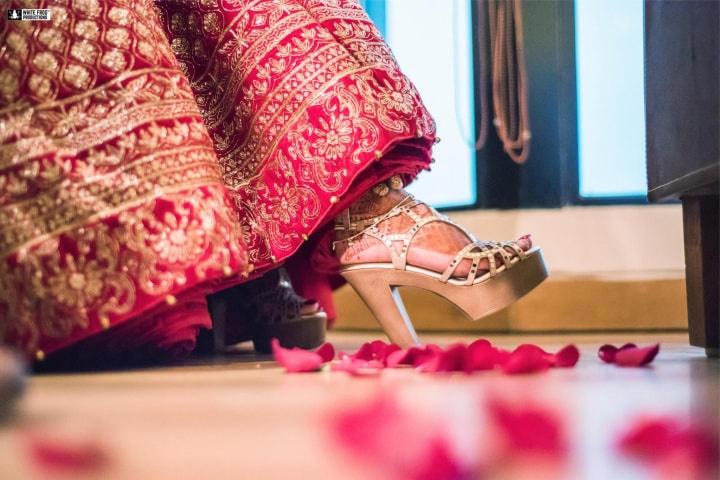 They are chunky and go beautifully with an indo-western outfit. Therefore they are a perfect fit for your Mehndi or Haldi functions. Block heels are a favourite of the brides of today as they have the ability to make any outfit look more hip and chic. Another huge benefit of these chunky type of heels is that although high, these heels are extremely comfortable to walk in because of its bulk that gives you a solid base to walk easily.
7. Peep Toes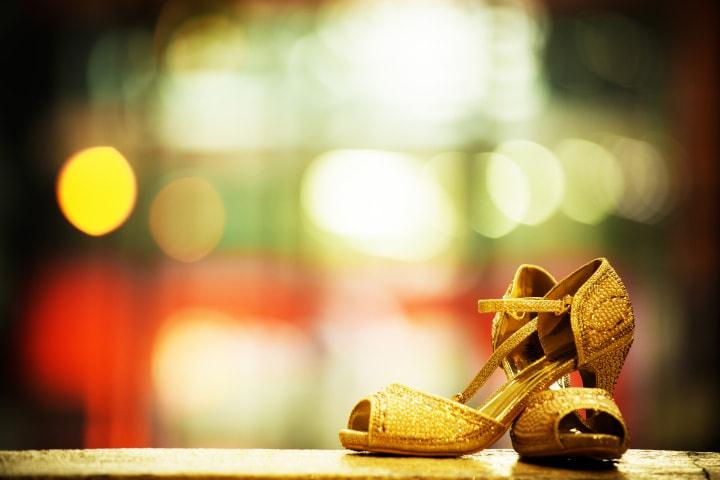 Peep Toes is known to be one of the sexiest types of heels as it is a slightly advanced version of the stilettos with an opening at the front, making the toes look like they are peeping. Now you know where its name came from? Peep Toes look amazing on any and every kind of bridal outfit. Brides planning to wear peep toes for their wedding functions must make sure that their nails are painted with a colour that pops out to add colour to their outfit and completed the entire look.
8. Platform Heels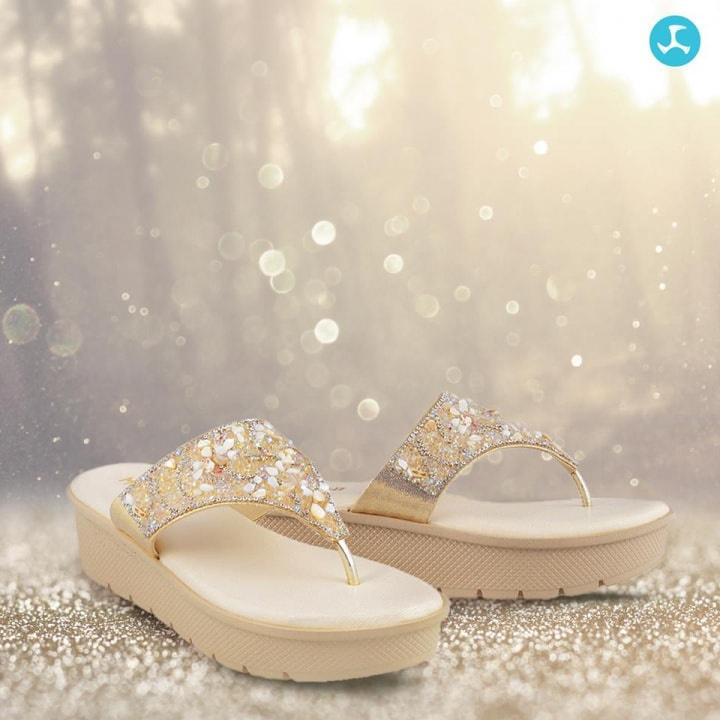 Image Courtesy: Mochi Shoes
With an additional base, these heels give you height with much less pain. They not just look chic but are also much easier to carry than most of your high heels. Platform heels are every bride's dream as they look amazing with your sarees and lehengas apart from being extremely comfortable. This is the type of heels that you wear in on your Reception or the Engagement ceremony as you have to be standing for a long duration and these are sure to not hurt your feet.
9. Sling Back Heels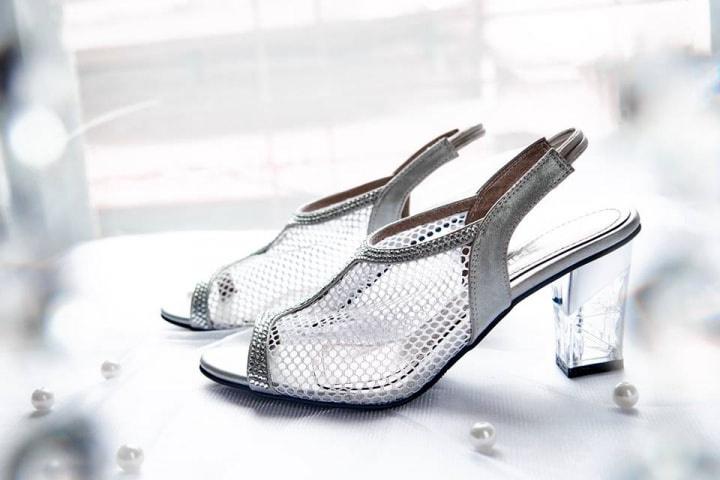 Image Courtesy: Mochi Shoes
Unlike ankle strap heels, the slingback heel just has a strap that goes around the back of the heel. Brides love the ankle strap heels as it provides a more elegant look while making their feet feel stable. These go very well with your cocktails gowns and are an appropriate buy for your Sangeet function.
10. Cone Heels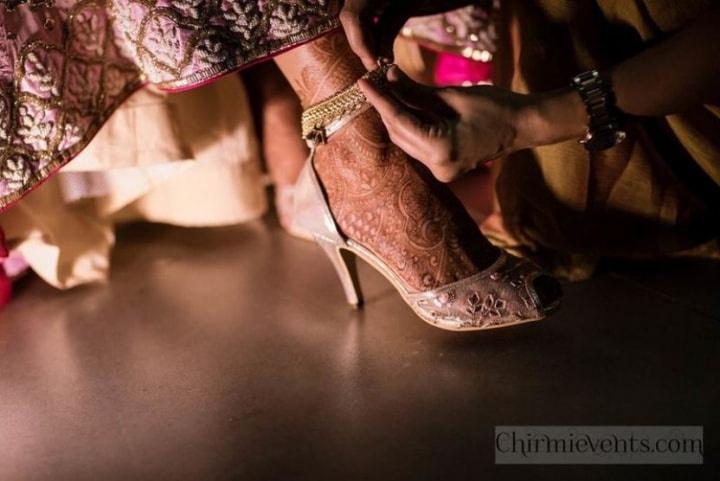 Image Courtesy: Chirmi Events
Brides love these types of heels as they are wider at the sole of the foot and narrower at the base. Cone heels form a cone so just picture an ice-cream cone on the bottom of your shoe and that is what this one exactly is. While these are extremely comfortable, they also make for a very stylish pair. These look good if paired with outfits that allow your heels to be shown. And therefore, match perfectly with your Dhotis and are a good option for your Mehndi function.
While the options surely are many, every bride must go with her own experiences of different types of heels before making this choice. We would just like to suggest that you keep alternating between different types of heels for different functions to ensure that you don't get any shoes bites or blisters. Rest as all brides know by now, that there isn't any gain without a little pain.
Are you obsessed with heels just like we are? Well, tell us in comments how many of these different types of heels have you tried until now? And which ones according to you are perfect for wedding functions.