Have you packed your bridal emergency kit? What emergency could you face at your own wedding, you ask? Well, picture this, you are standing on the reception stage all beautiful and poised when you realize that a strand of your curled hair refuses to stay in place. You have two options, you either spend the rest of the evening pulling back on your hair or take out a hairpin from your carefully packed wedding survival kit and put that stubborn strand in place.
A bridal emergency kit, or a wedding survival kit, is an absolute must for every bride. It contains a lot of small but significant things that help you enjoy your own wedding without letting anything come in your way. Make sure you have the following bunch of things in your bridal wedding kit.
Hair Pins and Safety Pins
Beautiful bridal hairstyles deserve to stay that way and so does your gorgeous bridal lehenga or saree. Always keep hairpins and safety pins handy so you can tuck in that hair strand or that peeking bra strap, keep the dupatta from falling or your hair bun from sagging.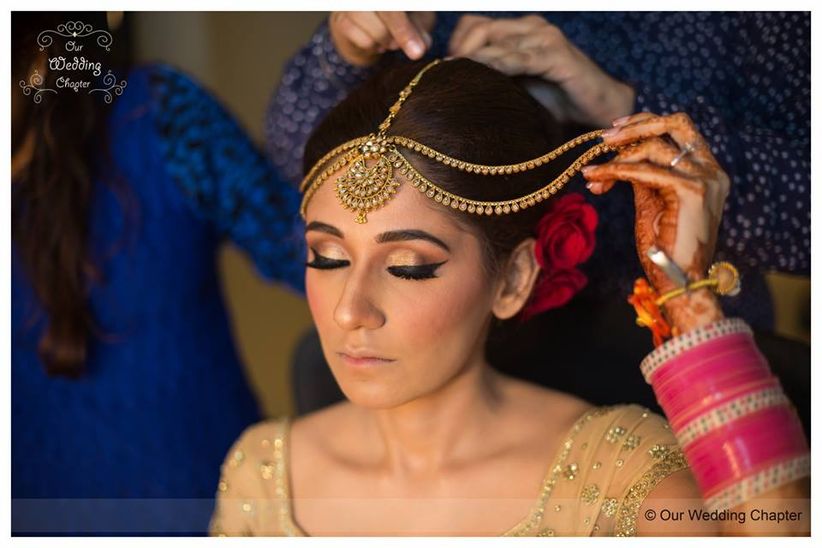 Tissues and Wet Wipes
All that makeup, dancing, butterflies in the stomach and the emotional moments call for tissues and wet wipes. You don't want your wedding-day makeup to run or even sport a sweaty and oily face. So keep them handy in your bridal emergency kit to keep your makeup in place and look fresh all the while.
Perfume
When you look as pretty and fresh as a flower, you ought to be as fragrant too. This becomes a necessity for brides who are having a summer wedding, or when you're planning to dance the night away.
Lipstick and Makeup Essentials
You will need to touch up your makeup from time to time if you want all the wedding pictures to be perfect. Eating, talking, sipping on your drink, laughing - everything will slowly wipe off that makeup and the only way to keep it in place is a touch-up.
An Extra Pair of Heels
Your beautiful bridal stilettoes may not be the most comfortable to be in; especially if you are dancing around. Also, no matter how great your heels are you just never know when they plan to give up and break. Don't be stranded barefoot and always plan and pack a second pair of footwear to your wedding survival kit.
Chocolate, Nuts, Energy Bar and Water
A lot of brides don't realize how hungry they are unless they are on the verge of starving. While we understand that with all that excitement you may not feel very hungry, but your body still needs the energy. Also, keep taking sips of water frequently so you don't dehydrate yourself. Munch on nuts or an energy bar if you feel your energy levels are sinking.
These were our top 6 must-haves for packing a bridal emergency kit. You can add more things like Band-Aids, sewing kit, hairbrush, mints – and anything else which you feel you could need. While here's hoping that you don't have to face a last minute 'emergency', if you do, your wedding survival kit should be able to take care of your requirements. Make it a versatile kit to suit your own needs.
Tell us what you are packing in your bridal emergency kit. Share your stories with the rest of us in the comments section.