It's true. The stress of a wedding planning experience can get to a bride-to-be especially when we consider her physical beauty. Her skin can get dull and dry; her hair may lose its sheen from running around for errands in harsh sunlight and then there are also chapped feet. So, what do we do next? Opt for pre-bridal packages at makeup salons to kick back and relax.
Makeup Salon as Saviours
Once upon a time, the bride-to-be was able to rely only on home treatments and the help of her friends and family. That's no longer the case. The brides-to-be need more tender love and care than possible with home cures. Many do not have the time to opt for the kind of skincare and treatment they need to get their kind of bridal glow. They are also well informed about the latest fashion and beauty trends and won't settle for anything but the best.
This is where makeup salons and skincare chains come in. Salons in India have tapped into this golden opportunity and offer a variety of pre-bridal packages to these brides. Whether you're a bride who wants to pamper herself or are a bride who is time-strapped - there's a bridal package for everyone.
Pre-Bridal Packages in India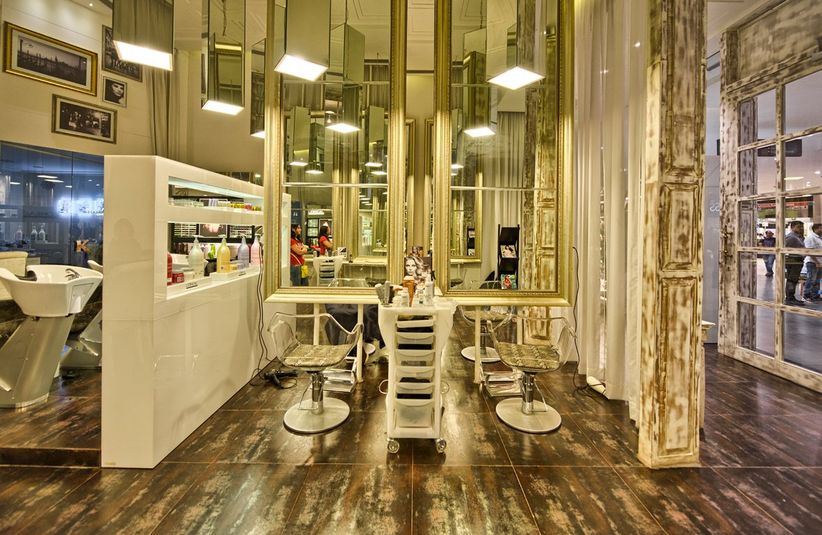 To find out about the different pre-bridal packages in India, we talked to many makeup salons which offer customised pre-bridal packages in India. Generally, these packages begin at least six months ahead of the wedding, though some brides-to-be start with their skincare treatments three months ahead of their D-day.
They offer specific skincare treatments, apart from general hygiene solutions. Here is what you can get from the following skincare chains:
1. Laser-based hair removal, facials:
We talked to Dr Hina Kukreja, Cosmetic Dermatologist at Zurie Aesthetics, Delhi about the kind of services they provide. "At Zurie Aesthetics, we custom design packages for the brides, according to their skin type and requirements. The most common skin care procedures that brides opt for are laser hair removal sessions of the face, bikini and underarms. This helps them achieve smooth hair-free skin. Another most requested service is the 'D Pigment Facial' which is a laser-based facial, using Q switched Nd Yag laser technology that targets pigmentation, fine lines and wrinkles. It also helps get rid of pores and skin texture and ensures a natural glow on your wedding day."
2. Facial Treatments:
Here, we are talking about treatments beyond simple facials, cleanups, scrubs and masks. "Most brides start their treatment at least 3-4 months prior to their wedding day, in order to target issues like acne scarring, hair reduction, weight reduction and hair rejuvenation. More often than not, brides approach us only weeks before their wedding, and we are happy to provide glow facials, peels and photo-facial treatments to the bride," adds Dr. Hina.
3. Customised Pre-Bridal Packages:
Like Zurie, another skincare chain which offers a barrage of pre-bridal packages is VLCC India. They do this with 4 customised pre-bridal packages with the choicest of services - The Au Natural Bride, The Silver Splendour Bride, The Dazzling Gold Bride and The Exotic Diamond Bride.
"These packages include one session each of a facial, waxing, manicure, pedicure, skin re-surfacer, threading, bleach, body glow service and a hair makeover with our senior stylist, along with a deep-conditioning hair spa. These pre-bridal packages start at Rs. 6,999 + taxes onwards, and can be taken in multiple settings, based on the time the bride has in hand. We recommend one in every 15 days with a minimum of 4 sessions to achieve the perfect bridal glow," shares Supriya Agarwal, Manager- Beauty & Dermatology, VLCC.
4. Bridal Makeup:
You can also opt for just a bridal makeup sitting (for the wedding day, other functions et al). These are available with most salons - from VLCC to Lakme, Casmara to Geetanjali.
"We have different types of bridal makeup options available at our centres ranging from hand-crafted makeup to hi-definition airbrush makeup. These make-up variants can be executed by different levels of experts starting from centre artists, zonal artists to corporate artists who are experts of national fame. Bridal makeup starts at Rs. 6,999 and can go up to Rs. 29,999," adds Supriya from VLCC India.
Ideally, a bridal makeup takes about 2.5 hours. All skincare and grooming regimes usually vary from 45 minutes to 1.5 hours. Some of these regimes can be done in parallel.
How to Choose A Pre-Bridal Makeup Package
Before you choose to glance through pre-bridal makeup packages that are available, keep these pointers in mind:
Always opt for a salon recommended by a friend or a family member.
Try looking at different bridal images to understand what their makeup artists have to offer. If possible, request for a trial makeup session.
Keep your eyes open - especially about the hygiene level of the salon.
Look at the cost compared to the services provided.
Finally, a word of advice. "We do not recommend taking any skin care treatments or grooming services on the Wedding day. All pre-bridal services should ideally be completed 3-4 days prior to the wedding day; especially manicure and pedicure, since Mehndi is an integral part of all weddings," concludes Supriya.
Now that you know the different bridal services or procedures a bride can get, choose the perfect package and look your best. Check out our list of bridal makeup salons here.