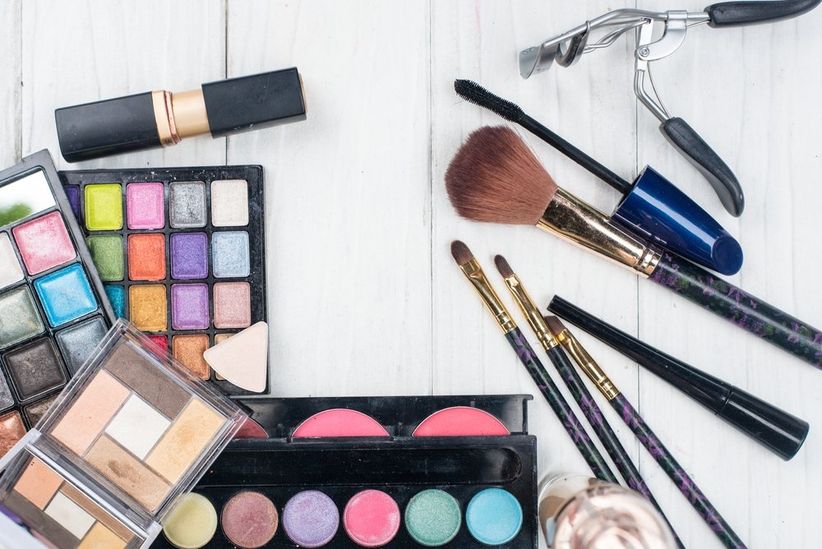 The countdowns have begun and as a bride-to-be, you will soon attend several lunches, dinners, Daawats and what not. You definitely can't hire a makeup artist for all of them. Therefore, it's time to become your own MUA! Trust us - it's the best part of the wedding. It's time to prepare a personalised bridal makeup kit that will help you slay like a million bucks! What all should your makeup kit have, you might ask? This is why we got onboard with the experts to get you an exhaustive list. Celebrated makeup artist, Pooja Sethi recommends you purchase and pack this complete beauty checklist so that you don't end up skipping any of your essentials. You can thank us later. Wink wink!
Working on your face
The magic begins with the products you should stock for your face. Remember, these items are some of the most important items in your bridal makeup kit.
1. Primer
A primer keeps your makeup fresh for photos, from the minute you walk into the event, all the way through to the after-party. It also forms a base for your foundation and makeup, hiding the pores from view and reducing fine lines. The right primer will also regulate dry and oily skin. So don't skip this primary and essential step. "The POREfessional Face Primer by Benefit and Hangover by Too Faced are my favourite products. Also, for very dry skin, I love to include Indulge oil as a part of priming the face" shares Pooja.
Here are some more recommendations for primers:
Clinique Super primer Face Primer
Mac Prep+Prime Face Protect
NYX Studio Perfect Photo-Loving Primer
2. Foundation
Applied next, the foundation is used to give your skin an even tone and coverage. Choose the right foundation as it will impart a natural look. You could always test a matching shade by applying a streak to the side of your jawline, down to the neck.
Here are some of the recommendation for foundations:
NARS Foundation (Pooja Sethi Recommends)
Makeup Forever HD Foundation (Pooja Sethi Recommends)
MAC Studio Sculpt foundation
Maybelline Dream Liquid Mousse Foundation
Estee Lauder Double Wear Foundation
Mac MatchMaster Foundation
L'Oreal Paris Infallible Lasting Perfecting Foundation
Kryolan TV Paint Stick
3. Contour
A contoured look provides definition to your facial features, enhancing your nose and cheekbones. It leaves you with a sculpted look for your day ahead. For newbies to the technique and style, we recommend buying a small contour palette and ample practice beforehand. Pooja reveals that she uses Hoola by Benefit on brides to achieve the best effect.
Here are some more recommendations for contour:
Makeup Revolution Pro Highlighter - Illuminate
LA Girl Pro Contour Cream - Deep
Maybelline New York V-Face Duo Stick
Odbo Bronzing Powder
Nicka K Duo Contour
NYX Professional Makeup Cream Highlight & Contour Palette
4. Concealer
Not all of us are graced with absolute, blemish-free skin. And then, pollution, pimples, outbreaks and stress also leave their mark on our faces. In such a case, what do you need? The right concealers to turn into a saviour for your look.
In fact, with the right makeup application technique, you can brighten your undereye area and look fresh all day long. You could also opt for the appropriate colour correctors to hide your dark circles and other blemishes. NARS concealers are quite popular among millennial brides and Pooja Sethi backs that opinion.
Here are some recommendations for concealers:
Mac Pro Long-wear Concealer
Mac Studio Finish SPF35 Concealer
LA Girl Pro Conceal HD (Pooja Sethi Recommends)
5. Highlighter
You know you'd be wearing such heavy suits or lehengas, fancy ghararas and elegant shararas one day after the other. Keep your pace with the beauty of this attire by acing your makeup game. And this happens by adding a shimmery highlight to your naturally glowing features. Enter highlighters.
Highlighter pigments attract light, leading to a brighter, lit-from-within look for your features. You apply it over your foundation and before using the concealer to enhance the features which are naturally lit up by the sun - above your eyebrows, brow bone, cheekbones and the bow of the lip.
Here are some recommendations for highlighters:
Amrezy by Anastasia (Pooja Sethi Recommends)
MAC Mineralize Skin Finish
The Balm Mary-Lou Manizer Highlighter
Lakme Absolute Illuminating Blush, Shimmer Brick
Bobbi Brown Highlighting Powder
MAC Prep+Prime Highlighter
Lakme Absolute Highlighter
6. Bronzer
A Bronzer is used to emulate a sun-kissed glow and adds a subtle warmth to your face. Keep this for night-time parties and the umpteen dinners you would attend after marriage.
The best way to quickly apply a bronzer is by making a fish face. This way you would be able to apply it perfectly to your cheekbones.
Here are some recommendations for bronzers:
Lakme Absolute Sunkissed Bronzer
Oriflame Giordani Gold Bronzing Face Pearls
Mac Refined Golden Bronzing Powder (Pooja Sethi Recommends)
7. Blush
You may or may not be born with a chiselled face. However, the right makeup magic will ensure that you can carry this look with ease. This happens with the upward sweeps of the blush alongside your cheekbones and your temple.
Remember the duck-faced pout as you apply it alongside your cheekbones (suck in your cheeks to locate them). Dab a little to your temples and a little colour to them. Pooja recommends MAC as it has a great range to offer.
Here are some recommendations for blush:
NYX Mocha
Mac Earth to Earth
Mac Gleeful
8. Compact
After you're done with all that hard work, your makeup needs to be set in place. A compact (preferably a powder formation) is the handy product which helps you ace your makeup game.
So, how do you work this piece in? You find a shade that matches your skin tone and apply it all over the face with a brush or sponge applicator. Dab it lightly and don't overdo it. Though, our expert Pooja personally prefers using loose powder over compact. So once you master the game, you can go for loose powder as well.
Here are some recommendations for compact:
The Body Shop Extra Virgin Minerals Compact
MUA Pro-Base Matte Satin Pressed Powder
Mac Prep+Prime
BB Beauty Balm Compact SPF 30
Lips
Curiously, this is one of your face's core focal areas, right alongside your eyes. Keep these essentials in your bridal makeup kit to make your lips stand out.
9. Lip balm
Ever wondered why this small piece remains a part of all lip care routines? It's because a lip balm allows you to moisturise the delicate skin of your lips and safeguard it from chapping, cracking or drying under the onslaught of different makeup products. So, any work on the lips begins with a rich layer of the humble lip balm. You can even use drugstore lip balms; Nivea her Pooja's go-to, she reveals.
Here are some balm recommendations:
L'Occtaine Ultra Rich Shea Butter Lip Balm
Forest Essentials Luscious Lip Balm Kokum Butter and Honey
The Body Shop Born Lippy Pot Lip Balm
10. Lip liner
Have the right shade for your lips? Hold it there. A good lipstick is incomplete without a matching lip liner, which would prevent it from bleeding out. Using a lip liner prolongs the wear for any lip colour. It also prevents the lip colour from feathering, giving a fuller look to the lips. And when an expert like Pooja Sethi says that Kiko has a great range of both lip liners and lipsticks for Indian brides to wear, we gotta hoard some!
Here are some lip liner recommendations:
Colorbar Definer Lip Liners
Maybelline Colorsensational Lip Liners
Chambor Velvette Touch Lip Liner Pencils
11. Lipsticks
Of course! Add colour to your lips using your favourite lipsticks in matte, glitter or creme. However, do give a thought to matching (or contrasting) the lipstick with your outfit or even the embroidery on it. In fact, if you're able to work with the last suggestion, you will ensure a subtle, yet gorgeous look.
When choosing your lipsticks, go wild with your choices in lip shades. However, try and close down a lipstick brand that works best with your skin. Here are some brand suggestions:
Mac Retro Matte Lipstick Rooby Woo
Mac Satin Lipstick Retro
Chambor powder matte lipstick Rubis Rouge
Light up your Eyes
Your eyes speak volumes. So, give them character by using the following products right out of your makeup kit. In Pooja's experience, MAC and Inglot have quite an expansive range of quality eye makeup that she loves using on real brides to give them some of their best looks.
12. Eye Primer
Using a primer should be your first step to set that bridal eye makeup in place. This nifty cream can prevent your concealer and eyeshadow from creasing and make it last longer.
Here are our recommendations for eye primers:
Revlon Photo ready eye primer+ brightener
Urban Decay Eyeshadow Primer Potion
Faces Metaliglow Eye Primer
13. Eyeliners
Eye makeup is just incomplete without eyeliners. Keep different shades handy to create a dramatic effect. And for application, you could choose the style which best reflects your look - be it the dramatic cat eye, the subtle inner eye line or the winged eyeliner effect.
Here are our recommendations for eyeliners:
Essence eyebrow stylist set
Sleek eyebrow stylist
Revlon Brow Fantasy Pencil and Gel
Rimmel London Professional eyebrow pencil
Lakme eyebrow pencil
Maybelline Define a brow eyebrow pencil
MAC brow set clear
L'oreal Brow Stylist Sculptor
14. Eyeshadow
Eyeshadow makes your eyes stand out. Create drama with a darker shade at the outer corner of the eye and a light colour in the middle. This can enhance even your simplest attire and outfits.
For eyeshadow, invest in a basic makeup kit and ample practice ahead of different eyeshadow shades to get that bold look and make your eyes stand out.
Here are our recommendations for eyeshadows:
Clinique All About Shadow Quad
LA Girl Inspiring Eyeshadow Tin
Freedom Pro 12 - Audacious Mattes
15. Eyebrow pencil
Often, many Indian girls wonder why they would need an eyebrow pencil, considering that they are often blessed with a strong set of twin arches. Still, invest in one. Eyebrow pencils define your brows in a precise and controlled manner, adding colour only to the desired areas.
Here are our recommendations for eyebrow pencils
Essence eyebrow stylist set
Sleek eyebrow stylist
Revlon Brow Fantasy Pencil and Gel
Rimmel London Professional eyebrow pencil
Lakme eyebrow pencil
Maybelline Define a brow eyebrow pencil
MAC brow set clear
L'oreal Brow Stylist Sculptor
16. Kajal
Add a refined charm to your eyes with the swipe of this organic outline, the humble Kajal or Kohl stick. Made of charcoal residue, these are also soothing to the eyes, protecting them from infections.
You can add your swipe either on or directly below the waterline, to give your eyes the look you're hoping for. Here are our recommendations for Kajal:
L'Oreal Paris Kajal Magique
M.A.C Modern Twist Kajal Liner
Plum Natur Studio All-Day-Wear Kohl Kajal
Lakme Eyeconic Kajal
Maybelline New York Colossal Kajal Super Black
Lotus Herbals Ecostay Creme Kohl Intense Kajal
Bobbi Brown Long-Wear Eye Pencil
Inglot Kohl Pencil
17. Eyelash Curler
An eyelash curler, add to the drama element for your eyes, by adding the right frame to bigger and brighter eyes. Regular use of the product can also help in lengthening the lashes.
Use your curler ahead of the mascara, so that you can cover the entire length of your lashes with it.
Here are our recommendations for eyelash curlers:
Konad Eyelash Curler
Faces Canada Eyelash Curler
Colorbar Showstopper Eyelash Curler
Inglot BP Eyelash Curler
The Body Shop Eye Lash Curler
Elf Eyelash Curler
Shiseido Eyelash Curler
Oriflame Eyelash Curler
18. Mascara
Mascara makes your eyelashes noticeable. It gives an appearance of bigger and brighter eyes, by darkening and thickening the appearance of the lashes.
Here are our recommendations for mascara:
Revlon Water Tight Mascara
Lakme Eyeconic Curling Mascara
L'Oreal Paris Volume Million Lashes Mascara
L'Oreal Paris Voluminous Papillon Waterproof Mascara
MAC In Extra Dimension Lash Mascara
Colorbar Zoom And Whoosh Mascara
Benefit They're Real Mascara
Hands
19. Hand cream
No, we are not talking about the all-purpose moisturiser which you apply on a daily basis. Opt for a second moisturiser or hand cream, specifically for your appendages. This will keep the moist and conditioned and serve as a base for any other makeup you may plan to put on them.
Here are some of our recommendations:
Neutrogena Norwegian Formula Hand Cream
Kama Ayurveda Hand Cream
Khadi Herbals Milk & Saffron Hand Cream
Oriflame Milk & Honey Gold Moisturizing Hand Cream
Plum Choco-Latte Smudge-Free Hand Cream
The Body Shop Hemp Hand Protector
20. Nail Paint or Nail Enamel
Why the paint? Even the most well-kept and manicured hands fall short on occasions if they are bereft of any colour. Try a pop in a shade (or two) that strikes your fancy and see the difference.
Here are few nail paint brands that you can invest in:
Lakme
Revlon
Faces
Elle 18
OPI
China Glaze
Inglot
Tools, Application aids and removers

21. Makeup brushes and sponges
Without them, the makeup products are useless. Don't even think of applying makeup with your fingers.
22. Makeup remover
The saviour in case of mistakes and the essential before going to bed - makeup remover.
Here are some of our recommendations for makeup remover:
Maybelline Eye & Lip Makeup Remover
Lakme Absolute Bi-Phased Makeup Remover
Colorbar Ultimate Makeup Remover
L'Oreal Paris Derma Expertise Gentle Lip & Eye Makeup Remover
Chambor Eye and Lip Makeup Remover
23. Nail paint remover
Of course, to remove any errors you need nail paint remover and cotton balls handy.
Here are some of our recommendations for nail paint remover:
Inglot
Colorbar Ultimate Nail Enamel Remover
Revlon Nail Enamel Remover Extra Gentle
Sally Hansen Strengthening Formula Polish Remover
Faces Nail Enamel Remover
Revlon's Extra Fast Nail Enamel Remover
24. Cotton balls
Need we mention why these should be in your makeup kit?
25. Small mirror
You want to see how great you look, right? We know that a selfie will do but the software mess up the natural colours. So, keep one handy. It will also help with a quickie touch up.
Other feminine essentials
26. Extensions, hair nets and hairpins
So that your hair doesn't mess up at any time.
27. Safety pins
You never know when you might need one of those. It is always wise to keep them in the makeup kit.
28. Comb
The basic you need that for a perfect hairdo is a comb.
Wide tooth combs
Fine tooth tail comb
Teasing combs
Styling combs with metal pins
Picks
Fine and wide tooth combs or cutting comb
Complete the Kit: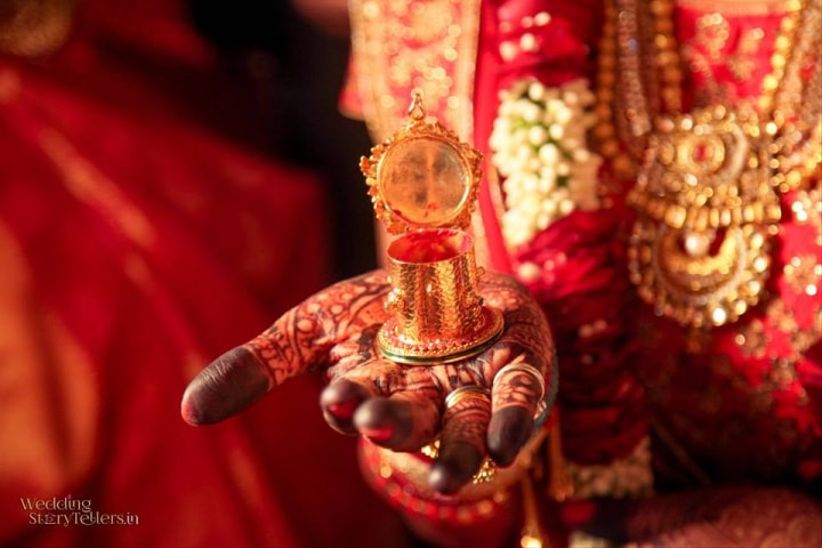 31. Sindoor and Bindi
You will need them after you get married so include them in your makeup kit. Opt for different styles, sizes and shades, so that you can mix and match to your delight.
For Sindoor, most brides opt for liquid applicators over vermillion powder, because it's an easy-to-do task.
32. Sanitary napkins
Keep some in a case of an emergency, right where you can easily grab them.
33. Rosewater
Rosewater is a great solution for sporadic outbreaks, as a natural toner or even a makeup remover. Keep some with you to help you look fresh all day.
Bookmark this checklist if you don't want to miss anything. Do tell us in the comments below if there are any other items that a bride-to-be should have in her bridal makeup kit.