28 Must-Have Bridal Make-up Kit Essentials
Wondering what your perfect bridal makeup kit must contain? WeddingWire India recommends the Top Rated Makeup products from trusted brands to ensure perfection in your bridal makeup kit.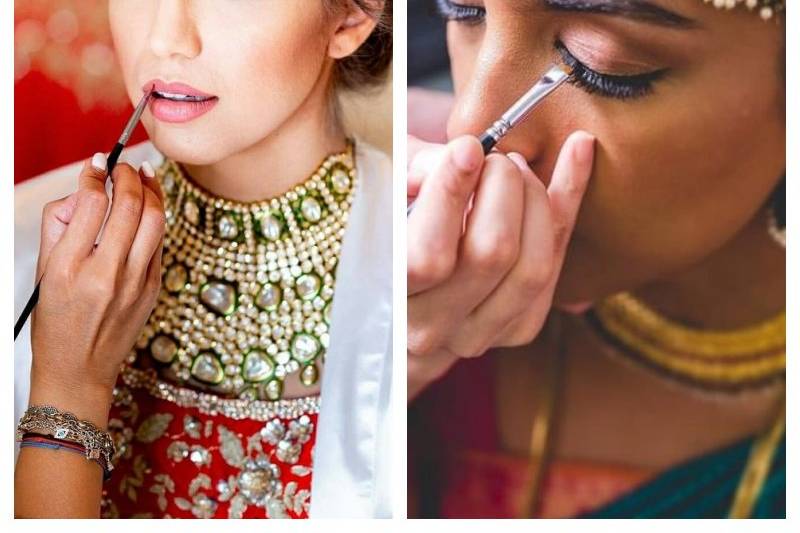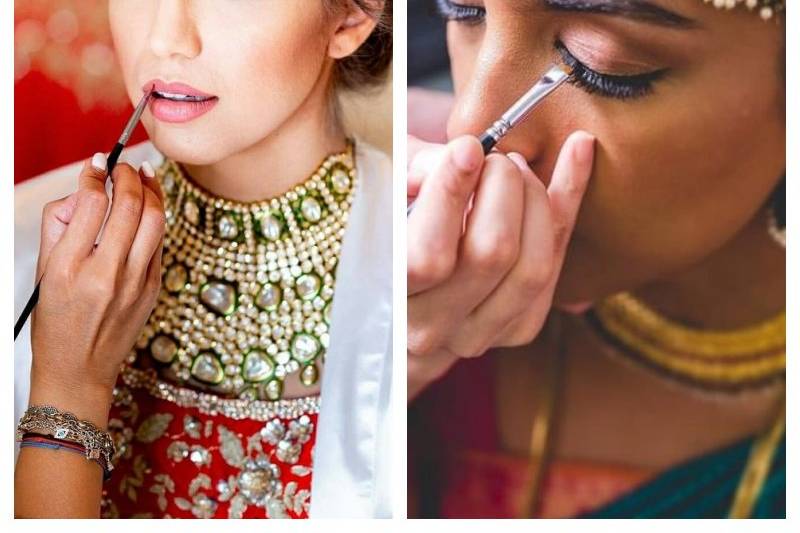 Image Credits - Makeup by Jayanti (L), 1Plus 1Studio (R)
The countdown has begun and as a bride-to-be, you will soon have several wedding events to host. While you are at the centre of everyone's attention and decked up in your favourite bridal lehenga or designer saree or stunning Indian designer gowns, your makeup needs to be on point for each of your wedding events. How else can you get that perfect wedding photo album curated? You might not be willing to hire a makeup artist for every event planned for your wedding. While the magic touch of a bridal make up artist is a must for your wedding/reception celebration, with a perfect handy Indian bridal makeup kit and top notch makeup products, you can create stunning looks for your mehendi/haldi party and even for various family dinner/lunch plans with your friends and relatives post your wedding day.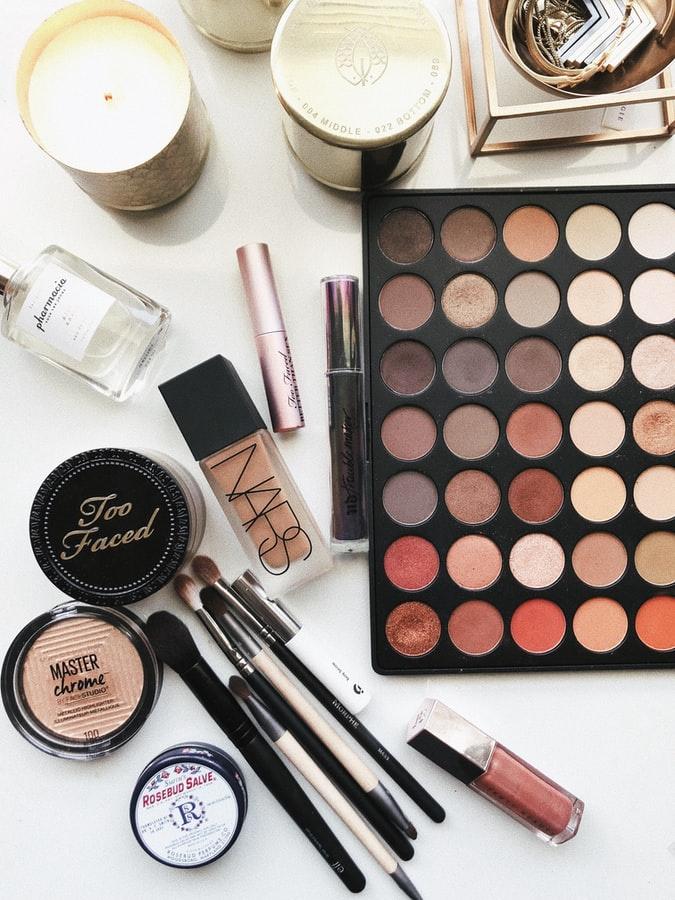 Image Credits - Unsplash
We are here to make your journey of compiling the best full makeup kit for girls easier. It's time to prepare a personalised bridal makeup kit that will help you slay all your ethnic looks! Find a complete beauty checklist with all the latest bridal makeup kit items list to ace your celebrity inspired or favourite wedding looks.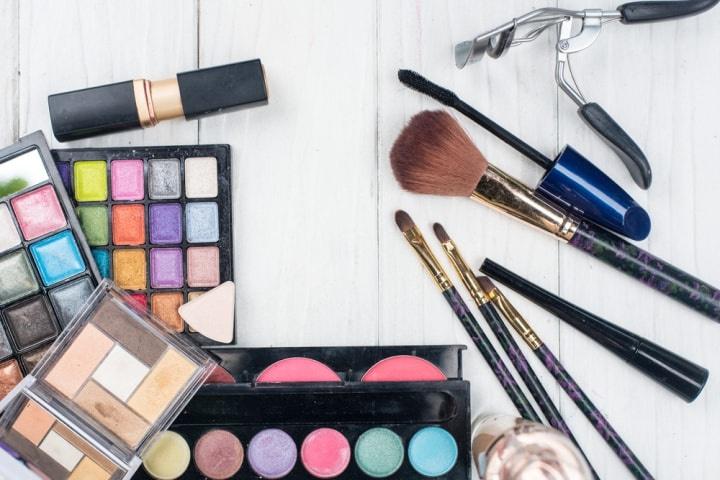 Must Haves For Your Face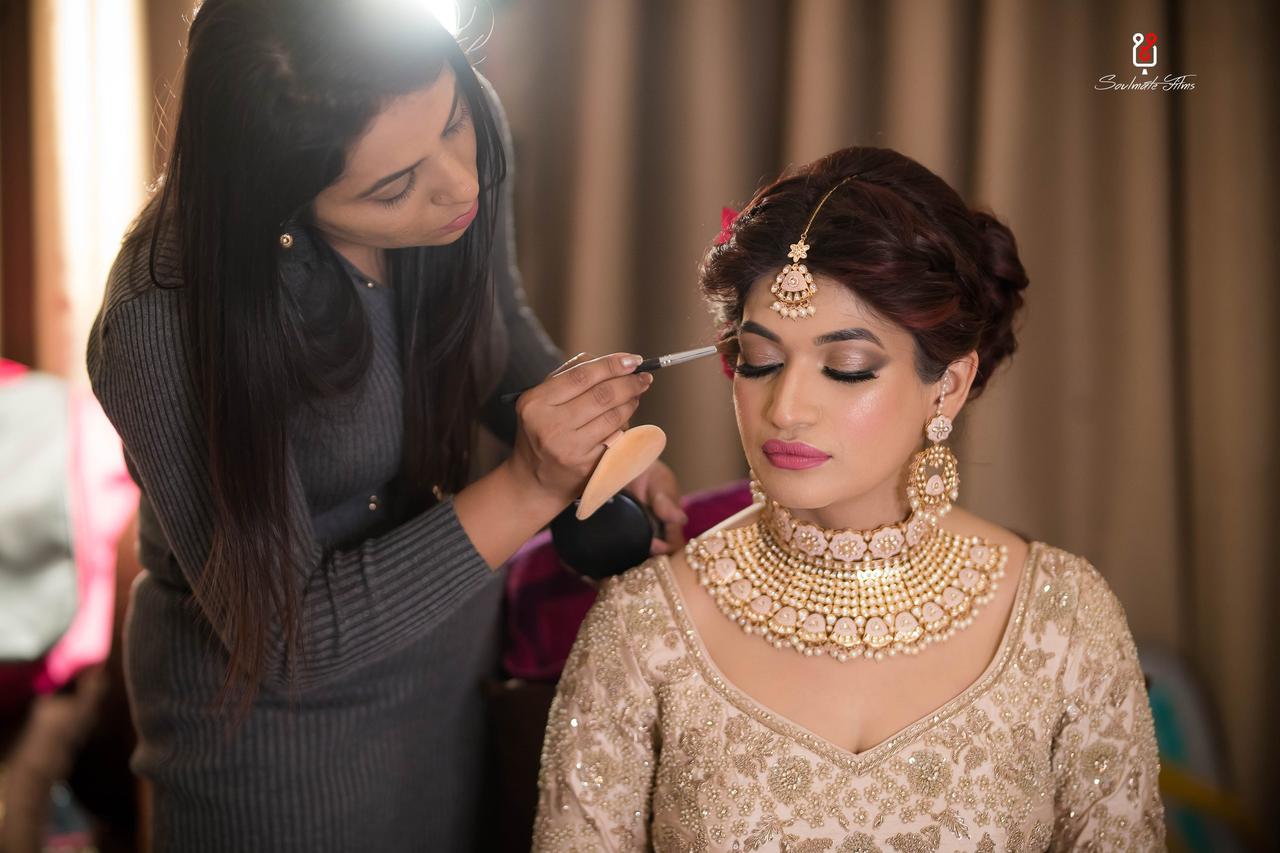 Choosing the right makeup for your face is definitely trickier than one can imagine. Your bridal makeup kit should comprise products that are perfect for your skin tone and your type of skin. For eg - there are various shades of foundations to choose from that can compliment your skin tone perfectly. To make the choice of purchasing all the best makeup products easier, we have compiled all WWI recommended bridal makeup kit essentials for your face below.
1. Primer
A primer is the first and the most integral part of a girl's makeup list. It prepares your skin to hold your makeup in place right after you apply your skincare products. It keeps your makeup fresh throughout the day. It also forms a base for your foundation and makeup, hiding the pores from view and reducing fine lines. The right primer will also regulate dry and oily skin. So don't skip this primary and essential step.
WWI Recommends:
L'Oreal Paris Base Magique Transforming Smoothing Primer - absorbs the extra oil from your face and helps the foundation to last long.
Mac Prep+Prime Fix+ - an absolute favourite makeup product of the WeddingWire India editorial team. We highly recommend this because it soothes your skin, sets the makeup and gives your face the much needed hydration.
ColorBar Perfect Match Primer - The ColorBar primer is enriched with Vitamin E and targets hiding fine lines and redness in your skin. Works well for all skin types.
2. Concealer
Apply the perfect concealer on your face to hide pigmentation, dark spots, redness or fine lines on your face. Your wedding photos can be made flawless with photoshop, but who needs editing when the top reviewed concealers are there to save the day. Add these to your bridal makeup kit list for that perfect and smooth finish.
WWI Recommends:
Maybelline New York Fit me Concealer - The Fit me range continues to be one of our favourite picks for occasions as well as regular use. Available in 9 different shades, the concealer is perfect to hide your dark circles as well as your dark spots.
Bobbi Brown Instant Full Cover Concealer - We highly recommend this pigmented coverage that can brighten your under eyes and hide dark circles, hollows in your under eyes even if you have had sleepless wedding planning days. (wink wink)
L.A Girl Pro Conceal HD - This one's a gem for all the right reasons. Available in 37 corrector shades, L.A Girl's Pro Conceal corrector is crease-resistant and each colour is made to address a specific issue. For eg - The Green Corrector is a perfect addition to your bridal makeup lit list that neutralises the redness if you have dusky skin and the Peach Corrector neutralises dark spots for light skin tones.
Maybelline New York Instant Age Rewind Eraser Dark Circles Treatment Concealer - It's not just the micro-corrector applicator we are in love with! This super concentrated concealer helps erase dark circles and fine lines with perfection.
3. Foundation
Never underestimate the power of your foundation. The right one helps you ace your makeup while the wrong pick will turn you into the zombie of the party. You don't want all eyes on you for all the wrong reasons, especially during your wedding parties! Perfect your bridal makeup kit with makeup product essentials that you can never go wrong with!
WWI Recommends:
M.A.C Studio Fix Fluid SPF 15 - Oil control for more than 4-5 hours! Yes you heard us right! This is one of the major reasons why M.A.C's Studio Fix foundation is a must carry in our vanity bag. The SPF 15 protection is an icing on the cake.
Maybelline New York Fit Me Matte+Poreless Liquid Foundation - They have a shade for every skin tone and the matte, lightweight finish makes the Maybelline Fit Me range our absolute favourite pick!
Lakme 9-5 Primer + Matte Perfect Cover Foundation - Choose from a range of 16 shades that are perfect solutions for Indian skin tones. The combination of Primer+Foundation makes this a handy, easy to carry and easy to use choice for all.
4. Face Compact
Touch up your makeup and keep the perfection of your wedding celebration looks' intact with WWI recommendations for your bridal makeup kit list.
WWI Recommends:
Maybelline New York Fit Me Compact - This 12 hour oil control compact powder is a perfect product to carry in your full makeup kit when you are sliding through wedding events one after the other, with all eyes on you.
Lakme Sun Expert Ultra Matte SPF 40 - Are you planning a day wedding this winter season? While the no. of wedding celebration/post wedding party plans on your list can be huge, the Lakme Sun expert compact powder is the perfect solution to carry in your bridal makeup kit for day celebrations.
Maybelline New York Fit Me Matte + Poreless Powder - This effortlessly fits your skin tone and texture and absorbs any additional oil remaining on your face - giving it a soft and clean look.
5. Contour
A contoured look provides definition to your facial features, enhancing your nose and cheekbones. It leaves you with a sculpted look for your day ahead. For newbies to the technique and style, we recommend buying a small contour palette and ample practice beforehand.
WWI Recommends:
Benefit Cosmetics Hoola Matte Bronzer Mini - This one's an award winning bronzer for all the right reasons! We prefer it for the natural looking tan effect. If you are looking for a bronze contour with your golden or red lehenga, don't forget to add Benefit Cosmetics Hoola Matte Bronzer in your bridal makeup kit.
Nykaa SKINgenius Conceal & Correct Palette - Opt for this palette for a creamy, creaseless formulation that blends effortlessly into your skin. Your bridal makeup kit combo needs this Nykaa palette that comes with 6 shades to conceal, colour correct, sculpt and brighten your skin.
KAY Beauty Contour Stick - Nothing helps your cheekbones pop quite like KAY Beauty's Contour Stick. Sculpt your jawline and wear that white lehenga or a structured gown to your reception party like the true diva you are at heart!
6. Blush
Prep those cheekbones with the perfect shades of pink or red to up your diva quotient. A girl's makeup kit needs the right flush of jovial colours to add the spark of a newly wed to your look. Nothing freshens up your look quite like a perfect blush with the right tint of bright shades.
Remember the duck-face pout as you apply the blush alongside your cheekbones (suck in your cheeks to locate them). Dab a little to your temples to balance the flush in your entire face.
WWI Recommends:
Maybelline New York Fit Me Blush - We know we have got too many favourites from the Fit Me collection but they are all worth the brouhaha! This lightweight blush powder blends beautifully with your skin tone and enhances your glow.
Nykaa Get Cheeky Blush Duo Palette - Our absolute favourite long wearing formula that offers two shades in 1 for your bridal makeup kit. Add the tinge of naughty or nice to your wedding bridal makeup with a palette that provides dominant colours for blending and softening edges.
Benefit Cosmetics Galifornia Blush - We love Benefit's GALifornia golden pink blush that adds a perfect shimmering gold sun kissed glow to your bridal makeup. This one's a must have bridal makeup kit essential that comes with a signature scent with notes of pink grapefruit and vanilla.
7. Highlighter
Your bridal makeup is incomplete without a highlighter. Add that luminous glow to your overall glamor struck look with WWI's favourite highlight recommendations and ace curating the best bridal makeup kit list for your upcoming wedding celebrations. Compliment your elaborate bridal velvet lehenga or one of a kind angrakha suits shimmer and shine with a highlighter.
Highlighter pigments attract light, leading to a brighter, lit-from-within look for your features. You apply it over your foundation and before using the concealer to enhance the features which are naturally lit up by the sun - above your eyebrows, brow bone, cheekbones and the bow of the lip.
WWI Recommends:
M.A.C Strobe Cream - The strobe cream happens to be WWI editorial's absolute favourite pick. We replace our daily moisturisers with the strobe cream or mix with our foundation for the perfect radiant finish. You can choose from 5 shades, the Pinklite is a must have for Indian women with fair skin.
ColorBar Perfect Selfie Highlighter - Highlight or strobe with the ColorBar Perfect Selfie Highlighter to achieve an intense glass like glow.
Maybelline New York Face Studio Master Chrome Metallic Highlighter - Add the Rose gold highlighter to your bridal makeup kit if you have a lighter skin tone. The Molten gold highlighter is a perfect pick for those with a duskier skin shade.
M.A.C Mineralize Skin Finish - Accentuate your natural glow with M.A.C's mineralize Skin finish highlighter. The smooth frost finish adds a gleaming touch to your OTT bridal look.
8. Makeup Setting Spray
Strolling around the lanes of your wedding venue, greeting guests and having a gala time with your friends and family sounds all exciting and fun, but you have to ensure that your priceless wedding bridal makeup look doesn't melt away with the tension. That's what makeup setting sprays are for! Lock in your look with a fresh setting spray that will ensure that your makeup stays put. This one's a must have in your bridal makeup kit box.
WWI Recommends:
M.A.C Prep + Prime - The favourite primer is back on this list for all the right reasons! We know we can carry this in our makeup kit as well as our travel kit knowing that the product will answer our prayers for the perfect primer and the perfect setting spray.
Faces Canada Ultime Pro Makeup Fixer - It's a non sticky formula that once sprayed, sits on your face without much ado! It also keeps the skin hydrated and is a perfect choice for brides with dry skin.
Must Haves For Your Lips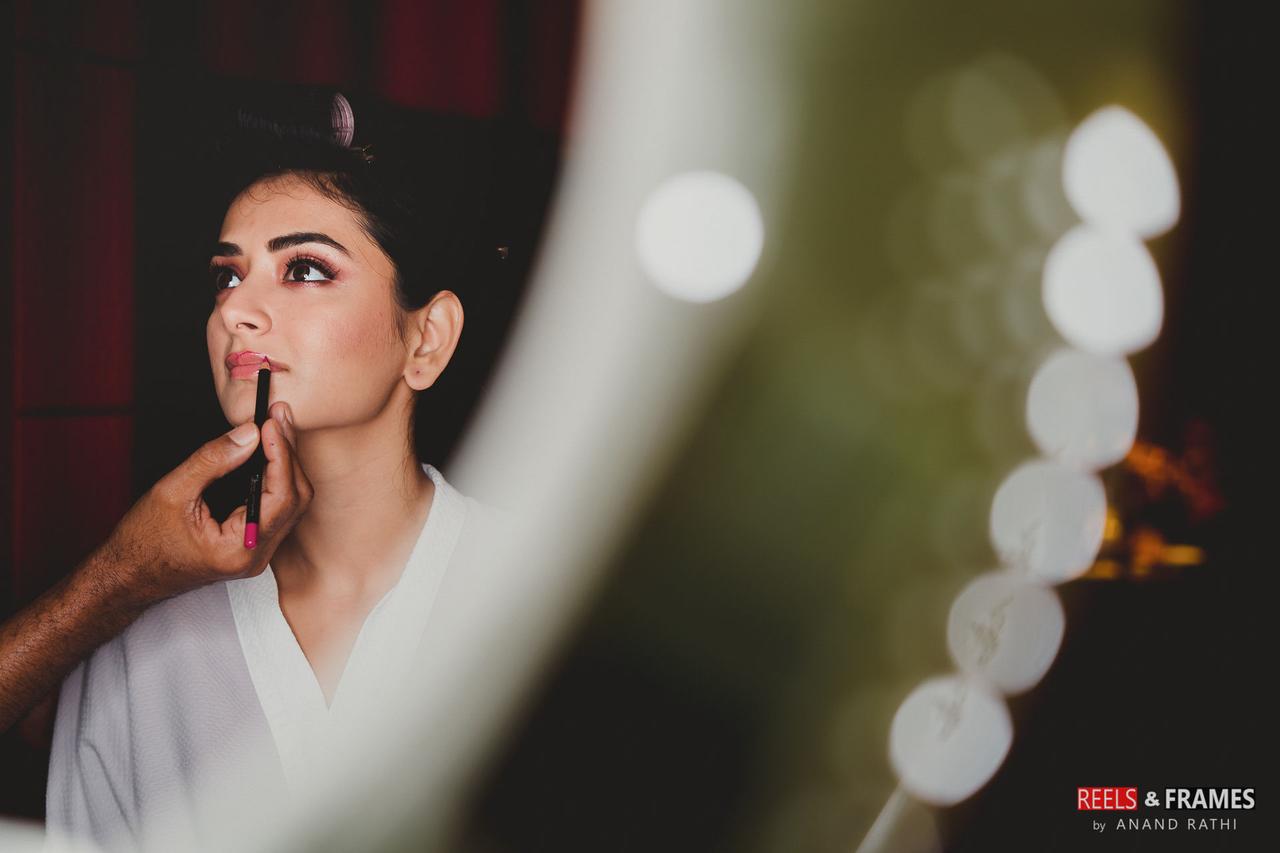 9. Lip shades
At the WWI Editorial desk, we can leave a lot of things from our makeup kit out but never the lipsticks! Lip colours are our first makeup choice because it lights up our face like no other. We are always willing to experiment with new bright/dark and subtle nude lip shades and owing to our elaborate experiments, we have zeroed in - on the top, hydrating, long lasting lip shades for your bridal makeup kits.
WWI Recommends:
Lipsticks
Huda Beauty Power Bullet Matte Lipstick - This Huda Beauty range pushes the envelope for colour intensity. We love how the lipsticks can offer a plump, contoured look and give full coverage. Choose from their iconic 24 shades depending on the primary shade of your floral saree or lehenga design.
Maybelline New York Color Sensational Creamy Matte Lipstick - We love all the 33 creamy matte shades by Maybelline that are loaded with moisture and can stay put on your lips longer than one can anticipate.
M.A.C Retro Matte Lipstick - First things first - check out the flat out fabulous shade from this range and thank us later! 6 bold and vivid shades are here to take your breath away and compliment your neon lehenga designs and dark pink outfits for your wedding celebrations.
Sugar Matte as Hell Crayon Lipstick - We love the Sugar crayons because they are 'everlasting'. If you are looking for an excellent coverage that lasts long - there is no second choice!
Liquid Lipsticks
Maybelline New York Super Stay Matte Ink Liquid Lipstick - We can guarantee you this will last upto 24 hours! It does justice to the name - Super Stay in every which way possible. The shades are to die for and are too bright to resist!
Huda Beauty Liquid Matte Lipstick - If you are looking for a lightweight formula that enhances your wedding makeup and look with bright/nude matte shades, then you have arrived! Choose from 21 transfer proof shades and slay your wedding makeup!
SUGAR Smudge Me Not Liquid Lipstick - With 52 shades to choose from, this range is a one coat wonder! Wear it with sequin lehengas or ethnic bridal sarees. The range has a shade for every kind of personality and every mood.
Lip Liner
KAY Beauty Matte Action Lip Liner - We highly recommend this lip pencil to line and contour to your lips. This long lasting lip pencil with ultra rich matte finish.
M.A.C Lip Pencil - Shaping, lining or filing can be done effortlessly with the evergreen M.A.C lip pencils. We love the rich creamy formula that moistens your lips upon applying.
10. Lip balm
Bridal or not.. a makeup kit for girls list is incomplete without a lip balm! It's a must have when we talk about lip care and moisturises and protects our lips like no other! When you are done with the extravaganza of the night and need to wipe your makeup off to hit the sack, don't forget to apply lip balm on your lips and let it hydrate through the night.
WWI Recommends:
Kronokare Krono Lip - This one's an absolutely favourite pick on our list. Wear it on the go before and after celebration nights to hydrate your lips with the goodness of Jojoba Oil.
Maybelline New York Baby Lips Colour Balm - This one has been an evergreen favourite for ages! With the perfect blend of Vitamin E and coconut oil, this balm with a perfect combination of cute shades leaves your lips supple and coloured in pastel shades.
Must Haves For Your Eyes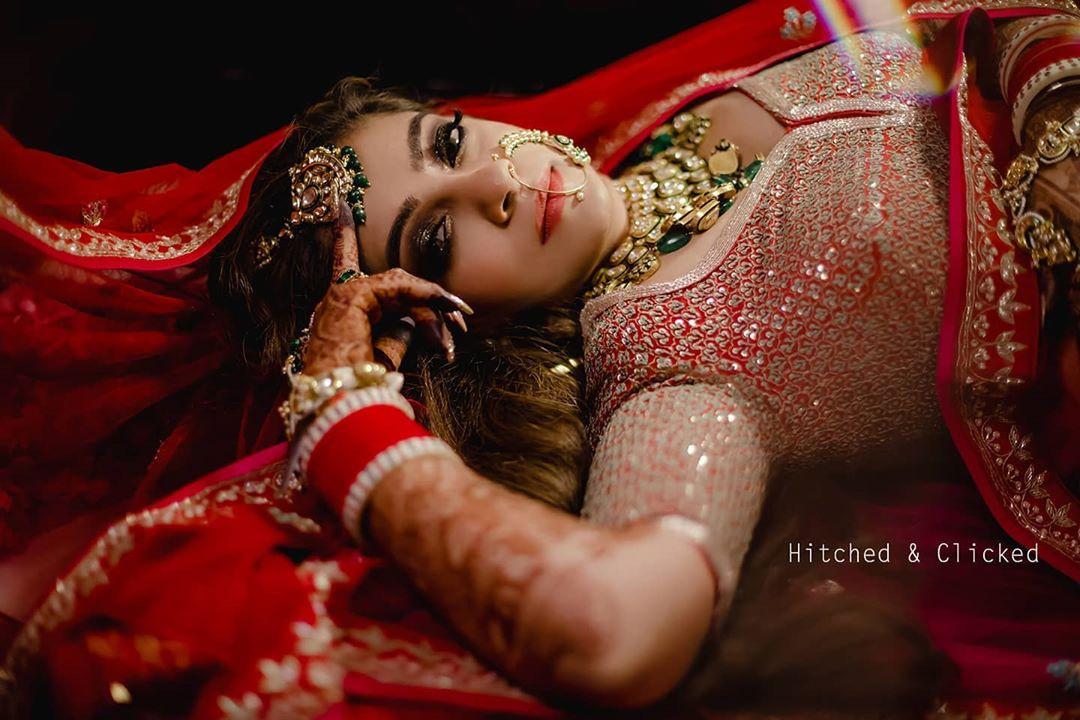 They say your eyes are the mirror to your soul. Draw your eyes perfectly with the best available eye makeup kit to tell a million stories with your bridal makeup look. Eyes play a vital role in defining your overall makeup - you could opt for stunning smokey eyes, the cat eye trend, gradient eye makeup and so much more depending on your choice of attire for the event. Find our favourite picks below to achieve the dramatic bridal eye makeup.
11. Kajal
Add a refined charm to your eyes with this age old favourite makeup item - Kajal or Kohl stick. Made of charcoal residue, Kajal protect your eyes from infections and draw them like dreams.
WWI Recommends:
Maybelline New York The Colossal Kajal - An intense black fix formula that has been our first pick in the recent years.
Lakme Eyeconic Kajal - Available in shades blues, green, black and brown, this waterproof kajal is our go-to for unconventional looks.
SUGAR Stroke of Genius Heavy Duty Kohl - Add pretty to your eyes in a single swipe with this waterproof kohl pencil.
KAY Beauty 24 hour Kajal - Opt for this waterproof and smudge proof kajal pencil with this pitch black kajal.
ColorBar Just Smoky Kajal - Want to ace a mysterious eye makeup look? ColorBar smoky kajals come in various shades to help you ace a sensational wedding makeup look.
12. Eyeliner
Your eye makeup kit will always be incomplete without eyeliners. Keep different shades handy to create a dramatic effect for your bridal makeup look. You could opt for the dramatic cat eye, the subtle inner eye line or the winged eyeliner effect depending on the event you are prepping your look for!
WWI Recommends:
L'Oreal Paris Super Liner Gel Intenza - A smudge proof and waterproof liner to the rescue, carry it around in your bridal makeup kit box and wear it in a different style for every event.
Lakme Absolute Shine Line Eyeliner - Choose from 5 iconic shades to achieve a hd eye makeup look that stuns!
ColorBar Waterproof Liquid Eyeliner - For those who prefer a liquid eyeliner with a felt tip applicator, you have found your absolute favourite eyeliner pick.
Maybelline New York The Colossal Liner - We love this product for its sketch pen effect. Opt for this product to ensure super easy application and eyes on fleek.
13. Mascara
Mascaras have always been our all time favourite. Don't you just love how mascara can enhance your eyelashes and make them look fuller and bigger? It gives an appearance of bigger and brighter eyes, by darkening and thickening the appearance of the lashes. You can't finalise your bridal makeup box set without choosing the best mascara available these days.
WWI Recommends:
L'Oreal Paris Voluminous Lash Paradise Mascara - Volumise your lashes effortlessly with this long lasting mascara
Maybelline New York Hypercurl Mascara - Get luscious curly lashes with Maybelline's New York Hypercurl Mascara. This one's for that glamstruck wedding party look.
Maybelline New York Lash Sensational Waterproof Mascara - This product is all rage for its fanning brush which covers every lash with perfection.
Too Faced Better Than Sex Mascara - Achieve the most luscious, dramatic and volumised lashes with this easy to carry mascara.
14. Eyeshadow
Eyeshadows are the ultimate makeup items to create drama in your look. A perfect Indian bridal makeup kit always comprises more than one option of eye shadow shades to compliment all your wedding party attires.
We suggest investing in several eye shadow palettes to have a wide variety of shades at your disposal.
WWI Recommends:
Huda Beauty Rose Gold Palette - 8 buttery mattes, 8 melted metal shadows, 1 wet & dry black shadow, and 1 pressed pearl shadow - do we have to say more? You know you want this palette for everything it is!
Maybelline New York The Blushed Nudes - with 12 blush nude shades in one palette, this eyeshadow is everything you can hope for and more for your day wedding and evening party looks.
15. Eye Primer
Using a primer should be your first step to set that bridal eye makeup in place. This nifty cream can prevent your concealer and eyeshadow from creasing and make it last longer.
WWI Recommends:
M.A.C Prep + Prime 24 Hour Extend Eye Base - Let your eye makeup hues stay colour true throughout the day with M.A.C's Prep+Prime eye base.
Smashbox Photo Finish Hydrating Under Eye Primer - Opt for this ultra hydrating eye primer that is oil free and soothes the under eye skin.
Must Haves For Your Hands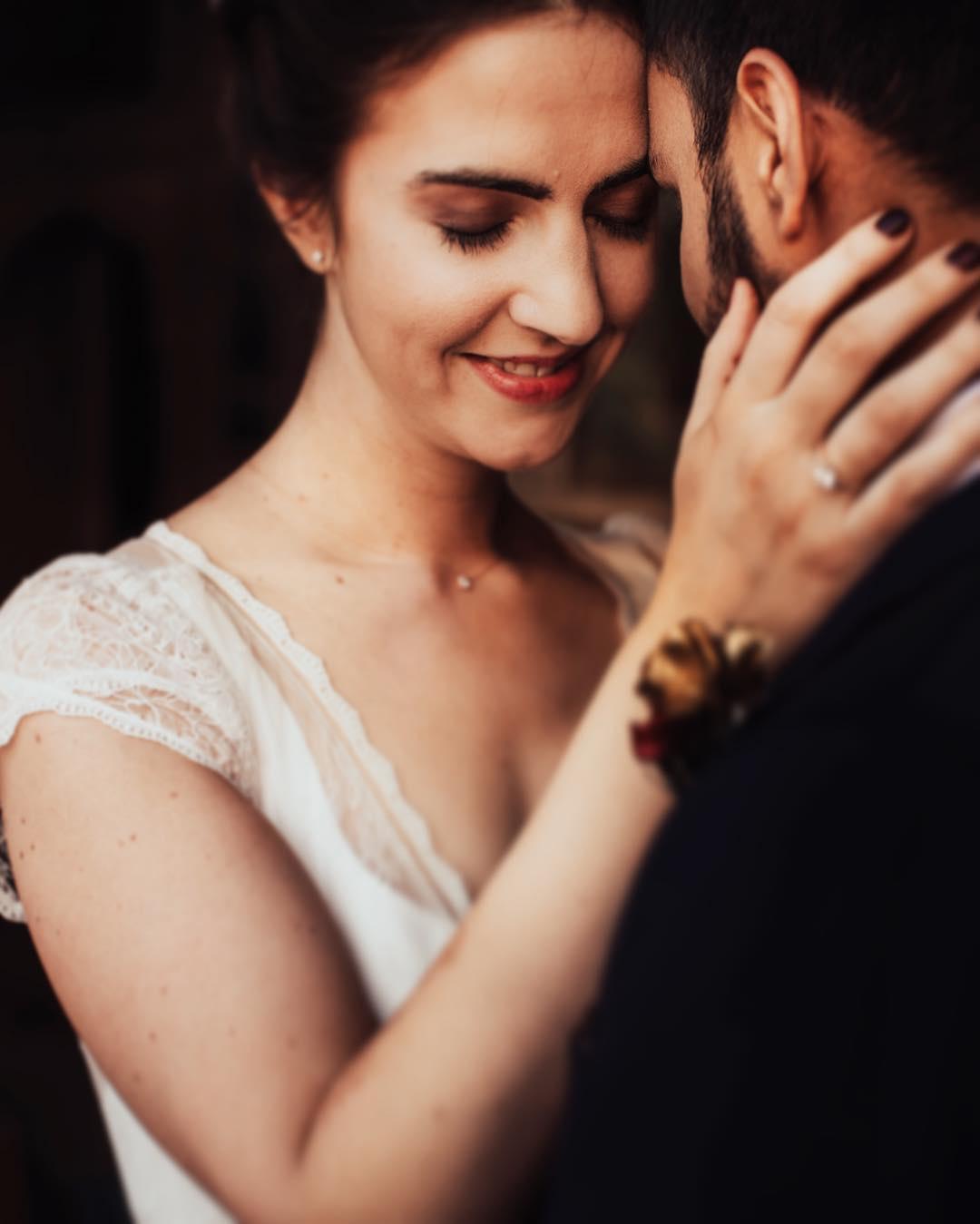 16. Hand cream
No, we are not talking about the all-purpose moisturiser which you apply on a daily basis. Opt for hand cream, specifically for your appendages. This will keep your hands moist and conditioned and serve as a base for any other makeup you may plan to put on them.
WWI Recommends:
Bath & Body Works Gingham Hand Cream - We love Bath & Body Works products because of their scent and feel. Opt for their gingham hand cream that is easy to carry in your bridal makeup kit box and moisturises your hands with shea butter and Vitamin E.
The Face Shop Daily Perfume Hand Cream - Enriched with the goodness of Rose water, the face shop hand cream is not only good for moisturising but also leaves your hands wrapped in a wonderful scent.
The Body Shop British Rose Petal Soft Hand Cream - A floral scented hand cream for dry-normal skin that makes your hand supple and smooth. If you are a Body Shop devotee, you know you can never go wrong with this brand's product in your makeup kit.
17. Nail Paint
Even the most well-kept and manicured hands fall short on occasions if they are bereft of any colour. Try a pop in a shade (or two) that strikes your fancy and see the difference.
WWI Recommends:
ColorBar Arteffects - Pepper Pink, Plum Angel, Bridal Couture, Shake Em' Pink are some of our top recommended shades from this range. The shades will compliment all your bridal wear designs with grace!
L'Oreal Paris Color Riche A L'Huile Nail Paint - 660 L'Or, 442 Coral Trianon, 552 Rubis Folies, 224 Rose Ballet are shades to have and hold in your bridal makeup kit from this range.
Lakme 9-5 Primer + Gloss Nail Colour - Red Splash, Cherry Red, Purple Haze, Pink Pace, Lilac Link and Blush Punch are top shades that can compliment bridal lehengas of all shades with ease.
O.P.I Nail Lacquer -We won't pin point on one shade here because the range comes in 58 beautiful shades that can last longer than your wedding celebrations and post wedding parties.
Tools, Application and Removers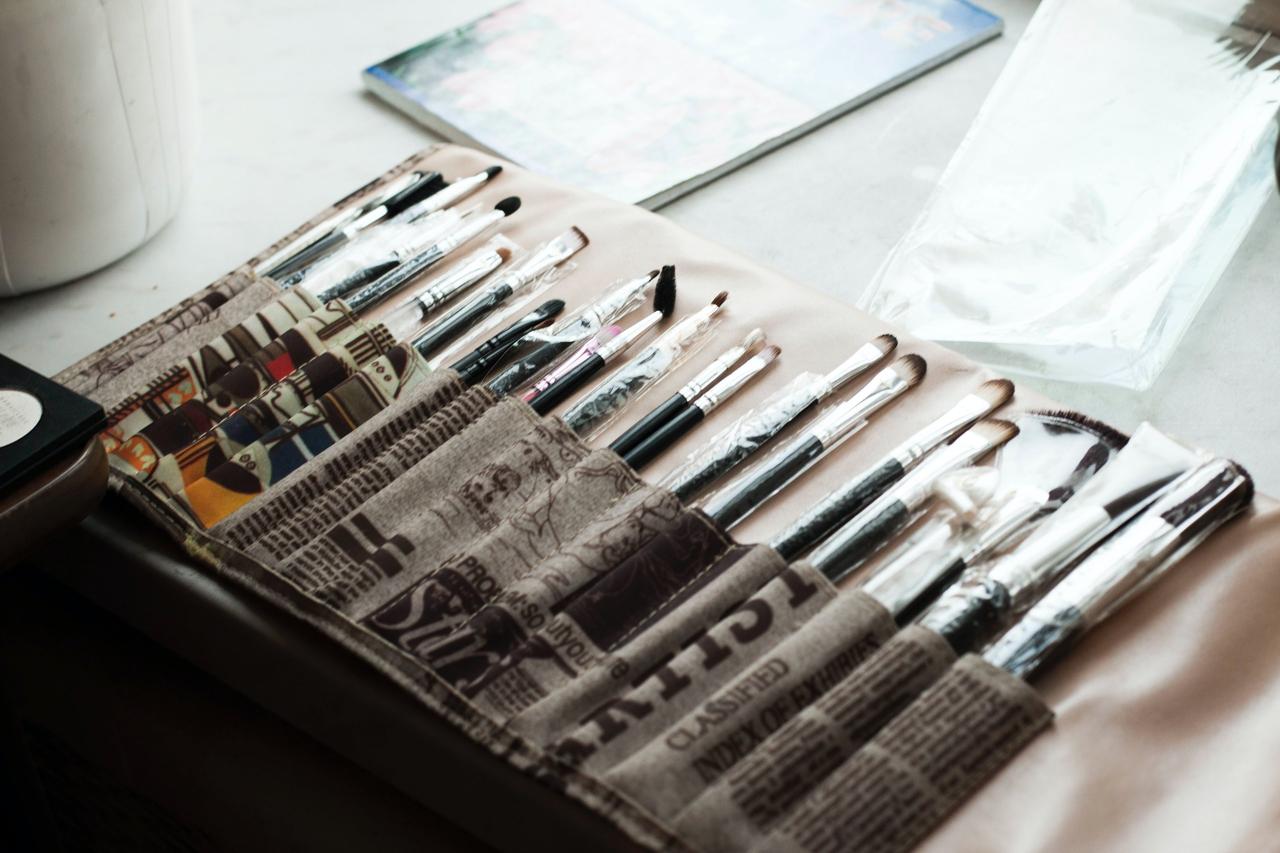 Image Credits - Photo by Tetiana SHYSHKINA on Unsplash
18. Makeup brushes and sponges
You can't perfect your makeup application without the right brushes and sponges. Finding the right applicators can be a challenge but our recommendations can help you zero in on the brushes and sponges you need for your bridal makeup kit.
Sigma Beauty 3D HD Perfect Complexion Set - Conceal, sculpt, highlight, blend and strobe with perfection using the 3DHD Kabuki or 3DHD Blender.
PAC Synthetic Series Brush Set - Every makeup professionals favourite pick - 25 utility brushes in this set are ideal for blending, application, buffing, contouring and highlighting.
Sigma Beauty 3DHD Blender - Pink - Contour your face with perfection with the Sigma Beauty sponge.
Huda Beauty The Basic B Sponge Applicator - This double sized sponge applicator is perfect for applying and blending all formulas on your face.
19. Makeup Remover
You can't have a bridal makeup box set without a makeup remover. The remover is the ultimate saviour to wipe all the makeup blunders away. Here's our most trusted picks for your makeup kit.
WWI Recommends:
Clinique Take the Day Off Cleansing Balm - It's a lightweight silky balm formula that is currently on every bloggers radar! Have you tried it yet?
Kama Ayurveda Rose Jasmine Face Cleanser - An organic hydrating face wash with the goodness of Aloe Vera and Jojoba Oil.
L'oreal Paris Dermo Expertise Lip & Eye Makeup Remover - Opt for this product if you need a gentle eye and lip makeup remover.
Bioderma SensiBio Micellaire Water - A perfect choice for sensitive skin. Opt for the Bioderma micellaire water to remove impurities as well as makeup from your skin after a long and wearing wedding party.
20. Nail paint remover
Keep a nail paint remover handy in your wedding bridal makeup skit to drive all nail paint blues away!
WWI Recommends:
ColorBar Nail Polish Remover
ColorBar On the Go Nail Lacquer Removal Wipes
21. Cotton balls
Need we mention why these should be in your makeup kit?
22. Small mirror
Mirrors are must haves in any Indian bridal makeup kit. You need to take a quick look at your wedding makeup from time to time to ensure that you haven't messed up your look amidst the craziness of the wedding parties.
Other Feminine Essentials
23. Extensions, hair nets and hairpins
You need extensions, hair nets and hair pins so that your hair doesn't mess up at any time.
24. Safety pins
You never know when you might need one of those. It is always wise to keep them in the makeup set for girls.
25. Comb
The basics you need for a perfect hairdo is a comb. Here are the types of combs that you need to splurge on -
Wide tooth combs
Fine tooth tail comb
Teasing combs
Styling combs with metal pins
Picks
Fine and wide tooth combs or cutting comb
Complete the Kit:
26. Sindoor and Bindi
You will need them after you get married so include them in your makeup set for girls. Opt for different styles, sizes and shades, so that you can mix and match to your delight.
For Sindoor, most brides opt for liquid applicators over vermillion powder, because it's an easy-to-do task.
27. Sanitary napkins
In case of an emergency, keep sanitary napkins handy right where you can easily grab them.
28. Rosewater
Rosewater is a great solution for sporadic outbreaks, as a natural toner or even a makeup remover. Keep some with you to help you look fresh all day.
Bookmark this checklist if you don't want to miss anything. Do tell us in the comments below if there are any other items that a bride-to-be should have in her bridal makeup kit.