Lust-worthy Gold Jewellery Designs Every Bride Needs in Her Trousseau
Whichever era it might be, one thing that brides always get super excited about is shopping for gold jewellery before their wedding.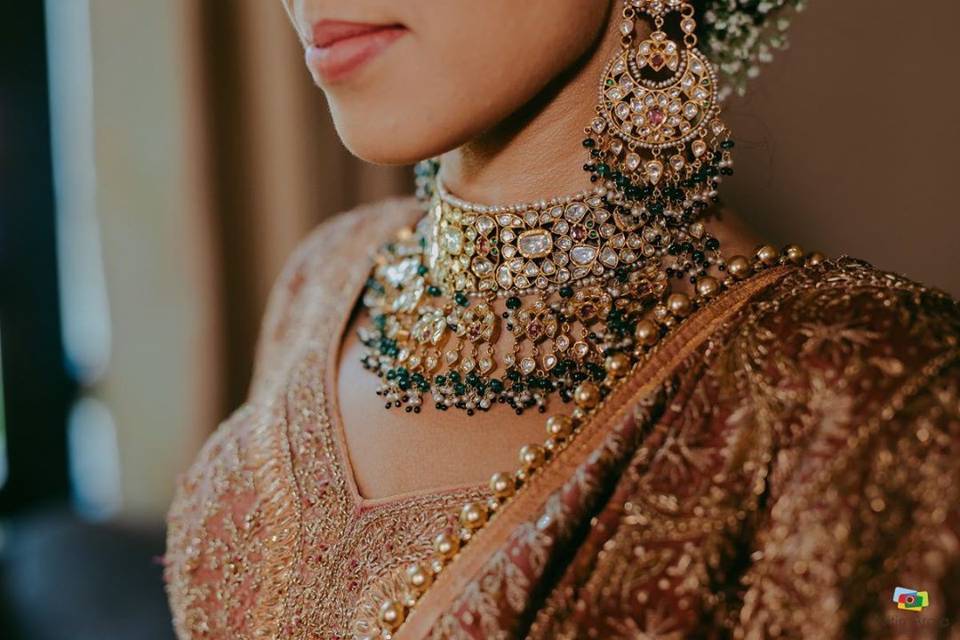 While gold jewellery is known to be every bride's prized possession, the choice of picking each piece is rather tough. From modern designs having the glamour, to traditional patterns having an old-world charm, the choice between the two or even creating a balance of the two is quite a challenge for the new age brides.
Therefore, to make it easier for them, we have the perfect list of gold jewellery for brides that consists of every piece of jewellery that is worth investing in for their big day and later cherishing for a lifetime. So brides who are clueless right now, must scroll through this list of gold jewellery designs to be able to differentiate the classic choices from the modern ones.
Modern Gold Necklace with Pearl Accents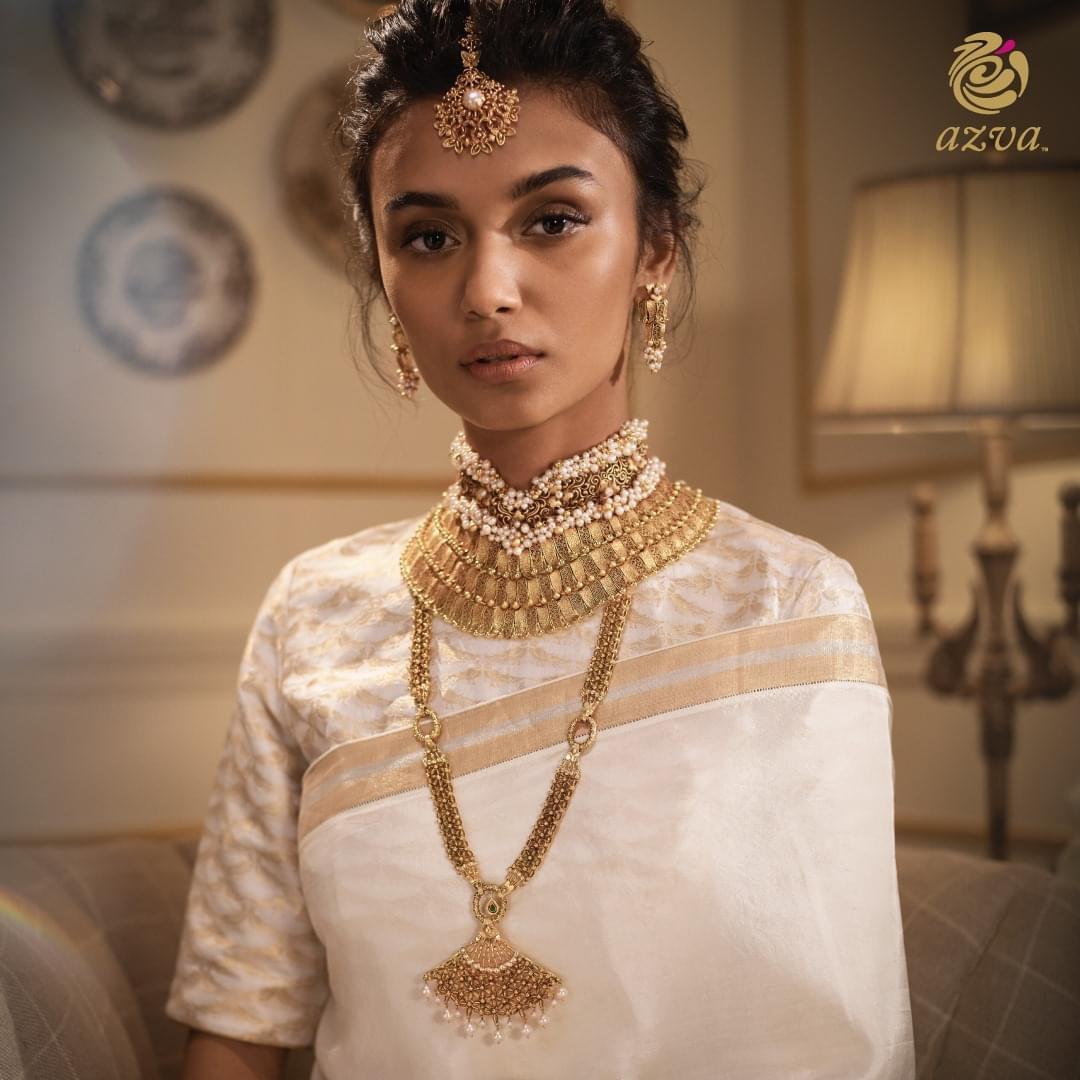 Image Courtesy: Azva
While we all know that the combination of gold and pearls is irreplaceable, there is something about a new-age design that incorporates pearl accents which makes it a beautiful pick for a modern wedding. The bold collar necklace is for brides who prefer a maximalist pattern when it comes to gold jewellery necklace design.
Heavy Chandbali with Ear Chain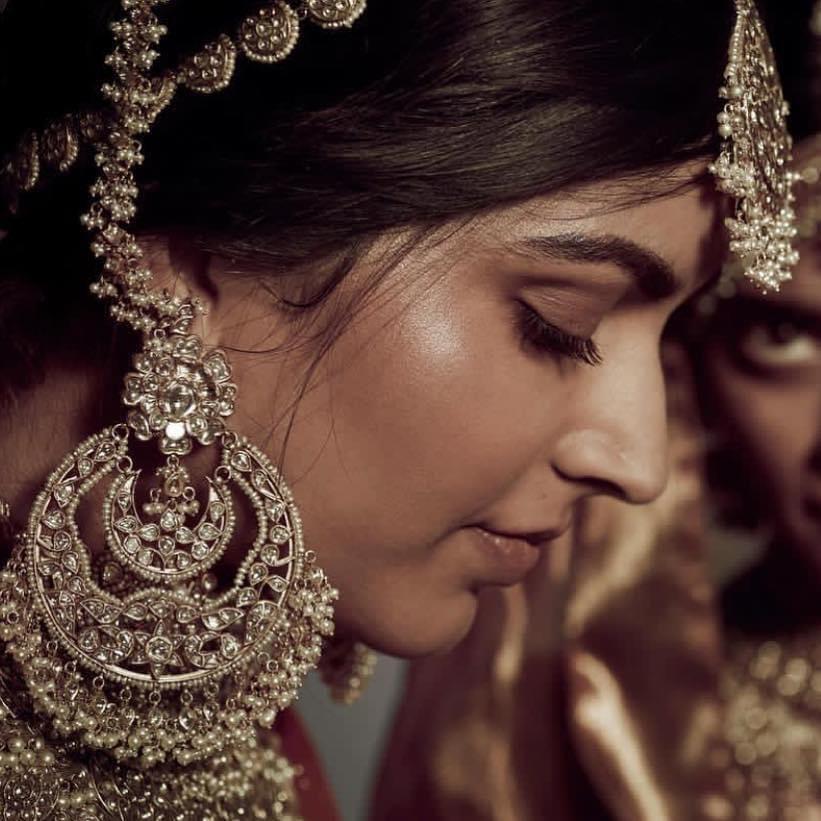 Image Courtesy: Sabyasachi
Next on our list is this gold jewellery earring design that is traditional and yet very chic. The heavy Chandbali in gold with diamond polki makes for a unique piece of jewellery to invest in because of its attached ear chain that gives it a bridal look. This bold and gorgeous piece of gold jewellery is for women who love their earrings to be the highlight of their look.
Neel Gatha Kada Set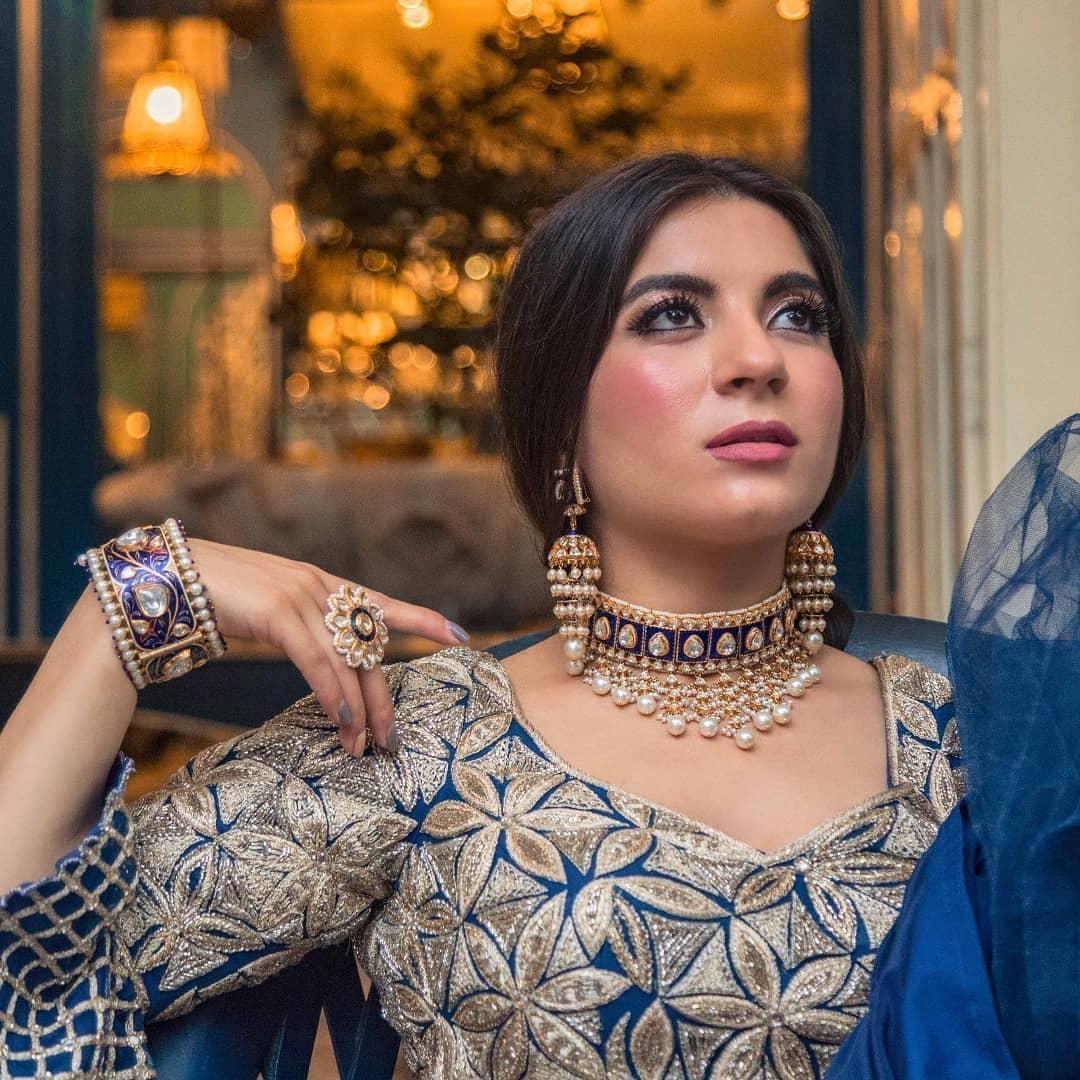 Image Courtesy: Raniwala
For brides who prefer gold jewellery traditional designs for their Kadas and bangles, this is a heritage piece that'll have their heart. The Neel Gatha Kada inculcates the essence of blue pottery with the Rajasthani Jadau heritage and makes for a unique pick that the new age brides will adore. A matching necklace, a pair of earrings, and a ring would complete a heritage gold jewellery set for them.
Delicate Jadau Haath Panja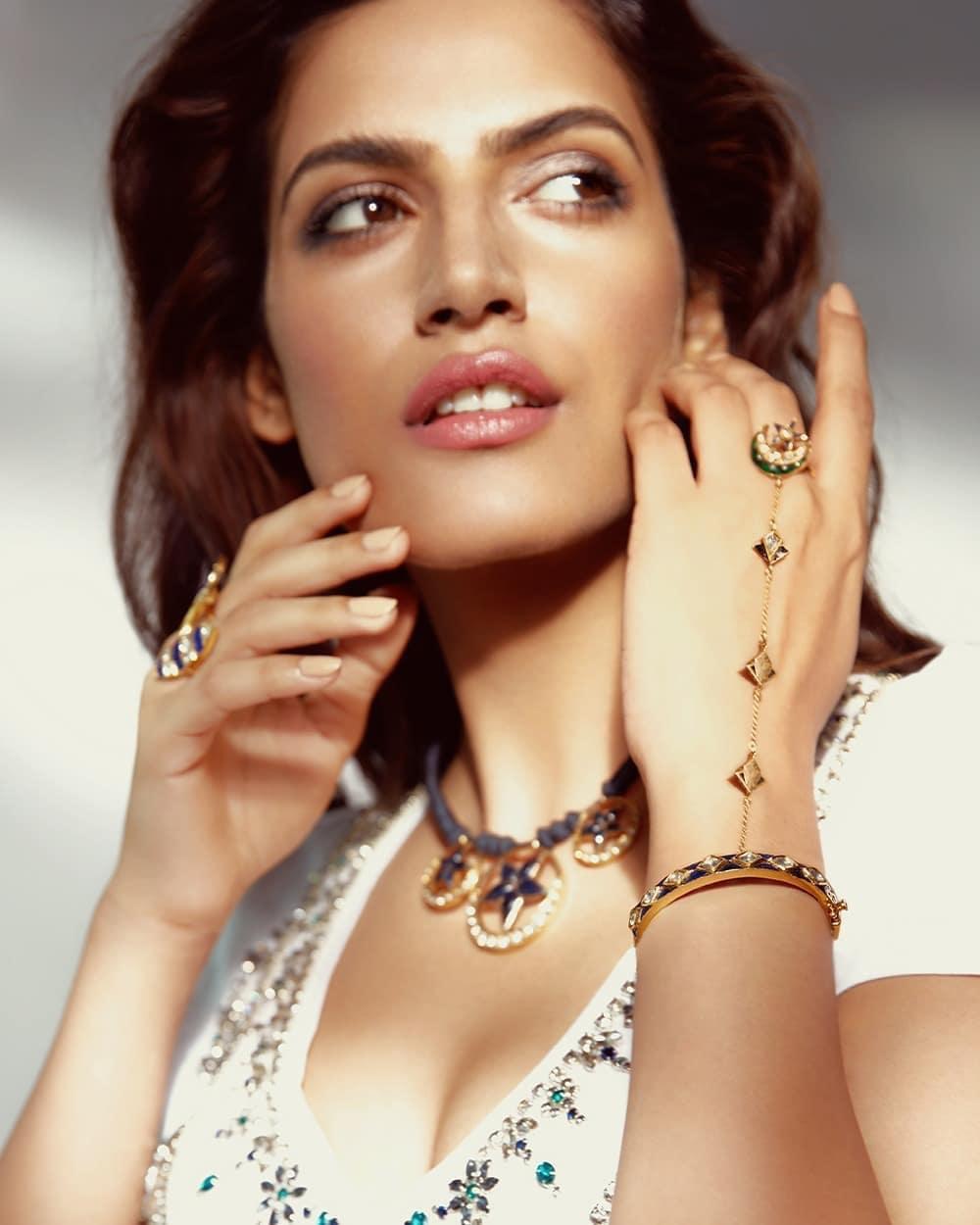 Image Courtesy: Raniwala
The Haath Panja more commonly known as the Hathphool, is every new age bride's current obsession, however, getting its design and pattern right is not an easy task. While most brides choose an OTT design, the smart move for millennials is to invest in a delicate handcraft of Jadau with contemporary jewels that they can wear over and over again without it looking too much.
Dramatic Jewelled Headband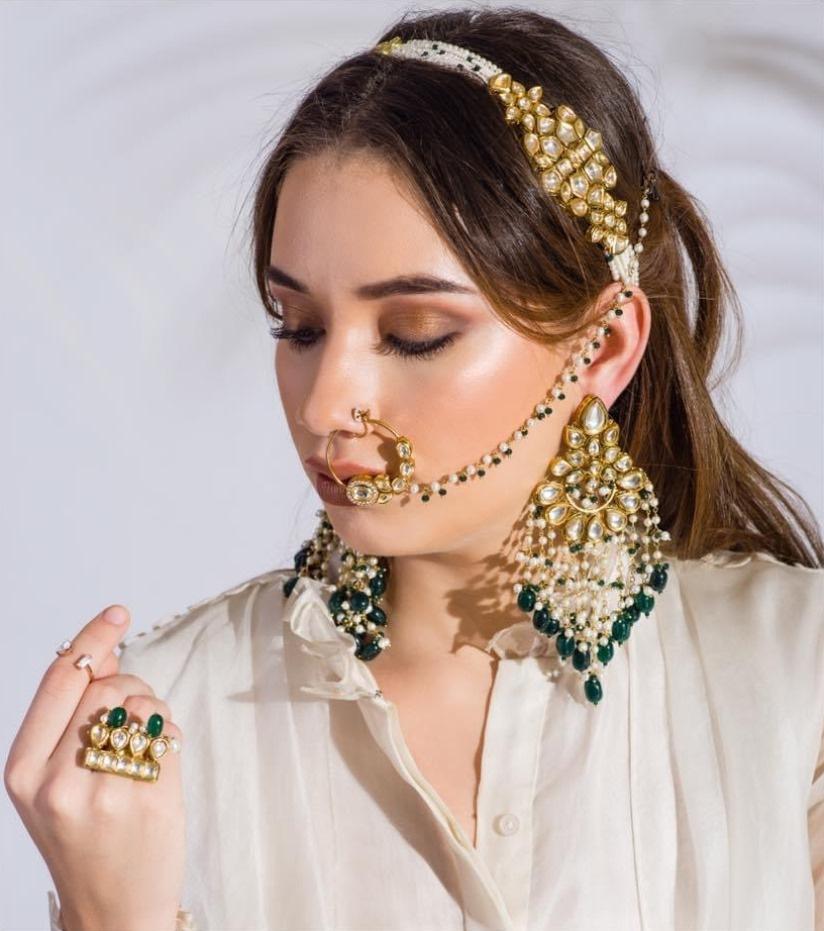 Image Courtesy: Prerto
For brides looking for one of a kind gold jewellery online, here's a Kundan headband with strings of pearls that have millennial written all over it. Apart from being an unusual piece of gold jewellery brides invest in, this is also one that will stand out at all times. So brides who love hair accessories and wish to own something unique, here's what you need to buy.
The Kundan Necklace Set with Polki, Sapphire, and Emeralds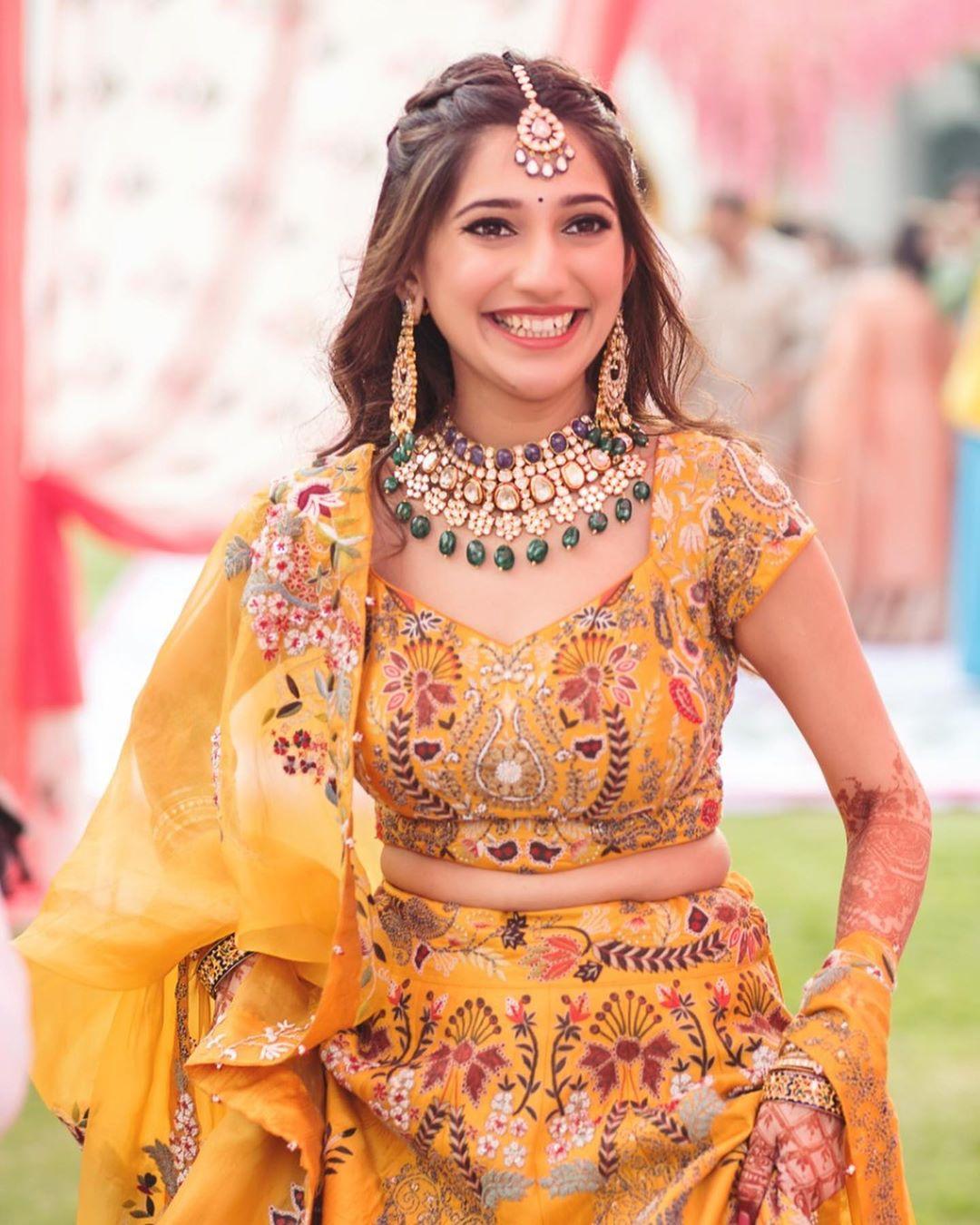 Here's a piece of gold jewellery perfect for the wedding day that the millennial brides would love to wear on their big day and also cherish it for years later. The Kundan set is colourful and studded with polka and sapphire with emerald drops that add just the right amount of glamour to the otherwise traditional design.
Pretty Polki Bracelet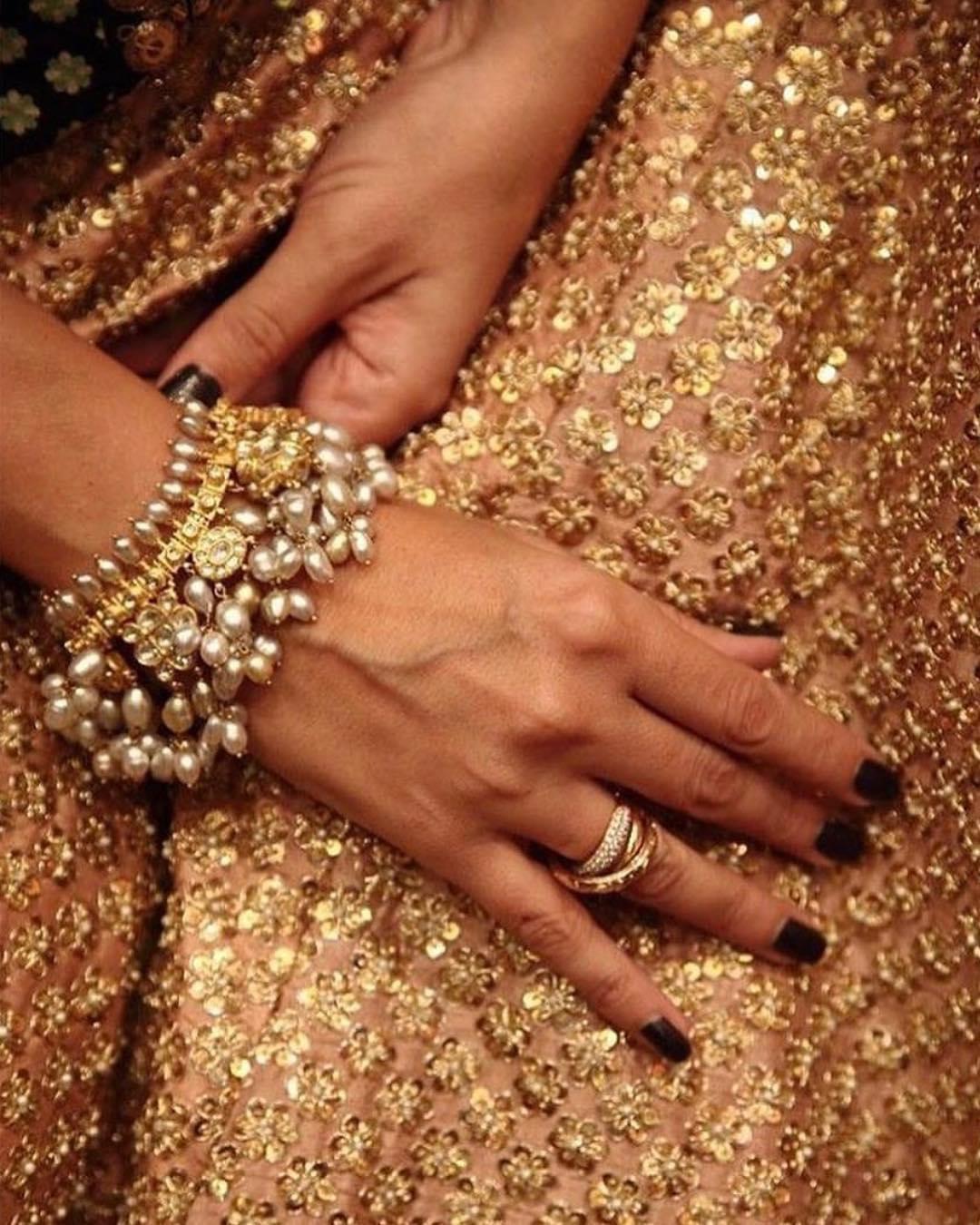 This one is for brides who love gold bracelets that are striking and yet very unique. While the pattern is inspired by South Indian Guttapoosalu gold necklace style, the gold studded bracelet with uncut diamonds (Polki) make for drool-worthy design in gold jewellery for hands. Brides can pair this with a delicate gold jewellery ring and be good to go.
Kundan Earrings with Attached Ear Chain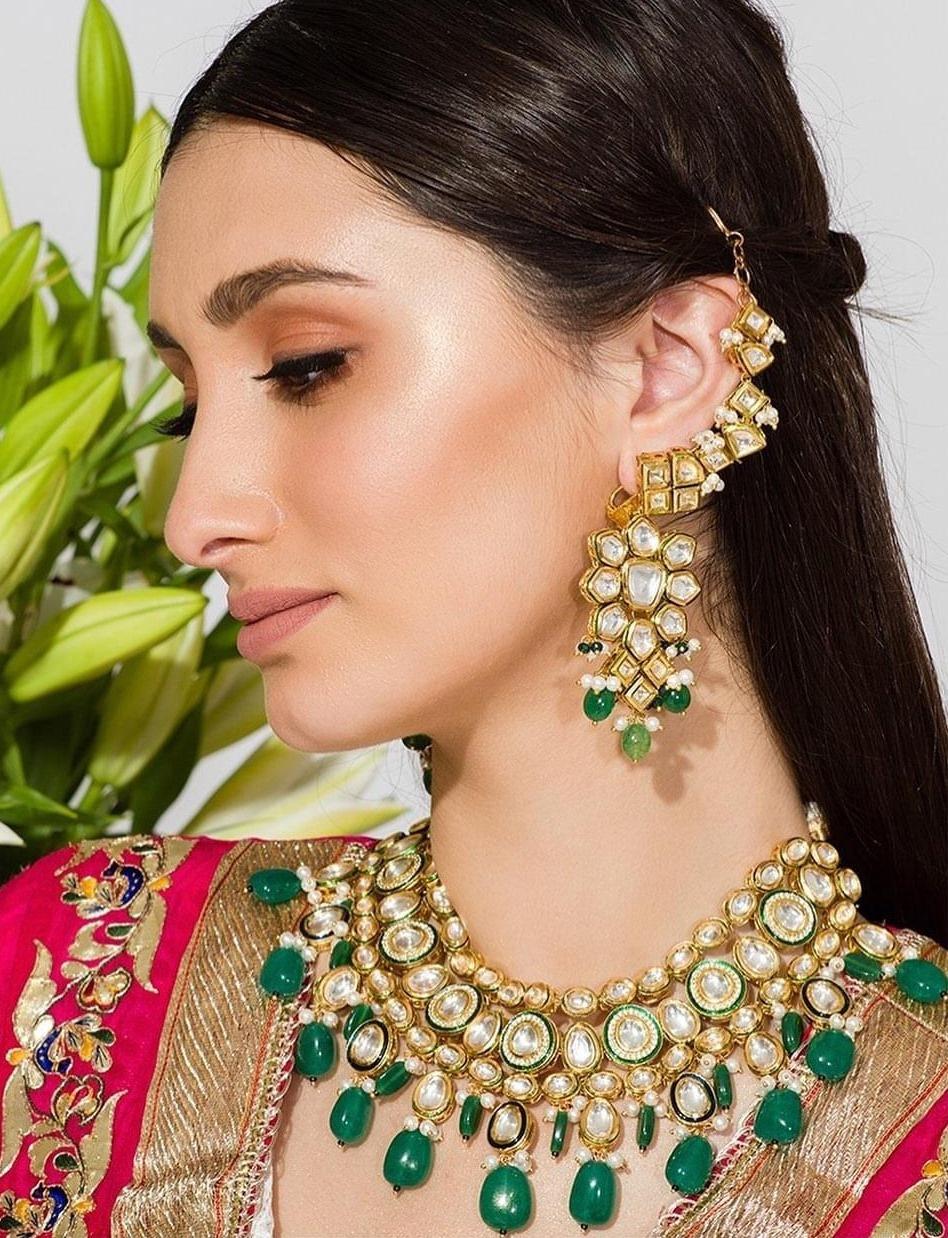 Image Courtesy: Prerto
While we're obsessed with earrings that have ear chains attached, there is something about this gold jewellery earrings design in Kundan that makes it just the perfect fit for the wedding day. The geometrical design makes for a millennial touch while the ear chain adds a little bit of traditional look to this beautiful pair of Kundan earrings.
The Peacock Neckpiece in Gold
Now here's one of our favourite gold jewellery necklace designs for brides of 2020. The exquisite peacock neckpiece worked in gold and embellished with polka is iconic and yet traditional as the mor motifs make a frequent appearance in jewellery that is deeply rooted in Indian heritage.
The Kaliganthi Necklace with Jhumka Earrings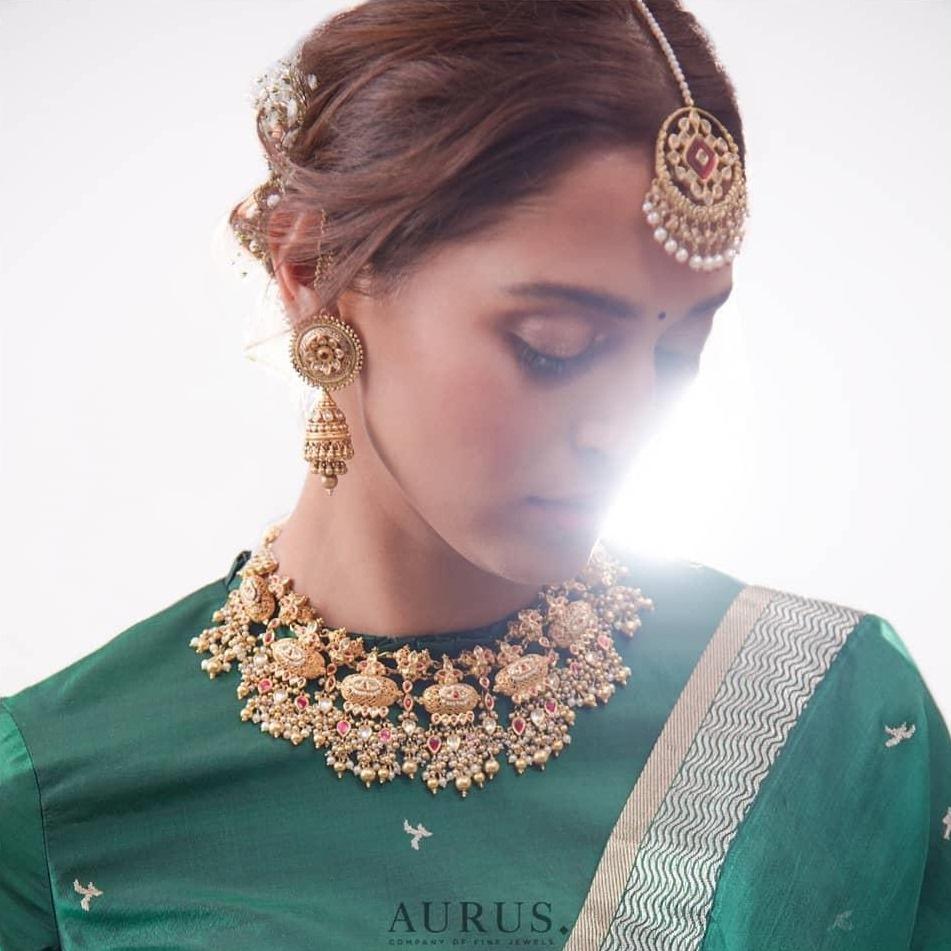 For brides' red carpet moment on her wedding day, the beautifully handcrafted Kaliganthi gold jewellery design embellished with Polkis and paired with Jhumkas make for a perfect pick. With the right amount of colour added with rubies and emeralds, this temple jewellery pick is exclusively for brides who love traditional gold jewellery.
From lightweight to heavy, traditional to niche, and extraordinary to heritage, our list of gold jewellery designs for bridal wear has everything that a new age bride wants to see. All they have to do is scroll through and pick patterns that they'd love to wear in their big day and treasure for the years following that.
If you're in love with these old jewellery designs too, tell us in comments which one you cannot stop thinking about.