Here Are Our Best Picks for Accessories for Red Lehenga
Red lehengas are royalty at its best. Here are our picks of stunning accessories for red lehenga designs that will complement your bridal look.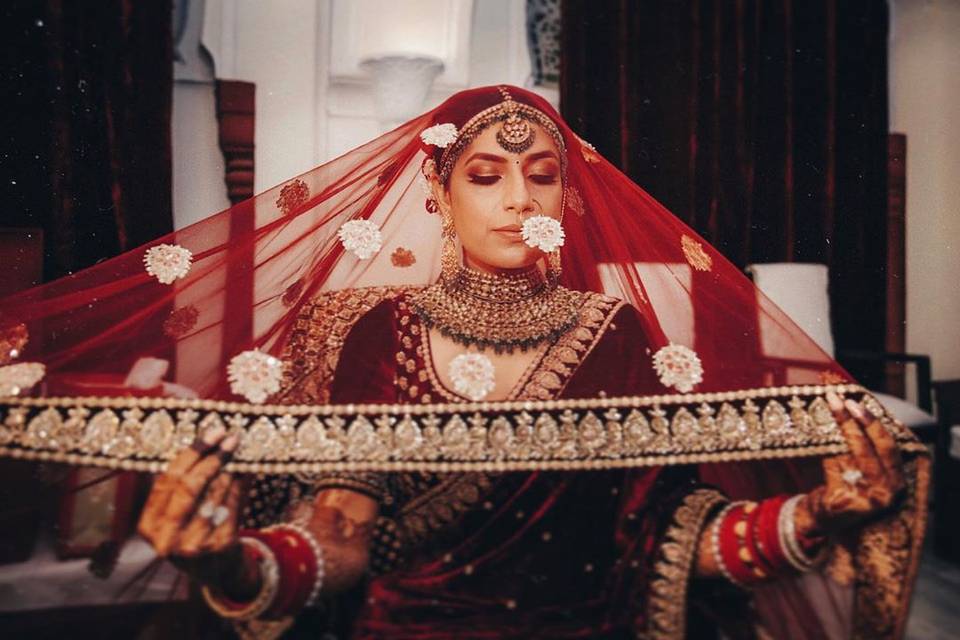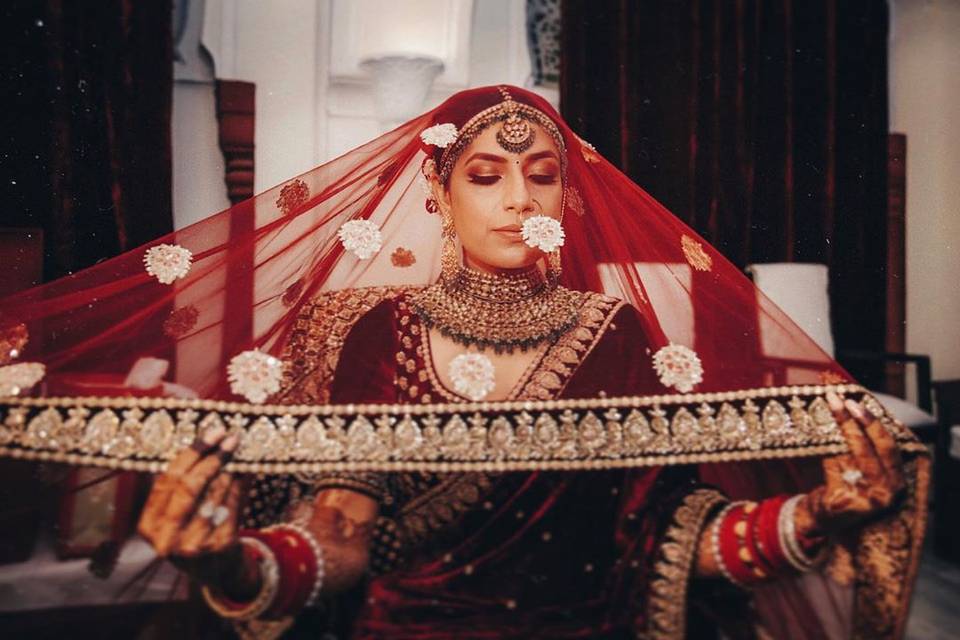 Image Courtesy: Shades Photography India
To complete the look on your wedding day, accessories play a very significant role. While you have picked out the perfect red lehenga you want to flaunt on your big day while walking down the aisle in a dreamy sequence, it is also important for you to start putting together the accessories that will go perfectly with your red lehenga. From the Potli bags to your Jutti, every little detail matters because your wedding should be nothing short of a fairytale!
However, finding the right outfit inspiration might not only be exhausting but also confusing. This is exactly why we have curated this exhaustive list of accessories for red lehenga that is sure to make your life easier while keeping it fashionable. Scroll down to know more.
Potli Bags for Brides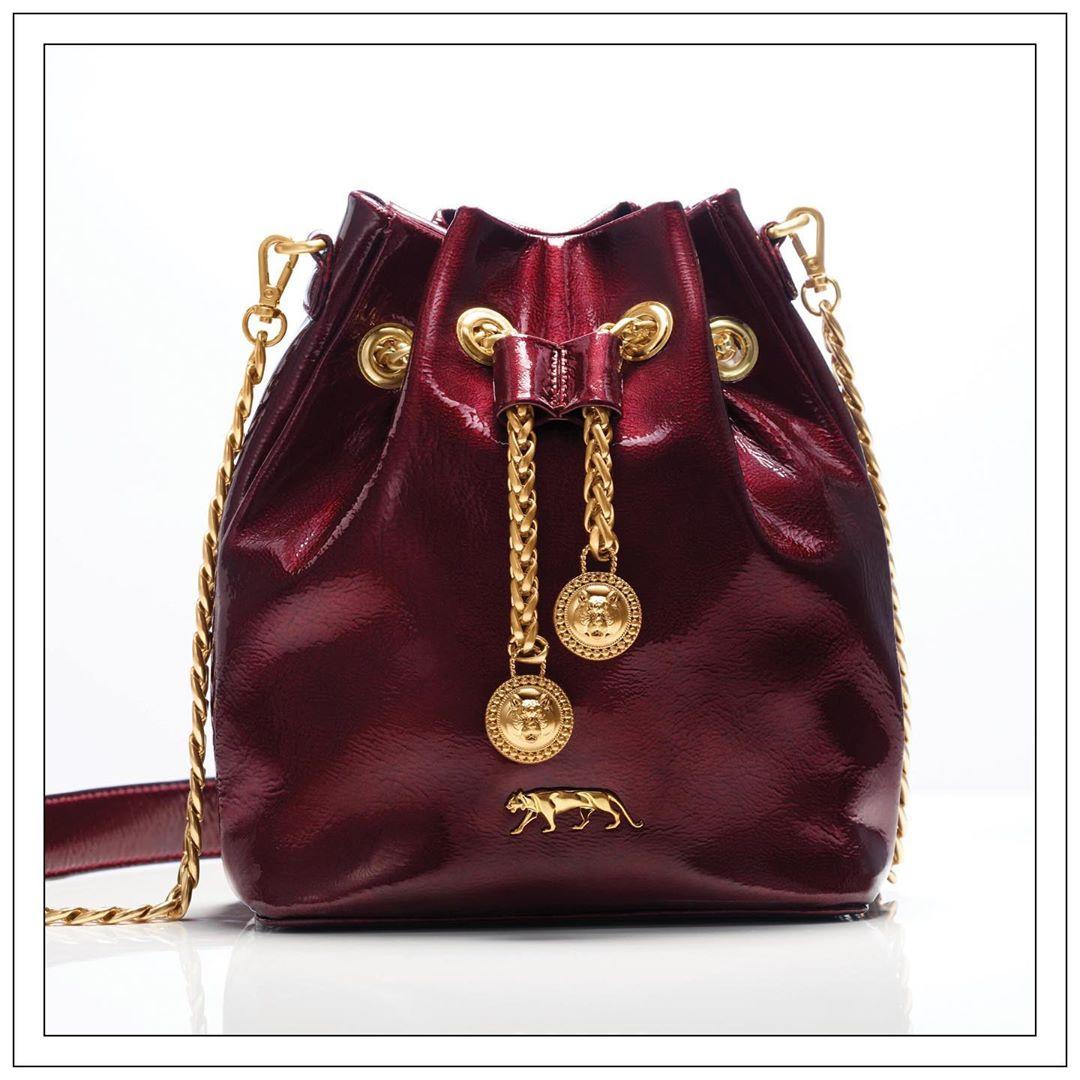 Image Courtesy: Sabyasachi
Another Potli bag to add to your red lehenga look is this leather Potli bag created by none other than Sabyasachi Mukherjee. this bag is also known as the Nani Bucket and we love it.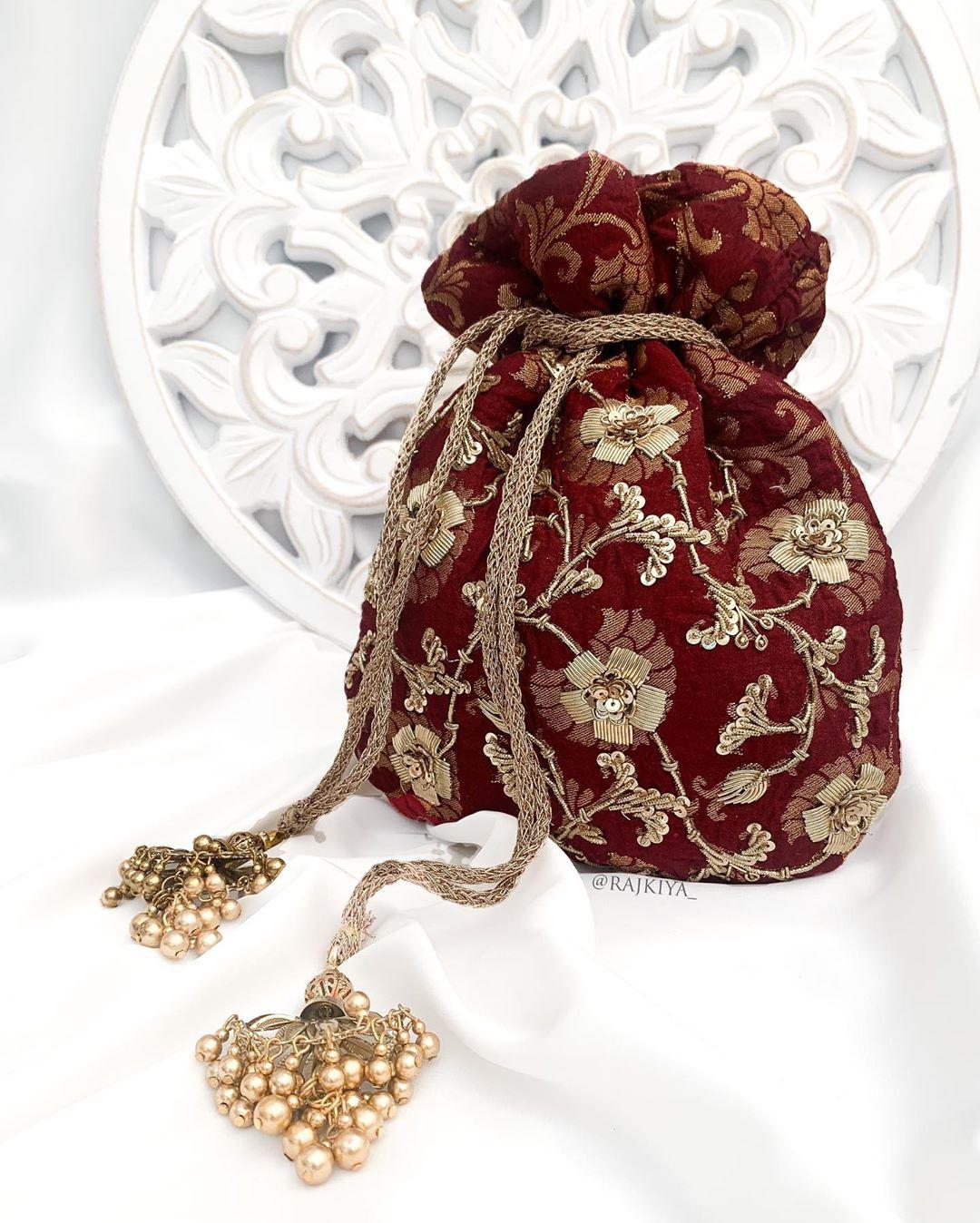 Image Courtesy: Rajkiya
A hoot from the house of Rajkiya, this red Banarasi Potli bag is an exquisite bag that will not only help the brides look perfect in their red lehenga but also help them store the essentials like lipstick for last-minute touch-ups or even their phone.
Image Courtesy: Amyra
While velvet lehengas are back in trend owing to the autumn-winter weddings that are lined up, if you are a bride flaunting a red velvet lehenga for your big day, add a dash of contrast with this black velvet Potli bag with booti work and delicate embroidery.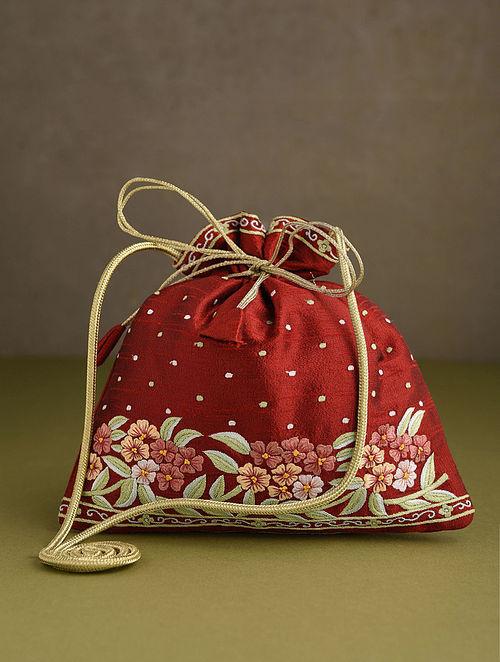 Image Courtesy: Jaypore (Parzor Crafts)
This red hand-embroidered silk Potli reflects the craft of Parsi embroidery combines Iranian, Indian, Chinese and European techniques and motifs. This joyous design of tiny pink jasmine cluster is stylized into a Parsi Kor (saree border) and fits perfectly with your red lehenga.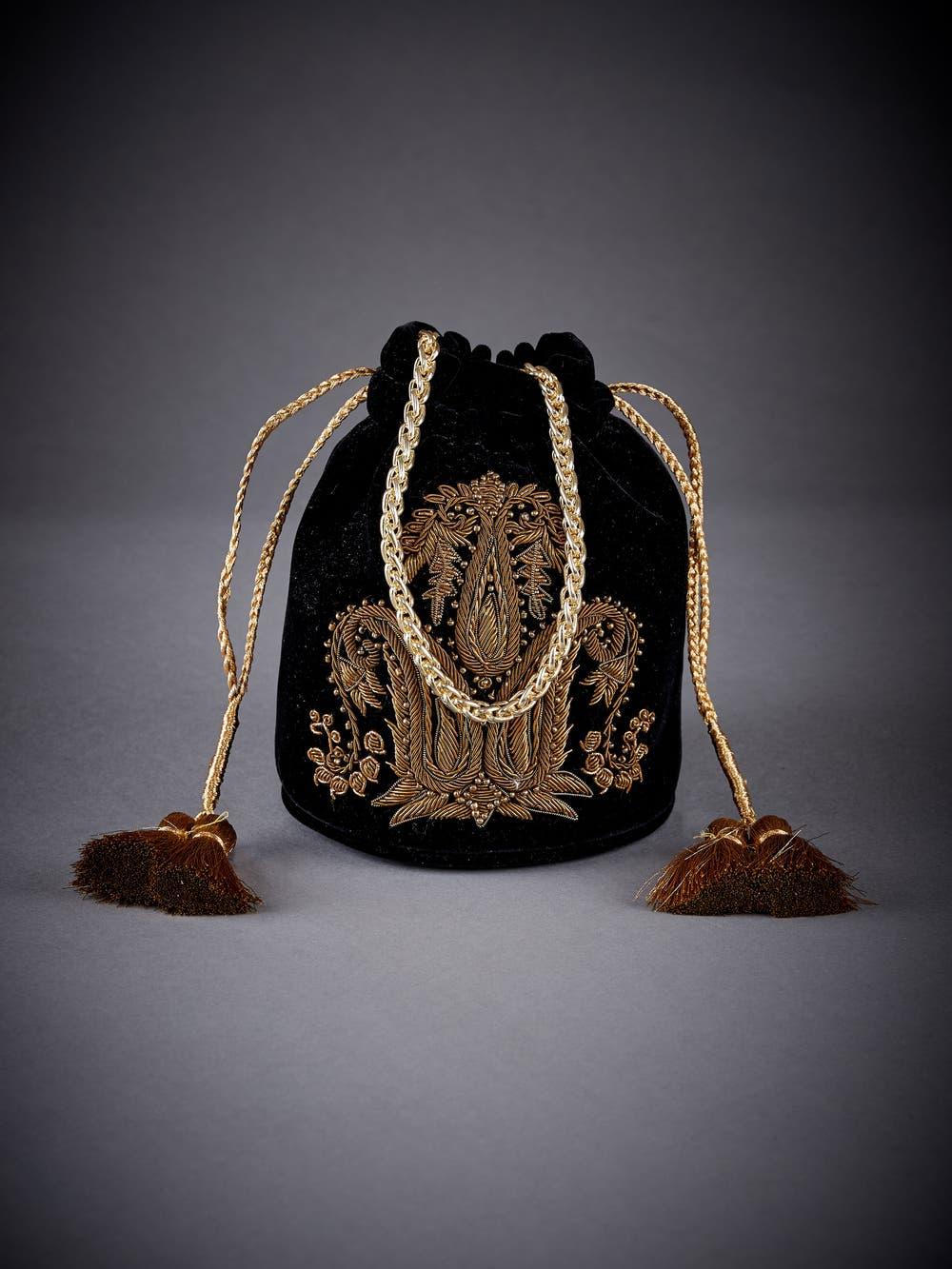 This velvet black beauty from Ri by Ritu Kumar is a catch and the golden paisley embroidery makes this Potli a perfect member of your bridal wardrobe!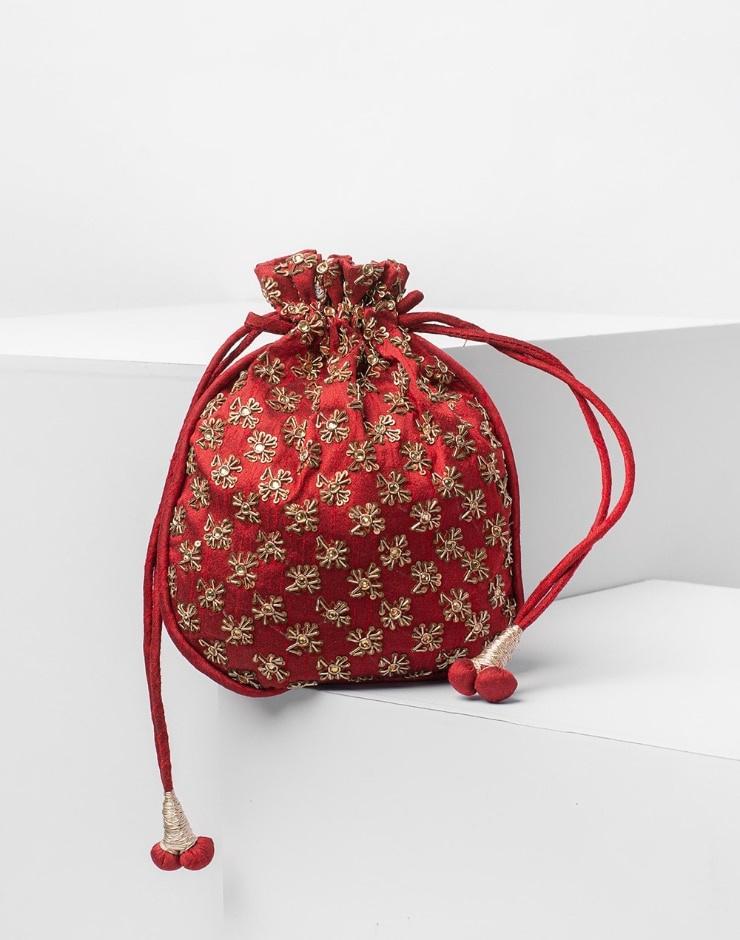 Image Courtesy: Fab India
This silk Potli bag with sequin Jaal embroidery and the Doris to tie it is all things weddings. Any bridal red lehenga with Zari work on it will surely be complemented by this beaut.
Bridal Clutches for Red Lehenga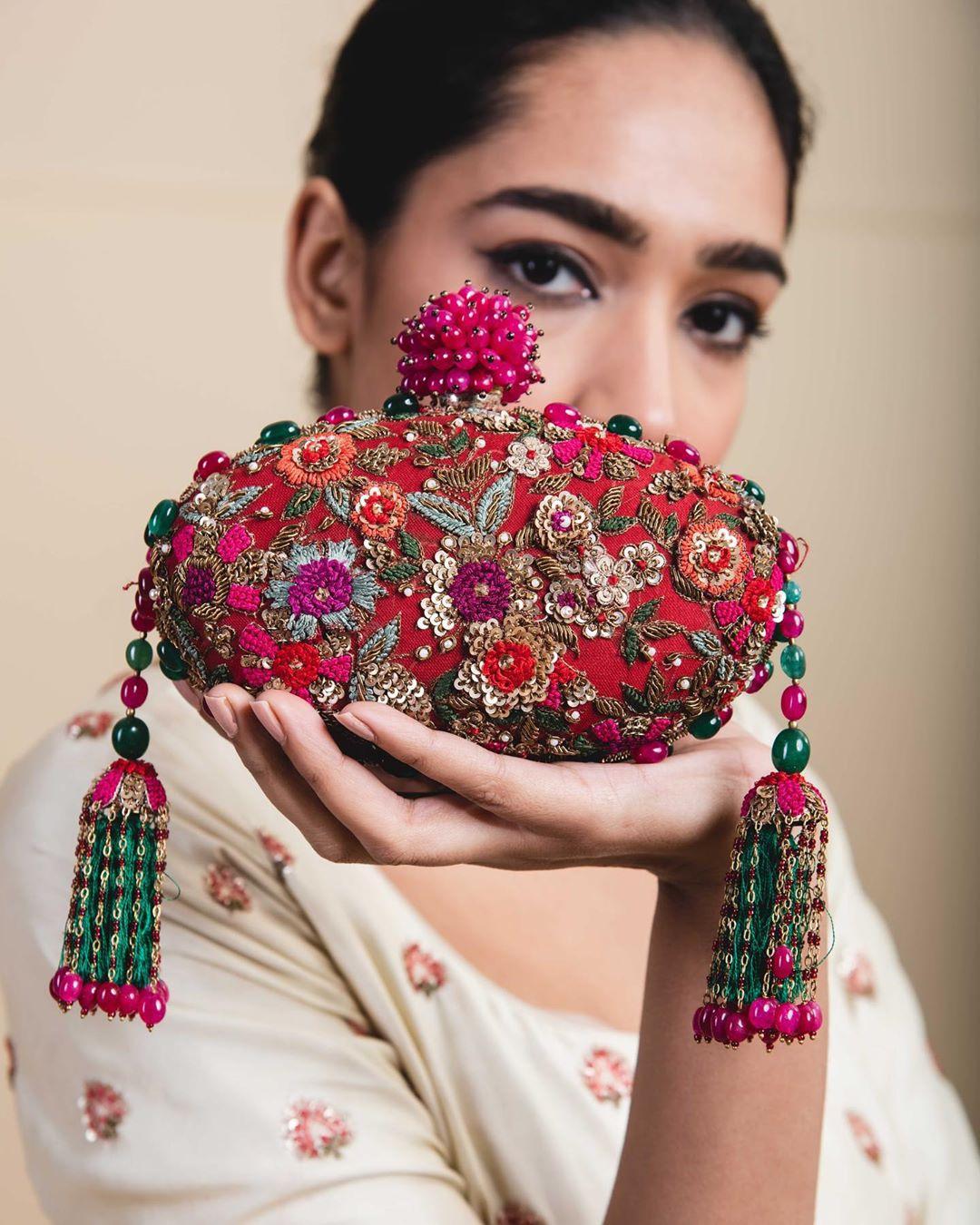 Colourful latkans, hand-embroidered motifs and beaded embellishments transform this compact clutch into a playful, modern heirloom. Inspired by the flora and fauna surrounding us, this one from Tarun Tahiliani Accessories marries traditional patterns with modern design sensibilities.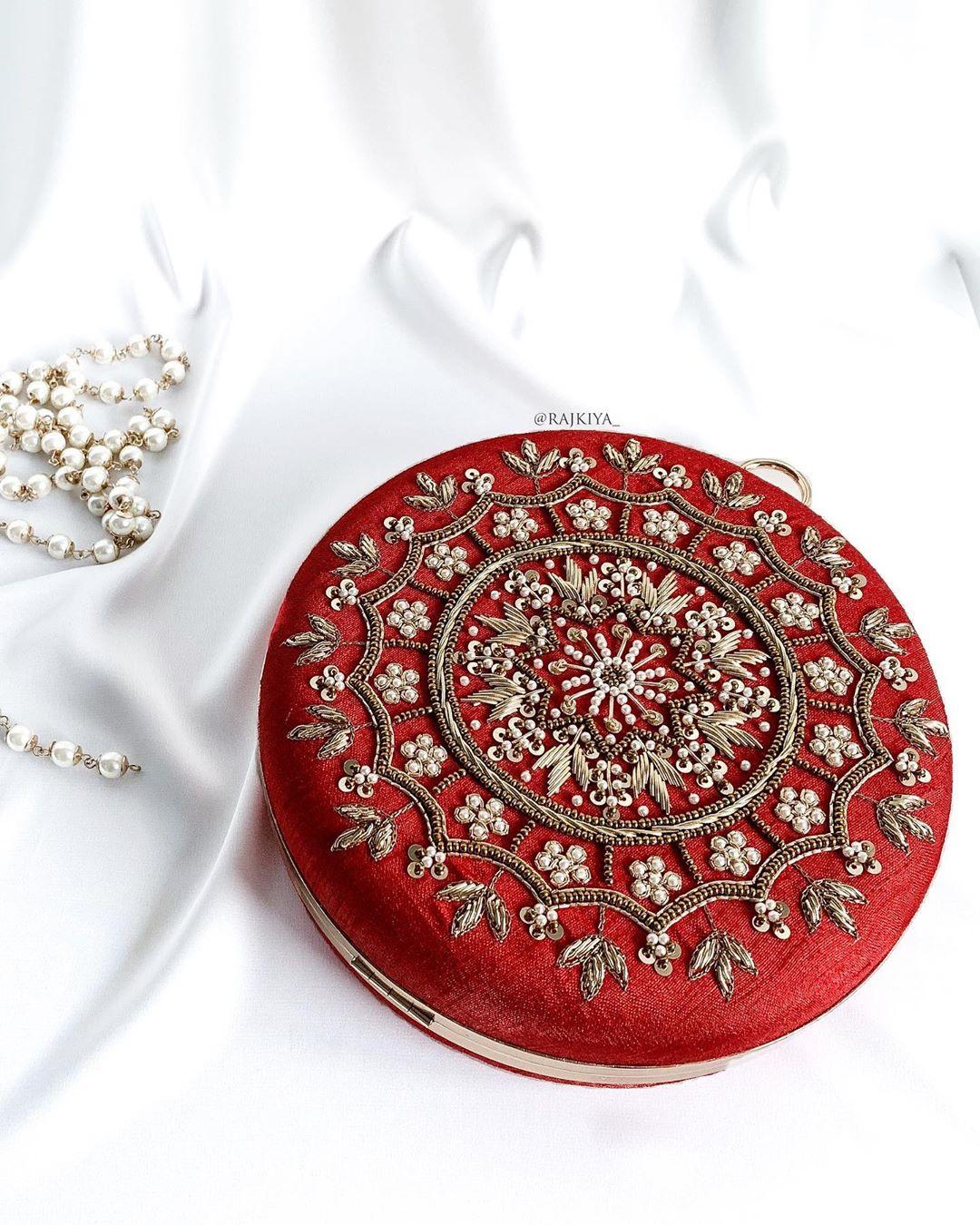 Image Courtesy: Rajkiya
This embroidered red designer clutch by Rajkiya is another accessory that will complete your red lehenga look. The golden Zari with faux pearl and antique gold sequin work will keep it extra stylish for the bride in red lehenga.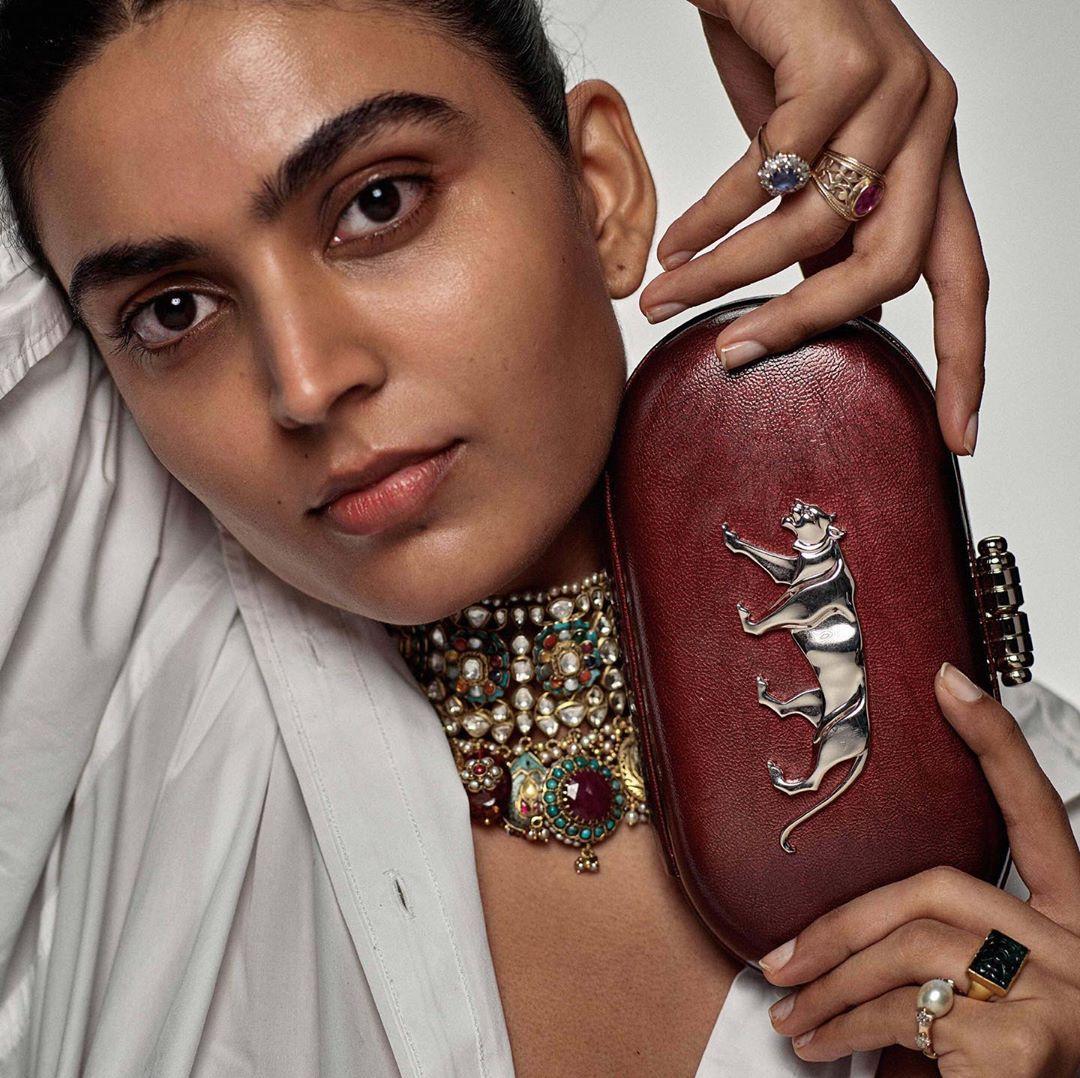 Image Courtesy: Sabyasachi
The Royal Bengal Minaudière in maroon by Sabyasachi is a class apart when it comes to bridal accessories. This clutch is handcrafted with absolute excellence for the millennial brides-to-be for their wedding.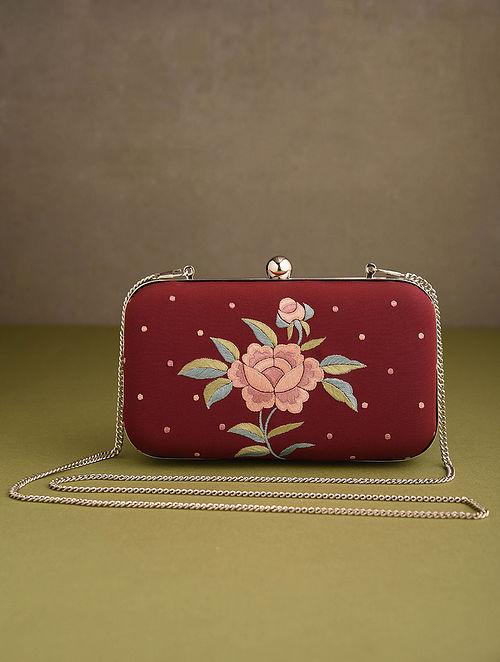 Image Courtesy: Jaypore (Parzor Crafts)
This pattern shows stylized roses. The rose in Zoroastrianism, stands for Din, Angel of religion. In Zoroastrian mythology, each day is dedicated to an angel, and each angel is represented in nature by a flower. This dainty clutch sure has a story of its own but at the same time it will complement your red lehenga beautifully!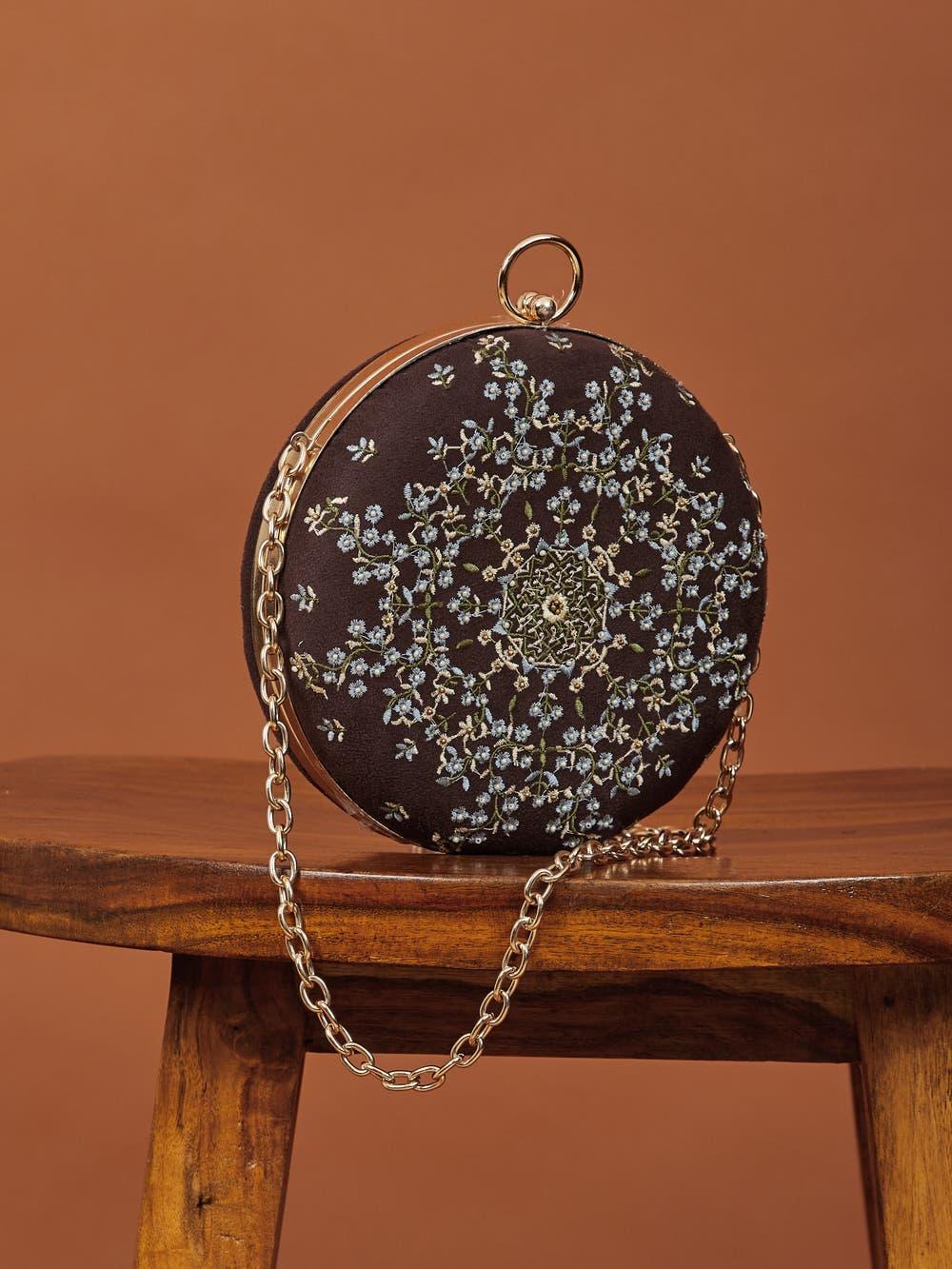 If you are wondering why is a brown clutch on the list? Well if you are planning to wear a deeper shade of a red lehenga then this brown embroidered clutch in leather by Ri by Ritu Kumar is going to be the perfect contrast you can experiment with without making it stand out too much. It's a risk safe to take!
Personalised Bridal Masks for Red Lehenga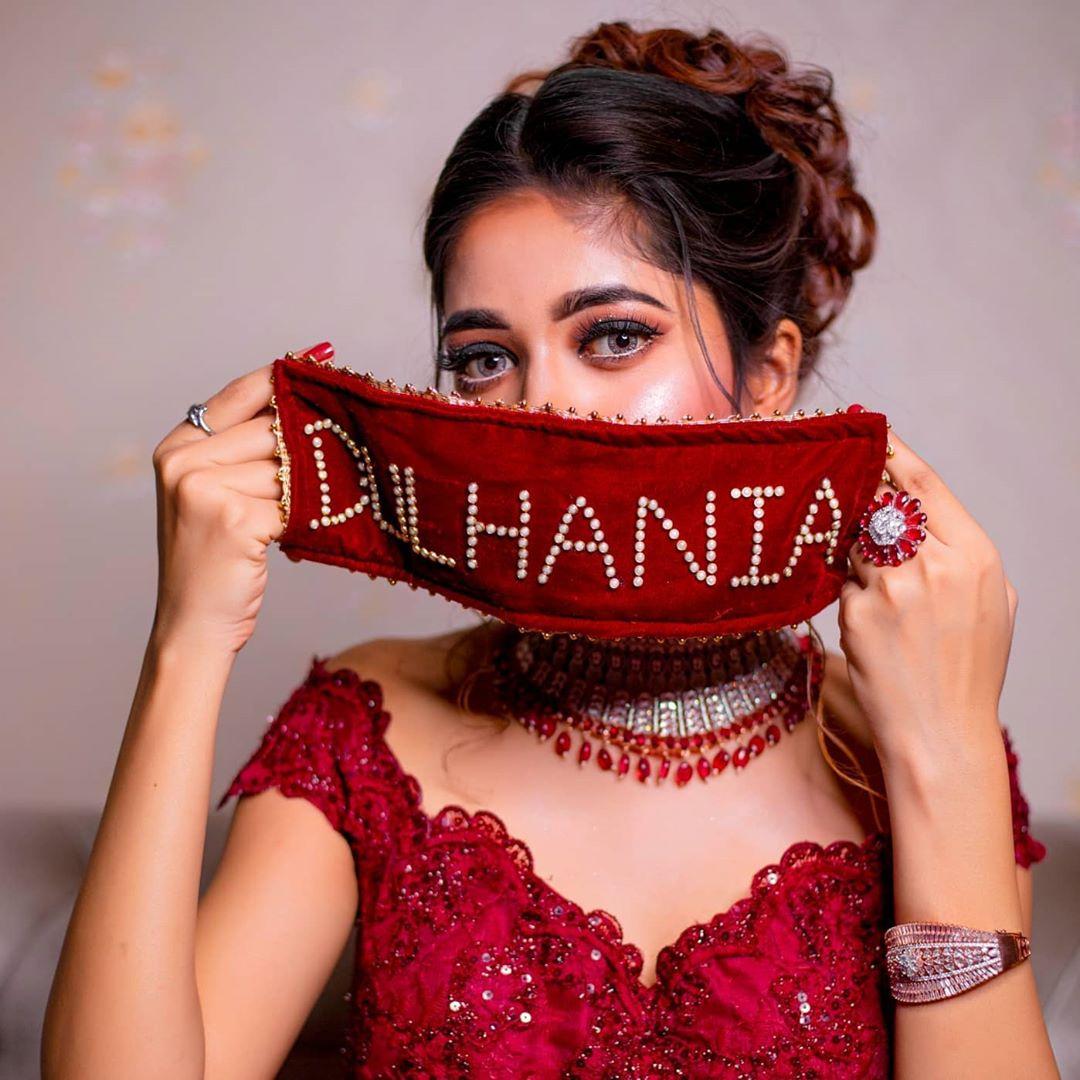 Image Courtesy: Monica Malik MUA
Owing to the pandemic that has changed the contemporary times so drastically and the safety measures that the wedding ceremonies need to partake, masks have become a part fo the bridal fashion when it comes to accessories. Even if it is a temporary adjustment, might as well make it fashion and this personalised mask with stone-studding is amazing!
Image Courtesy: The Wedding Files
Keeping it regal yet simple and elegant, this raw silk mask in maroon will be a perfect match for your red lehenga or even your bridal saree.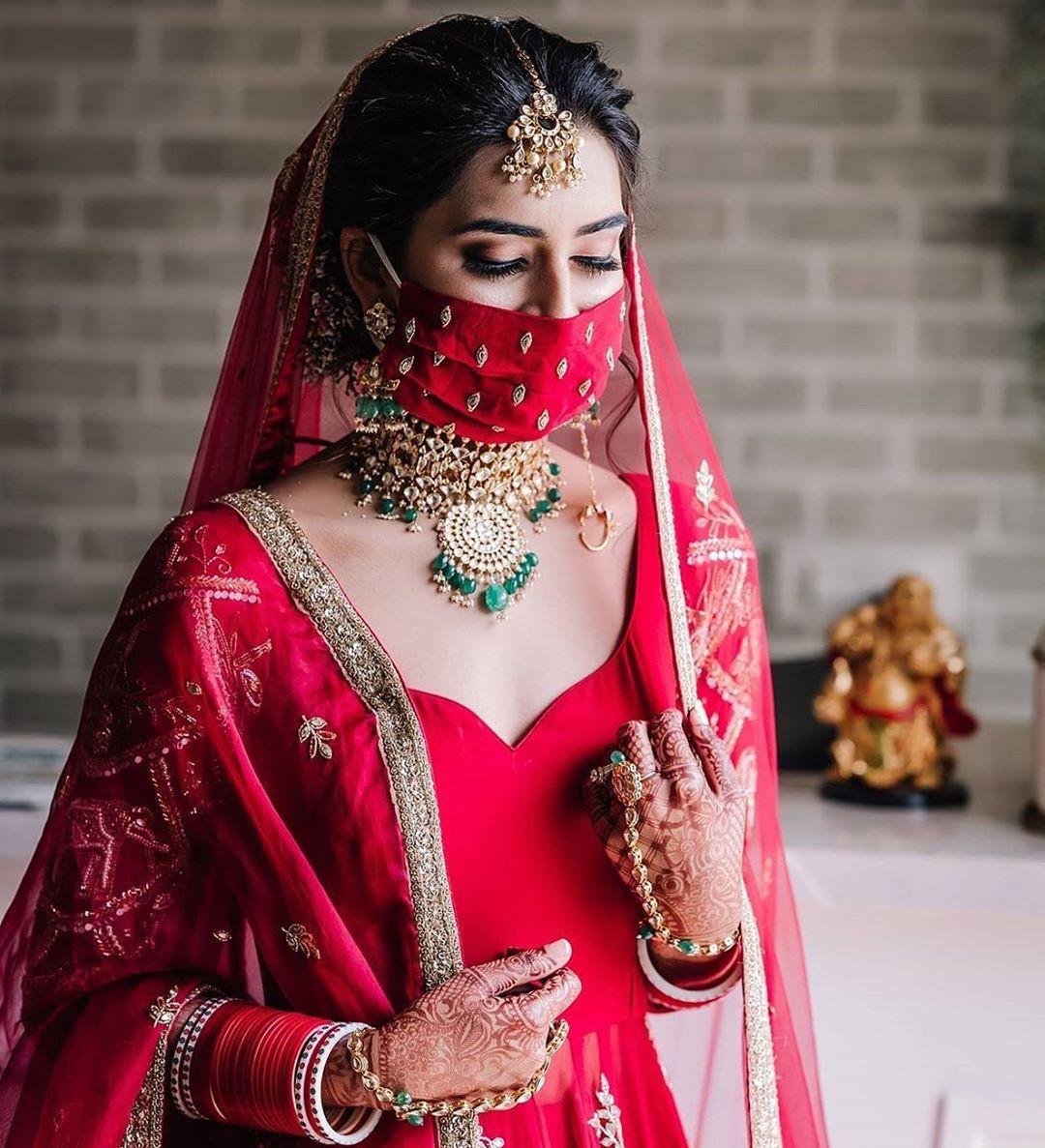 The wedding looks of Bhavdeep Kaur broke the internet and how! This bride's customised masks to match each of her outfits is an inspiration for all the brides who are looking for a wardrobe fo intimate lockdown weddings now.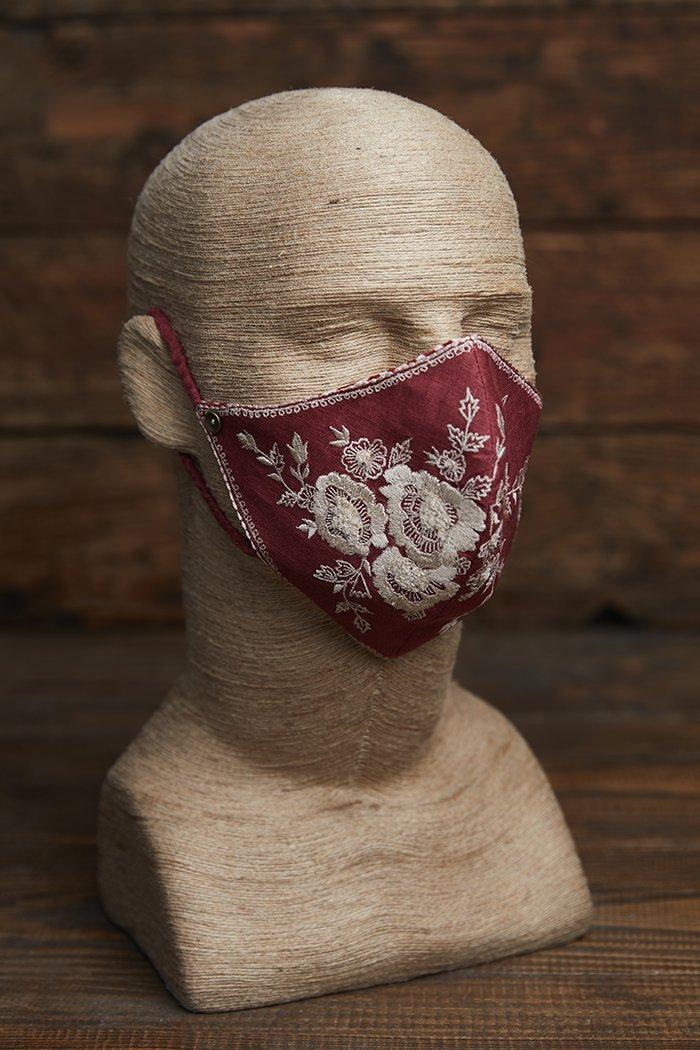 Image Courtesy: Torani
While many brides like to get a matching mask stitched with the same fabric as their lehenga, in case you get yourself a ready-to-wear lehenga choli for the wedding, you might want to get your hands on this designer mask by Torani. This thin handwoven mask on Chanderi and voile is an absolute graceful addition to your red lehenga outfit.
Belts for the Red Lehengas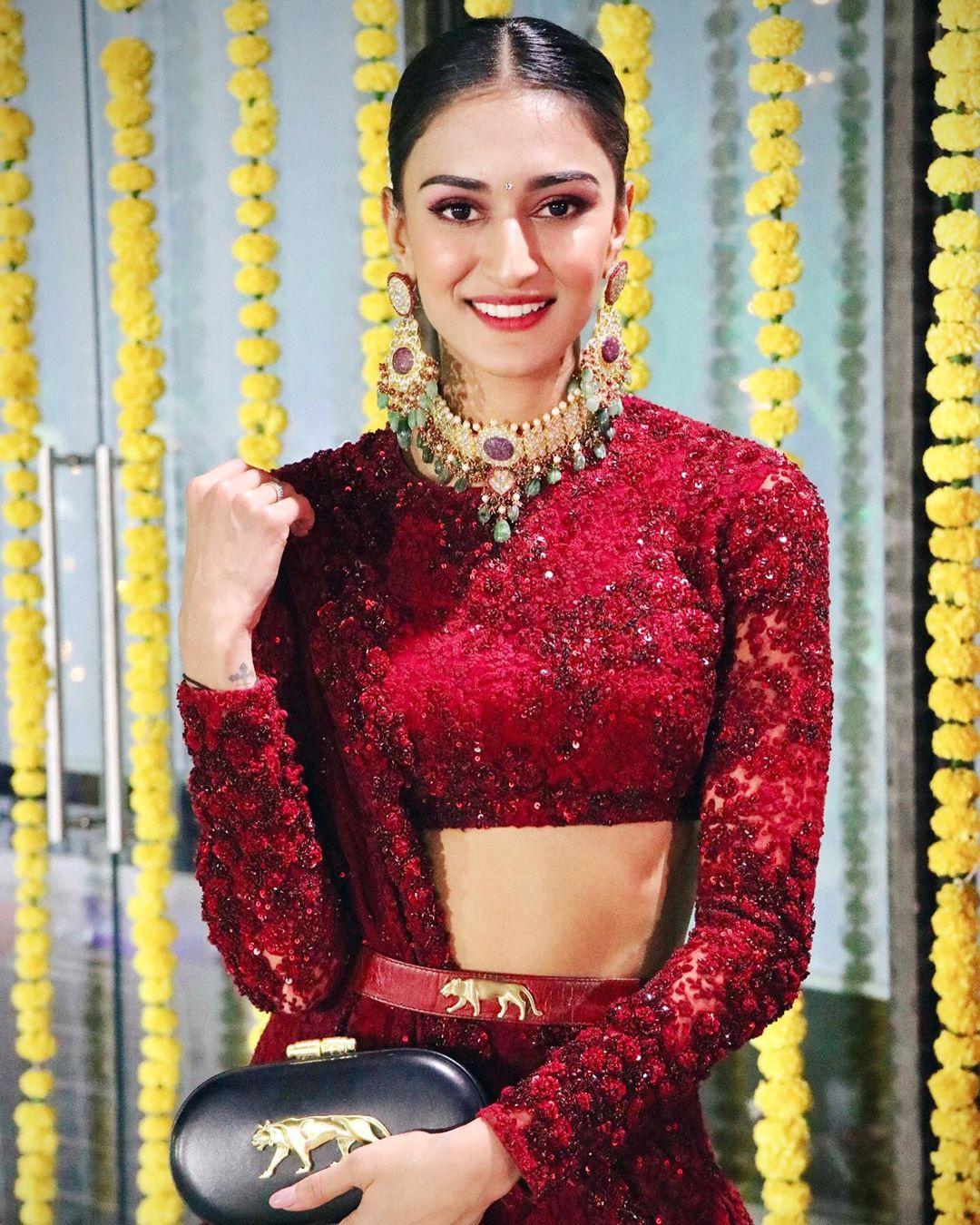 Image Courtesy: Sabyasachi
Actress Erica Fernandes from the silver screen flaunts this beautiful red Sabyasachi belt with the classic logo in gold. Belted lehengas are sure a trend that never gets old and this outfit inspo is a hoot!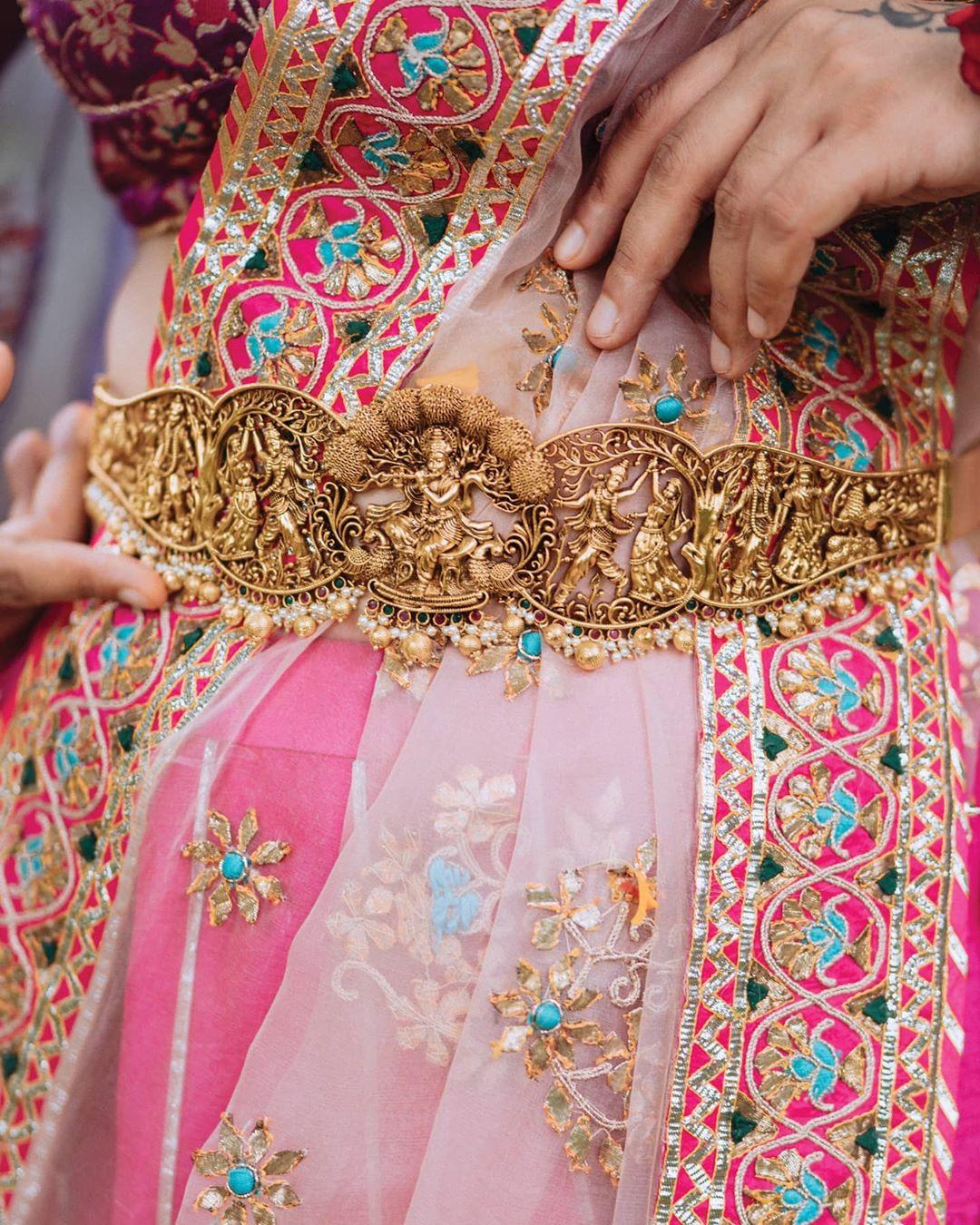 Radha and Krishna are the idols of love in Hindu mythology. A beautiful tribute to their divine love, this Kamarband is called Rasleela and the intricate designing of different poses of Radha and Krishna makes this belt a class apart and a must-have if you are planning to wear Temple jewellery with your lehenga.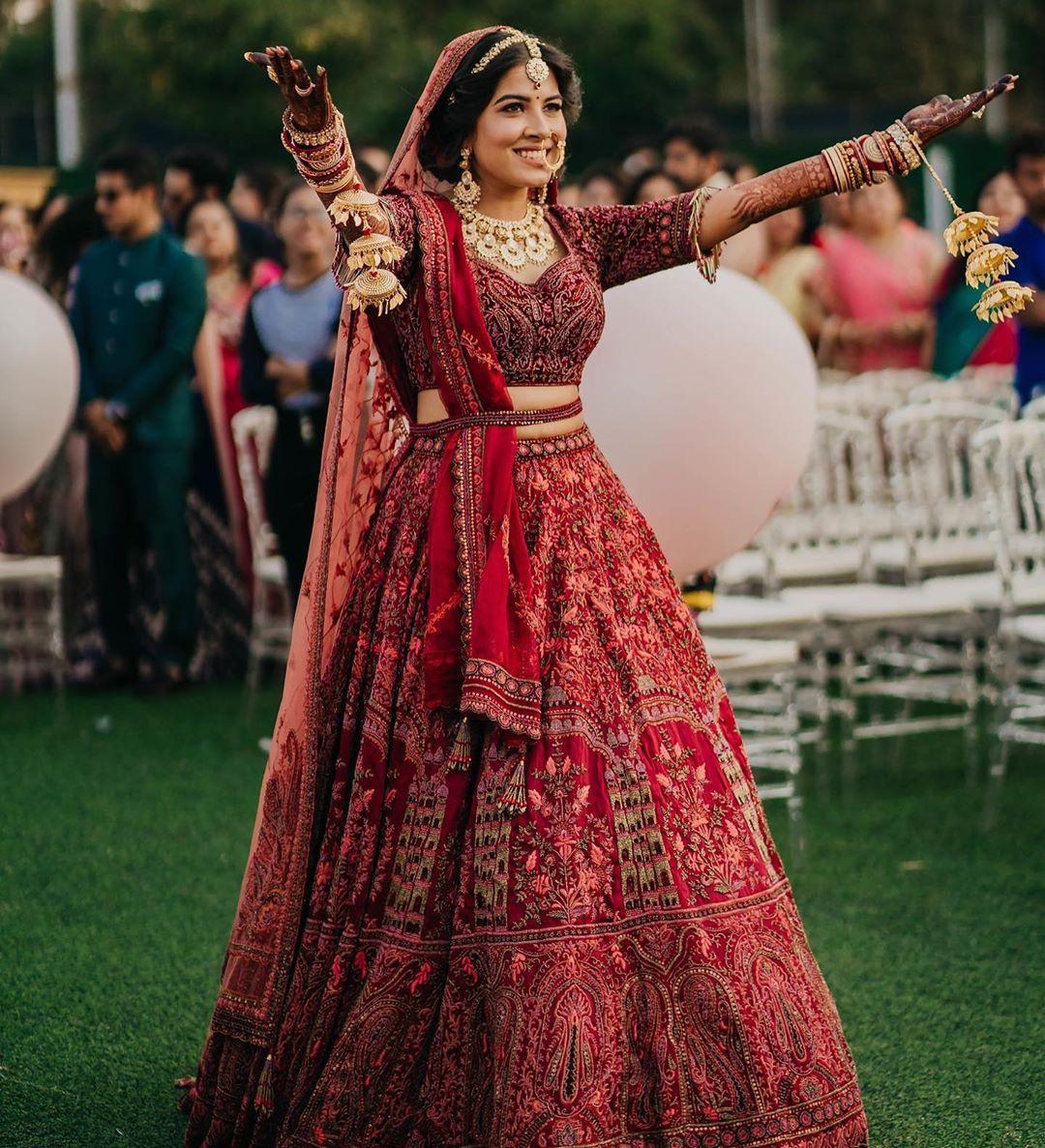 Another bride flaunts a simple yet elegant belt with her lehenga that accentuates her curves and makes her look breathtaking and we love it. Pick some extra lehenga fabric and get yourself a customised belt stitched to match your lehenga and complete the look in style.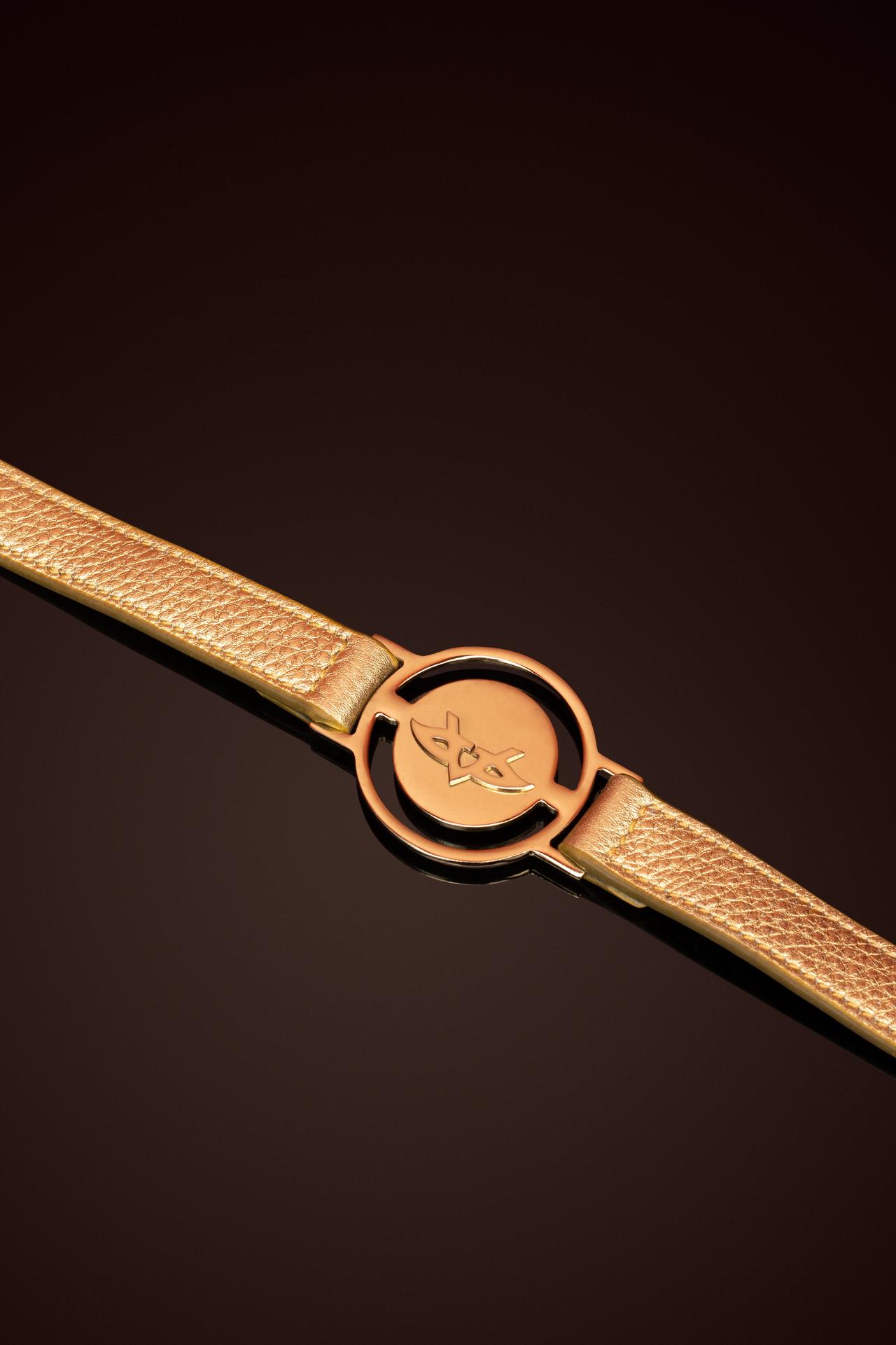 As a part of JJ Valaya's couture collection for 2020, this leather belt in gold is an absolute gem. The Valaya Phoenix buckle in teh centre adds to the classic look of the belt that will add some extra sparkle to your red lehenga especially if it is a monotone one.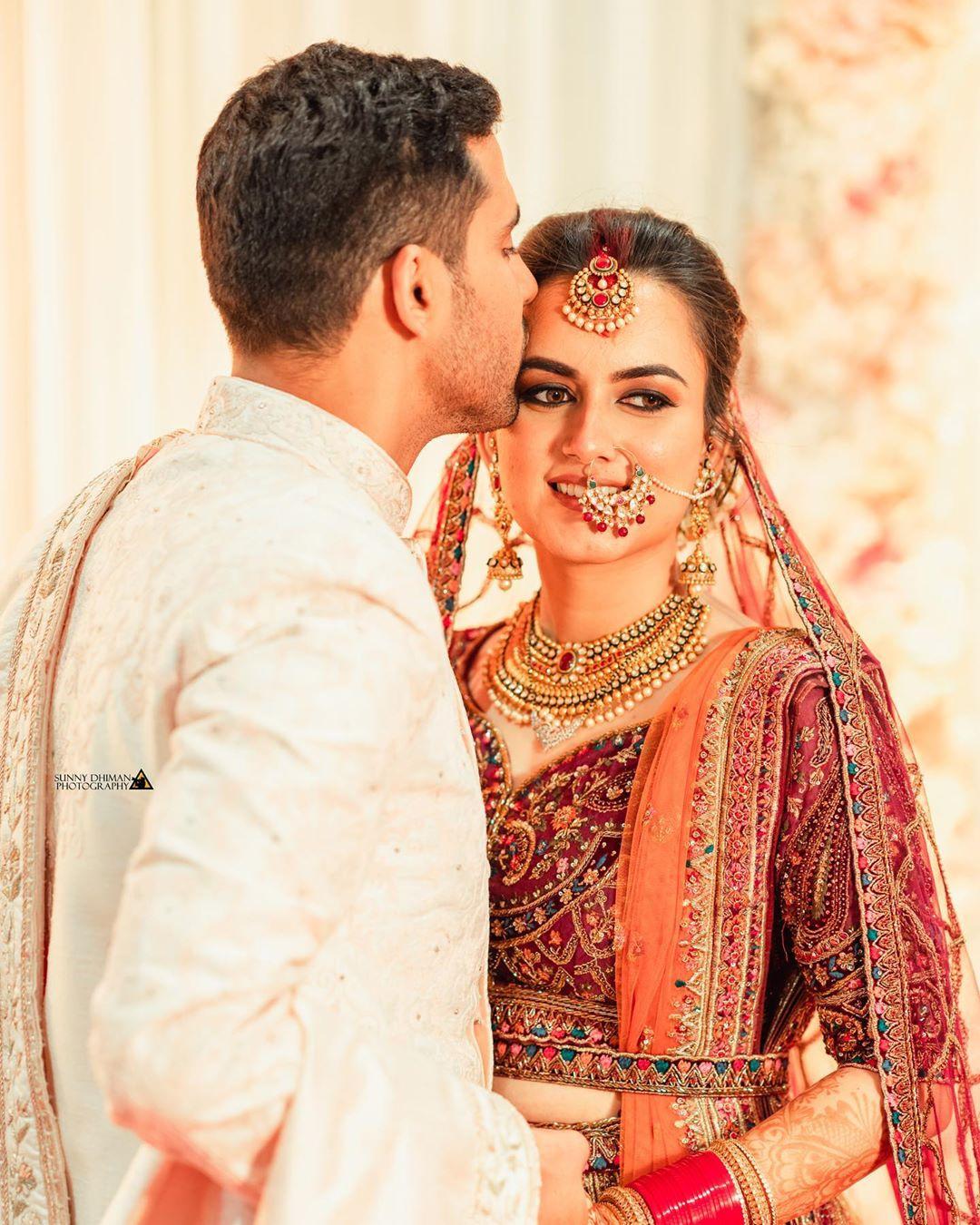 Matching her Payal Keyal red lehenga, blogger Shivani Rana is seen wearing a belt that not only holds her dupatta in place but also adds to the charm of the outfit. Ask your designer to get you a personalised belt too!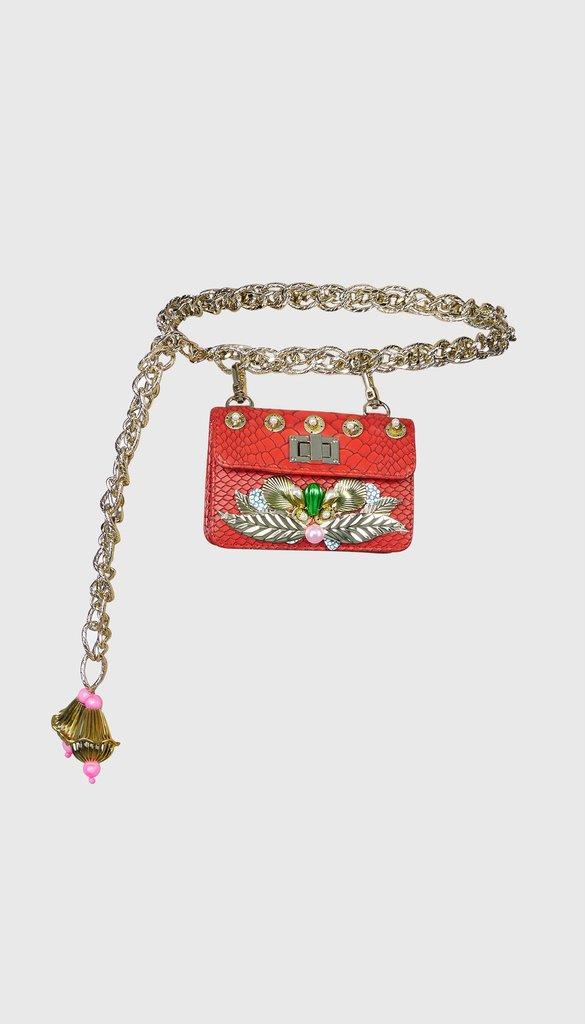 From Papa Don't Preach by Shubhika this red chain-link embellished belt bag in red is for the brides who are not afraid to experiment and go all out when it comes to adding quirk to their traditional outfits. You could pull off this belt cum bag look with your red lehenga and be the talk of the town and how!
Juttis for Red Bridal Lehenga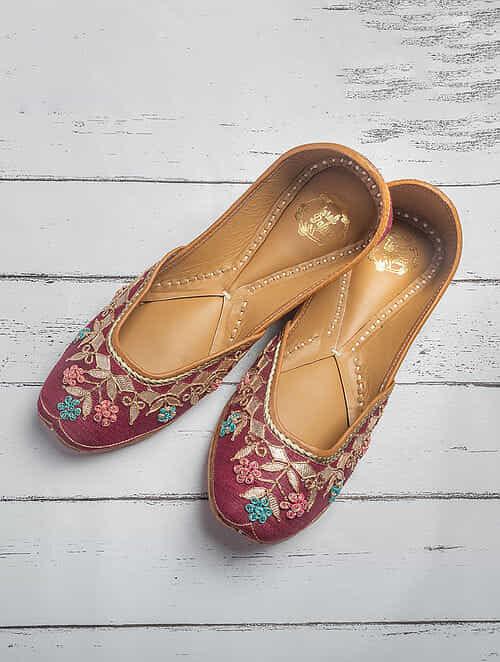 Image Courtesy: Jaypore (Vareli Bafna)
Juttis are without a doubt one of the best traditional footwear ever made! This red Gota Patti Khadi Silk Jutti by Vareli Bafna can be found on Jaypore. The red fabric with intricate embroidery will suit your red lehenga best.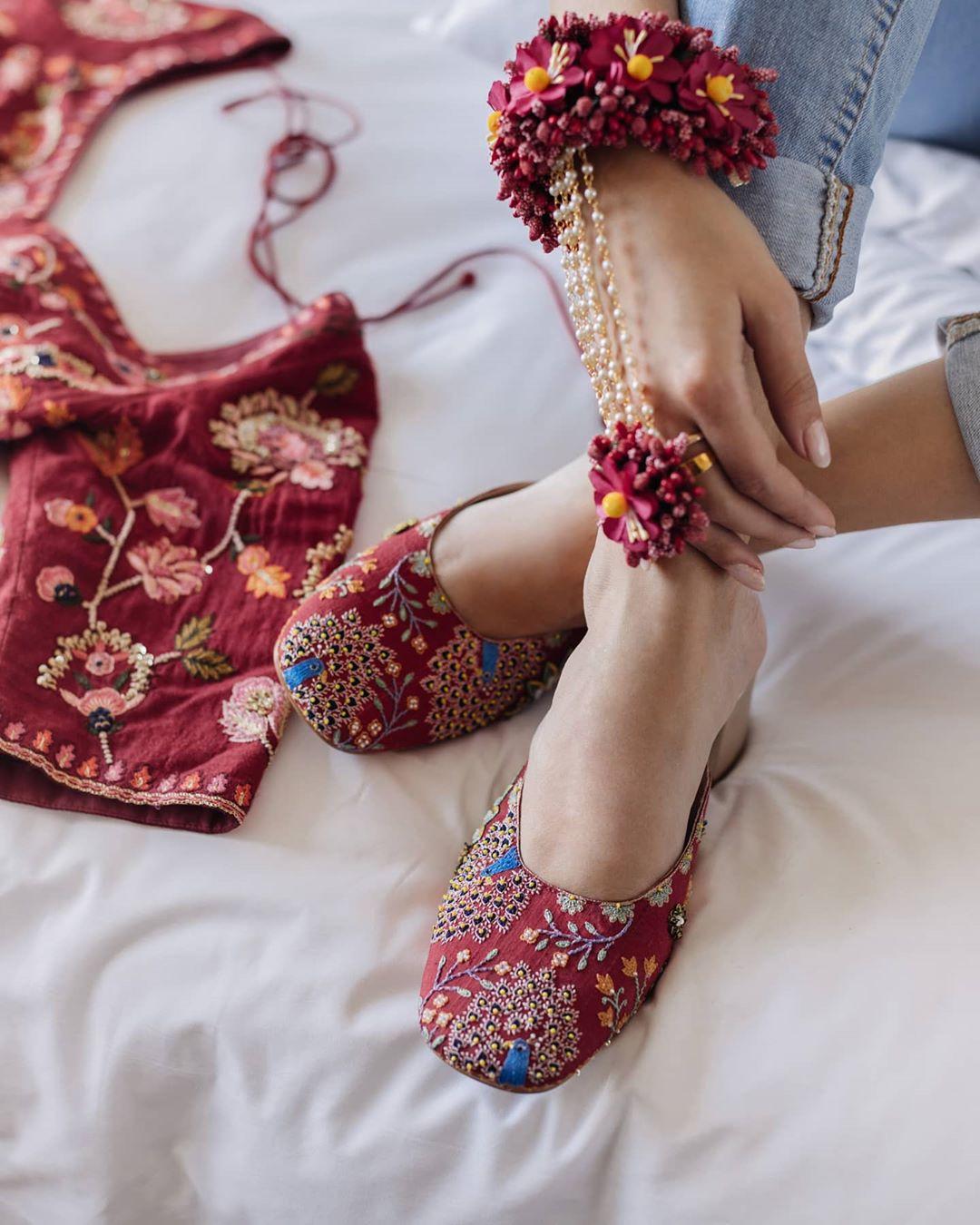 Image Courtesy: Fizzy Goblet
Rahul Mishra is known for his love for nature and his 3D embroidery that celebrates nature. This Jutti is the creation of Rahul Mishra x Fizzy Goblet and the good news is they are heeled Juttis. For the brides who like it comfy but fashionable, this hand-embroidered pair is the perfect one for you to match your red lehenga!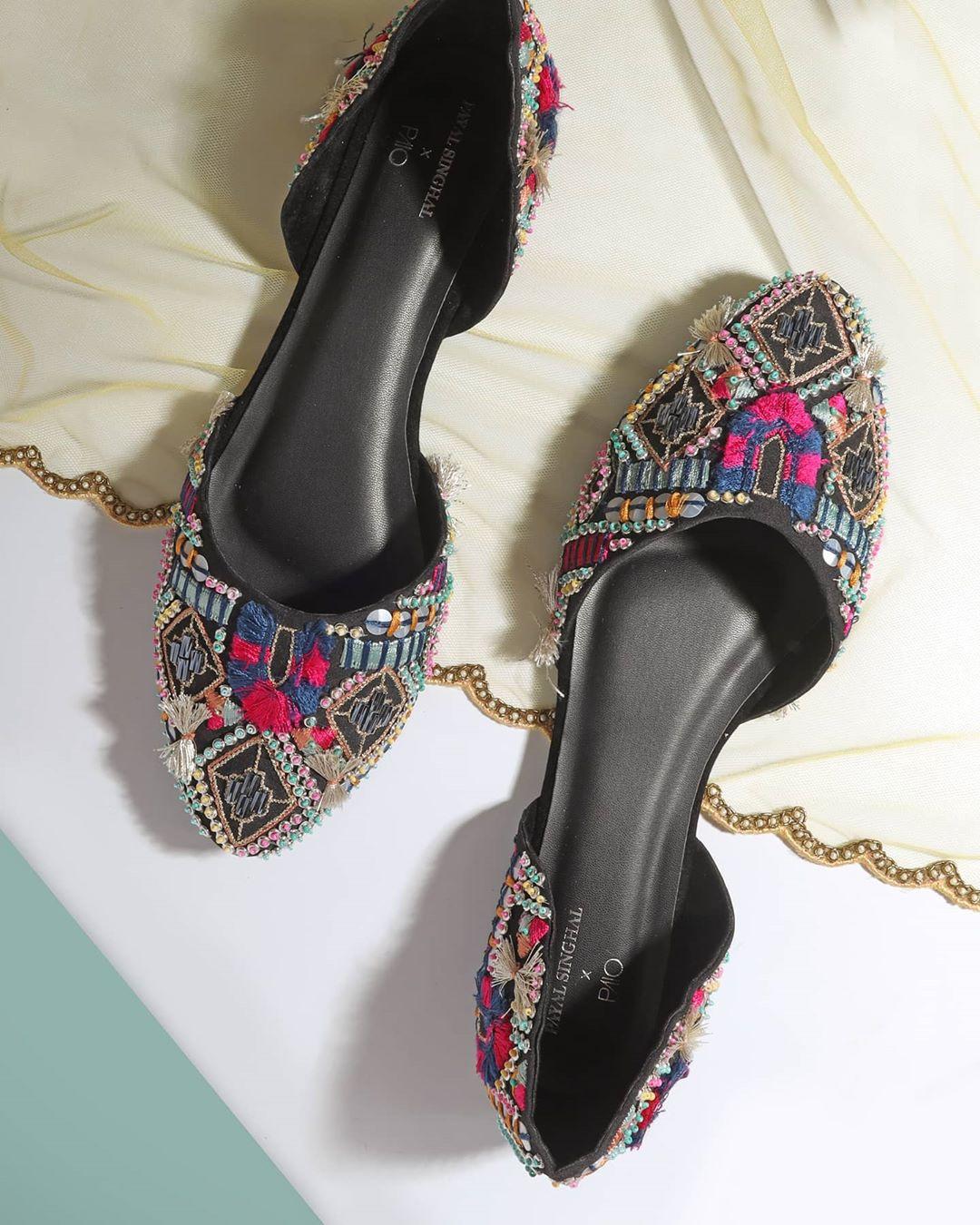 Image Courtesy: Payal SinghalxPAIO
These embroidered flats are created by Payal Singhal in collaboration with PAIO and this pair of fun handcrafted vegan shoes featuring their signature embroideries and embellishments is a charmer to add to your red lehenga.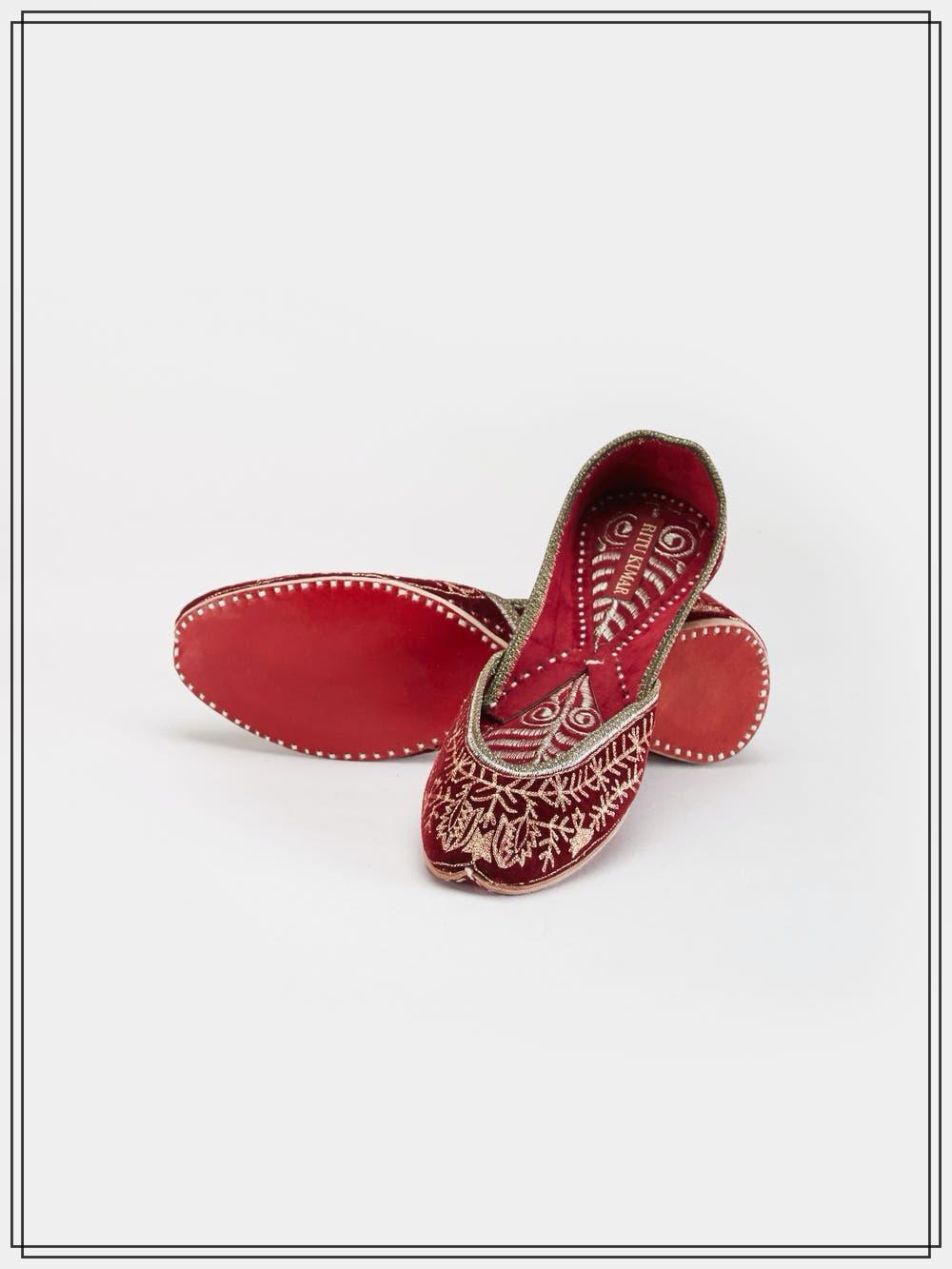 This maroon embroidered Mojari by Ri by Ritu Kumar is not only gorgeous footwear pick for your red lehenga but also a dainty and traditional one that flaunts delicate yet intricate embroideries in Zari. What makes it more special is that even the insole of the Jutti is decked to make you feel like the princess you are while keeping it comfy all along.
Accessories are all in the details. The effort put in making an outfit perfect is unfathomable, to say the least. You have to sit hours framing the perfect picture in your head and then bringing it to life.
This is why we have listed our favourite picks of accessories for red lehenga that you can try for your big day without any hassle.
Let us know your favourite picks in the comments below.