Here's the Breathtaking Intimate Wedding of Bhavdeep Kaur in Ludhiana
Breaks the internet! Bhavdeep Kaur ties the knot with Harkarandeep in a gorgeous intimate wedding in Ludhiana with less than 50 people with pin-worthy elements. Read for inspo.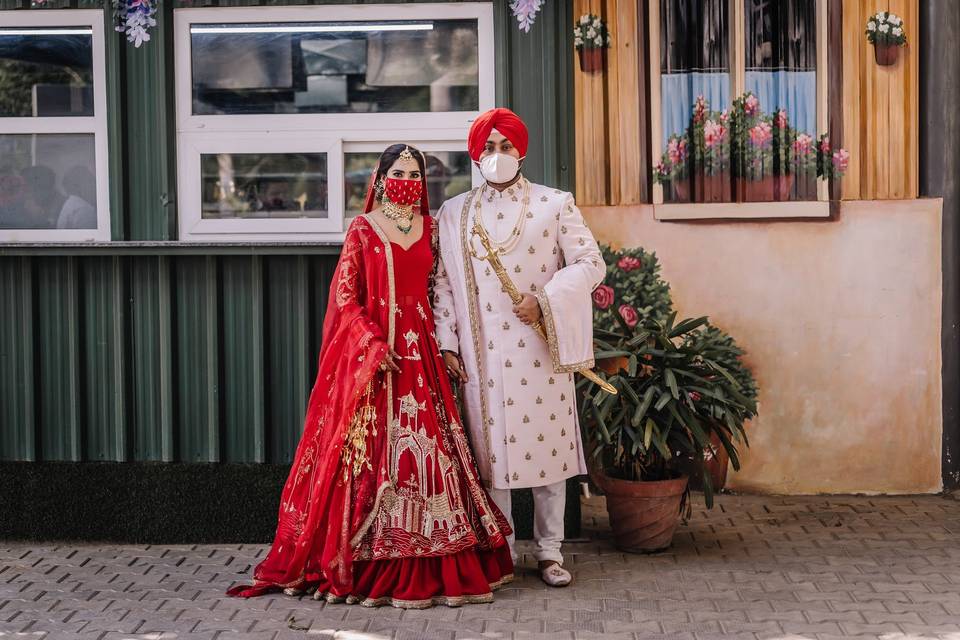 Hosting an intimate wedding during the pandemic is not an easy task at hand. However, with the #WeddingsInTheTimesOfCorona that are taking places amidst the lockdown, there are many heart-melting as well as inspirational stories that have emerged. In such times of uncertainty as the pandemic unravels itself, these #WeddingsInTheTimesOfCorona stories are a silver lining for many couples.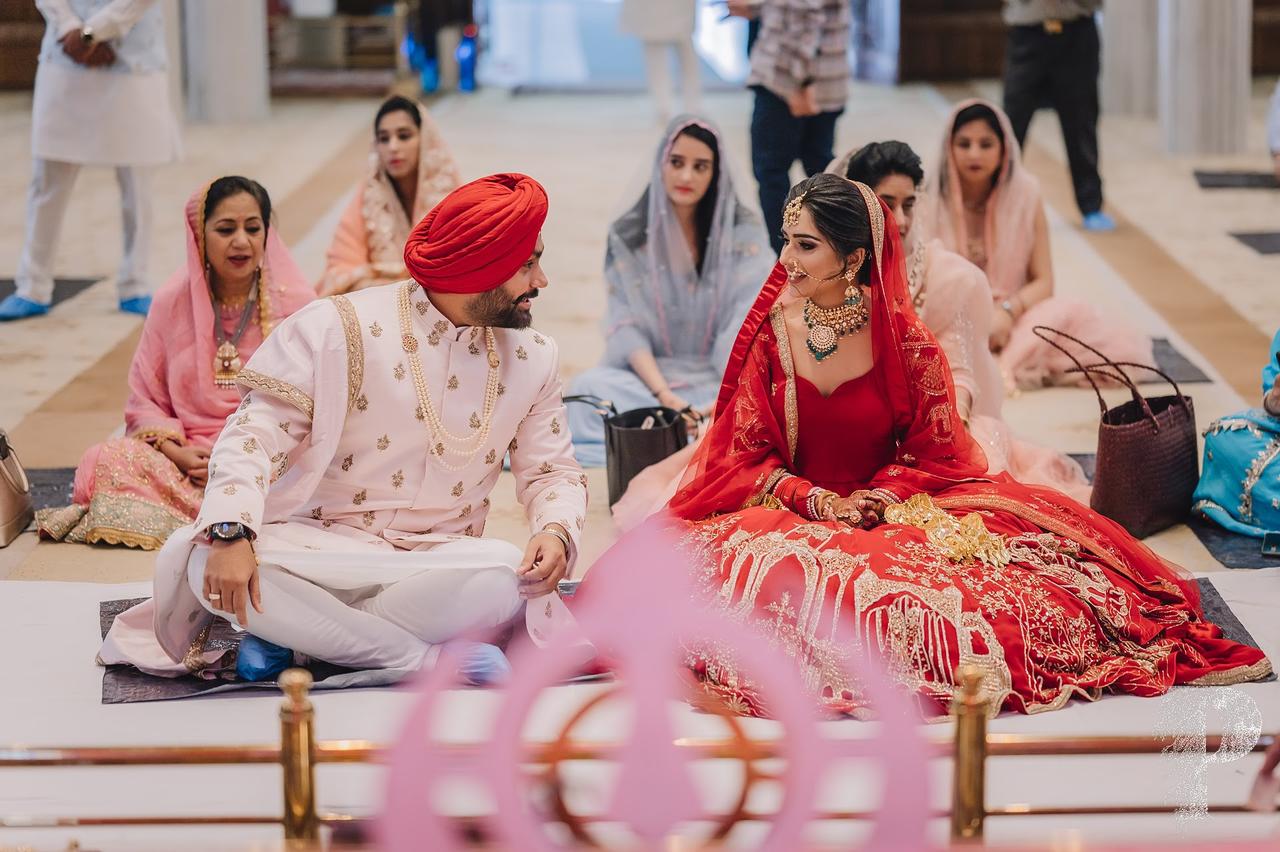 Many couples have tied the knot and stepped into their forever stories amidst the COVID-19 crisis. One of these stories is of a Ludhiana-based couple Bhavdeep Kaur and Harkarandeep Singh Vaid. Bhavdeep is a stylist, influencer, blogger and a designer who owns her own clothing line called Youngberry Official. Harkarandeep is a Councillor of Municipal Corporation, Ludhiana, a photography enthusiast and a food lover.
The story of the lockdown wedding they planned in full swing, is one to adore. With Pin-worthy elements that made this wedding break the internet, here are the highlights of the Ludhiana intimate wedding with less than 50 people.
The Haldi Ceremony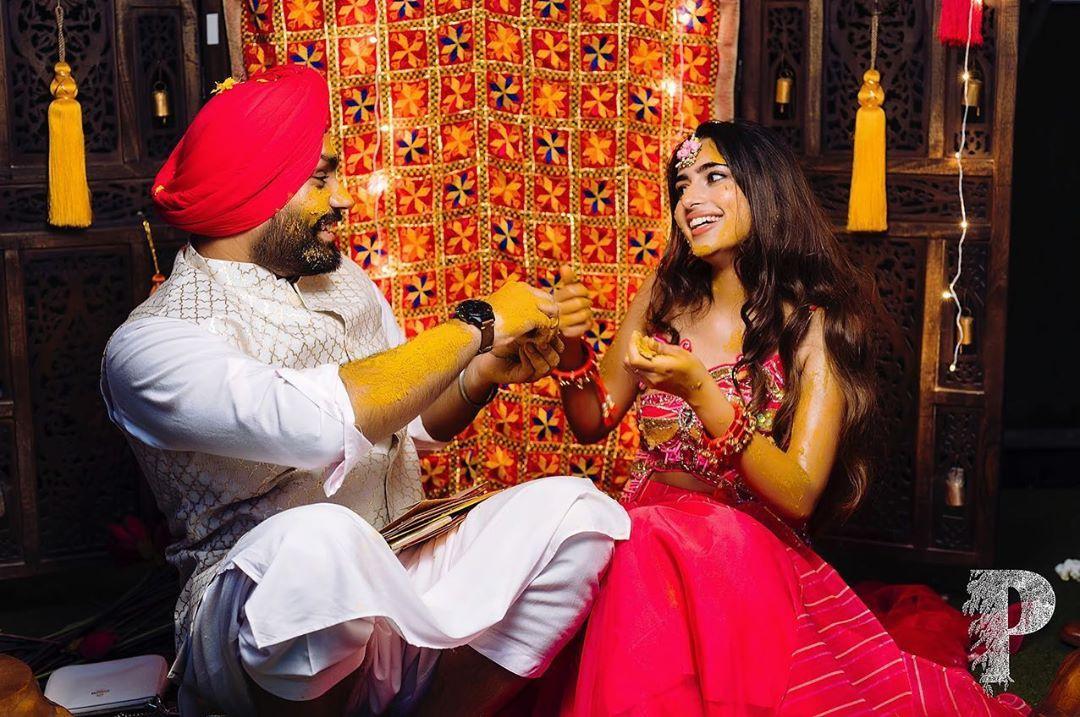 Their Haldi ceremony was held on the 14th of May at Harkarandeep's house. The groom's brother and sister had done a flawless DIY decoration in the house with whatever was available at home during the lockdown. Bhavdeep's mother-in-law's Phulkari dupatta and her Parandis were used to create a stunning backdrop. The groom's sister, Gagan, had made use of her own Kaliras from her wedding 2 years ago to decorate the trees with them.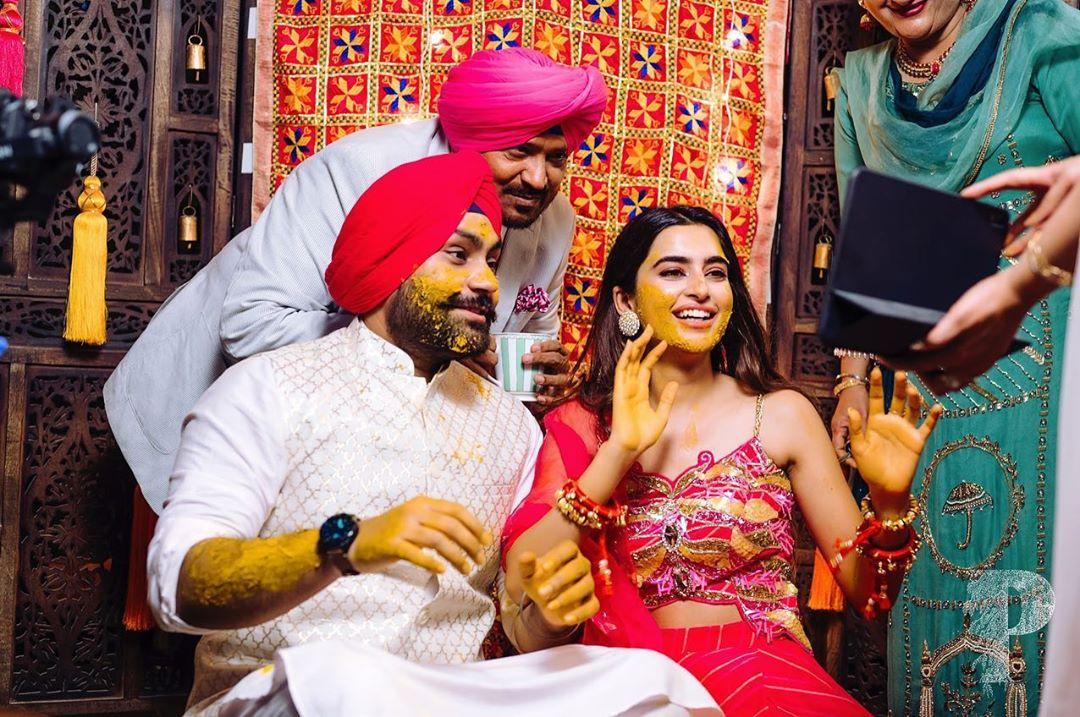 There were adorable signs hand painted by the nieces using watercolours. They also used fresh flowers that were picked from the garden for decor.
What she wore?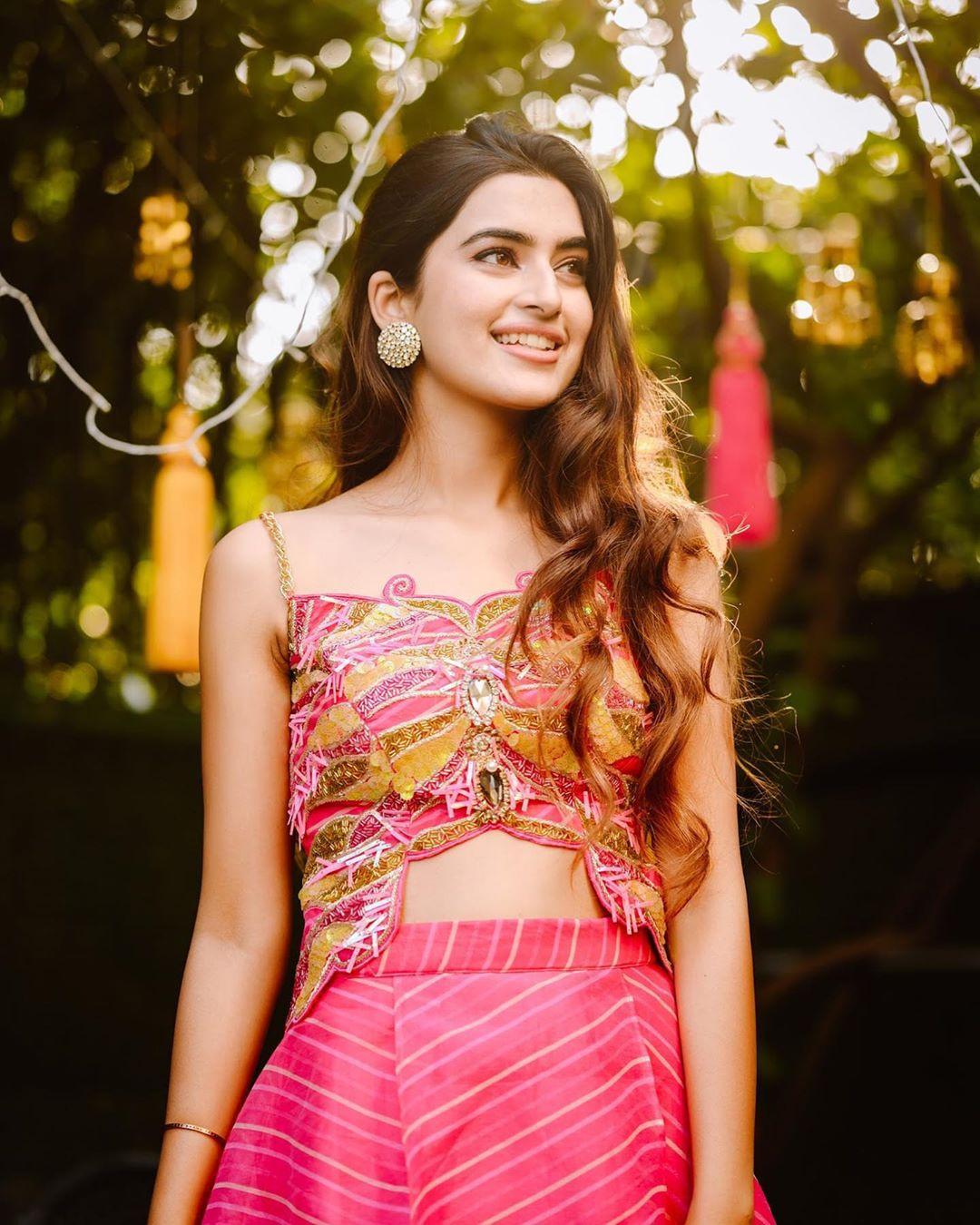 Bhavdeep was wearing a gorgeous hot pink outfit. Since she thought pink would contrast really well with yellow, she went for a colourful butterfly-shaped hand-embroidered blouse with metal straps to give it a quirky look. The skirt she picked was a layered organza midi skirt with stripes in different shades of pink. Her cropped top and skirt set was from her eponymous label - Youngberry and it's a hoot!
The Mehndi Ceremony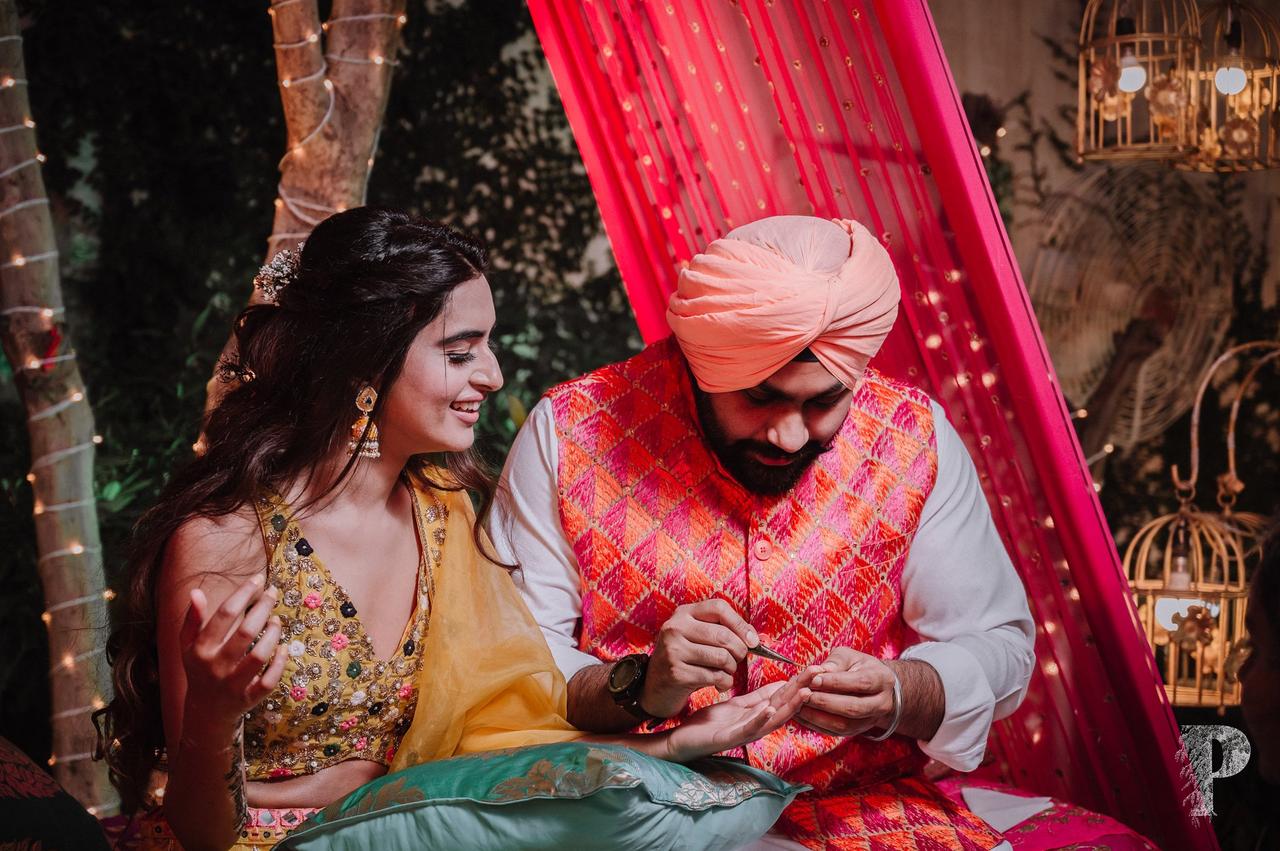 The Mehndi ceremony was held at Bhavdeep's house on the 15th of May. Her mother added to the decor with the available fabric of garments, garment racks, and other props available at her in-house studio of Youngberry. Her mother also got decorative cushions made using brocade, velvet and other available fabrics at the studio.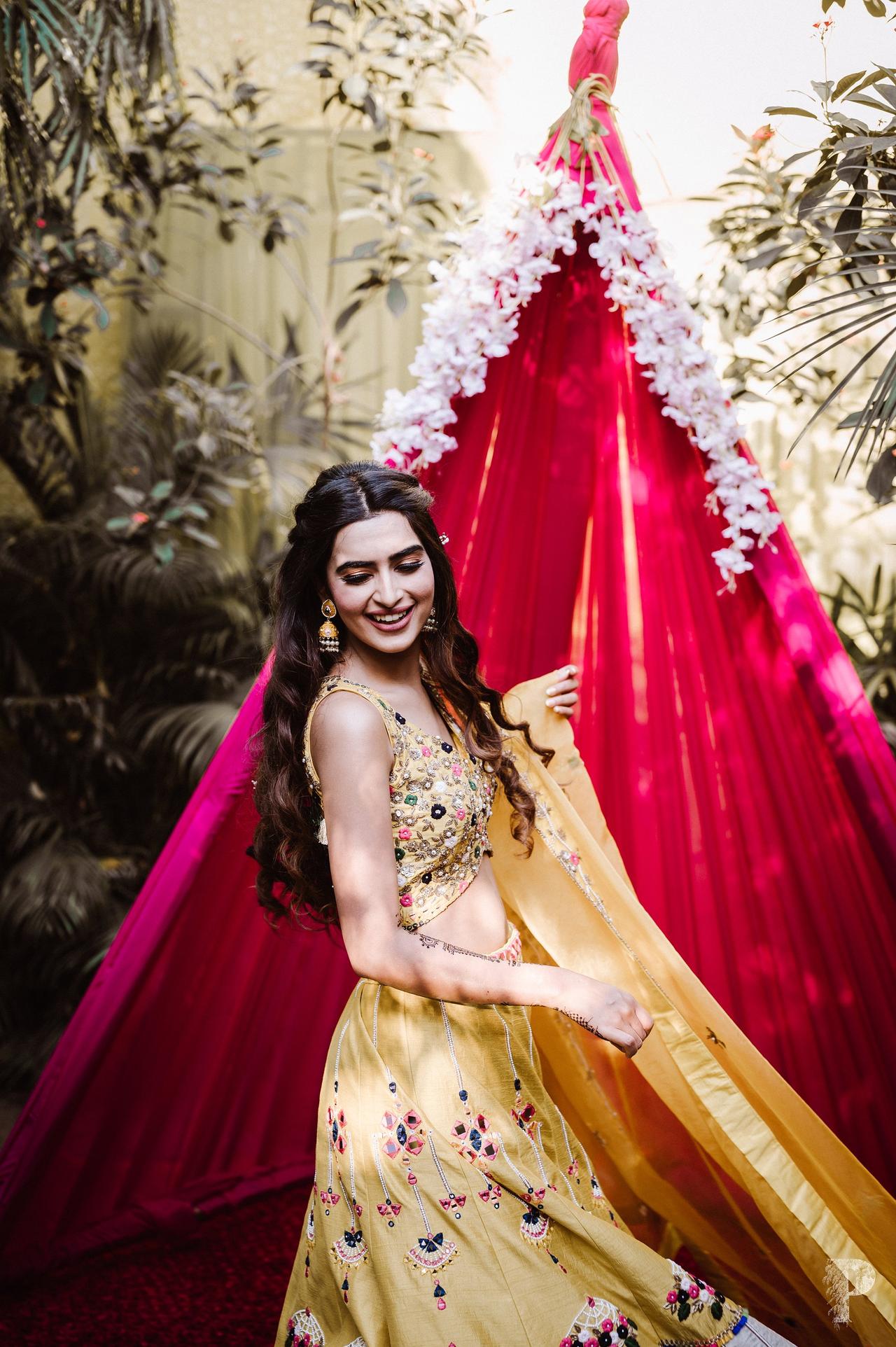 Bride's sister-in-law and Harkarandeep applied mehndi on Bhavdeep's hands . Bhavdeep shared that Harkarandeep drew the landscape of the place where he would like to take her once everything gets better.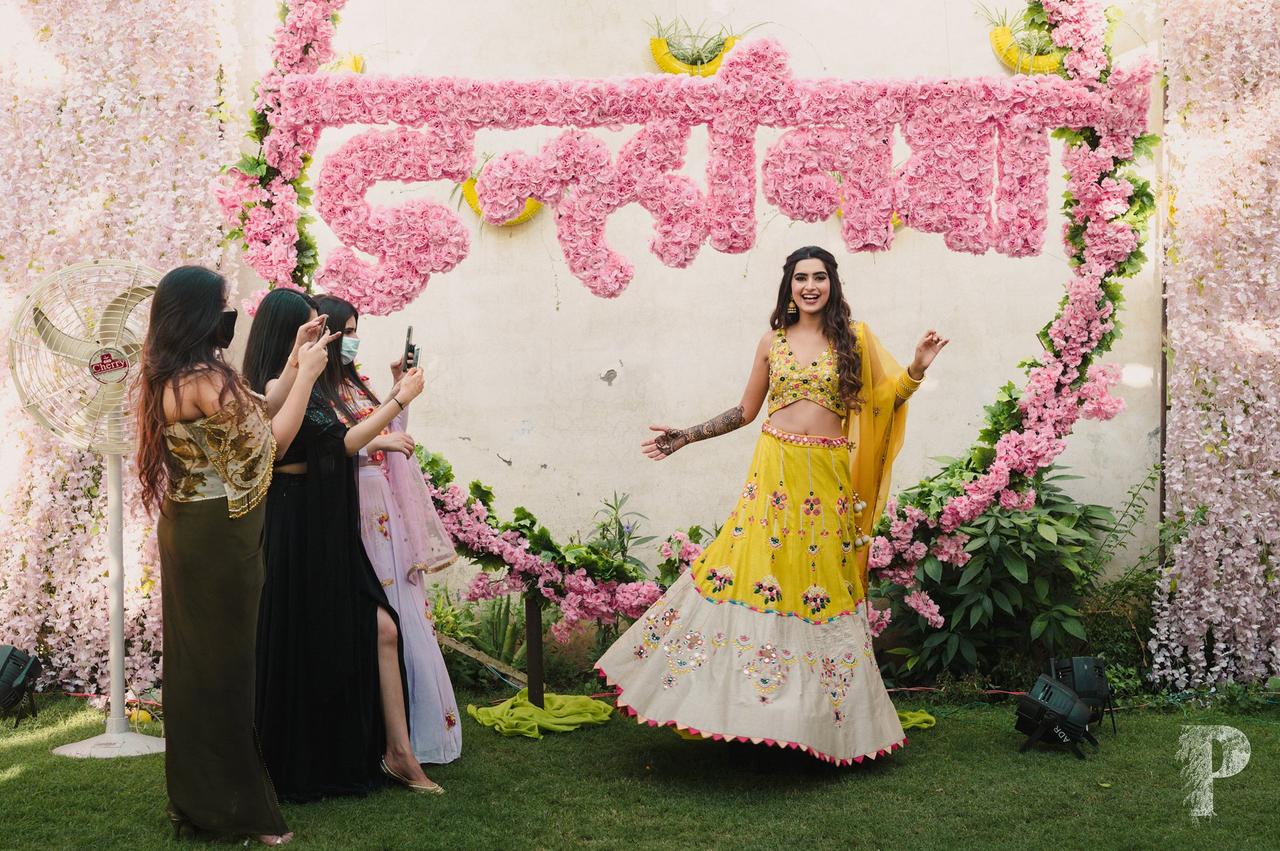 The mehndi ceremony was hosted at the backyard of her home and the DIY decor made it a treat to look at.
What she wore?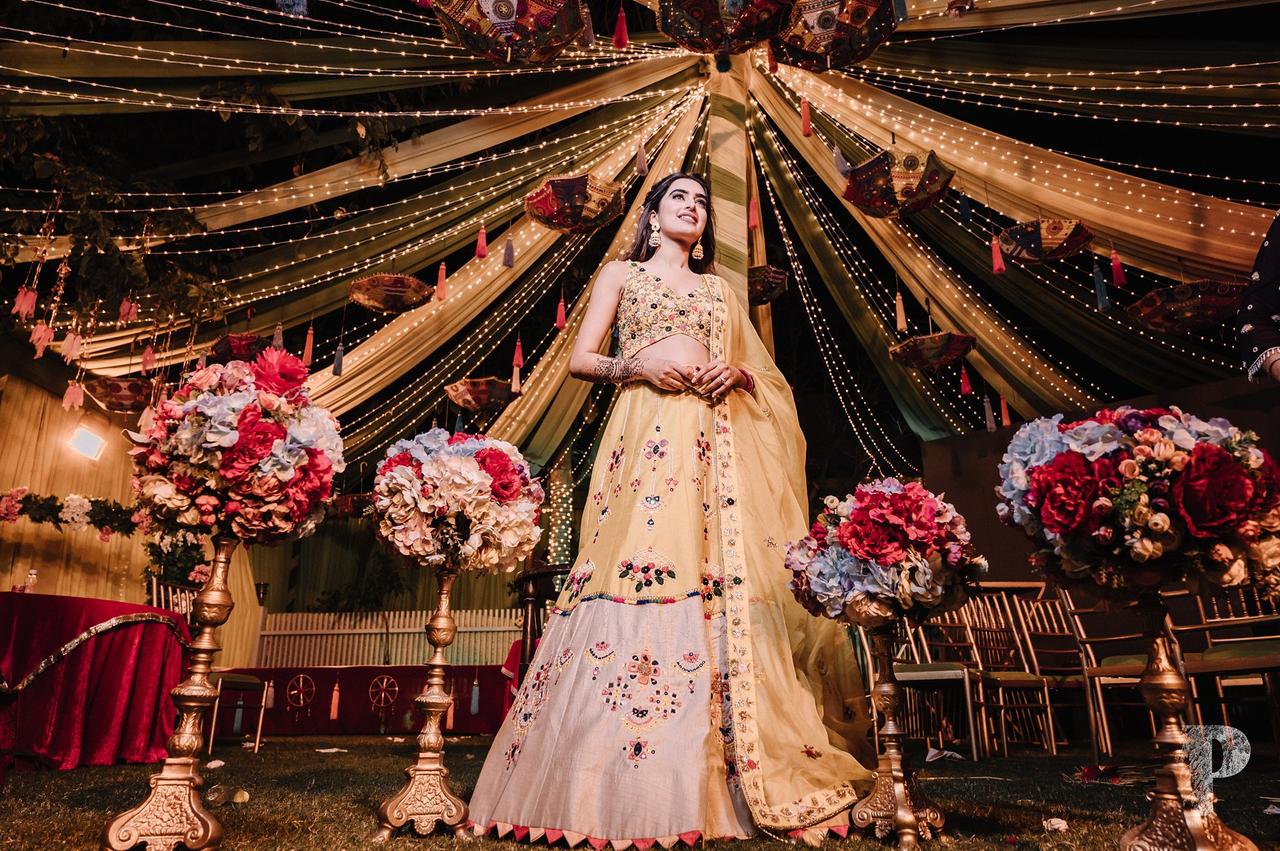 Bhavdeep was seen wearing a beautiful yellow lehenga. A regular blue mask was not what the bride wanted. She was seen flaunting a beautiful mask that was matching her yellow lehenga.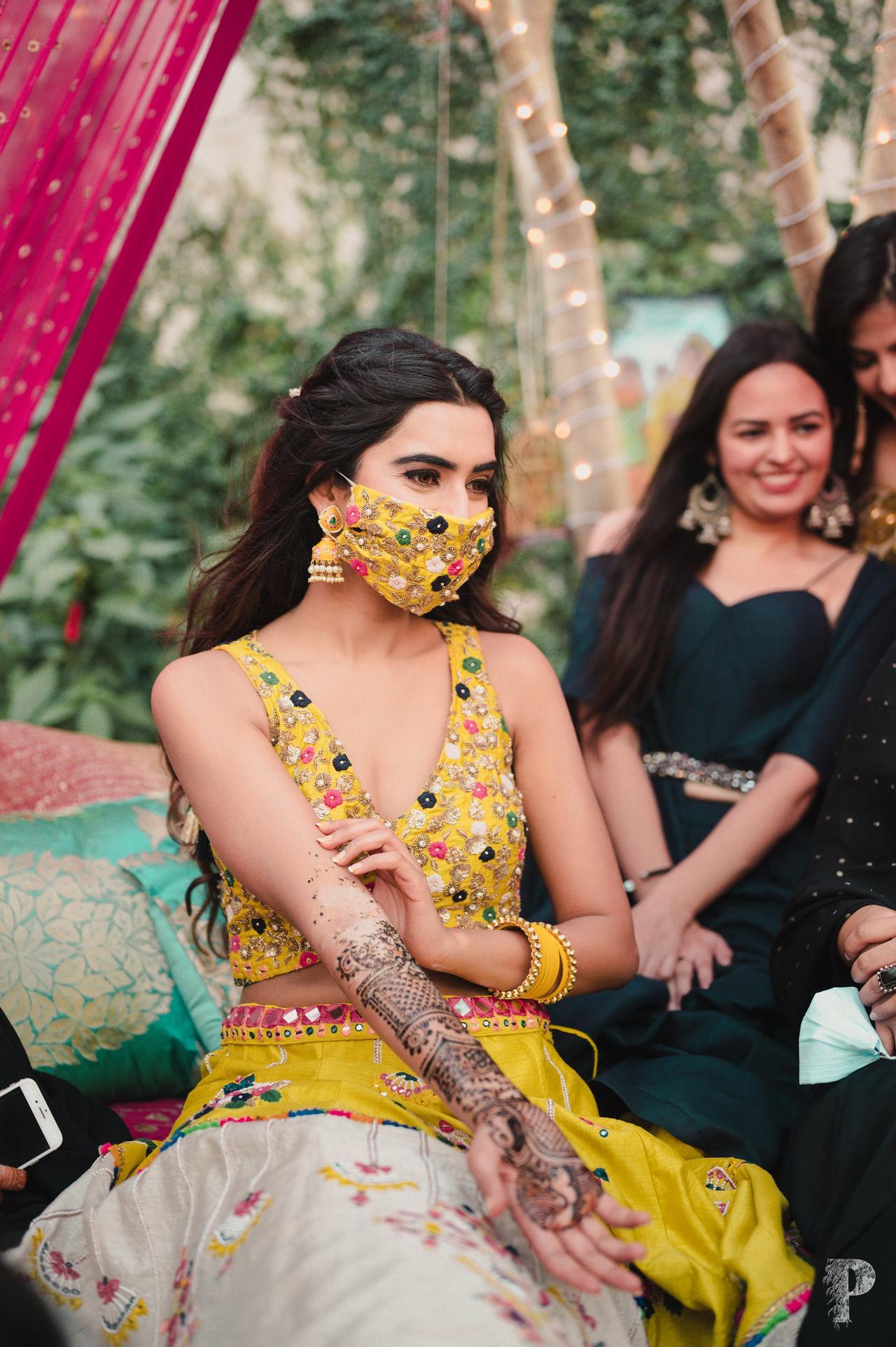 She says, "I knew that I'd be wearing a mask most of the time during my Mehendi and didn't want to wear that basic blue mask because I knew I'd want to remove it then. So I thought of beautifying it, so here's a fun fact. I literally cut out my blouse and used the sleeve to make this mask out of it and I was so happy to see how it turned out."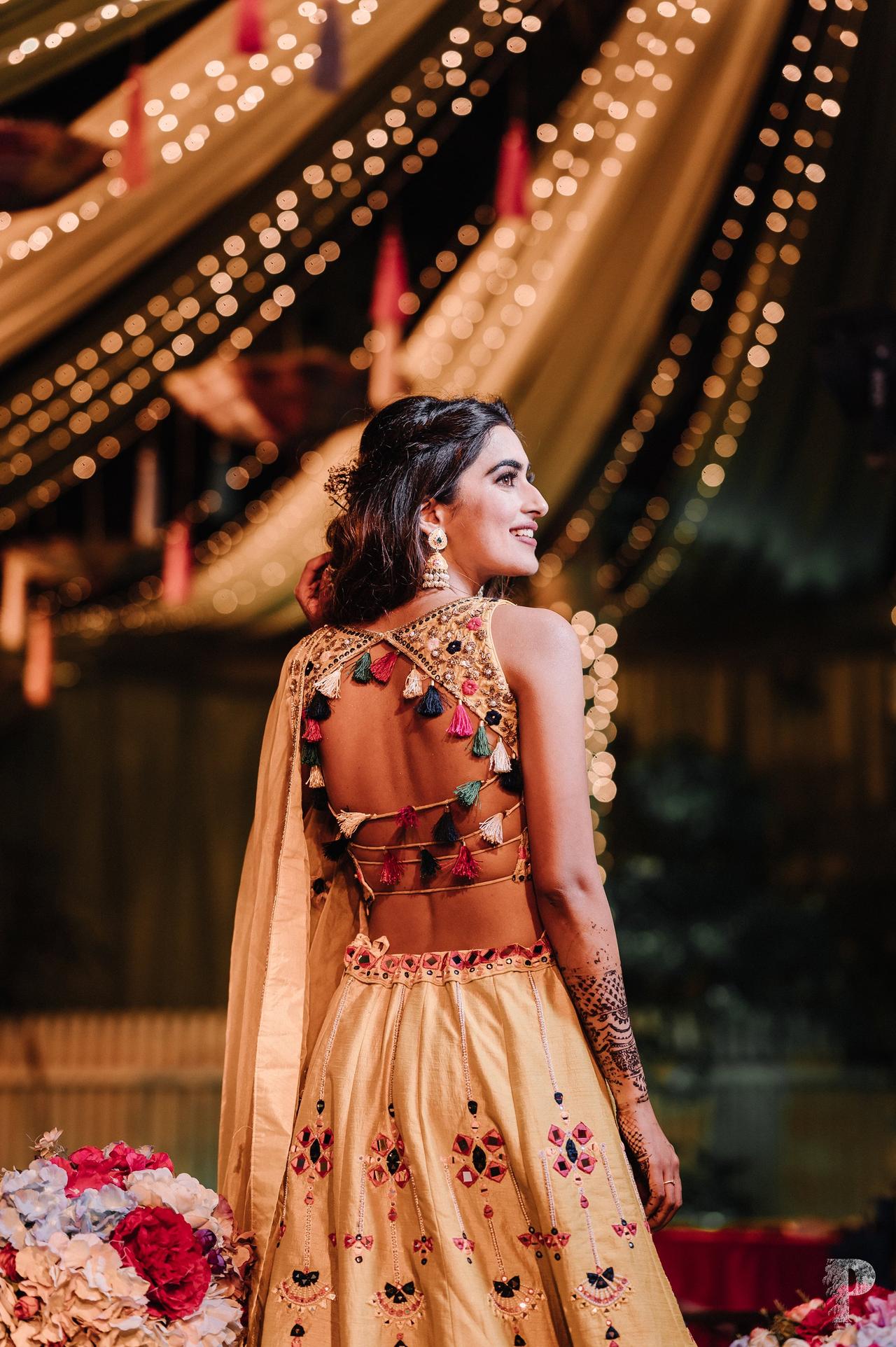 A lot of people were inspired by the matching masks that she was seen wearing with her outfits. We approve!
The Anand Karaj Ceremony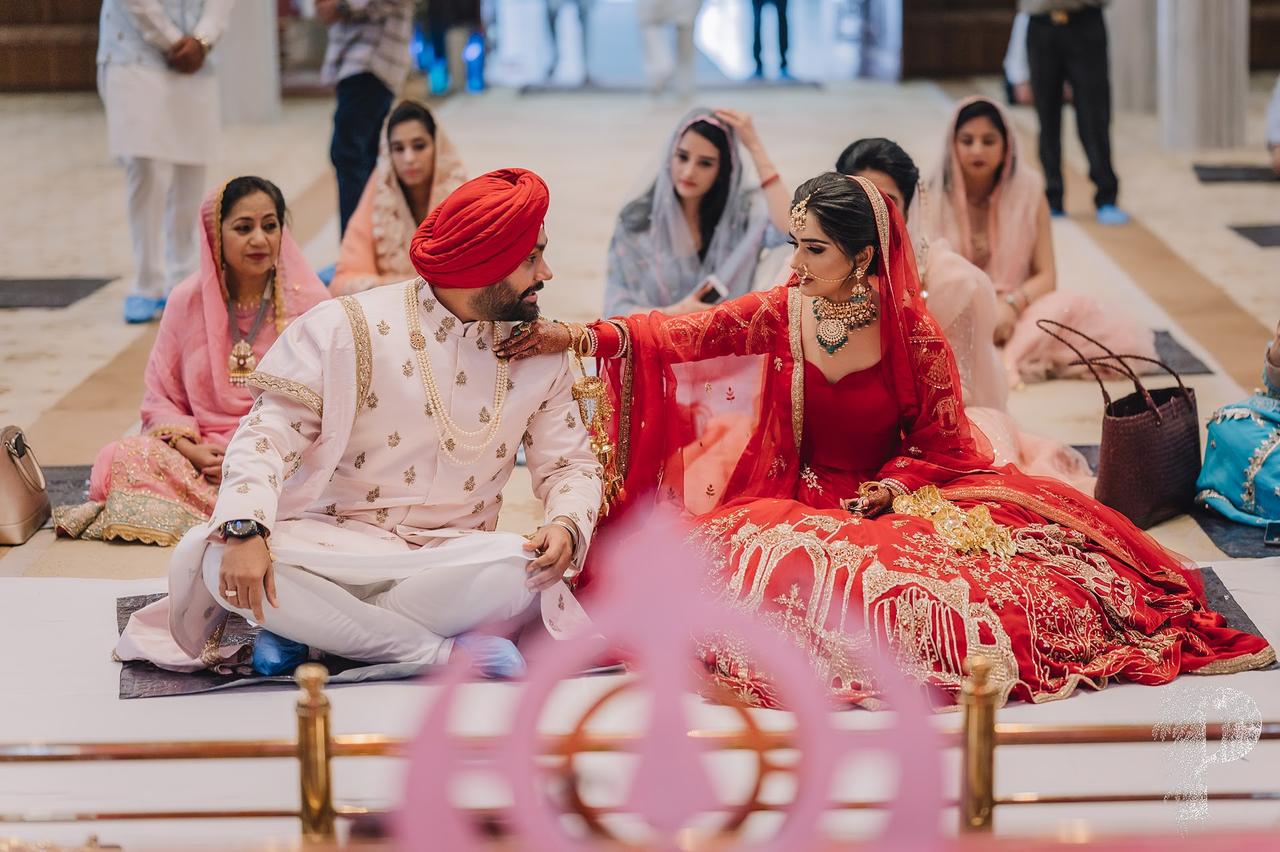 Bhavdeep says, "The Anand Karaj ceremony was conducted at the Sarabha Nagar Gurudwara in Ludhiana with very close friends and family in attendance." It was held on the 17th of May.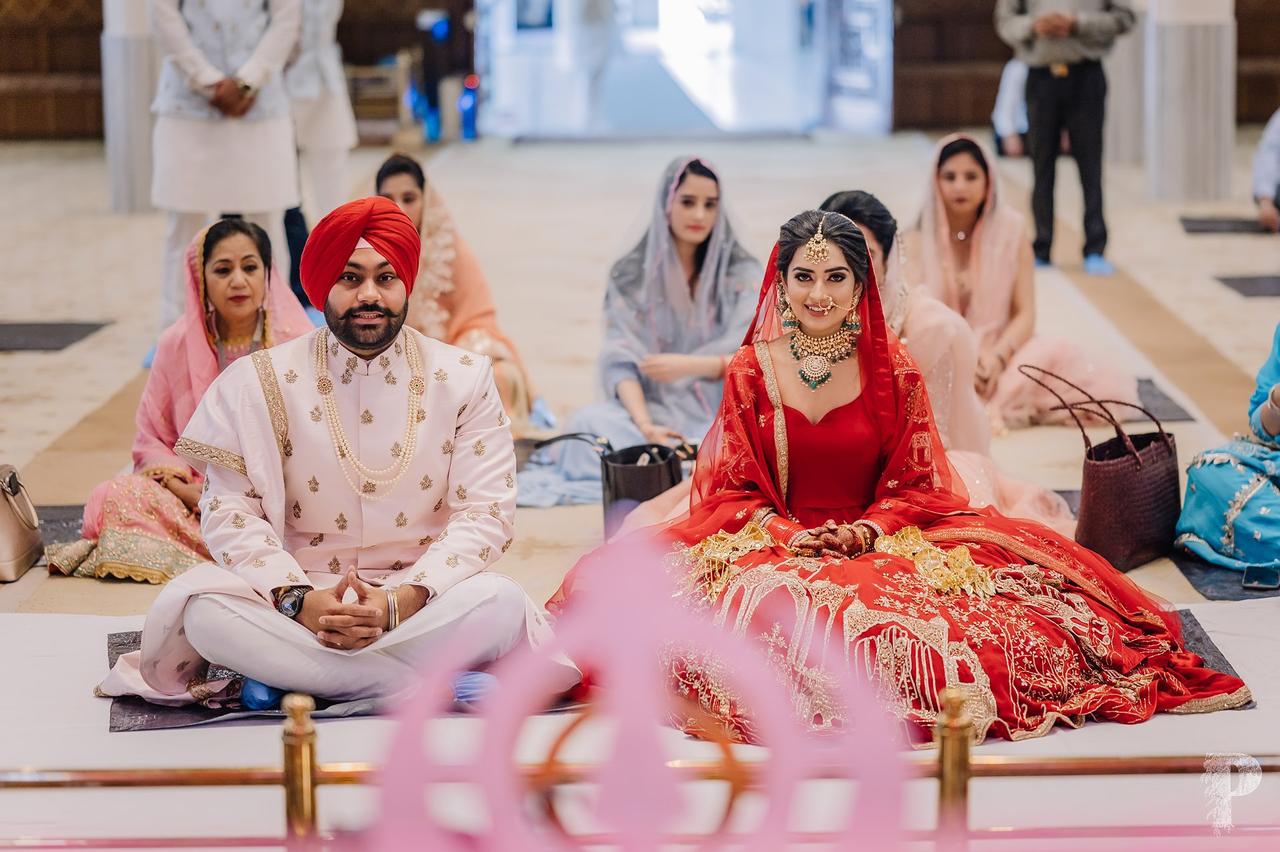 She further adds, "A sanitising foot wash was placed at the entrance of the Gurudwara and every guest who attended the wedding was wearing a foot cover inside the Gurudwara. A table was set up with drinking water, sanitisers and masks for the guests at the entrance. The seating mats were placed about 6 feet apart from each other to maintain social distancing. Harkarandeep's house arranged for a simple lunch right after the wedding ceremony."
What she wore?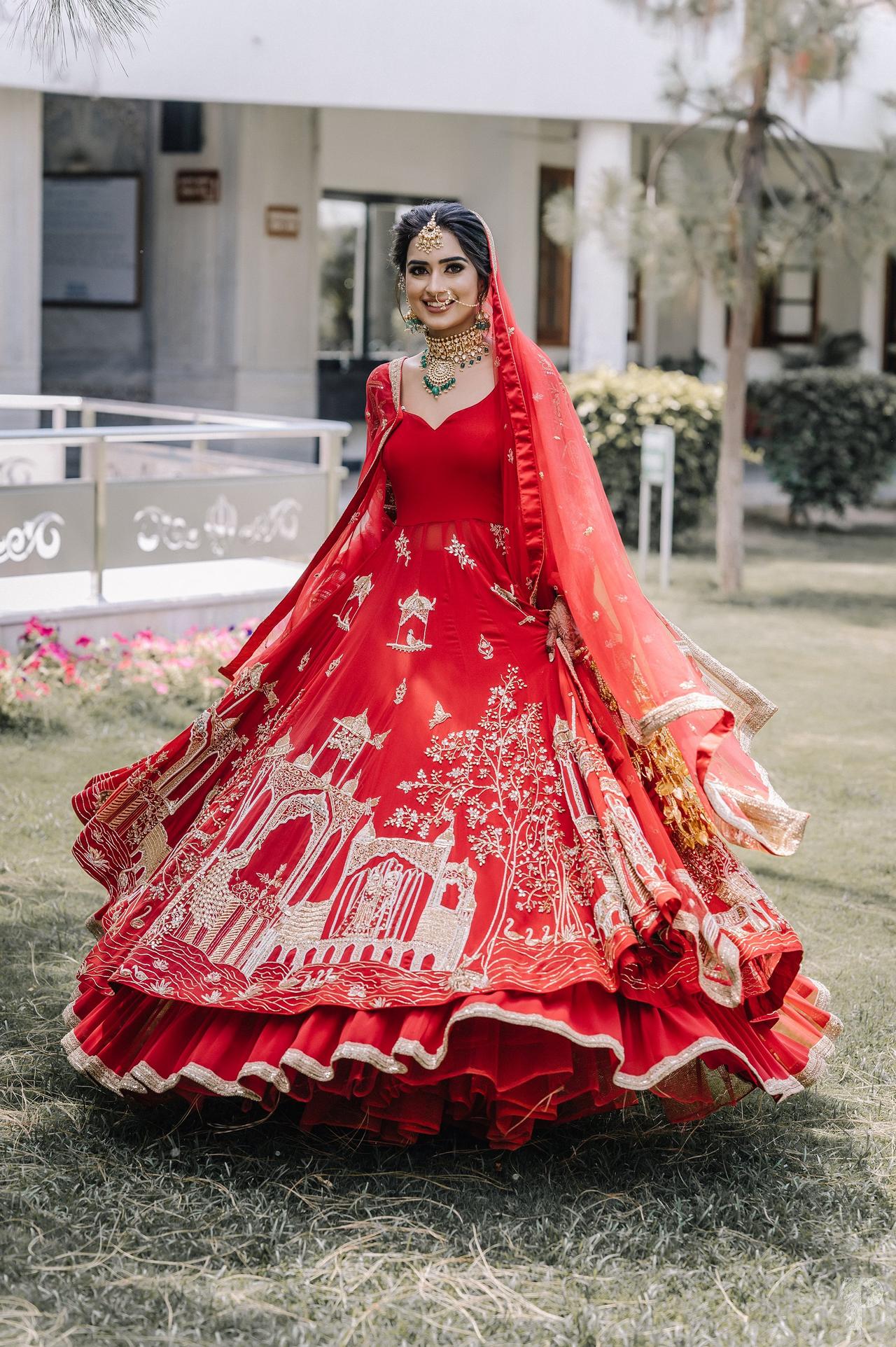 Bhavdeep had sketched her own outfit. She had sketched a bride and groom locked away in a big castle with masks on while birds and animals were out on the street. The sketch showed how mother nature was reviving amidst the pandemic as humans stayed in. Later the local craftsmen traced this sketch on her outfit and embroidered it. A mask that was matching her wedding outfit was also stitched for her.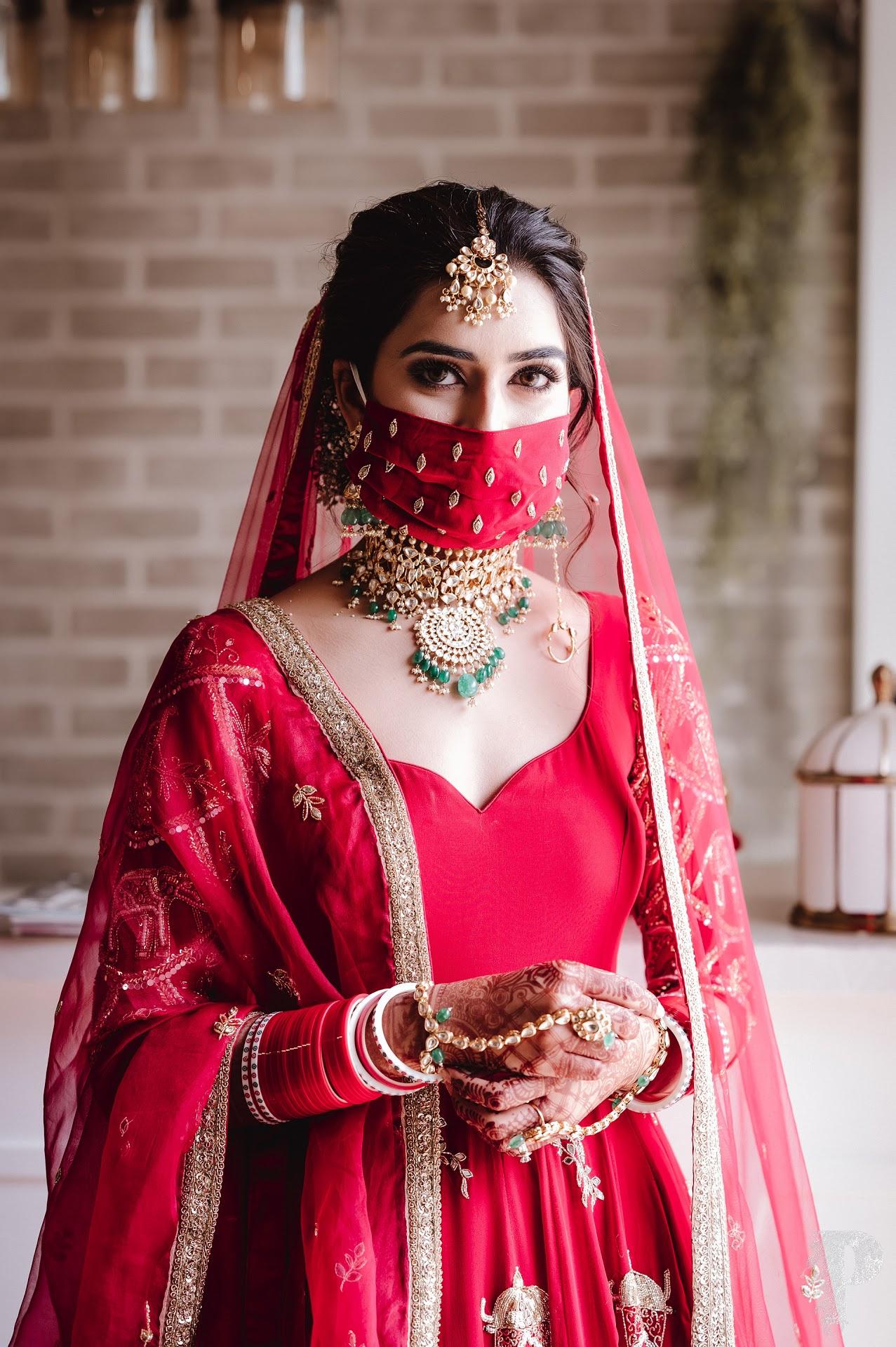 Guests & Celebrations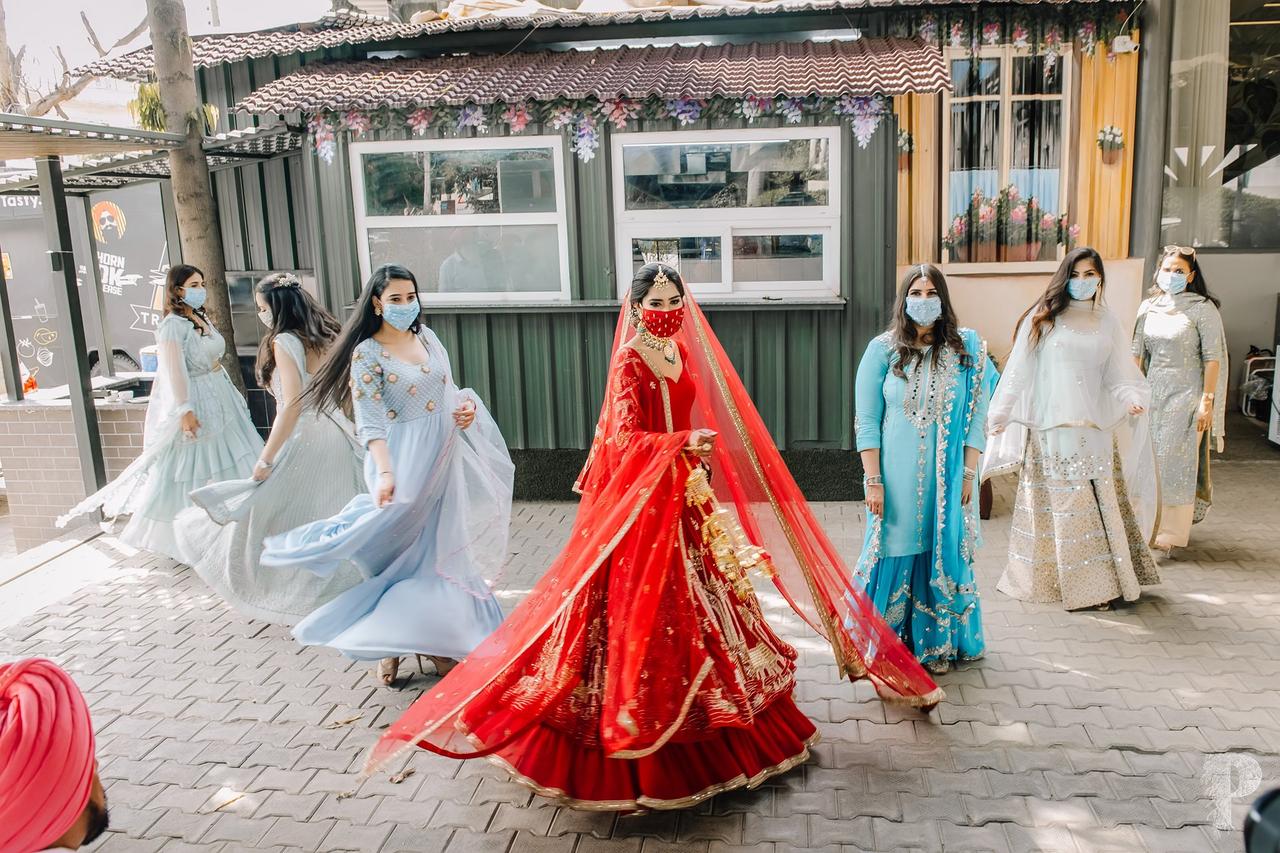 While families from both sides helped put together a beautiful DIY decor for the pre-wedding ceremonies at home, the bride's brother was the official DJ who played songs from his phone on a loudspeaker. They had their friends and family send desserts to be served at the wedding.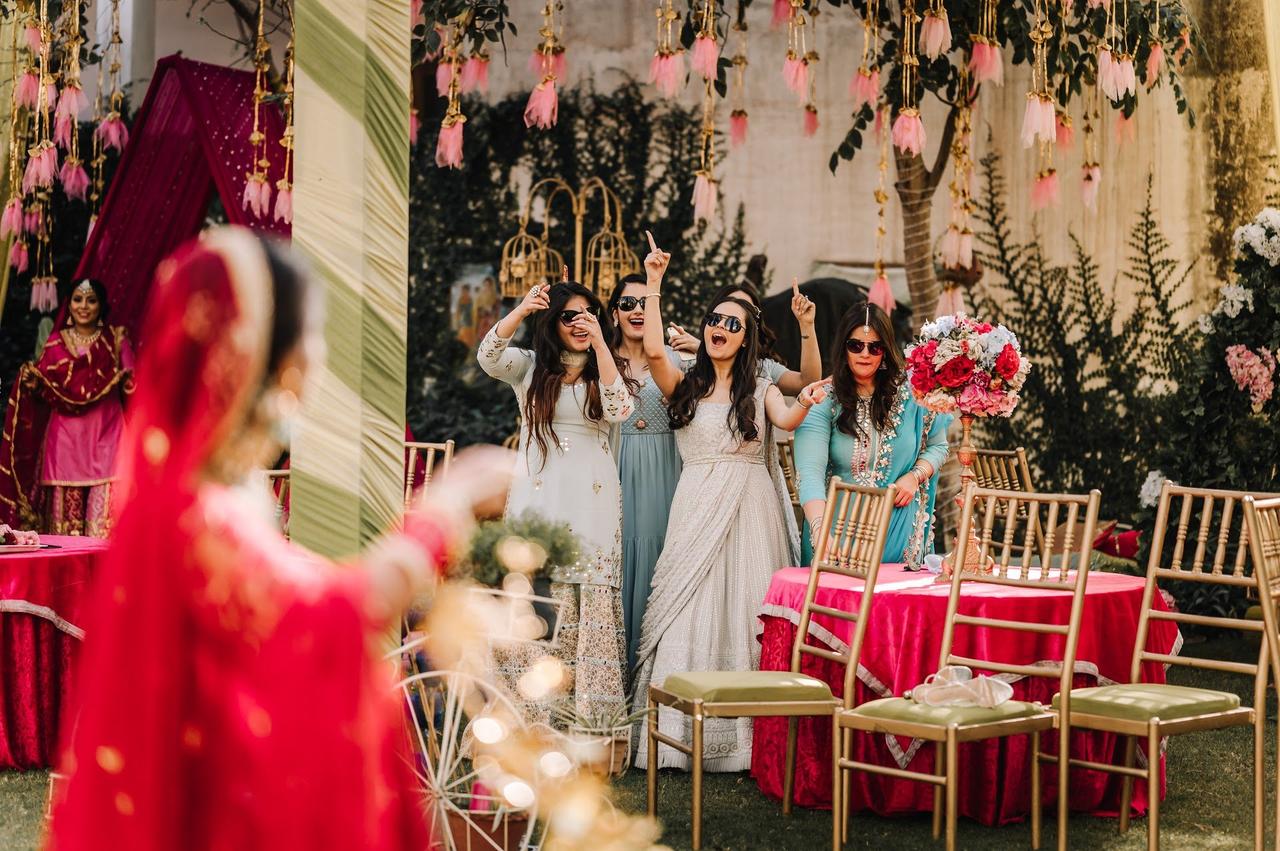 A big screen was installed a day before the ceremony so that a video conference over Zoom call for the friends and family could be projected for the ones that could not be present at the wedding. Most guests could not attend the wedding due to lockdown and travel restrictions. Nieces and nephews danced on the live stream during the ceremonies.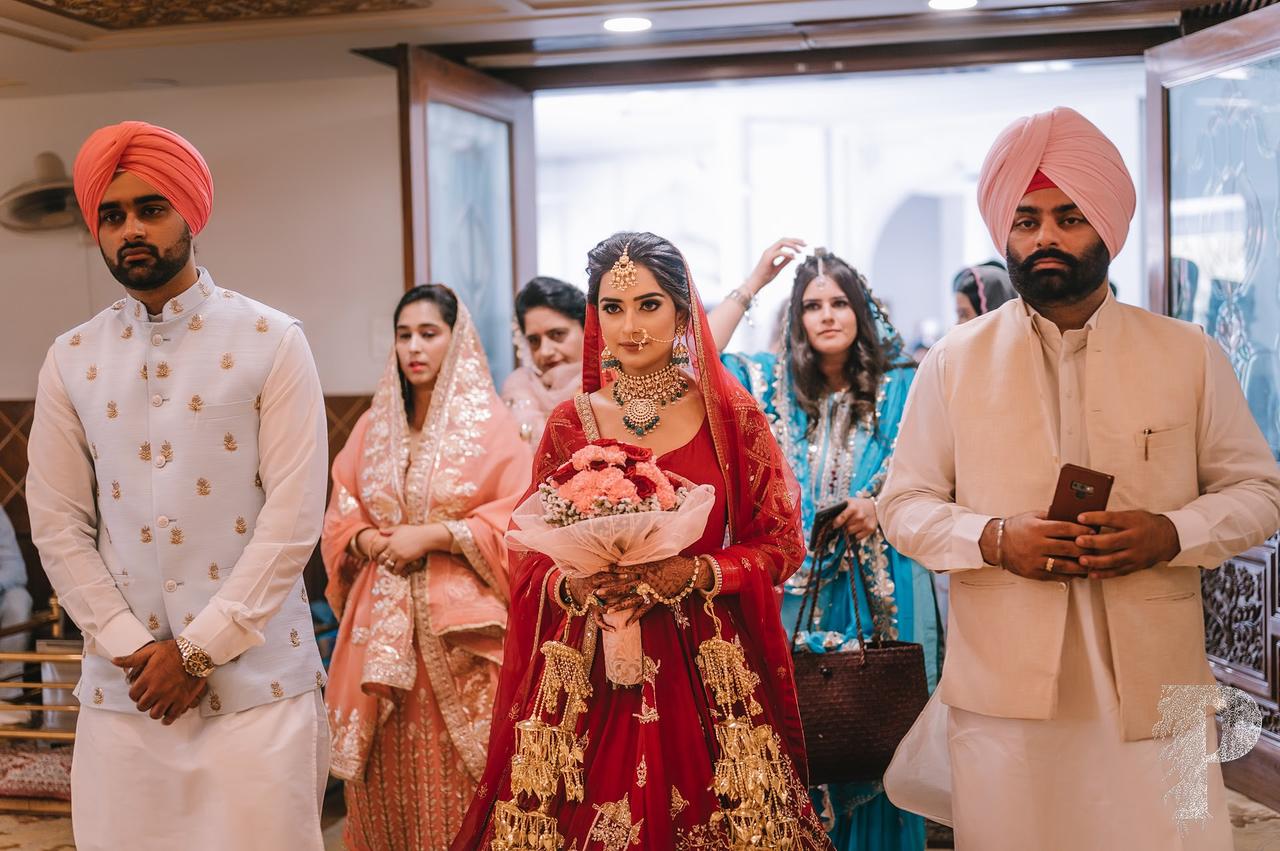 It was overall an unforgettable wedding that Bhavdeep and Harkarandeep celebrated amidst the lockdown. Bhavdeep says, "The decision to conduct a wedding in the lockdown and amid the COVID scare wasn't easy but since there is a lot of unpredictability and things are changing every day, the families decided to go ahead with the wedding."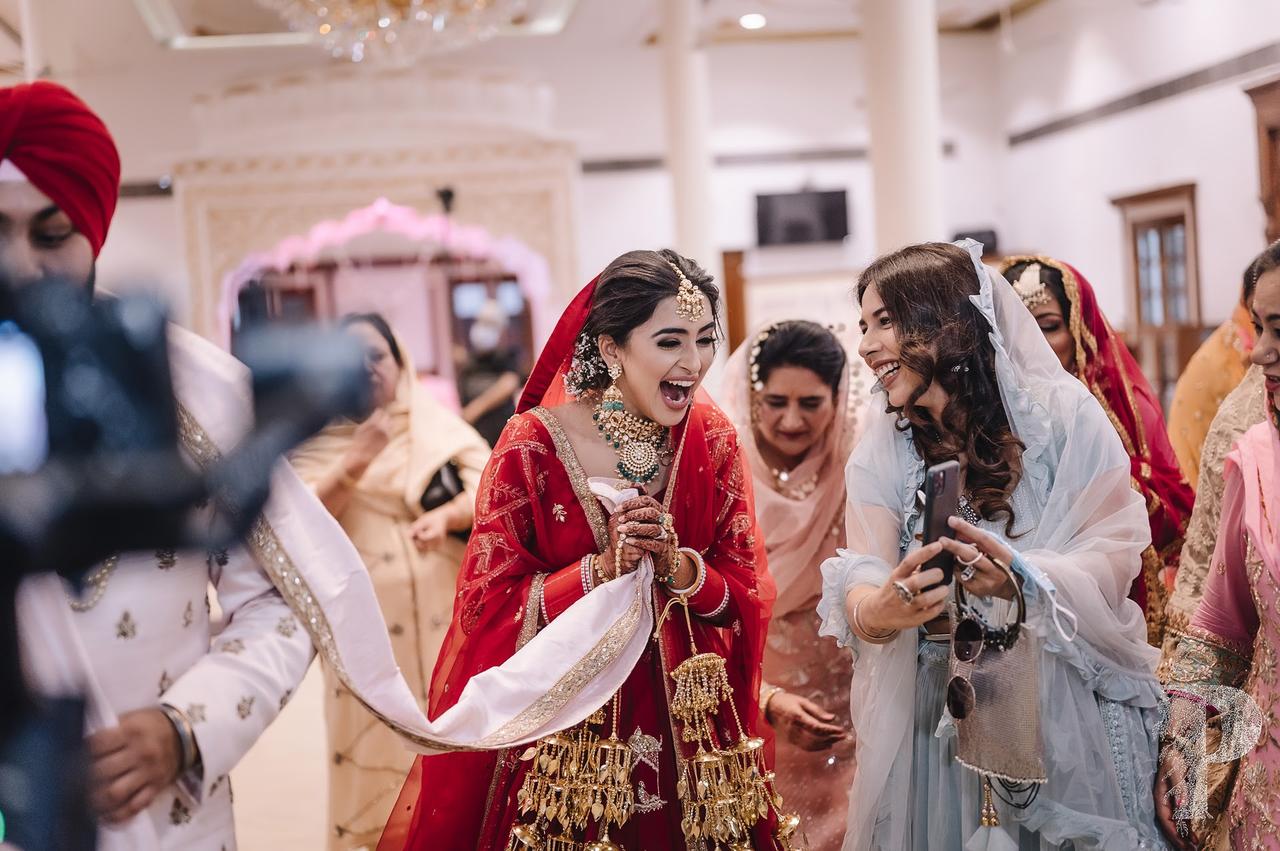 Many weddings are being planned in less than a month's time owing to the uncertainties that the pandemic unfolds every day. With the skies still unclear, there are many couples who are stuck between postponing their wedding or hosting it on the date decided.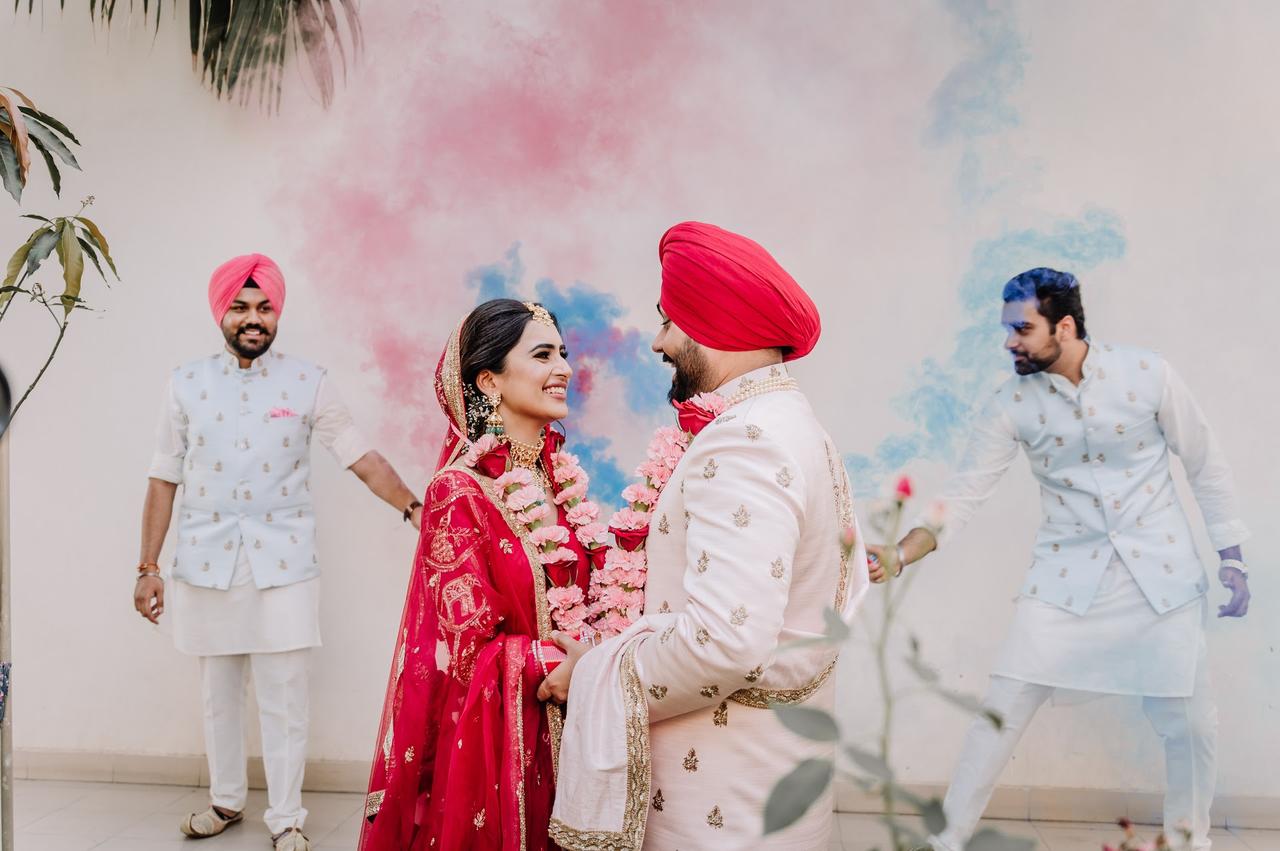 Note: All images have been clicked by Paran Singh Photography.
If you are one of the couples who want to go ahead with the wedding amidst the lockdown, get in touch with our expert planners who can help you plan a seamless intimate or small wedding at home. Make sure you have an ace photographer to capture every moment of you making history with an impeccable #WeddingInTheTimesOfCorona.