Velvet has always exhumed a sense of luxury and effortlessly elegant, and this material makes for the most regal and timeless pieces of fashion. It is no wonder velvet lehengas are the perfect choice for the bride who wants a slice of royalty. Back in 2017, bridal couture was widely influenced after ace-designer Sabyasachi Mukherjee released his collection Gulkand which championed and highlighted the velvet lehenga like no one else.
Keeping up the velvet frenzy, a new trend had taken over the market that which showcased this decadent style with dark brooding winter colours. Beyond championing the material, the intricate Indian craftsmanship further accentuated these bridal lehengas making the perfect statement pieces. From zardosi, Gota Patti to even stonework these delicate work form the basis of highlighting the velvet lehengas.
Once this timeless trend set into the bridal scene, it was here to see and it is evident why. These velvet lehengas while going beyond the usual style owing to the choice of heavy and royal material and will always leave an impression. Owing to its regal vibe, brides have chosen this outfit widely for winter weddings but we advocate this lehenga even for summer brides who have weddings at night to give relief from the bright hues but again depending also on your wedding location. So read ahead to see real brides rocking this irresistible trend.
1. From a viral wedding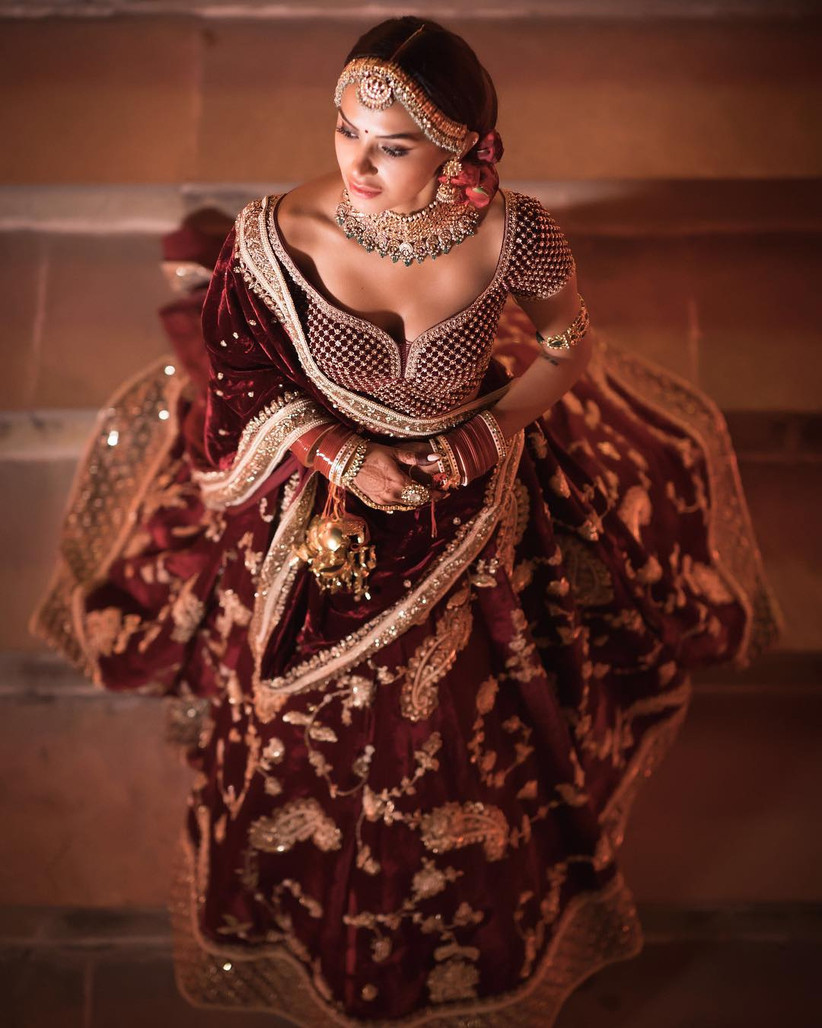 Image courtesy: Sabyasachi on Facebook
We could not have an entire post about velvet lehengas and not have a tribute to the classic Sabyasachi bridal lehengas. Last year, influencer Diipa Khosla's wedding pictures went viral across the globe for they modified an age-old tradition as her husband Oleg too touched Diipa's feet during their beautiful wedding ceremony.
Diipa looked gorgeous in this bespoke monochrome lehenga which she paired with a contrast colour jewellery. The sweetheart neckline, 3/4th sleeves, flower motifs and the heavy regal velvet dupatta making it so appealing. This wedding was all about inspirations.
2. The Peplum lehenga
When we saw this unique yet so traditional velvet lehenga set on Mira Kapoor we could not help but bookmark it. The design is chic and elegant while highlighting velvet the intricate work adds a desi touch we cannot resist. We love how she paired it with a statement earring and a pulled back easy hairstyle leaving the outfit to do all the speaking.
Not to forget the clinched waist, v-cut blouse and long sleeves all make this so gorgeous. This will make for perfect outfits for an engagement or reception if you want to add a touch of winter hues in your bridal wardrobe.
3. The summer bride
This bride's velvet lehenga is the perfect example of how to rock this trend in the summer. Owing to the break from the monotonous colour scheme, the beige double dupatta gives the much-needed relief in terms of colour which makes it seem more subdued. We also love that this bride's blouse is of a lighter purple making it all easier of the eyes for a summer wedding.
The thin border, embellished blouse and symmetrical work all over the lehenga all merge well so beautifully. Also a special mention to the bridesmaid who all are dressed in the same outfit yet different colour, what a unique idea right?
4. Simple and sleek
Many brides might shy away from the velvet lehenga trend as most of these bridal pieces are quite heavy in terms of the work and paired with the usual brooding and lusty colours they seem like a plush choice but fret not. This bride shows us the minimalist approach. Her monochrome maroon lehenga with the same buti design all over the skirt and blouse with paisley embroidered border makes quite an impression with its simple yet classy design.
The pink double dupatta gives it the much-needed pop making this a perfect outfit and also note her bridal jewellery set with a touch of green introduces a new colour in the attire without making the presence overwhelming. There is nothing we would change in the look.
Velvet is one fabric which is guaranteed to leave an impression simply because of its luxurious vibe. It is no wonder this fabric makes for the perfect wedding lehenga. This unusually smooth fabric is made from the finest of silks which adds to its expensive appeal and appearance and no wonder has been associated with nobility through the centuries.
Paired with the intricacies of Indian craftsmanship, velvet lehengas are the best of bridal couture which always give out a sense of royalty and beauty. While standing out from the other trends in store, these statement velvet lehangas are versatile and delicate.
So move a step away from the usual colour palette and materials widely-chosen by brides to this piece of royalty, Try it out with your bridal lehenga and do let us know in the comments what you think of this trend.