Bridal Kundan Jewellery Designs to Complete the Royal Bridal Look
Bridal Kundan jewellery is all that the Indian wedding scene is talking about in the recent years. Let us take a look at some of the best designs out there.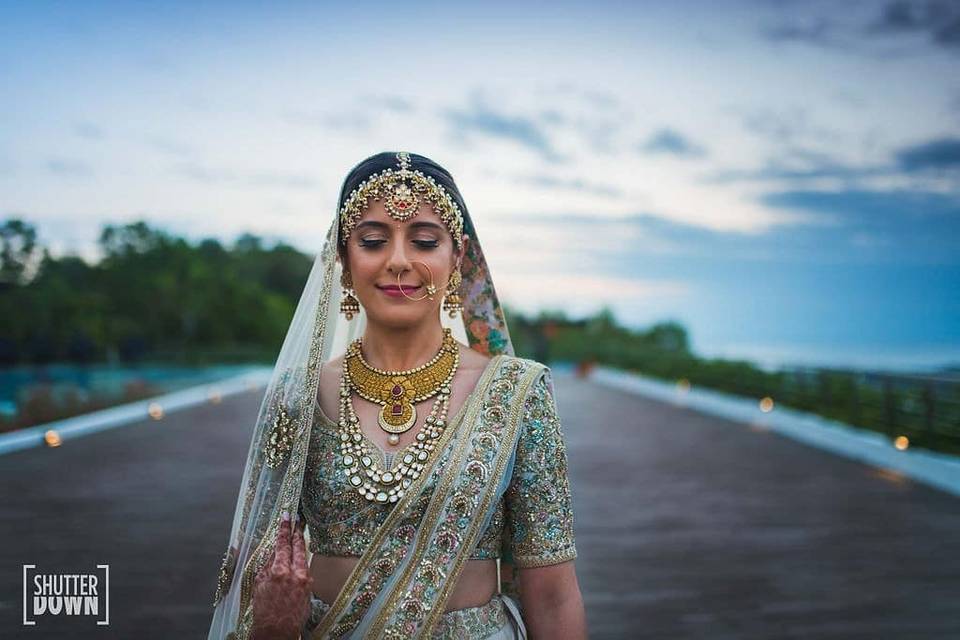 If you are a bride-to-be and have been hunting for the perfect wedding outfits and jewellery, you surely must have heard about bridal Kundan jewellery. It is not the gold or diamond sets that are ruling the wedding circuit these days, but Kundan jewellery because of how gorgeous these jewellery pieces look.
The major reason for it getting so popular is that it gives you a royal look, which is the most trending look when it comes to weddings these days. Every bride wants to look like a princess on her big day and hence is switching towards Kundan jewellery sets. Moreover, it is the only kind of jewellery that matches with most lehengas and any embroidery, be it gold, silver or white.
Go through these beautiful types of Kundan jewellery before you start shopping for your wedding.
An Elaborate Multi-layered Necklace With Emeralds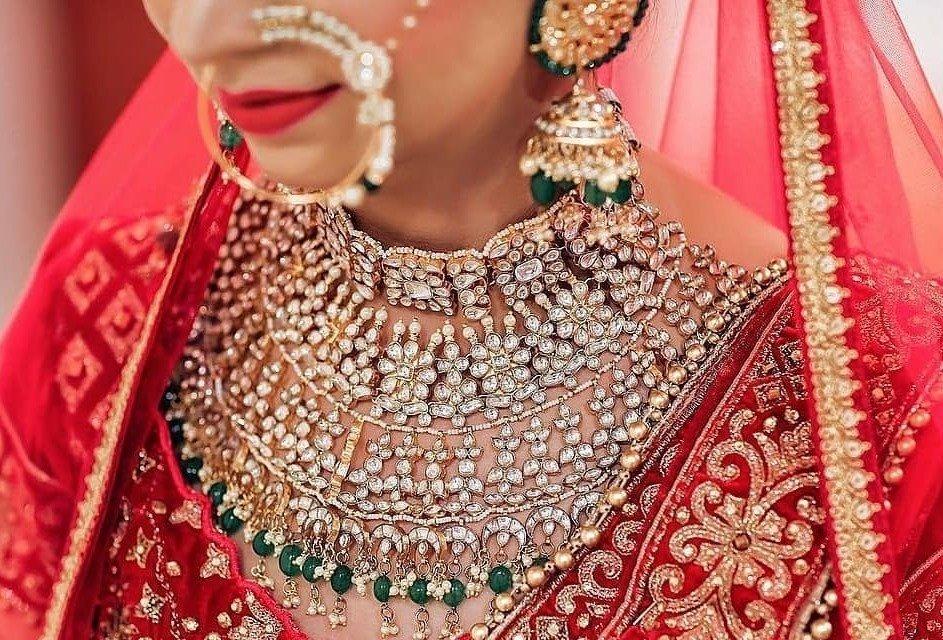 If you are looking for a single huge necklace to do the trick for you, then this example of bridal Kundan jewellery is the right choice for you. Starting as a choker, the necklace continues to multiple layers with floral patterns. The lateral lines help in the bifurcation of the layers. The bottom layer has the inverted moon-shaped work with emeralds hanging from each one of them.
An Incredibly Heavy Set With Pearls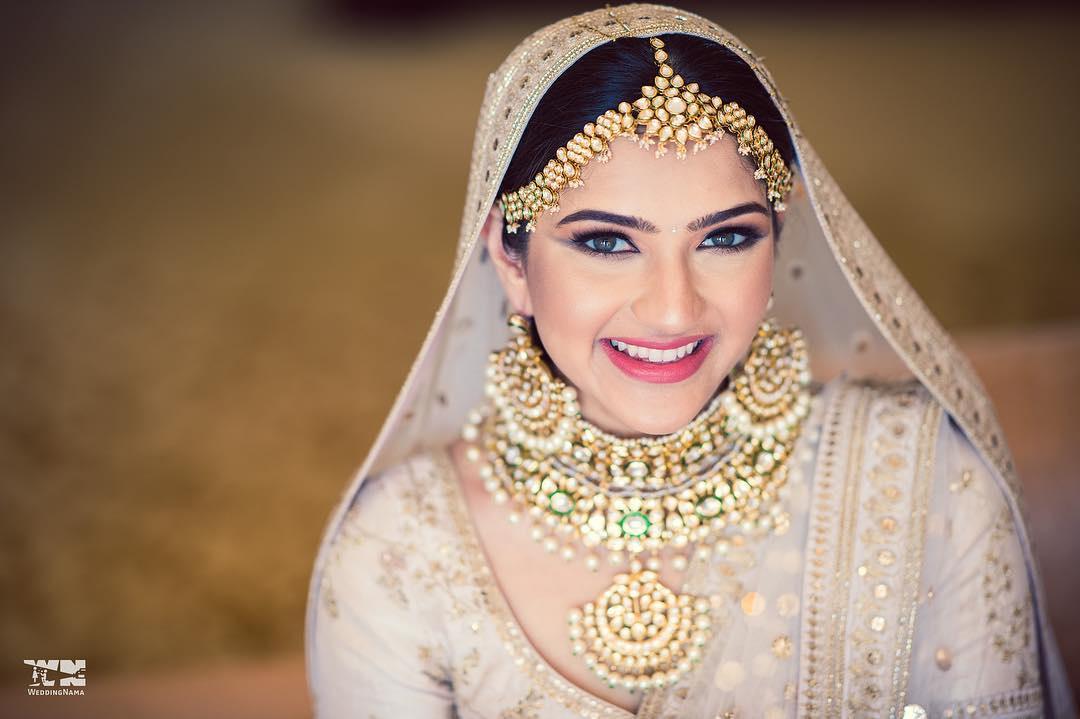 When you wear white or light coloured bridal attire, you should opt for bridal Kundan jewellery with the right amount of gold shells in it. Be it the Matha Patti, or the necklace or even the earrings, every piece of jewellery should have the gold pop out prominently. This bridal jewellery, along with the Kundan stones, will improve your look significantly.
A Big Necklace With Continuous Kundan Work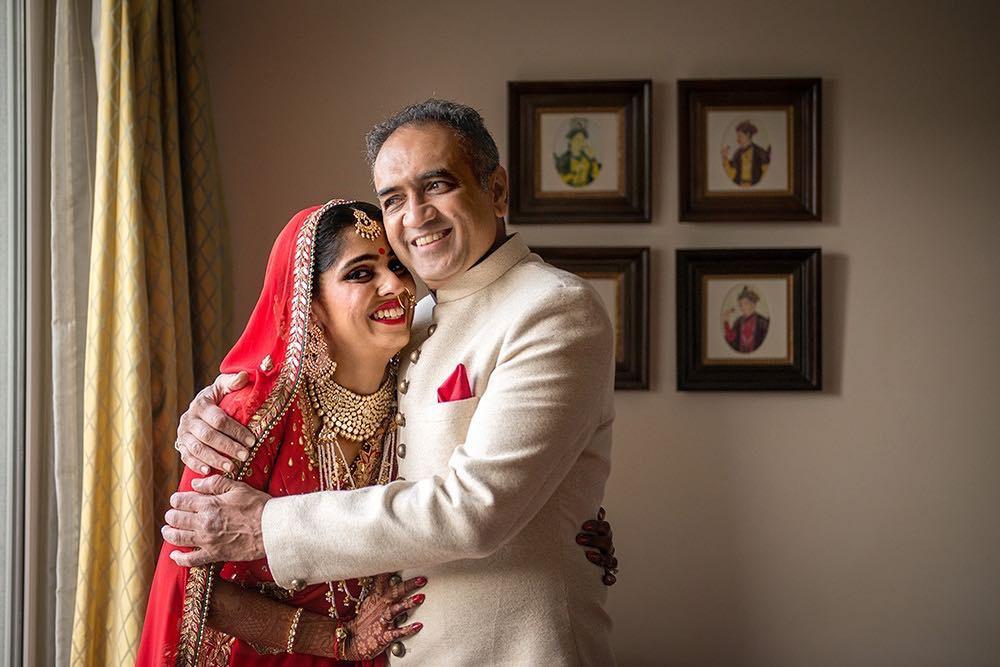 A big necklace that works as your main piece of jewellery should be attractive in every sense. People should not be able to take their eyes off it once they see it. For that, a necklace with continuous work on it with no spacing is the best. It looks royal, plush and luxurious.
For Those Who Are Looking for the Simple Look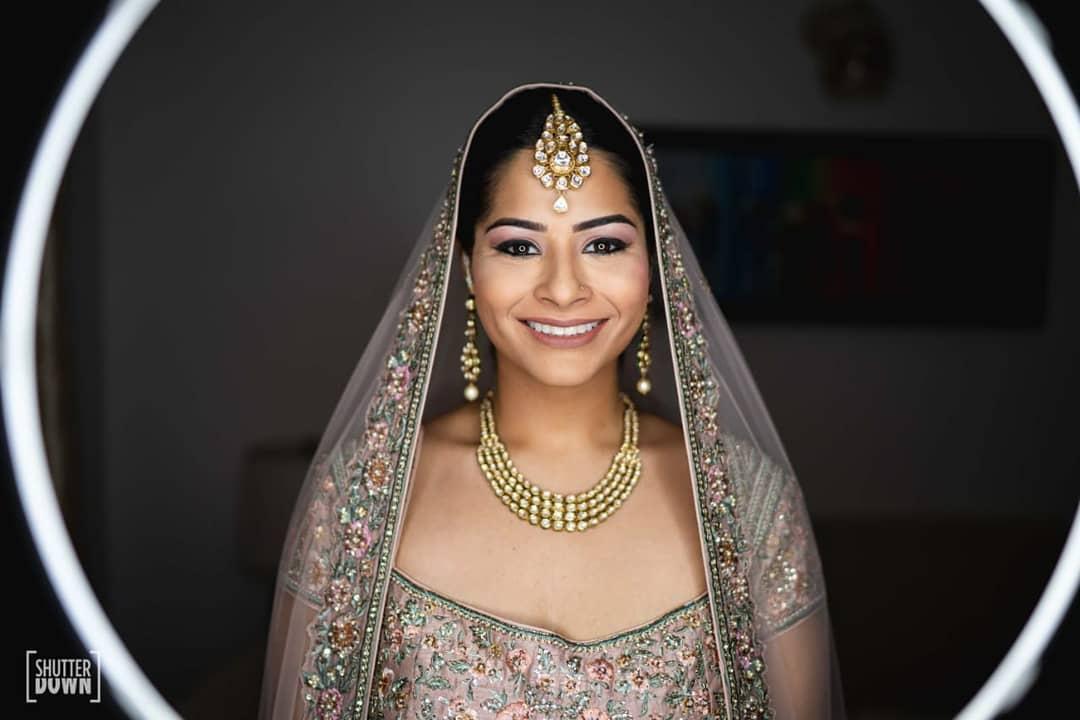 Bridal Kundan jewellery is not always about being loud or wearing huge necklaces. You can go for the simpler look as well with tiny kundan stones and fewer layers. The best way to get the subtle look is by having a single necklace, a Maang Tikka and a pair of hanging earrings. Also, pair this look with a light coloured lehenga with minimal embroideries and work.
A Beautiful Choker With a Pink Gemstone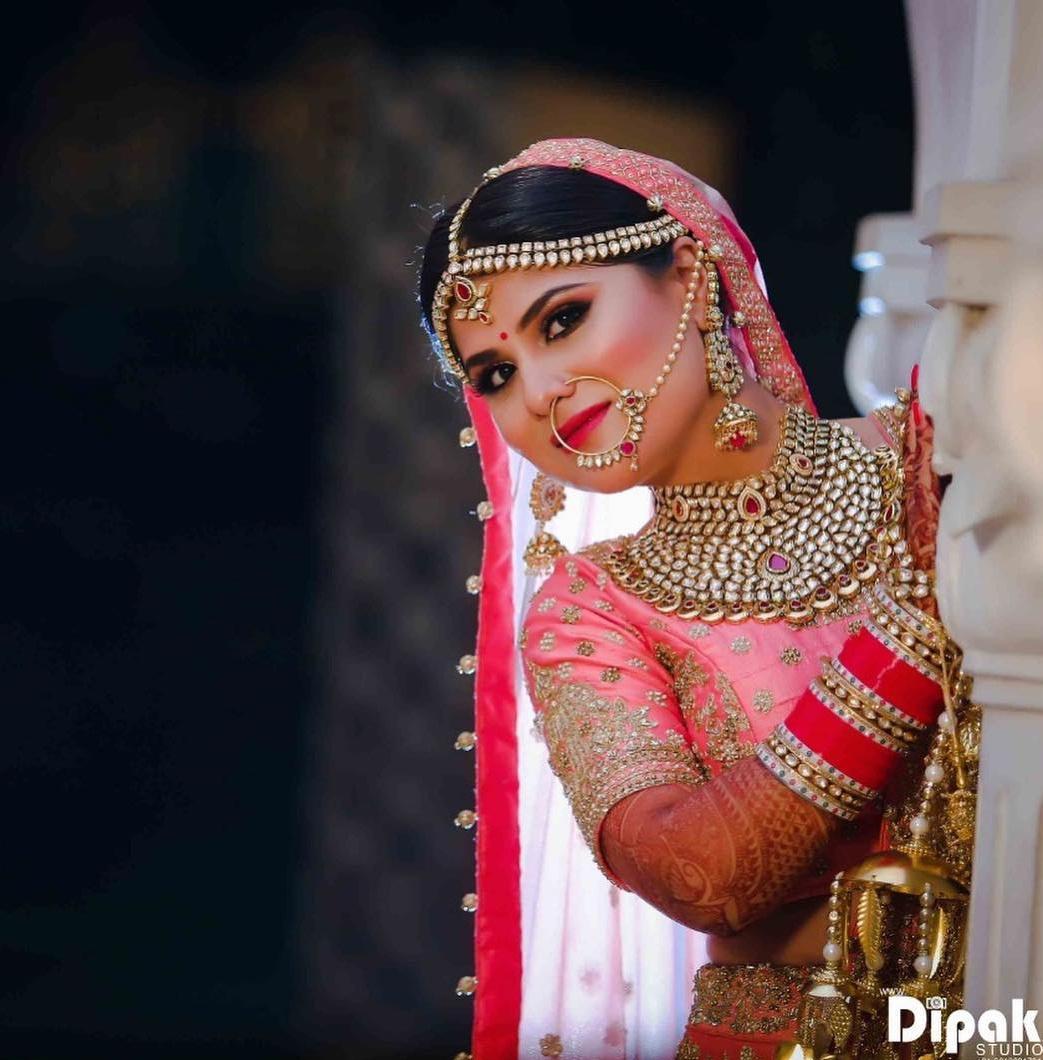 Coming back to the elaborate designs, this beautiful choker necklace is designed around the pink gemstone. The pink stone makes the necklace ideal for those who are wearing a pink lehenga as their bridal attire. The multiple-layered finish on this bridal Kundan jewellery also gives you a royal look with its heaviness.
An Elaborate Rani Haar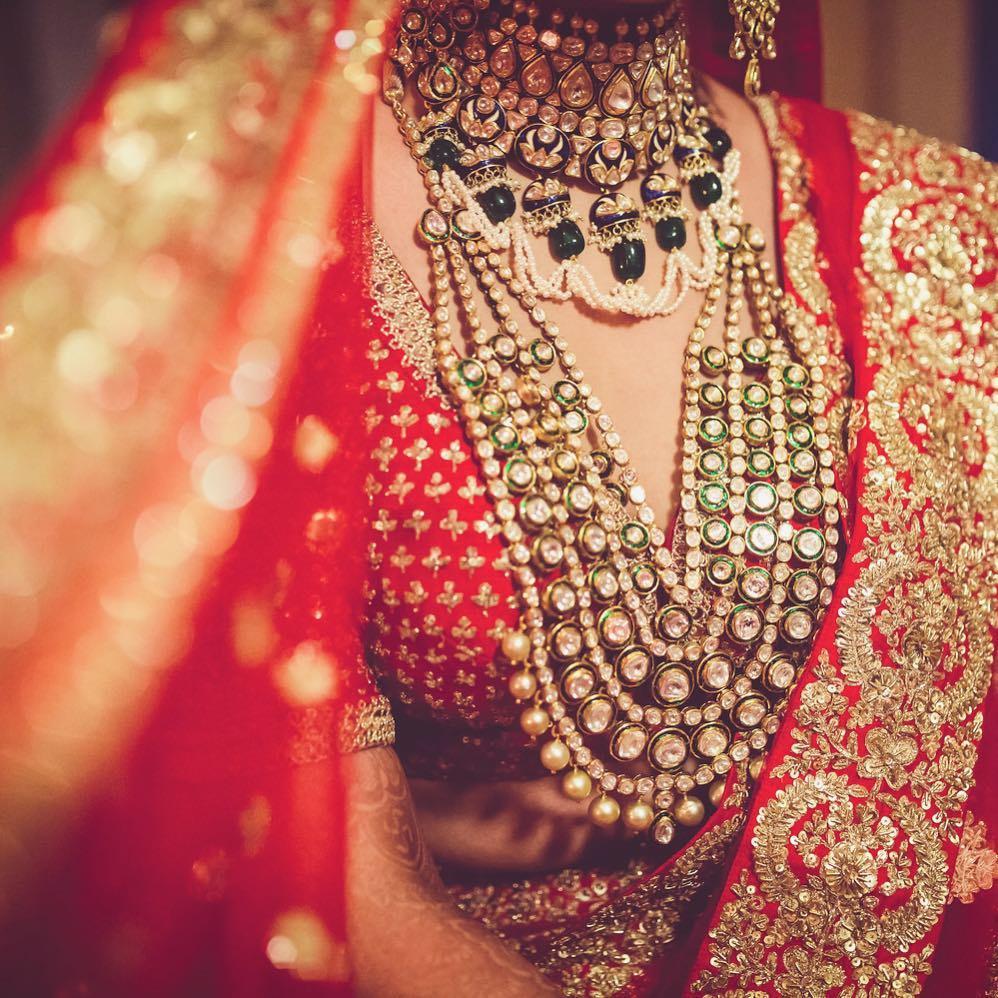 Who doesn't like a Rani Haar in their bridal jewellery ensemble? The look gets better when you have a Rani Haar made of bridal Kundan jewellery. It gives you a new take on the usual designs and makes not just your short necklace heavy but the longer one as well. The golden pearls at the end add to the aesthetic value of the ornament.
A Beautiful Take on the Satlada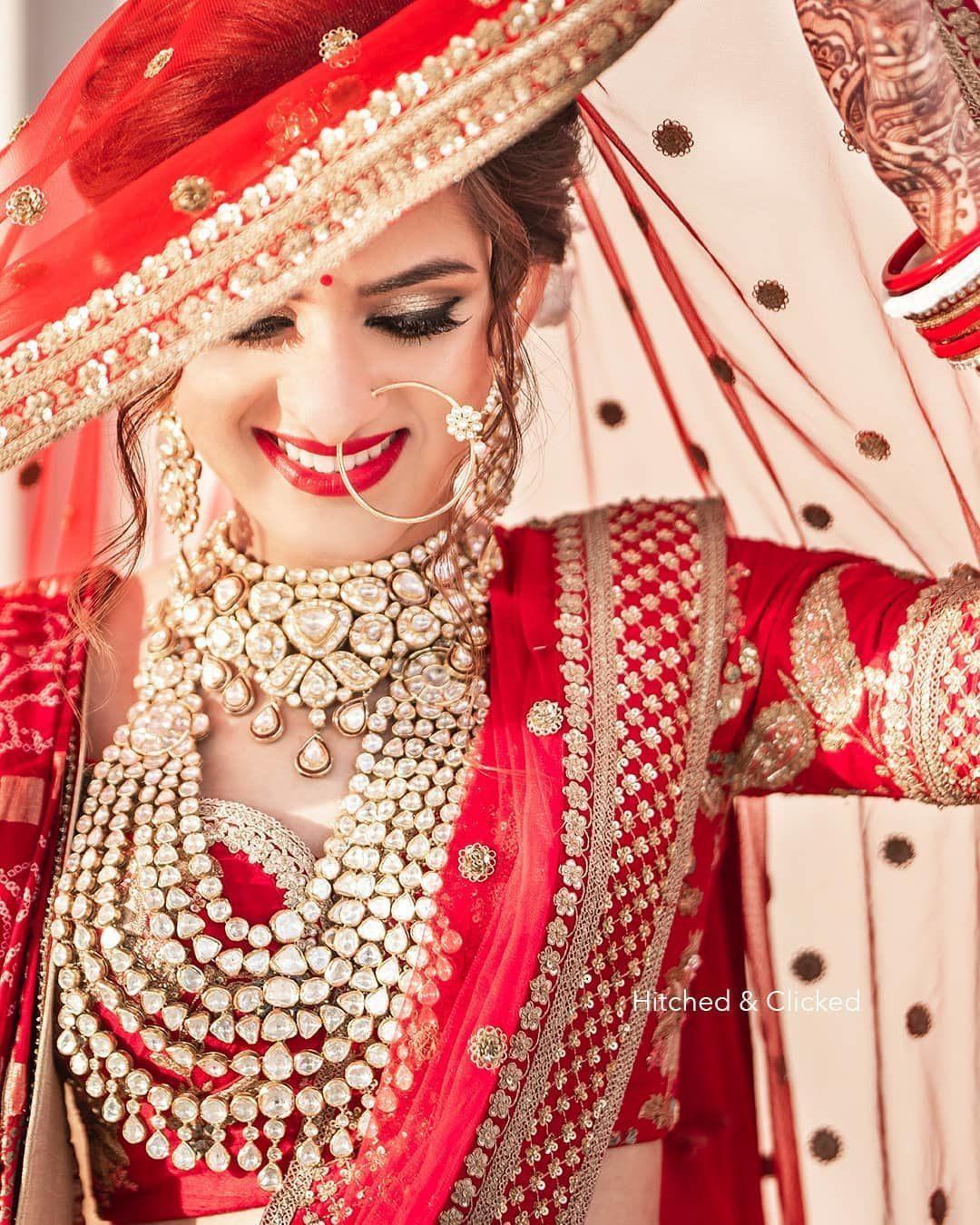 Just like a rani haar necklace, a Satlada is something that every bride dreams of having. If you too are looking for such a design, go for the unconventional look by having a Satlada made of Kundan jewellery. This automatically makes your bridal Kundan jewellery look heavy. Go for a choker that is equally heavy to complement the overall look. The huge stones used here will surely give you a plush look.
You might want to go for a bridal outfit that is not too loud since your jewellery is. On the contrary, if you are confident enough to pull it off, you can go for a bridal lehenga with heavy embroideries on it.
Smaller Stones for the Subtle Aesthetic Look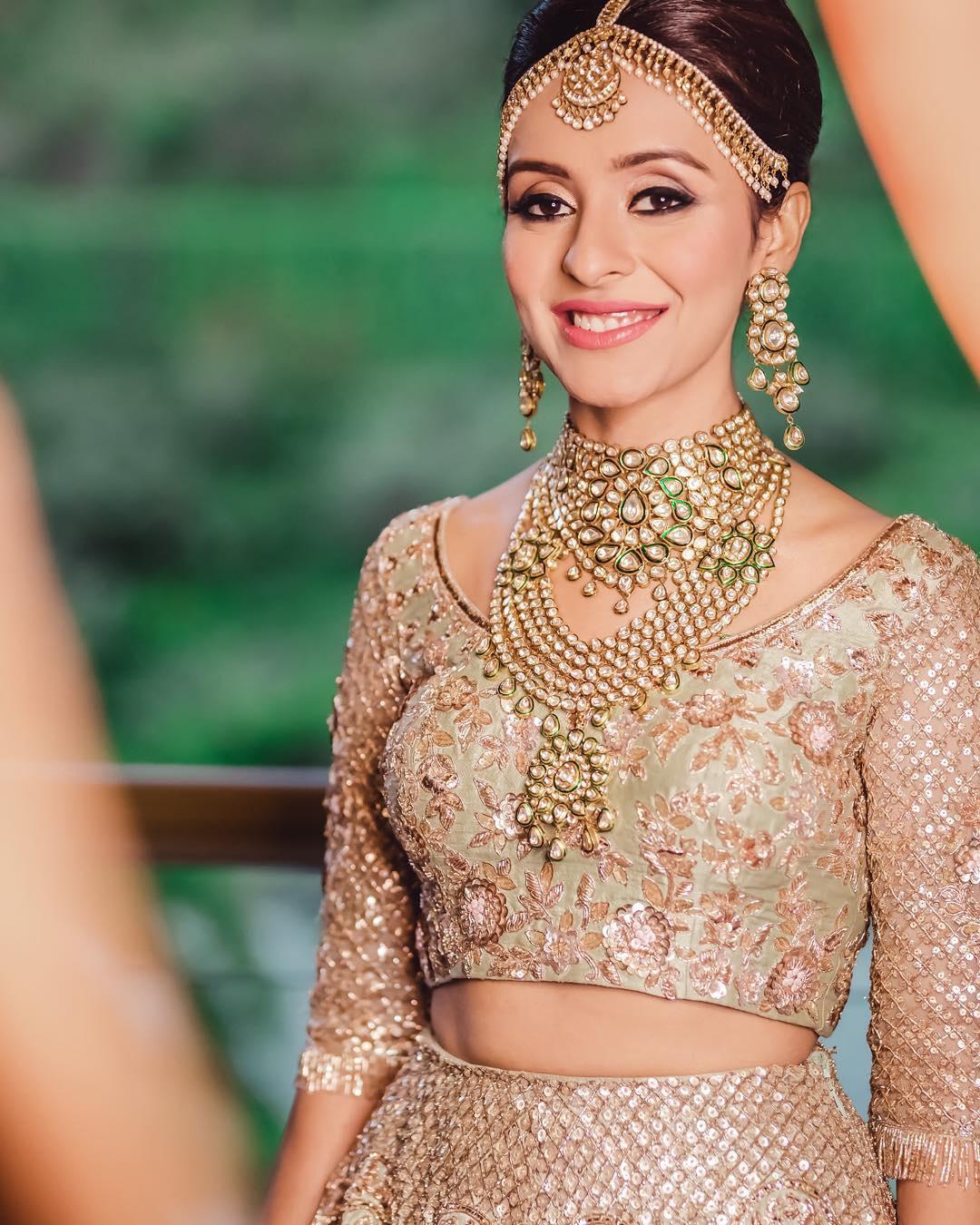 A choker and simple necklace with a tinge of green in the gold shells is enough if you are looking for a mix of a sober and luxurious look. For such a look, always go for smaller Kundan stones as it helps in creating finer designs and details. Smaller the designs are, more beautiful it looks. Furthermore, such a combination of bridal Kundan jewellery also helps you when you are wearing a bridal blouse with heavy embroideries on it.
With all such designs, you must have understood how different Kundan jewellery can look when paired with different stones. The combinations, the size of the stones and the attire you wear become the deciding factors on what kind of jewellery you should choose.
Look for such designs up close by visiting any of the jewellers listed on our portal near your town.