Make Your Maroon Lehenga with Contrast Pop with These Different Blouse Colour Options!
Maroons and reds are a huge part of Indian weddings and rightly so! The colour holds a lot of significance within the Indian culture! Find out how you can make a normal maroon lehenga with contrast pop with unique blouse colours!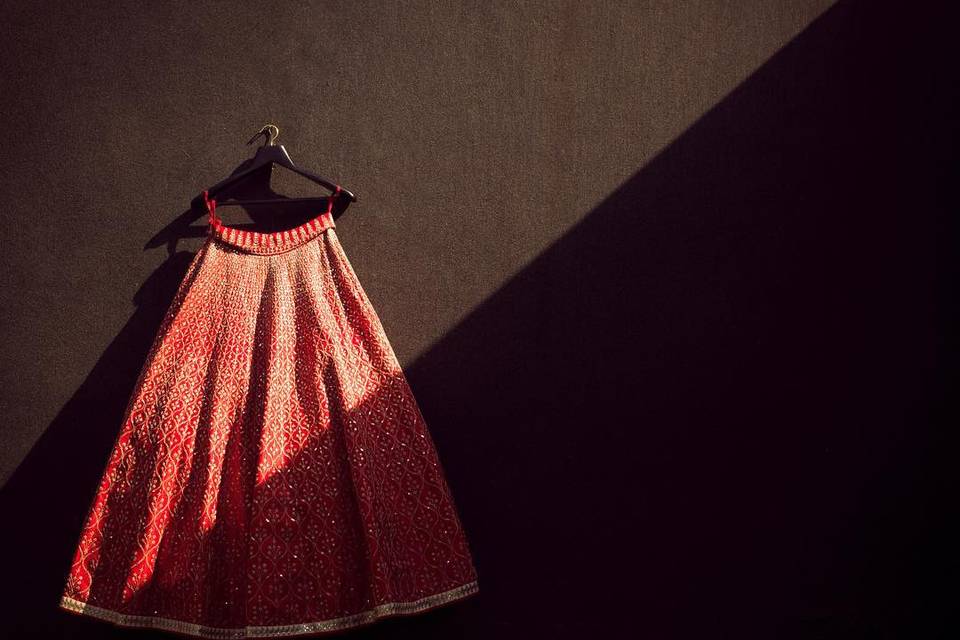 When it comes to bridal attire, a red or a maroon lehenga with contrast is the most commonly chosen style that most brides chose to wear on their wedding day. We cannot complain! The bride chooses that colour for the wedding outfit as it is considered to be the most auspicious one for her wedding. This is why red bridal lehengas are an iconic part of the Hindu wedding.
But why? What is the significance of red or maroon at an Indian wedding?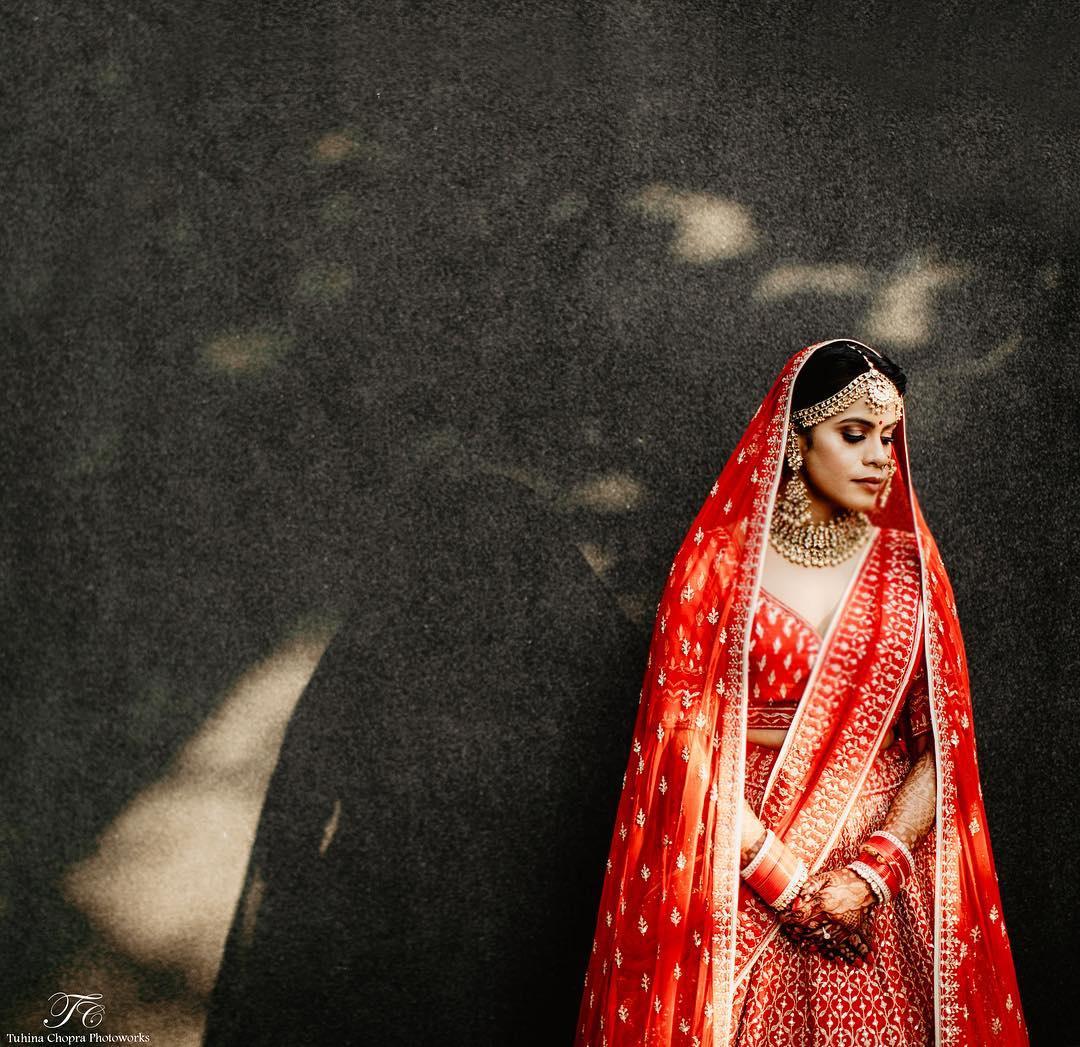 If we start speaking about the significance of red in the Indian culture, we can fill up this article with just that! So, let us keep it short by talking about the significance of it at a wedding. If you have noticed, almost everything that is of importance in an Indian wedding has a shade of red or maroon in it. Red, above all, stands for love and compassion and that is the essence of wedlock. The red rose petals, when showered on top of the newlyweds, represent the blessings of all the elders and the guests who have come to attend the wedding.
Red also signifies desire and commitment, two of the most important things to make a marriage a success. Furthermore, it also speaks of power, strength and spirituality right from the mythological times. This is the reason being why we use the red powder in temples. We use the same red powder as the Sindoor or Tilak that the groom applies on the forehead of the bride.
These reasons are enough to justify why red or maroon has such strong significance in an Indian wedding and Indian culture in general. Therefore, we cannot fault the bride for picking a red or maroon lehenga with contrast for her wedding. However, that should not stop you from trying to make the outfit your own! It's time to brainstorm! What can be done to spice things up with the outfit? A simple way to make it different is to look for blouse designs that would look absolutely great with a maroon lehenga with contrast. We have come up with a list of colours and ideas to help you in this regard.
1. Yellow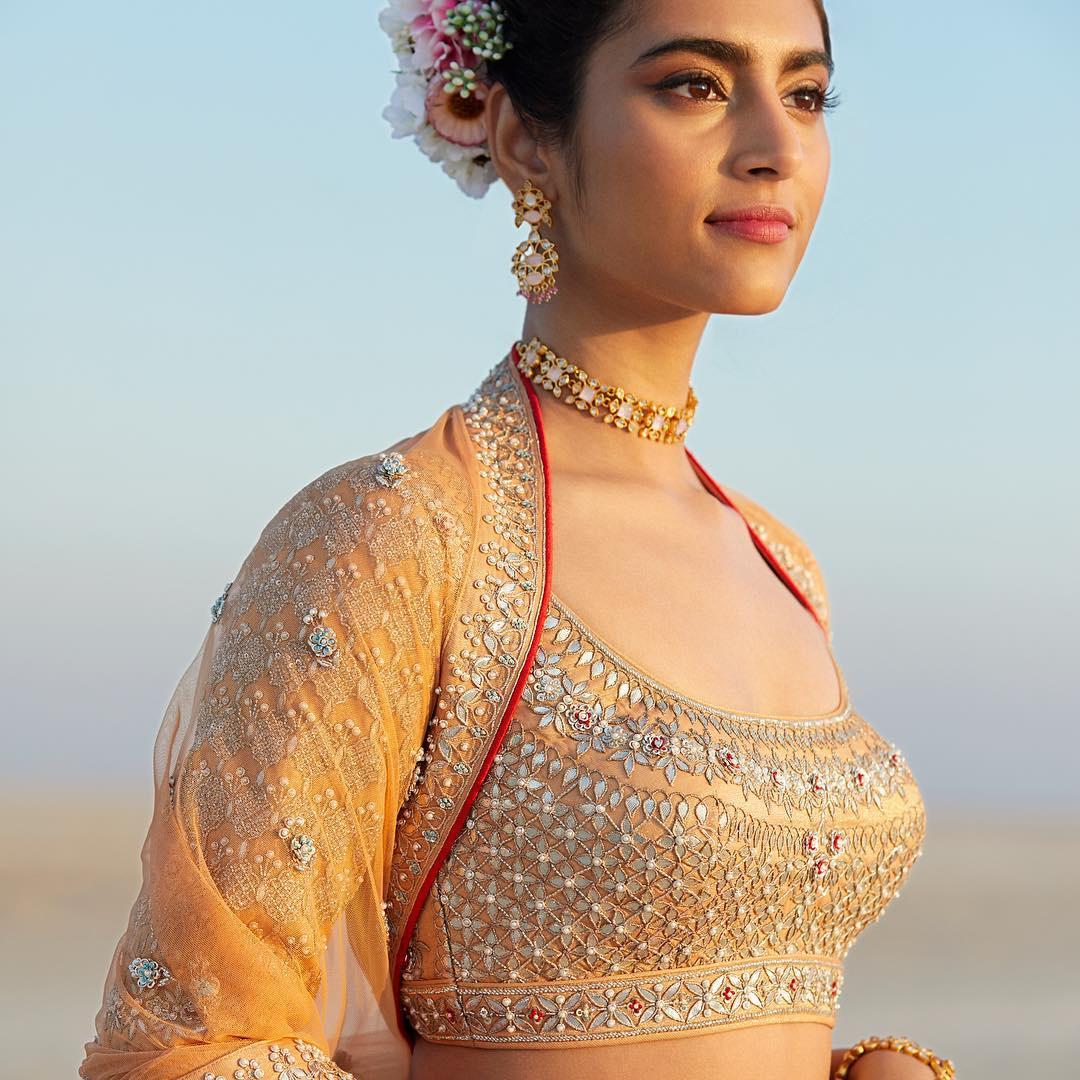 Naturally, yellow is a great option to pair with a maroon lehenga with contrast, since it rests close to it on the colour palette. It may be a bold choice but it would look great if you can pull it off. To make it simple, you can go for a blouse with a yellow base that has maroon embroidery all over it to create an organic colour combination. Complete the look with a similarly designed dupatta. Such an outfit is perfect for a morning wedding because the warm yellow colour would stand out in the sun.
Another great idea to add the yellow colour to your blouse is to have long sleeves with a yellow net. The embroidery work can also be made from yellow threads. Also, opt for a velvet blouse.
2. Beige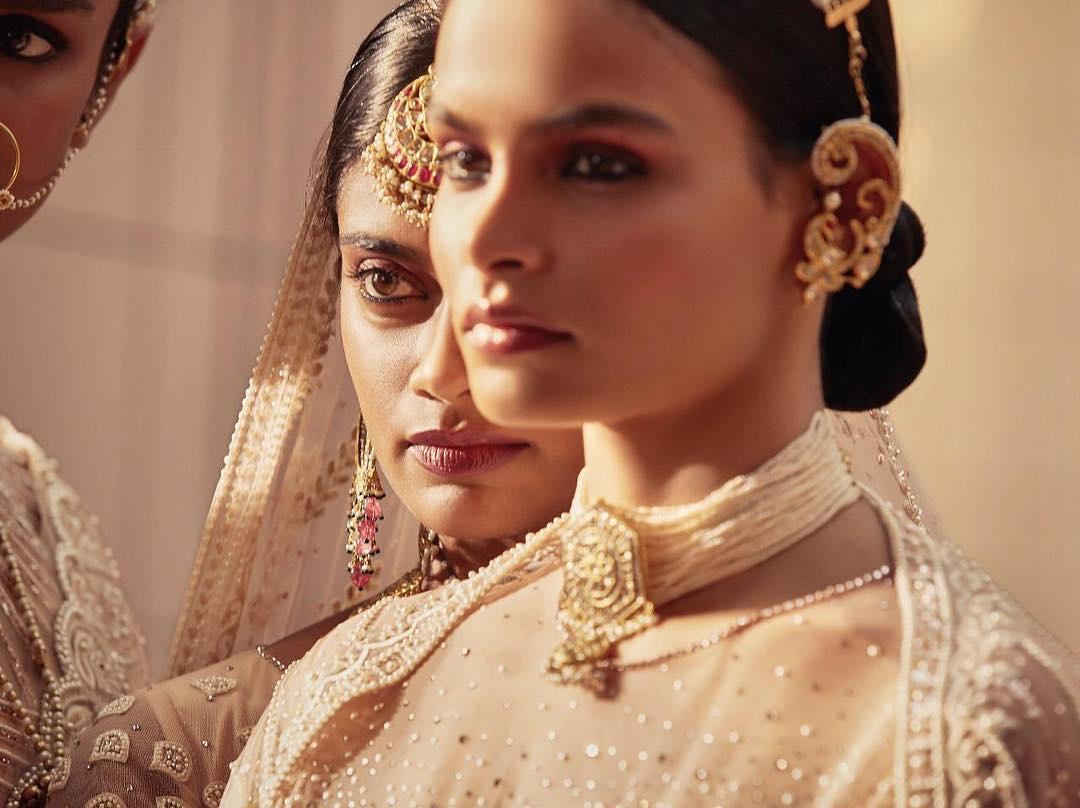 Beige is a much lighter version of the gold that would also go nicely with a maroon lehenga with contrast. A beige coloured blouse with heavy embroidery will make you look no less than a princess. This is ideal for a night wedding or a wedding at a heritage hotel or palace. A beige coloured blouse with embroidery using golden threads is definitely the ideal choice. The use of maroon embroidery at the borders would be helpful in blending the blouse with the lehenga. Make sure that the Dupatta is maroon and heavily embroidered at the borders with tan and golden coloured threads.
3. Grey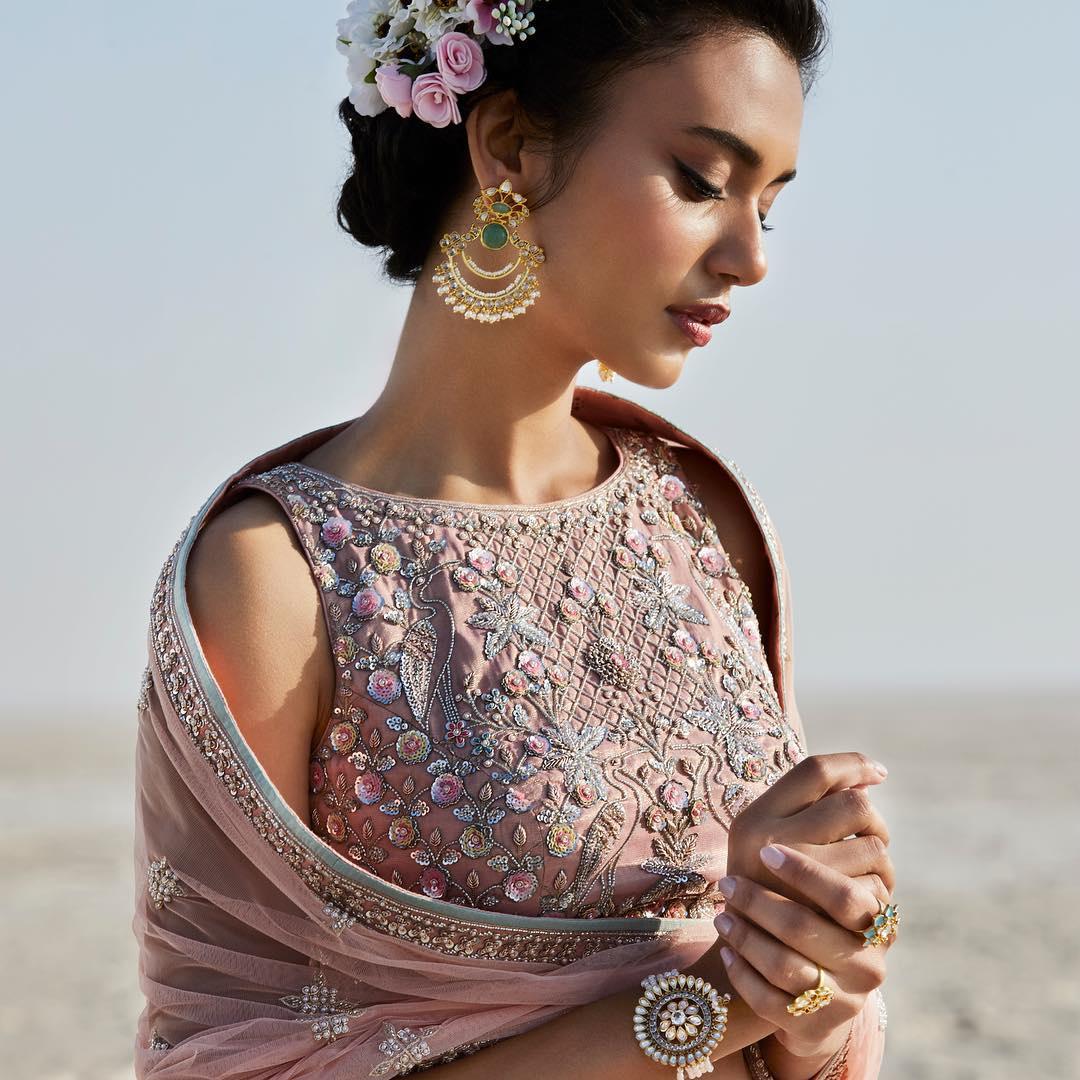 A grey coloured blouse is something that would go with a maroon lehenga with contrast that is slightly towards the scale of red. For this red colour combination to work out, make sure that the embroidery used in the lehenga is of the same colour as the blouse itself - grey. This would automatically make the blouse and lehenga a part of each other. This combination is one that everyone will remember, as grey is not a colour that one sees very frequently in the wedding circuit. The Dupatta can be a mix of grey and maroon with embroidery complimenting each other.
4. Black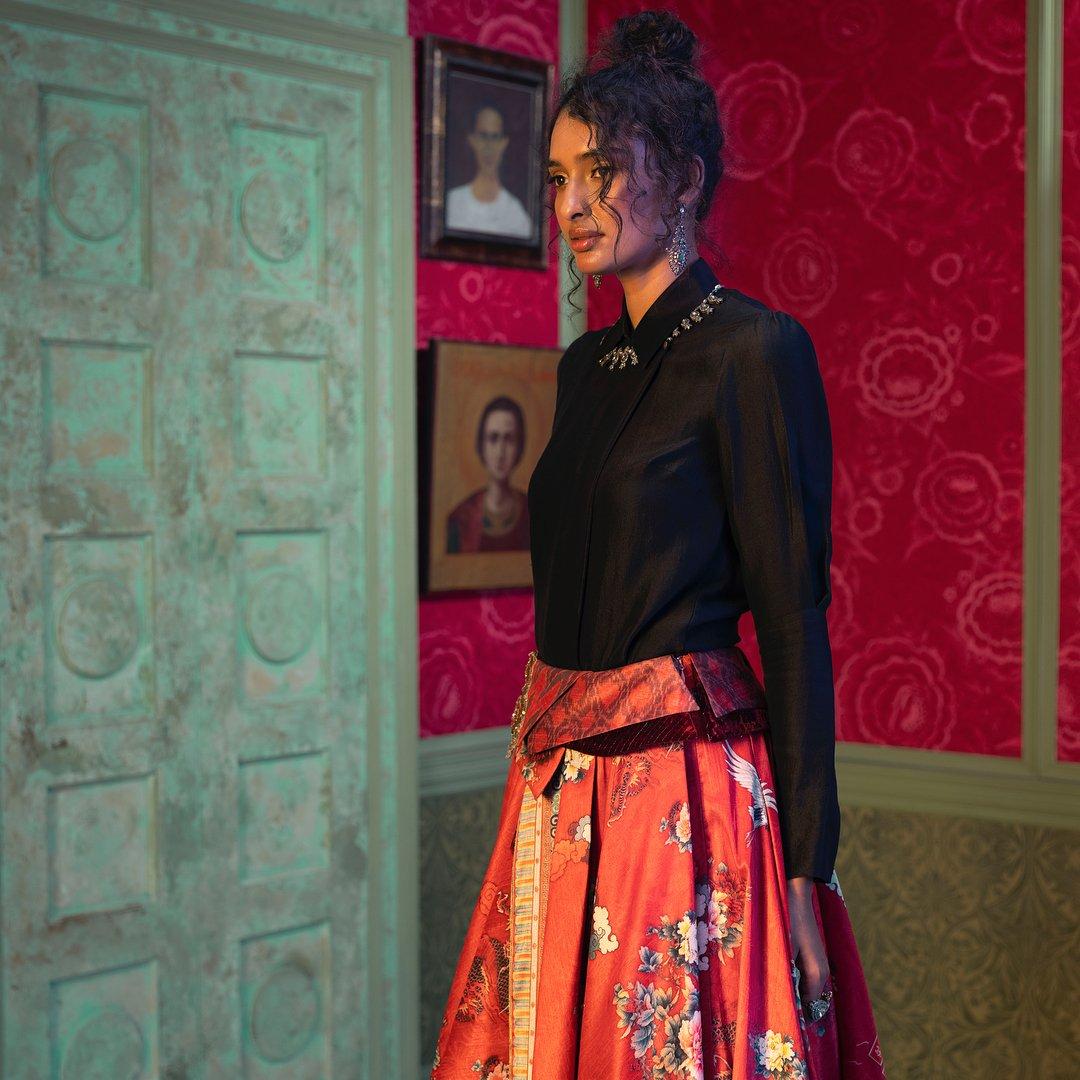 A black blouse paired with a maroon lehenga. Doesn't that sound straight out of a dream? You surely would look super glamourous if you choose a jet-black blouse for your wedding outfit along with the maroon lehenga with contrast. Here, you must not use maroon threads for embroidery on the blouse and it would be hardly visible on the black background. Use the same golden or beige coloured thread used in the lehenga to create the blouse too. Since black in itself is so powerful, you can go a bit light on the embroidery there. However, make sure that the blouse is created using velvet.
Now that you know the best colours you can match your maroon lehenga with contrast with, shop for some of the best bridal blouses you can get your hands on! Get them tailor-made so that you can control all aspects of the look!
Get in touch with our designers and vendors to create a stunning outfit!