The Only 7 Red Colour Combination Ideas You Need to Look at as They Are Dreamy, Royal and Totally Majestic
Wish you had a pool of red colour combination photos to help you design your own wedding and related ceremonies? Look no more and start bookmarking these images for some quick inspiration and an awe-inspiring feast for your eyes.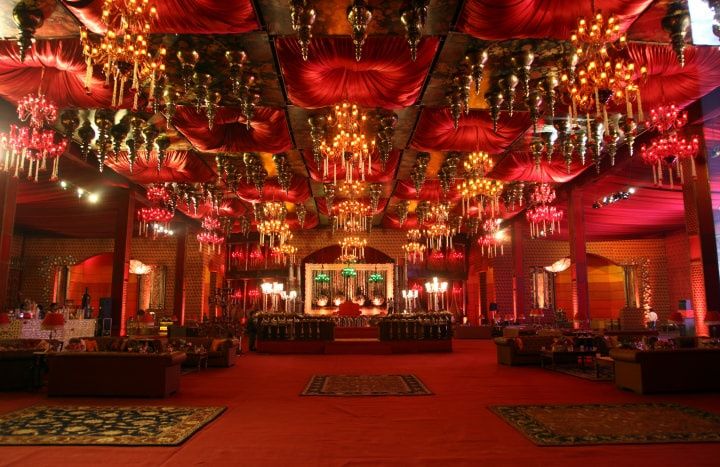 Red is the colour of love and rightly so. A colour that is associated with passion, red is the quintessential colour that we spot in every wedding decor. From floral setups to carpet to overall lighting, we can spot red in almost every element of the wedding. If you happen to be a fan of this colour then you have come to the treasure trove of all wedding related things in the red colour combination. To help you have the wedding of your dreams, we have rounded up a galore of photographs that have a running theme of red colour combination. With shades like maroon, burgundy, crimson and scarlet, you can go in any direction you please and have the wedding decor you truly deserve.
7 Red Colour Combination Ideas to Put a Spin on Your Wedding Decor
We have rounded up 7 stunning red colour combination photographs that are legit decor goals!
1. Suspended Ceiling & Tassels Red Colour Combination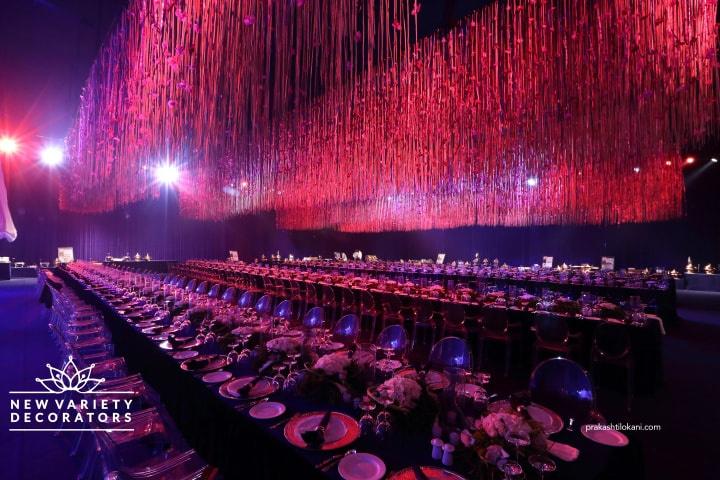 Suspend ceiling is a raging trend that has become a hot favourite of wedding decorators and wedding planners these days! One reason why this trend doesn't cease to amaze is the plethora of things there are that look great when suspended from the ceiling at weddings. From lights to flowers to ribbons to origami cutwork, the possibilities are endless. If you are planning to host your pre-wedding functions during the night and indoors, then you can take inspiration from this design to curate your very own. You can choose whichever element to suspend from the ceiling but ensure that you have red lights which diffuse on the decor to give it that pop of red.
2. Red Colour Combination Ideas to Put a Spin on Your Wedding Decor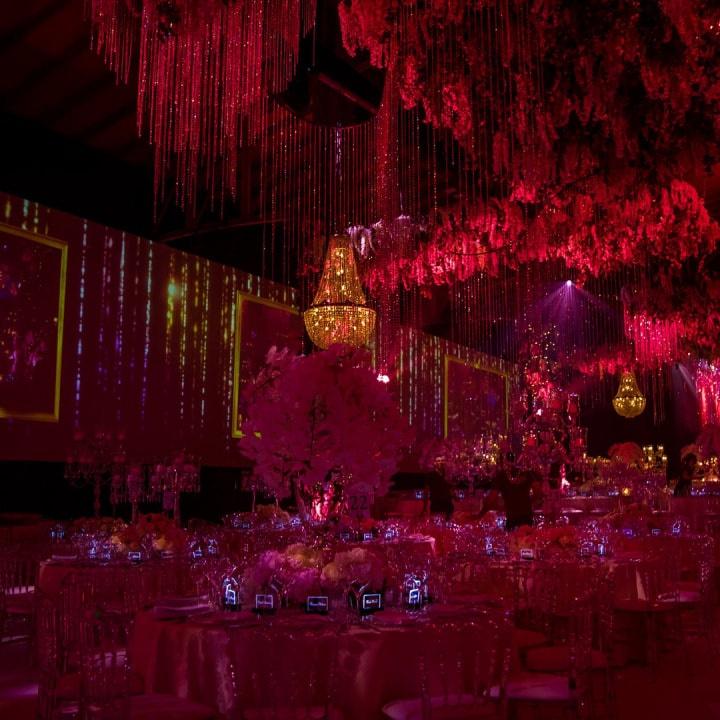 Love is the closest thing we have to magic and this decor reciprocates exactly that. a larger than life spectacle, a marvel to look at, this decor inspiration is the closest thing we have seen to a magical sight. When decorating a banquet for a wedding, you want a colour scheme that jibes well with your overall theme. If you want your cocktail party to look anything like this, then all you need are some red lights, red strings of crystal, red fairy lights and red flowers. One important thing to remember is that your entire look will look spectacular only if you diffuse enough red tinted light. The more the light, the more spectacular the effect.
3. A Royal Dinner + Royal Colour = Red Colour Combination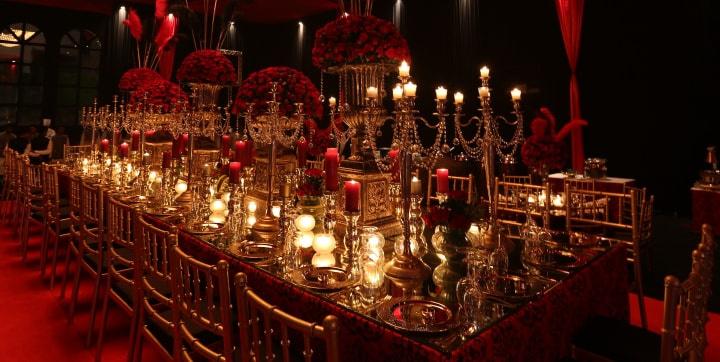 Bold accents pop-bright when placed next to gleaming lights! And, that is the inspiration that you should put to use to curate your very own wedding dinner table. The idea is to keep the red colour combination intact and arrange thing around your main items in harmony(in terms of the colour palette.) The inspiration for this table setting - a beautiful sheet of red cloth preferably in print for the added effect. Some bespoke and vintage looking lamps and candle holders with crystal and metal cutwork. Some red candles and a few tea lights and you're good to go!
4. Red Colour Combination Photobooth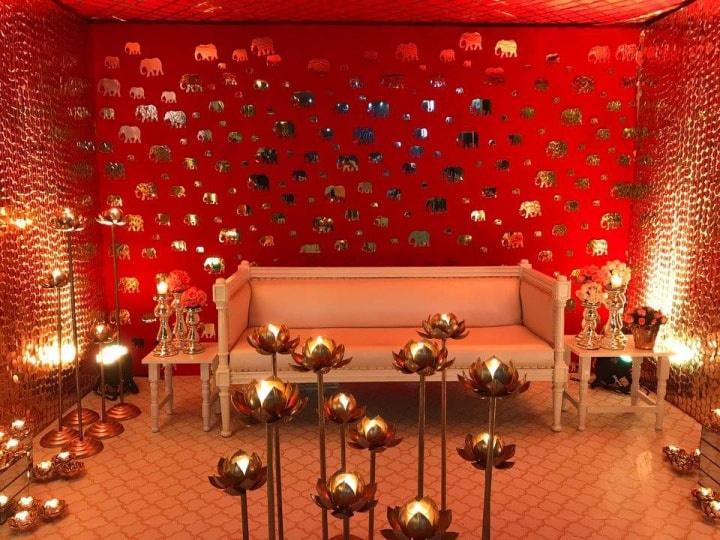 Every wedding deserves to have a special corner that is dedicated to clicking just photographs. Not every time does one need a quirky photobooth. Sometimes something as simple as this does the trick. All you need is some vintage furniture, quirky lamps and tea light holders and lots and lots of red light! And, your dedicated photo corner is ready for use!
5. Rain on Me with Rose Petals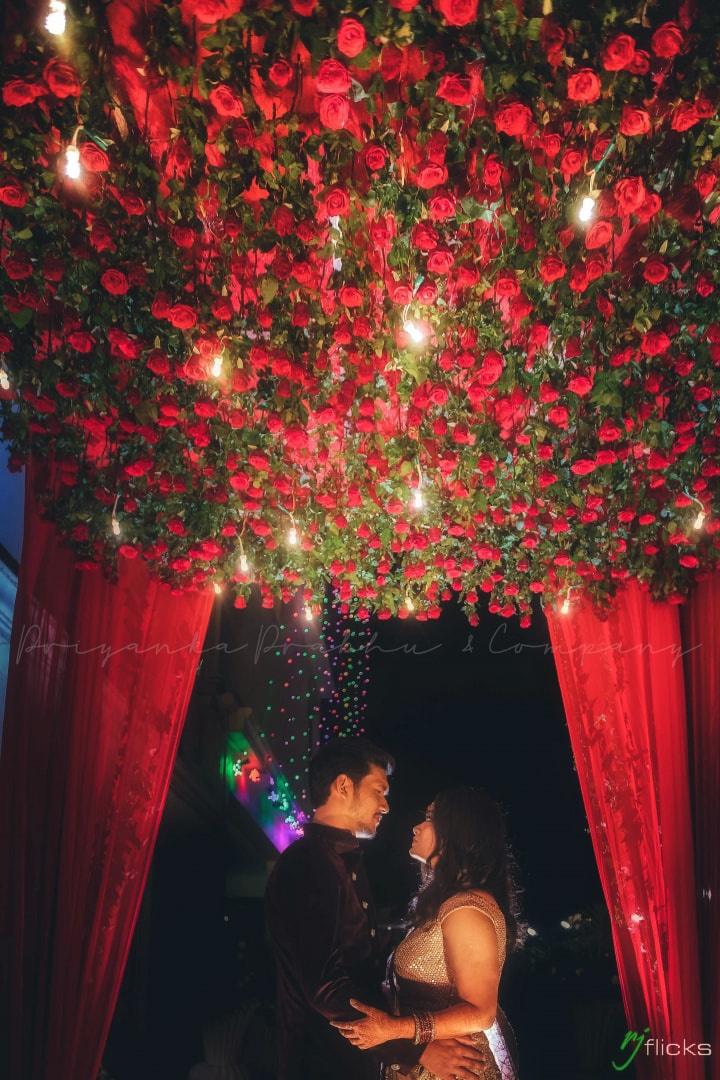 When your love is magical, so should your wedding decor be! If you are planning to tie the knot anytime around Valentine's week, then this is the decoration you should think of before you start with your own. Fresh rose flowers, hanging from the ceiling - an awe-inspiring side with lots and lots of fragrance(an added bonus, we promise) Some red drapes in the corners and you have your romantic and spectacular wedding venue ready.
6. The Red Royal Affair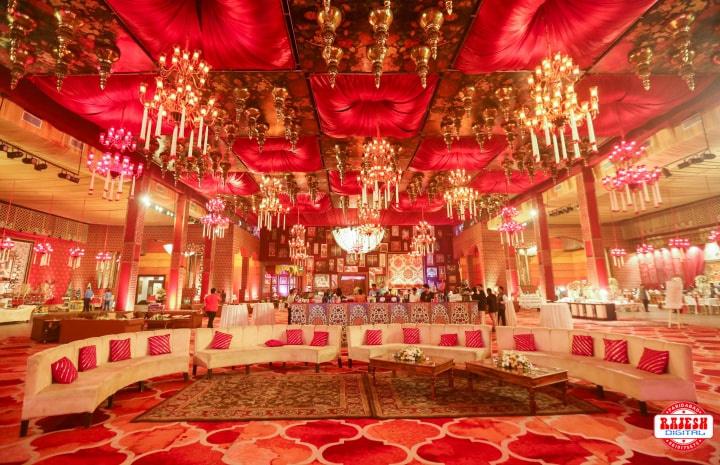 Set the tone right from the start by greeting guests at the ceremony with this larger than life, a red colour combination inspired decor. From carpets to cushion to the ceiling and even drapes, we dont see anything that is not red. follow suit and get your planner to recreate this red magic if this is the chosen colour palette for your own function.
7. Red Wall of Fame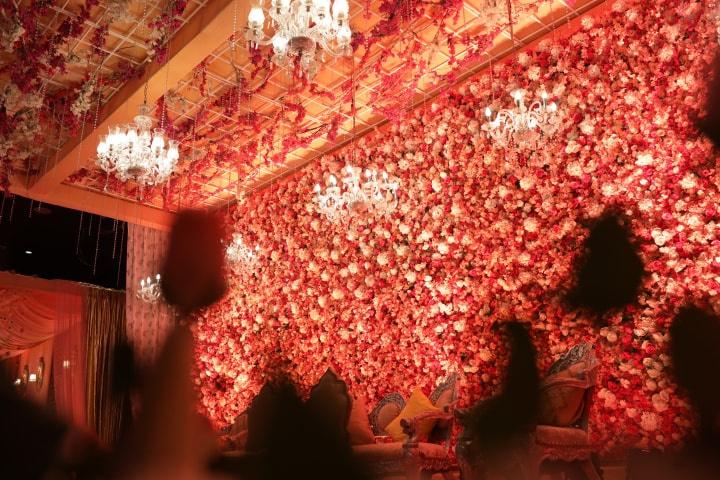 A wall of fame in red! A sight for sore eyes quite literally! Designing a red floral based wall will form a colourful and inviting display for your wedding guests. How about diminishing shades of red, like an ombre effect? Ombre is the next big thing that couples are blindly following and for all the right reasons. So, what are you waiting for?
Colours symbolise and set the mood of any place – that's why it becomes imperative to choose the right ones. So, if red happens to be your favourite then leave no stone unturned to use is to amp up your wedding decor and much more.
Which one these red colour combination photographs did you like most? Tell us through the comments!