14 Breathtaking Wedding Flower Decoration Ideas for the D-day
Who wouldn't want to brighten up their wedding with bright and fragrant flowers? Take cues from this guide to amp up your wedding flower decoration.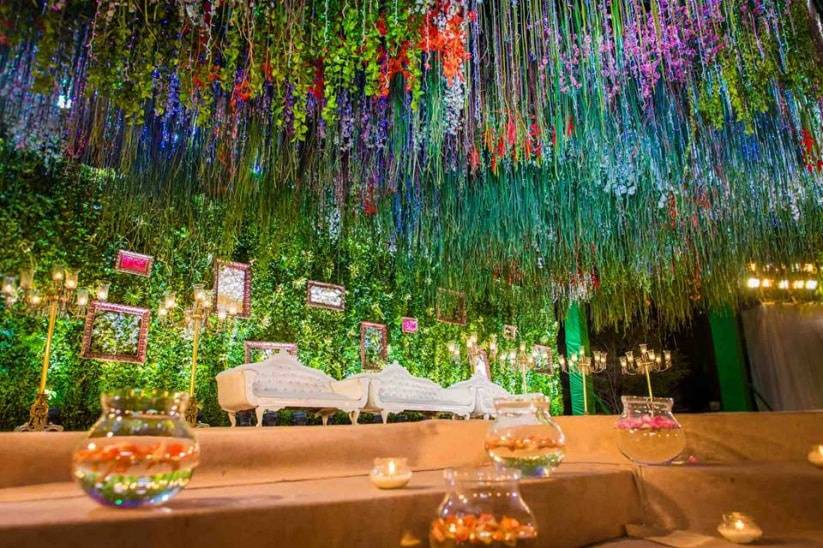 It's amazing and aesthetically very pleasing to see how something as delicate as flowers can make or break the look of a wedding. Your bridal outfits aren't the only wedding essentials that need to be on point.
In fact, if you spend months deciding what to wear and how to carry your hair and makeup for your fairytale wedding ceremony, you will also have to make sure that the decoration ideas are well-planned because the delivery of the same depends on professionals who will need to be conveyed clearly.
Umbrella decorations, props and fabric have been on the list recently, but one classic factor of wedding decoration is flowers and you will be thrilled to see what magic can be spun with some flowers put together through strings or tapes.
The decoration for your wedding venue is crucial too, as this can elevate the aesthetics of your wedding ceremony from ground level to seventh heaven. Don't just slay at your wedding in a head-turning bridal outfit, but also keep your guests captivated by the sheer magnificence of your decoration aesthetics.
Bookmark this article and take inspiration from these stunning wedding flower decoration images to amp up your decor quotient.
1. Seal It with a Stunning Canopy Style Ceiling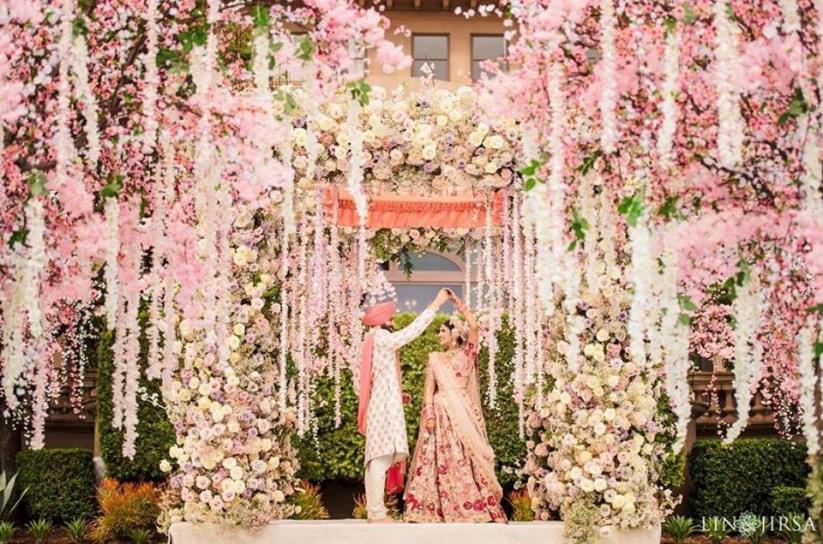 Image Courtesy: Lin and Jirsa Photography
We are at a loss of words by the grandness and exuberance of this beautiful wedding flower decoration idea. From hanging floral vines to a full bloom stage pillar, we cannot get over this picture.
It is perfect for an outdoor daytime wedding ceremony since its entire beauty lies in its placement and adequate lighting. To us, it seems like spring came in early this time. How about you? You too can go for an all-consuming canopy style decor which mimics a garden which is in full bloom.
2. Swing Me from a Floral Chandelier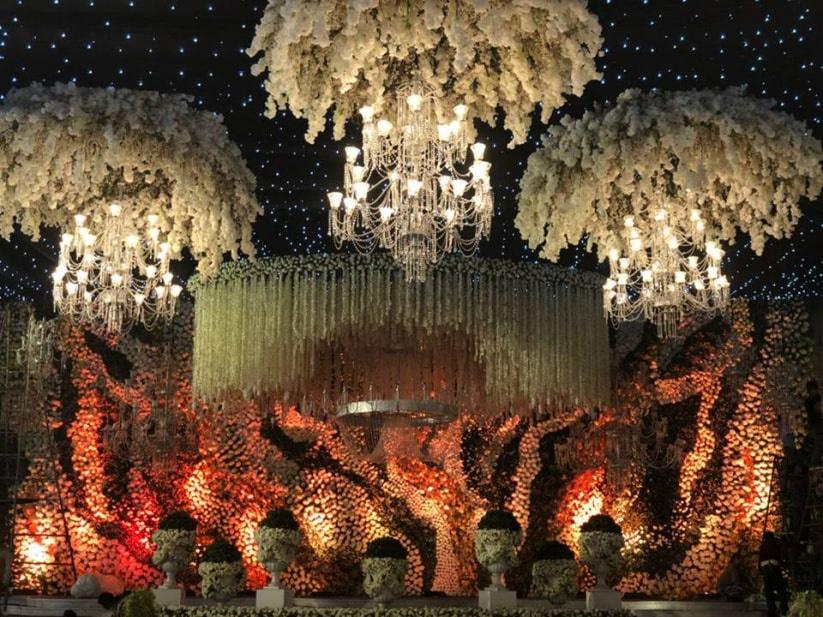 Who would have thought chandeliers and flowers could work like a charm in elevating a wedding decoration. As unlikely as it seems, it is possible and this picture proves it all!
Creatively handcrafted in small bunches of white flowers, delicately entwined with one another, we love how effortlessly these falls onto the chandelier. Truly a sight for sore eyes. If you too are running undecided about your wedding decoration then take a cue from this idea and get going.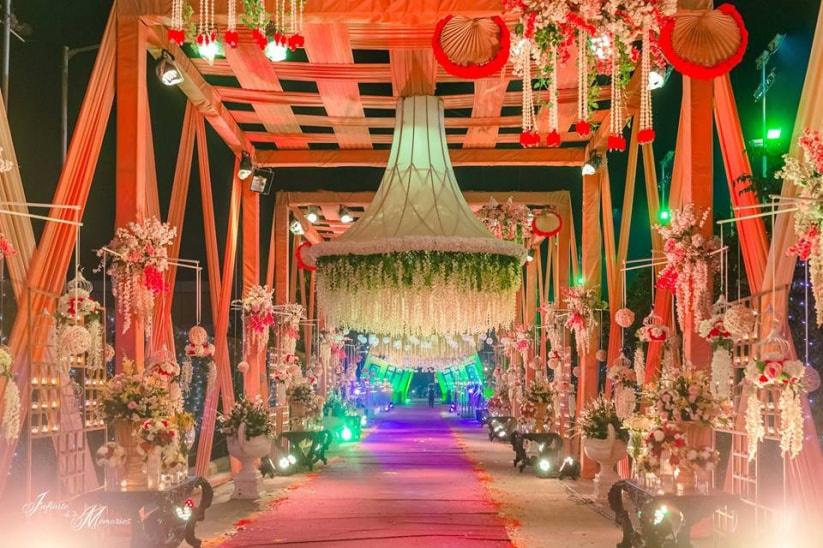 Or, perhaps this wedding flower decoration will do. You can go for a single chandelier adorned with vines and flowers too. Whoever enters your wedding venue won't be able to forget this magnanimous sight for some wedding seasons to come.
3. Fine Dining with Floral Centerpieces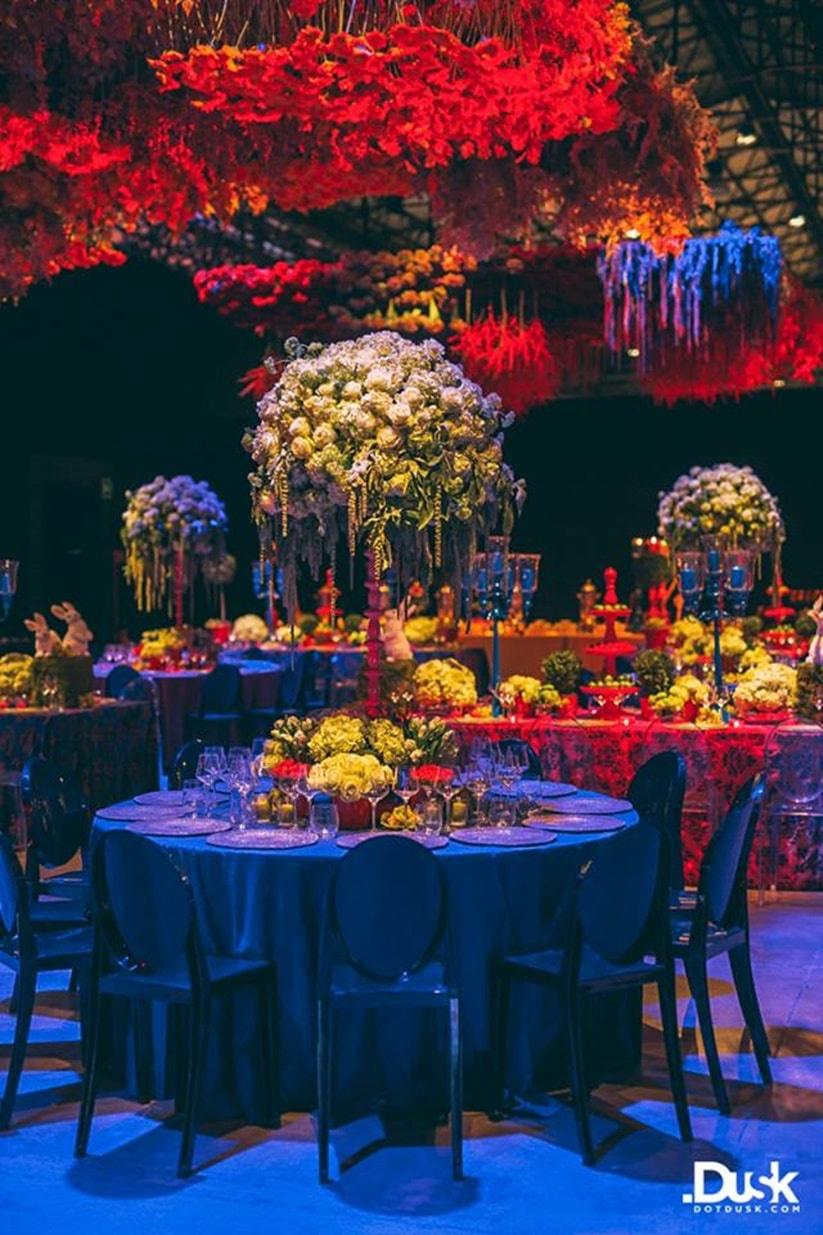 Say bye-bye to a simple table setting and take some inspiration from this exquisite decor with ample wedding flower decoration ideas. Invest some time in talking to your wedding decorator in advance and help him/her come up with the design of your table seating.
Use flowers, wines and some candles with customised cutlery to go with. You can play around a little with your wedding flower decoration by placing small flowers in tiny bunches and then dedicating one full-length centrepiece to add some sophistication.
Decorating your tables is all the rage nowadays and there is no limit as to what all you can do with it. Be it bouquets as centrepieces or be it one flower in a vase at one table, it is all in the wedding flower decoration.
4. Less Is More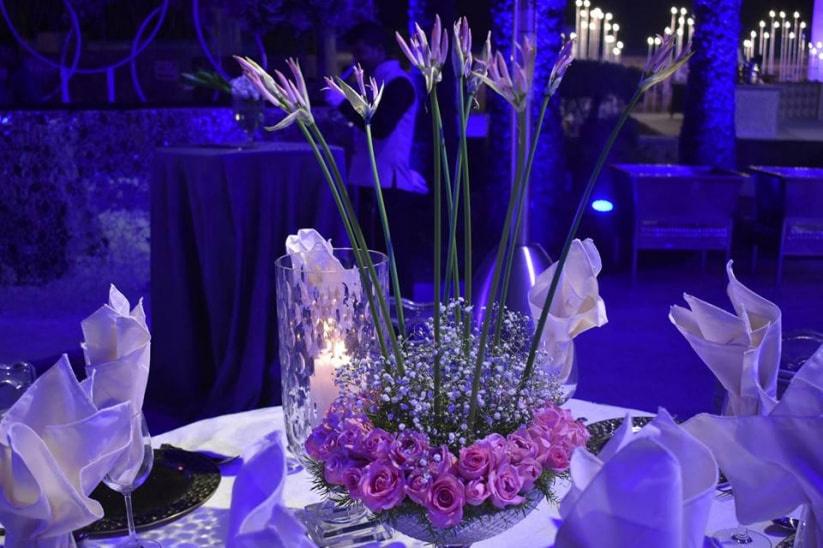 A beautiful flower with an enticing and aromatic fragrance can lift anyone's mood. Being a bride-to-be and groom-to-be you wouldn't have time to meet and greet every last single guest of yours.
Place these handcrafted beauties and be rest assured that your guests will be enticed in the pleasant aroma of these fresh flowers and enjoy your new journey just as their own. This wedding flower decoration is elegant and simple.
5. Wedding Flower Decoration With Scented Candles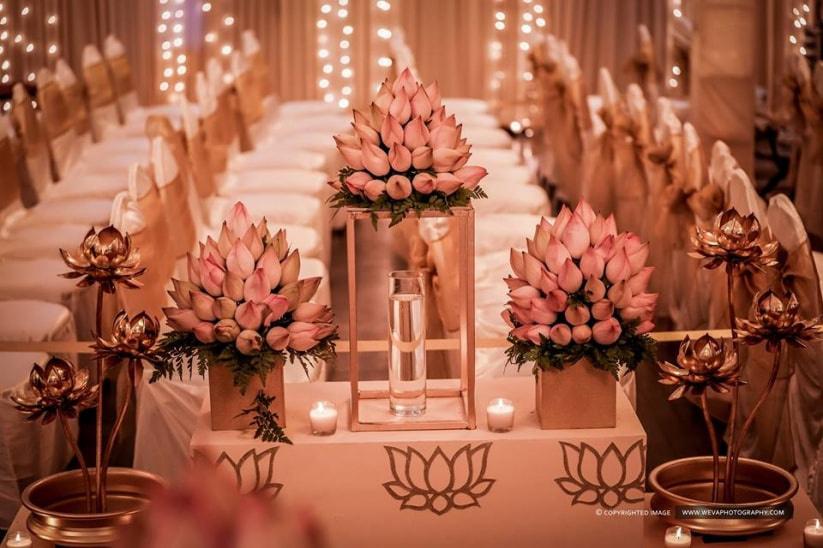 Give your sangeet ceremony a spring vibe with these pastel lotus flowers. These lotus buds resemble a bouquet in itself. Lotus being a symbol of purity will resemble the purity of your kindred relationship with your spouse-to-be and also add as bespoke decor inspiration.
6. Floral Trays for Wedding Rangoli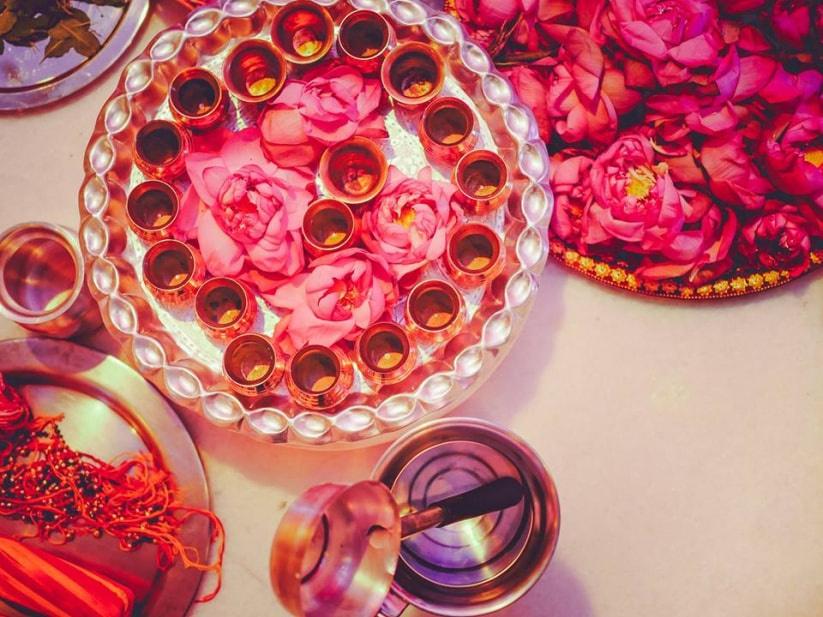 Add some traditional vibes to your wedding mandap by adding this decorated silver thali with flowers adding to its beauty. You can use these to add some timeless rangoli designs and accentuate the beauty of your wedding ceremonies. It is one exquisite way of incorporating wedding flower decoration ideas to beautify your function.
7. Floral Wreaths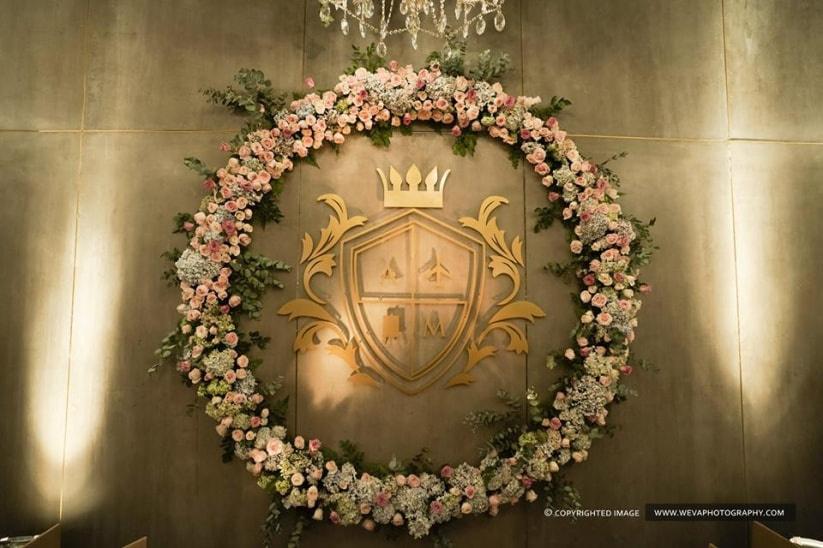 How majestic does this floral wreath look? It is perfect for a Christian wedding as it not only symbolises the beautiful essence of what a wreath symbolises but also looks stunning as a decorative piece. If you are hosting your wedding anytime son then make sure you add a wreath or two do elevate the beauty of your function.
8. Floral Entrance and Animals

This is hands down the most accurate decor inspiration for a daytime Mehndi or Haldi ceremony. This picture is both colourful and looks like a dream come true. With a canopy style floral piece and a decorative animal statue, it is quirky and classy at the same time. You too should add some happy colours to your function and make it merrier.
9. Wedding Flower Decoration for Wedding Stage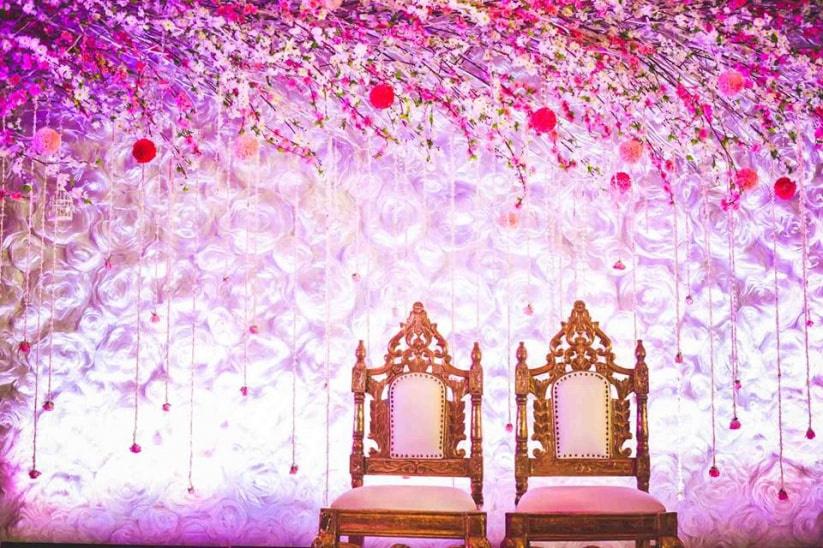 Always wanted to have a fairytale-inspired wedding? Well, if so then this is one setup you can bookmark for your wedding. Bring your fairytale moments to life with these vine inspired flowers and ceiling hangings. Not only will your wedding stage gleam with the opulence of this setup but it will also exhume some aromatic fragrance.
10. Wedding Flower Decoration for a Personalised Phoolon Ki Chadar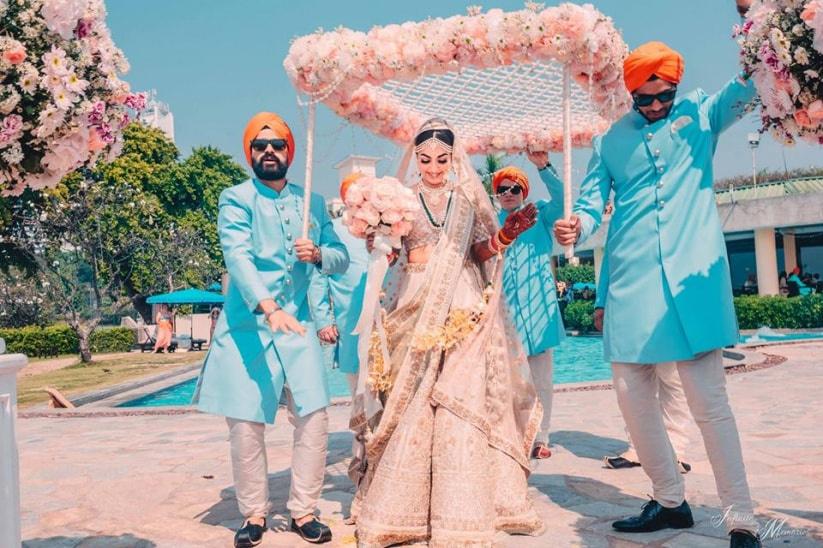 This is hands down one of the most beautiful and elegant Phoolon Ki Chadar we've come across so far. From the personalised pastel bouquet to the chadar this real bride is serving some major wedding goals. You can play around with the colour scheme or go for a flower of your choice and walk down the aisle in the opulence of grace and sheer magnificence.
11. Wedding Flower Decoration for Bird Motif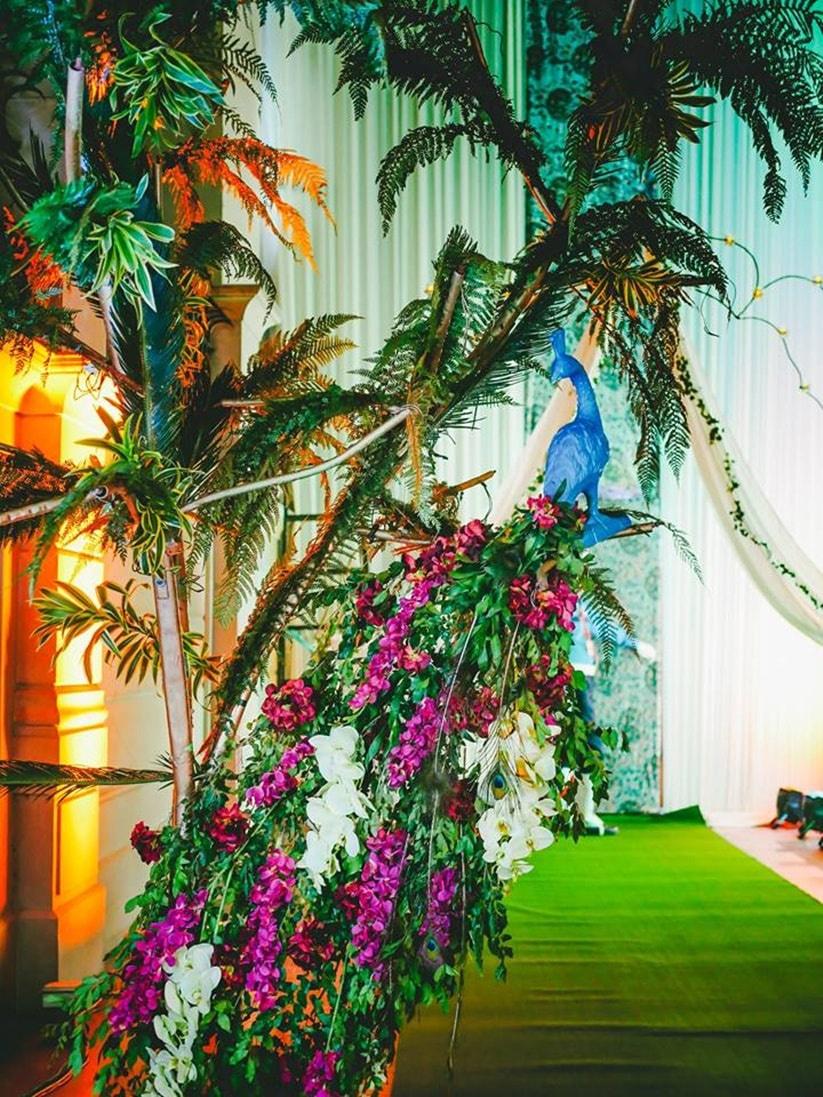 Who doesn't love a peacock? And, to make it a part of your wedding decoration is all the more interesting and truly a sight that one would want to devour for hours and hours. Use such innovative ideas to amp up your wedding decoration goals and make your wedding decoration the talk of the town. You can also find some bespoke hanging decoration ideas to bring your A game.
12. Wedding Flower Decoration Photobooth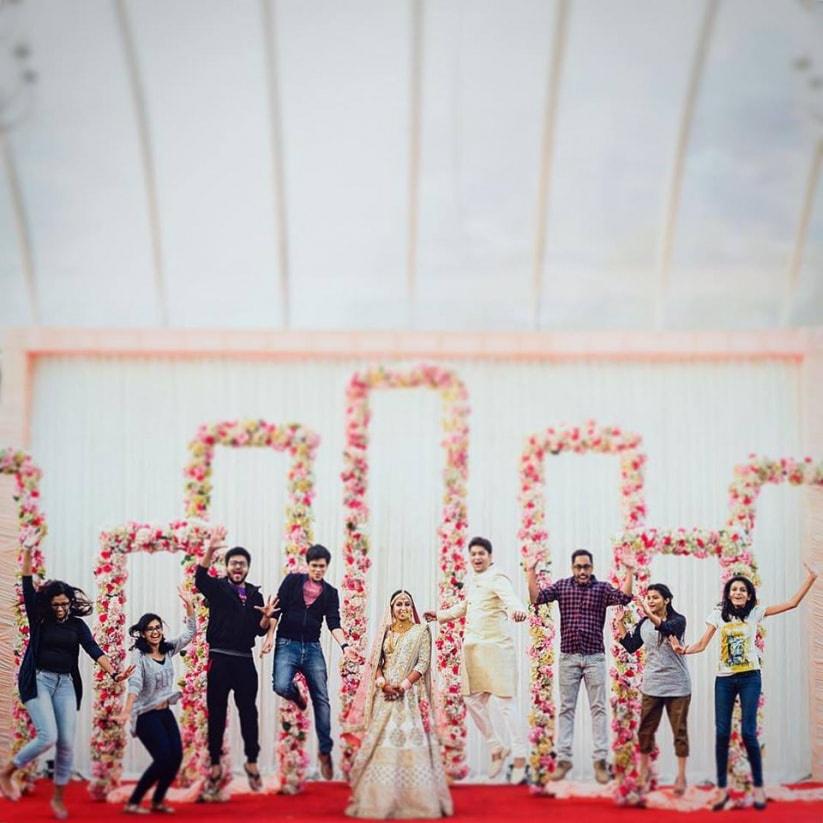 Lights! Camera! Action! Bring your selfie game and ace your wedding pictures with this easy breezy wedding photobooth. It is fun, it is colourful and definitely a spectacular way to make sure your guests have something to keep themselves entertained with.
13. Your Flower Chariot Awaits You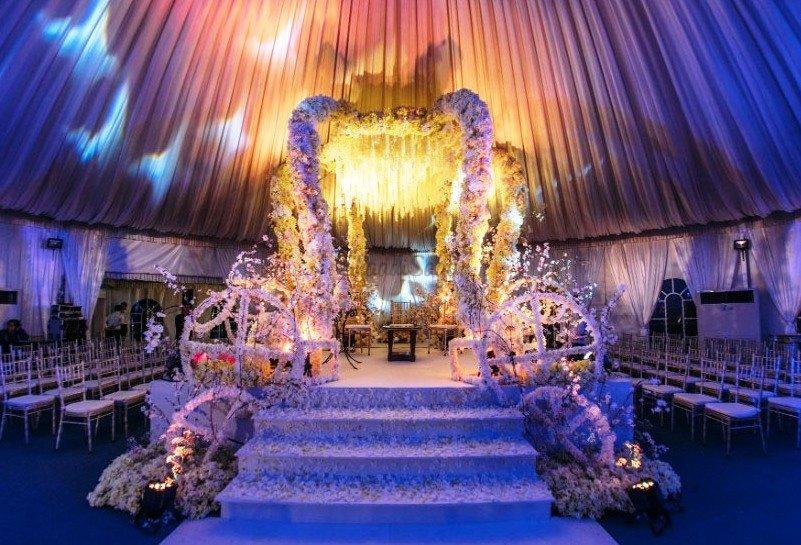 A crown shape chariot decked up in floral glory for your wedding festivities would be perfect for your ring ceremony. This decor truly lights up and would make your big day truly magical. You can play around the idea while carrying out a fairytale theme for your entire wedding where this chariot would fit in perfectly with your attires and plans. The bride can come in in flowy Cinderella gown for her Prince Charming to lead her happily ever after in the midst of the floral perfection.
14. A Floral Canopy Mandap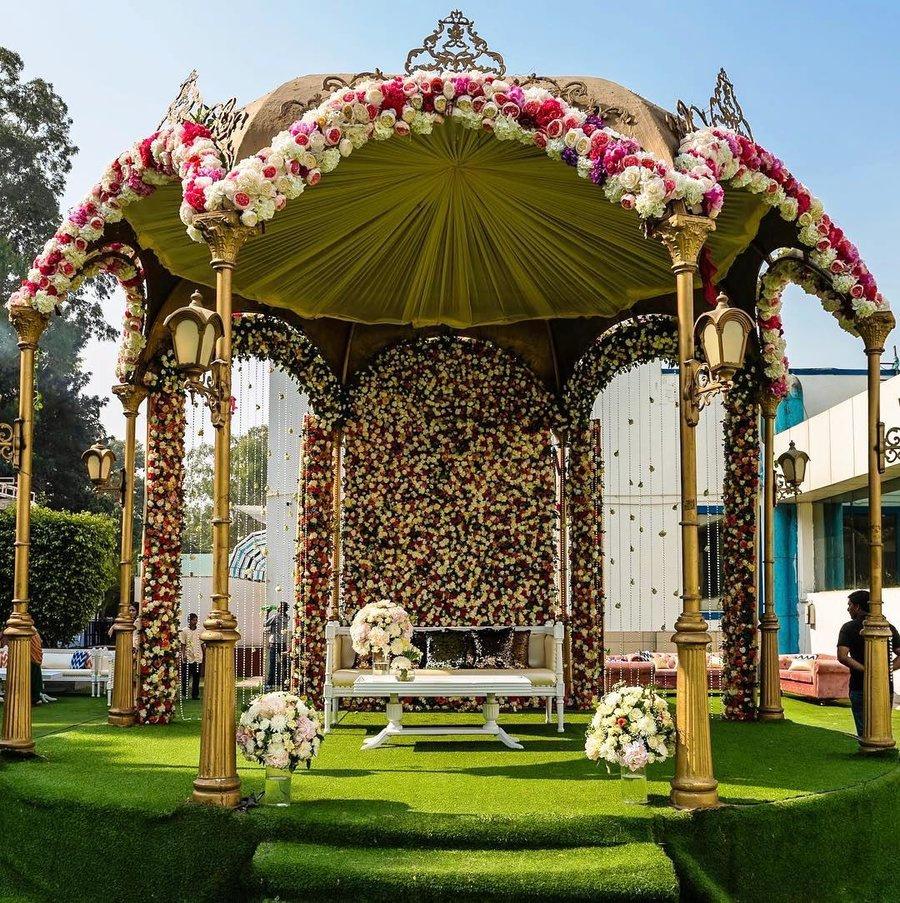 Definitely looks out of a fantasy film set, this wonderful wedding flower decoration would be the showstopper at your wedding. The extravagance of this heavily decorate floral mandap against the natural light and contrasting colours is par excellence. With a plethora of flowers in each colour and design against the minimalistic seats and style will definitely steal the show.
Decorations for Indian wedding ceremonies have long surpassed the practice of scrumping drapes and minimalistic flower arrangements. With the elaborate ceremonies, the decor is equally grandeur and opulent. While flowers can make any occasion special for you, using them for your wedding festivities will certainly make them much more memorable. Now that you've gone through some ideas have a one on one sesh with your decorator and be ready for a roller coaster ride of joy, laughter and epic memories. If you incorporate one of these above wedding flower decoration ideas then surely be a wedding to remember
Get in touch with your wedding photographer now and capture these stunning ideas and share them with us through snapshots.