10 Creative Hanging Elements That Make Breathtaking Decoration Photos
If you're planning a fall wedding or a boho-chic celebration, then the best way to add bohemian vibes to your function would be with pastels and florals. Find your decor inspiration with these stunning decoration photos until you find the one.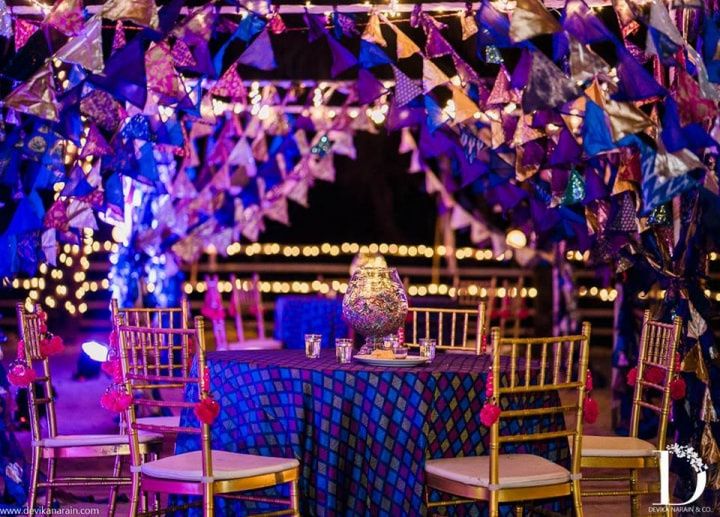 From vibrant colours to over the top ceiling decor, wedding decoration is an oasis of possibilities. No wedding truly feels complete in the absence of wedding decor. We have curated for you a list of decor inspo focusing on ceiling decor elements.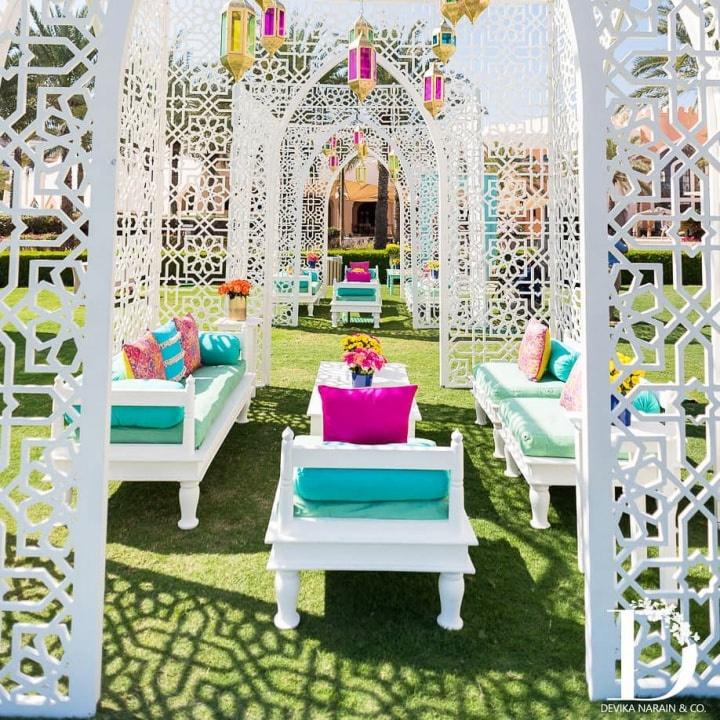 However, simple or minimalistic they maybe, wedding decoration requires thoughtful planning and deliberation as it can easily make or break your wedding and related ceremonies.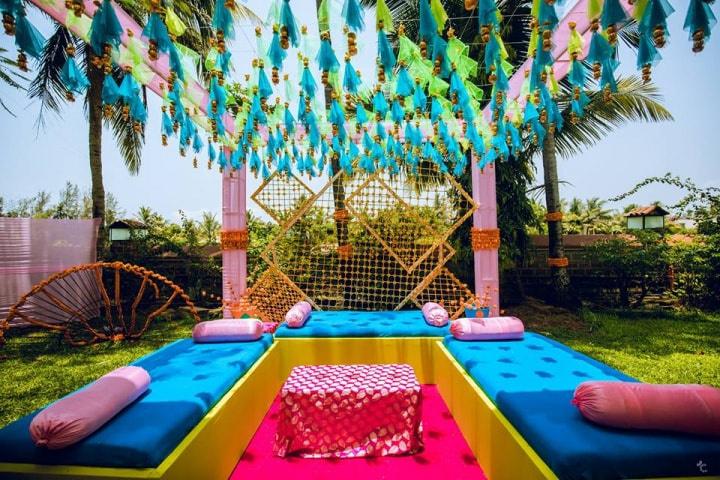 So, before you go scouting for decor vendors and decor elements, take inspiration from these stunning decoration photos and bookmark elements you love best.
1. Hanging Florals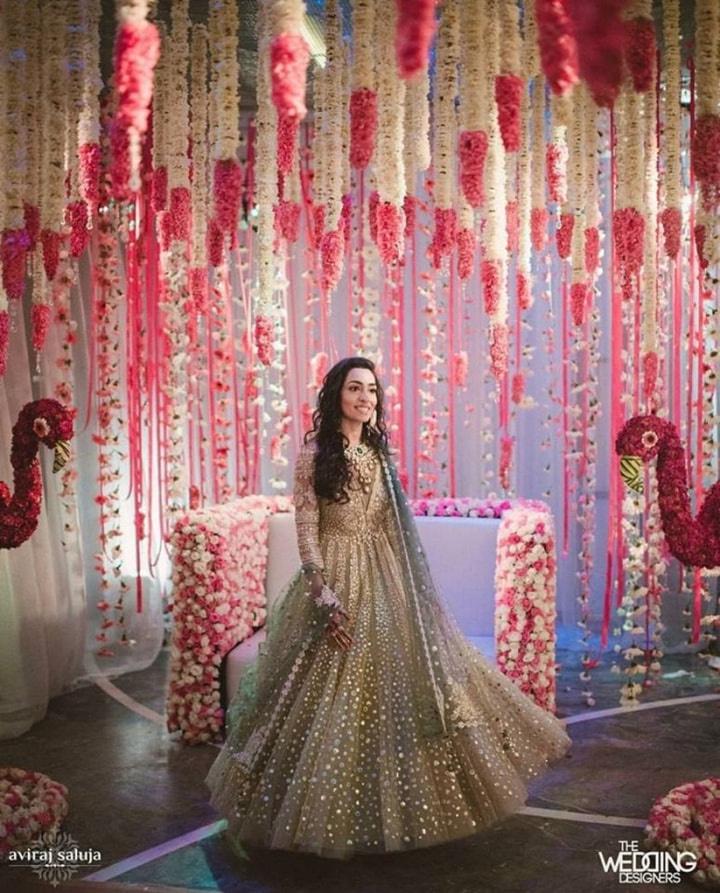 An all-time favourite when one talks about decoration. Use seasonal blooms, vines and artificial flowers.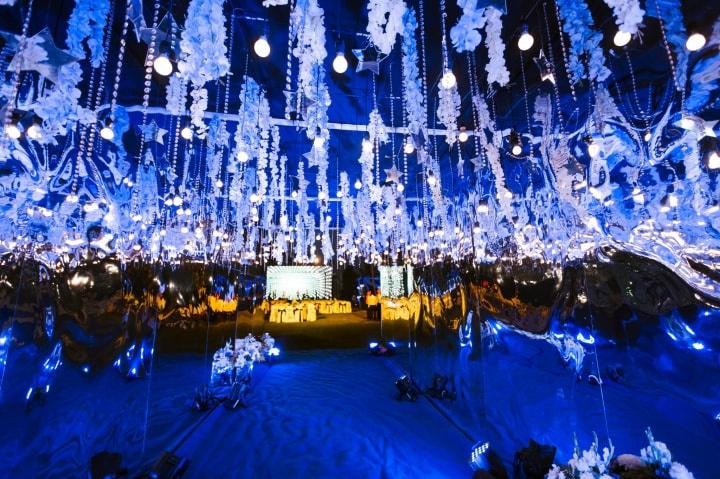 Suspend them from the ceiling using strings or fairy lights. Trust us, your wedding venue would look nothing less than the garden of Eden. Hanging decor is the gen-next idea of decoration and boy! It is a sight for sore eyes!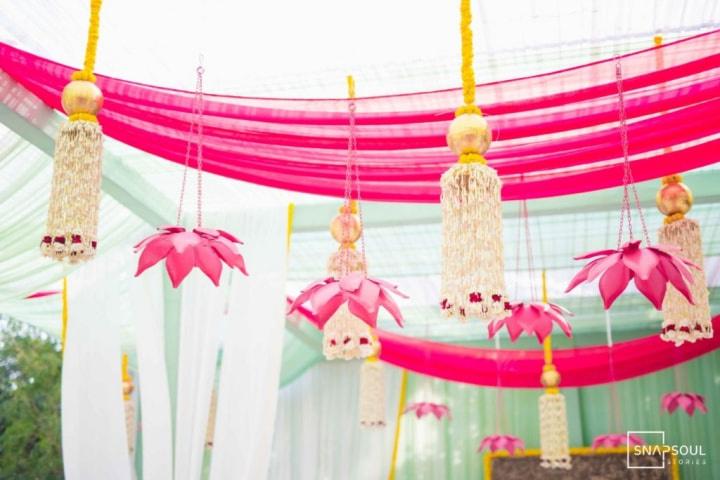 Use origami cutouts or caricatures to elevate your wedding decor with these simple Indian wedding decoration ideas. The best place to start would be by choosing a colour palette for your wedding decorations and then starting with the cutouts. Your wedding will surely be the talk of the town.
2. Hanging Kalires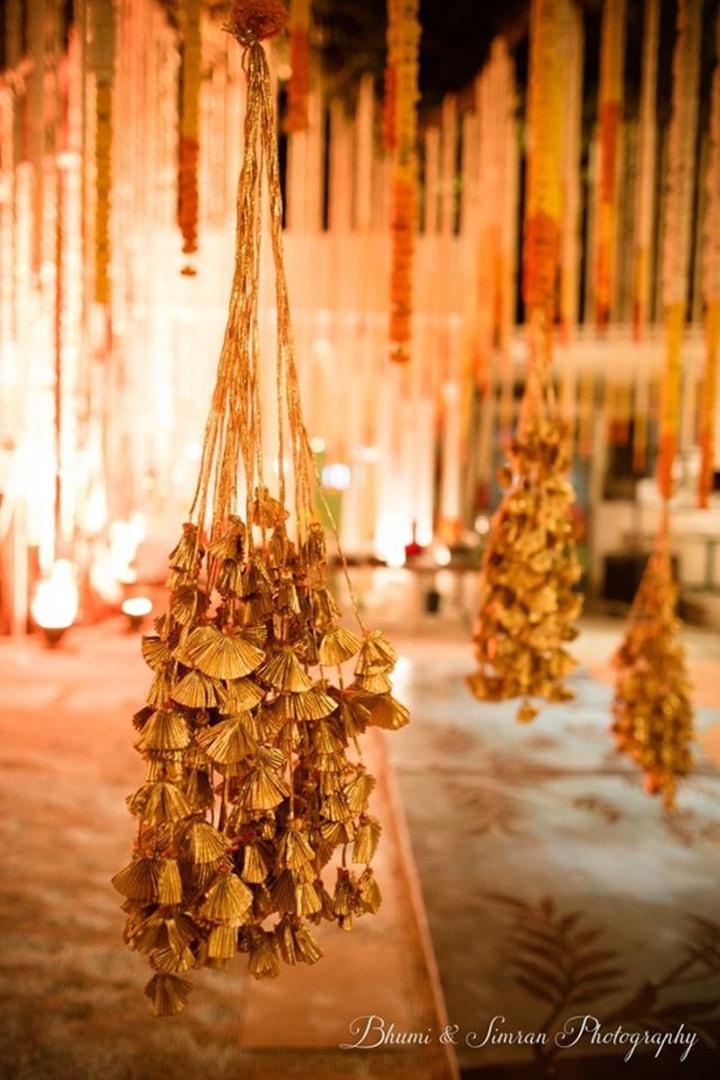 Who said Kalires were only to be worn by brides! Who said you couldn't use them for decoration purpose too? We've come across some stunning entrance decoration elements in photos this season of Kalires being suspended from the ceiling. You can opt for some trendy pom-pom style Kalires or traditional golden colour ones and suspend them using fancy strings of fairy lights from atop. Your wedding venue will gleam under the fluorescence of light and look nothing short of a vision.
3. Birdcages with Floral Strings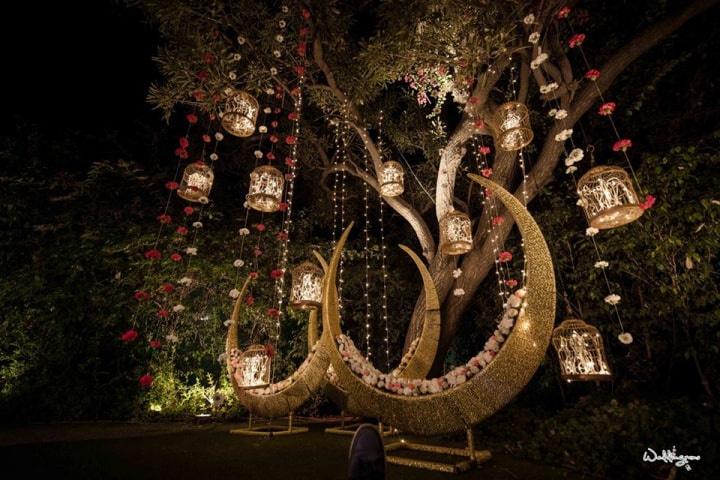 From birdcage to mason jars suspended from ceilings, this wedding season we've seen it all. Ceiling decor is not only easy but also beautiful to look at. You can either of traditional in your decoration approach or create a soulful mix of modern yet traditional. Hang birdcages from the ceiling and arrange them in a manner that they fall effortlessly. Decorate them using fairy lights or tea lights.
4. Fish Bowls and Mason Jars as Candle Holders
As for fish bowls and mason jars, carefully place a tea light in each of them and hang them from the ceiling. Not only have you got yourself an easy decoration inspo but also a sky full of stars.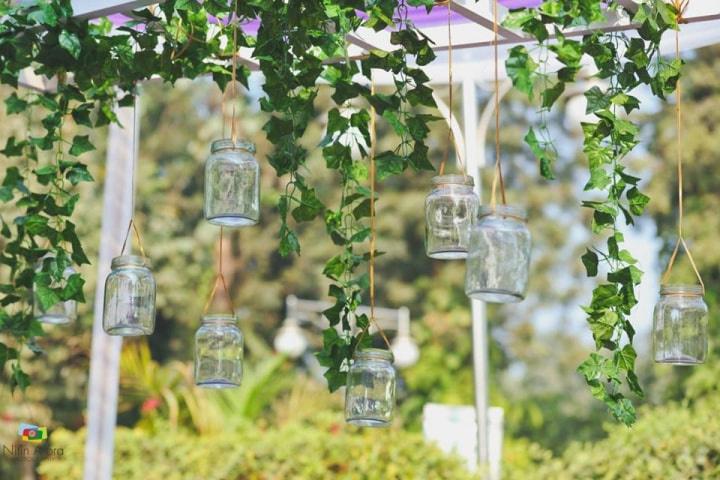 And without the lights too, mason jars look just as quirky for a day event.
5. Give Me My Umbrella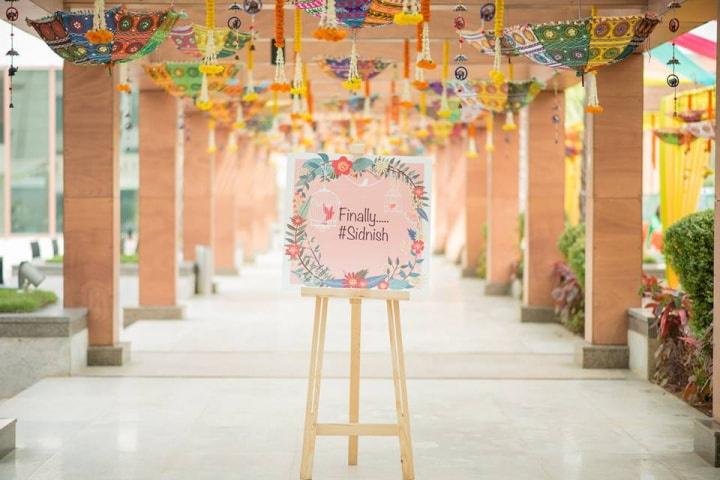 Yes, you read that right. Umbrellas are not only meant to save you from getting wet but also work as a creative decor element. You can use them for decorating your pre-wedding venue too. Scout the markets and find the quirkiest umbrellas you can lay your hands on.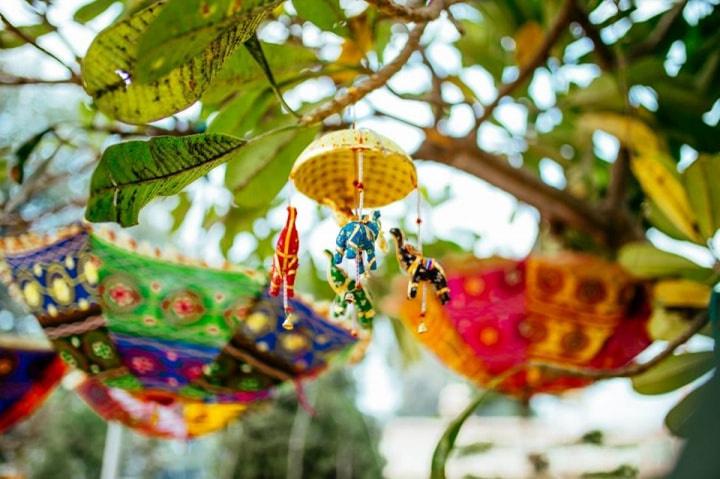 Place them upside down, cascading in the air, suspended from the ceiling. What a marvellous sight!
6. Beer Bottle and Lights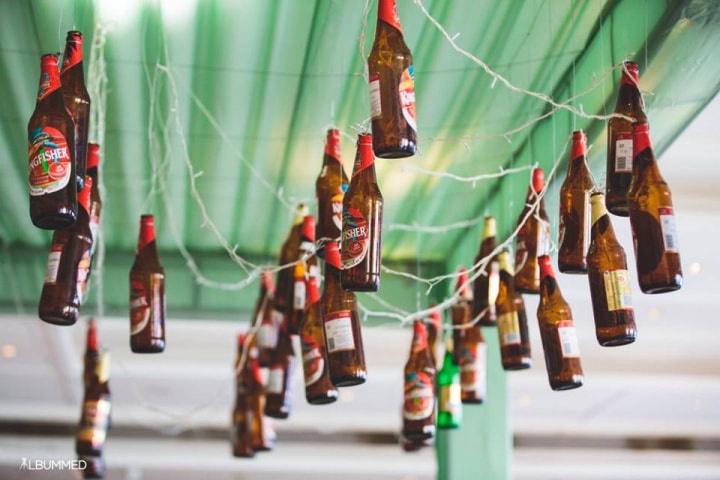 Put to use your consumed beer pints and turn them into a bespoke decoration prop to add quirkiness to your wedding decor. Suspend empty bottles from the ceiling and add fairy lights around them like a creeper.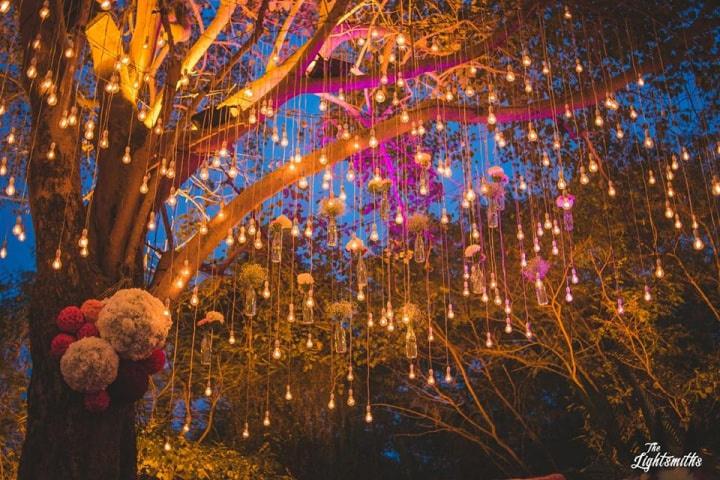 Or, just put some lights inside the bottle so that they glow from within. It's a little out-of-the-box and that's what we love about this idea.
7. Kettle and Utensils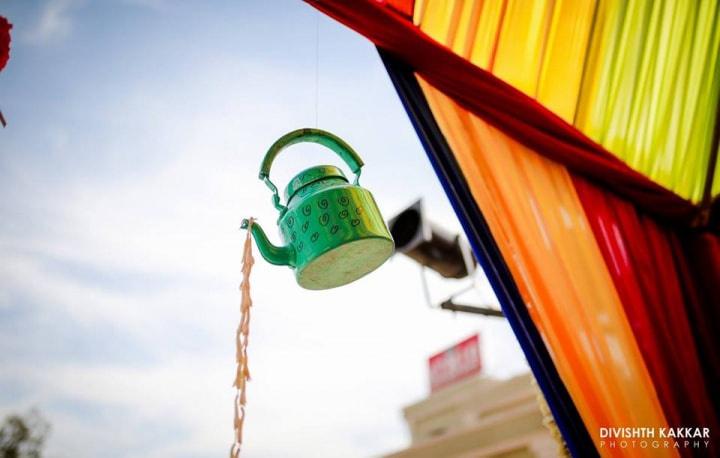 Put to use your kettles and utensils and add them to create a stunning decor for Haldi ceremony. Go for bright colours, like this bottle green kettle and suspend them from the ceiling. Your venue will look like a scene from a quirky photoshoot to provide the filmy touch to your love story.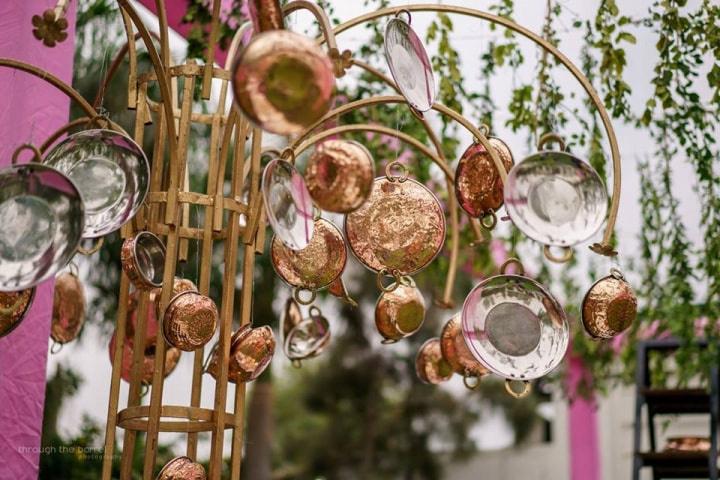 Or, scout the market for some copper colour utensils, as shown in the decoration photo, and add them to create a bespoke and timeless decor inspiration. Your guests will be in awe of your out-of-the-box thinking and your wedding decor will become the talk of the town.
8. Plastic Butterflies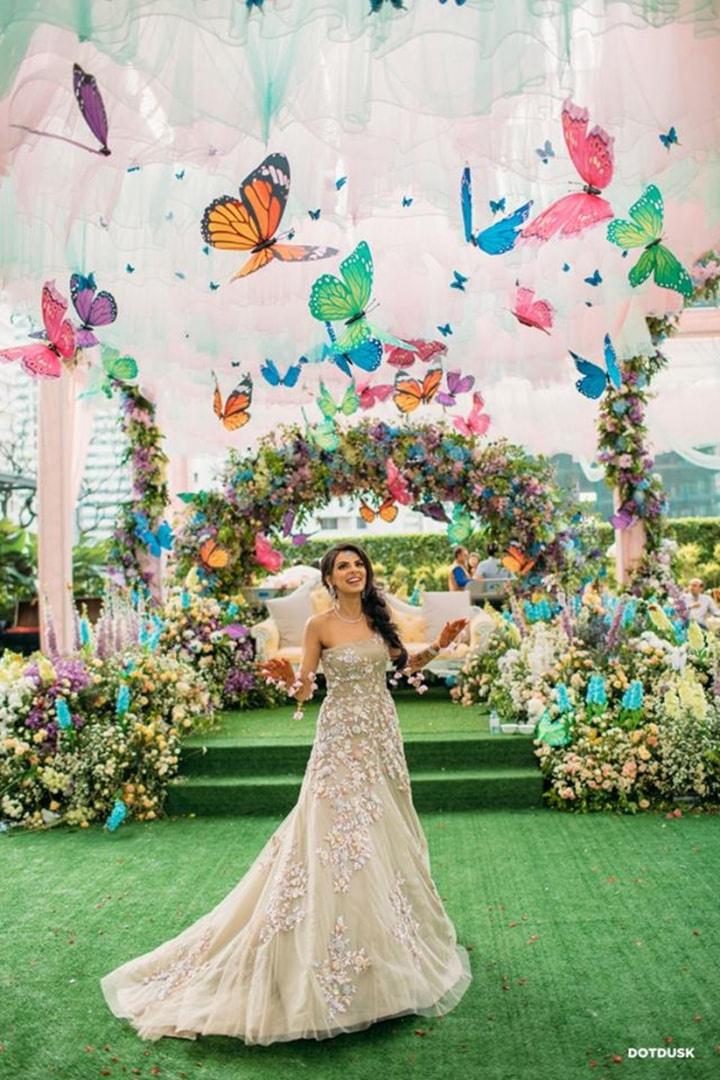 Gown? Check. Heels? Check. Floral tiara? Check. But, wait! You still need a stunning decor to bring to life your fairytale moment. Take inspiration from this decoration photo and relive your childhood fantasies by adding butterflies and flowers. Suspend them from the ceiling and have your wedding photographer freeze this moment as your swirl in your bridal gown.
9. Wedding Bells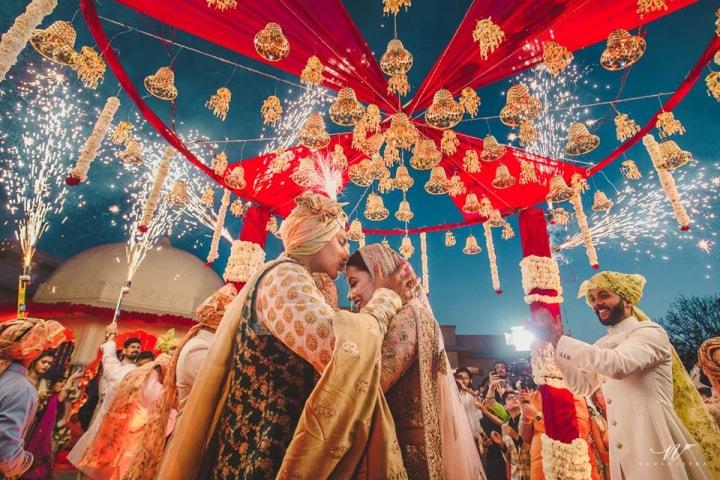 Turn this traditional element into funky decor for your wedding. Use bells and floral strings as a decor inspiration for decorating your wedding mandap.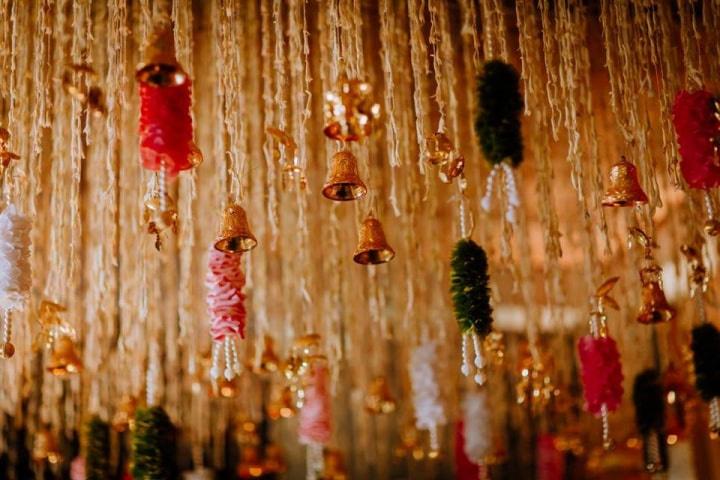 Bells will elevate the overall look of your decor and also add whimsical melodies to your sweet memories with their ding-a-ling sound.
10. Shimmery Glitter Hangings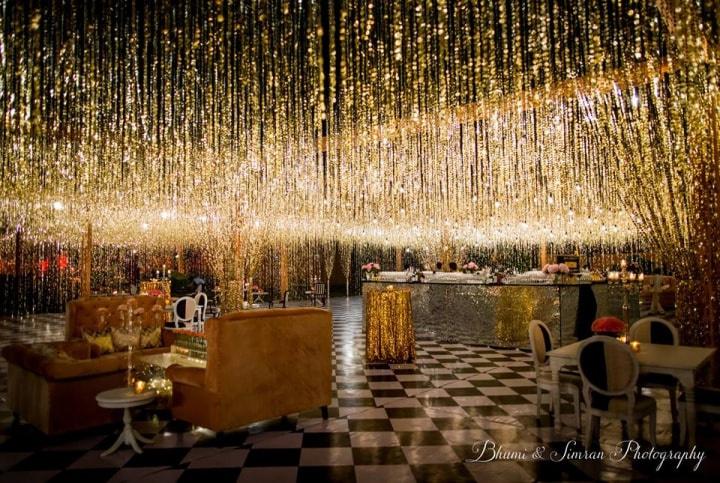 Disco Deewane! Transform your Sangeet ceremony into a night of whimsical music and shimmery and sultry decor. Scout the market for some golden embellishments, golden strings with trinkets and suspend them from the ceiling. Take inspiration from these decoration photos and create a sultry affair!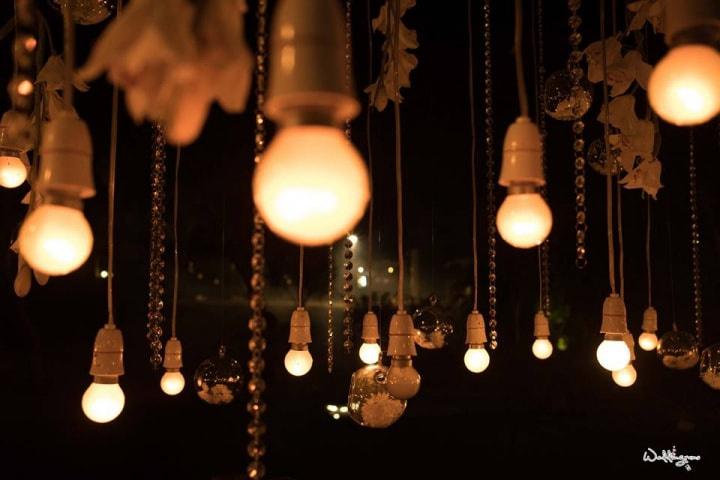 And if you want more such out of the box ideas, why not consult your wedding planner who might come up with some unique ideas according to your wedding theme. We'll leave you with some more decoration photo inspiration for your eyes to feast on.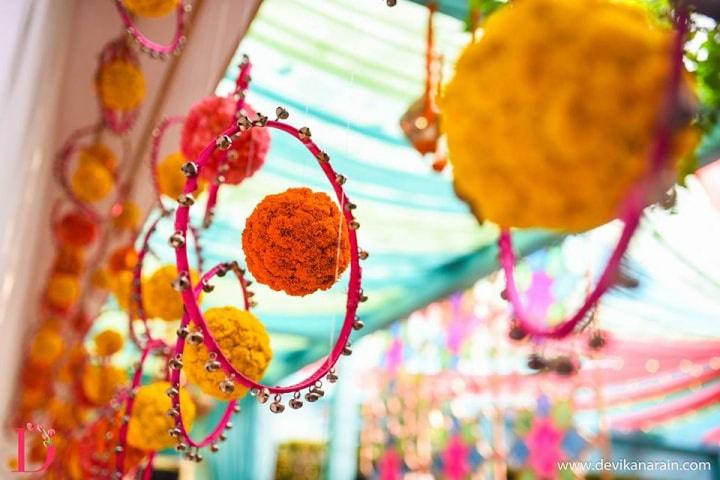 Looking for a wedding planner who can turn your wedding into one like the above decoration photos? Explore the list of the best ones near you.