Bookmark these Evergreen Wedding Entrance Decoration Elements
Need to go unique and leave everyone spellbound from the moment they arrive for your D-Day? Dazzle your wedding guests with our inspiration board for wedding entrance decoration. Read on.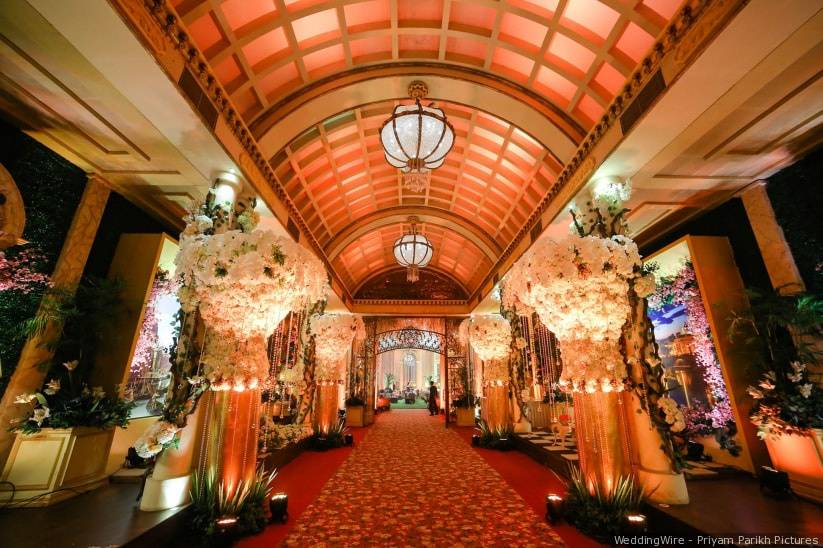 The wedding entrance decoration says a lot about your wedding theme. We understand that deciding the venue decor can be extremely exhausting. Selecting the theme, choosing the right colour combinations, deciding the lighting, and most importantly, it should match the dream wedding you always had in mind. While wedding decoration is one of the most important elements that you would plan, it speaks volumes about the kind of celebrations that you would be having. Wedding entrance decoration is the first impression that you can offer to all of your wedding guests.
Before we begin, remember this thumb rule: You don't have to decorate every single nook and corner to make a huge impact. Focus on the few basic wedding decor elements like the entrance, mandap and the seating-cum-dining area. Your wedding entrance decoration is literally the first thing that your wedding guests will see, so make sure it is worth a look and that they get a taste of what awaits then once they pave their way into your wedding venue. We have listed a few elements that we feel are crucial when it comes to wedding entrance decoration, a set of ideas that every couple must take inspiration from to amp up their own wedding entrance decor.
If you think that only grande wedding entrance decorations are the only design element that can give your wedding a royal feel while even burning a hole in your pocket, then worry not. Fret not, we're here to help! Whether you are ready to shell out big bucks or have some budget constraints, we have shortlisted some beautiful wedding entrances that will fit every bill.
Elements Of A Wedding Entrance Decoration
Whether you have a day wedding or a night one, we have some entrance decor options for everyone. Let's begin.
1. Flower Beds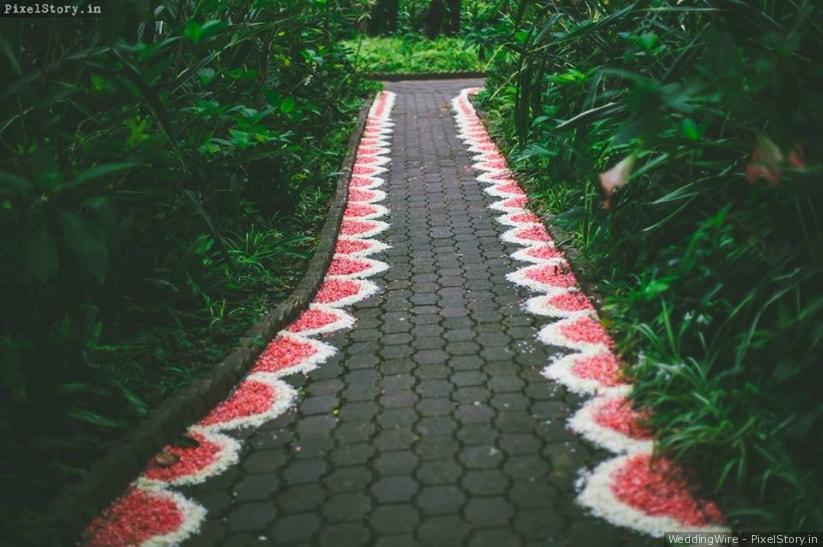 Using flowers to decorate the wedding entrance is one of the most common decor ideas. Depending on your budget, the scale of decorations can vary. For a day wedding, you can use flowers like roses or marigold petals. You can also colour-coordinate the flowers and lay them on the path or the side of the path. While capturing the beauty of the flowers, you can design it in a variety of ways depending on the space you would get and the venue. It would surely look wonderful when all of your guests walk this flower laden path.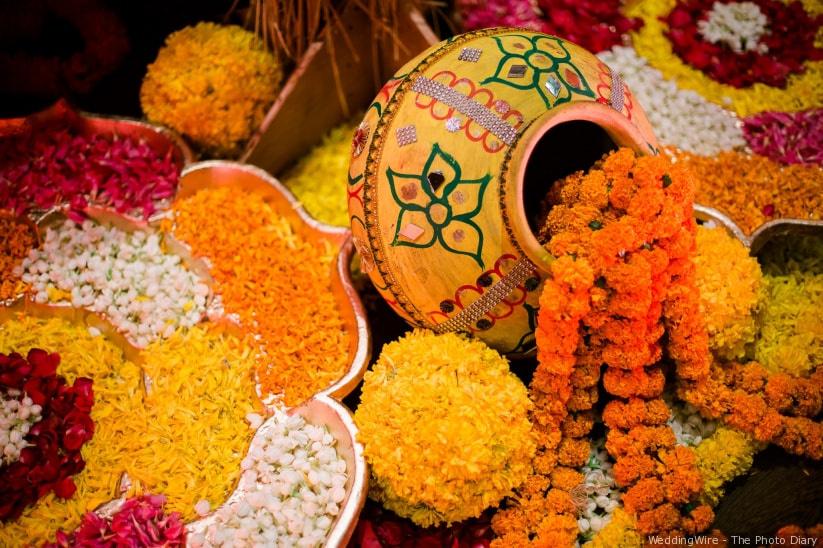 For a night wedding, you can add some Matkas, Diyas, lamps or other traditional accessories to add drama to the existing flower bed decorations. This will surely add to the theme of your wedding while ensuring that your wedding entrance decoration is equally fragrant with beautiful flowers.
2. Wooden Doors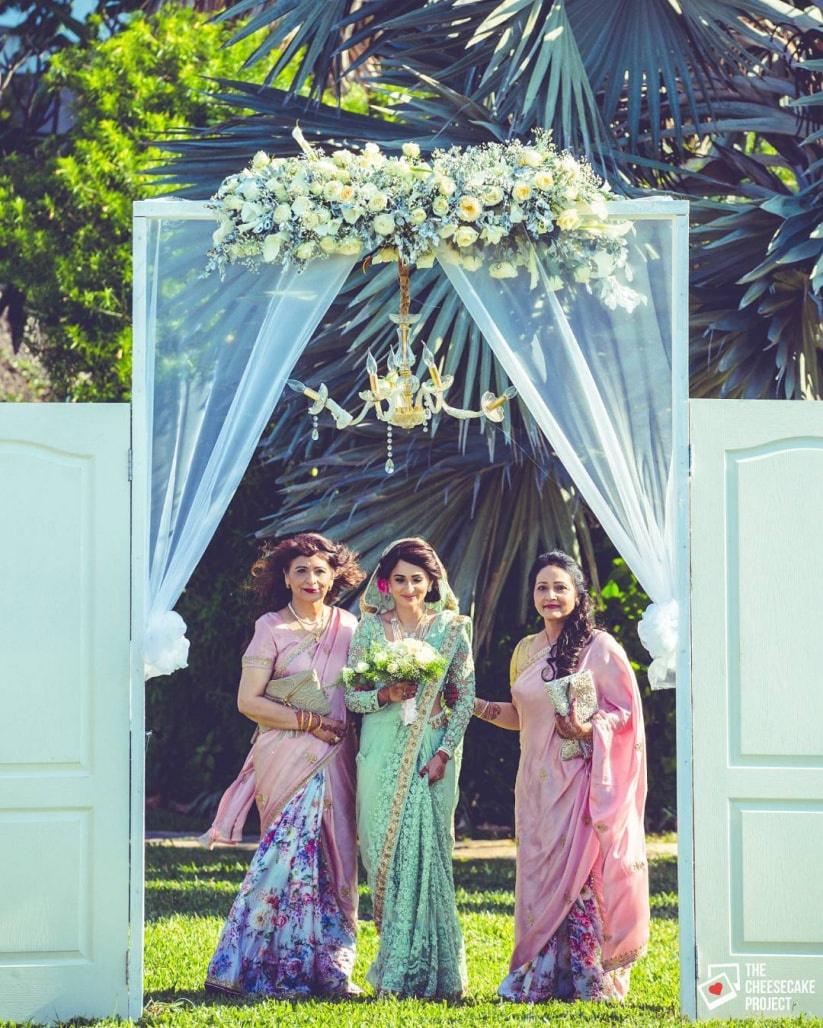 Did you always dream of a fairytale wedding? This is it!
These gorgeous wooden doors along with the vintage chandelier make it a movie-like entrance. The pretty yellow roses decorations on the top, add the right pastel touch to this wedding entrance. Now, who wouldn't want to make a dramatic entry from this stunning wedding entrance? You can also choose to go for an all colour based decor.
Something on the lines of an entire white colour combination decor or maybe red colour, the choice is yours. While offering your wedding entrance decoration stability and sturdiness, you can choose to decorate this wooden frame just the way you like.
3. It's All About LOVE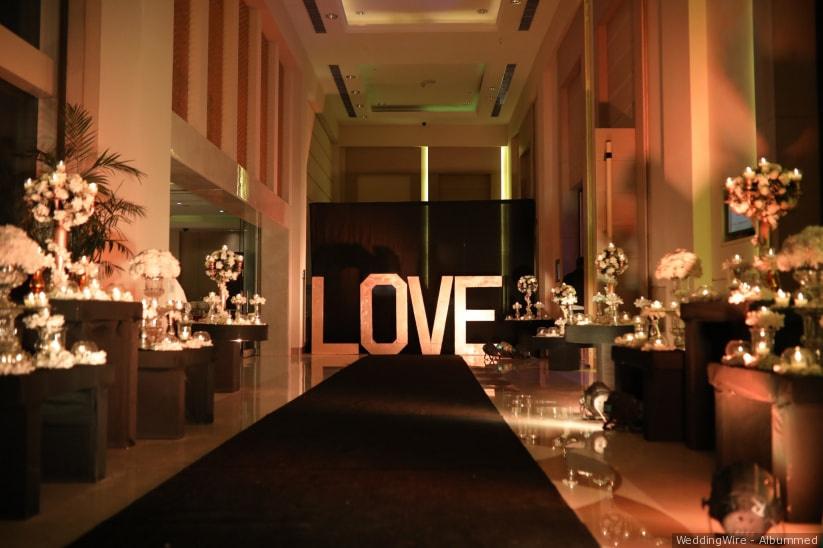 Using the word LOVE at the entrance is also a new concept that is fast becoming a rage among couples. These background lit letters make quite a mark on the guests when they're about to enter your wedding. Everyone's reminded that a wedding is all about two pure souls who are in love with each other.
While being a one of a kind design element of your wedding entrance decoration, this beautiful sign can also work as a photo booth for wonderful photos that you and all of your wedding guests can cherish for life.
4. Drapes and Flowers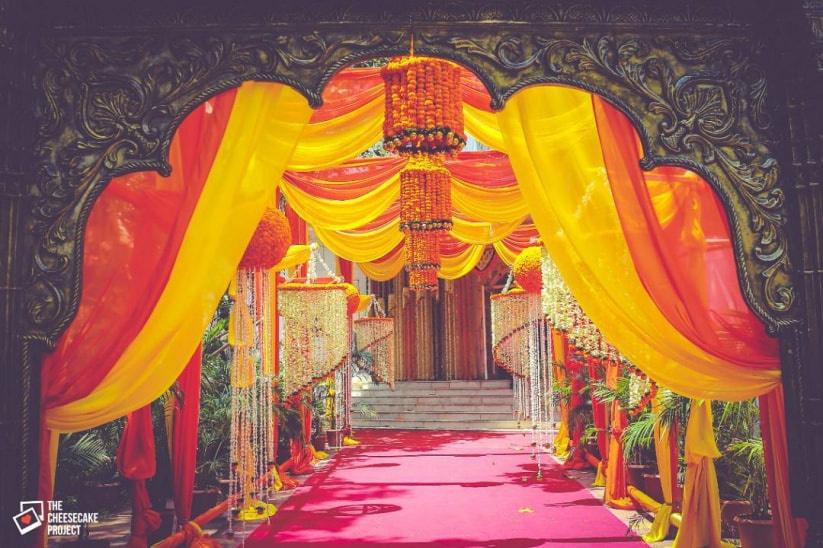 This kind of wedding decor works perfectly for a day wedding. The daylight is enough to bring out the colours of the drapes, well in sync with the flowers. In the wedding entrance decoration above, the gorgeous yellow and orange drapes work perfectly with the marigold chandelier. There are so many dupatta decorations to choose from, each offering to imbibe beautiful and vibrant colours in your wedding celebrations.
5. All White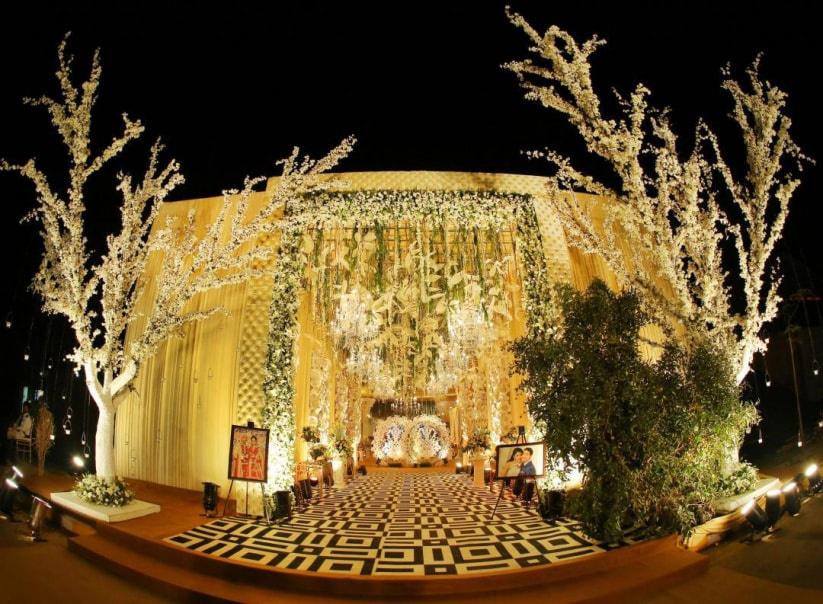 Winter is coming! Even if you are not a Games of Thrones fan, a white theme wedding entrance hurt no one. Take a cue from this couple who opted for an all-white flower theme, in sync with pastel yellow drapes. This entrance decor looked no less than a royal one, perfect for wedding selfies! Perfect for a couple who love to do things differently and are trendsetters!
6. Colourful Rangoli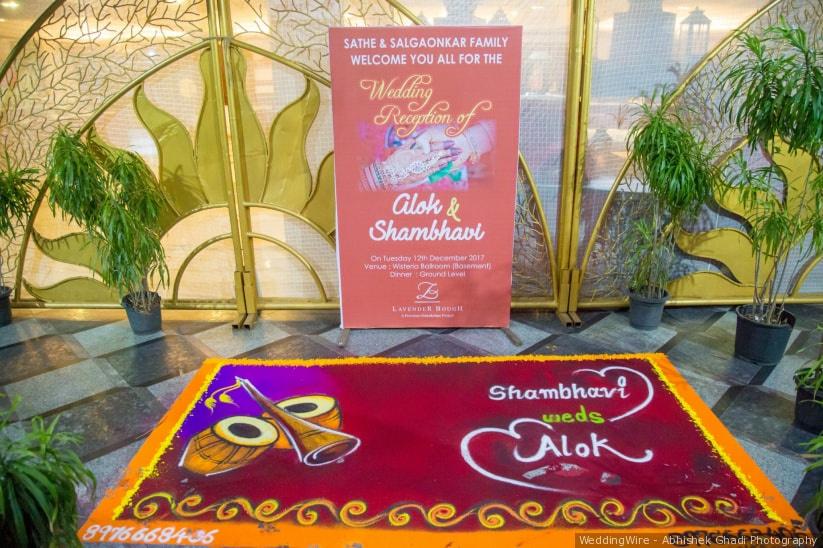 If you want to do keep your wedding entrance decoration traditional, with a hint of something contemporary, you can inspiration from this Marathi wedding. While the entrance decor of this wedding had lights and flowers; on the sidewalk there was a traditional rangoli design.
7. Photo Booths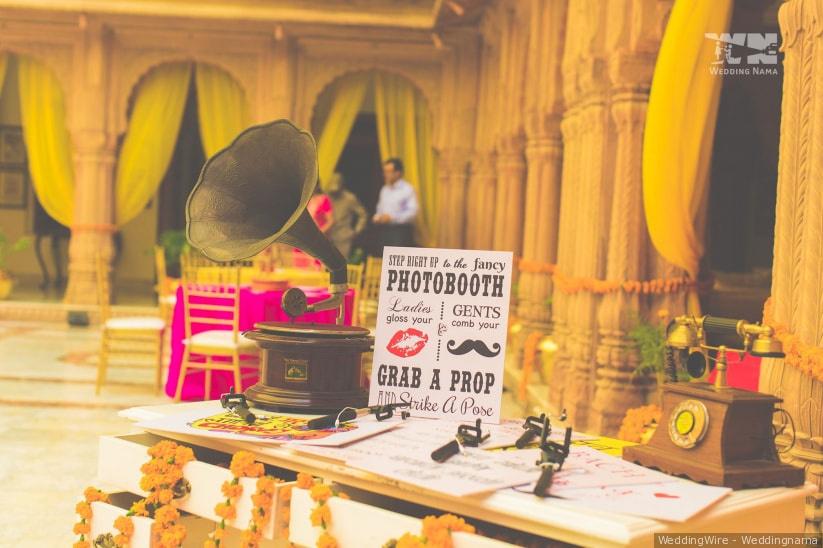 Quirky photo booths are a rage this season. Couples opt for this corner, mostly for their friends and family to capture crazy photos from their wedding. In the end, they are left with sweet memories. Most photo booths are placed near the wedding entrance so that it captures the wedding's theme perfectly.
8. Hanging Flowers with Mood Lighting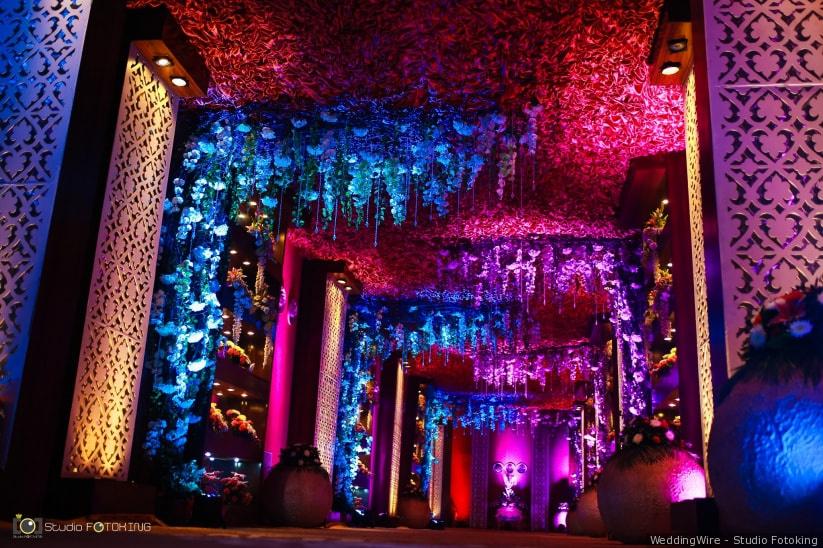 Indoor weddings usually take place in a hotel or a banquet. You can opt for flowers for the wedding entrance decoration. An inverted rose bed on the ceiling along with some hanging flowers can completely change the original entrance. Add to that some mood lighting and you're all set.
Professionals Insights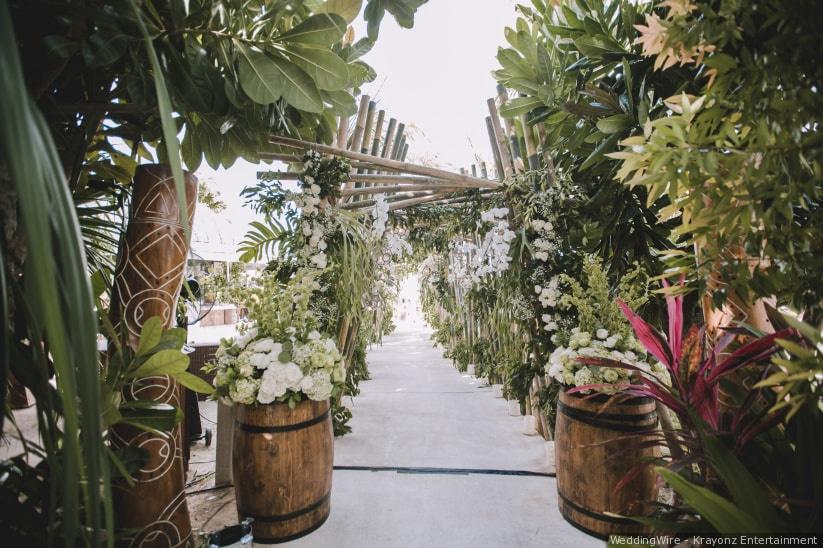 "Always remember, your wedding entrance is the first moment of truth. The first look should be able to encapsulate your entire wedding decor theme. We like to use more pastel shades, sheer fabrics and go for a more delicate look for summer weddings. Whereas, for winter weddings we like to use deeper colours and richer fabrics to add more warmth to the wedding," shares Aakriti Anand, Founder of Silhouette's Events.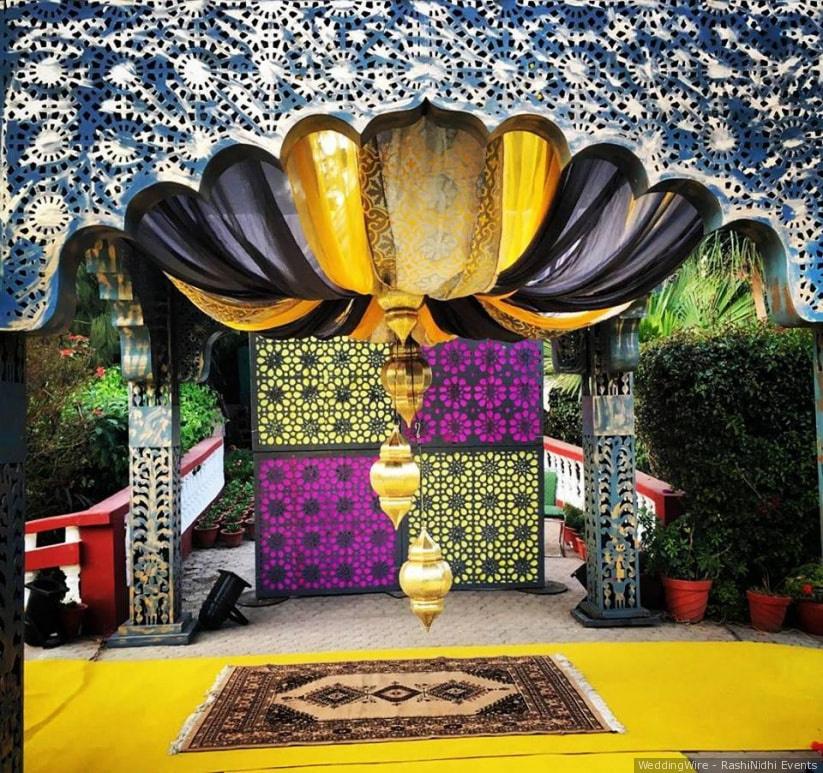 Nidhi Arora and Rashi Pruthi from RashiNidhi Events share some trade secrets, "For summer weddings, we are very careful about the kind of flowers we use on the gate – the sun and heat makes the natural flowers wilt really fast. To avoid such a disaster, we take fresh flowers that don't wilt fast with a combination of other props, which are beautiful and practical. Fortunately, in winters, we can go big on floral gates as we get a lot of floral variety in winters. But always remember, daytime in winters can get gloomy, so even though pastels are everyone's favourites, we add a bright colour to keep things happy and festive."
So, with so many inspirations and pro-tips shared above, we hope you will select the best wedding entrance decoration for your big day! So, get in touch with the decorators and planner right away and design the wedding you truly deserve and always dreamed of.
We are here to help you hire a selection of wedding decorators who can fit your budget and inspiration needs.