10 White Colour Combination Photos for Wedding Decor That Are Stunning, Picaresque and Totally Eye Catchy
Wish you had a pool of white colour combination photos to help you design your own wedding and related ceremonies? Look no more and start bookmarking these images for some quick inspiration and an awe-inspiring feast for your eyes.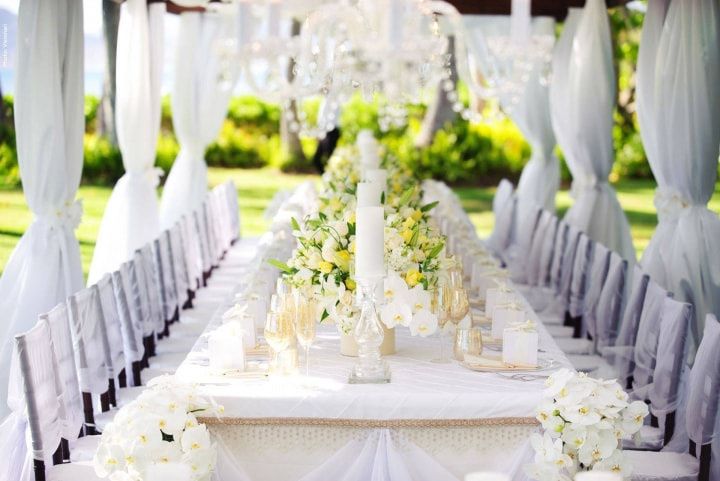 If a pearly white wedding decor is what you always wanted to have for your very own wedding, then we will help you plan for it the right way. Seeking inspiration from photographs has always been a raging trend. We present to you a galore oh white colour combination photographs that will wow you to the core. From pearly whites to snowflakes to a cloudy affair, these white colour combination photographs will do it all for you.
10 White Colour Combination Photographs to Wow Your Soul
These 10 white colour combination photographs are legit goals and will give you the right amount of inspiration you need to amp up your wedding decor and much more!
1. White Colour Combination with a Dash If Green & Floral Wreaths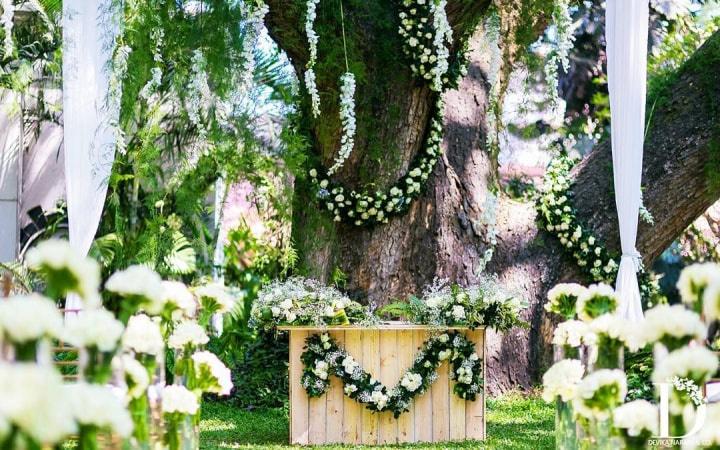 If a garden inspired wedding decor is what you had your eyes set on, then you will love this photograph. For you to have this kind of decor all you need are some floral arrangements in white and pastel colours, some crystal and glass flower vases and a few vintage wooden types of furniture. Create a mood board and bookmark this image and share the same with your wedding decorator and wedding planner and you will have the decor you always dreamed of having.
2. The Suspended Trail of Flowers and Plants in White Colour Combination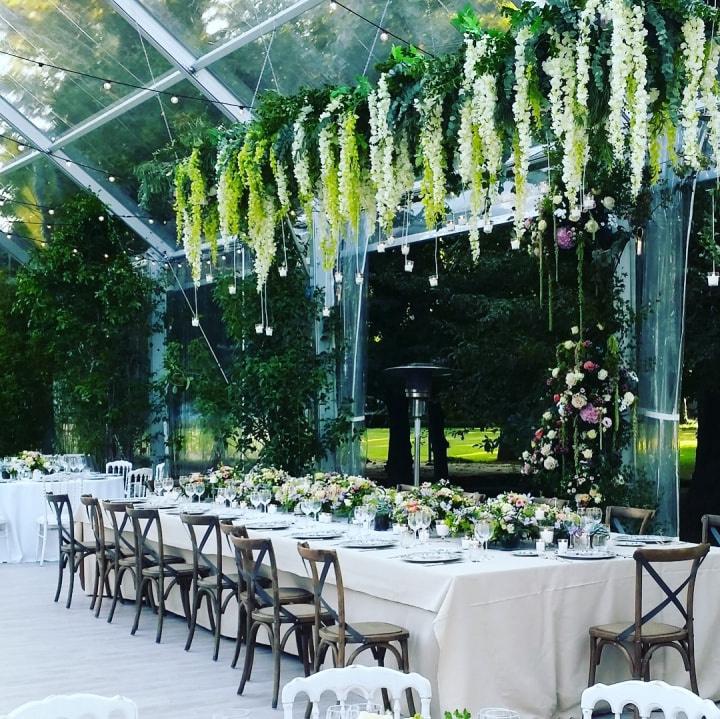 Who wants a sky full of stars if you can have a sky full of flowers and wreaths? This decor inspiration is perfect for an outdoor celebration; be it your Mehndi ceremony or reception lunch. A perfect blend of white and green, this decor inspiration is adept for a couple who loves to stay close to mother nature. Besides, it is a very cool thought to have an eco-friendly wedding if you wish to give back to mother nature.
3. White Colour Combination: From Table Setting to Chandeliers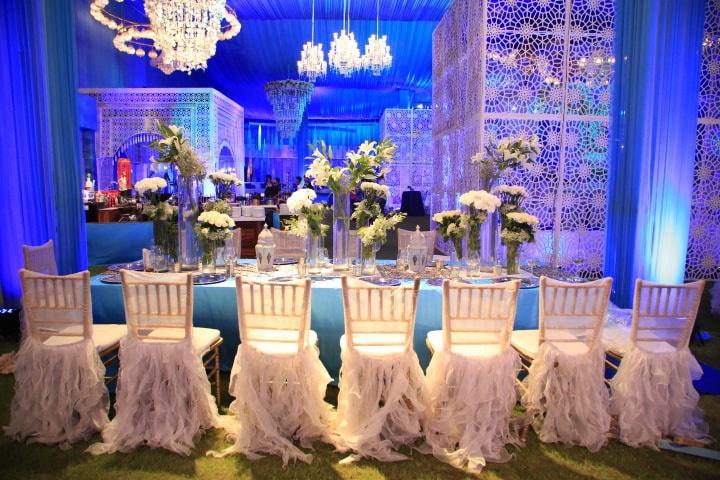 A dream come true to have feathers at your wedding. We have never seen anything like this before. And, believe us we have had our fair share of stalking wedding oriented photographs. If you want to step it a notch and create a wow-worthy wedding decor, then adding feathers in white to your dining table is the option you should trust. To maintain the white colour combination you can also opt for white flowers and chandeliers for that extra pop.
4. White Colour Combination with Swirls of Pink and Blue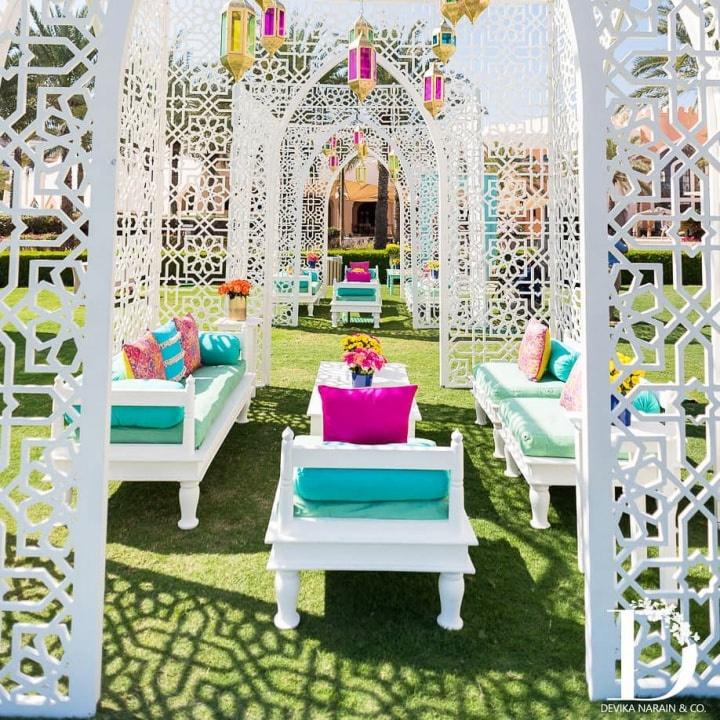 This white colour combination with a dash of blue and pink is also a great way to complete your decor for wedding-related ceremonies. Some low floor stools and couches - and your boho-inspired decor is ready quick and easy!
5. White Colour Combination and Pink Magic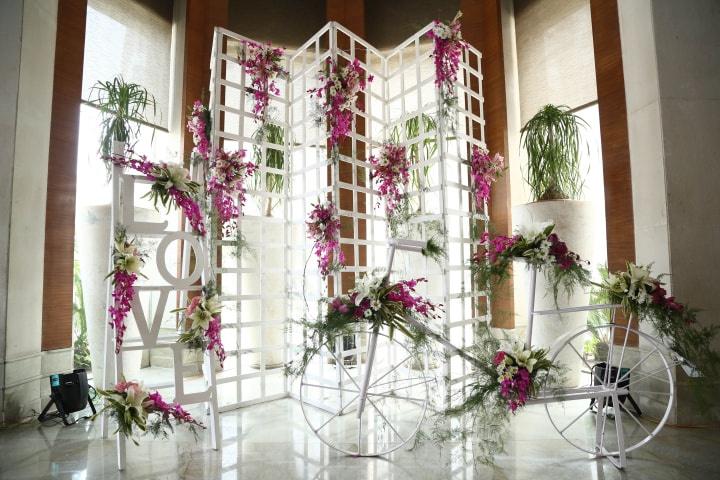 A corner, completely dedicated to photographs, dreamy right? If you want a quick to do photobooth that is anything but boring, then this photograph is definitely the inspiration you were waiting for. A few dummy cycles and a board that has some quotes decorated with floral assortments and you're set!
6. Decor Inspo for your Wedding Stage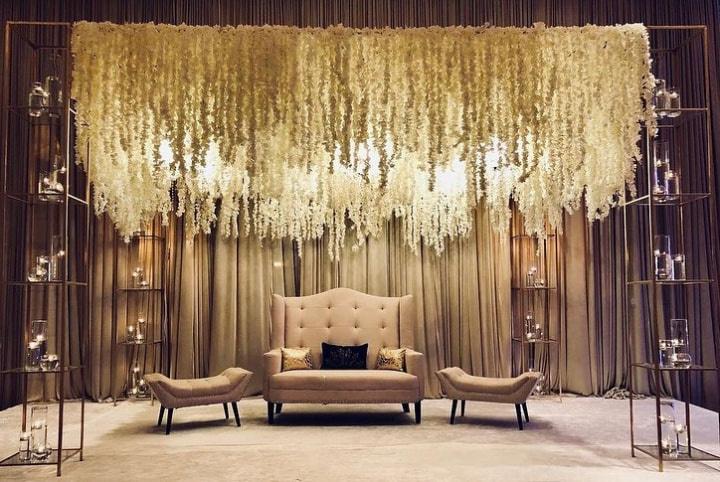 Simple yet magnificent this white colour combination based decor is one of the most stunning looking wedding stages we have come across. A few strings of flowers suspended from the ceiling and nude based furniture is all you need to have something as beautiful as this for your very own function.
7. The Floral Beauty in White Colour Combination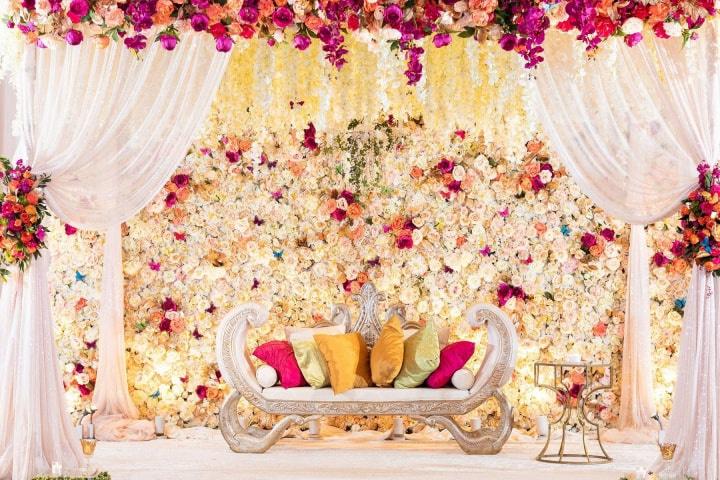 A few white colour drapes with a silver lining and a matching seat for the bride and groom; the only royal treatment that every single couple deserves. A few colourful flowers in the background with some customised cushions and you will look like a dream seated on this royal chair
8. White Wall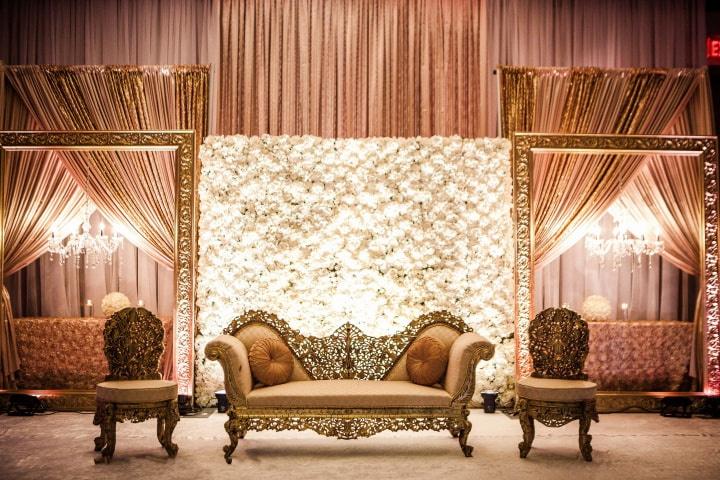 The only stage background you need is this white floral based. Add this to your wedding setup and be set to add some sweet fragrance of the flowers into your forever after.
9. The Royal Affair but In A White Colour Combination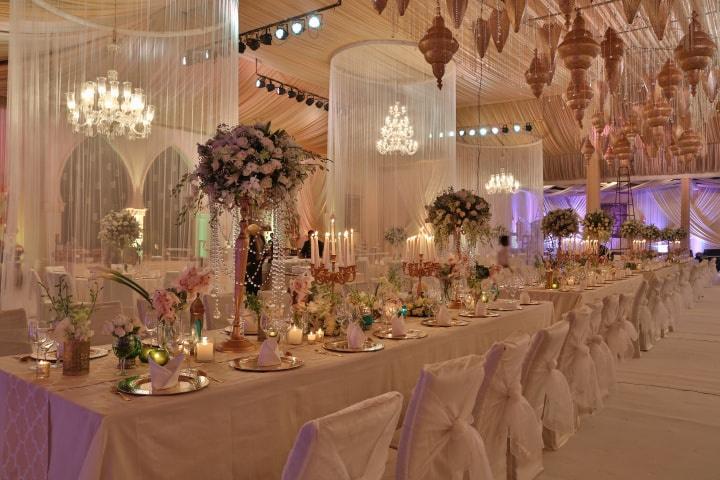 All of us deserve to feel special and royal on what happens to be one of the greatest days of our lives. And, there is no better way to do that than this. when every element of your decor in sync to the colour white and you will have a wedding everyone will be jealous of.
10. White Colour Combination Table Seating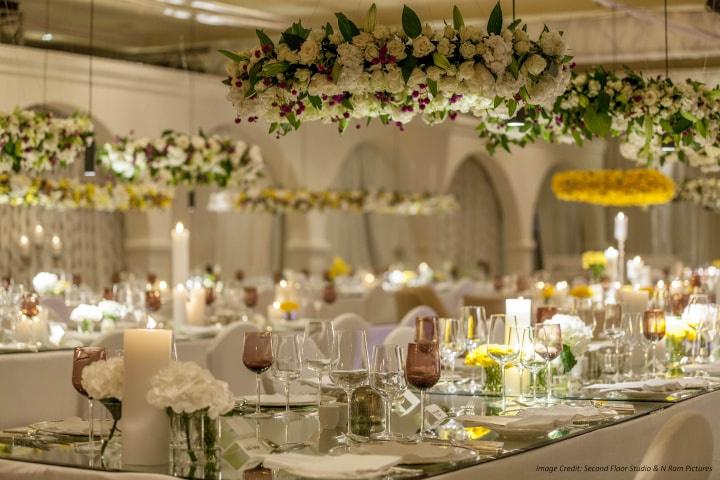 If you want to make an everlasting impression on each of your wedding guests, then this is the way you do it. A scenic white colour table setting and you will be that much closer to your goal of hosting a memorable wedding.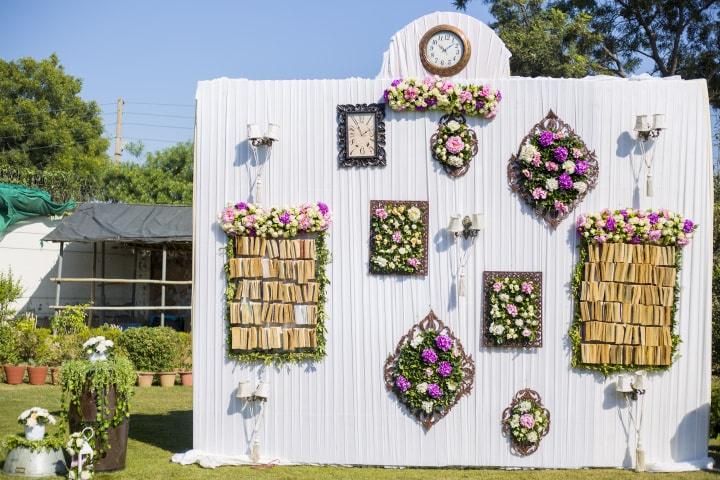 We hope you enjoyed this galore of white colour combination and found an element that resonates with you the most as a couple. Each of these decor inspiration photos are perfect for a couple that always wished to have a one of a kind wedding. If you happen to be one of those, then bookmark this article right away.
Which one of these white colour combination photographs did you love most? Tell us through the comments!