Unique Whatsapp Marriage Invitation Ideas for You!
Find Whatsapp Marriage Invitation Ideas to add heart touching and unique content and layout to your Whatsapp invites.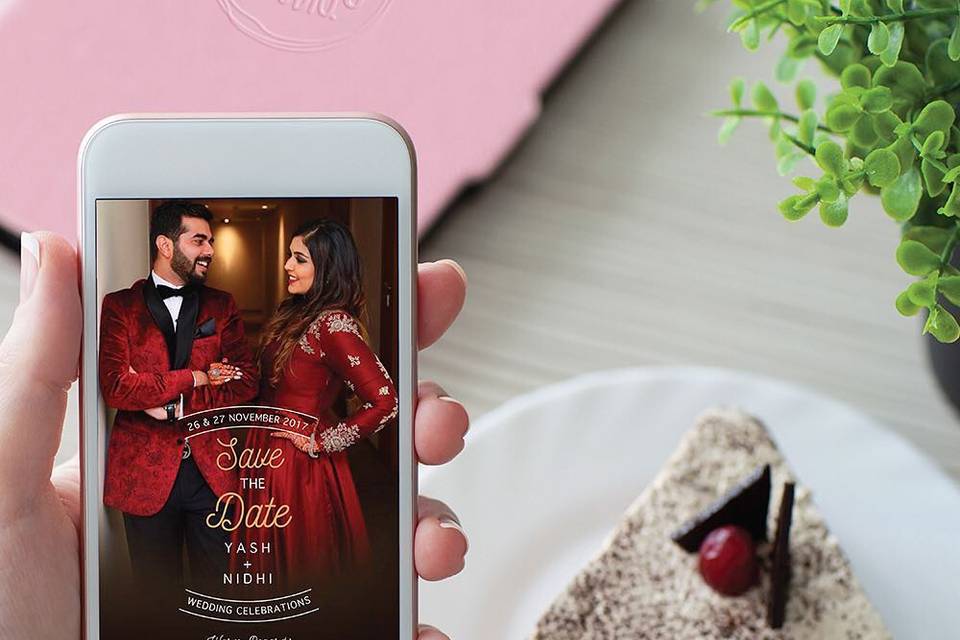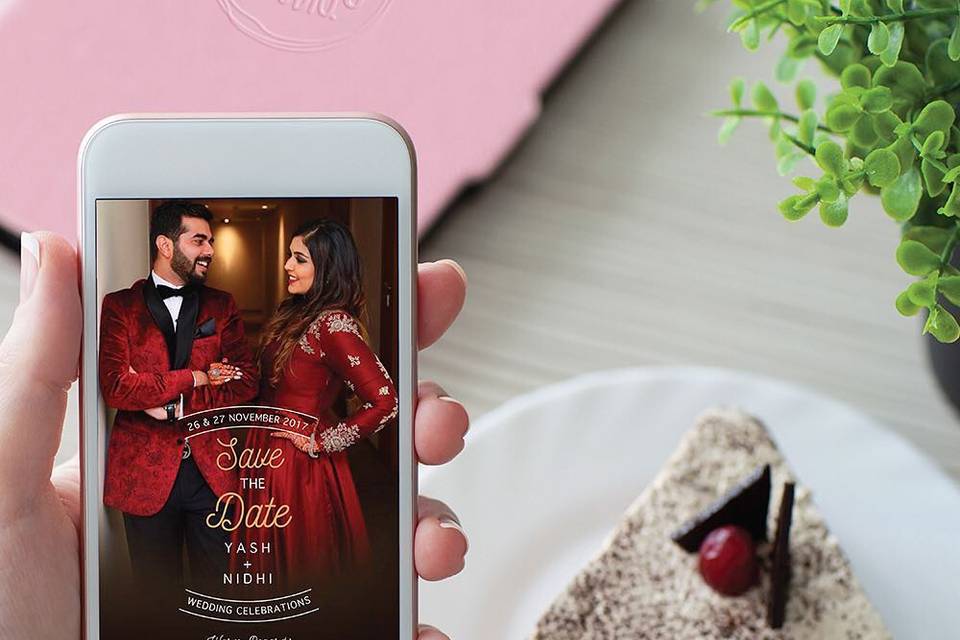 Image Credits - Pinterest
Let's get real here. We cannot imagine our lives without messaging apps like WhatsApp. Whether you have created a bridesmaid's group to virtually let your girls help you shop for the wedding, or your parents have added all family members in a group to keep them all posted about the wedding arrangements; WhatsApp has become the finest mode of communication and WhatsApp invitations are a rage. The year 2021 also witnessed the sudden growth of digitally dependent communication. When sending print invites was difficult or unsafe, Whatsapp invitations helped build a bridge and fill the social gaps that the lockdown had imposed on us. A WhatsApp marriage invitation, in today's times, will bring one as much joy as a physical card will! Creating a WhatsApp marriage invitation message with all the important details will be a perfect way to let your friends and family stay informed about your wedding details. A marriage invitation message on WhatsApp can be considered a pragmatic and fair idea this year too!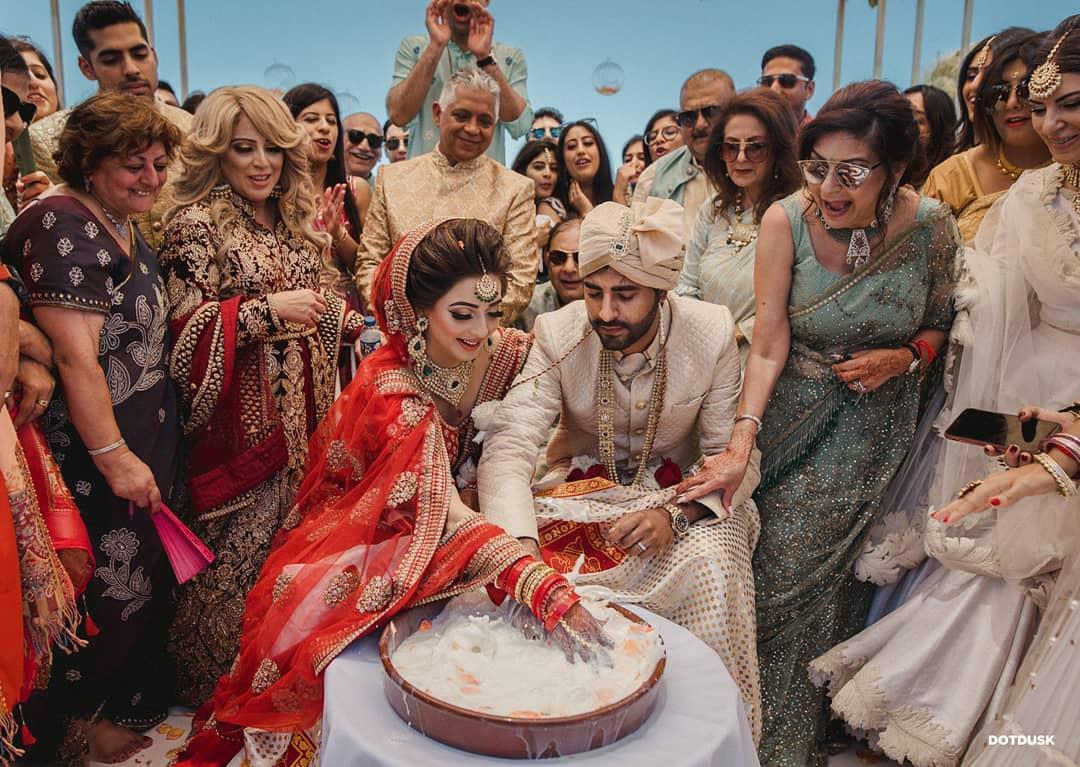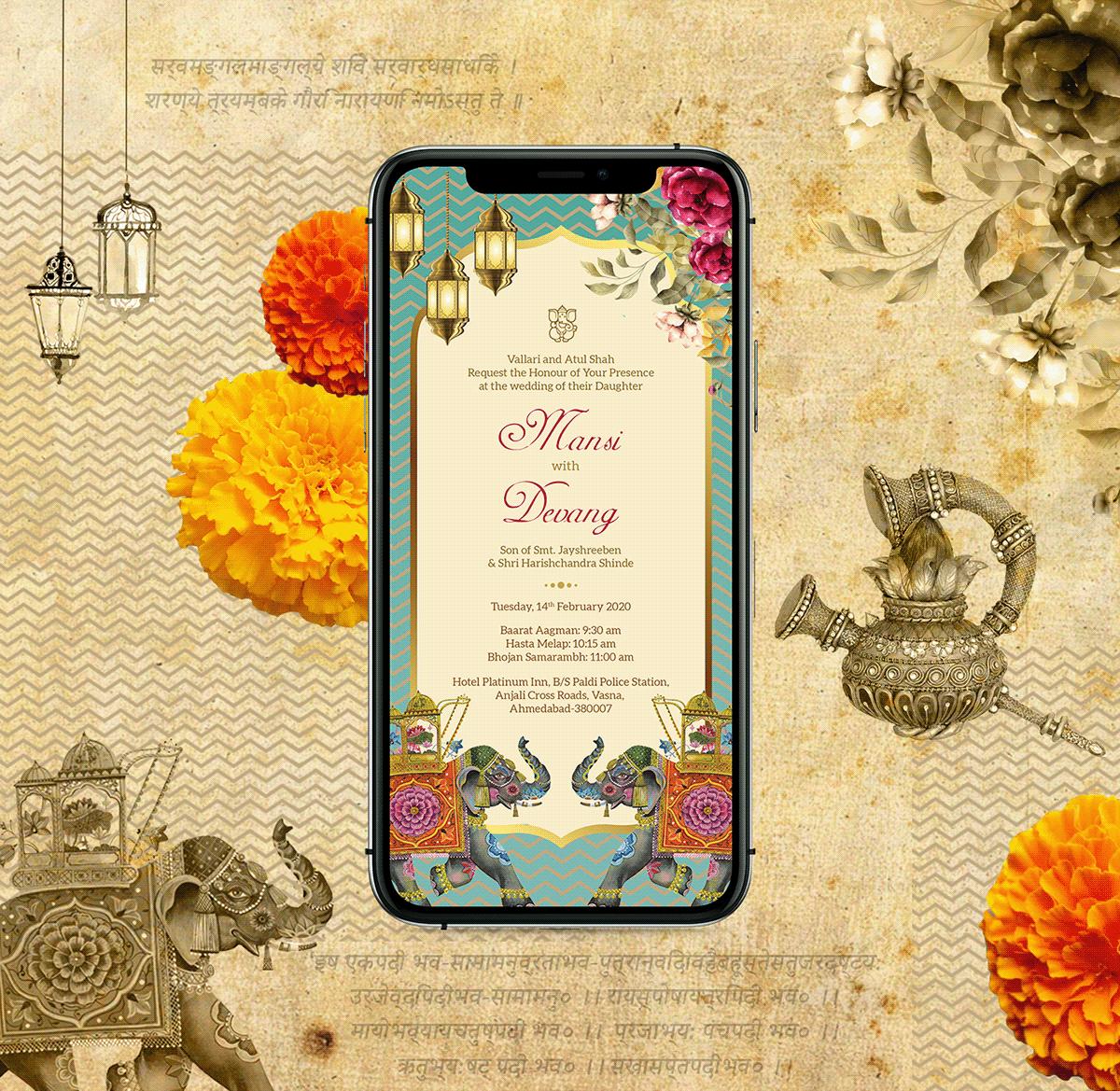 Image Credits - Pinterest
Further marriage invitations on WhatsApp will give the guests enough time to apply for leaves and block their dates well in advance, even before a physical invitation will arrive at their doorsteps. Our mission here is to provide you with some sample WhatsApp marriage invitation ideas, which will help you break the news with much enthusiasm and without compromising on the important details.

How to Create Unique Whatsapp Wedding Invitations?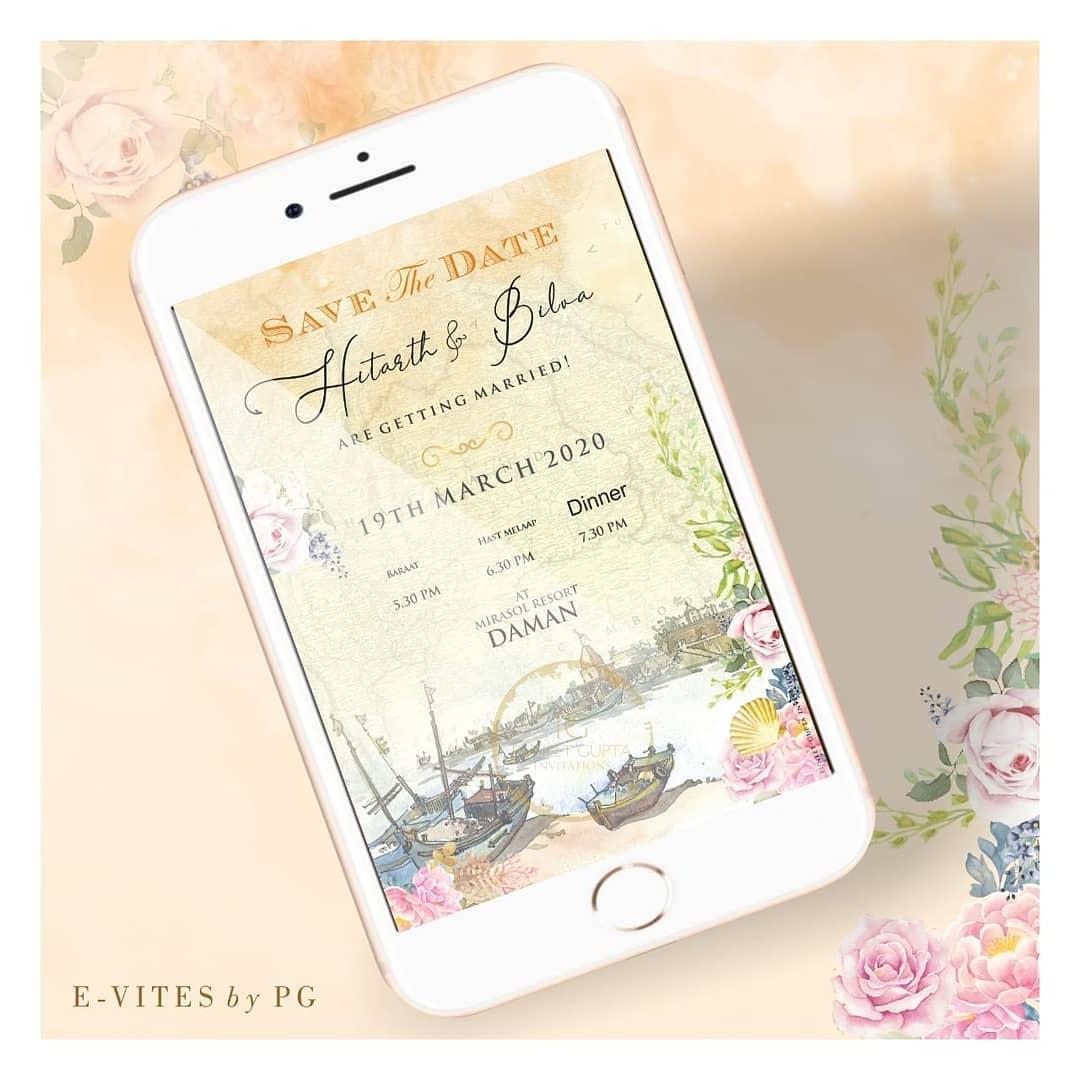 Sending your wedding invitation on Whatsapp can be a quite creative presentation if done right! The Instagram age loves good photos, don't we all agree with that? A good photo or a fun video with heartfelt content is all that it takes to add quirk and fun to your Whatsapp wedding invitations. Here are a few format ideas you could try to make your invitation unique -
Video Invites Whatsapp Marriage Invitation
Quick storytelling with the necessary details about your wedding is all that it takes to enrich your guests' experience with your Whatsapp marriage invitation card.
E Whatsapp Marriage Invitation Cards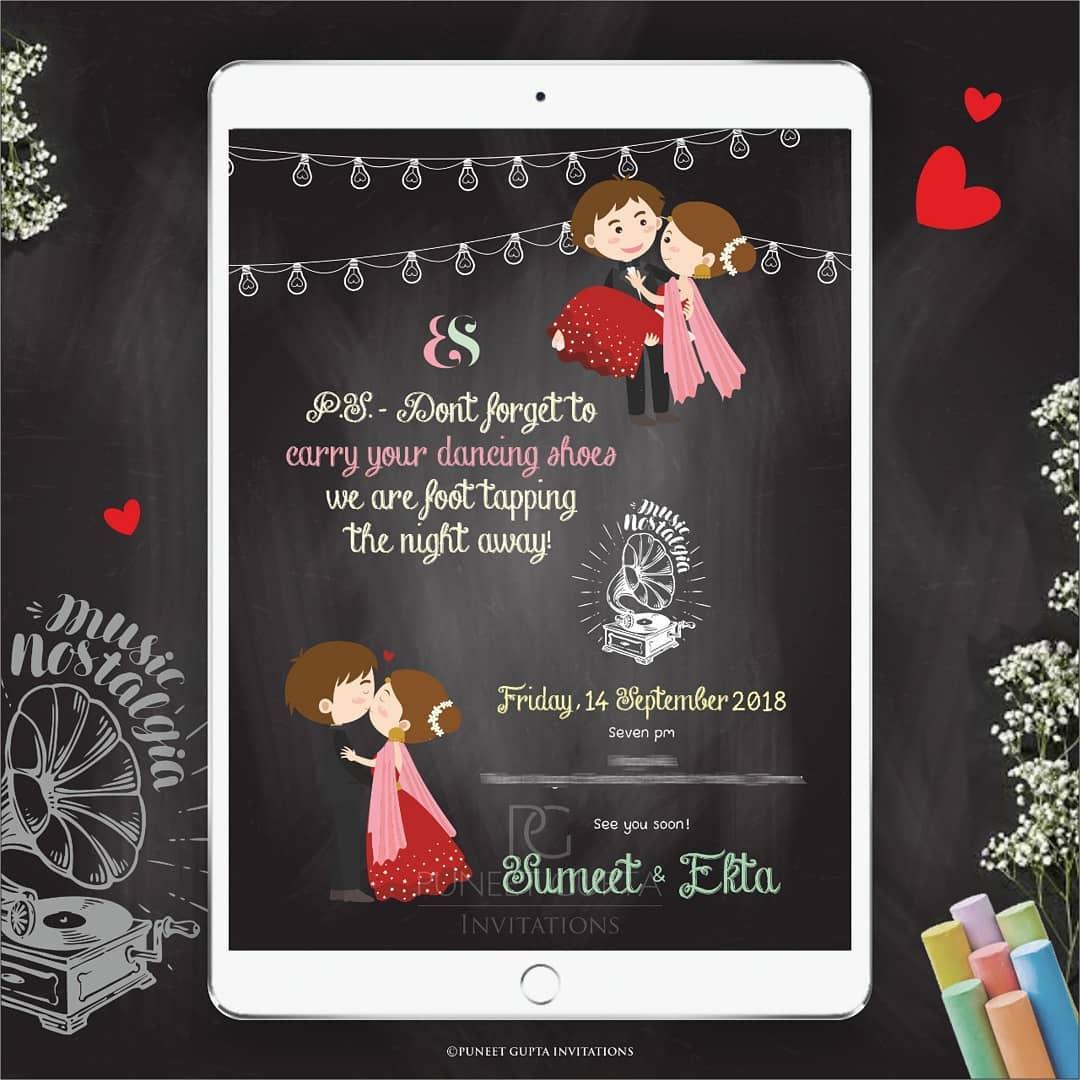 A nice and quirky template is all that it takes to create the perfect E-Invitation WhatsApp marriage invitation card card for your wedding.
Traditional JPEG format Marriage Whatsapp Invitation Card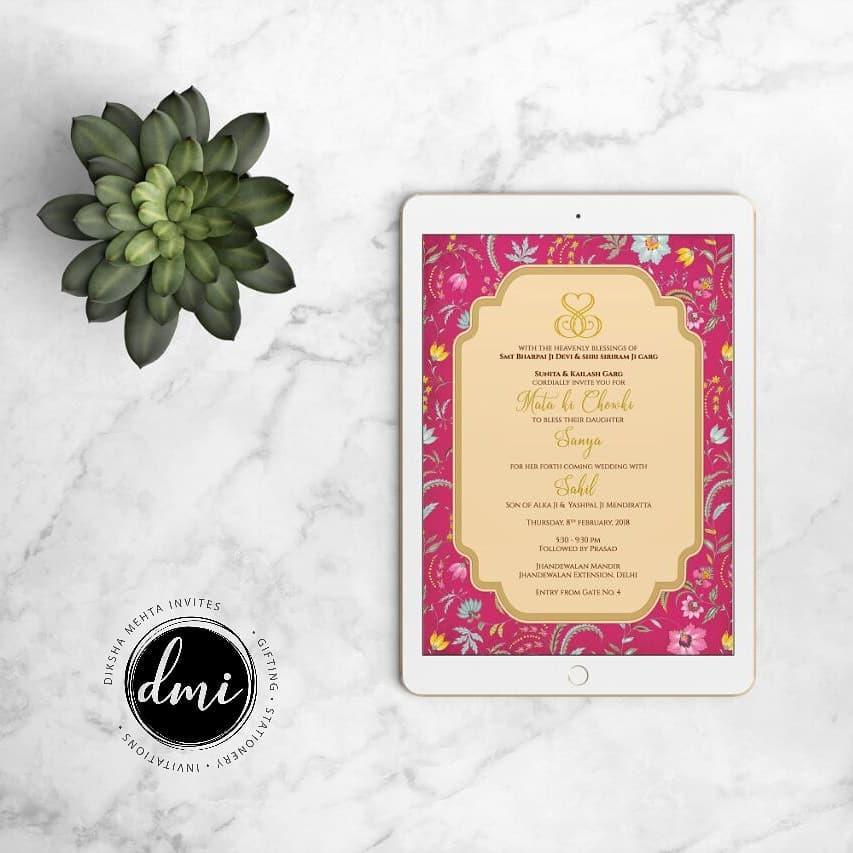 If you have got the traditional card made for your close family, you can use the same template to create a digital format for Whatsapp. Traditional Wedding Invites will never go out of style in India!
Chat-Based Whatsapp Marriage Invitations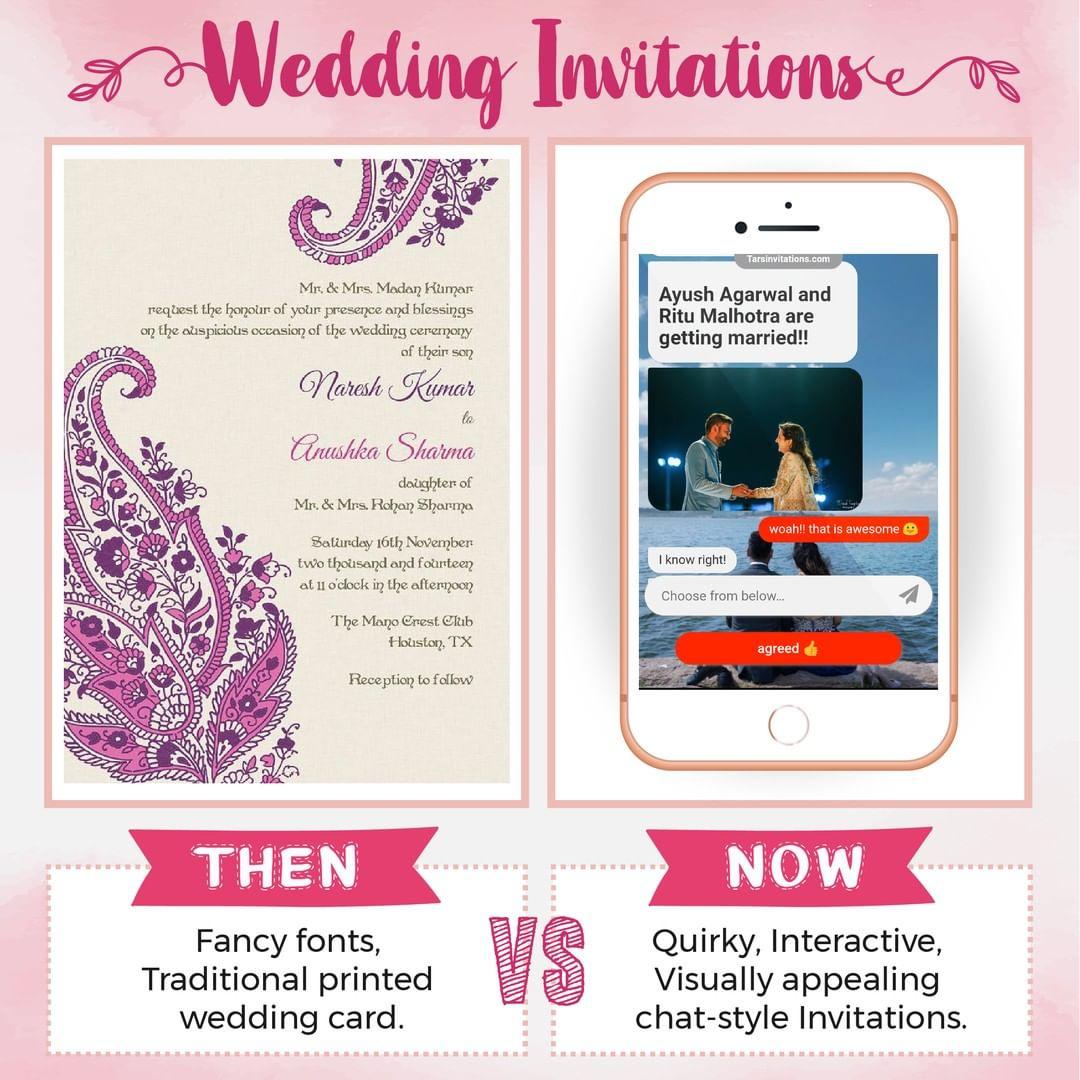 Remember when Bipasha Basu and Karan Singh Grover sent out chat-based wedding invites on Whatsapp? The trend continues to be top-notch for quirky couples and you can try the same template for your friends and colleagues.
A Formal WhatsApp Marriage Invitation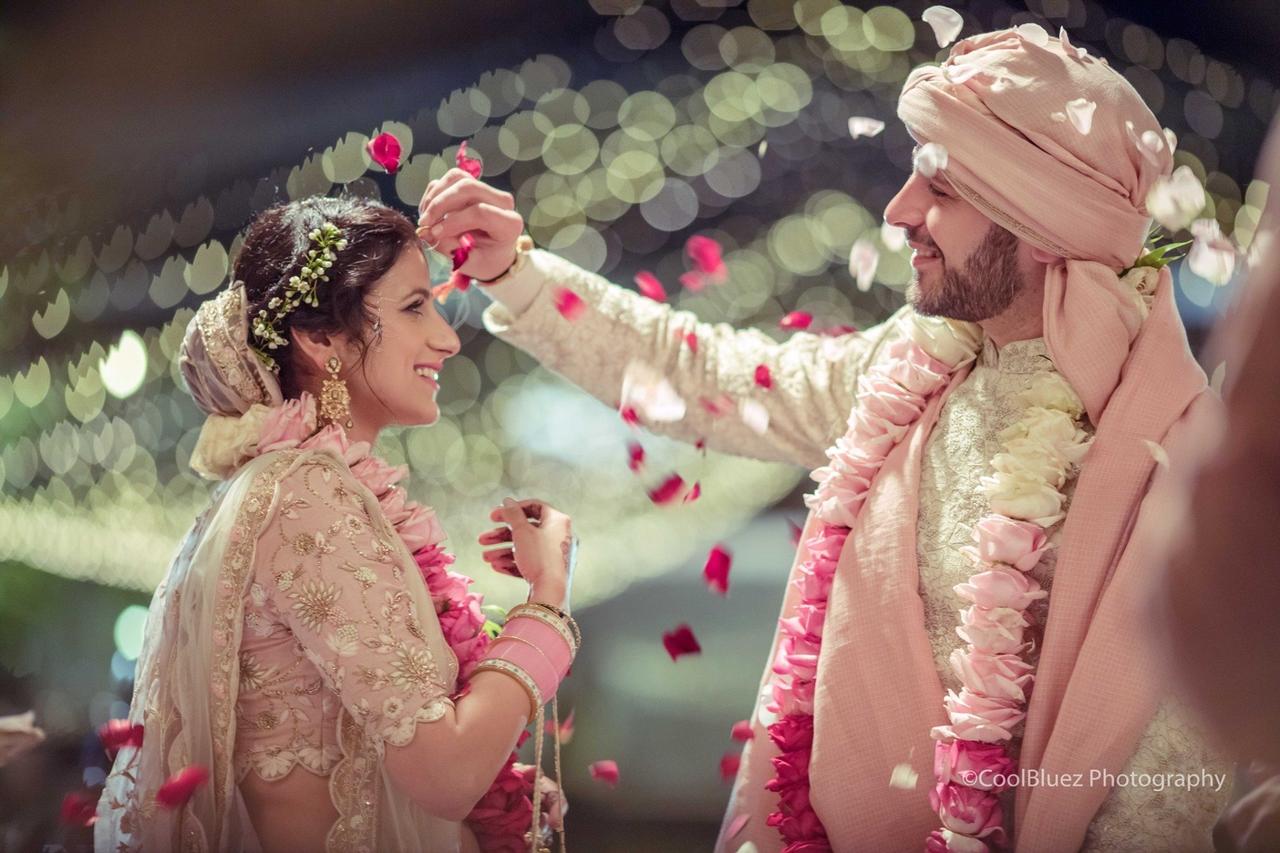 Here's a list of formal marriage invitation messages in English for your Whatsapp invites -
1. Namaskar!
Marriage means a beautiful new beginning. We, (The names of the bride and the groom), would like to invite you to witness and be a part of our new beginning.
Please join us on (date of the wedding), (time of the wedding) at (the venue of the wedding) as we tie the knot in holy matrimony. Your presence will be valuable to us.
Regards, Bride & Groom
2. We are so happy to announce the news of our daughter's marriage to [name of the groom].
We hope that you shall be present on this auspicious occasion with you and your family.
3. Mrs. (Mother's Name) and Mr. (Father's Name), cordially invite you to grace the wedding occasion of their (son - name) with ( name of his fiance) - daughter of (her parent's name)
Day-Date - Venue
4. With the grace of God, we are tying the knot on (date) at (time). We request your presence, to be a part of this holy ritual, witnessed by the Almighty, as we become one. Venue - Time - Date We hope that you will grace the occasion and bless us with your presence. Look forward to meeting you soon.
Regards, Bride & Groom
Creative WhatsApp Marriage Invitation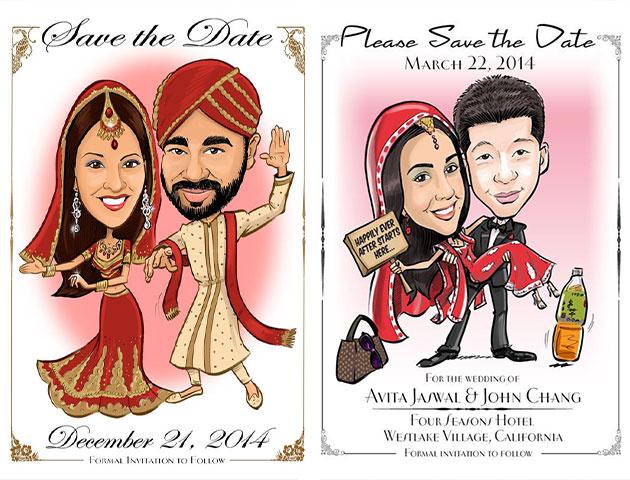 Image Credits - Bookeventz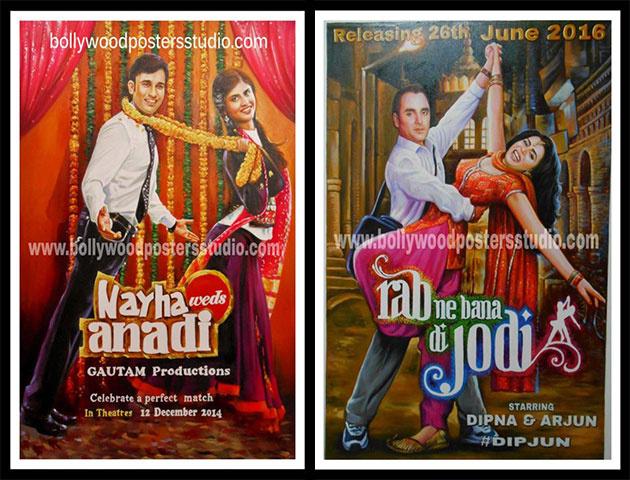 Image Credits - Bollywoodposterstudio.com
Add the edge of creativity to your Whatsapp wedding invitation - your invitation could be inspired by Bollywood blockbuster posters, it could be caricatures of some fun moments of your life as a couple, it could be a fun shoot with your pet kids and so much more. Let your creative juices flow and add oodles of joy to your Whatsapp wedding invitations.
Your Whatsapp wedding invitation message can also be inspired by the famous lines of a movie, or a novel. For eg: "The secret of a happy marriage is finding the right person. You know they're right if you love to be with them all the time - Julia Child."
We have realized that we love being with each other all the time! Now we want you to witness our together forever as we tie the knot in marriage. You are invited! Date & Day, Time, Venue - Regards, Bride & Groom.
Also Read - Heartfelt Wedding Invitation Quotes
Super Casual Invitation
"The Minions have landed at the party. We repeat, the Minions have landed! And we want YOU, our fellow Minions to join the party as we have decided to become inseparable Minions for life! We are getting married and we want your presence from A to Z. Block your dates, fill your suitcases with razzmatazz, and meet us here at (venue), on (date, day) at (time).
See You There!
Bride & Groom"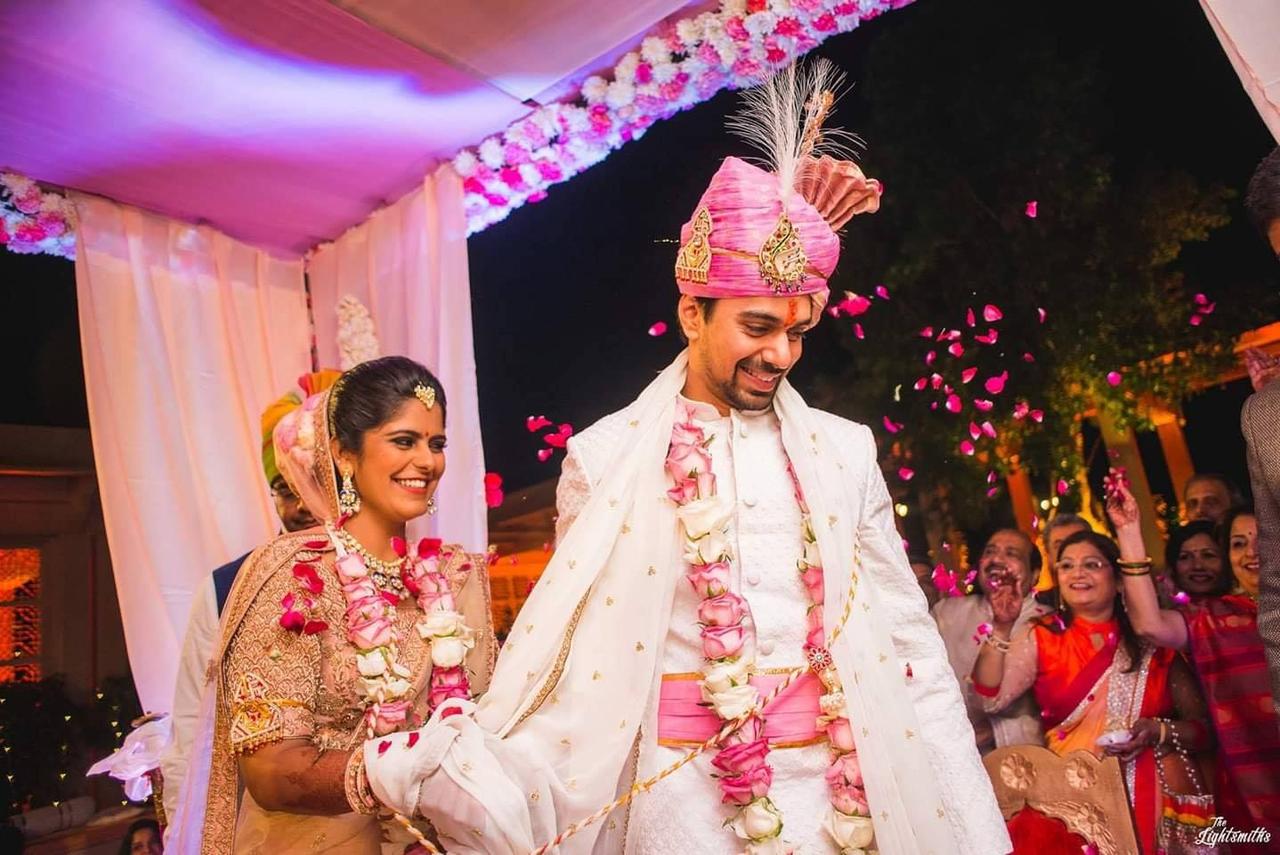 If you wish to get more creative with your WhatsApp marriage invitation, you can ask your graphic designer to create a digital card to send along with the message as well. But if hiring a graphic designer is not on your agenda, then you can either attach a photo from your pre-wedding shoot or any photo of you two together with the WhatsApp marriage invitation.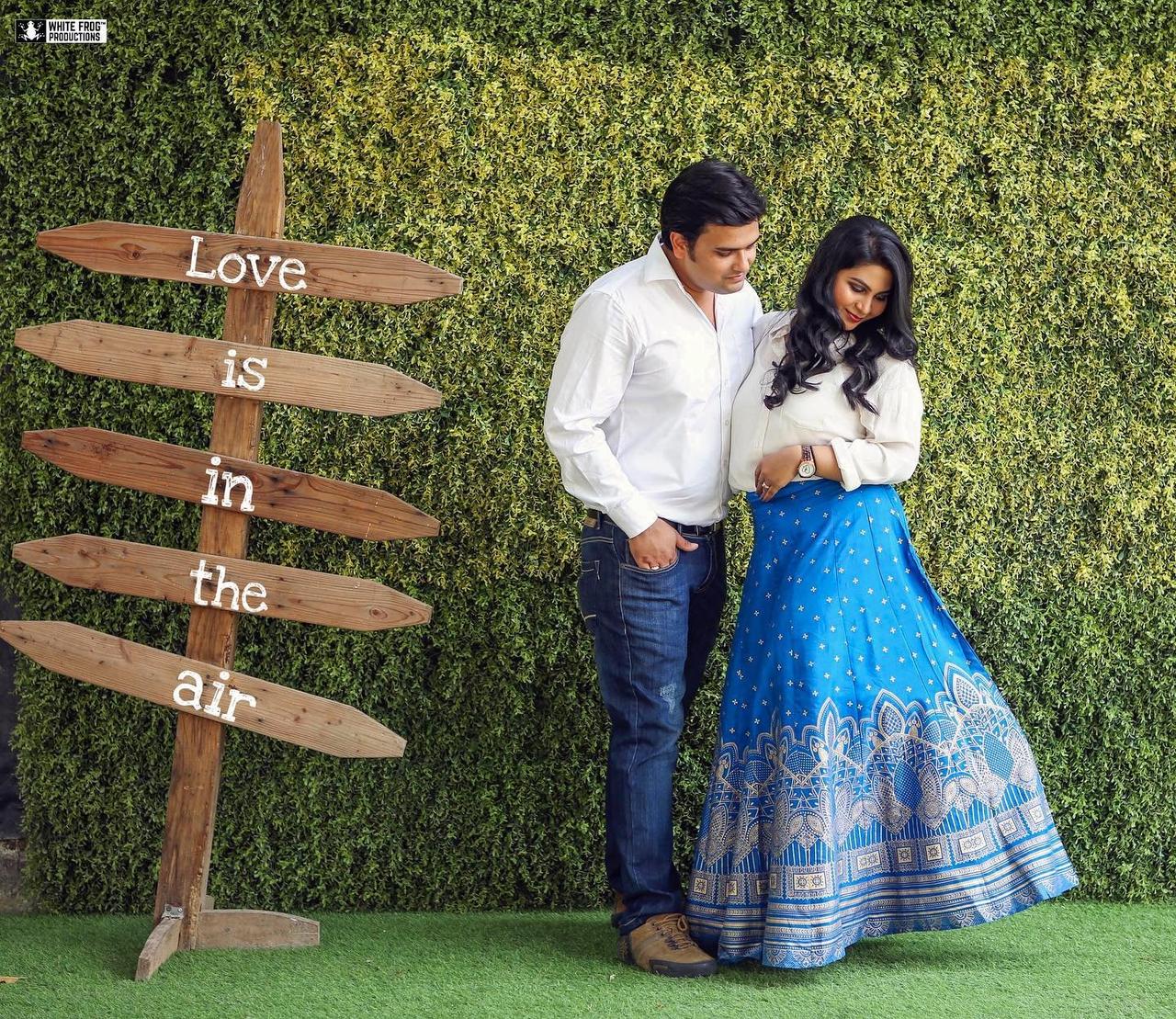 Even if WhatsApp gives us the privilege of writing endless messages, without worrying about our smartphone balance, it is not a great idea to send extensive invitations that might be confusing to some. Keep the invitation message short and to the point, ensuring that all the important information gets delivered to the recipient.
We are keen to know what WhatsApp marriage invitation have you created for your friends and family. Comment below and let us know.
-With words from Anwesha Das, Meha Khera
Mehndi Design | Proposal Lines | Simple Finger Mehndi Design | Arabic Mehndi Design | Propose Day Quotes for Boyfriend | Wedding Anniversary Wishes for Sister | Tamil Wedding Calendar | Simple Mehndi Design | Pre Wedding Quotes | Engagement Anniversary Wishes | Funny Wedding Wishes for Bestfriend | Blouse Design | Rangoli Design | First Night Tips for Bride | Wedding Anniversary Wishes