10 Royal Wedding Invitation Ideas for Your Big Fat Indian Wedding!
Are you on a hunt for wedding card designs that reflect your larger than life taste? If yes, get your big fat Indian wedding invite in place with these design inspirations!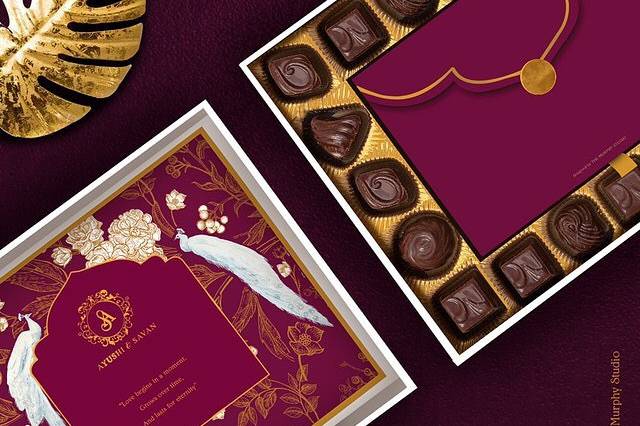 If you are looking at a wedding that speaks about your royal taste and has a larger than life appeal, it begins at the very foundation of your wedding celebrations aka the wedding invitation card! If you are looking at a grand, big fat Indian wedding, a pre-set invitation card will sadly take away all the build-up. The invitation cards for your wedding set the tone and also prepare your guests for what's to come. The theme of these wedding invitation cards should be synonymous to the wedding affair itself.
Here's a list of 10 royal wedding invitation cards for you to take inspiration from!
A Mughal themed invite box with beige & gold accents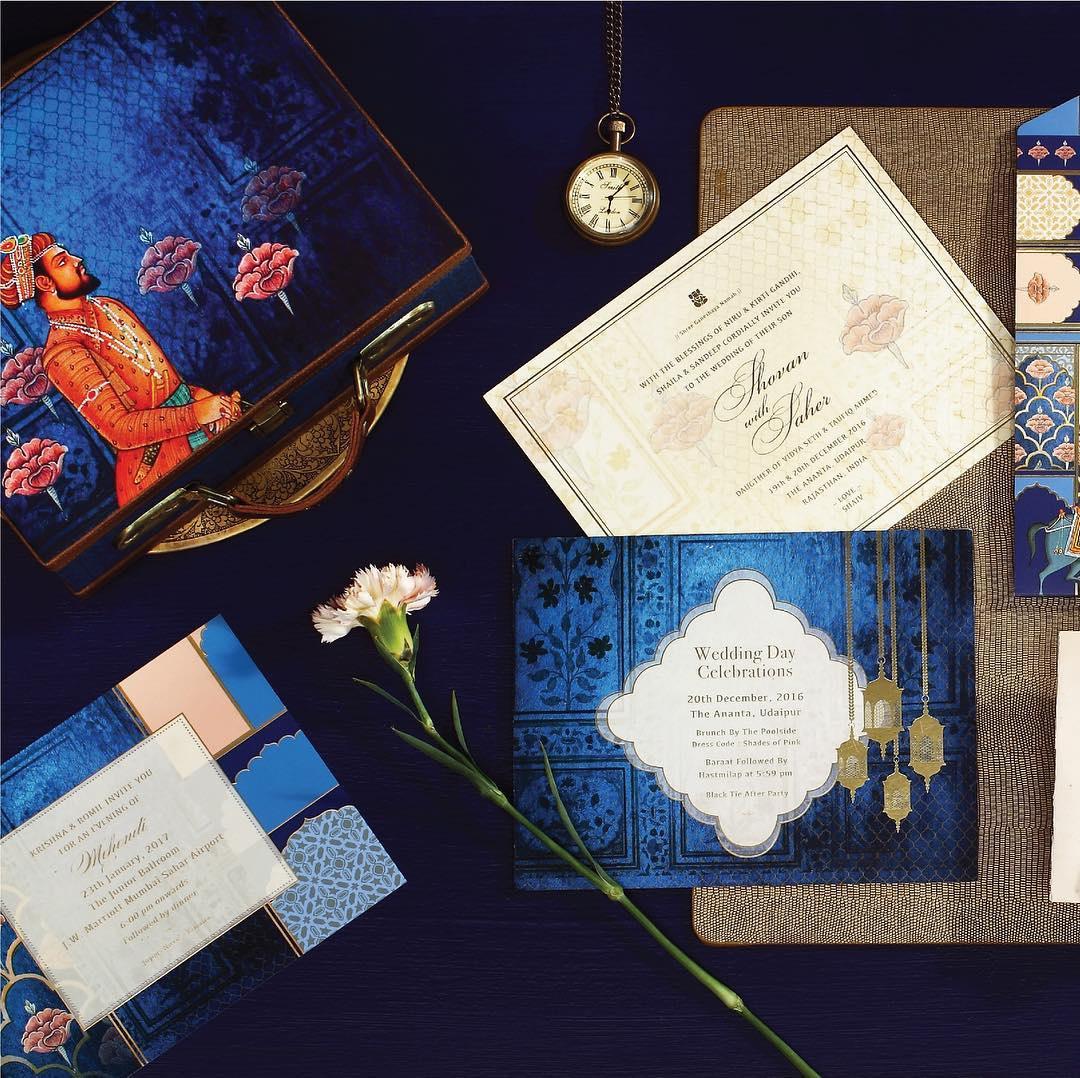 Highlighting the traditional Rajasthani roots is this themed box invite in beautiful indigos, with gold accents. The design takes its inspiration from the Jaipur city palace that has an amalgamation of the Rajput, Mughal and European styles. If you are going for a similar theme that is a beautiful confluence of the past and the present, take inspiration from this stunning boxed invite.
White & gold wedding invite with separate inserts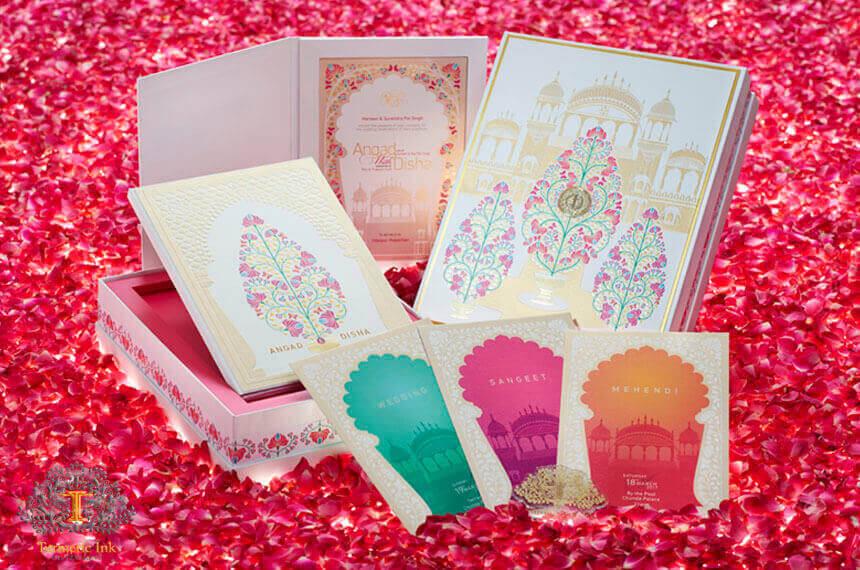 Turn to traditional floral motifs with intricate gold details and subtle colours for a grand wedding invite. In this above invite, the central theme of the wedding venue in Udaipur is followed throughout with dome-shaped cut-outs layered on top of inserts announcing separate events. The beige gold accents embossed on the box add to the charm of the breathtakingly sophisticated and stunning invite.
Traditional booklet style invites with wedding favours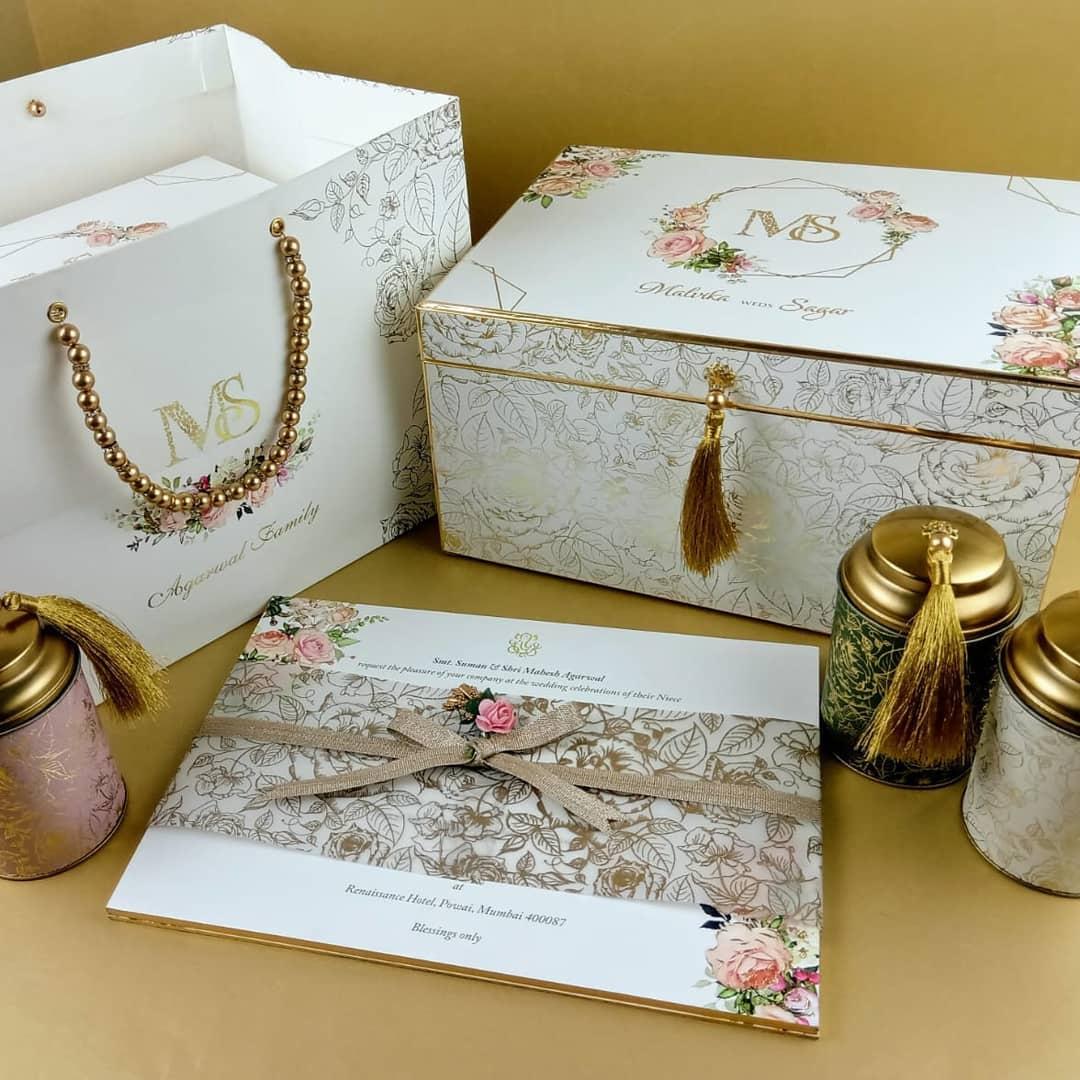 Image Courtesy: Inviluxe
If you want to go with the traditional booklet style invitations for your wedding, take cues from this wedding card to make them look oh-so-royal! Be it the gold foil work on vellum or the gold accents used on the box, the white and golds are constant, with classic typography and minimal floral touches.
'Chest of drawers' style wooden invites with vintage touches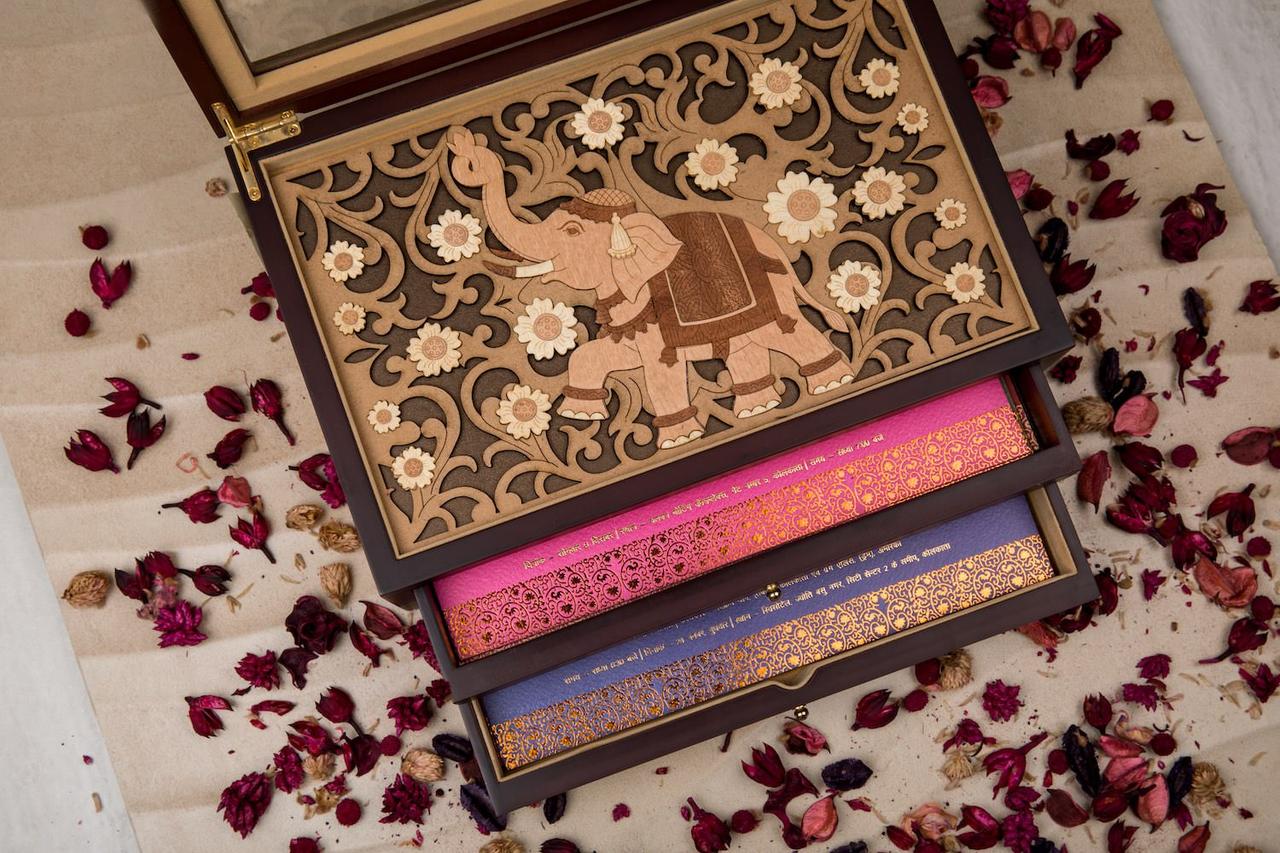 Image Courtesy: Shreyansh Design
Those who love a hint of all things vintage would agree that nothing speaks class as much as wooden accents do. If your wedding setup is going to be a vintage fort affair with modern-day touches, pick the classic woody theme to go with your wedding invitations. An elephant, symbolising longevity and fortune, is a great addition to an Indian wedding card. Don't miss out on the gold borders and traditional colours.
Mughal inspired card with intricate jali details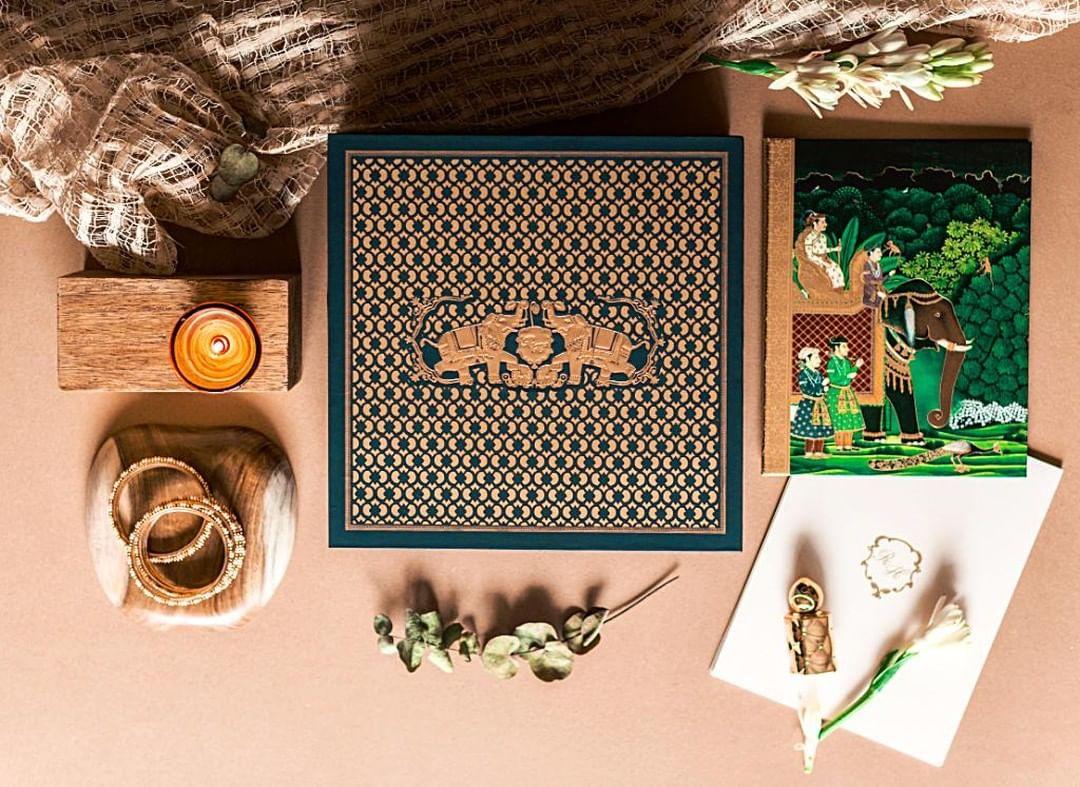 Another winner royal invitation card is this one by Invito designs! Inspired from the Mughal era, the elephants, the king's carriage, the peacocks, and the surrounding forests, this style is perfect for the couple who has a taste for all things classy. The box has laser-cut gold details with intricate jail design.
Floral & pastel invite with macarons to save the date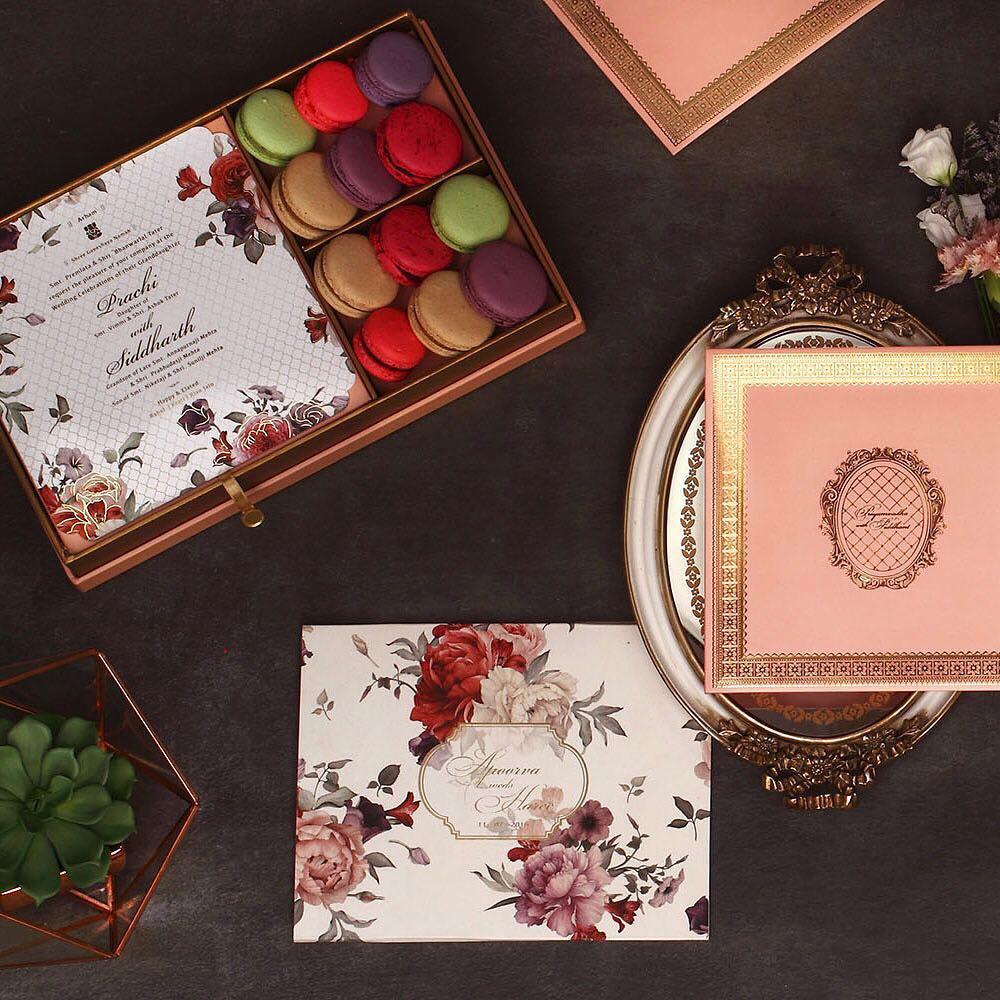 Who doesn't love delish wedding favours? Take this royal floral and pastel wedding invite for example! The details look as fresh as the tray of macarons inside! Ring in your wedding festivities with some "meetha", while you stun your guests with wedding invites done up in fresh florals and golden edges.
Tropical beach wedding invitations for a royal affair by the sea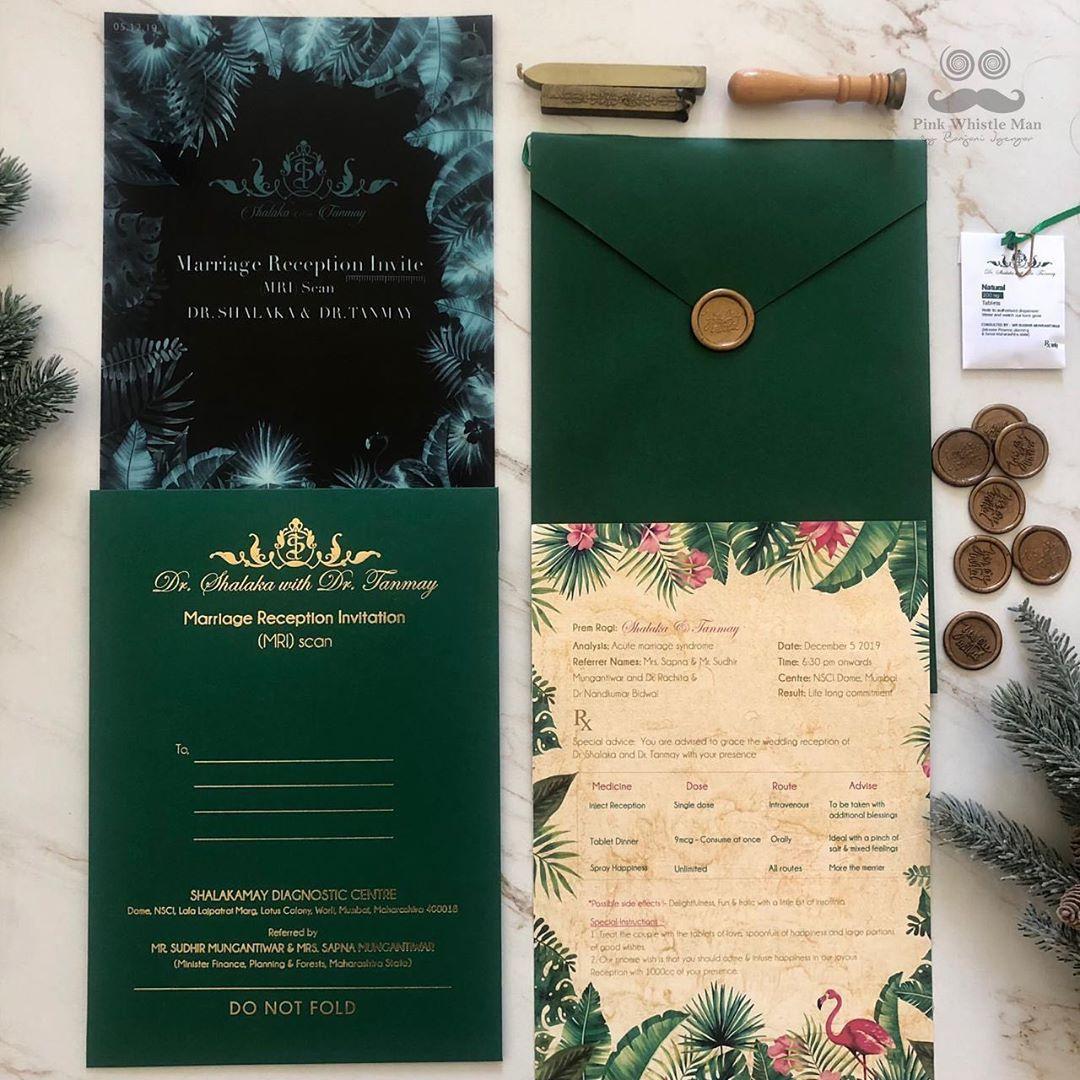 Planning to get married at someplace tropical? Give your guests a sneak peek into your sandy, sunshine affair with bright green tropical leaves, flamingos, and gold details. You can get your own personal details on the invite as this radiologist couple did. We love the x-ray report style inserts!
Pristine white invites with matching satin ribbons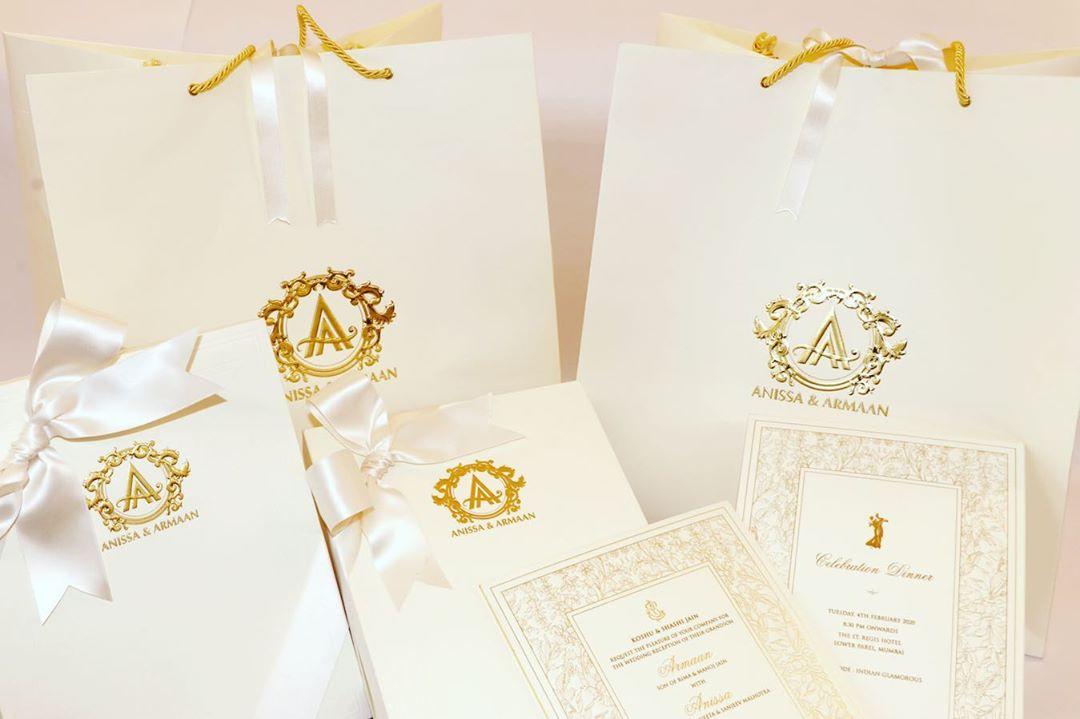 For the minimalist couple looking for royal wedding invitation styles, these pristine white wedding invitations with gold details could be a way to go. Gorgeous, handy cards with uniform borders and gold calligraphy make this oh-so-classy!
Digital watercolour style invites with silver typography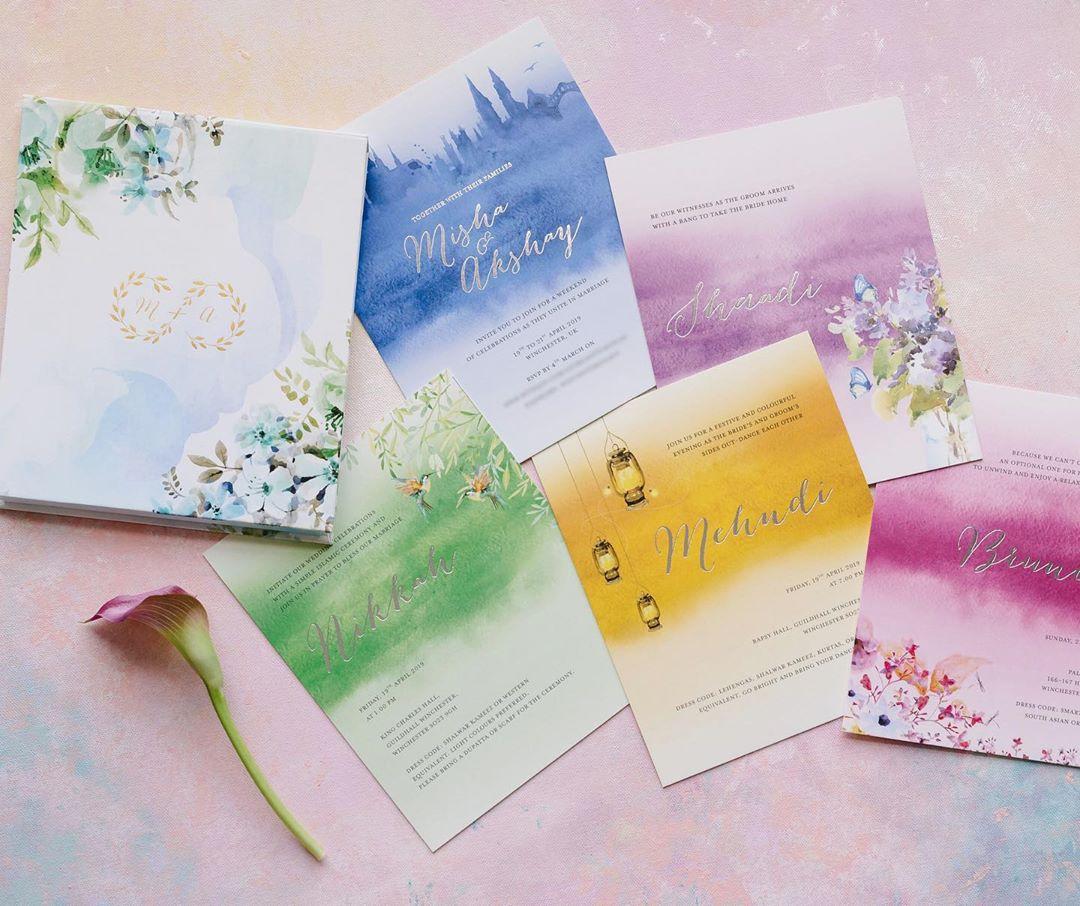 Image Courtesy: Kissmet Designs
Infuse your personality in your invite with a hint of royalty by opting for these dreamy digital watercolour style invites. With separate inserts for each wedding ceremony, personal touches, and silver typography, these wedding invitations are perfect for the modern-day couple that loves to play it lavishly!
Architecture inspired pastel invites with watercolour details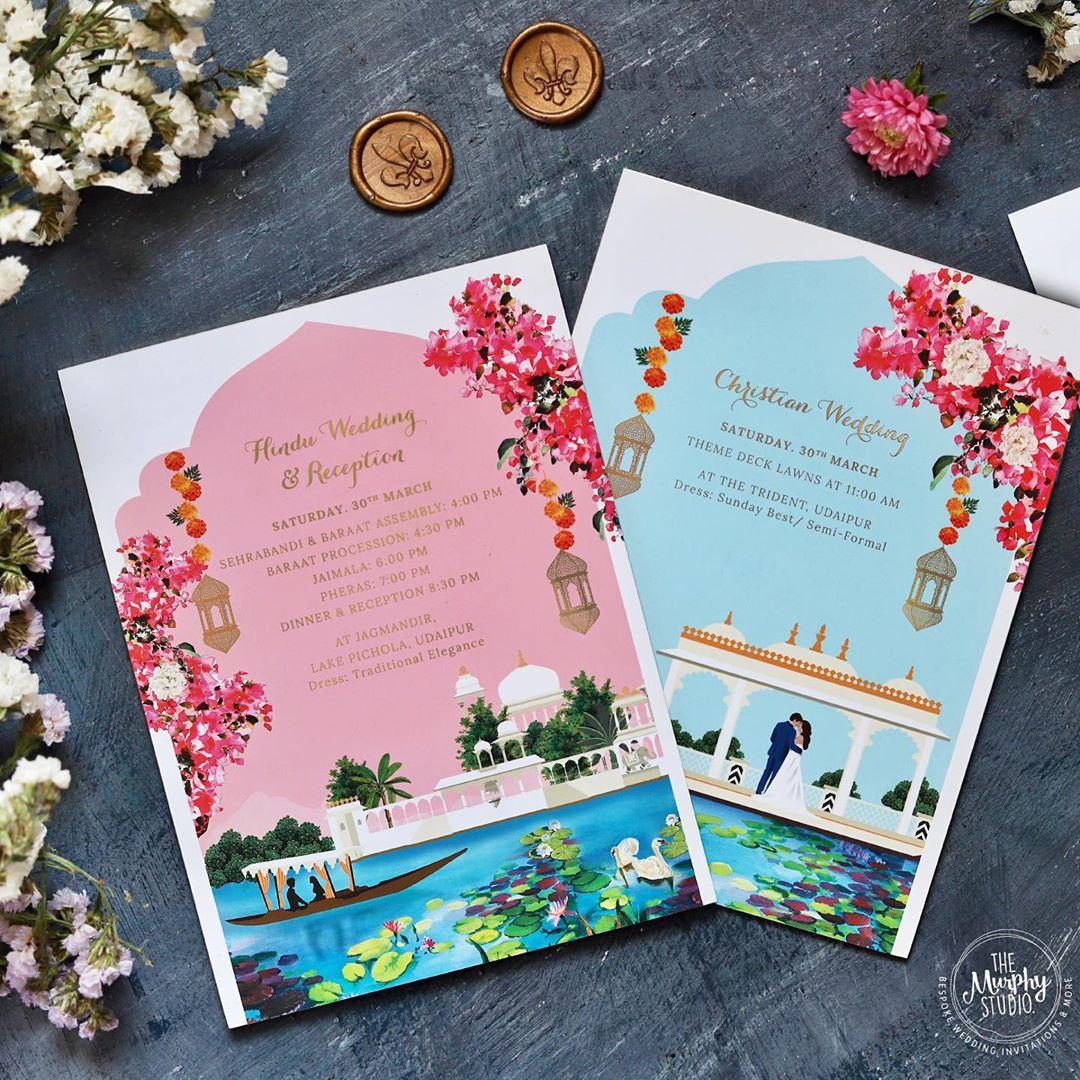 Setting up an elegant, royal affair for your guests? Stun them with this detailed beauty of an invitation. The palace arcs, the hanging bougainvillaea, the parrots, and the lotus spreads add up to the grace of this royal invite. If this matches your taste, you can go ahead with a similar design.
A dash of personal touch, hand-in-hand with a vendor that can match your taste will give you the kind of invitation cards that you have been imagining. We hope we were able to give you a wide array of ideas for you to set your heart on one-of-a-kind invitation style for your royal affair.
You can get in touch with our best invitation vendors near you for your royal wedding invitations.