8 Boxed Wedding Invitations That Will Wow Your Guests for D-Day
Are you looking for some creative boxed wedding invitations to send to your guests for the big day? This might be the right article for you!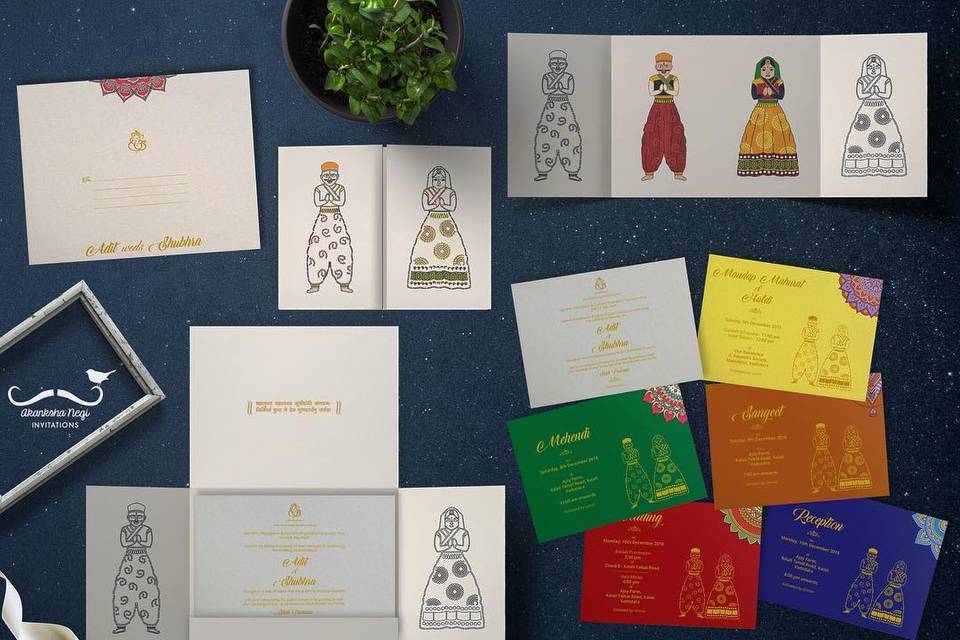 One of the most important aspects of the wedding planning process is deciding on the right wedding invitations for your list of guests. The invitation cards set the right premise for your wedding functions and get your guests in the right mood for your wedding.
Boxed wedding invitations are a popular choice to be sent out to the guests before your wedding. These boxes carry a sense of heft and make for a very graceful medium of inviting the guests.
Furthermore, such boxes help you to expressive yourselves creatively and come up with quirky ideas for wedding invites. You can include funky cut-outs or some little food hampers as well with the invitation cards.
Wood Lacquer Box in Packed in a Velvet Bag
We start off this list of boxed wedding invitations, with this bespoke wooden lacquer box that gives a very hefty and regal look to the invite and will help you create an aura of sophistication for your wedding celebrations. The box is enclosed in a velvet Potli-style bag in an elegant purple colour that brings the wow-factor of this wedding invitation to the next level.
This Quirky Suitcase Style Boxed Wedding Invite Box
If you are planning to host a big fat destination wedding then such boxed wedding invitations can make for a good choice for you. The box is replicating a bright and colourful retro suitcase that symbolises the fact that the guests should pack up their stuff and head straight to the wedding invitations. Such creative boxed wedding invitations will surely bring a smile to the face of your guests and will spread the positivity of your wedding celebrations.
This Unique Pyramid Style Wedding Invitation Box
For the next picture on this list of boxed wedding invitations, we see this picture of a unique pyramid-shaped wedding invitation box. It opens up to some idols of Lord Krishna and Radha surrounded by the details of the wedding functions on the surrounding pages. If you want to take a creative approach with the wedding invitation and send out invites that create a lasting impression in the minds of your guests for a long time.
This Red and Gold Wedding Invitation Box
The classic colour combination of red and gold is a staple when it comes to wedding decoration, outfits and even the wedding invitations. Here is a great example of boxed wedding invitations, where we have this traditional looking wedding invite in red and gold with details cards that bring some vibrancy to this invitation.
This Subtle Pop-out Creative Wedding Invite
Here, we have a refreshingly subtle boxed wedding invitation in an elegant white box. The box opens up to a gorgeous three-tier white coloured wedding cake along with the details of the wedding festivities. You can also include a picture of the bride and groom-to-be to add a more personal touch to this wedding invitation.
This Royal Blue and Gold Wedding Invitation Box
For the next picture on this list of boxed wedding invitations, we have an elegant and royal looking wedding invite that seems fit for a palatial royal wedding. The colour combination of this royal blue shade with the splash of gold looks so elegant. There is a tasteful and intricate design with a fair bit of bling that fits into the theme of a Big Fat Indian wedding.
This Musical Wedding Invitation Box
Here is another unique example of boxed wedding invitations that you can take inspiration from this wedding invitation. Here, as you open the wedding invitation box you hear the sound of a melodious and spiritual chant that feels so soothing to the ears. You can easily get such a speaker and sensor system attached to the box very easily and make for a unique wedding invitation that creates a lasting impression in the minds of your guests.
This Beautiful Pink Wedding Invitation Box
For the last entry on this list of boxed wedding invitations, we have this gorgeous pink and gold wedding invitation which has plenty of visual appeals. The box opens up and to some boxes full of dry fruits and sweets that are adorned in pearls which adds to the overall wow factor of this wedding invitation box.
We hope that our list of unique boxed wedding invitations helps you come up with interesting ideas for your wedding. So, let your creative side out and come up with more personalised ideas for your wedding invitation. Feel free to share your feedback in the comments section below.
Get in touch with these vendors near you that offer wedding invitation cards!