The Top 5 Things You Didn't Know About Wedding Planning
A 9-month wedding planning expedition, 7 ceremonies and Whatsapp invitations - these are some details that are common across all weddings in India today. This and more revealed through the WeddingWire India Survey on weddings in 2019.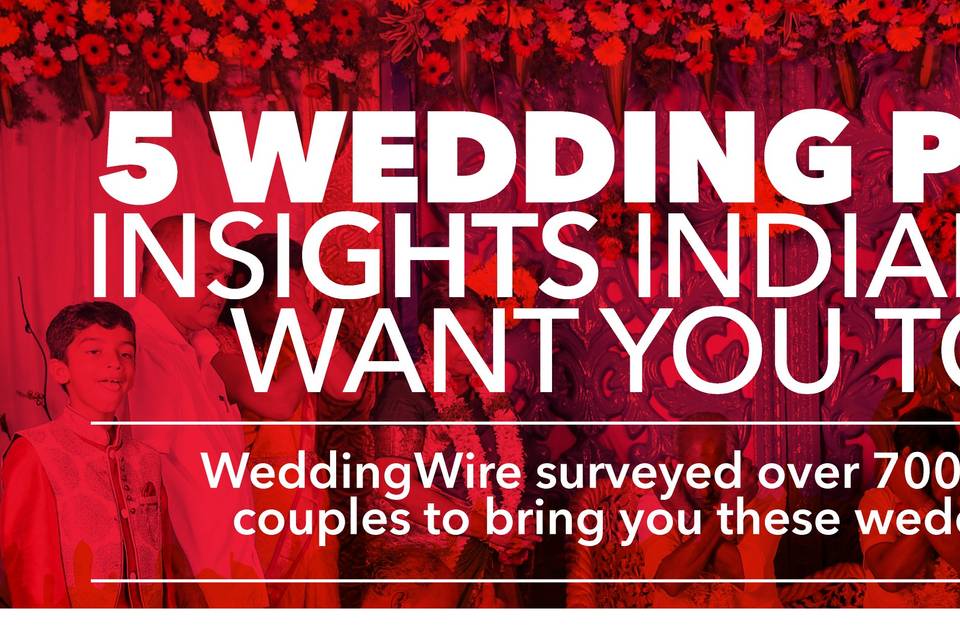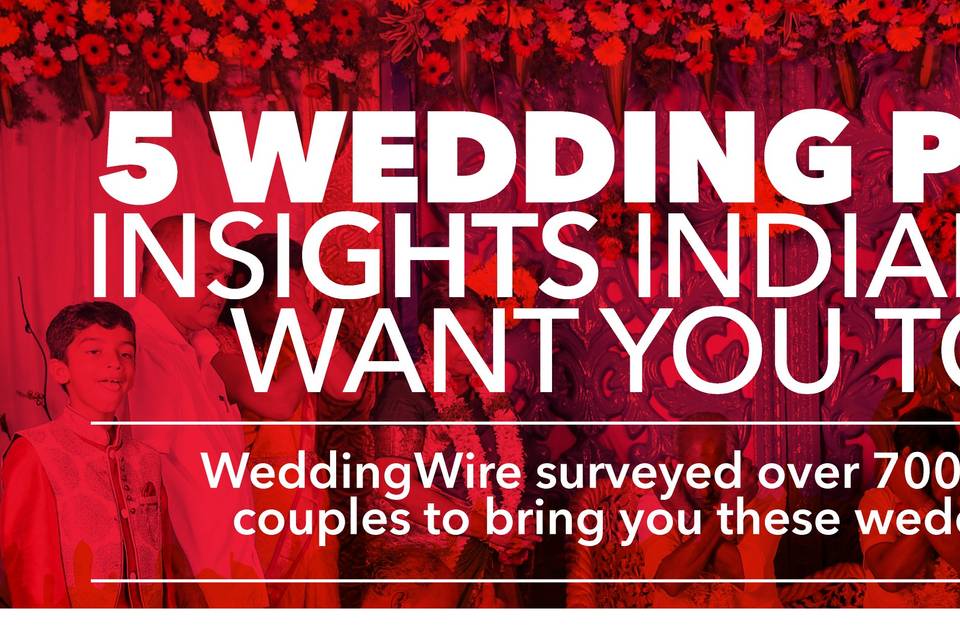 Weddings are fun and incredibly beautiful events, but planning them can be seriously overwhelming! All the pre-wedding events, numerous ceremonies, the sometimes-monumental guest lists, and the confusing rules about exactly who is supposed to plan and pay for what can make getting engaged feel a lot less glamorous.
The fact is that planning a wedding takes more time and work than most couples realise. But WeddingWire is here to help make the process as easy as possible.
To give you top wedding planning tips and insights, we surveyed over 700 recently married couples from Delhi and Bangalore about some practical — and super important — elements for wedding planning.
Here are the top five things you probably didn't know about wedding planning, which can help make planning your special day a lot easier.
1. Most couples spend just 4 to 9 months planning their weddings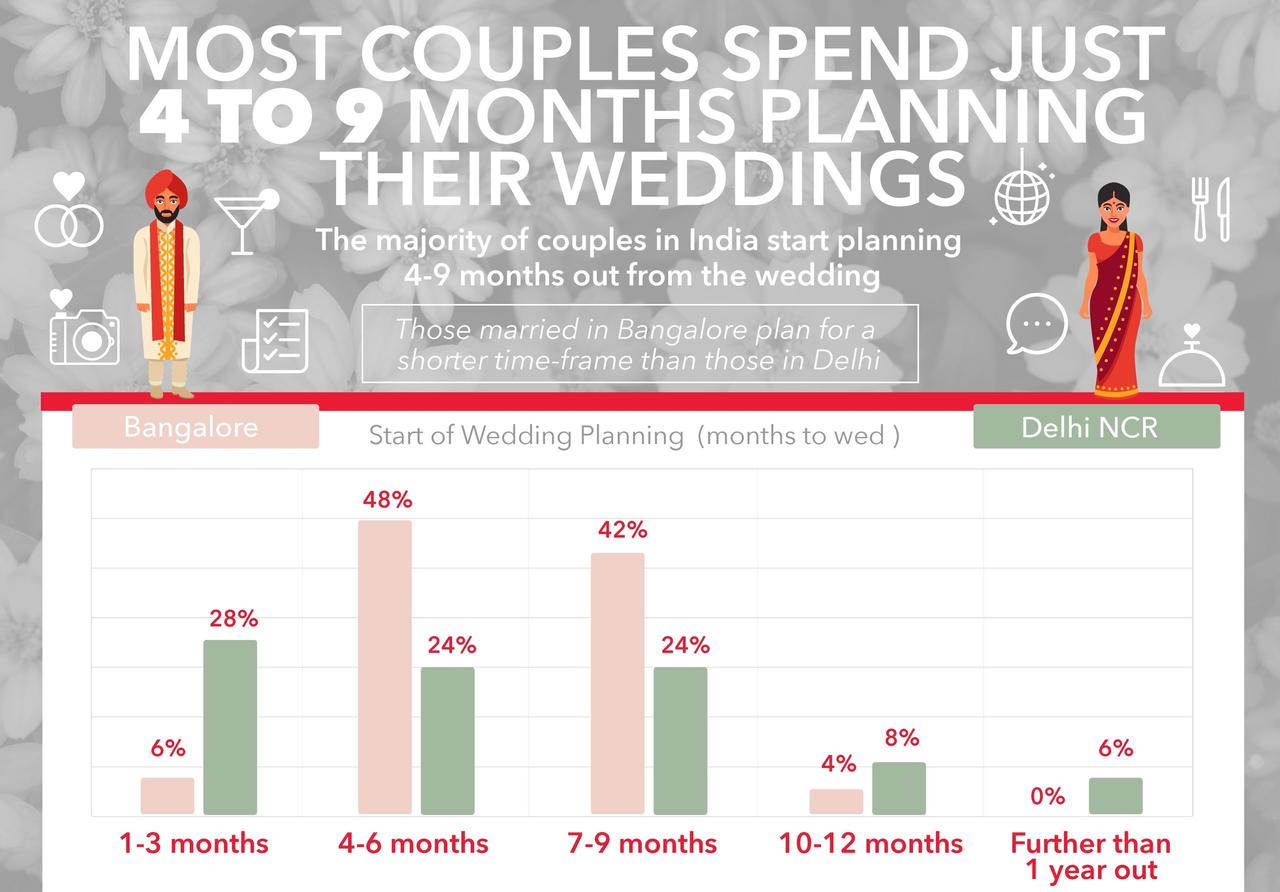 Wedding planning may be an exercise in patience, but that doesn't mean couples are dragging their feet on the way to the Saptapadi. Given how large and opulent a traditional multi-day wedding can be, you might have assumed that couples and their families were spending at least a year (if not more) planning them. The reality is that most weddings are put together in just four to nine months!
What that means is that after a couple gets engaged, there's not a moment to waste. While many families will hire a wedding planner to take care of the big-picture details, there will still be a lot to do before the wedding. And more and more couples are bucking tradition by taking control of elements of wedding planning typically handled by parents, like choosing the decor and putting together the wedding invitations.
Staying organised is key. The most important thing families and couples can do is to use all the tools available right from the start, from wedding planning checklists to vendor listings. At WeddingWire, we have a whole suite of online tools to help you plan your wedding plus the ultimate wedding planning app. With it, you can plan anywhere since you'll have all the resources, vendor information, and inspiration you need right there in your pocket.
Tip: Don't worry if you have less time to plan than you'd like. Most people plan their entire wedding in just a few months. With WeddingWire, you can plan your wedding in no time.
2. Most couples have 7 or more wedding events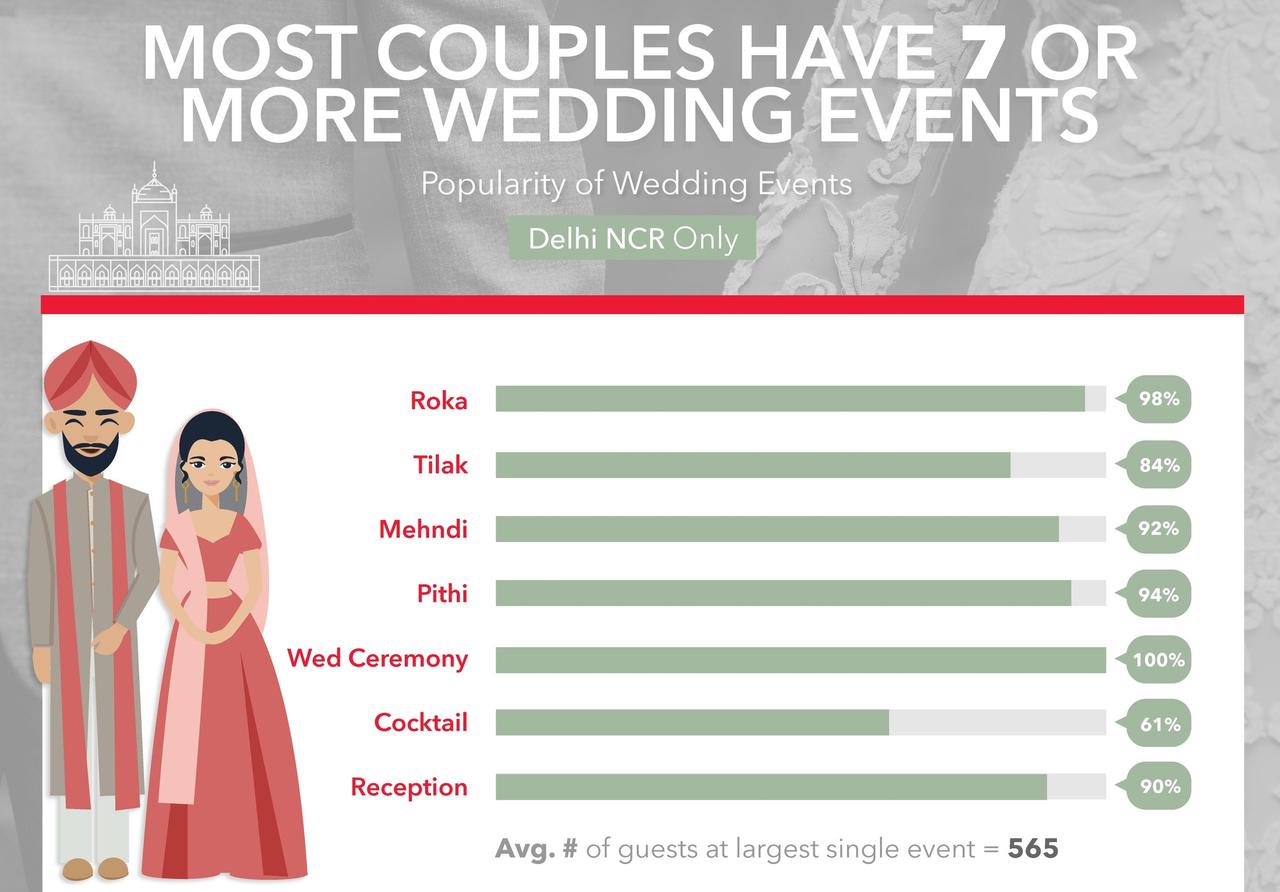 Most weddings, nowadays, last about three to five days when you consider all the pre- and post wedding ceremonies. These ceremonies are a big part of what make weddings in India so memorable and special, but it also means families and couples need to be (or to hire) rockstar wedding planners to figure out how to fit everything into a single extended weekend.
The most important things you can do to ensure your wedding doesn't end up taking a week are knowing which ceremonies you want to include in your wedding and making sure you don't underestimate how much time each will take. Communication is key here since as you'll see below, there are typically A LOT of people involved in planning each of the events that will take place before and after your actual wedding.
Here are the most common ceremonies that will prepare you for a happy marriage — and put big smiles on your guests' faces:
A. Roka
Also known as the Sagai, Sakharpuda (in Marathi), Kasamdry, Nishchayam, or Ghor Dana, this ceremony is the first pious celebration for a couple the next most popularly celebrated ceremony, besides the wedding ceremony itself. 98% of couples had a Roka ceremony. It's usually the first ceremony to take place after an engagement.
Once, it was a simple, unplanned event where the groom's mother would present an heirloom nose ring or a token of appreciation to the bride-to-be, and the bride's family would apply vermilion to the forehead of the groom-to-be. Nowadays, the Roka is often a much more lavish affair — like a wedding in miniature!
Whether your Roka is small or you have hundreds of guests, it celebrates the beginning of the relationship between two families.
B. Tilak
This pre-wedding ceremony is performed differently across the country, but in all cases signifies the acceptance of the groom-to-be by the bride's family. 84% of surveyed couples had a Tilak.
Traditionally, the father or the brother of the bride applied bright red sandalwood or vermilion to the groom-to-be's forehead at his home and gives gifts and sweets to his family, but today it might very well be his mother-in-law applying the tilak at a big banquet attended by many guests. Sometimes the Tilak, Roka and engagement and Sangeet or Mehndi ceremonies are held together to save money or time.
C. Mehndi
The traditional mehndi ceremony takes place a day before the actual wedding and was a time for the bride's family to spend time with all the women invited to the wedding. 92% of weddings included a Mehndi ceremony.
These days, it's common for men to crash the Mehndi ceremony, which may include not only professional henna artists who will apply the mehndi, but also traditional singers and dholak players to entertain guests, delicious food, a live Lac bangle maker, bright and beautiful decor, and even karaoke and games. They also spread a palm out to get a fab set of mehndi designs, just like the bride and her bridesmaids.
D. Haldi / Pithi
This is a fun one, even if it does have deep roots! During the Haldi ceremony, which may take place on the morning of the wedding day, a paste of haldi (turmeric) mixed with sandalwood, chickpea flour, milk and, rose water is rubbed onto the face, hands and legs of the bride and groom. It's a celebration of happiness for the couple, traditional beauty treatment and a sign they've entered into adulthood.
It's also a favourite for family and friends who usually have a blast rubbing on the paste, which is likely why 94% of weddings included this ceremony.
These aren't the only pre-wedding ceremonies you might have! Maybe you'll have a Misri ceremony, plan a Sangeet before or after your Mehndi (complete with choreographed dance numbers), invite guests to a bangle ceremony, or begin your wedding with a Ganesh puja. And the actual wedding? Expect it to last all day, with all the processions and receptions.
Tip: Your wedding invitations should clearly state which events each guest is being invited to attend, so there's no confusion.
3. EVERYONE is involved in the planning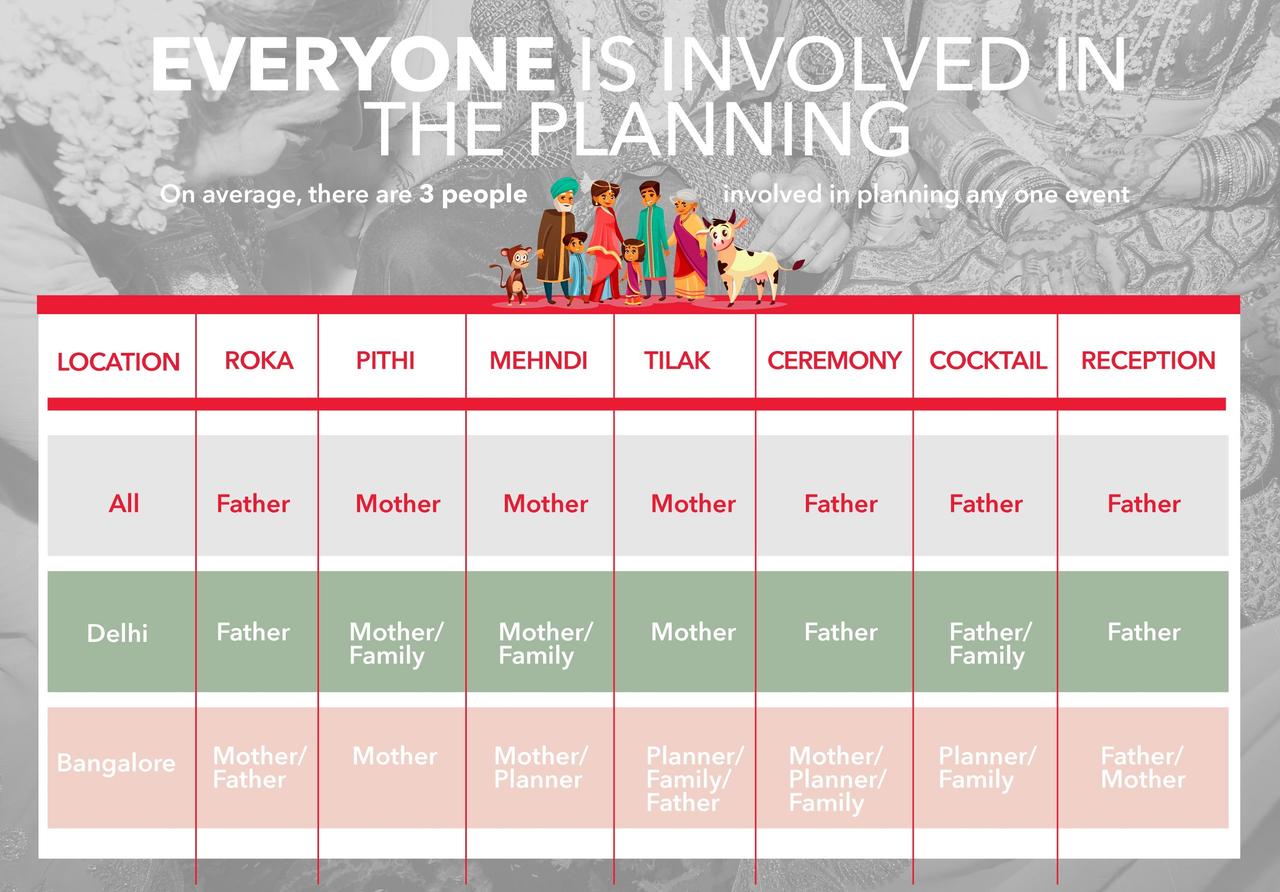 With so many pre-wedding events, ceremonies, rituals, and other happenings, choosing wedding vendors, wedding venues, clothing, decor, and other things for a traditional multi-day traditional Indian wedding is no small feat. The good news is that you won't be planning a wedding on your own! Wedding planning tends to be a family affair. On average, there are three people in charge of planning each part of a wedding — a number that might include your wedding planner, if you're hiring one.
In the past, parents and close relatives might take long leaves of absence to plan a wedding and most of the decisions were made by the parents of the couple, but that's less common today. One way to make sure everyone is on the same page is to hold a kick-off meeting once you're engaged. This meeting should be attended by members of both families and any close friends who will be helping with the wedding with wedding preparations. Have drinks and snacks, a spreadsheet, and some ideas about what kind of wedding you're envisioning ready to share.
Tip: Planning a wedding in this way can actually save a lot of time and even money. Even better, you'll get to be more involved in making decisions about your Big Day while still making sure all the special people in your life feel included.
4. Most couples still get married where they live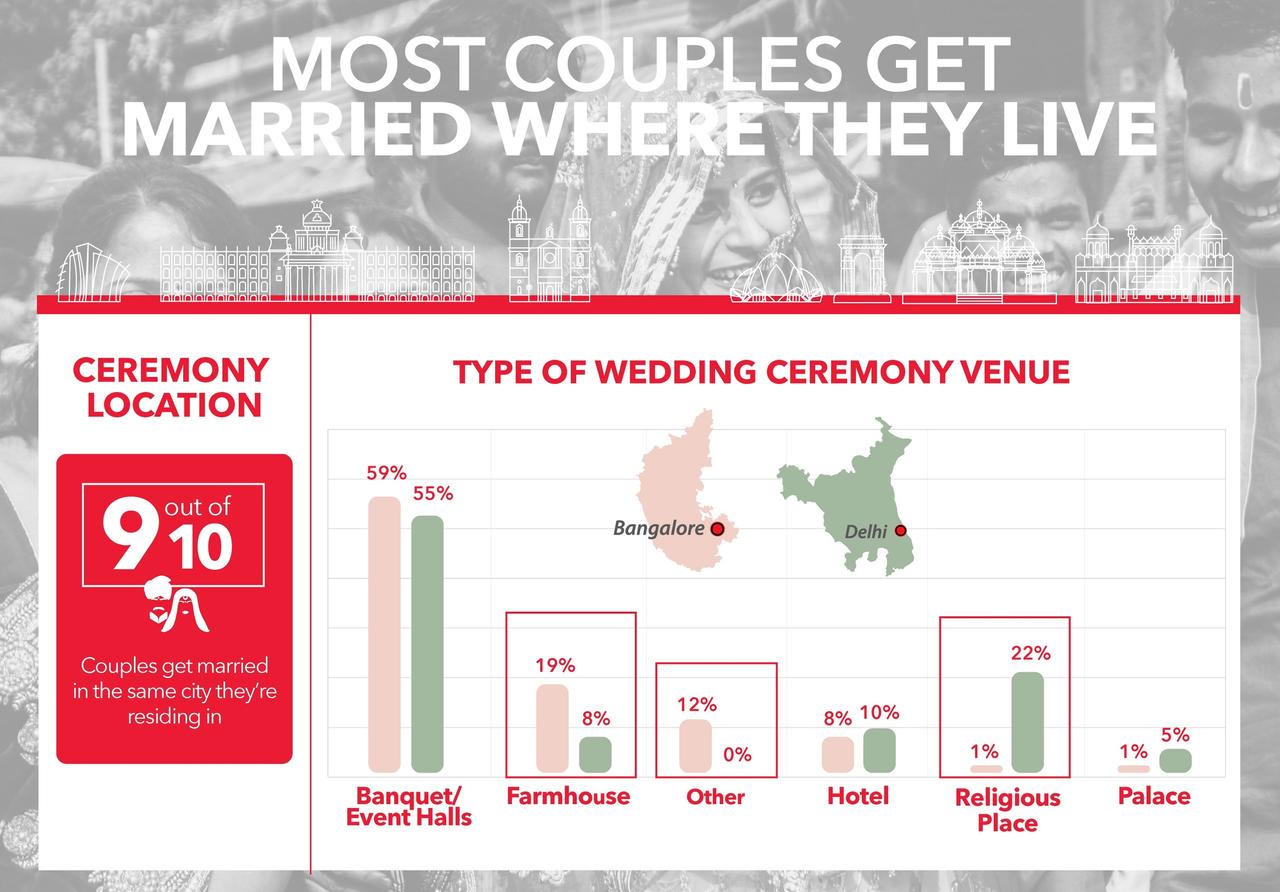 Destination weddings are becoming more and more popular, but the fact is that the majority of couples still get married in their home cities. If one half of the couple comes from far away, the marriage will usually take place in the city where the bride's family lives because weddings are traditionally a way for the family to show off how prosperous and hospitable they can be. That's a lot easier to do close to home!
It's also the reason that most weddings still take place at banquet halls, in event halls, or on wedding lawns. When it's common to have wedding guest lists that number in the hundreds and may even hit a thousand. You need plenty of space, so most families opt for venues that can accommodate those numbers. That said, if you do decide you really want to have a wedding outside of your home city, a destination wedding planner can be a great resource.
Tip: WeddingWire's wedding venue listings include information about how many guests a venue can comfortably host, and you can browse by wedding banquet halls only or broaden your search to include hotels and farmhouses.
5. More couples are using SMS wedding invitations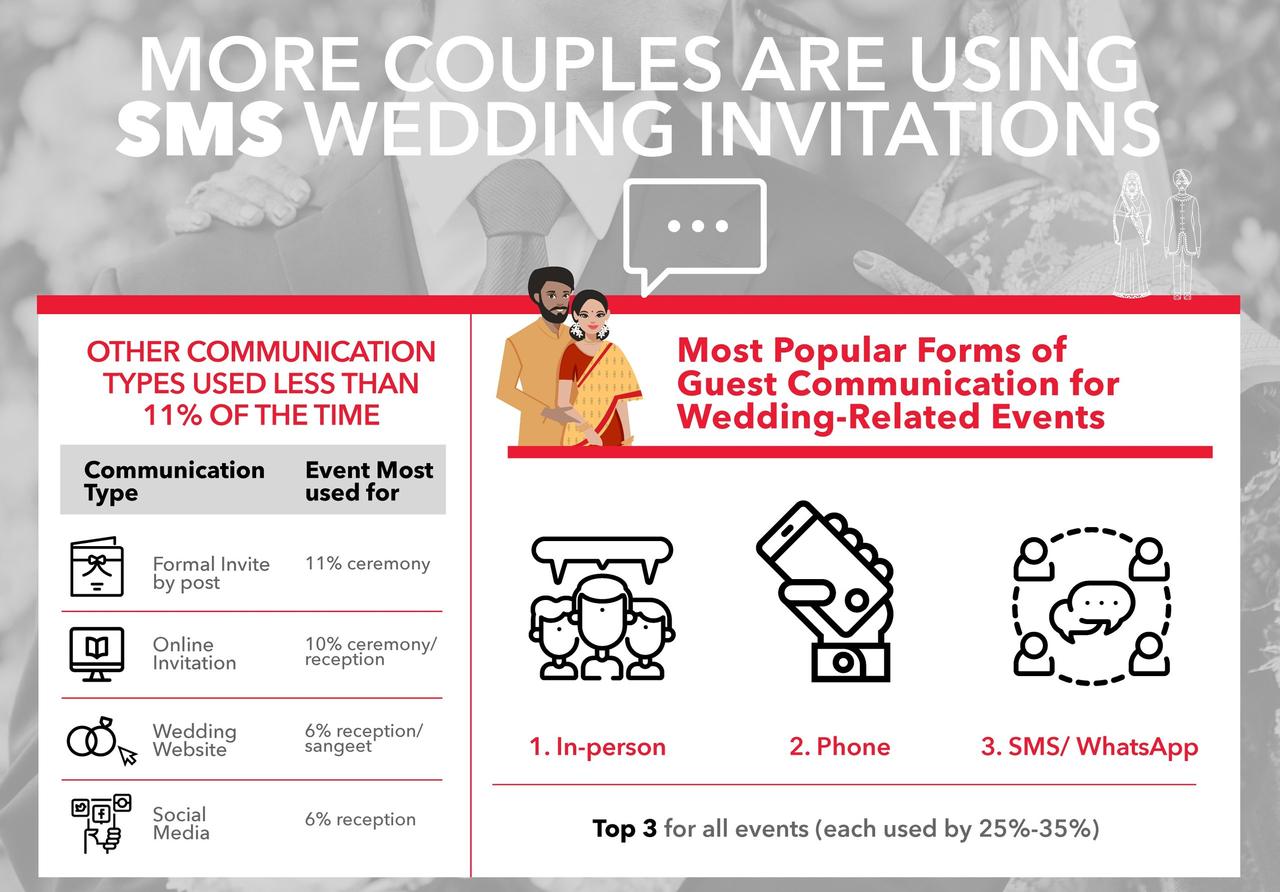 Or just inviting people in person! There was a time when formal wedding invitations sent by post were more common, but now it's the norm for couples and their families to communicate with wedding guests about events face-to-face, via phone, or SMS. So, don't feel like you have to send formal or super personalised wedding invitations when most of your guests are probably expecting to receive some form of digital wedding invitation.
However, just because you're sending digital wedding invitations doesn't mean you don't have to follow the same etiquette rules you would if you were sending paper wedding cards. Spelling and grammar are still important. Plus, you should send your digital invitation cards during the day when people will have time to look them over and RSVP. Consider sending your older, less computer-savvy relatives pretty paper invitations they can keep.
Tip: Creating and linking to a free wedding website is an easy way to take your digital invites to the next level. It lets you put all the information your guests need in one place and even collect RSVPs more easily.
Are you ready to start planning your wedding? Now that you know these surprising things about wedding planning, you can make smarter decisions about everything from your wedding invitations to your ceremony venues.
WeddingWire's expertly designed tools will also help, because with them in your pocket, you'll have all the resources you need to plan a picture perfect Big Day.
Full infographic: