A Destination Wedding in India: Cost-Effective Ways to Plan It Right
Looking to plan an affordable destination wedding in India? We share with you simple tips and tricks that can help bring down the costs drastically.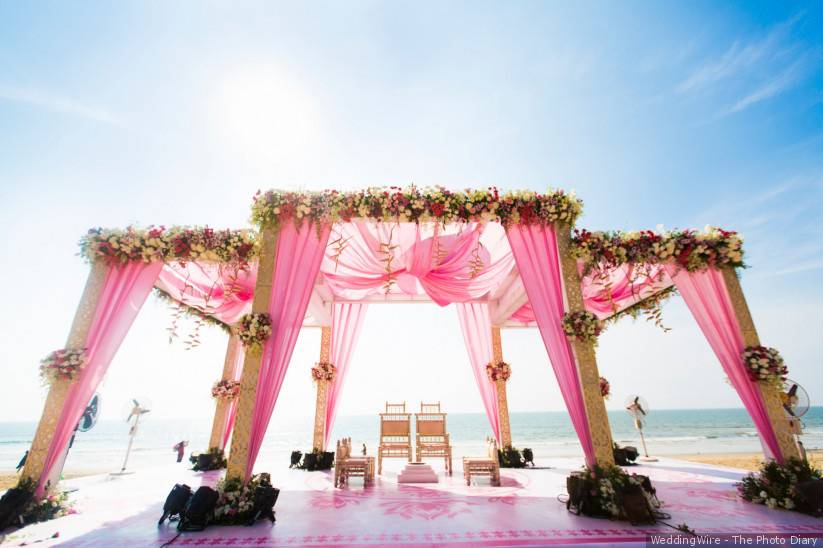 These days, more and more couples are looking for exotic locations to tie the knot in style. Having a destination wedding in India is a trend which can be seen influencing people all over the globe. Most popular among them are these two: a relaxed beachside wedding in Goa or a royal wedding in Rajasthan. But it can get really expensive if you're not careful. That's why we bring you these cost-effective ways to plan a destination wedding. Surprisingly, simple tips and tricks, and budgeting ideas can bring costs down drastically. We all have spent hours wondering how much a destination wedding in India cost.
So, we thought of curating an article for you all that breaks the ice by deep diving into the territory of destination weddings and a destination wedding in India cost.
How to Plan Your Costs Smartly

Here are some tips to plan a destination wedding in India that will not break your bank.
1. Choose your location wisely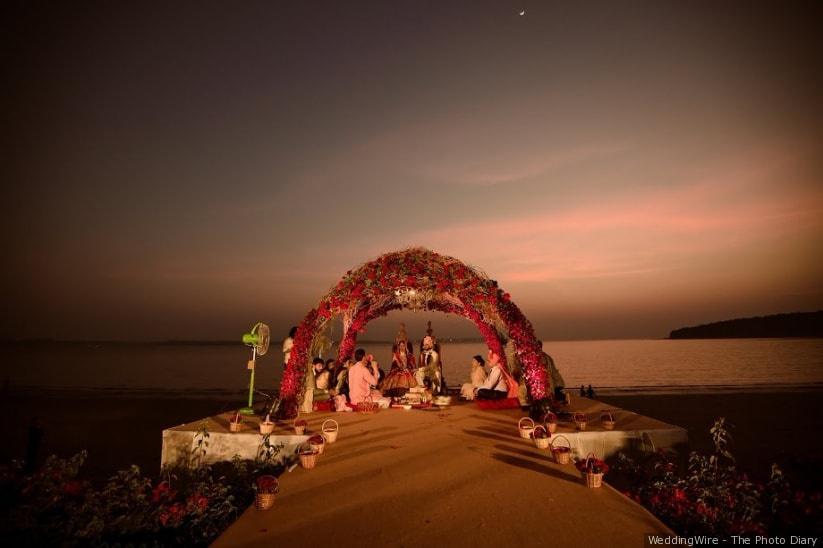 The most important part of planning a destination wedding is the destination itself. Although, you may be tempted to pick the most happening location, consider opting for an unconventional one. An offbeat location will have lesser-known venues who will go an extra mile to make your big day special. It would be important to know the location so that you know how much a destination wedding in India cost.
2. Pick an off-season wedding date and trim the guest list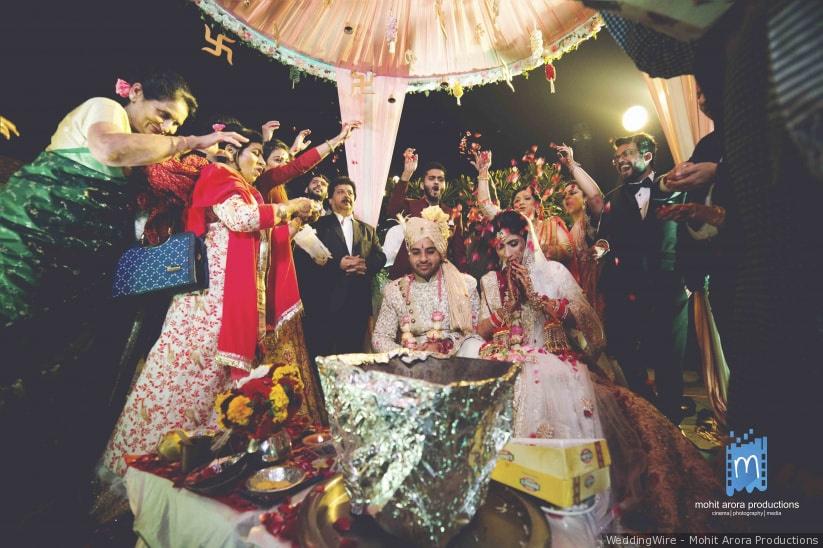 To save some money, plan your wedding during the off-season when the hotel tariffs and other prices are considerably low. If you avoid the months from October to February, you can expect some generous deals and offers. One of the most crucial steps when planning a destination wedding on a budget is trimming the guest list. After all, the primary aim is to have an intimate wedding in a perfect setting. So, eliminate everyone who is not part of your immediate social circle, be it co-workers or distant family members.
Limiting your guest list will mean fewer people to feed and buy wedding return gifts for. The destination wedding in India cost would also depend on this.
3. Opt for minimal decor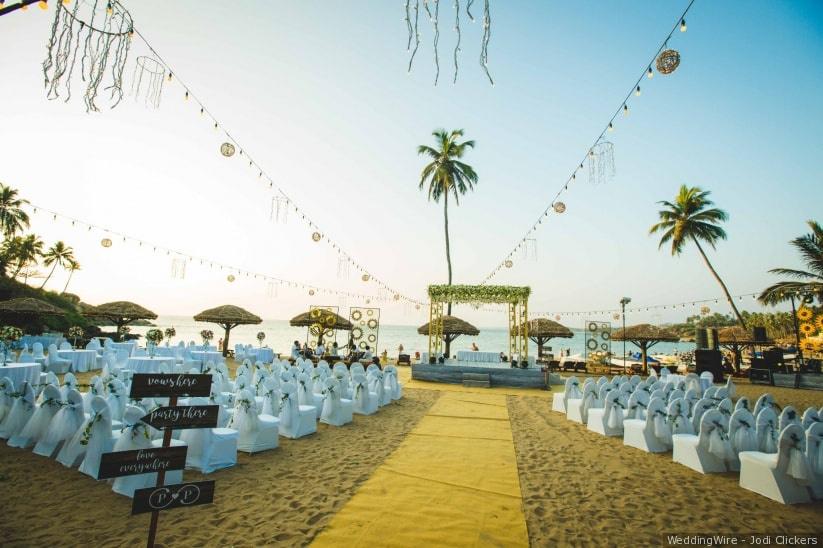 Wedding decor items like flowers, among others, that really cost a bomb can be kept to the minimum for a destination wedding. You can save up considerably by choosing a property that does not need a lot of decoration. Let the natural setting be the backdrop for those picture perfect moments. Book the wedding venue, wedding photographers, wedding caterers and all other vendors well in advance. Doing so at the last minute, especially during the wedding season, can really take a hit on your budget. For the perfect destination wedding in India cost, all these elements would be taken into account.
How Much Does the Destination Wedding in India Cost?

Apart from learning about money-saving tips for a destination wedding in India, you should also know how much it can actually cost. Here are some most important cost factors to consider. But it's important to note that these are average figures meant only to give you a rough idea. The cost of a destination wedding can vary on a case-to-case basis and go up and down depending on individual preferences, choice of destination, and season. For a perfect budget for a destination wedding in India cost, it is important to note the following points.
1. Wedding venue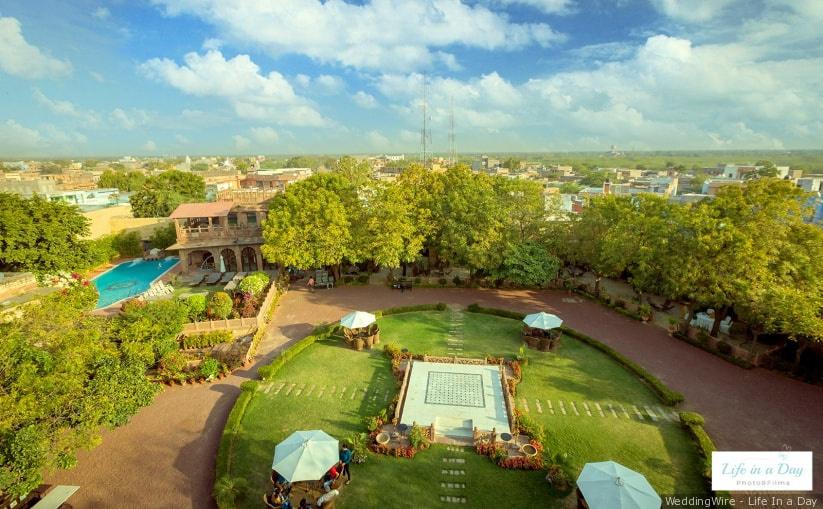 On average, most decent wedding venues charge ₹3000-5000 per person per night which includes the stay, food, and basic decor. Please take note, these figures do not apply to royal wedding venues. These prices are subject to a minimum guaranteed number of guests, which means a one-day booking of 50 guests would translate into ₹15,0000-₹25,0000.
2. Flower and decoration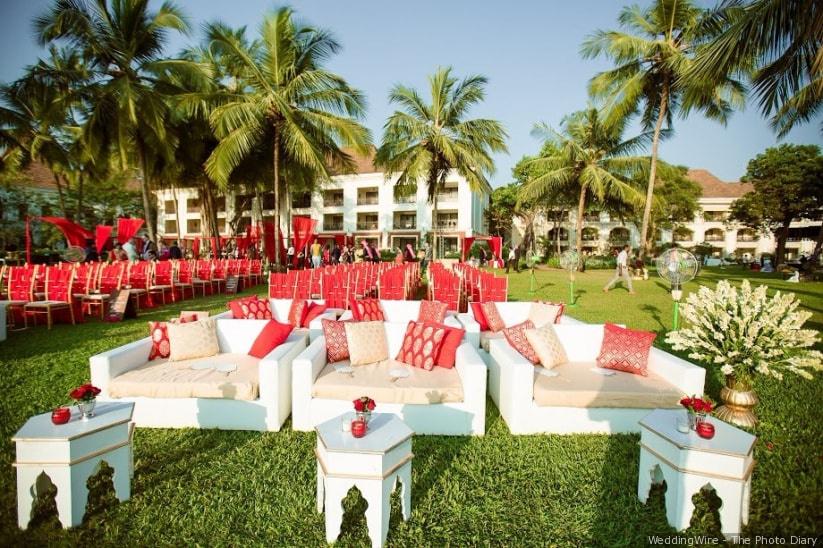 Setup and decoration include many things like Mandap, centrepieces, lighting, drapes, tables, chairs, stage, and floral arrangements. Although, when it comes to decoration, the sky is the limit, usually it costs around Rs 1-3 lakhs per day. But like discussed above, this is one aspect of destination weddings where you can really save a lot if you choose your location wisely.
3. Wedding photographer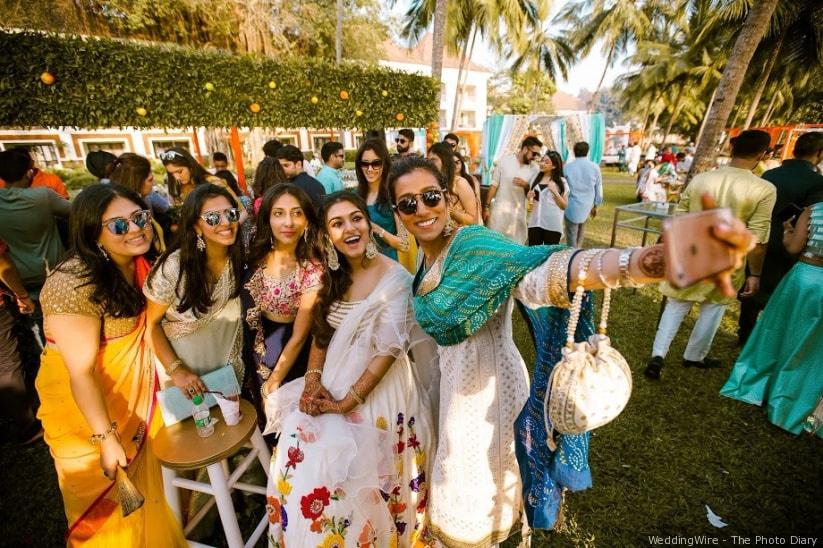 A good destination wedding photographer will usually charge ₹1.5 lakhs to ₹2 lakhs per day plus their travel and accommodation cost. Consider opting for local photographers as it will lead to great savings because photographers in smaller cities usually charge much less than the metropolitans. Who knows you might just uncover a hidden talent!
4. Transportation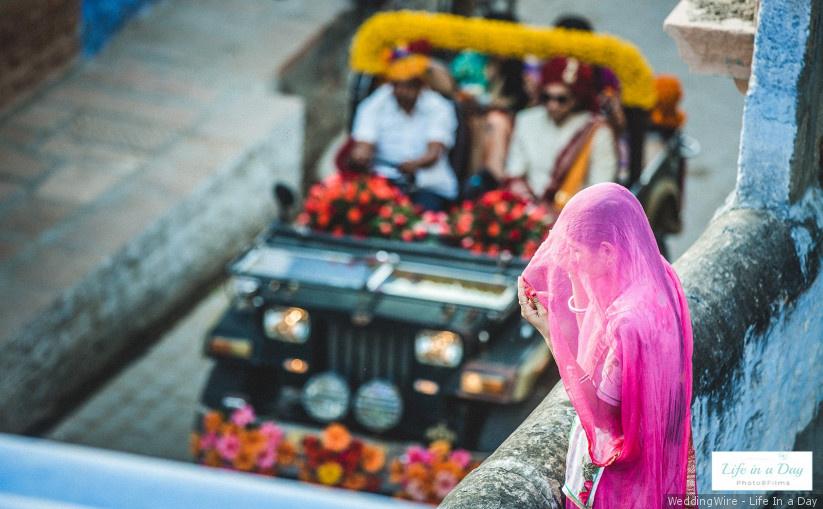 Travel cost within the cities which are known for destination weddings, like Jaipur, Udaipur, Goa, and Kerela, is moderate. Although usually, the guests pay for themselves, it's always a good gesture to arrange for a pick-up and a drop from the railway station or the airport. A private cab costs anywhere between ₹2,000 to ₹3,000 for a day (10-12 hours).
5. Other costs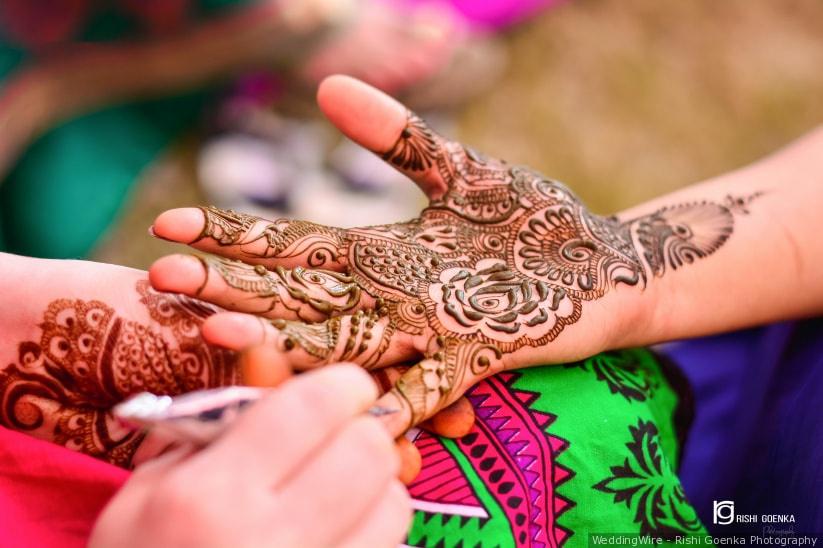 Other miscellaneous expenses, like Mehndi artists, Pandit Ji, wedding DJ, and more, should also be taken into consideration to plan for a destination wedding in India cost.
Advantages of Planning a Destination Wedding in India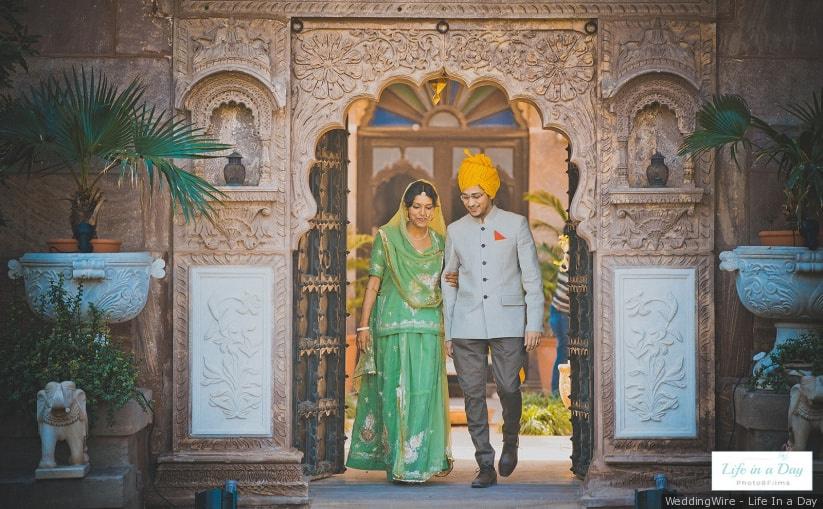 Destination weddings are a great alternative to traditional weddings. The various advantages of saying 'I Do' away from your hometown have made it a popular trend. If you're considering one, let us give you reasons to go for it, while planning a flawless budget for a destination wedding in India cost.
1. Memorable experience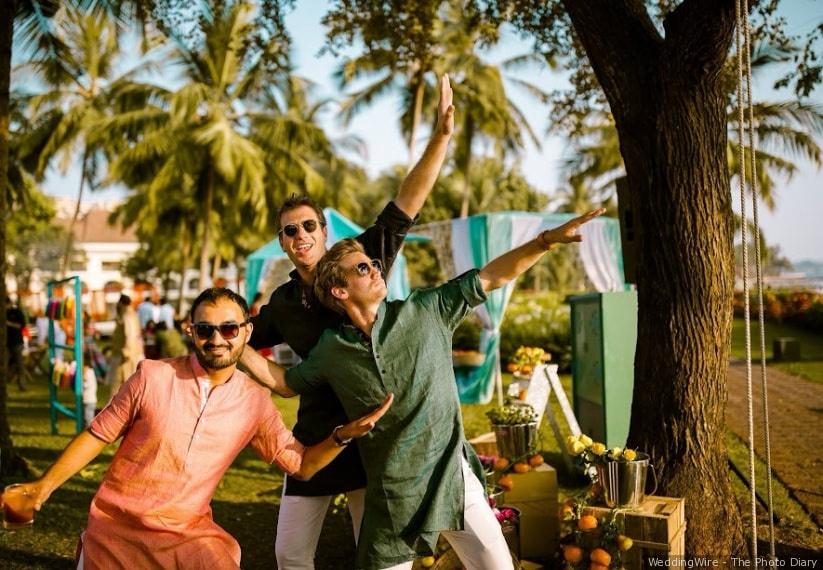 No matter what kind of a location you choose, a secluded beach, a regal palace, or a mountain setting, a destination wedding is a great way to showcase your creativity as a couple and reflect your style and taste. Moreover, tying the knot at a unique location will have everyone talking about your wedding for years to come!
2. It's Affordable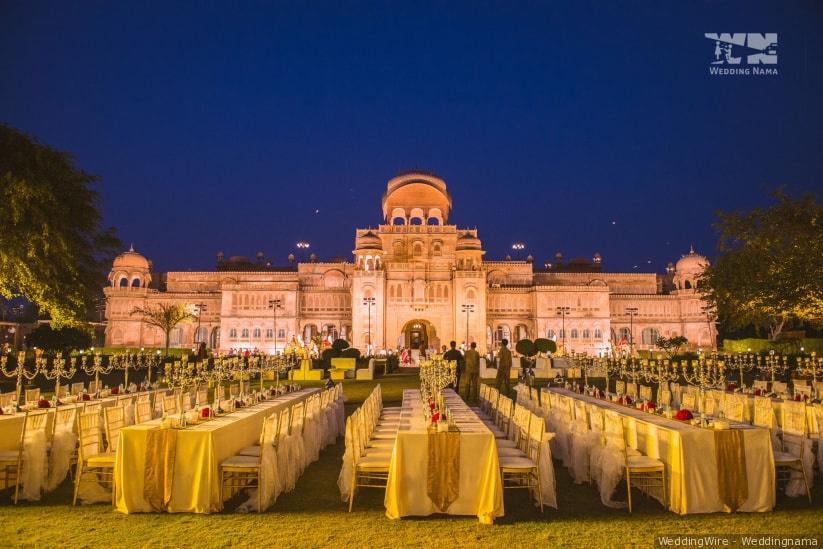 We have already shared this bit with you. Not only in India but destination weddings, in general, are usually less expensive than traditional ones. Most locations offer all-inclusive discounted wedding packages which can be even cheaper than local weddings. It's less stressful, although at the outset it may sound just the opposite. It is an intimate affair with fewer guests. A destination wedding in India cost, in most cases, is less stressful with limited responsibility. An all-inclusive deal provides everything with a couple of needs, allowing them time to relax and enjoy their big day.
Since you don't have a maddening crowd of all your local guests, a destination wedding gives you an opportunity to spend quality time with your loved ones. Stay back for your honeymoon instead of flying off somewhere else. Imagine settling into a romantic escape after all your guests have left. Not only would you end up saving a lot of money, but you also do not have to bother about planning the travel for your honeymoon as you are already there. Hope these tips and tricks will help you plan a destination wedding in India in a cost-effective manner. So, we are now hoping that you have understood how much a destination wedding in India cost and are ready to plan your very own.
To make the best use of these tips, try WeddingWire's budgeting tool.