Details of a Destination Wedding In Goa: Planning & Costs
If you are dreaming about a destination wedding in Goa, we highly recommend you read this article. Get all the deets on wedding budgets, venues, accommodation, travel, decor & more!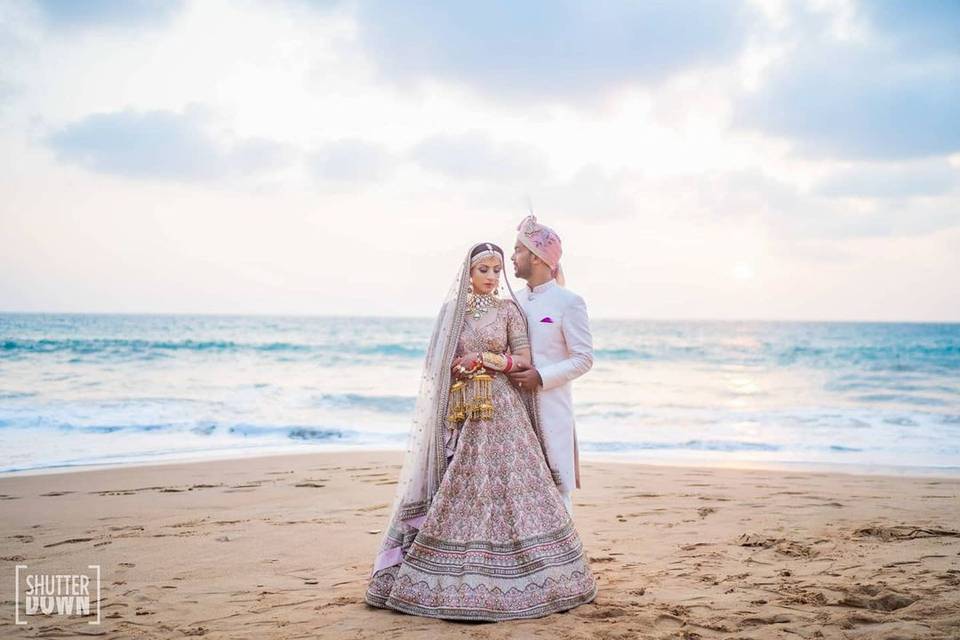 A wedding is a big deal, especially in India, where we are constantly looking for ways to make it as grand and memorable as possible. The families from both the groom and bride's side assemble to discuss everything - from the date of the wedding to the dessert that their wedding caterers will serve at the reception dinner. Every detail of the wedding is planned with love and a lot of hard work irrespective of the type of wedding you plan. The amount of work that goes into planning an intimate wedding of fewer than 50 people is identical to planning a big fat destination wedding in India.
Speaking of destination weddings in India, it is a trend that the millennials have fallen in love with and so have we! Destination weddings are a great way to celebrate the beginning of a new chapter. Almost every bride and groom of today have destination wedding planning on their bucket list. Jaipur, Coorg, Hampi, Pondicerry, Jim Corbett and so on are some of the famous wedding destinations that the couple has picked in the past. One of the most popular destinations for weddings in India is Goa. Goa's widespread charm and its reputation of being the ultimate party destination has contributed to many couples planning their big day in Goa.
Moreover, the serene sandy beaches and the breathtaking sunsets with sand under your feet and a warm breeze in your hair make Goa a dreamy destination to host a wedding. Be it a beach wedding with gorgeous mandap decoration or a green wedding at a luxury wedding venue in Goa - we have curated a list of the most popular locations where you can host a destination wedding in Goa along with an overview of the budget and planning.
Read on to know how to plan a destination wedding in Goa in full swing.
A Destination Wedding in Goa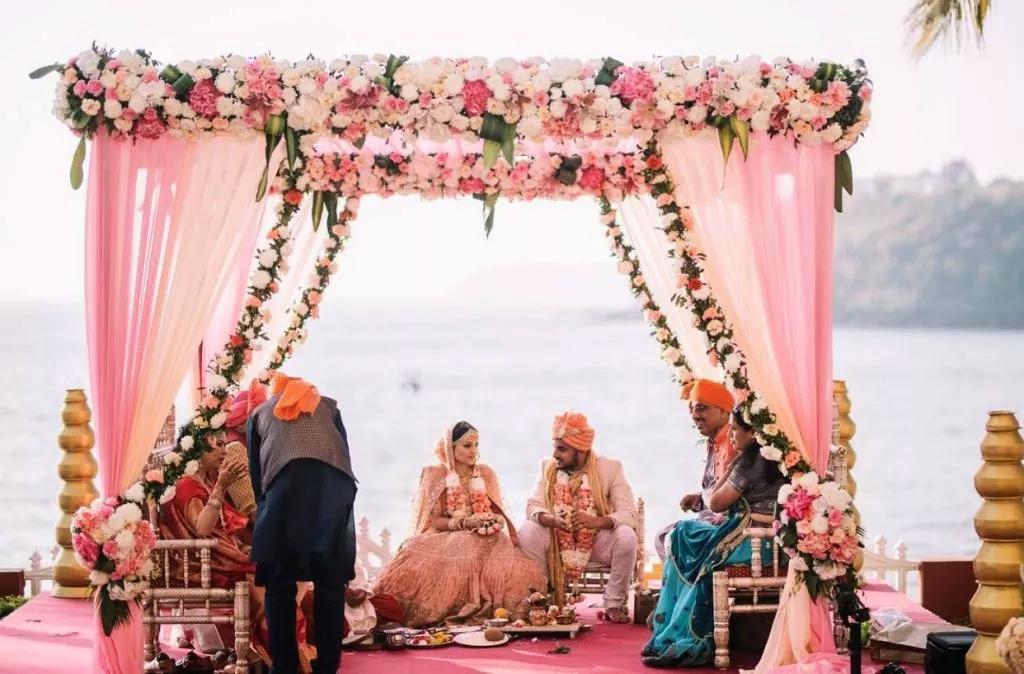 Why Goa? Gorgeous beaches and even better venues make Goa a popular wedding destination. Whether you want an intimate wedding with immediate family and friends or a lavish extravaganza, we highly recommend you take the time out to read the article. Goa offers a variety of locations when it comes to picking a venue where you want to take your vows. A destination wedding on the beach or one on an isolated island, exchanging vows in a Portuguese church embedded with the old-world charm or walking down the aisle amidst a beautiful field with the long grass that the wind is sweeping sideways - you name it and your destination wedding in Goa has it!
Added benefits? All those cancelled trips to Goa with friends and the endless plans of spending the next New Year's Eve in Goa can take a back seat because Goa is going to greet you with wedding bells now! Planning a destination wedding in Goa actually means planning an exciting two-in-one package trip - vacation and wedding!
Moreover, if you are picking Goa as your wedding destination, most probably you might have been planning a beach wedding. And hosting your destination wedding in Goa costs you less than hosting one in any international location by the sea like Maldives, Hawaii and so on. Goa is also very close to home and the deeply rooted cultural influence that the places in Goa flaunt makes it a quaint destination for weddings in India.
Therefore, hosting your destination wedding in Goa will not only add exotic vibes to your celebration but also do so without burning a hole in your pocket.
Popular Wedding Venues in Goa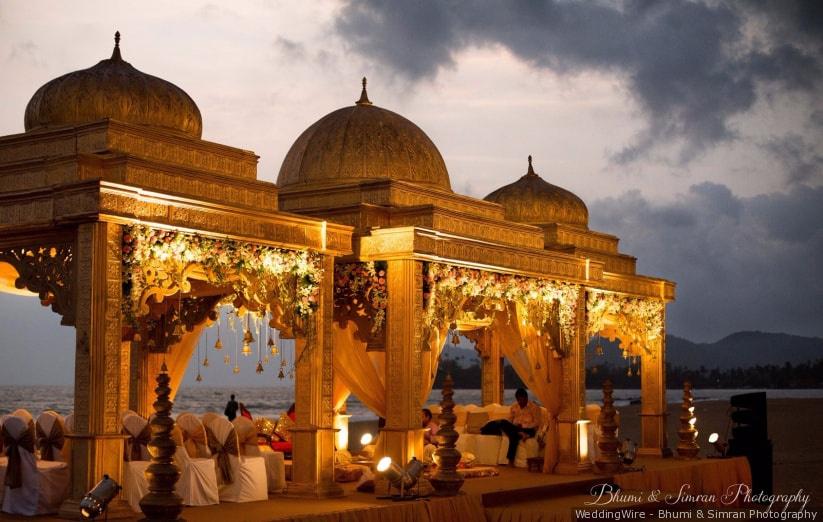 Between North and South Goa, South Goa is more popular for destination weddings in Goa. The most prominent reason being South Goa is more tranquil and relaxing, the beaches are cleaner and almost all resorts in South Goa give you access to a private beach. Sounds incredible for a wedding location, right? Royal Orchid, Nanutel Margao, The Leela Goa, Longuinhos Beach Resort, Beleza by The Beach, The Postcard Cuelim, Marquis Beach resort are some of the most popular wedding venues in South Goa where you can host your destination wedding in South of Goa. Depending on the size of your guest list and your wedding budget, you will find ample options to pick from.
Even though North Goa isn't a preferred location for weddings, it is still the primary party hub of Goa. So for the weddings that involve a lot of youngsters who love to break a leg at an amazing party at Baga Beach or Anjuna, you can also find excellent wedding venues in North Goa for you to host your destination wedding in Goa. Lazylagoon Sarover Portico Suites Goa, Ginger Goa Panjim, Alcove Resorts, Montego Bay Beach Village, Bambolim Beach Resort, Hotel Manvin's Panjim are some of the popular destination wedding venues in North Goa. If there are a lot of family members and elders or infants on the guest list, you might want to reconsider your choice.
To all the brides who plan on getting married on the beach, pro tip: You need to get a licence if you want to get married on the beach. It involves a security deposit, basically to ensure you have cleaned up the beach after your wedding. This can be one of the major reasons why couples can involve a local wedding planner. They have all the required contacts and know the procedure, so it gets done without any hassle.
Also Read: 9 Unique Wedding Destination Ideas for a Quirky Wedding
How to Plan your Destination Wedding in Goa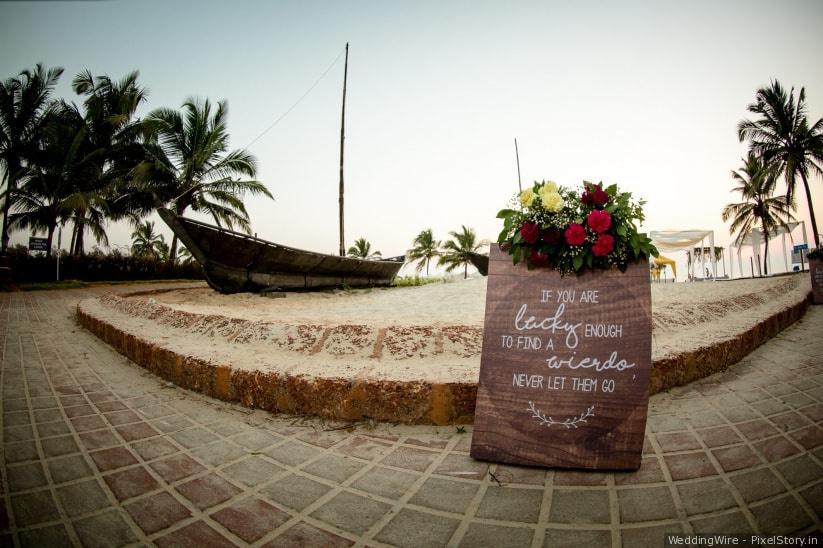 If you thought wedding planning is easy, you couldn't be more wrong. There's a series of preparation for all sorts of events, then there are negotiations with various vendors and innumerable errands that need to be run just before the wedding starts. Unless you have a family who is willing to go crazy running errands, rather than actually enjoying the wedding festivities, you need to hire a wedding planner! So, we suggest that you take a back seat as it is going to be one of the most chaotic and strenuous weeks and you should find the time to enjoy these days while it lasts. So, invest in a wedding planner who will bear your responsibilities as you flutter around with your family and friends and enjoy to the fullest.
We spoke to a wedding planner based in Goa, Rabiya Muzaver, the founder of Glittering Petals, to dish out some details on the whole destination wedding craze. "There are two kinds of people (who opt for a destination wedding in Goa). The ones who want a proper beach wedding and plan their weddings between October-February. And the others, who want to have an indoor wedding in Goa, just because it's Goa; and also because the weather isn't what one would imagine for an outdoor one. These weddings usually happen between May-August and are definitely cheaper."
Venue & Accommodation
The venue is the main attraction of your wedding and takes up a major chunk of your budget too. For a simple 2-day destination wedding, rooms are ideally booked for a total of 2 nights and 3 days. During peak season, the room tariffs in a 4-star hotel can start from Rs 18,000 + taxes per room, per night, on a twin sharing basis. And the same room in the off-season can cost you INR 15,000 + taxes per room, per night. So for a wedding that will see 200 guests, the cost of venue and accommodation alone can stretch up to INR 36 Lakhs during the peak season. Please note that these rates include the lunch and dinner costs. Breakfast is often included in the stay.
Also Read: Different Types of Open Air Venues for Your Wedding Functions
Food and Beverages
Most 4 or 5-star hotels and resorts will not allow you to serve your own alcohol on the wedding functions. You'll eventually have to take the IMFL the hotel offers, instead of foreign liquor. "Unfortunately, whether the season is at its peak or is an off-season, liquor charges usually remain the same," shares Rabiya.
Catering charges are calculated per plate and are an area where hotels can offer varied rates, depending on the overall wedding package that you opt for. Most of the venues in Goa extend to you the same policy which makes it a fit choice for hosting a wedding for a large gathering or for a comparatively smaller one as well.
Wedding Decor
For a wedding of about 200 guests, you might have to spend between INR 8-12 Lakhs for the decor of all the events. We suggest you cut your wedding decor budget by picking elements that can be re-used for all functions – like lighting, flowers, and photo booth. Honestly, wedding decoration is an area where you can actually control your costs.
If you opt for simple decor for the pre-wedding ceremonies, the expenses will come down. Ferris wheels, photobooths, an old quirky yellow scooter as a prop, hats, birdcages, flowers and simple banners are typical of Goan beach weddings that are used to add oomph to her daily events.
Also Read: 8 Most Important Destination Wedding Etiquettes to Remember!
Destination Wedding In Goa Costs
Instead of increasing your wedding budget, you can source local vendors to help you out with your wedding functions. The miscellaneous expenses that include DJ, makeup artists, fireworks, and mehndi artists, can all be managed between INR 3- INR 5 Lakhs.
"Overall, a 200 guest wedding at a decent 4-5 star hotel or resort can cost anything between INR 60- INR 70 Lakhs," concludes Rabiya.
Compiling all three rates together, here is how much a destination wedding in Goa would cost you:
1. No-frills, budget wedding (2 days, 100 guests) - INR 20 lakh for accommodation and venue
2. Mid-range (2 functions, 130 guests in South Goa) - INR 35 lakh
3. Lavish wedding (200 guests, 4-5 star hotel and resort) - INR 60 - INR 70 lakh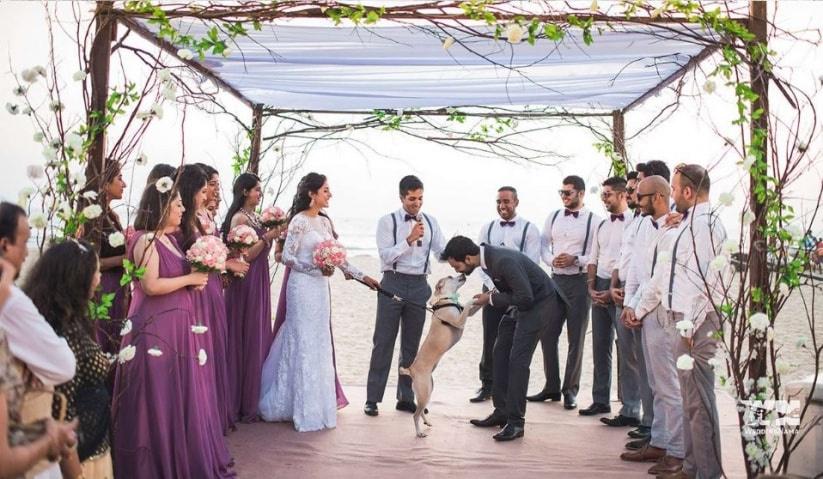 Did we give you enough impetus to opting for a destination wedding in Goa? We recommend booking a wedding planner right away and sharing your vision and plans.
Find Top Blogs -
Mehndi Design | Proposal Lines | Simple Finger Mehndi Design | Arabic Mehndi Design | Propose Day Quotes for Boyfriend | Wedding Anniversary Wishes for Sister | Tamil Wedding Calendar | Simple Mehndi Design | Pre Wedding Quotes | Engagement Anniversary Wishes | Funny Wedding Wishes for Bestfriend | Blouse Design | Rangoli Design | First Night Tips for Bride | Wedding Anniversary Wishes