Offbeat Digital Invitation Card Designs That Will Blow Every Millennial Couple's Minds
Every detail at a wedding is meticulously planned, but the one that requires the most discussion is the invites. While opting for digital invitation cards is an easy choice, choosing its theme is not. Let's look at some of our favourite samples.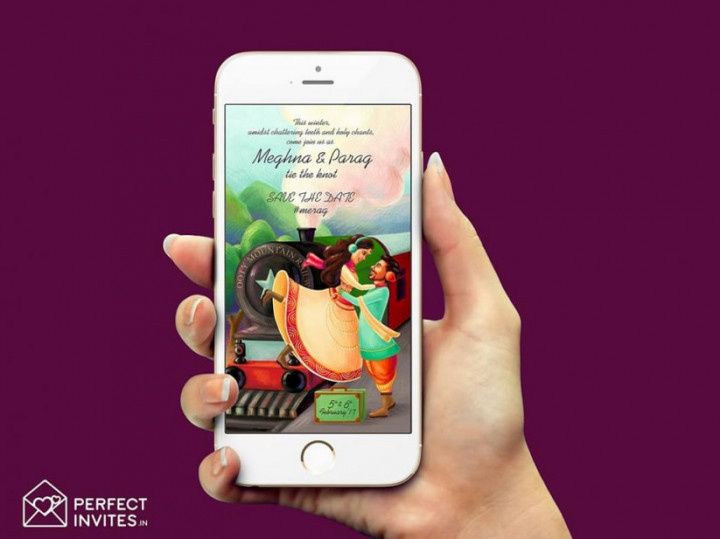 Digital invitation cards are every millennial couple's dream come true. With most of them feeling how overdone Indian weddings are, they find it extremely pleasing to be able to control this one department. Apart from the fact that they end up saving a lot of money, digital invitation cards also provide many practical benefits in the modern day and age. The biggest benefit would be that you never have to scramble if you missed out any of your guests due to human error or post office confusions. Unlike handing over physical wedding invitations, digital is much faster and also easier to receive responses as to who all will be able to make it to your big day. Digitally inviting people helps in being more organized with the follow-ups too. Even informing guests about updates and other things becomes an easy job. While the benefits of e-invites are a million, the most important fact in this context is how creative and fun they can be.
After following the traditional concept of wedding invitations that have a more or less fixed template, the fun of choosing the theme of digital invitation card is how unique can you make it be. An e-invite in no way needs to follow the traditional footsteps and can be anything the bride and groom like it to be. This not just helps them add their personal touch to it, but also allows them to segregate the theme of their invitation according to their guest list. For example, you can go for a subtle and classic template for the business associates and something quirky and fun for close friends and family. We've put together some of the best digital invitation card concepts for you to choose an inspiration for your own.
1. Like a Bollywood Saga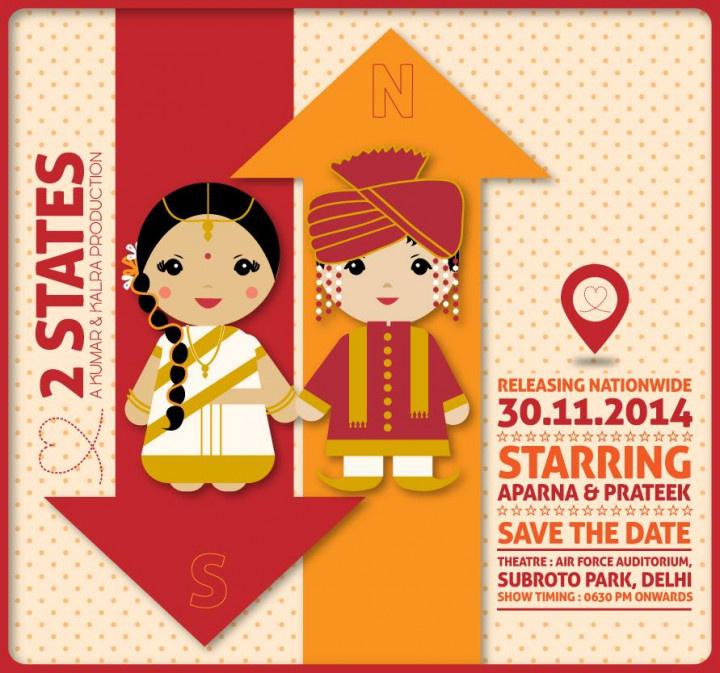 We've all dreamt of our weddings to be like one of the Yash Raj Film scenes with illustrious costumes and jewellery. It is no big deal for the bride and groom to be hopelessly in love like one of their movies too. So why can't their digital invitation card be a little extra, just like their love? More and more millennial couples are adapting the idea of Bollywood resemblance to their e-invites. From designing Bollywood caricatures to having movie poster themes, couples love to make this one as dramatic as possible. So if you're a fan of Bollywood too, go ahead and make your own Bollywood saga.
2. With your Favourite Board Game
Image Courtesy: Culture Curry
The most eccentric digital invitation card ideas are the ones that are born out of your very own love story. Just like your favourite board game, there is a list of things that you and your partner must have connected over or have created special memories with. Use those to create an idea that is personal to you two, just like this wedding invitation designed over a game of snakes and ladders. It's about time you and your partner spill the beans and tell the world what your 'thing' is.
3. Like Comic Books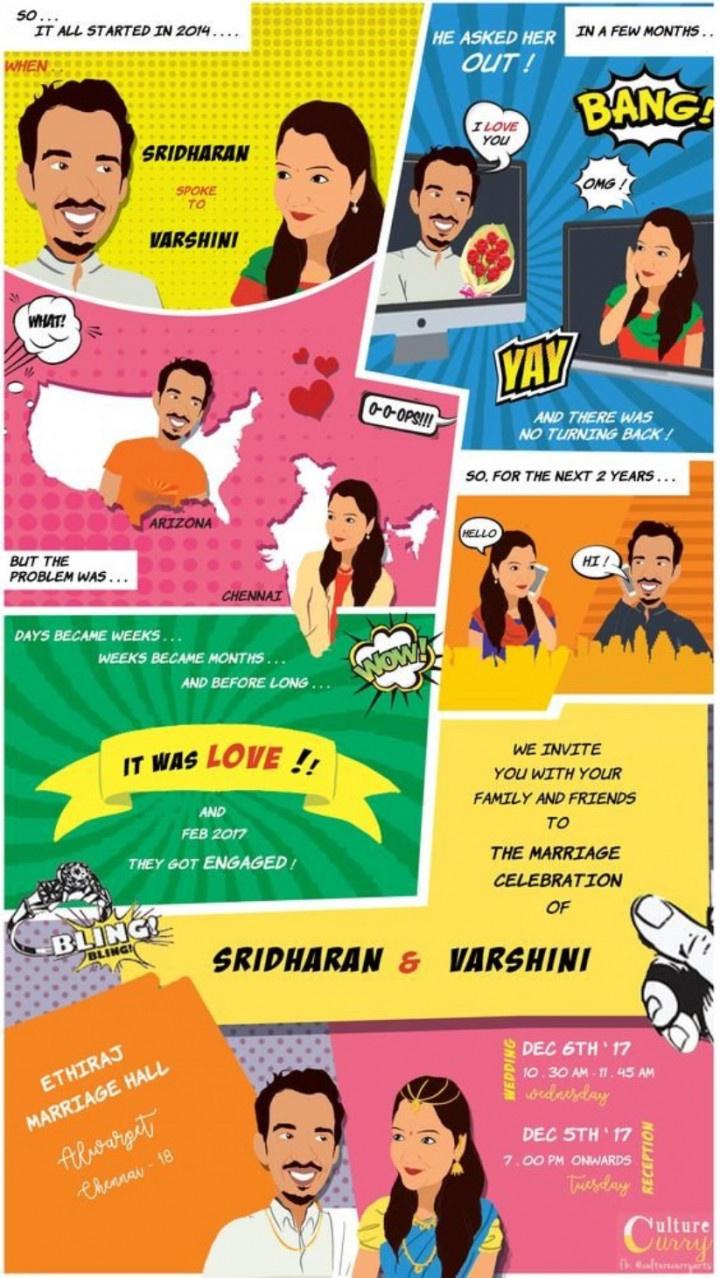 Image Courtesy: Culture Curry
If you or your partner are comic book fans, then pop art invites are just the thing for you. Bring your love for each other together with comic pop art and tell your story as it has never been told before. The fun of choosing digital invitation cards is that they can be as freakish and as weird as possible. It is the celebration of your big day and you are allowed to tell your story just as you like. So let your creative juices flow, sit with your designer and come up with eye-catching typography over your favourite photo caricatures to make your own pop art wedding e-invite.
4. With a Glimpse of Your Tradition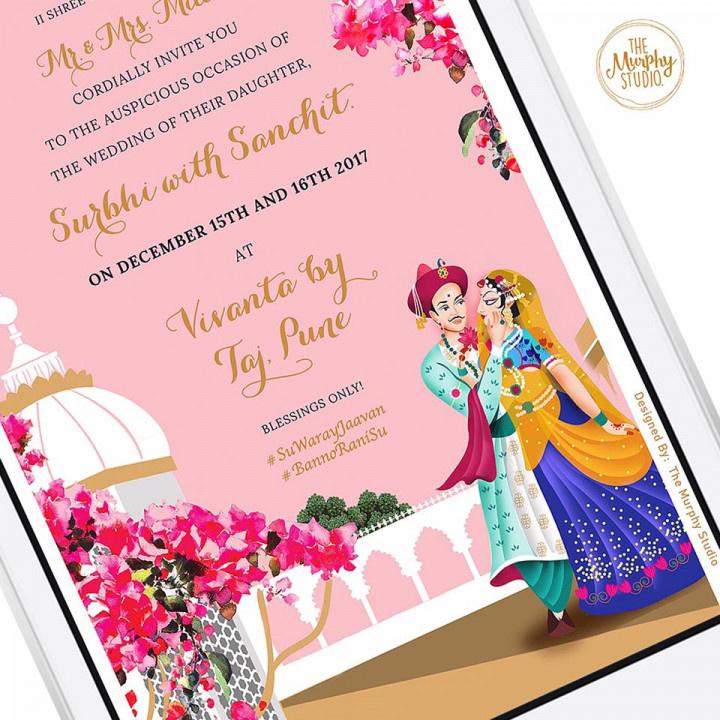 While digital invitation cards are not necessarily your traditional invites, there is no harm in sticking by them. By giving a glimpse of your culture and tradition, you can make the invite more personalised and also add quirks if you want through animations and caricature replicas. Traditional not always mean boring, so have fun and let your e-invite show the fun side of your culture. If you're a couple having an inter-caste marriage, yours could be one hell of a creative digital invitation card. The fusion of cultures is what can make yours one of the most unique e-invites there has ever been.
5. Like a Perfect Date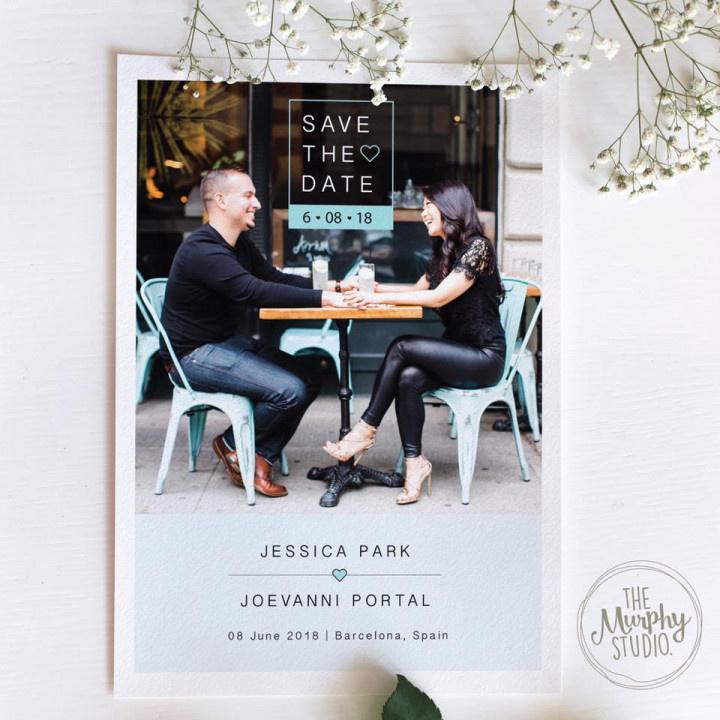 Designing digital invitation cards with personal photo-shoot pictures are another popular way that couples like to go for. While we know pre-wedding photo shoots are extremely common now, what you choose to put on your wedding invitation card defines how creative you can be with it. From super romantic Bollywood poses, to some casual fun clicks there are a wide array of options available for you. We personally loved the idea of picturing the perfect date picture on your e-invite for the big day. It is almost like showing people how it all started and where has it finally reached.
6. With Doodle Sketches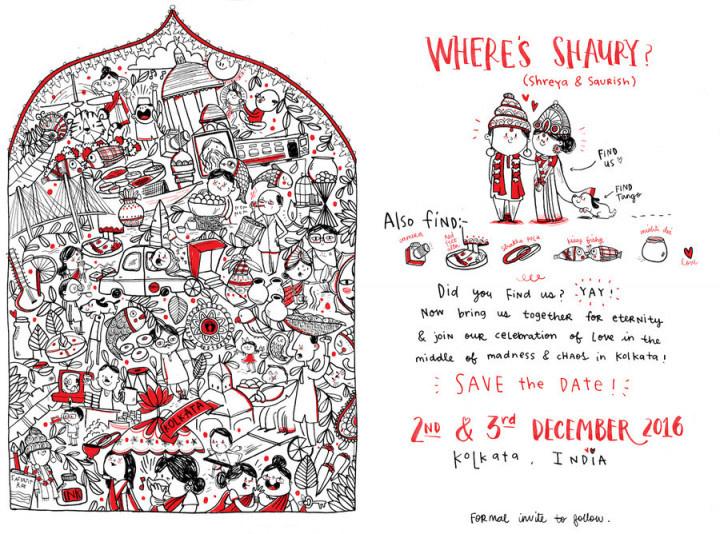 Image Courtesy: Shreya Sen Sagoli
If you're a fan of doodle art and funny sketches, you might love for your digital invitation card to have them. It is a fun way of showcasing details about you and your partner, or your love story. While some couple might find this idea a little casual for a wedding invite, but then that is the benefit that digital invitation cards have. You can go as casual or as formal as you wish and it will still have the same impact.
7. Like Criminals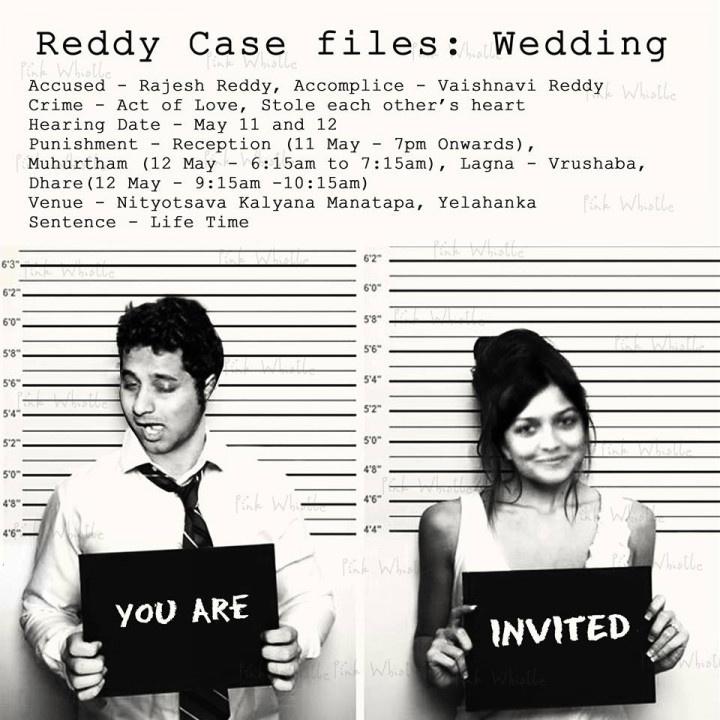 When we talk about digital invitation cards, you know the sky is the limit to how creative, quirky and fun it can be. One of the most unique designs that we came across was one that was shot and designed just like criminals are accused of a crime in jail. Well, what could they be accused of, falling in love? Or even better they were accused of stealing each other's heart and the only punishment for which was a life sentence. Aren't you just blown away by how genius this idea is?
8. For Gen Next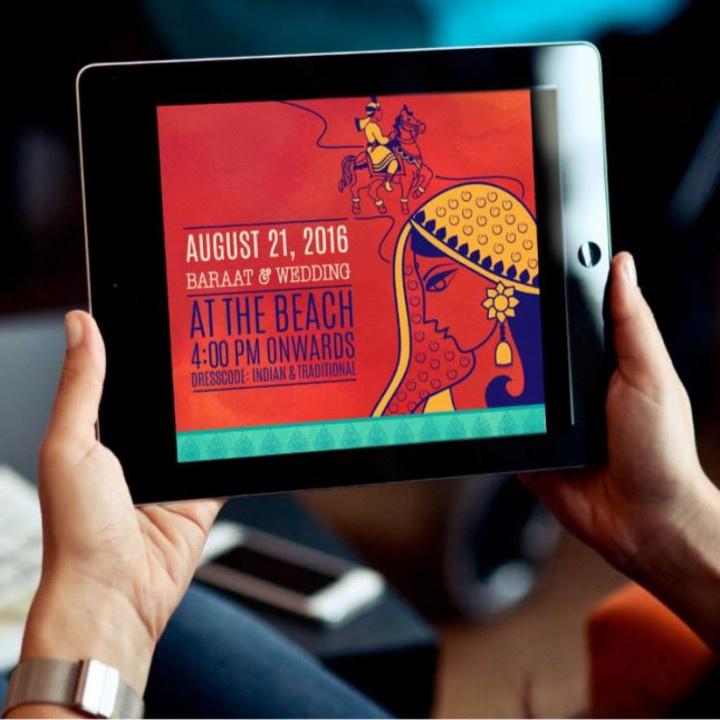 While we've already told you about the various takes and themes that people have had on their digital invitation card design, another idea typically meant for the millennial couple are gen next themed wedding e-invites. This one allows you to showcase an experimental take on your wedding and wedding functions with the help of abstract art. As good as the idea sounds, we are sure that this would be an equally appealing concept visually.
Have we confused you with all these unconventional, off-stage concepts for digital invitation card designs? Well, it is obvious that we'd want you to take a well-informed decision, but it still means you should go for the one that resonates with you and your partner almost immediately. It is a celebration of your love and togetherness and your invitation must only be an extension of who you are as people and what you like.
So put on your thinking caps and choose your pick. Write to us in comments and tell us if we missed out on any other cool ideas.