10 Glitzy Ways to Use Fairy Lights in Your Wedding Decoration
Learn how to incorporate every wedding decorator's favourite accessory into your special day. And see how your any of your nighttime or indoor ceremonies shine with these ephemeral fairy lights.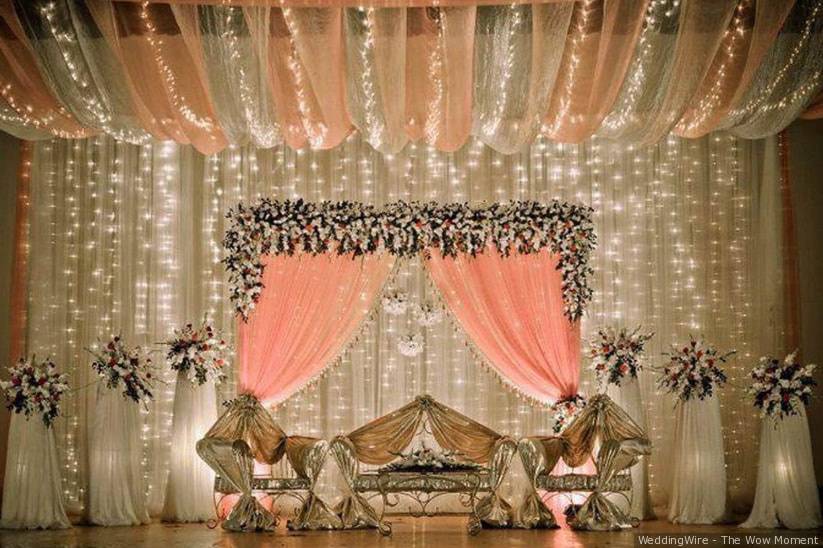 Every wedding décor company comes with its own set of themes and ideas but there's one accessory that's common to all of them – fairy lights. There's no setting that can't be made better by using the right type of fairy lights and that's a fact that both wedding photographers and decorators agree on.
In the last few wedding seasons, we've seen some great pictures to support our love for fairy lights. Here we have compiled them to make the ultimate fairy lights-based inspiration post. Take a look and bookmark ideas for your wedding. So, don't waste even a single second thinking of this decor idea will be good for your function, because there is no such thing as 'too many fairy lights'.
1. Make a backdrop of fairy lights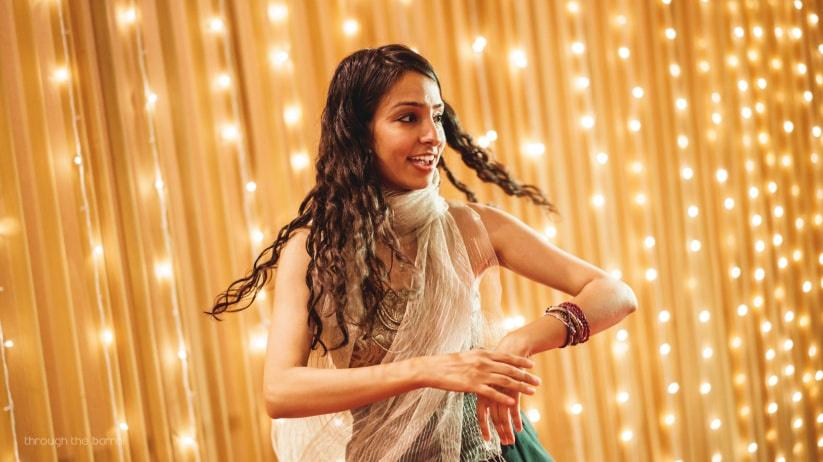 For your sangeet performance, skip the LED screen and dance in front of a fairy-lit backdrop instead. Both your photographer and your dancer friends will thank you for this decision because the resulting pictures will be as great as the one above.
The lit up backdrop will add a much-needed sparkle to your wedding photography. You can even have a fairy lights-lit stage decoration at your wedding using the colours from drapes surrounding them. It would be simple yet festive-looking without having to do too much brainstorming.
2. Make looking-up mandatory with the perfect canopy roof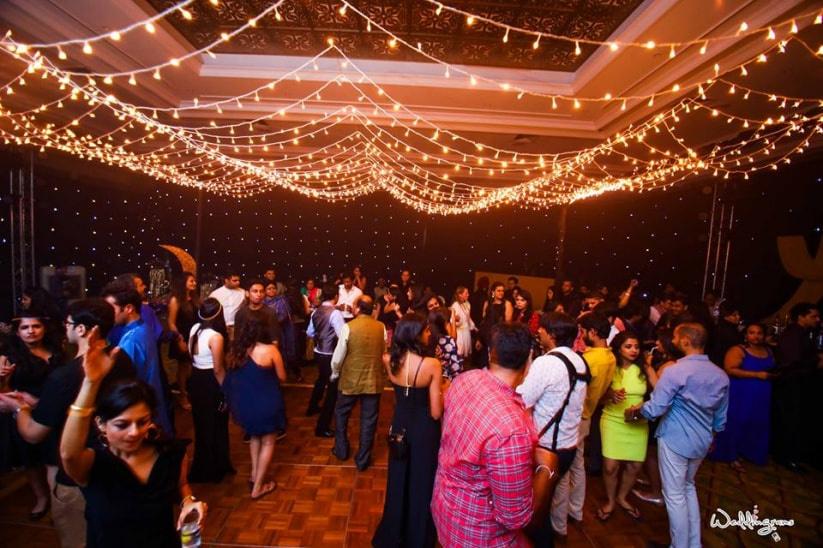 A canopy roof is a great addition to all wedding venues, both indoors and outdoors. They add just enough light to an event and don't get your guests sweating, unlike the more commonly used halogen lights. You can also turn into a night-under-the-stars, by switching off the main lights, especially for your couple dance.
3. Put up a swing, festooned with lights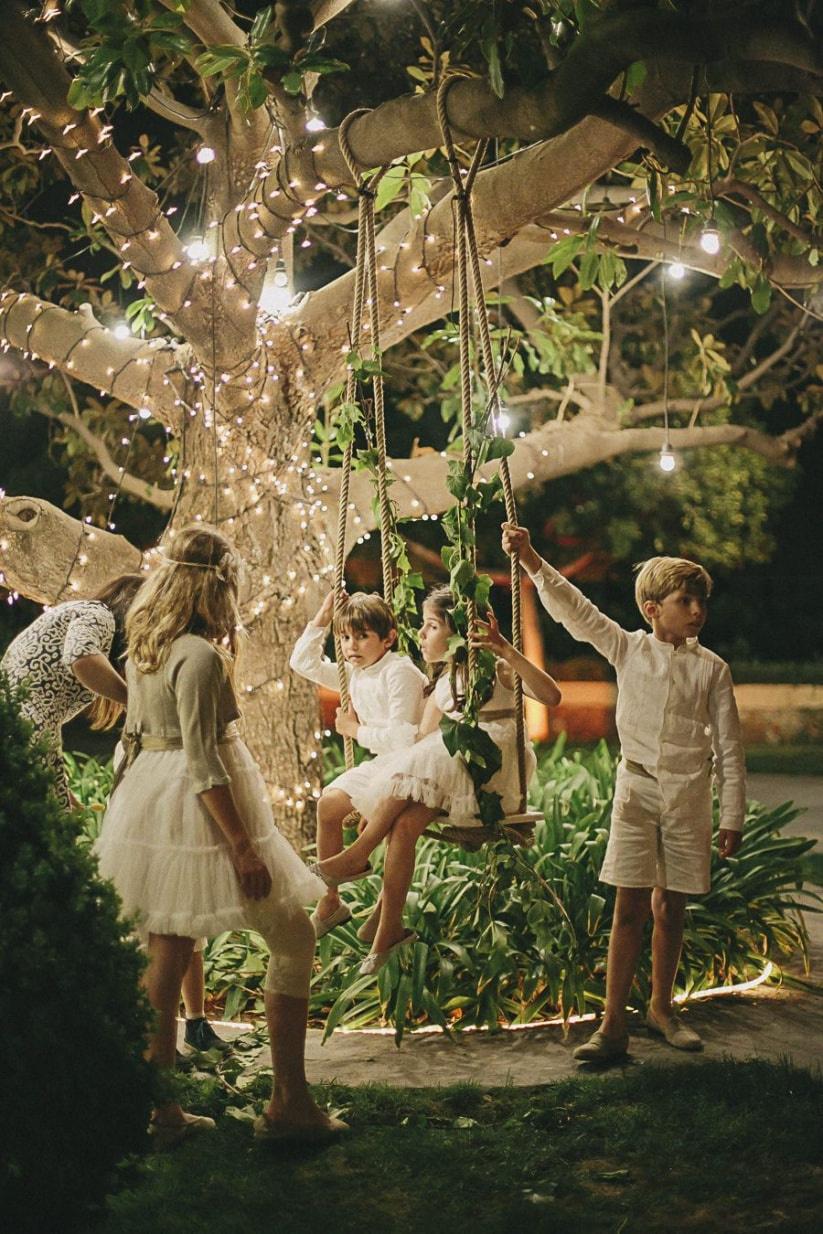 Image Courtesy: Deer Pearl Flowers on Pinterest
Add a cosy fairy-lit corner to your wedding venue and watch it make it to every guests' Instagram feeds the next day. For example, you can try this corner swing idea at your wedding and festoon it with festive fairy lights. Whether it's monopolised by children or by your wedding guests, it will surely be a lit experience for everyone.
4. Dine under a sky full of stars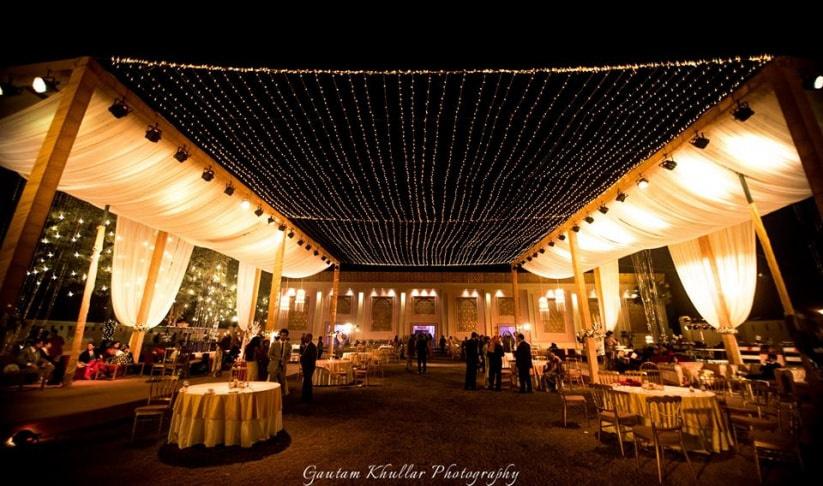 You can even use fairy lights as a lit roof or awning to add focus to the dining zone. Create a taut canopy, or let them flow with the awning, to add subtle sophistication at minimal expense to your party.
They work well with every colour scheme and add a royal touch to the most important aspect of every Indian wedding, the wedding food!
5. A jar full of fairy lights to brighten your evenings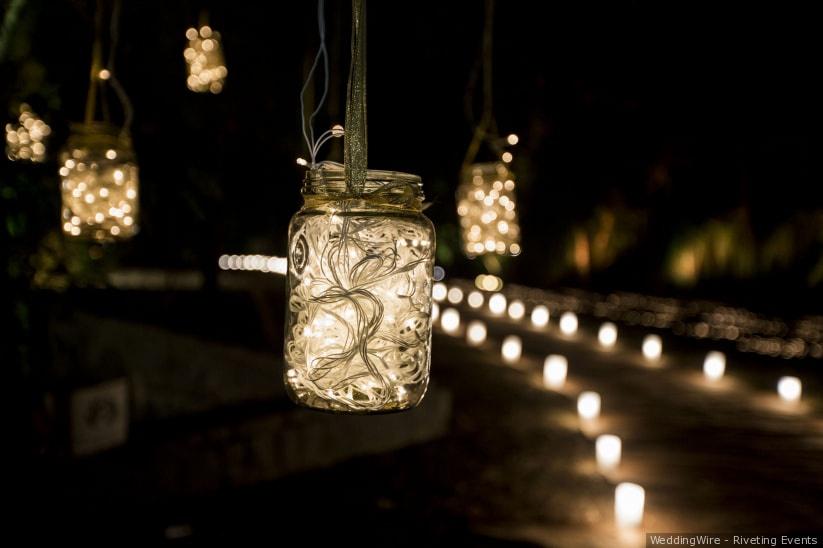 Sometimes, little details like used mason jars and fairy lights can make all the difference. Consider this option for your wedding decoration - hang mason jars around your venue, filled to the brim with fairy lights.
These inexpensive lights create a focal point for your guests to wonder at, or light the way ahead to your festivities. You can also decorate birdcages in a similar manner and place them around the venue.
6. Light up Your Dining Delights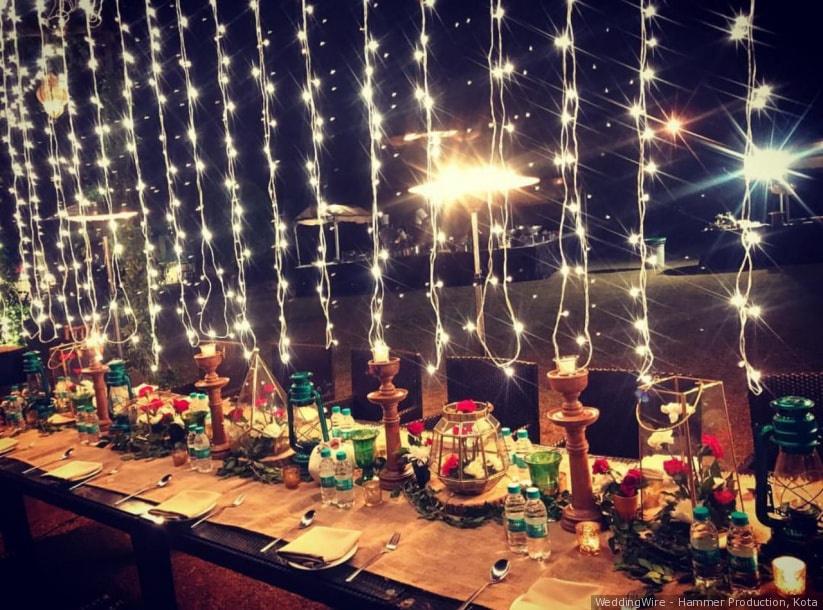 Here is a rustic touch to lighting up your dining table with fairy lights. While the lanterns and lamps and candle holders add as rustic talking points for the first family's dining delight, the stings of fairy lights hanging from the top are more than enough to highlight your delectable wedding feast.
If the seating arrangement works in favour, try and implement a subtle, smaller, variation of this for all of your other guest tables too.
7. Create arched gateways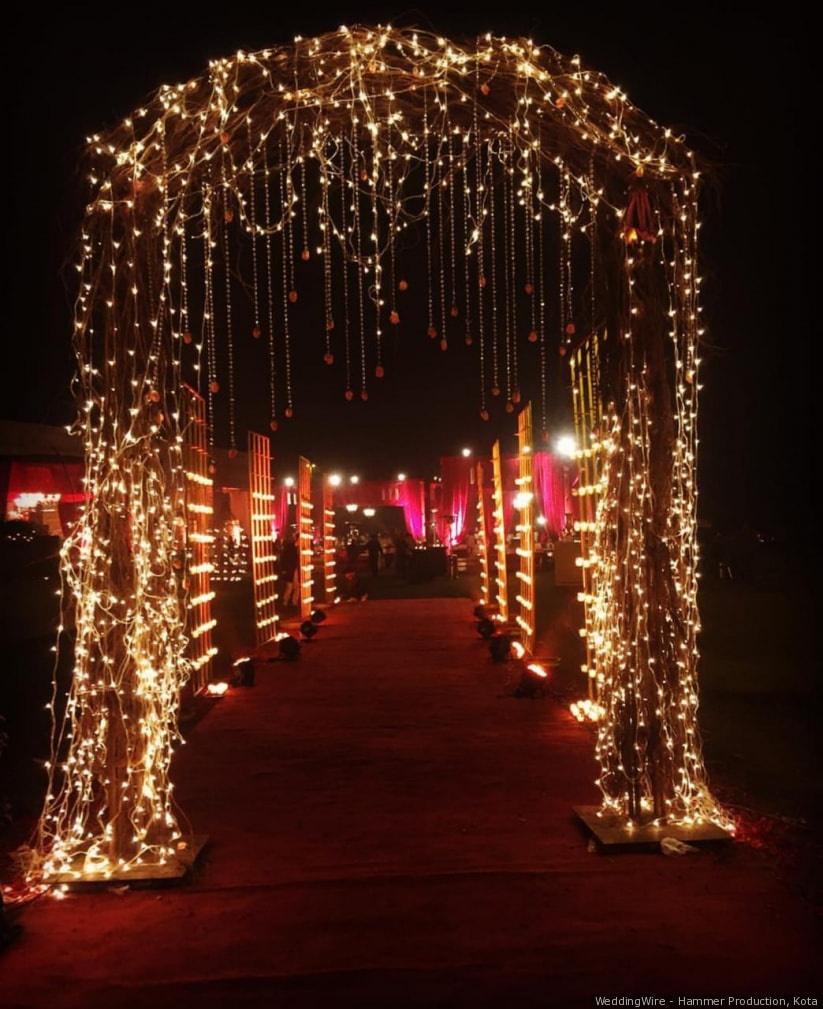 Whether it's for all and sundry, or just your own bridal (and groom) entry, a walk under a magnificently, lit archway will be one for the photo album. It would also translate to hundreds of cool selfies!
Get your archway by simply draping fairy lights on a large enough frame. You could also add details like bridal Kalire, ribbons, festooned hearts, roses or even mirror-work hangings to make it oh, so dramatic!
8. Create lit-up photobooth experiences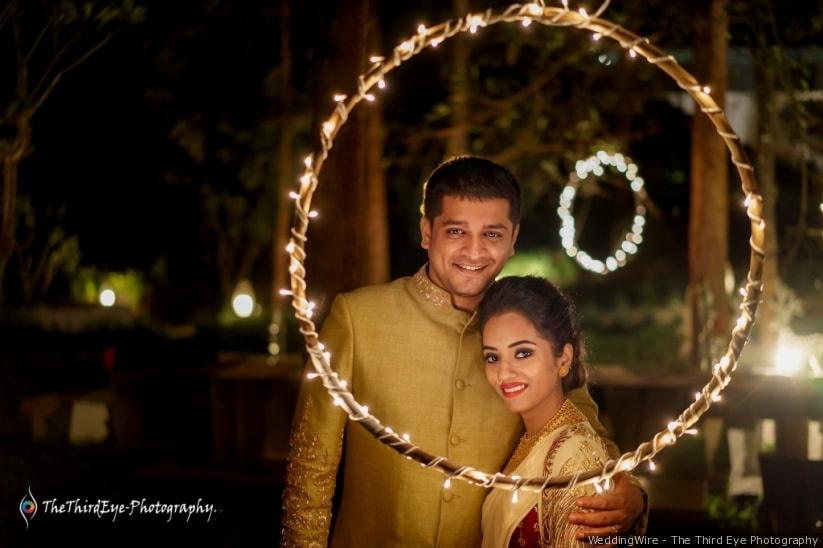 Wedding photobooths are now a part of nearly every Shaadi experience. But, can you imagine pulling a minimalistic, yet gorgeous one with just a string of fairy lights? Take this example as your cue, where the bride and groom took a lit couple photo with a simple, hanging frame.
You can set up more than one such point so that your guests can be in for a treat in whichever corner they choose. Even wreaths adorned with fairy lights can be used in a similar manner to serve as the backdrop of your engagement seating at an open venue.
9. Light up the greens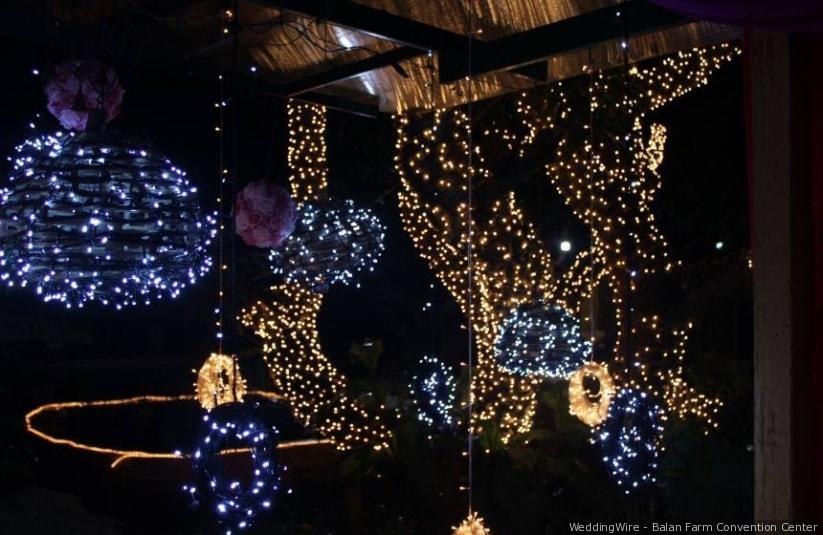 Add points for the topiary at your outdoor wedding venue, by adding subtle fairy lights around the trees and shrubs. You could pile up your extra chords and put them up as hangings, as they did with their blue strings here.
Try this idea in either your wedding theme colours or go wild with a colourful display. Both will add a lot of sparkle to your wedding day.
10. Whimsical Mandap decor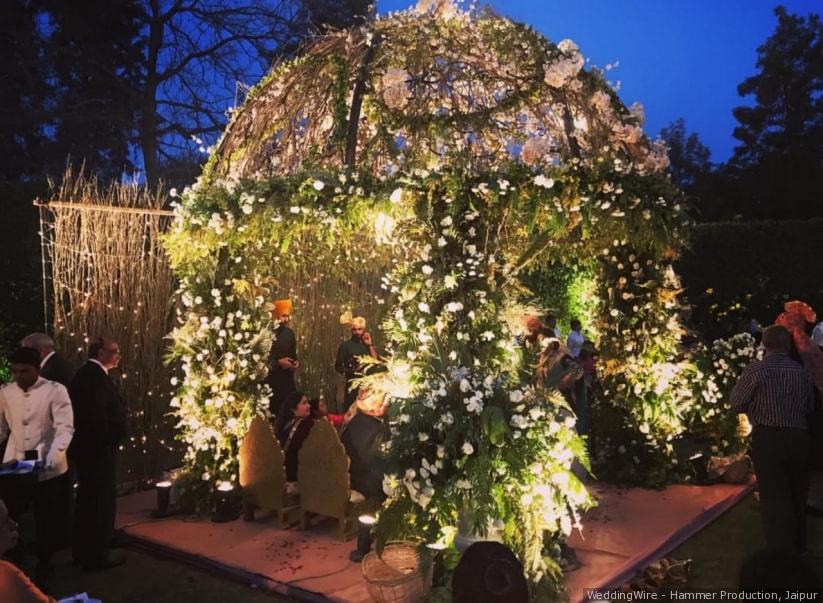 How do you bring a gorgeous rustic Mandap to life? With fairy lights, of course! Take inspiration from this dome-shaped Mandap glorified with ferns and white flowers. Without the lights, the Mandap would look good only during the day. Addition of fairy lights is what makes it whimsical, perfect for your fairytale. You can even add a chandelier as a central piece if it is an open venue. Such a design would suit a beach wedding.
One of the biggest advantages you have with fairy lights is that it can suit whichever theme colours you have finalised. All you have to do is get coloured fairy lights and you're all set. This would greatly reduce your expenditure on fancy decor to highlight the colours of your wedding theme. If you cannot procure coloured fairy lights, get drapes according to your colour scheme or flowers. The combination will reflect your desired colour and make the place look on-so-pretty!. Save this link for your planning process and create the most camera-friendly backdrop during your wedding celebrations.
Now, find a wedding decoration expert who can implement these ideas for you.