20 Dreamy and Larger Than Life Pre-wedding Photoshoot Props You Need Before Your Photoshoot
Do you want your pre-wedding photoshoot to be creative, unique, and fun? We have made your life simple by collating a list of pre-wedding photoshoot props that are offbeat and quirky.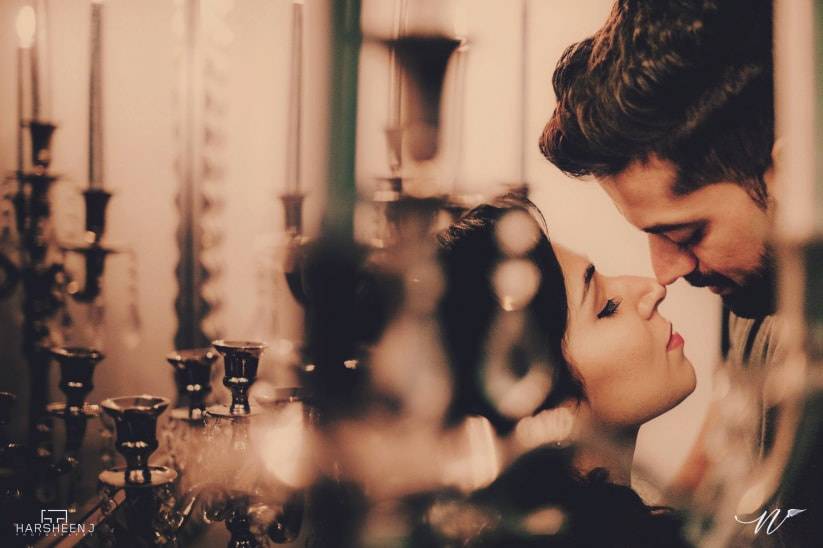 We all wish for some filmy romance and we hope that our wedding stories become the next best thing. That's also why more and more couples decide to capture their stories with a pre-wedding photoshoot. These pictures are as important as photographs from any other wedding ceremony. They also lead to a set of cherished memories, not just on the page but also in the story behind how they were clicked.
After looking at some of the inspirational photoshoots, Indian pre-wedding shoots and even unique pre-wedding photoshoot ideas, we now explore how to recreate the spectacular pre-wedding ideas - all with the help of just the right pre-wedding photoshoot props.
The right pre-wedding photoshoot props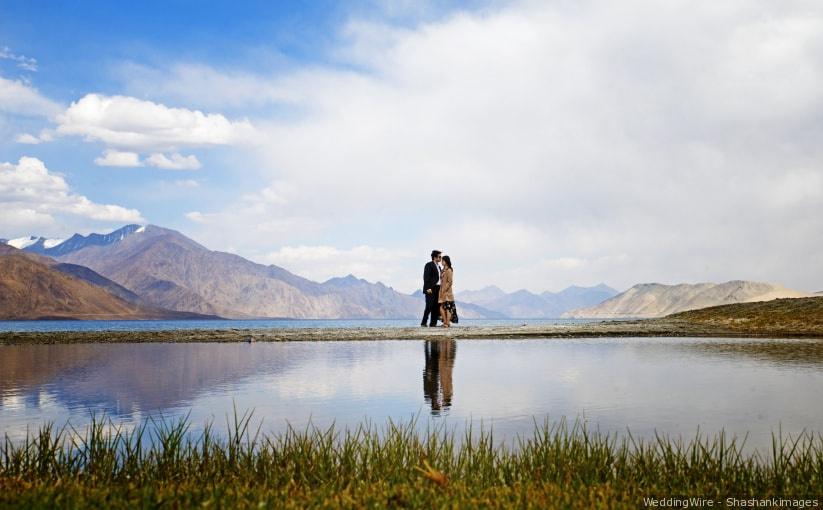 A pre-wedding shoot is different from any other set of wedding images, as this is a story that you create, to depict how the two of you came together. It's scripted and planned for effect. And just like any Bollywood film, it has everything laid out for it - outfits, location, concept and photography effects. And then, there are small pieces that bring it together. These are pre-wedding photoshoot props.
Props include all objects, locations and concepts which help you underline what you're trying to showcase in your story. They could be a simple call out cards or complex concepts. Choosing the right set of pre-wedding photoshoot props means delving into your concept and seeing what will visually highlight the thought you have in your mind. Here, you can rely on your wedding photographer (though choosing the right one is a completely different debate altogether).
Your props will ensure picture perfect pre-wedding photos. And these are a keeper - versatile in nature, they can be used for 'Save the Date' invites, wedding posters or post-wedding keepsakes.
Here we explore some iconic pre-wedding photoshoot props, their filmy connection and how they can add to your own story.
1. Bicycles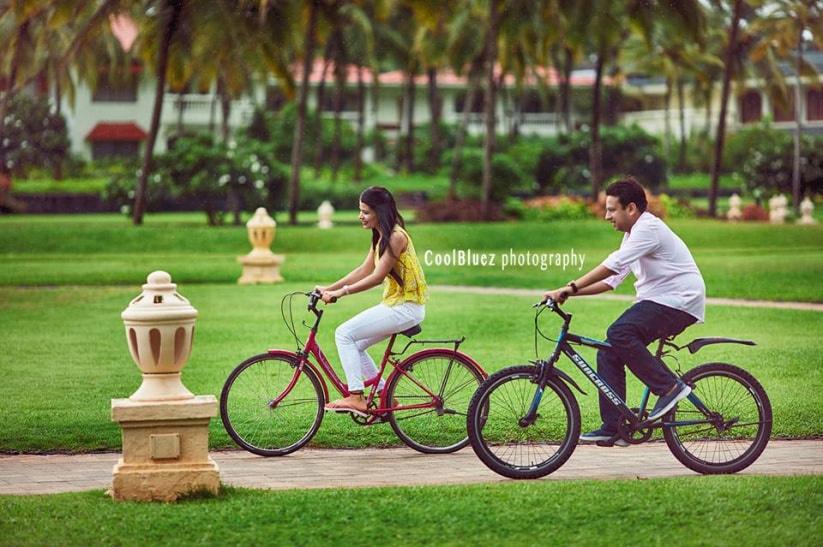 If you love to ride bikes and love being outdoors, this is the perfect prop for you. You guys can either ride individual bikes or share a bike, inspired by Bollywood.
2. Billiards Table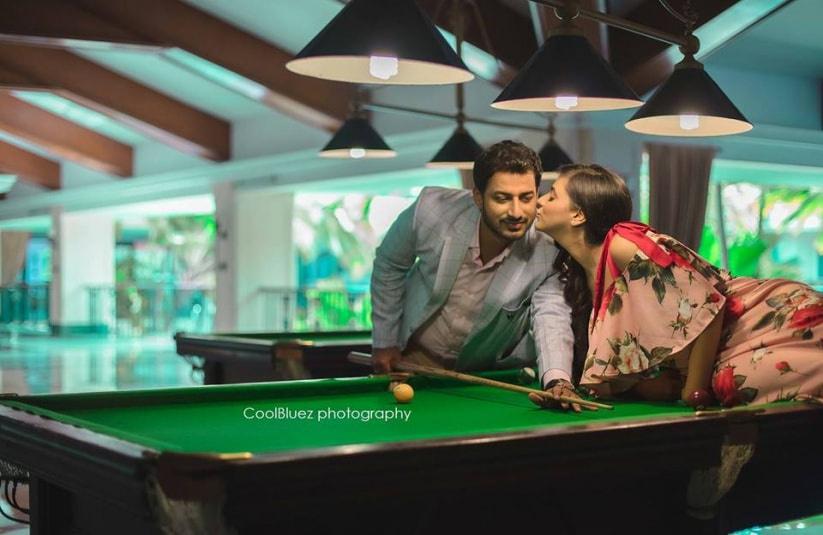 If you wish to get experimental, try getting shot near a billiards table, standing next to it, while playing, lying on top of the table – whatever angle works best.
3. Colour Bombs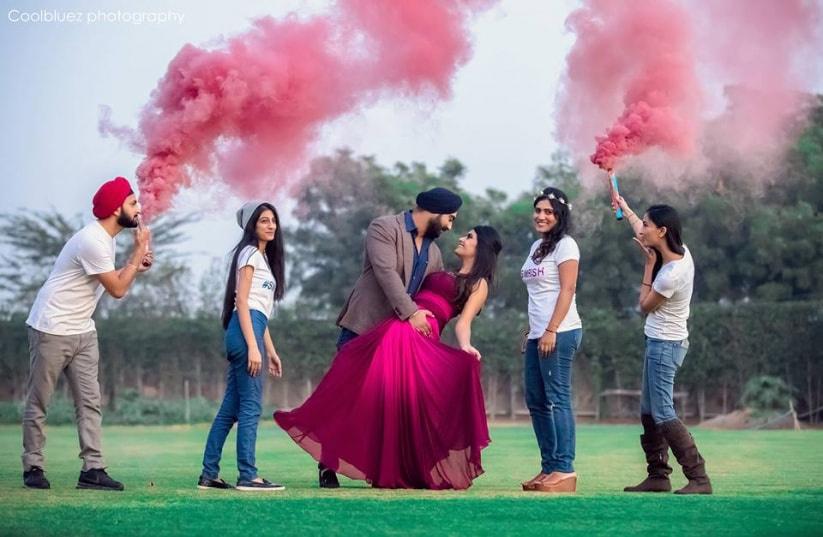 Colour bombs make the photographs look highly vibrant and full of life. Discuss the various possibilities of including colour bombs in your photoshoot.
4. Dupatta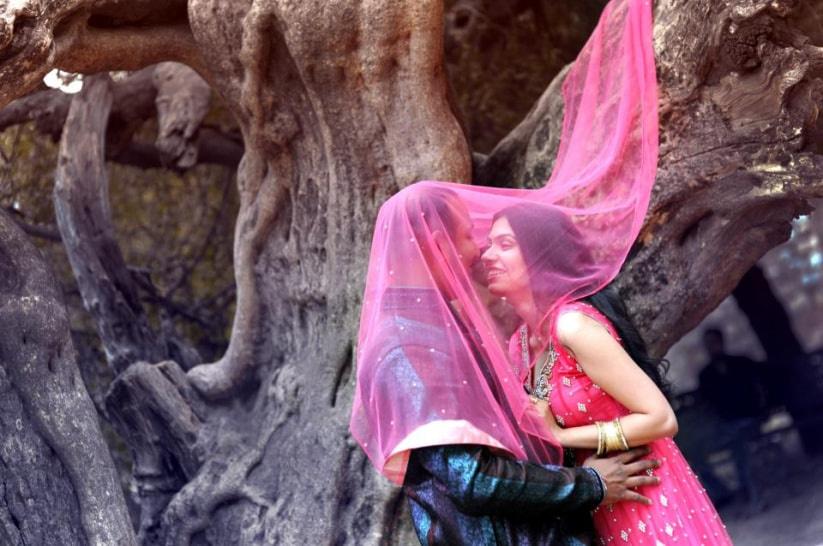 Well, this prop is a clichéd one, but is so sensual! Let it become your wings, or let it be your personal space to hide from the world. Get creative with this pre-wedding photoshoot props.
5. Flags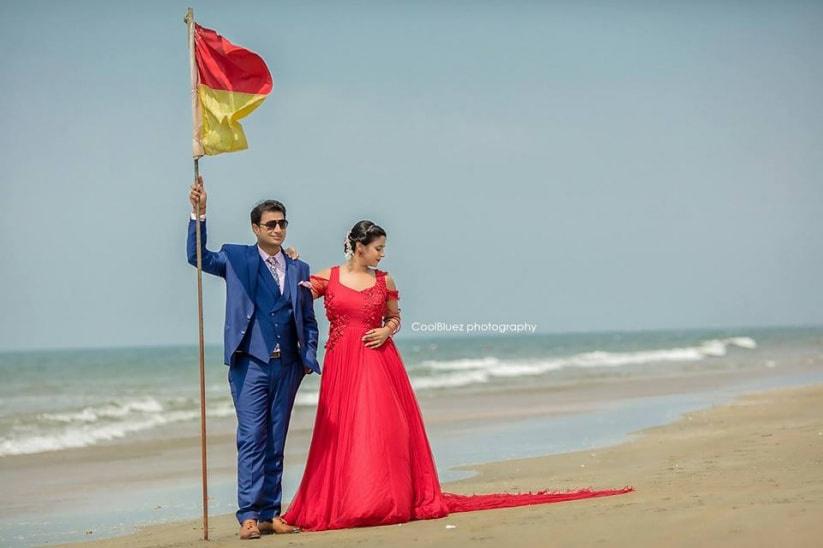 Well, we don't mean the national flag – you don't have to get patriotic here. But if you're having a photoshoot near the beach and spot a flag, you could pose around it and use it as a fabulous prop.
6. Placards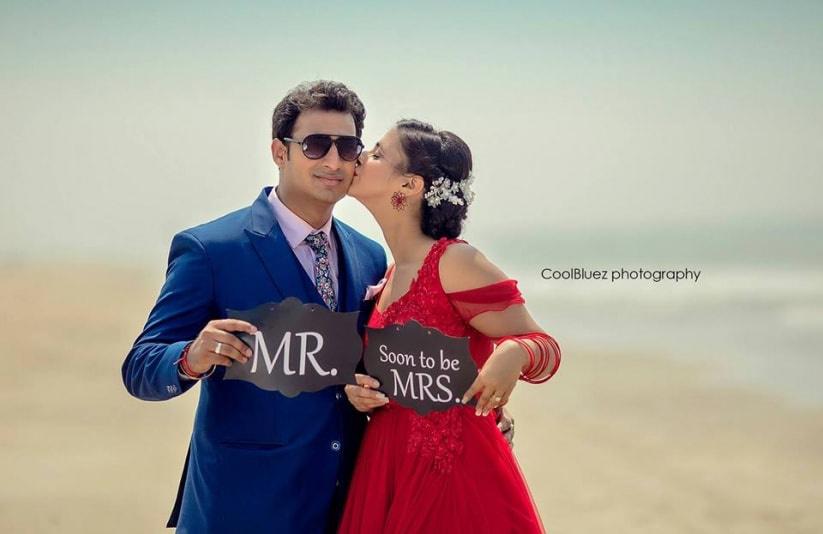 Using printed placards is also an idea that's done a lot, but if they're included in the right way, they can really oomph up an image.
7. Scrabble letters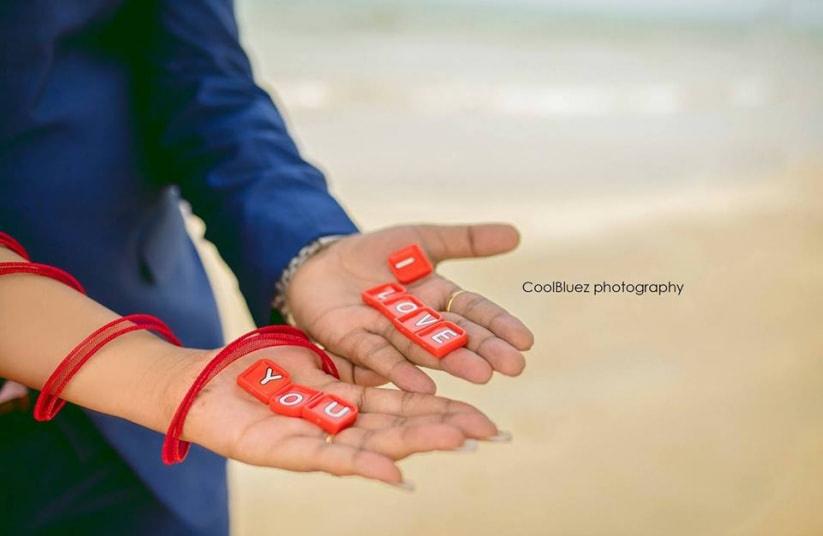 If you love playing scrabble, this prop is for you. Even if you don't like the game, you can still use the letters to spell out magical words like 'love' 'forever' or 'together' and see the magic happen.
8. Sports Bike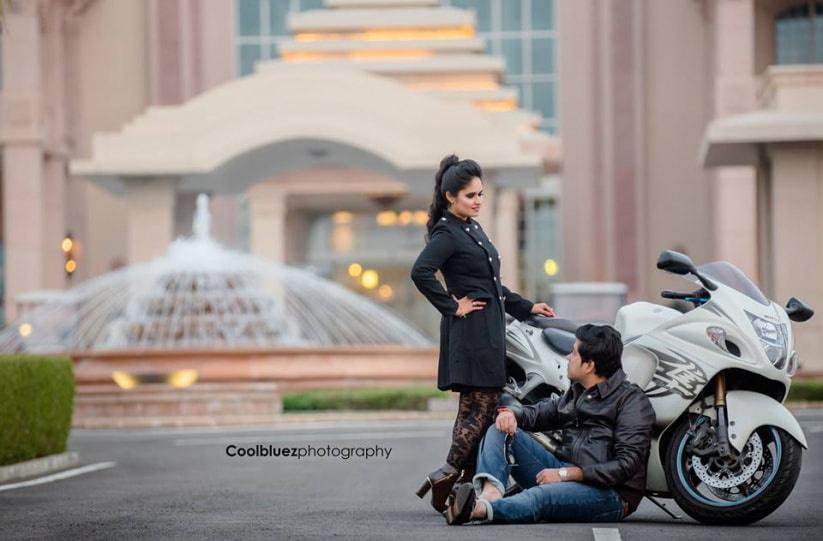 If you or your partner loves bikes, speed or adventure, you must include this prop in your photoshoot. Discuss with your photographer on how you can include this beast.
9. Swings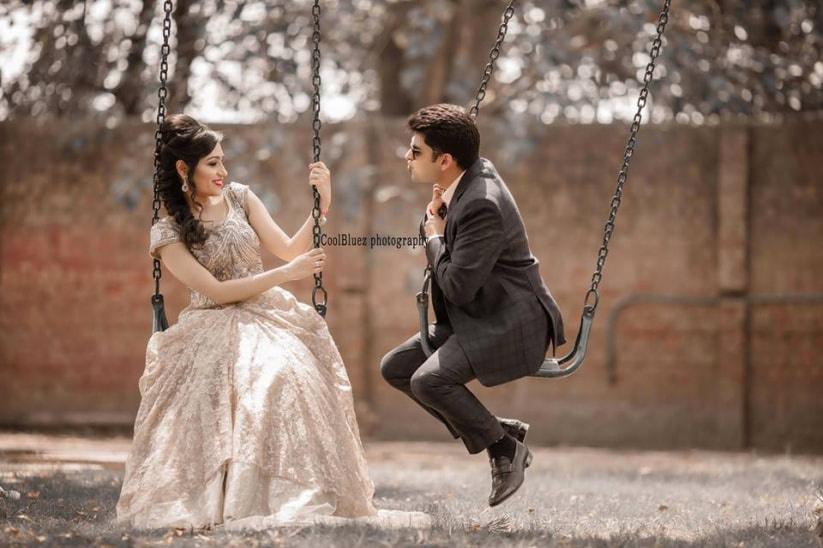 Ask your photographer to capture vulnerable childish moments with your better half, while on the swings. Swings can be one of the most fun pre-wedding photoshoot props.
10. Tea Time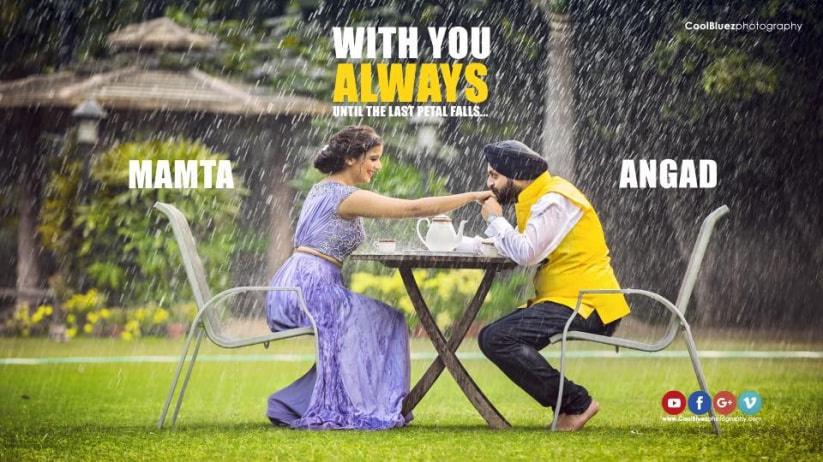 Are you guys Chai lovers? Maybe it's time you capture your love for the perfect cup of tea, while posing with your cuppa!
11. Tiffin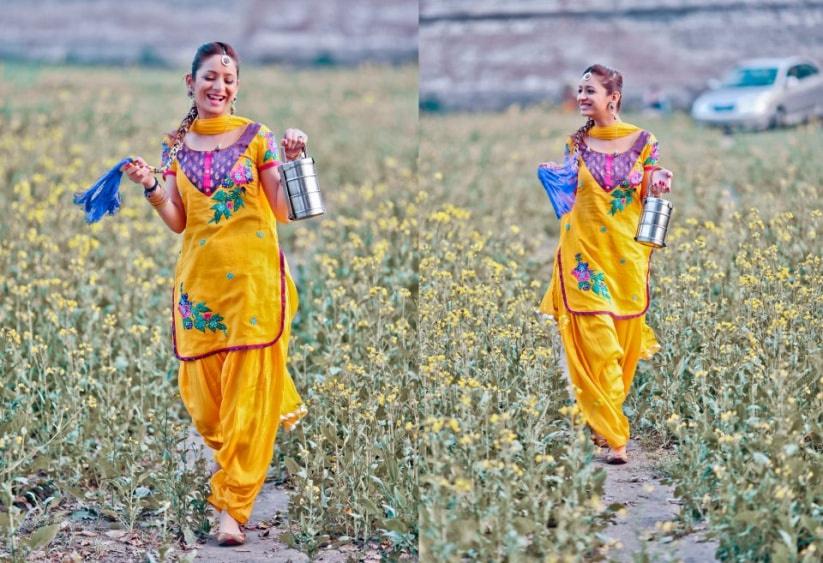 Remember how old Bollywood movies showed a wife carrying a 'Dabba' to the farm where her husband worked? You can pose with a steel tiffin dabba in a farm too, while wearing a traditional Punjabi suit.
12. Train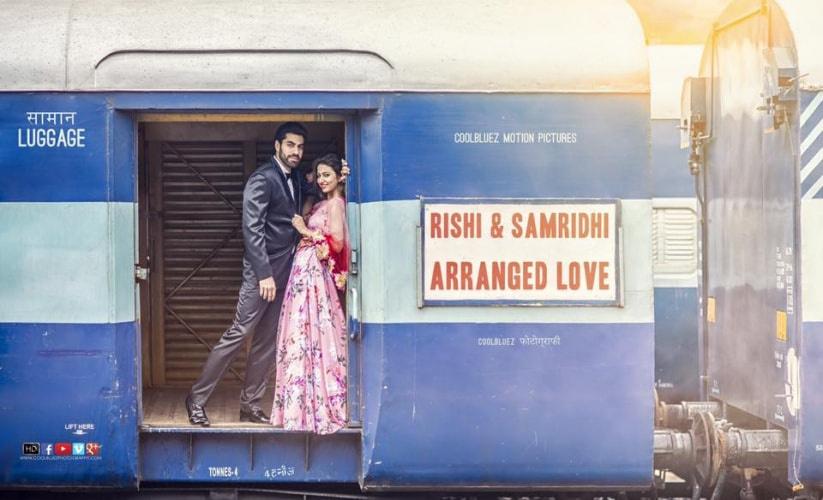 You can recreate the icon Dilwale Dulhaniya Le Jayenge train scene or just pose on a train carriage. Some outdoor locations always complement the pictures. You can ask your photographer to freeze such iconic moment in your photos.
13. Champagne or Wine Bottle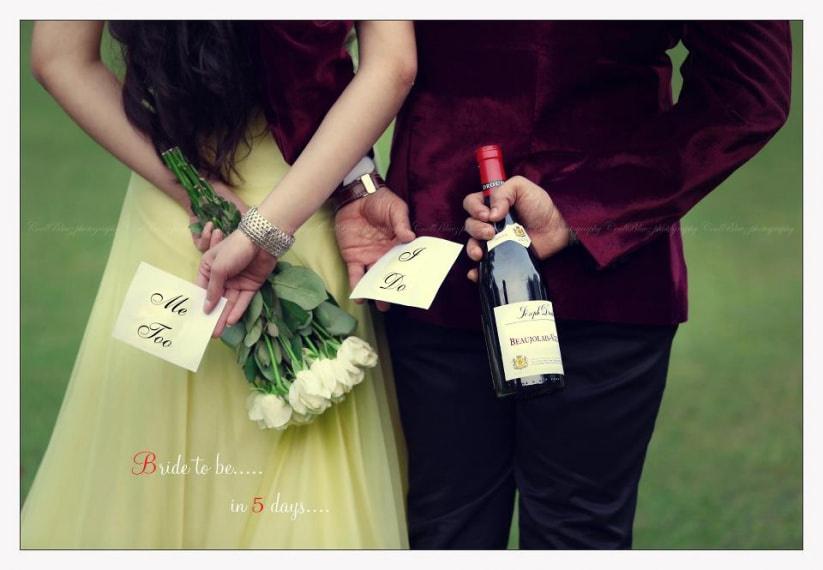 It's time to pop open a bubbly! You can include a bottle of Champagne, pose while popping it open or drinking it from each other's hand. Another option would be to include a bottle of wine. There's so much that can be done in terms of getting creative. Check with your photographer.
14. Vintage Car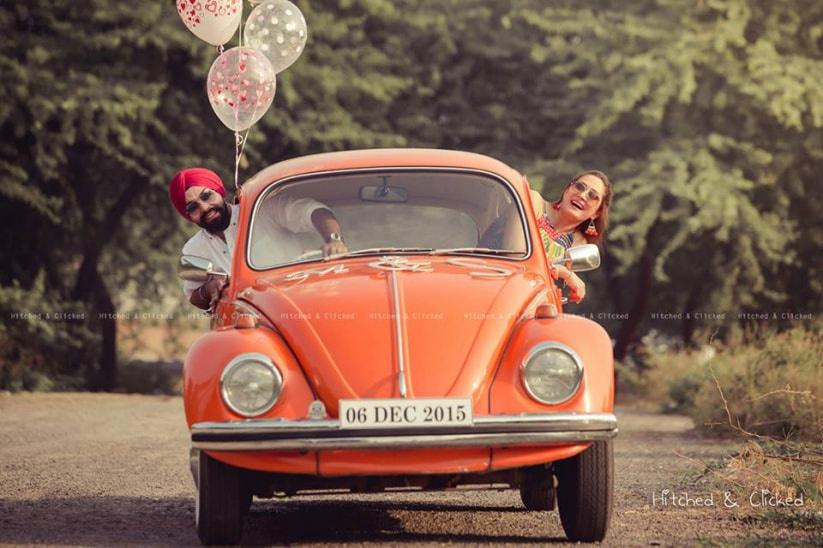 To add a little more character to your pre-wedding photoshoot, you can try incorporating a vintage car in your shoot. It gives an extremely royal feel to the images.
15. White Horses/Domestic Animals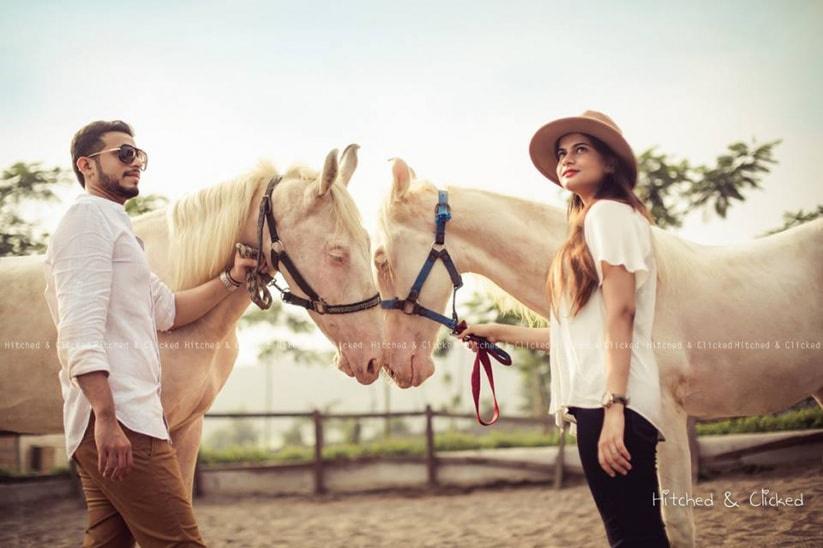 There's something calm and serene about shooting with animals, especially your pets. Pets can be the best pre-wedding photoshoot props.
16. Confetti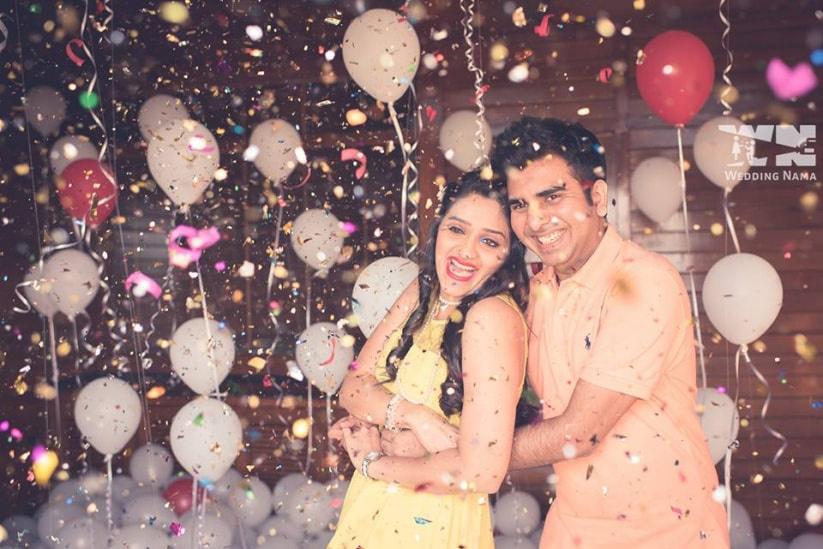 Confetti and balloons are not just for kids. Colourful shiny confetti adds a lot of drama to a photoshoot. You can check with your photographer on the best way to include this.
17. Rose Petals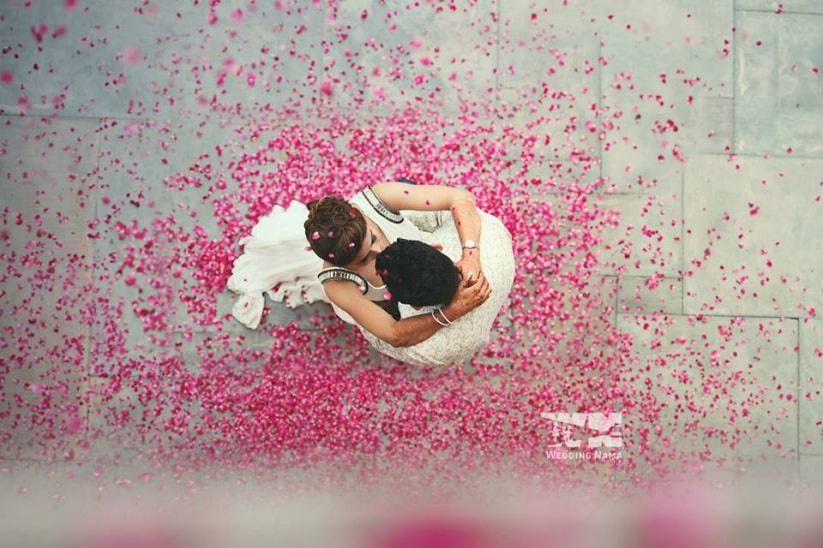 Flowers are fresh, roses are romantic, and rose petals should be a must for all Indian couple's photographs! They are one of the most versatile props you can use for your pre-wedding shoot.
18. Underwater/Swimming Pool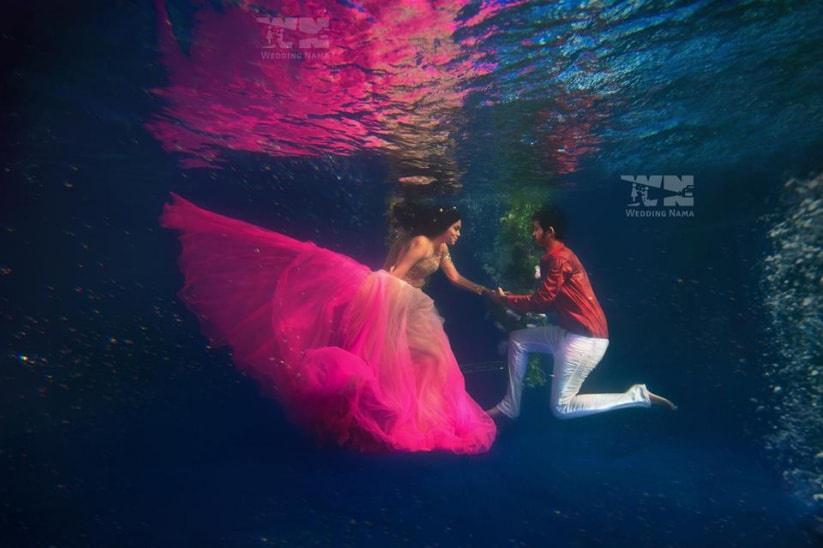 If you're up for some adventurous and experiment, then you can go underwater for a pre-wedding photoshoot. It's also a great choice if you're not in close proximity to the beach.
19. Umbrella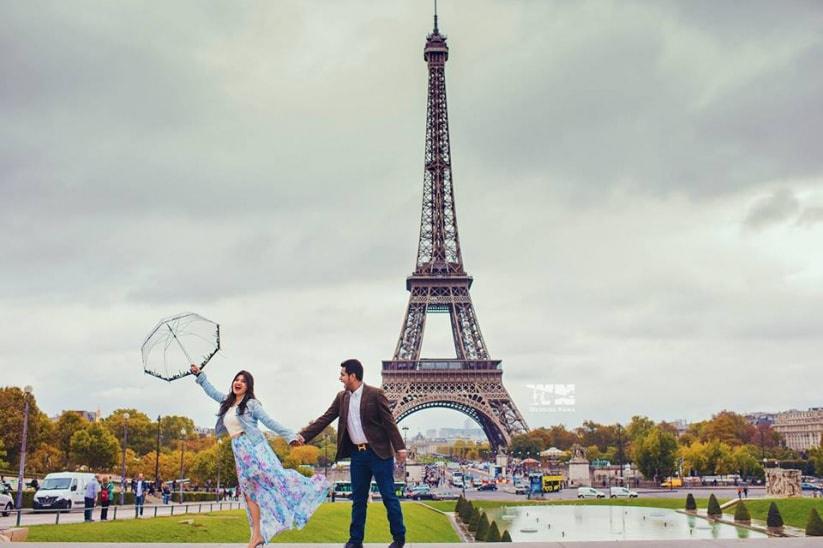 An umbrella is a great prop to make use of. Never mind if you don't have those fancy designer colourful umbrellas. Check with your photographer what would work. Ideally any normal one would do, except black.
20. Playing cards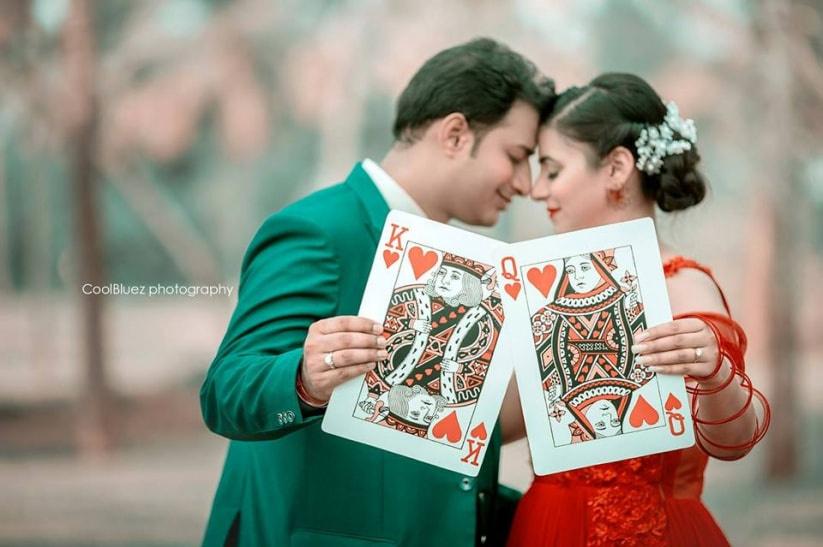 Well, this is interesting. Playing cards is a unique prop that can be used (King and Queen) to display the classic personalities of a couple.
So, we hope you are feeling pumped up to curate a collection of pre-wedding photoshoot props to breathe love, life and romance into the most fruitful photoshoot of your life! So, go ahead and start searching the markets, now!
So, what are you waiting for? Get a photographer, use some of these pre-wedding photoshoot props and share your images with us! You might get featured on your website.