Indian Pre-wedding Photoshoot Ideas - the Story of Pure Romance
Get candid and creative with your Indian pre-wedding photoshoot ideas for a stunning wedding album. Cherish your wedding memories with some of the most precious moments of your life.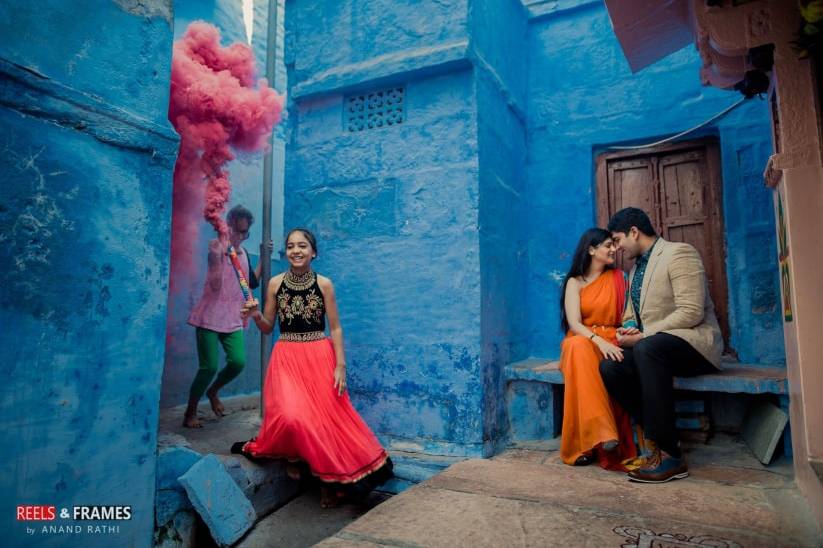 Imagine being the star in a film based on your own love story...isn't that every couple's fantasy? Ever since the concept of pre-wedding photography has caught on, couples are going all out with smashing Indian pre-wedding photoshoot ideas. Beach, Bollywood, quirky, fun props, underwater - wedding photographers are capturing candid moments of couples in the most innovative and bizarre ways. Based on different wedding themes, personalities of the couple, their story, budget and tastes, it's unbelievable how much wedding photographers can do with how little.
We have selected some of the top-notch photographers' works for you to see. Dig in to explore some mind-blowing Indian pre-wedding photoshoot ideas that worked wonders:
In Nature's Lap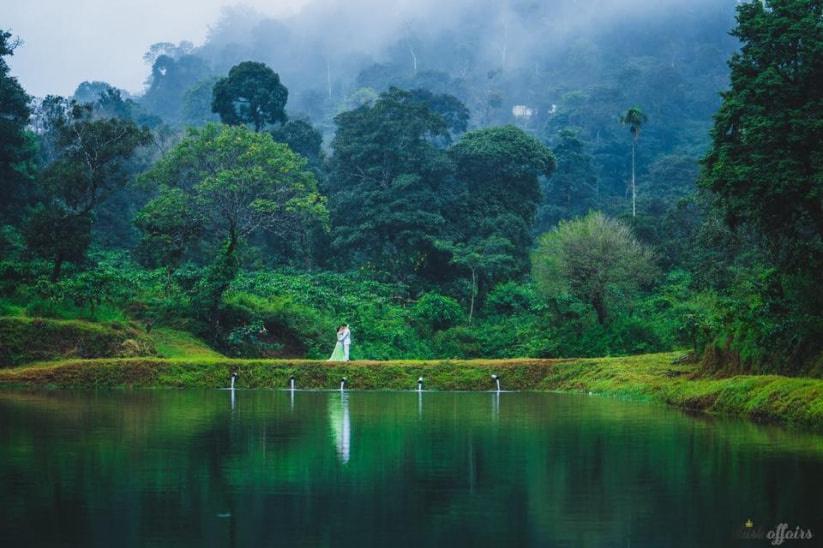 Away from the bustling city crowds, get in Mother Nature's lap for an exotic pre-wedding photoshoot. Speak to your designer for some glorious outfits to go with the picturesque backdrops. Here are some Indian pre-wedding photoshoot ideas with a dash of nature:
1. Beach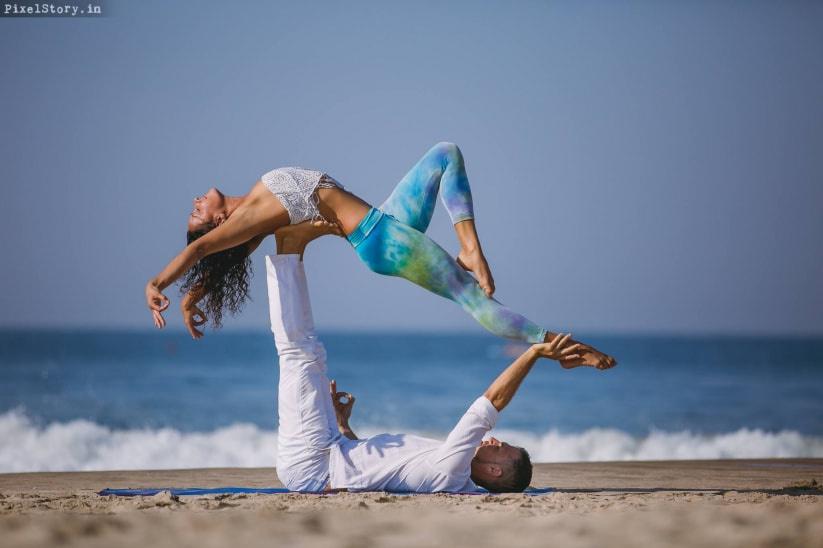 The beach is always a popular choice for romantic pre-wedding photoshoots. Walk on the beach together or raise a toast to your upcoming journey. However, this couple decided to take it up a notch by posing in a fantabulous yoga pose by the deep blue sea. If you are also a yoga fan, you can follow suit and get clicked in a similar fashion.
2. Mountains and Snow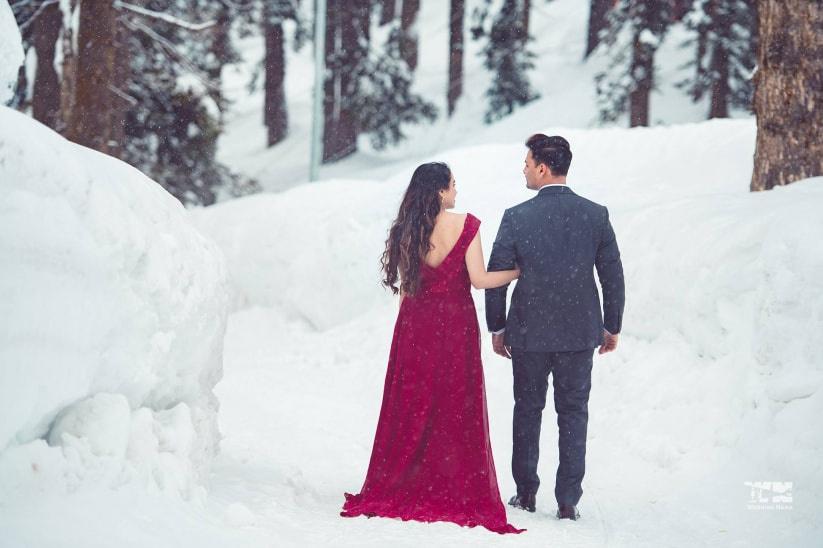 Couples also opt for a destination pre-wedding shoot for achieving supreme results. Cuddle in the gorgeous valleys of Kashmir or pose in bright coloured outfits amidst the white snow...give your wedding photographer the opportunity of a lifetime! Rest assured that your pictures will come out to be phenomenal.
3. Forest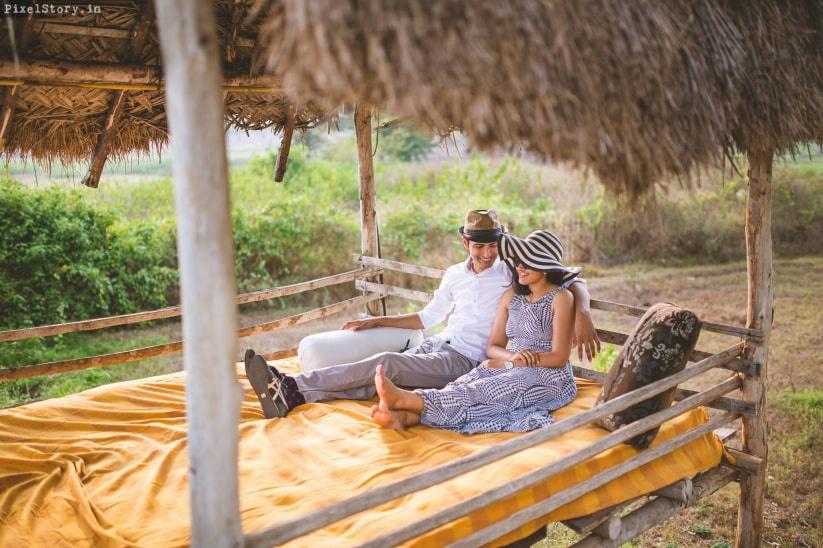 Paint yourselves green! Get lost in the woods with streaming creeks and fresh breeze. Or maybe get some cosy shots while strolling through a vineyard. This is one of the most easily doable Indian pre-wedding photoshoot ideas. If you live anywhere near the Himalayas, getting such great-looking pictures would be even simpler.
4. Desert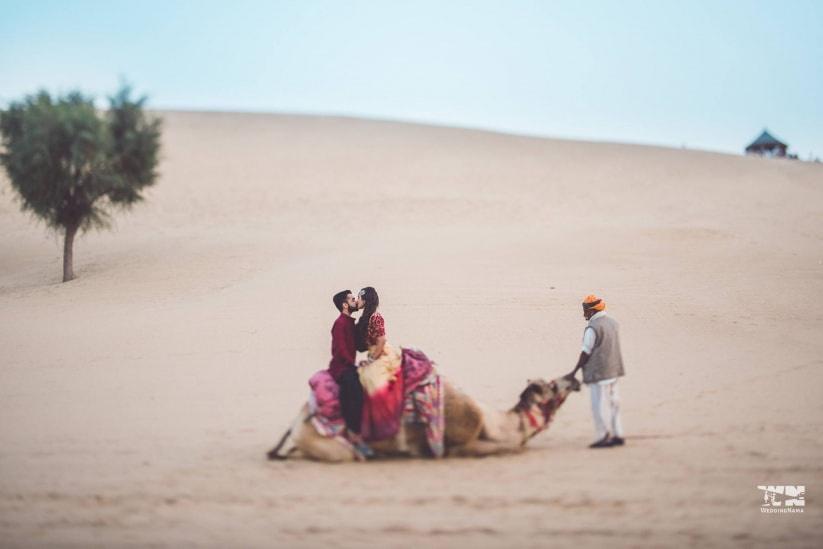 Colour your pre-wedding shoot photos with the vibrancy of Rajasthan. Pose amid sand dunes and camels sporting bright contrasting outfits. Or why not go to Rann of Kutchh and get the pristine backdrop of the white sand desert in your pre-wedding pictures.
5. Backwaters and Lakes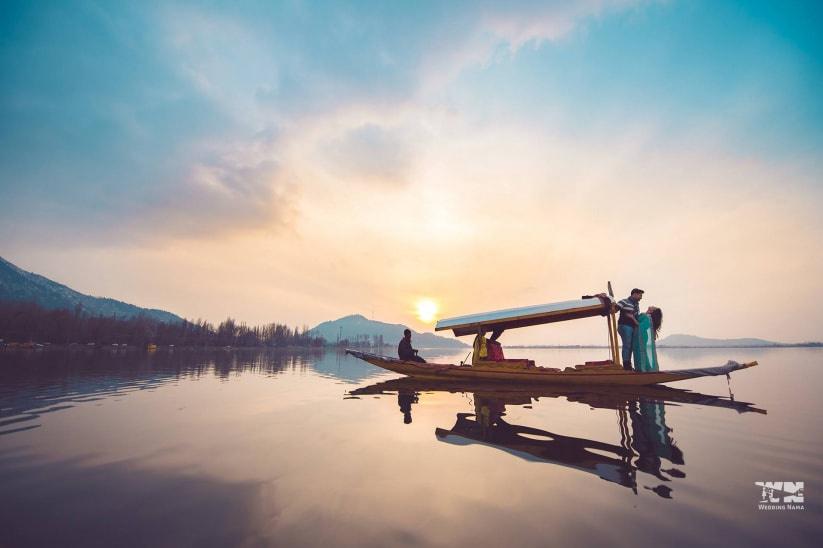 Getting your pre-wedding shoot done at the serene backwaters of Kerala would simply brighten up your wedding album. And if you're willing to go all the way, you can even get to do your photoshoot on a houseboat. You can even put on the traditional Kashmiri attire and pose on a Shikara like Sharmila Tagore in Kashmir Ki Kali.
What's your style?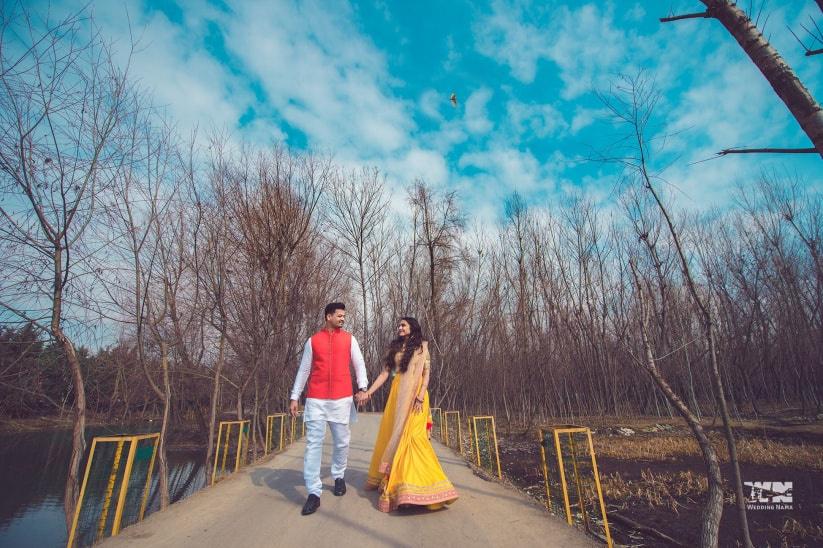 Share your story and ask your wedding photographer to come up with interesting Indian pre-wedding photoshoot ideas on that basis. Your wedding photographs should scream your love story, your personalities and most importantly your style! Here are some of the ideas to choose from:
1. Mush it up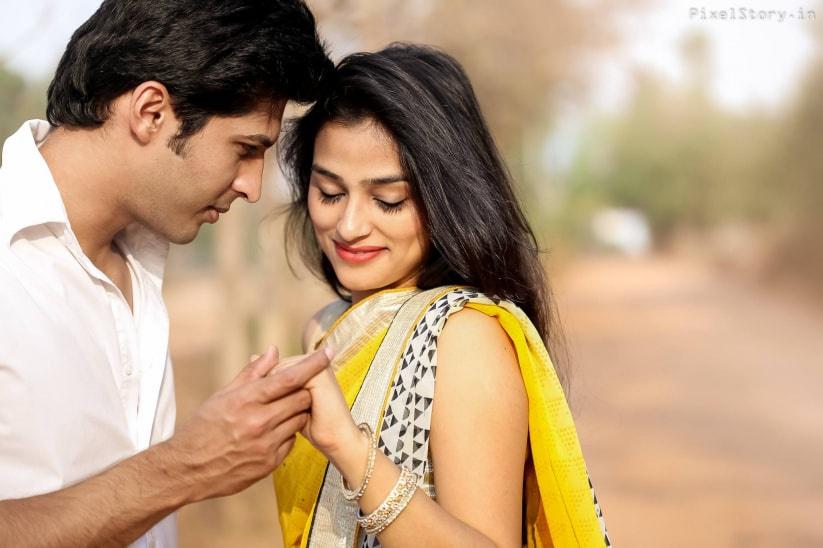 Say it, express it, kiss like there's no tomorrow! Couples who are not afraid to show the world how much they're in love should let their pre-wedding photoshoot speak for themselves. Make your wedding album look like it came straight out a romantic movie.
2. Get Quirky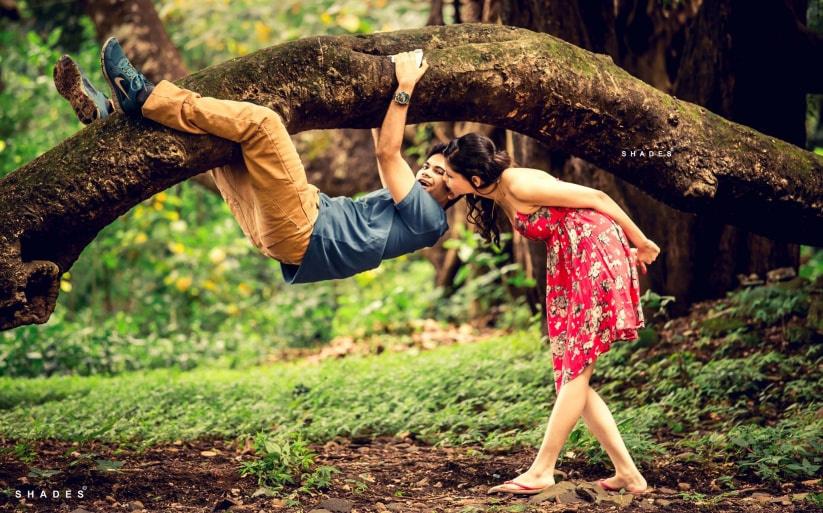 Image Courtesy: Shades Photography
Why stick to the norms when you've got a funny bone? Have some fun while shooting for your pre-wedding album if that's what defines you! Jump, laugh, joke around, and go crazy! Make memories that would make you laugh each time you remember. We would even suggest playing pranks on each other and capturing the exact moments of your partner's reaction. Of course, you will have to keep the photographer in the loop for all your plans.
3. Flaunt Some Elegance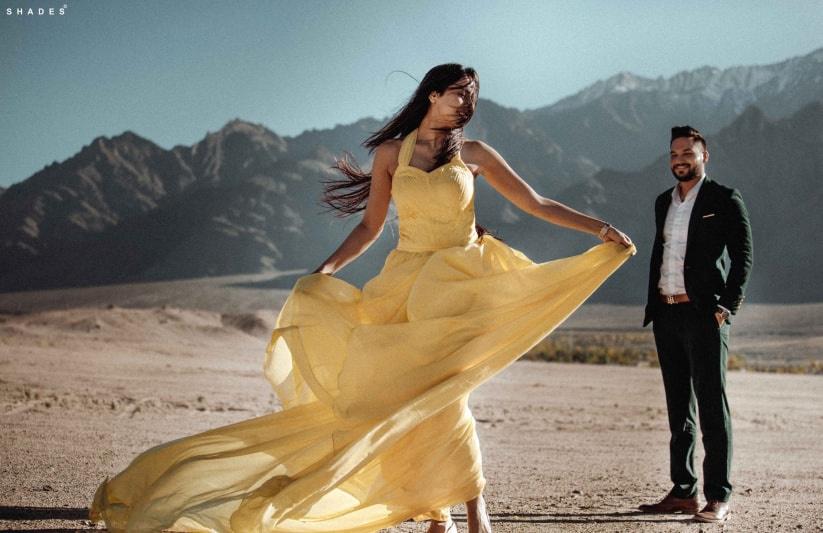 Image Courtesy: Shades Photography
Put on your favourite evening gown and a dapper tuxedo because it's time to show some panache. Recreate your first date night magic with flowers and wine and make your photos look real. Pick a fancy beachside restaurant or simply pose in an amazing dress. Who doesn't like to dress up and flaunt? Let it show on your faces, in your poses and in your pre-wedding pictures.
4. Dancing Feet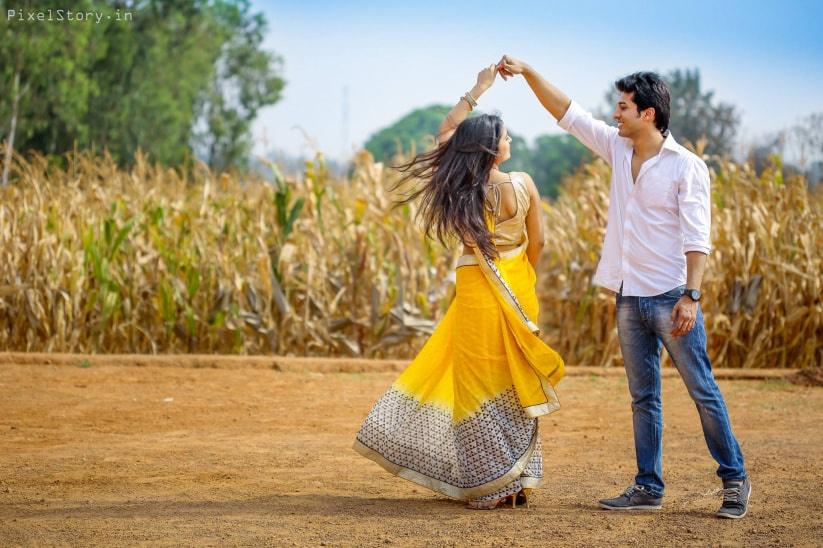 So you're a couple who have always their dancing shoes on! Why not showing off in your photos? Twirl, tango and do the salsa for a zesty pre-wedding photoshoot. Imagine how hot a photoshoot it would be if it is captured all on the dance floor.
Artistic Touch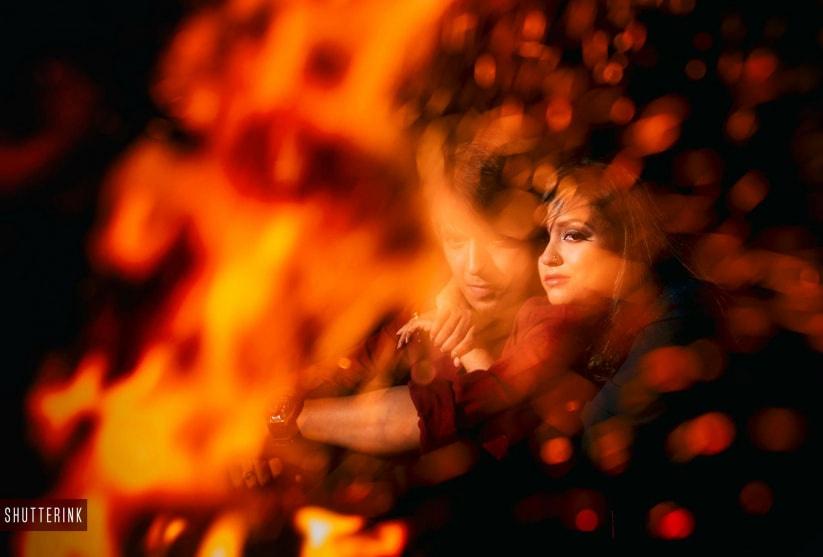 Photographers are coming up these days with some surprisingly creative Indian pre-wedding photoshoot ideas to make the wedding album a visual delight. We share some them here we found to be innovative ideas. You can use them on your pre-wedding photoshoot for that extra punch:
1. Reflections & Droplets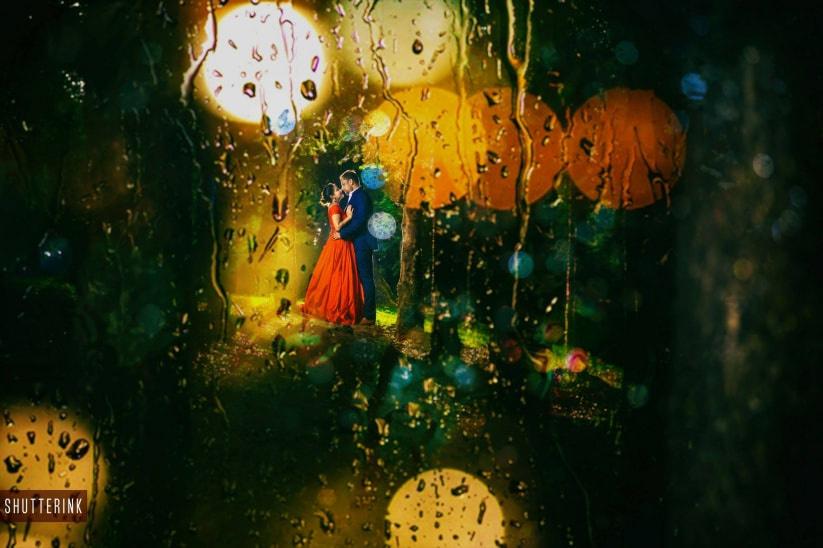 Playing with reflections and water drops, never fail in photography if done right. Draw inspiration from these beautiful pre-wedding photos for your own shoot. Channelise your inner Nargis and Raj Kapoor for this one.
2. Levitation and Trick Photography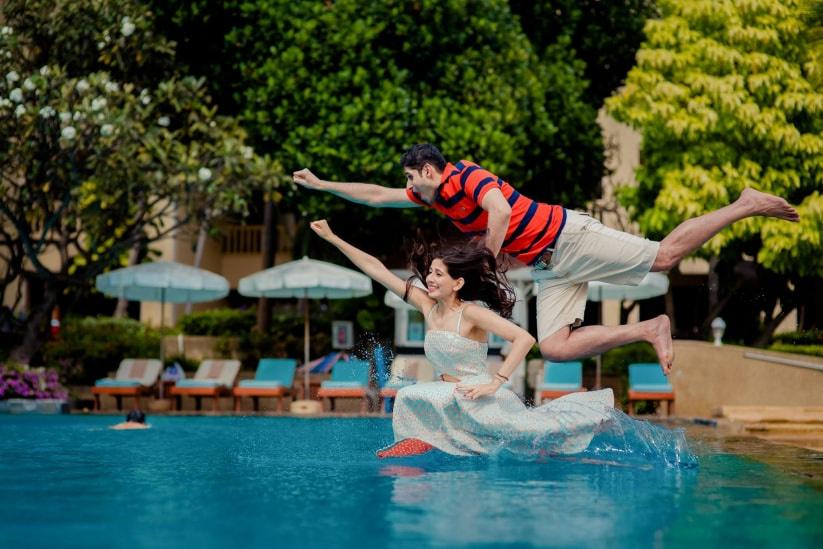 A levitation photo is always a winner. Try different kinds of trick photography for a fantasy effect. Be it pretending to fly together or pretending to throw one another, the results will definitely be amusing.
3. Black & White and Silhouette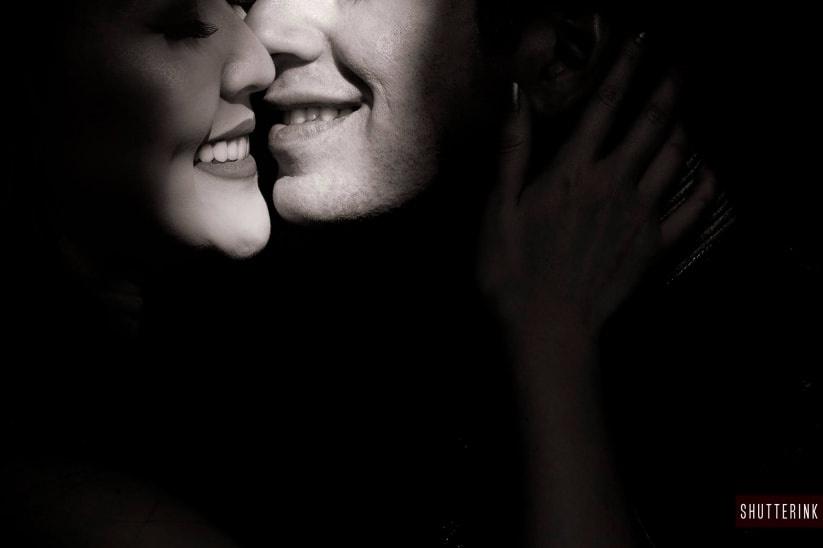 When in doubt, go Black & White! Bring out the depth in your pre-wedding photos with intense Black & White photography. While on the other hand, go for golden silhouettes in the sunsets. There is a subtle charm in such pictures that give them almost an eternal feel.
4. Colour Coordinated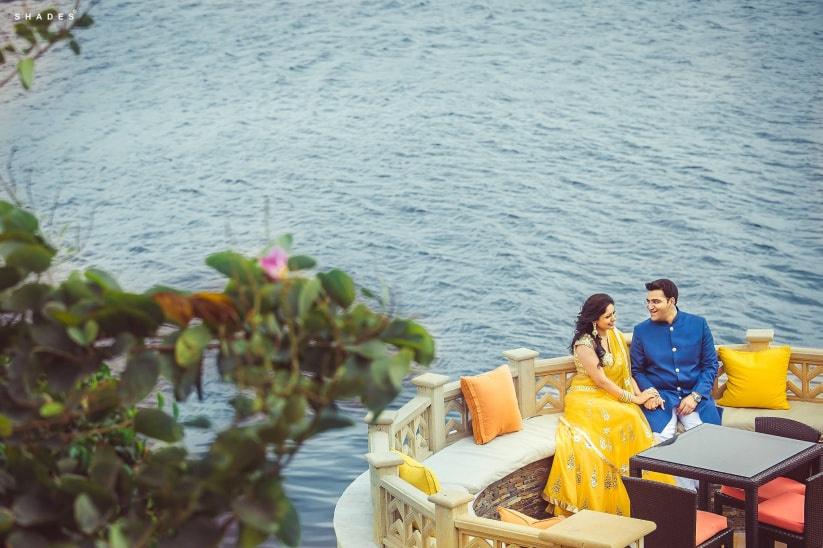 Image Courtesy: Shades Photography
Coordinating the outfit colours with the surroundings glamorises a photograph to an outstanding level. Matching or contrast, choose your outfits after consulting with the wedding photographer and stylist for stunning results. You can do the same for different wedding ceremonies as well. Coordinating outfits will the groom for the wedding day is quite a trend these days.
What's Trending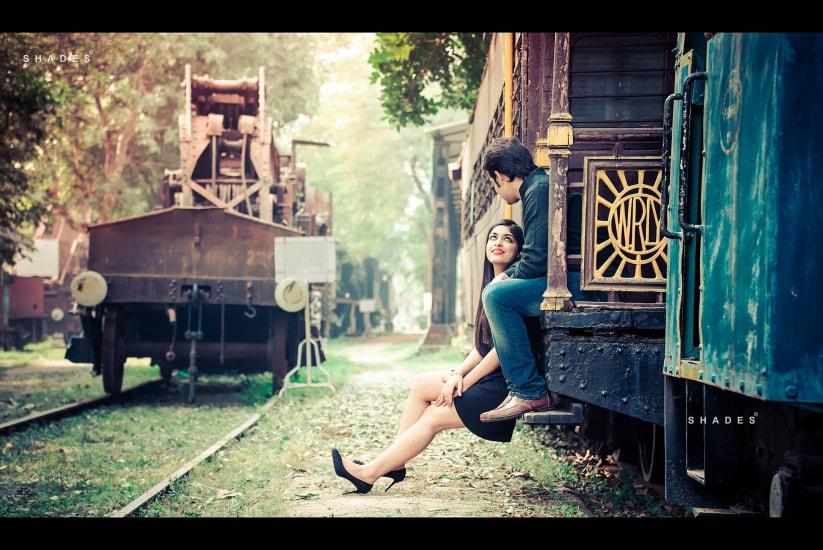 Image Courtesy: Shades Photography
If you are looking for some extraordinary Indian pre-wedding photoshoot ideas that are creating ripples everywhere, here are a few trending ones:
1. Underwater Wonder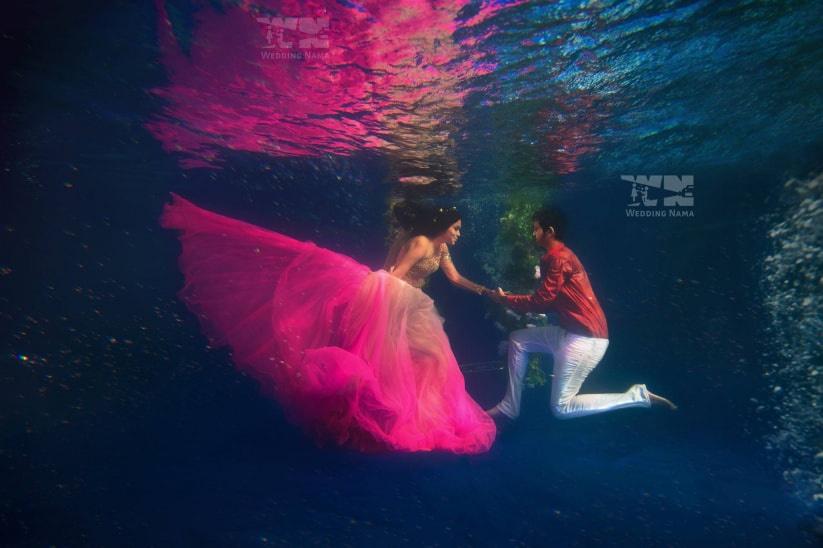 Experience an underwater proposal and capture that fabulous moment forever. Trust us, you will be awed when you see the album!
2. Props and more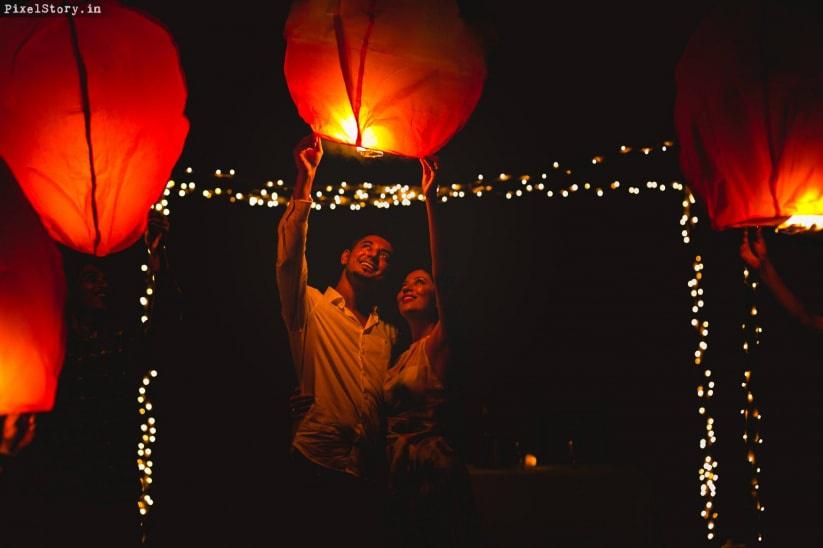 Lanterns, vintage cars, fun placards or simple coffee mugs-add a little drama while you tell your story. Using props for your pre-wedding photoshoot is a trend you want to follow.
3. Monuments and Heritage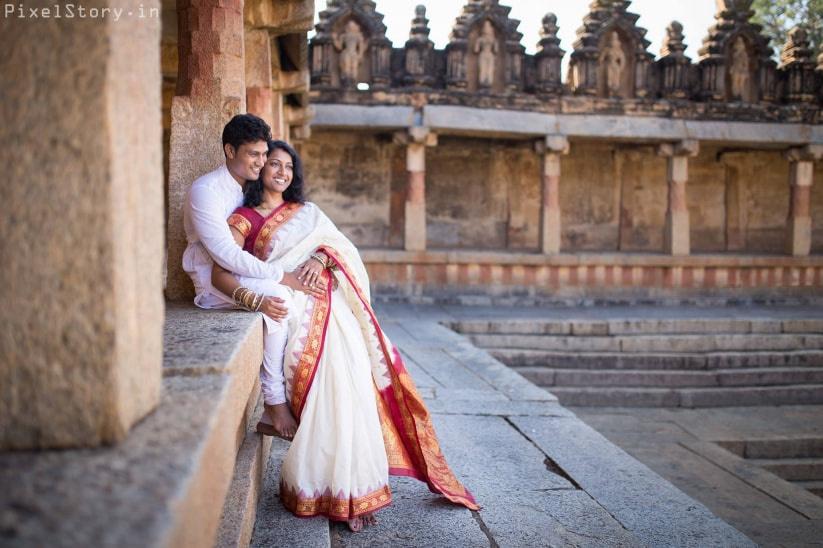 Since we are talking about Indian pre-wedding photoshoot ideas, why not have historical monuments as a backdrop of your pictures for a more ethnic vibe. Choose Indian outfits to suit the ambience.
4. Life in a Day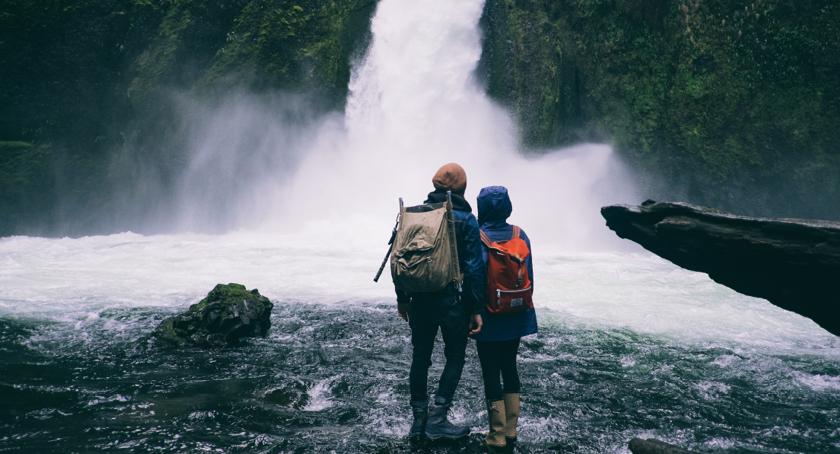 Image Courtesy: taxi 2 airport
The sole purpose of pre-wedding photoshoot ideas is to make the couple comfortable in front of the camera while capturing their story in candid shots. Spend a day in your own city, visit the spot where you first met or share an ice cream. Let the photographer arrest your everyday life in an artistic way.
5. The Rustic Touch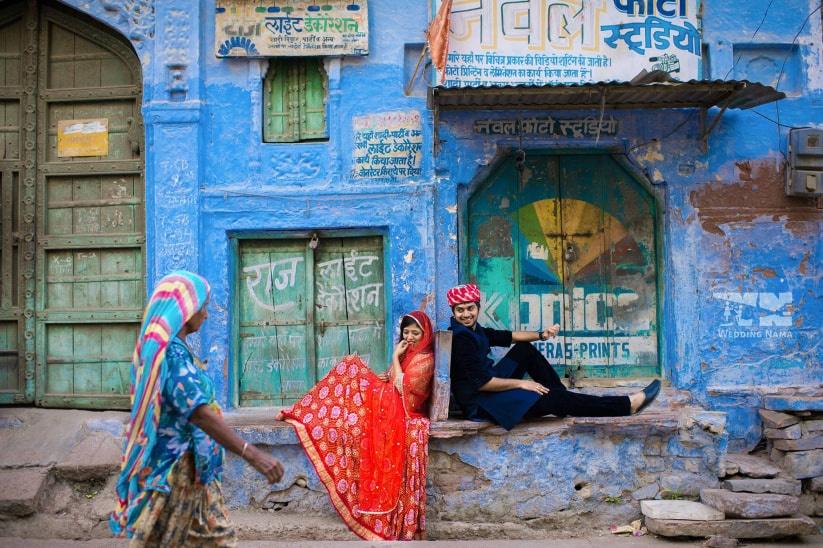 Get a bit of a 'rough at the edges' look for some gorgeous shots.
6. Get Royal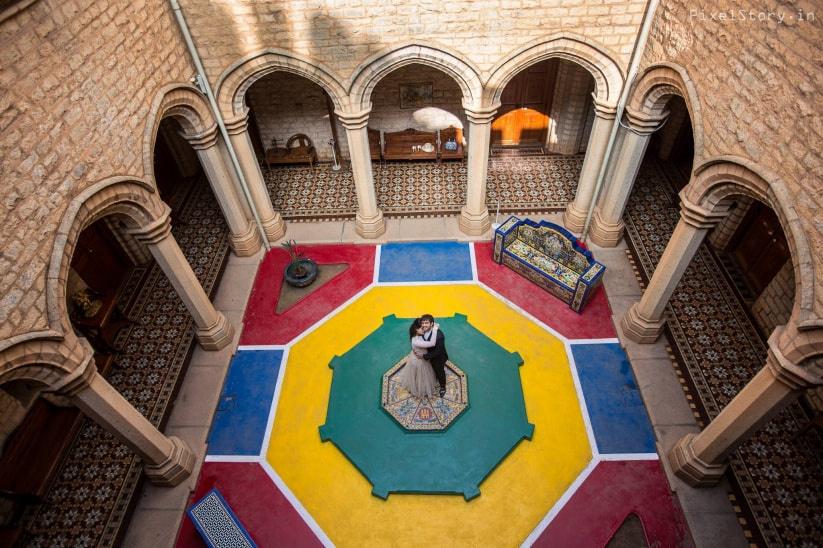 How can you forget the royal Havelis for your pre-wedding photoshoot? Use the magnificent palace architecture for your photoshoot and see how it enhances your pictures.
7. From the Top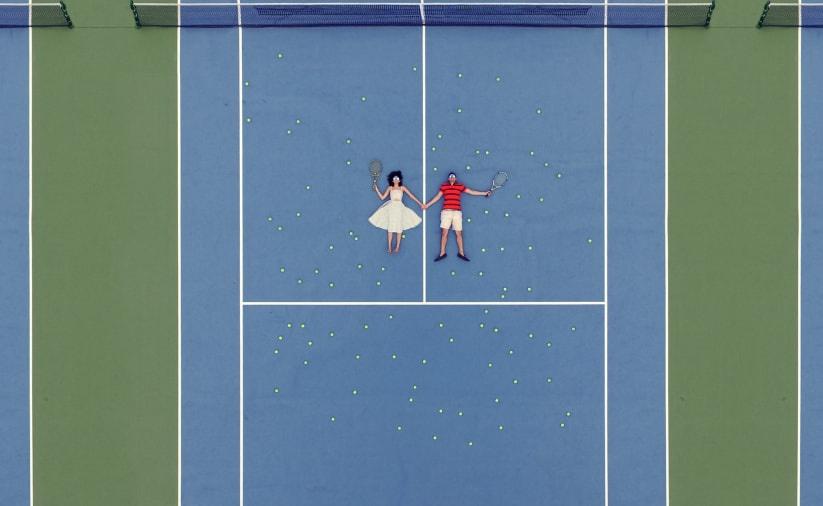 Get aerial shots of yourselves with different backdrops. It's fun to watch them later!
As far as Indian pre-wedding photoshoot ideas go, the opportunities today are endless. You can choose to go lavish for destination photoshoots, or you can get astonishing creative options at affordable costs. All you need is to sit and talk to your wedding photographer to explore the possibilities. Isn't all of this getting you excited about your own pre-wedding photoshoot?
Share with us how you would want your pre-wedding shoot to look like and connect with expert wedding photographers for more ideas.