90's Bollywood Songs Mashup to Set Every Event on Fire!
Looking for perfect playlists for each wedding event? Take a look at some of the smashing 90's Bollywood songs mashup that would cover every wedding function with the right beats!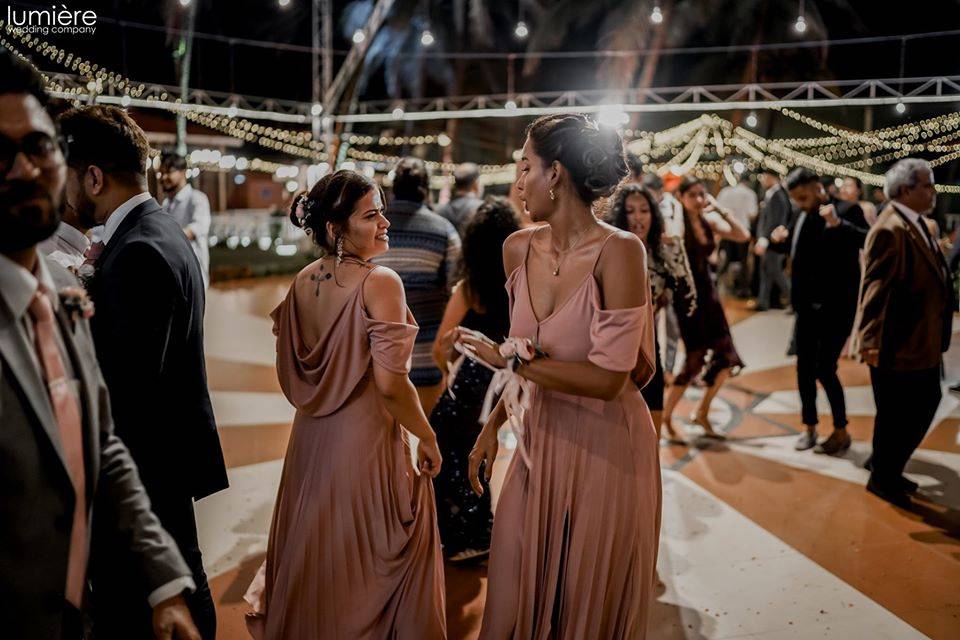 Bridal solo performance, the newly-wed couple's first dance, Mehndi, Sangeet or bride's Bidaai...every occasion in Indian weddings are further beautified by the presence of the right kind of music. Without perfect songs, no wedding event is really complete. And to talk about the 90's era, there is an ocean of songs which fit right into every Indian wedding function.
From romantic love songs to peppy songs for the groom and his groomsmen, fun Jija-Saali dance-off songs, family group dance, the list goes on and on. And you know what's better than 90's Bollywood songs? A 90's Bollywood Songs Mashup! So get the wedding DJ hit 'play' and let the groove begin!
Dulhan-Special Mashup
Make way for the star of the event...the Bride herself who is all set to take the stage by storm! Other than the catchy songs, this 90's Bollywood songs mashup has songs with all kinds of flavour. You can prepare your bridal solo performance on the basis of this mashup and incorporate different kinds of dance styles. From classical steps to Punjabi moves and loads of Bollywood thumkas...there are ample dance ops for you to explore in this set. Browse through some trendy lehenga designs for your dance performance.
Combo Dancing Mashup
Here's an opportunity to get almost everyone on the Sangeet stage in one single 90's Bollywood songs mashup! This particular collection has some of the most popular songs from the '90s. The idea is to get different combinations of people to perform on each song and then move on for the next ones. Take inspiration from these couples/groups of performers for your Sangeet night. From "Ye Kaali Kaali Ankhen", "Kisi Disco Me Jaayen" to "Chura Ke Dil Mera" and "Le Gayi Le Gayi", you can curate choreography for bridesmaids, groomsmen dance, young couples, Jija-Saali & Dewar-Bhabhi performances on this potpourri of musical numbers!
Humming Fillers Mashup by VDJ Ayush
There are some instances amidst all the dancing and singing when everyone simply loves to enjoy some nostalgic moments. Play this 90's Bollywood songs mashup by VDJ Ayush as a filler in between all the hoohaa and watch your guests sway and smile! Certain songs might remind someone of their first crush. Or some romantic number might recreate one of your Masis blush remembering her proposal story! Let the music reinvent those magical memories of your guests. And don't forget to ask your wedding photographer to be prepared for some beautiful candid shots during these songs!
Bridal Mehndi Mashup
This bride just killed it in her Mehndi night with perfect choreography and an admirable choice of songs. If you're looking for some 90's Bollywood songs mashup exclusively for a Mehndi dance performance by the bride and her bridesmaids, we say take cues from this video. Explore some sparkling blue lehenga options if you're inspired by this bride's fashion choices too. Try some easy but gorgeous looking braided hairstyles to go with your outfit. Ask your choreographer for dance sequences to go with Mehndi songs as well as the other bridal songs.
Solo Songs Mashup
Now let's have some song performances for your Sangeet gala! Here is a whole set of '90s Bollywood songs mashup originally sung by Kumar Sanu, Udit Narayan, Sonu Nigam...if you too have always been singing and humming those golden songs all your life, this is your chance to showcase your talent. Take the mic, cue in the musicians, and just start singing!
Duet Songs Mashup
Pick this romantic '90s Bollywood songs mashup for a show-stopping duet performance! Sangeet is all about music and dance. So why not display your singing prowess to the world while you enjoy some jamming! All you need is an acoustic guitar, a partner to sing with and you're good to go.
90's Romantic Songs Mashup by DJ Dalal & VDJ Mahe
Play this evergreen 90's Bollywood Songs Mashup for some nostalgic memories of the era! This particular mashup of Bollywood songs includes all those fuzzy love songs featuring the Shah Rukh, Ajay Devgn and Kajol that are just apt to play during the beginning of a Sangeet night. Let everyone get into the mood and prepare for some couple dances.
90's Mixed-mood Songs Mashup
From first proposal song to fun teasing number...this 90's Bollywood Songs Mashup has got it all! A beautiful bouquet of songs depicting every mood, expression and situation, these songs mashup will be perfect for couple dances, friends group dance or uncle aunty dance performances. Mix it up a little to give a variety of flavours to your Sangeet night!
90's Peppy Dance Songs Mashup by DJ Parth
You can't just think of a Bollywood theme Sangeet without some 90's peppy Bollywood Songs Mashup! The brilliant mixing of evergreen songs like "Tamma Tamma Loge" and "Muqabla Muqabla" by DJ Parth makes this songs mashup just ideal for a dance-off between the team bride & team groom! Don't forget to sport some theme-appropriate outfits for your Sangeet performance!
90's Thumka Special Songs Mashup
90's Bollywood era was not just about romantic songs and couple dances. It was also largely about the super energetic Govinda moves with Thumkas here and Jhatkas there! So listen to this 90's Mast Bollywood Songs Mashup, consult with your wedding choreographer for steps and moves and simply burn the dance floor! You could play this mashup list on a Bachelor party or a groomsmen special performance on Sangeet!
90's First Dance Special Songs Mashup
Ladies & gentlemen, it's time to give it up for the star of the evening! This 90's Bollywood Songs Mashup includes all the beautiful songs that the newlywed couple must add to their 'first dance' playlist. Originally sung by the golden trio of the 90's Alka Yagnik, Kumar Sanu and Udit Narayan, the songs are covered by Abhishek Raina, Varsha Tripathi and Anurag Ranga. So brush up on your Waltz and Salsa moves and get ready for your first ever dance with your partner!
90's Group Couple Songs Mashup
Now couple dance doesn't necessarily mean it's just for the bride and the groom! You could get a couple group dance performance choreographed including three or more couples to dance on this spectacular 90's Bollywood Songs Mashup. From slow dance numbers to fun peppy songs to high-spirited Govinda-Raveena songs. This mashup is a collection of songs reflecting all kinds of moods. So groomsmen, bridesmaids, bride's parents or groom's uncle-aunt...the songs just heartily invite all the lovely couples to hit the floor!
90's Madhuri Special Songs Mashup by DJ Suketu
Now which Indian bride doesn't dream to replicate some steps of our very own dancing queen on her Sangeet bridal solo performance? This Madhuri special 90's Bollywood Songs Mashup will give every bride her chance to own the stage acing those classic moves and steps! From "Choli ke peeche" to "Chane ke khet me" almost every hit Madhuri number has been mixed perfectly by DJ Suketu. Learn the steps of each song and then practice with the help of your choreographer for the finale! With these songs and moves, you will be the Queen of the show that night!
You can also create your own 90's Bollywood Songs Mashup list. Pick the songs that you love most and you can ask your wedding DJ to mix them up using mixing software. Or if you aren't sure which songs would go best in the mix, leave it to the pros! The possibilities to create a great mashup list from the 90's songs are endless.
Once you've practised your steps, don't forget to work on your Sangeet outfits. Go with an Indo-western dress so that it looks best with any kind of song and dance style. Make sure your outfit is comfortable along with being stylish!
Did we miss any 90's Bollywood songs mashup that you like? Share your own preferences in the comment section below!