12 Romantic Pre-Wedding Shoot Poses That Make Your Heart Melt
The pre-wedding shoot is something no couple can do without. To help you gets your right, here are our ideas for romantic poses, without which your album may fail.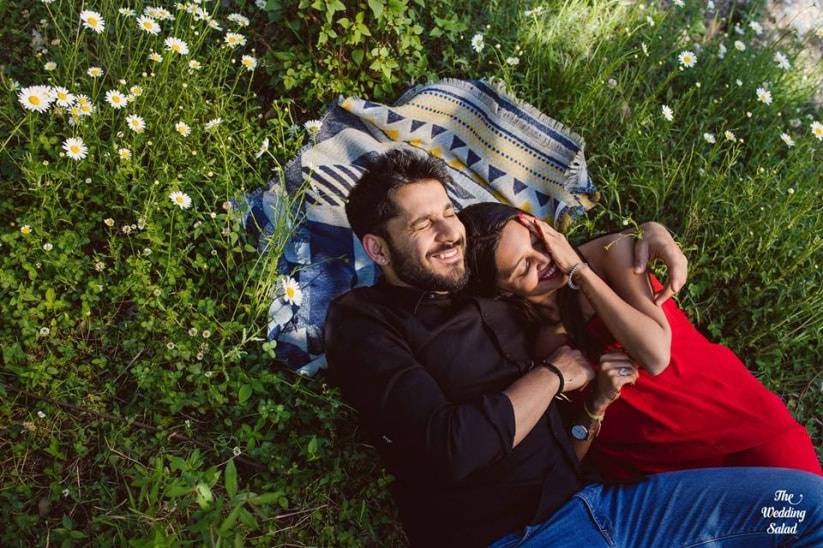 Whether shy or bold, every couple has to go through some mandatory clicks before their wedding. While some like to take the cooler road and get a fun pre-wedding shoot done, most others still like to hold on to the classic romantic poses for their shoot. Although we love everything about a perfectly shot pre-wedding album, there are some romantic poses that do take our breath way in the most literal manner. These are pictures that not just complete an album but also make for the most vivid memories that the couple cherishes years after their marriage.
Romantic Poses That Show Your Love
Are you a romantic at heart like us too? Well then, have a look at our list of 12 most romantic poses that are a must in every wedding album.
1. Will you marry me?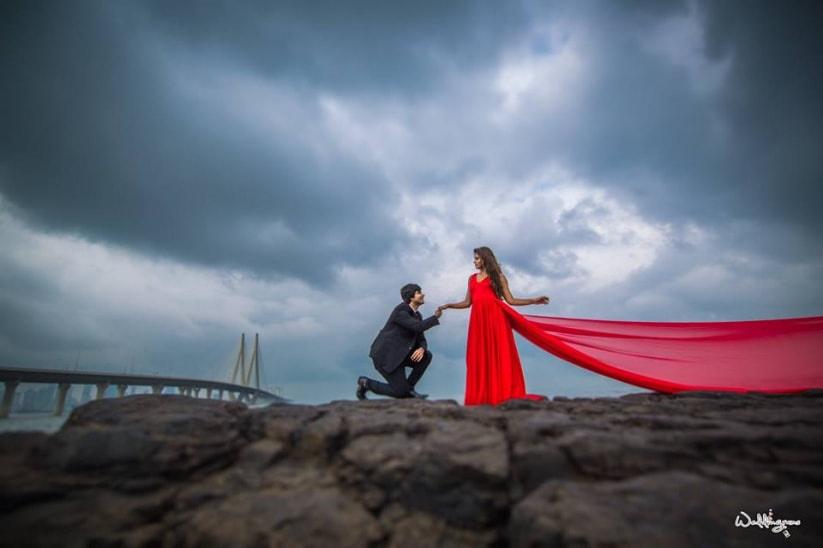 The proposing pose is one of the most romantic poses which usually make their way into a pre-wedding album. While it is usually the boy who goes on his knees to propose for the shot, there is no definite rule for it. With couples trying to do something different, it can actually be cool if the girl goes on her knees for this picture too.
These romantic poses signify that the couple has finally made their mind to spend the rest of their lives together. And the proposal acts as an official stamp to it. It is a classic pose that requires the least amount of efforts as all that the couple has to do is look into each other's eye and live in the moment completely.
2. 'I will hold you forever'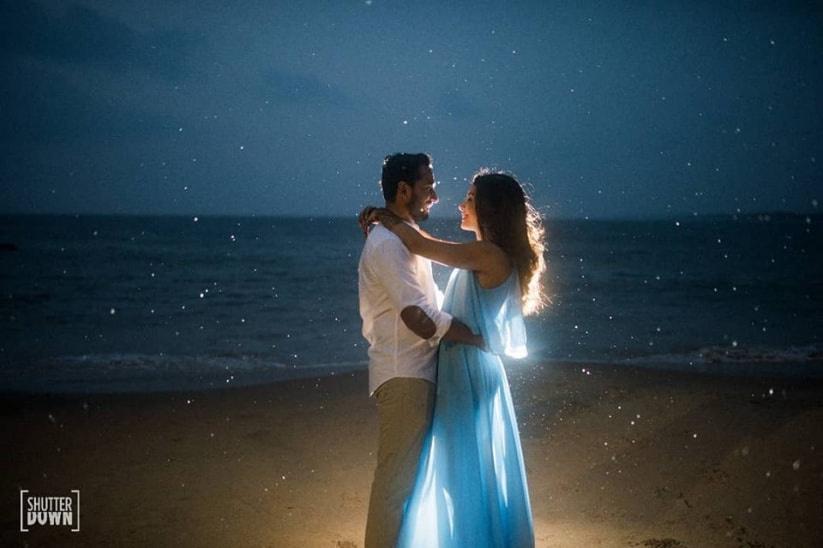 It's another extremely simple and impactful pose that reflects the love between two people beautifully. This is one of the classic romantic poses that do not require much detailing, just a romantic backdrop and a mood-setting light. This picture signifies sheer love that two people feel when they never wish to let go of the other.
Such romantic poses can also be created in a fun and intense way if the couple goes for a more passionate body language to claim that they belong to each other and would never let go of each other.
3. The Forehead Kiss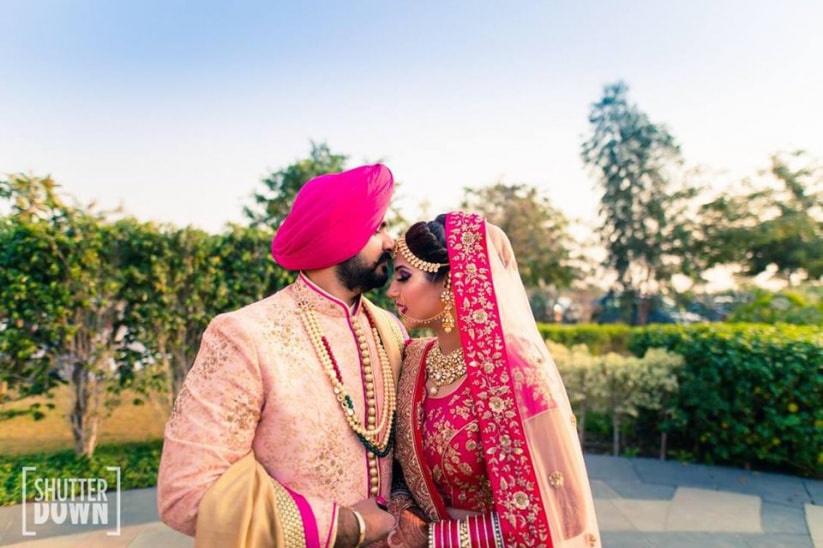 One of the most common and yet very romantic poses is the forehead kiss pose. The kiss planted by the groom on his bride's forehead stands for way too many things. He will always protect her, spoil her, put her first and so many other things that make the bride believe she has chosen the right man. A pose that requires absolutely no expression, no brief, and this one can be caught in a single take at the word 'go'.
Create this in multiple ways - with both of you standing together, sitting together or even lying together. You may also try such romantic poses by positioning yourselves one behind the other (dibs if you can position yourself behind your man and drop a peck on his cheek or forehead from above).
4. Walking into the Future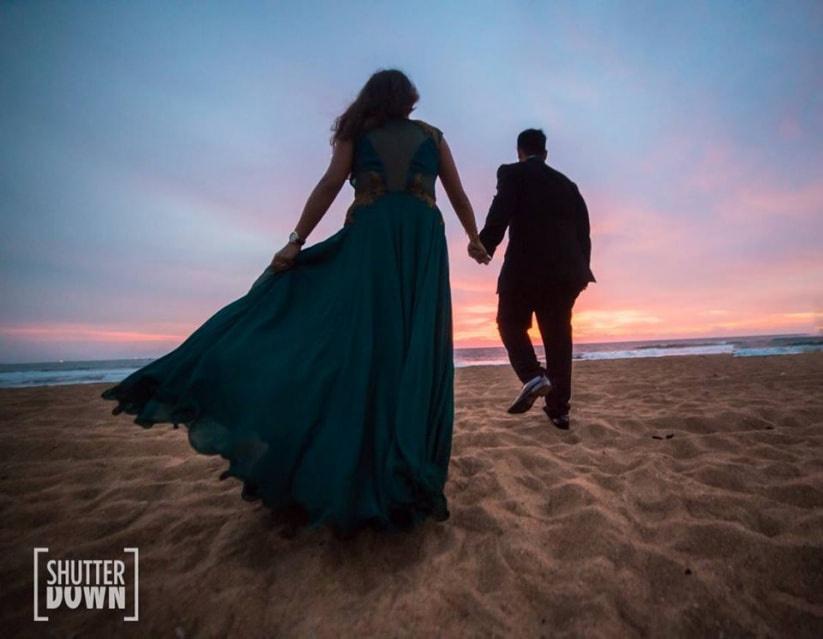 This is one of the most beautiful romantic poses of a pre-wedding shoot. It is also the most significant one as it embarks the journey that two people are about to begin. Marriage in many ways is a risk that you take to trust the other person for a happy future, and this romantic pose perfect depicts that leap of faith that a bride and groom take towards their future.
The #followmeto pose is the best example of this walk into the future, with many couples trying the exact same click for their own pre-wedding pictures.
5. The Kiss of Love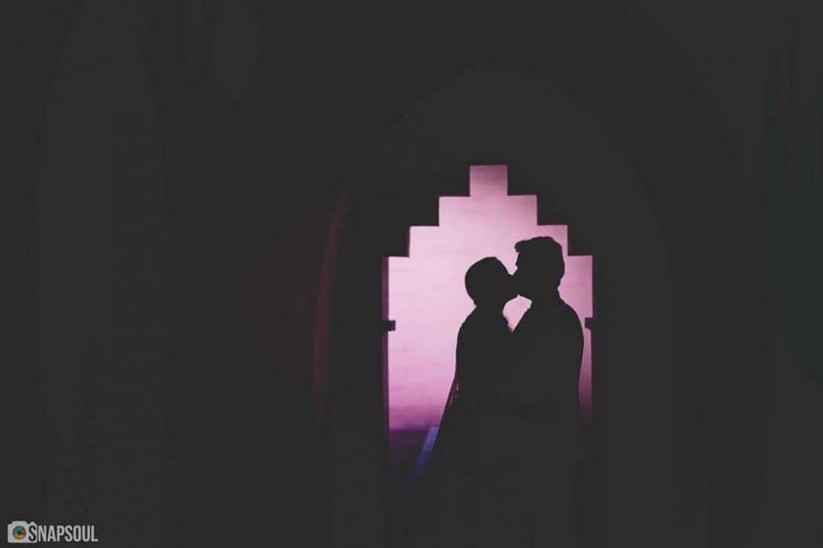 The most obvious way of expressing your fondness or love for someone is by a kiss. It is the most relevant here as it is the beautiful start to a lovely future and therefore it must be sealed with a kiss of love. This romantic pose is a photographer's favourite as it evokes a gamut of emotions without doing much.
The bride and groom, on the other hand, could many a time be reluctant to try this but if shot aesthetically, this could be the best cover for a wedding album. All you beautiful couples out there, we say you let go of the awkwardness and seal the deal with a romantic kiss.
6. The Look of Love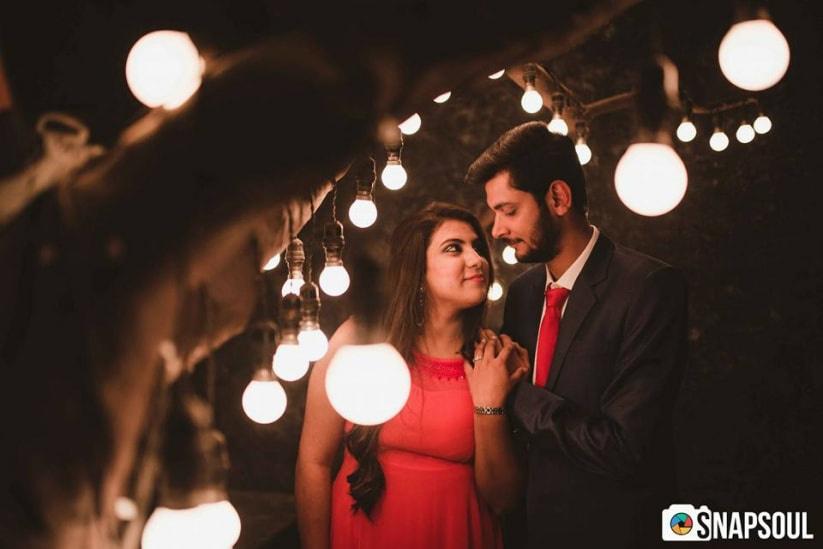 Love as we all know is the most beautiful feeling in the world, what makes it even better is deciding to be in it forever and marrying the one you love. While many things change when a couple decides to get married, what doesn't change is their glance of love.
This is one of the most beautiful moments to capture when the bride and groom look into each other's eyes and are totally caught off-guard and uninhibited. Out of all the romantic poses in a wedding album, this one requires absolutely no particular background or mood. This is one of the candid moments that the wedding photographer must capture as per his own sensibility.
7. For the love of Bollywood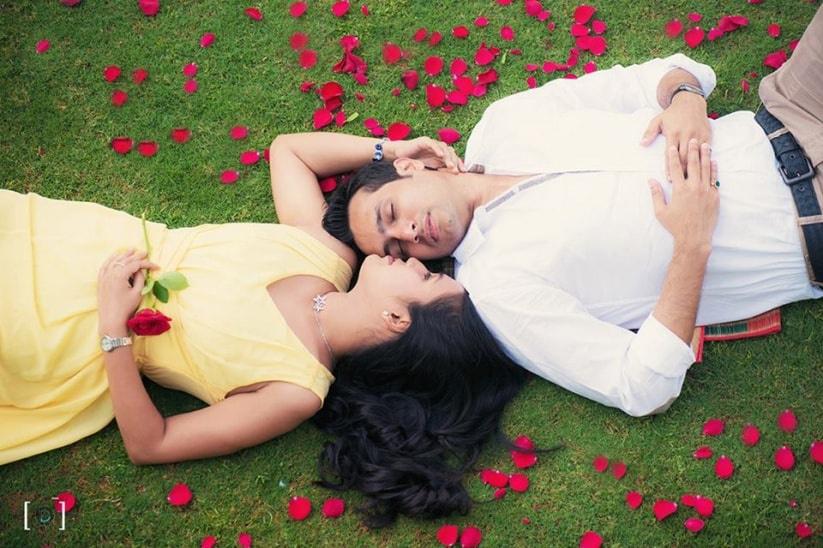 Whether we accept it or not, the truth is that our idea of love, relationships and marriage is all dictated by the movies we watch to some extent. While Bollywood has taught us to be extra cheesy, it has also given us some iconic romantic poses that we unabashedly love. This is one of those beautiful poses that we thank Bollywood for.
It not only signifies the fondness that a couple has for each other but also the peace that they get around each other which makes them feel complete. Find out the right Bollywood romantic poses for you by talking about your favourite romantic films and what you loved about them!
8. When he puts on the necklace for you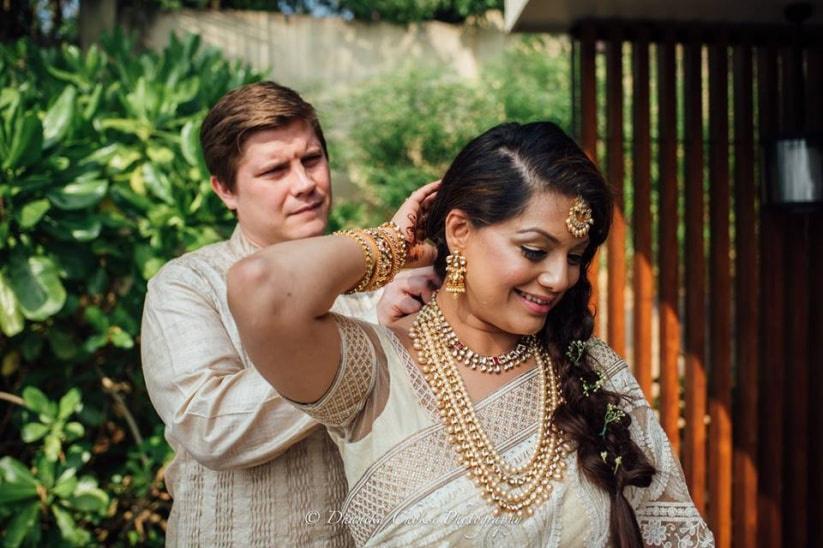 The age-old concept that the millennials might dis, this one is actually one of the many super romantic poses that's are must-haves in your wedding album. If you think it is too old school you can always mould it around as per your choice and our bond with your better half.
The idea, however, is to catch a groom to help his bride get ready for the big day. This one definitely has 'cuteness alert' written all over it.
9. The First Dance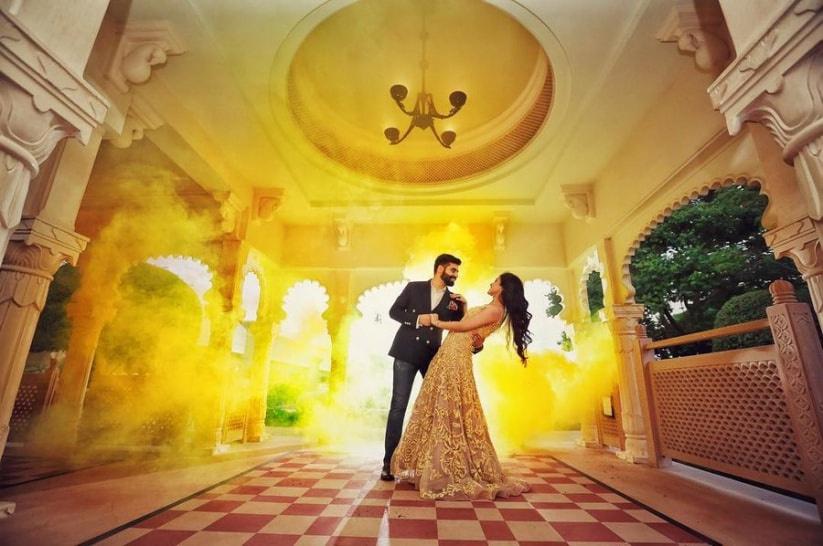 Image Courtesy: Wedding Story Official
All the firsts with your life partner are special in their own way, whether it is the first time you kissed or the first time you went out for a date. The first dance is just as romantic and must be captured to be remembered forever. This dancing pose is one of the romantic poses that the bride surely loves to get shot. Being wrapped around in the arms of your loved one, the twirling with the lehenga, let's admit it, women love it.
Amp such romantic poses up a bit by holding your lady love in a bend or lifting her mid-swirl or bringing her closer together for that intimate shot.
10. The Lift and Laugh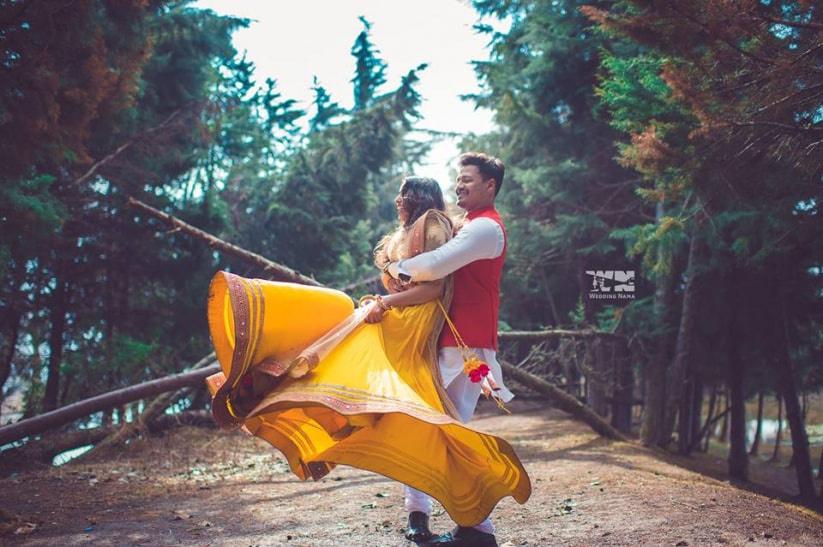 Candid pictures are what are in these days, and such romantic poses can be one of the most candid shots of your entire wedding album. While this picture requires capturing the actual essence of the relationship that two people share, the lift and laughing pose need both the bride and groom them to portray their real fun sides in front of the camera.
Get some music and move into a set of dance moves to get this candid moment just right for your pre-wedding photos.
11. Let's Get a Romantic Date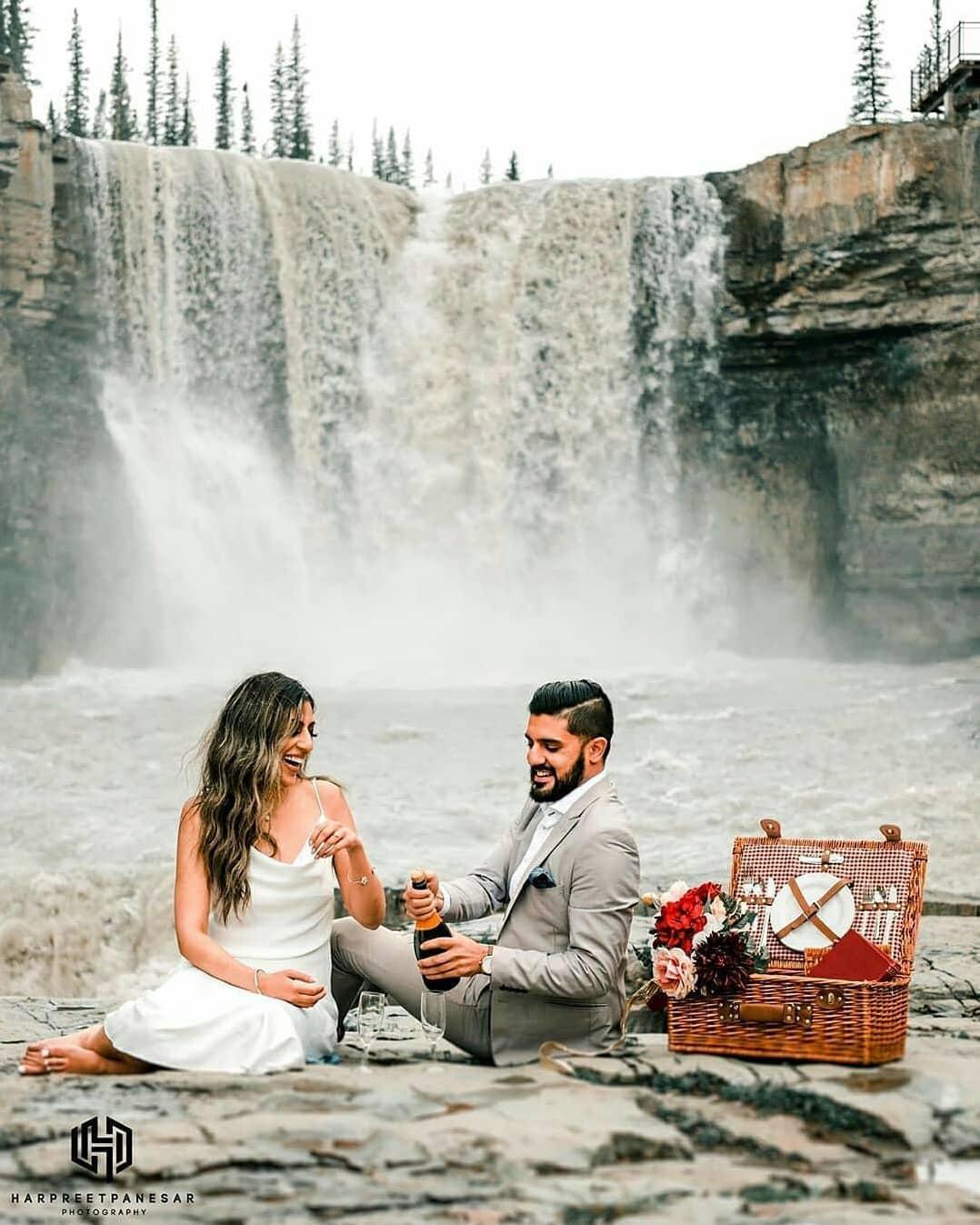 Image courtesy: Harpreet Panesar Photography
Let's move ahead in the candid picture territory by capturing more loving moments as part of your pre-wedding shoot. And there is none that is as beautiful than spending the day together, preferably on a date.
Orchestrate your date in a scenic location, while you sip and dine together, albeit in front of a camera. We love the beautiful waterfall as a splendid backdrop, the monochrome outfits and the elegant English picnic basket open for all to see.
12. Comfortable together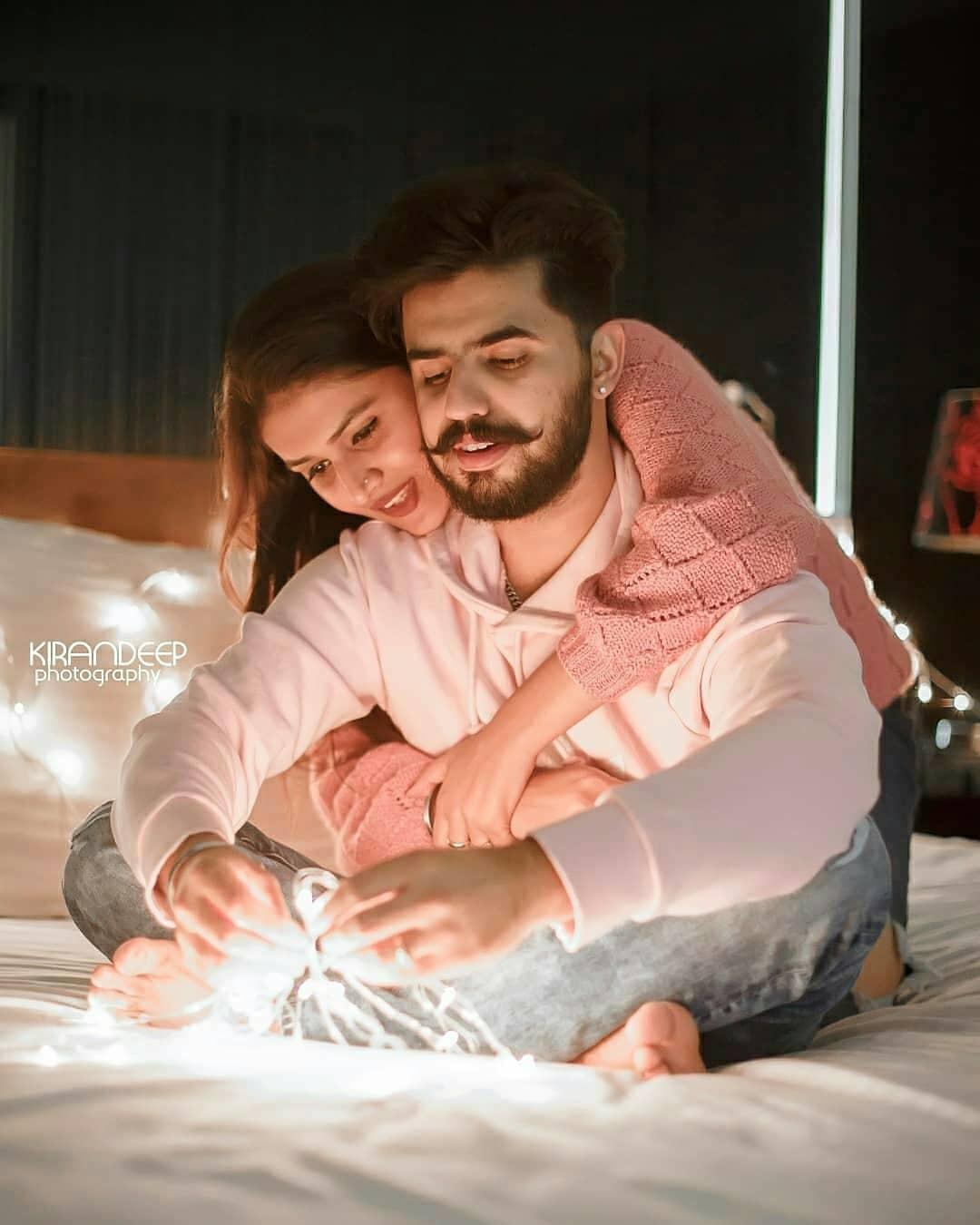 Remember that the most sincere moments together are when you spend time together, without being conscious of anything else but each other. Find this comfort zone with each other and engage in some conversation as part of your pre-wedding photography, while your photographer keeps clicking. Like we saw with this back hug, such romantic poses tend to come out as some of the most genuine clicks you can capture from the evening.
A pre-wedding shoot is one that consists of some or all of these romantic poses to always remind you of the beginning of your beautiful journey. So do not hesitate, and go all in and give these romantic poses a shot.
Are you excited to try these romantic poses soon? Tell us in comments which of these make you shy and which of these are you sure to try?