16 Over-the-Top Couple Photoshoot Poses You'd Remember for Life
From crazy to cute, silly to stunning; couple photoshoot poses have no limits and boundaries. You can create dreamy and majestic pictures to goofy ones - bound to leave all of us awestruck.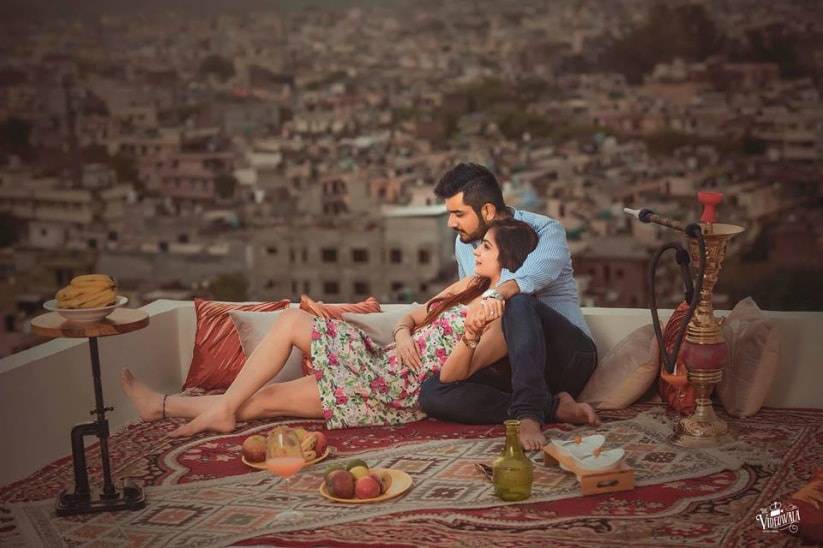 Couple photoshoot poses are all the rage amongst modern day couples who like to capture their personality and show off their love story through artistically captured pictures. Wedding photographers understand this need and trend and then ace at delivering nothing less than visual treats and moments captured for a lifetime.
It's interesting how couple photoshoot poses reflect so much about a couple and their journey. While there are some couples who prefer romantic pictures that show the intense love and passion between them, others prefer couple photoshoot poses that bring out individual personalities, yet the chemistry between the two. There are no rights or wrongs when it comes to choosing your couple photoshoot poses. In fact, even if you are clueless about the kind of poses you want, a professional photographer and some inspiration from other couple photoshoot poses will get you started. You can look at some of these trending wedding couple photos and get your groove on.
Here are 16 unconventional yet iconic couple photoshoot poses that that are stunning and truly inspiring:
1. Halloween Inspired Concept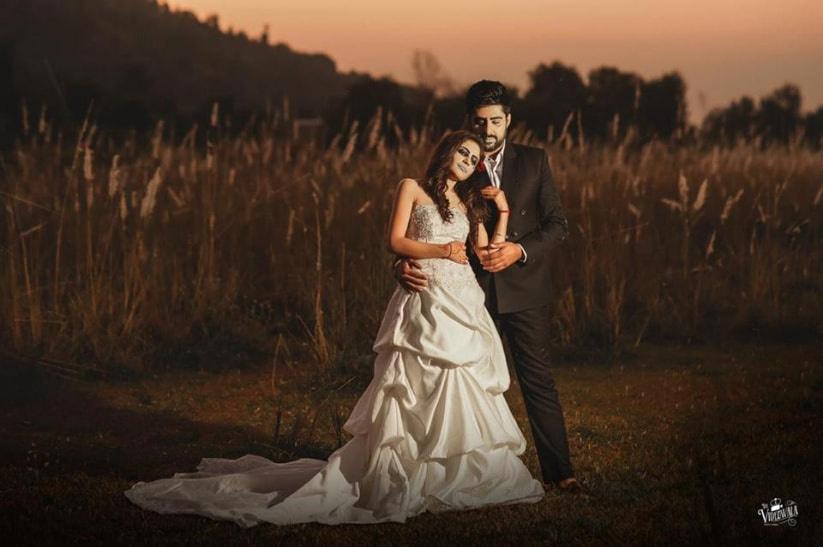 The concept here was the quintessential Halloween bride and groom. The spectacular garments and the stunning makeup was true to the concept. The open field and the sunset backdrop added to the eerie yet ethereal look of these couple photoshoot poses.
What makes it iconic?
The absolutely out-of-the-box thinking by the couple who went for a scary romance instead of the usual mushy one. And dam they look so powerful and in love!
2. Minimalist Concept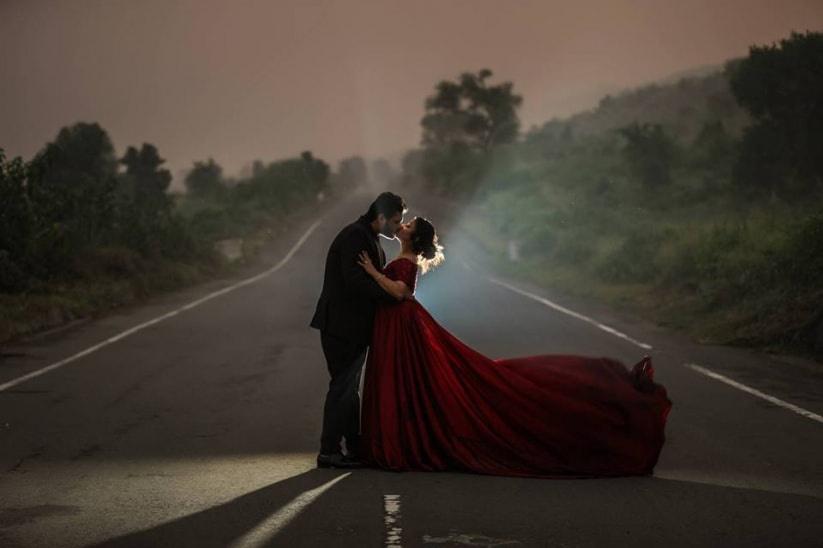 The concept here is simple and minimal yet impactful. A madly in love couple, in the middle of nowhere, stealing a moment. The low light and natural surrounding add to the drama and the impact here.
What makes it iconic?
The light coming from behind the couple is such a simple element yet adds so much power to this shot. You can almost imagine a car driving their way but nothing can make this couple come apart at this moment together.
3. The Light and Fun Concept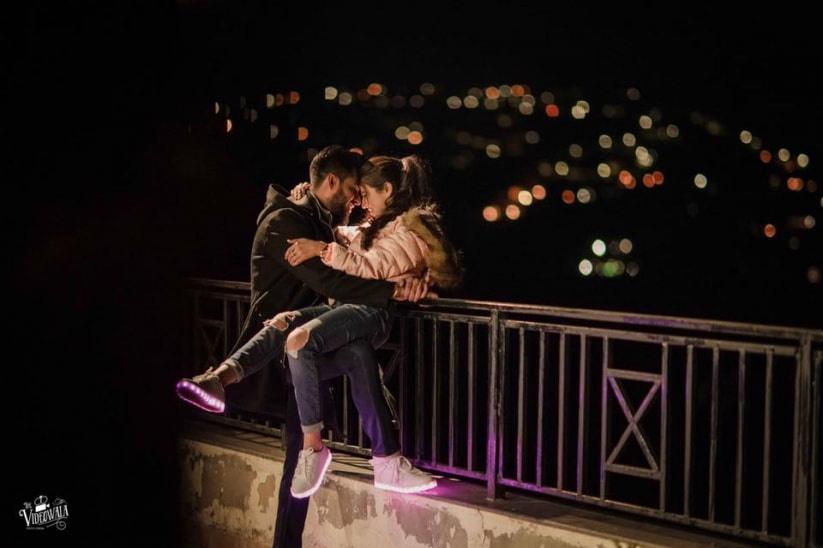 This is one of those couple photoshoots poses that's all about the fun, crazy love and chemistry between the couple. The couple looks unfazed by anything around them and all that matters is the love and moments they are sharing together.
What makes this iconic?
The matching light shoes add such a spunky and cool look to this picture and make this not just a romantic but also a cool couple picture.
4. The Sporty Couple Concept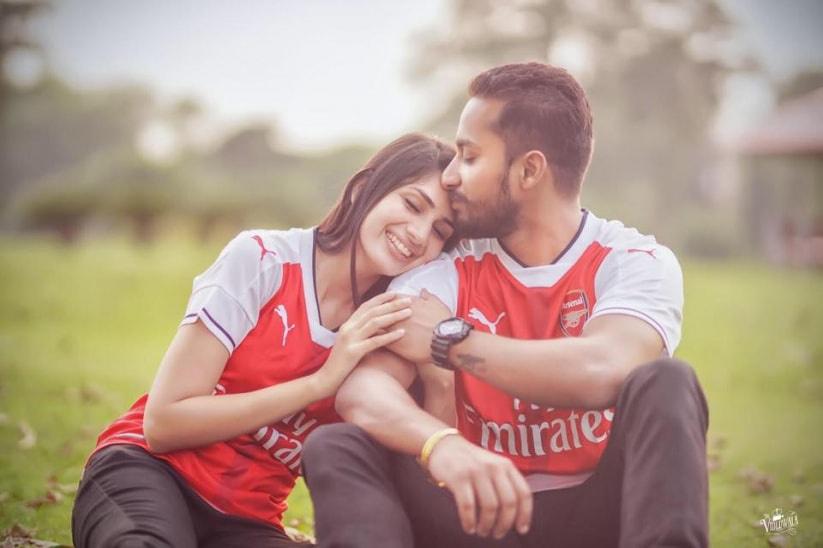 This concept is all about getting out and enjoying a sport. This is a concept that brings out a couple's shared interests like sports, books or any other activity. This just requires the couple to become kids and have a great time.
What makes this iconic?
Unlike most couple photoshoot poses this one requires the couple to dress down, get their hands dirty and be their natural self. It's minimal and raw.
5. Special Effects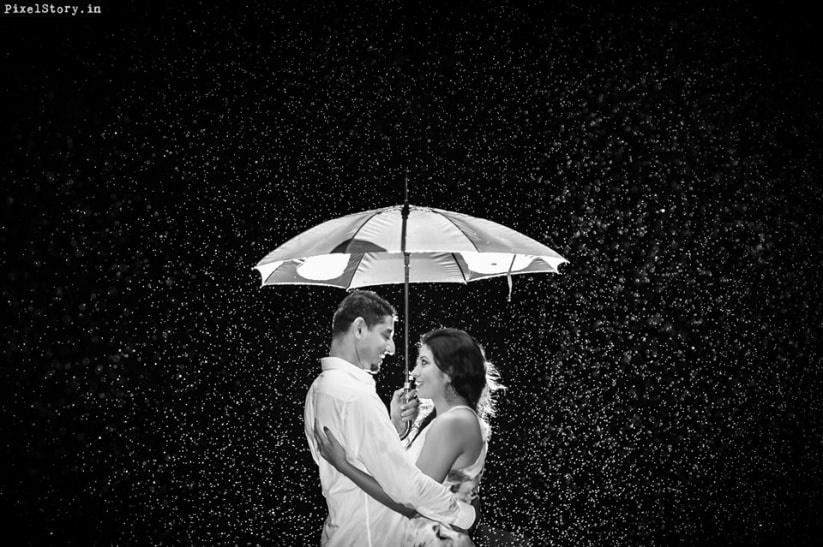 The concept here is all about playing with light and special effects. This is a creative edge to the classic black and white photography as special effects enhance the couple against a dark backdrop. Adding elements like umbrellas or other interesting props makes it even more delightful.
What makes this iconic?
The enhanced couple against the dark backdrop make this couple picture nothing less than a poster- stunning, surreal and scintillating.
6. The Adventurous Couple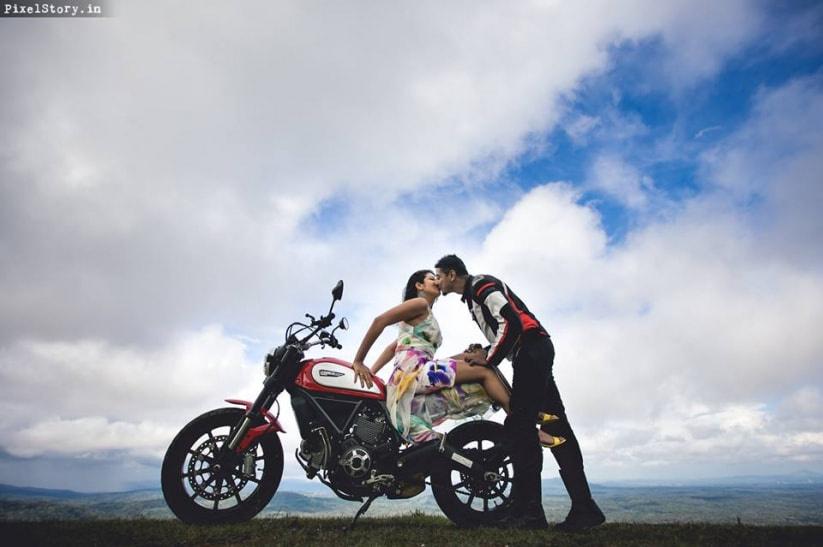 If you are a couple that enjoys adventure and adrenaline rushes, it makes for the perfect couple photoshoot poses inspiration. Be it biking, hiking, water sports or exploring the wilderness, use it as your concept and be sure to get some amazing results.
What makes this iconic?
This picture is dripping passion- for the bike, for one another and for the future that beckons.
7. The Beach and Yoga Inspiration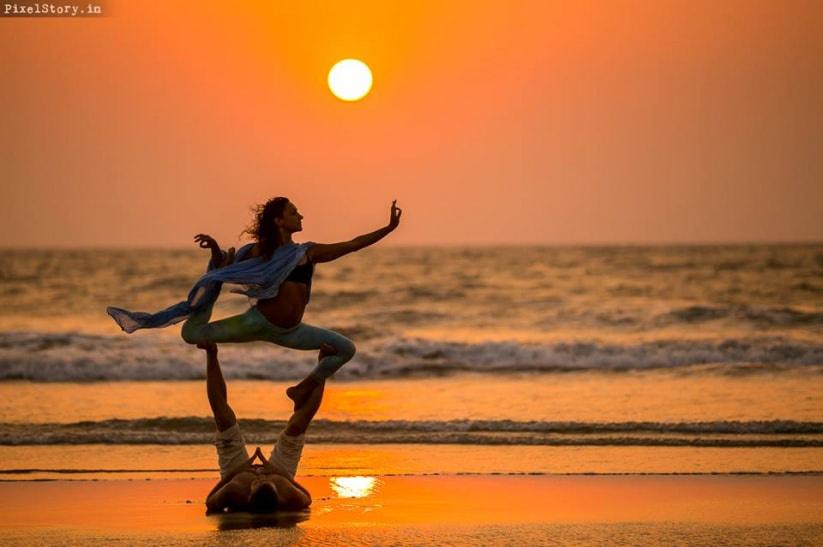 If you are a Yoga enthusiastic couple, you can nail your couple photoshoot poses with power and grace. Or else, just head to the beach and play with one another and be one with nature for some fantastic pictures.
What makes this iconic?
The powerful couple pose against the fiery orange backdrop takes this picture to the next level.
8. Of Art and Paintings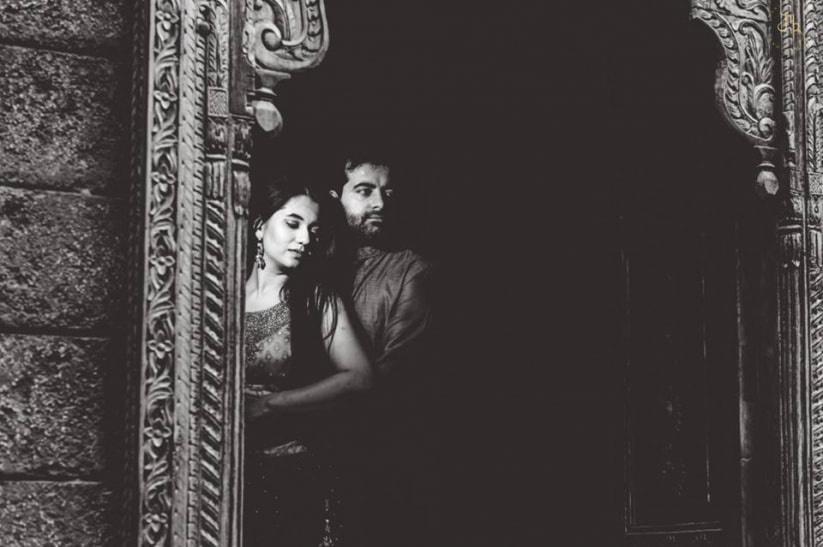 The concept here is all about art and artistic elements. The architecture adds to the artistic edge of this picture, making the couple picture look like a framed painting. It's a classic black and white portrait picture that enhances the emotions and the features of the couple.
What makes this iconic?
The picture has a classic appeal that brings out the facial expressions, making it a serene and captivating visual treat.
9. Reflections and Shadows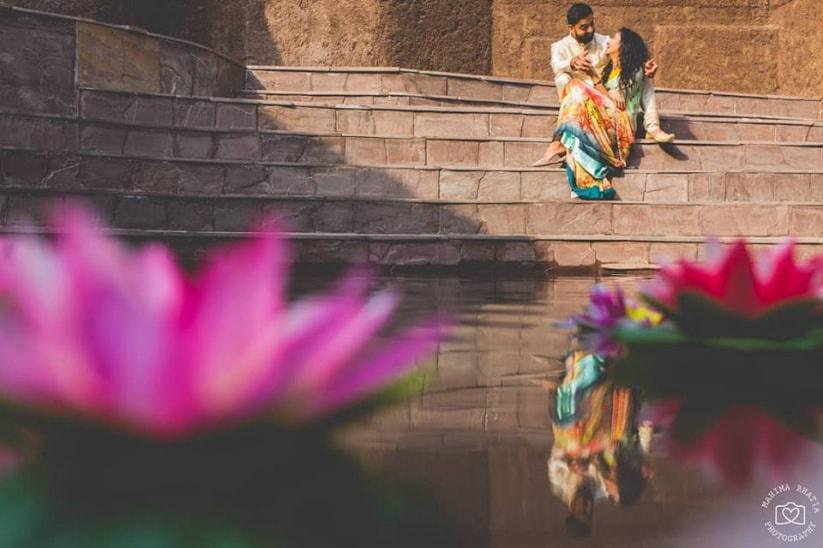 The concept here is to capture the couple from a distance, almost like sneaking and capturing them unawares. This distance allows the couple to be at their natural best, individually and with one another.
What makes this iconic?
The reflection of the couple in the water and the pink pop added by the lotus flowers make this picture like a classic painting.
10. Photo-inception Concept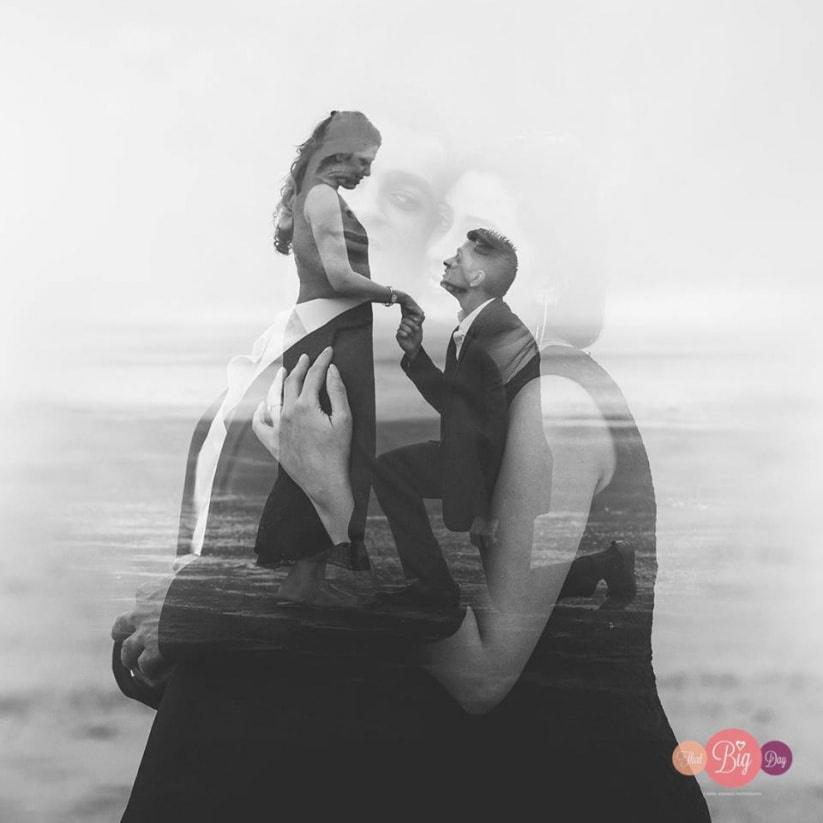 What is better than just one couple picture? Two in one! The concept here is simple, beautifully merge two different couple photoshoot poses, enhancing both and making it look like a picture within a picture.
What makes this iconic?
The highly creative merging of two individual beautiful pictures is what makes this a super cool couple picture.
11. The Lounging Couple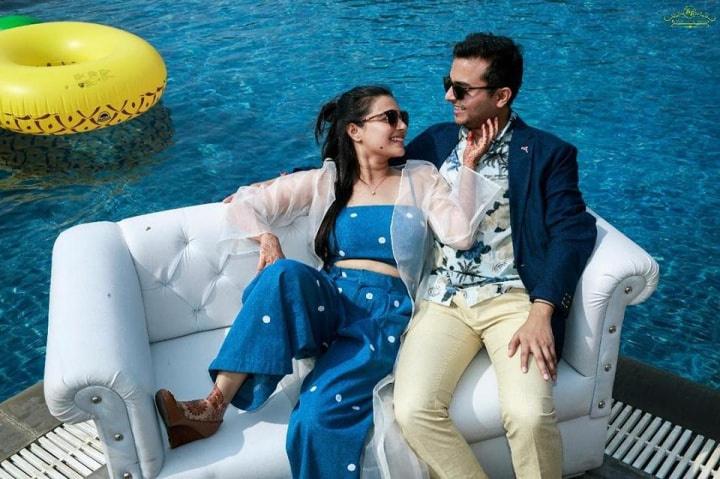 This kind of couple pose is perfect for those who like to lounge, relax and keep it chill. No too much planning or prepping, just sit back and let the photographer capture you in your most comfortable spot.
What makes this iconic?
The super chill and relaxed poolside location, with a pop of yellow with the tube and of course the calm couple enjoying each other's company- everything fits beautifully together.
12. Silhouette and Shadow Play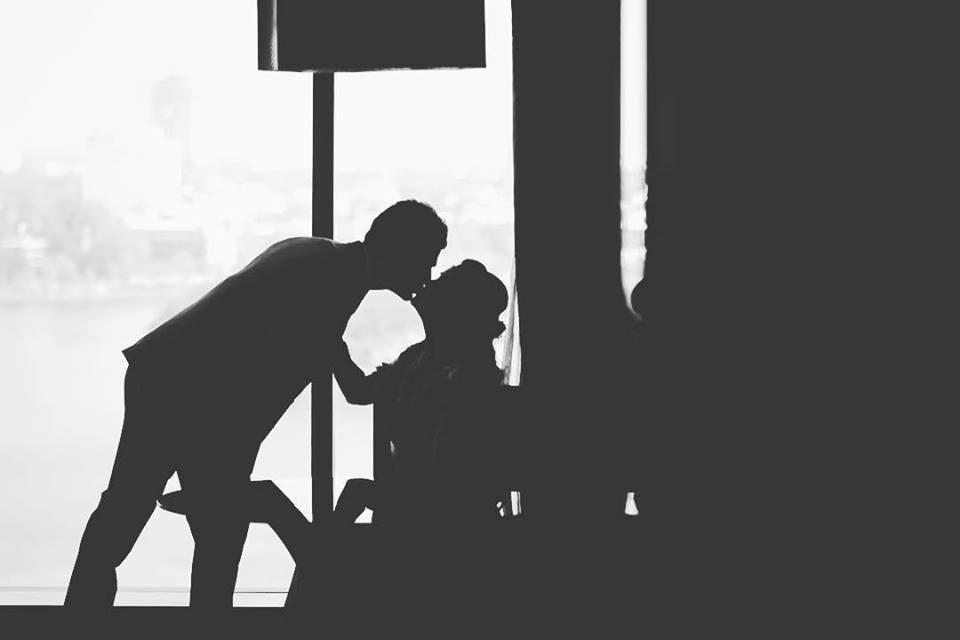 You can create a wonderful silhouette against the sun or bright light and play with the shadows to create a perfect and wonderful photo for your wedding album. This kind of photography effect can be achieved indoors as well as outdoors, depending on how you want the picture to be portrayed.
What makes this iconic?
You can get creative with the poses that you wish to strike as well as wear attires that would create a wonderful aura in shadow like a flowy gown as only the outline of it would be visible.
13. Pyaar Hua Ikraar Hua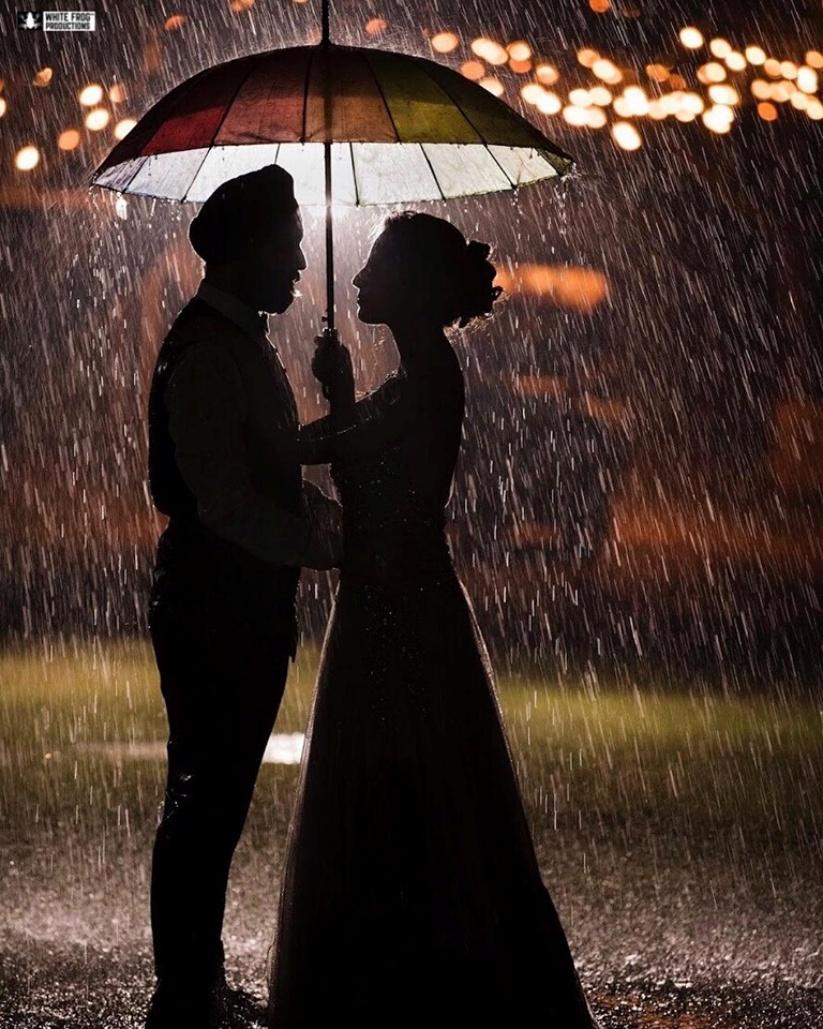 Go back to the Golden era of Cinema with this Bollywood inspired pose which has Raj Kapoor and Nargis written all over it. You can create a romantic charm drenching in rain and with just an umbrella over you. This will surely result in some wonderful romantic and candid photos.
What makes this iconic?
This pose is all about you and you can very well make it your own. It would explore the bond and chemistry that you both have and you can have so much fun while shooting it.
14. For Fun and Games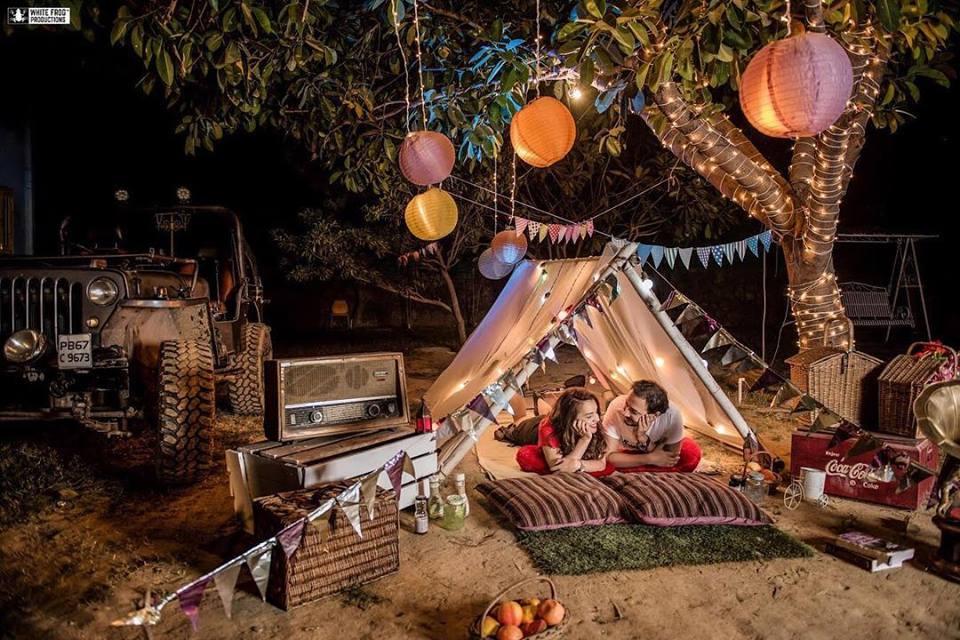 This is a very relaxed and fun pose to strike for your wedding album and will surely have many moment and stories attached to it. You can relax under a tent that would be perfect for a date and it can be a very good candid moment which your photographer can capture through his lens.
What makes this iconic?
Here, you would not need to worry about traditional poses, you can just be there, relax, be in your own moment and it would result in some wonderful candid shots that you would cherish for life.
15. The seaside story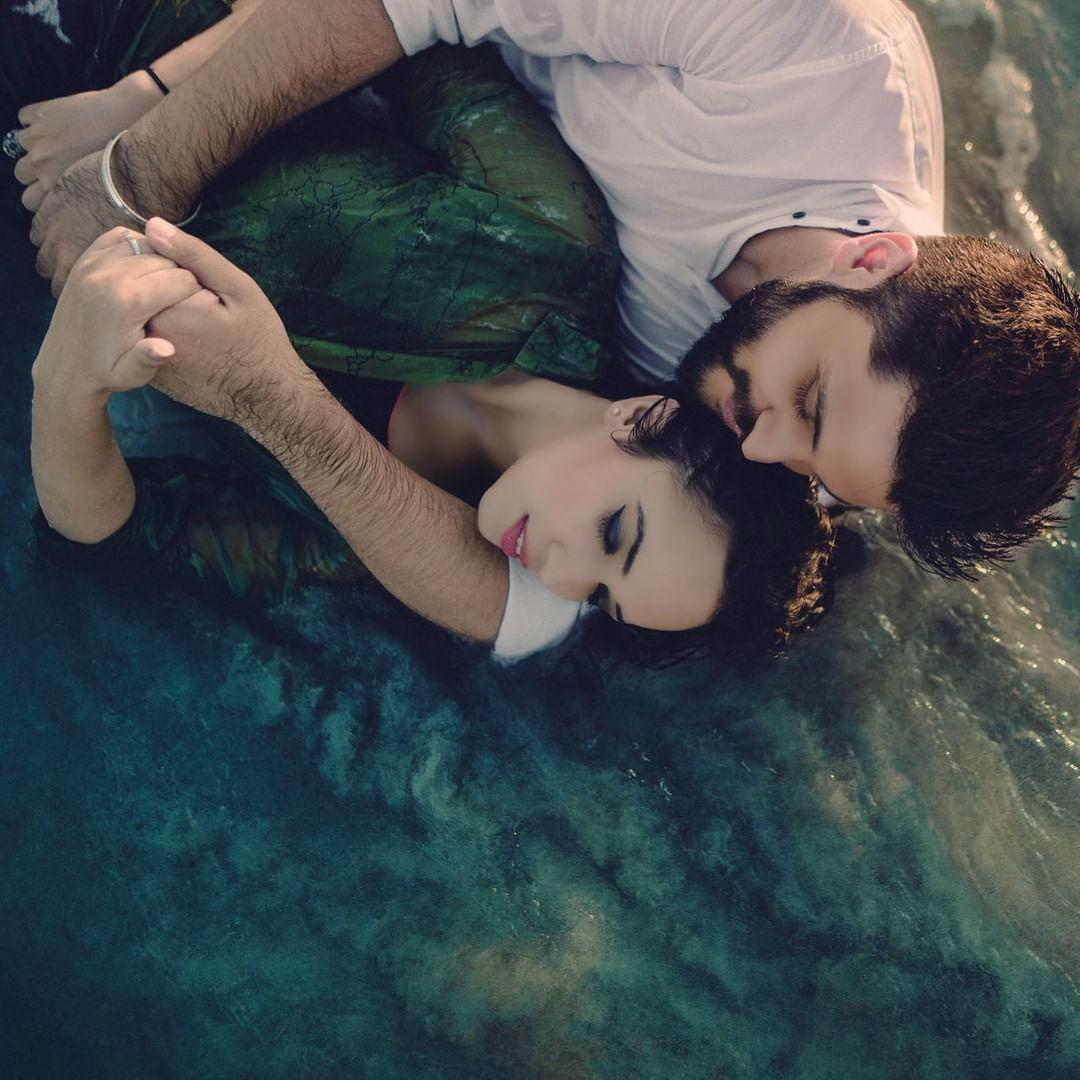 Relaxing in the arms of the one person that makes you complete, in a sea of chaos - we're getting major feels from these couple photoshoot poses! While a seaside shoot is not in itself a unique concept, what makes this work is the amount of detail that has been put into making this an effortless click.
What makes it unique
Lying down in each other's arms and relaxing in the salty water, while the photographer clicks the couple from the top. It's play on how intimate the two are with each other and how they belong together.
16. A play of passion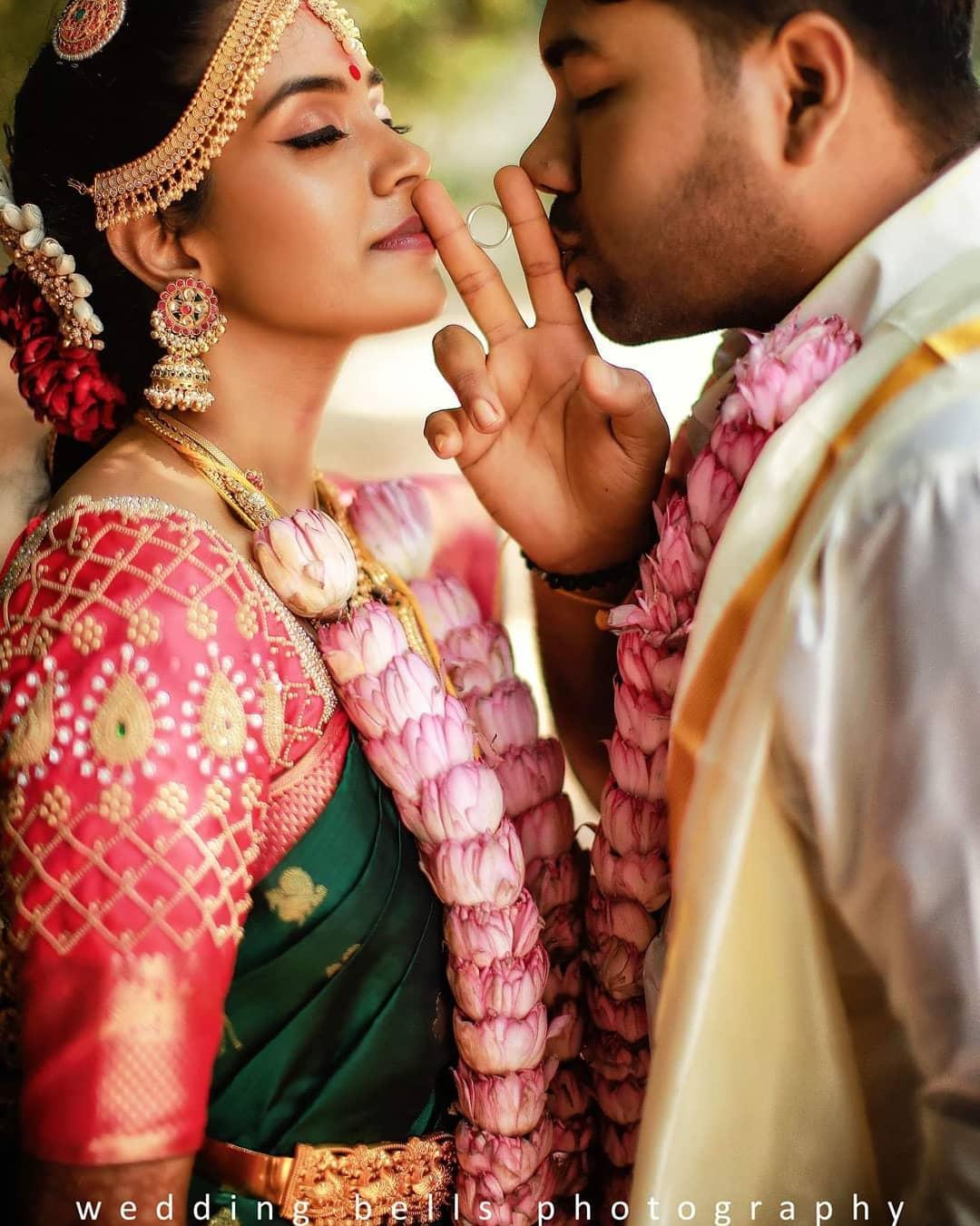 While kissing couples are becoming more common, holding up the ring between the two of them to indicate passion is what makes these couple photoshoot poses so unique. The couple stand close together, barely two fingers apart and are already lost in each other. Coming up with such a concept was a sure brainwave, especially as it goes on to suggest a lot more action than what you can see.
What makes it unique
This image signifies how lost a couple can become within each other - it's a delicate declaration of the passion that they hold for each other.
Couple photoshoot poses are all about you and who you are as a couple. You need to find that one thing that brings out the best in you. It's definitely not easy to strike bullseye in the first attempt but when you know what you want your pictures to say, it definitely makes it a lot easier.
Work with your wedding photographer and understand how this works. Take inspiration from these iconic couple photoshoot poses and go on to give your own power pose. If you think posing is not for you, keep it natural and just be yourself, forgetting there's a camera capturing every move. Sometimes the most beautiful pictures are the ones you don't force or pose for.
Do you have some couple photoshoot poses ideas of your own? Do share with all of us.