9 Romantic Couple Dance Songs That Are Perfect For Your Wedding Video!
No romantic couple dance is complete without the perfect song that captures the essence of your relationship! Pick any of these tracks to create a wonderful memory!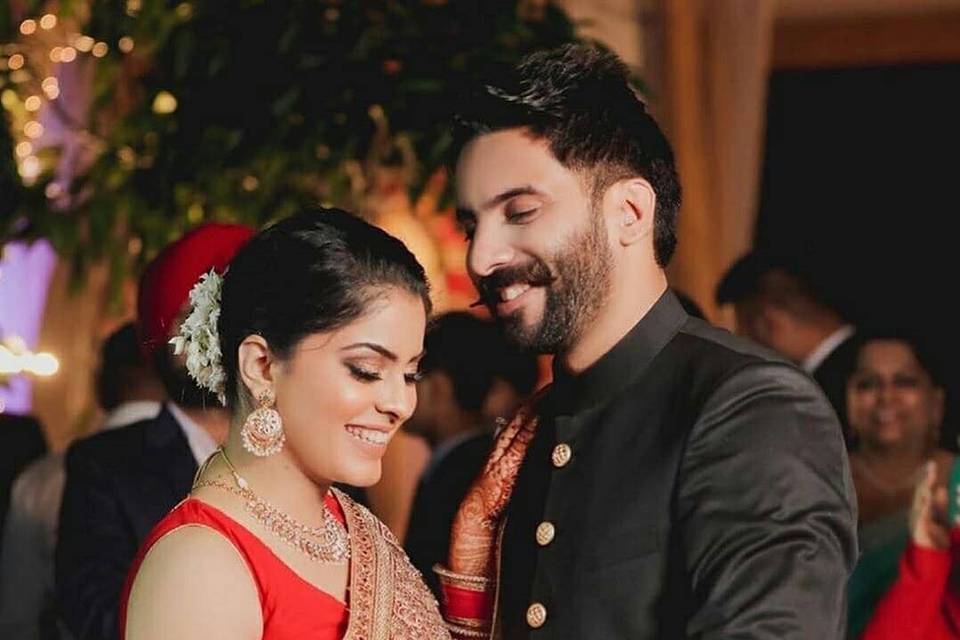 The romantic couple dance is the highlight of the new generation wedding video, which is why the music that plays in the background must be epic. Now, whether you're looking for a song that you and your bae can actually dance to, or are looking for a song to edit into the video over the dance moments (so that you can create a montage interspersed with other moments), we've got a great list of songs for you to check out!
The following sounds are perfect for your romantic couple dance and should definitely feature in the final video:
1. Ishq Di Baajiyaan – Soorma
This song from Soorma isn't just catchy, it's also one with fantastic lyrics that highlight the love the two of you share. The beats of the song ensure that it is fast enough for you to be able to incorporate varied steps, however, it's still a slower-paced love song that will allow you to dance while holding each other close. This is why it is ideal for your romantic couple dance!
Get in touch with a wedding choreographer who can show you two how to groove to its beats.
2. Jaise Mera Tu – Happy Ending
Many couples want to go down the traditional route when it comes to their romantic couple dance. What does this mean? It means that the choreography must mostly include a ton of swaying, a few SRK moments (with the arms spread wide), and ample opportunity for the bride to twirl and show off the Gheras of her lovely bridal lehenga.
We bet all your bridesmaids will be cheering you on from the audience (and secretly wishing they were as lucky as you were when you met your man!).
3. Nazm Nazm – Bareilly Ki Barfi
Bareilly ki Barfi is a film all about accepting women for who they are (and not always expecting them to fit into a neat little box of what others think an ideal woman is). If you feel like you've always been your own person (and your bae loves you for the same), then this is a great song choice for your romantic couple dance. With slow beats and romantic lyrics, your song selection couldn't be more on-point!
4. Agar Tum Saath Ho Maahi Ve – T-Series Mixtape
This mashup of Agar Tum Saath Ho and Maahi Ve is a great one because practically everyone loves these songs. It has sections sung by male singers and female singers so if you want your romantic couple dance to have more of a performance element, then this is a great one to pick!
5. Dekha Hazaro Dafaa – Rustom
This song is all about how the husband just cannot get enough of his wife, in spite of having spent some time with her already. If you feel your love for each other is undying and will stand the test of time, then you should choreograph your romantic couple dance to this beautiful number.
6. All of Me & Maula Mere – Pav Dharia
When people think of Pav Dharia, they mostly recall him singing Na Ja Na Ja and dancing away on a sand dune! Who would have thought that he would make it to a list of songs that are ideal for a romantic couple dance? This medley is beautiful and definitely should be included in your songs list!
7. Sab Tera and Soch Na Sake – T Series Mixtape
Hardy Sandhu's Soch is pretty much an iconic song now, and many people like the Bollywood version, Soch Na Sake, too. This mix of Sab Tera and Soch Na Sake, is a great version that can be used not only for the romantic couple dance, but also for the video montage of every moment shared together during the wedding ceremony!
8. Wonderwall – Ryan Adams
Wonderwall by Oasis is a classic, but if you are looking for a slower version of the same, check out the cover by Ryan Adams. It is a great song for the wedding video because it allows the videos and pictures to be the hero, rather than overpowering everything with loud music. We are sure that you and your wife will reach for each other automatically every time this song plays on the radio!
9. Say you won't let go – James Arthur
This is a fantastic song for your romantic couple dance. We can bet that all your guests are going to feel a bit emotional the minute this song plays and you guys start dancing!
Music is one of the most powerful tools you can use to express yourself. So, take great care while looking for the right songs for your romantic couple dance! In case you think there are a few other songs we should be talking about, let us know!
Make sure the music at your Sangeet is a hit too! Get in touch with these wedding DJs!