Pearl Jewellery Designs With Price Options You Need to See Now
Confused about which necklace style to choose for your big day? Well, we have a list of ace pearl jewellery designs with the price that'll fit your budget.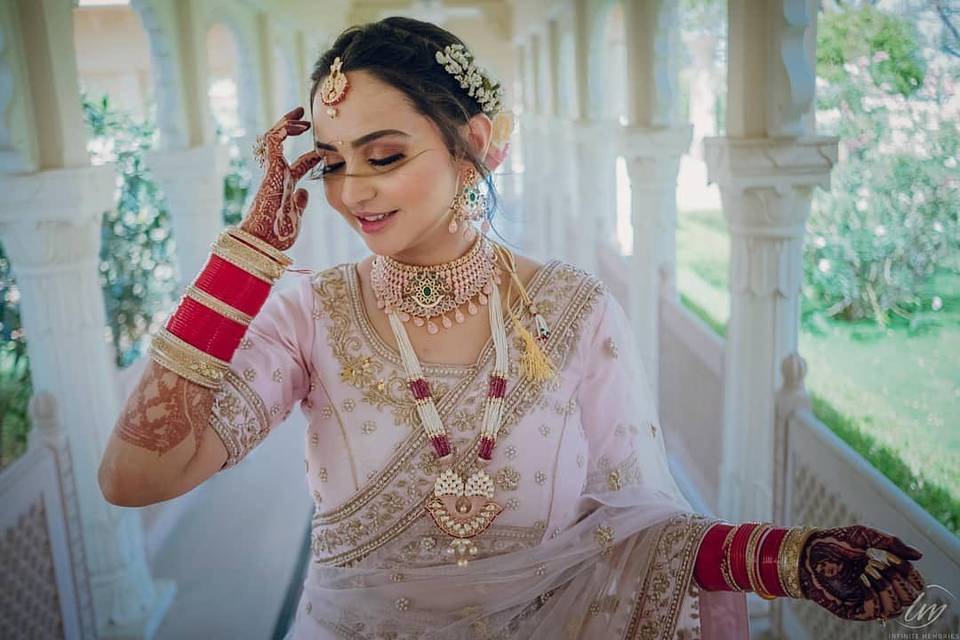 Pearl jewellery has been a bride's favourite for many years now. The only thing that has changed over the years is the necklace styles. Pearls are perfect for bridal jewellery as they add the delicacy to the necklace, balance the colour palette with the other gemstones and also make sure that it goes well with any bridal lehenga.
While we were looking at some of the best pearl jewellery designs with price for you, we figured that another element that is of key importance in today's day and age is the styles of the necklace that you're choosing. Hence, we decided to zero down on our favourite pearl jewellery designs with price in every popular bridal necklace style category.
If you're a bride that has minimal knowledge about jewellery and are thinking that all the popular bridal necklace styles may confuse you, don't worry. Our ace list of pearl jewellery designs with price comes with handy style tips that'll assure you if you're making the right choice for your bridal lehenga or not. So do not think any further and trust us to make just the right choice for you.
Rani Haar With Multiple Pearl Strands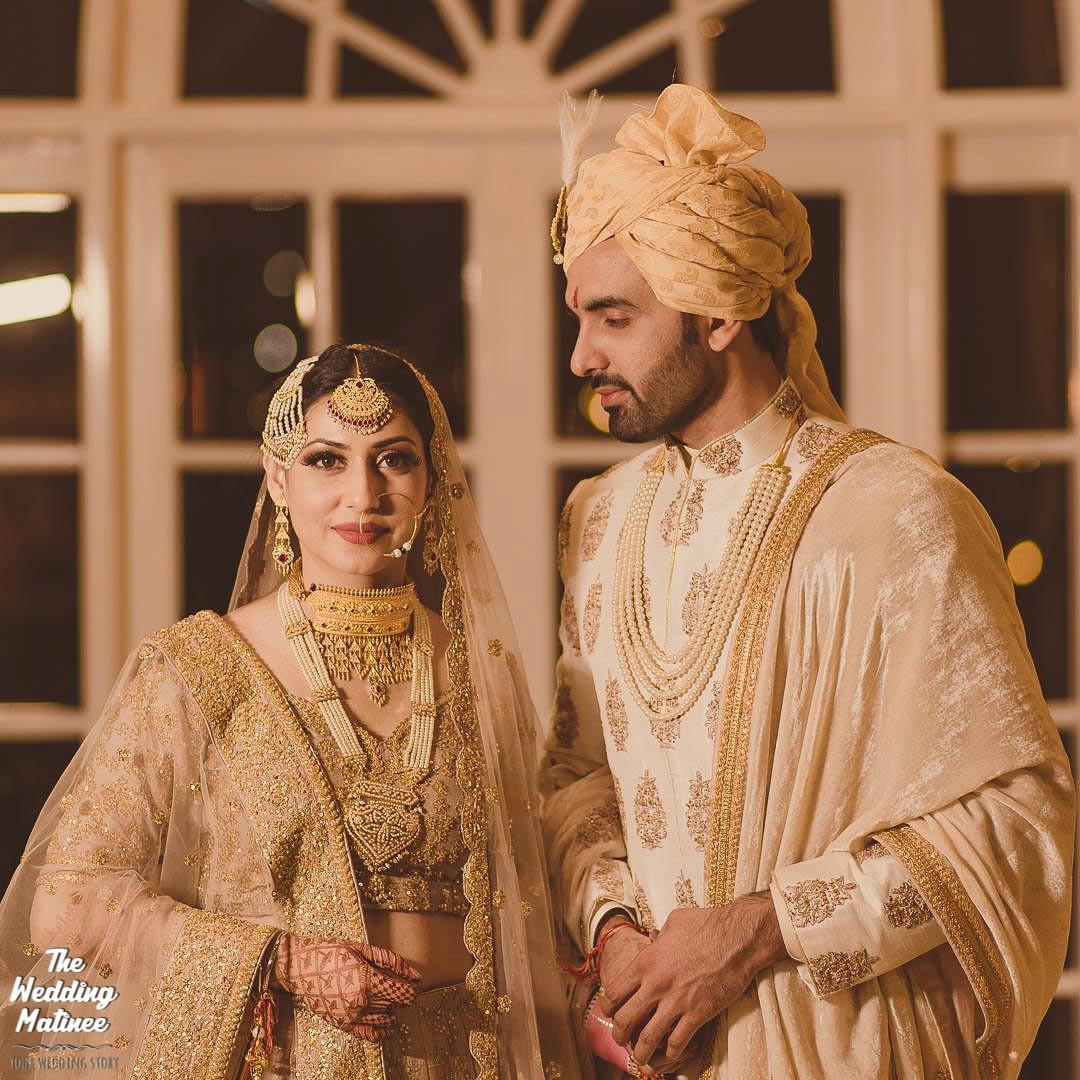 If we're talking about bridal jewellery, then Rani Haar is undoubtedly the first to come to our minds. It is not only the most royal looking bridal necklace style but also one that goes with any kind of bridal ensemble. For those of you that don't know what Rani Haar looks like, it is a single or multi-stranded long necklace that usually has a big pendant.
Our Pick: This beautiful Rani Haar with multiple strands of delicate pearls and a chunky pendant at the bottom is one of the best pearl jewellery designs with price that are not sky-high. This one is for our brides that are looking for a regal look on their big day.
Estimated Price Range: ₹4,00,000 and above
Styling Tip: For brides that are wearing a plain blouse or one that has a plain yoke must pair this Rani Haar with a choker necklace to make sure that they do not look too simple. Go for a deep V-neck blouse with this Rani Haar to make sure that the length of it doesn't look odd on you.
Choker Necklace With Big Pearls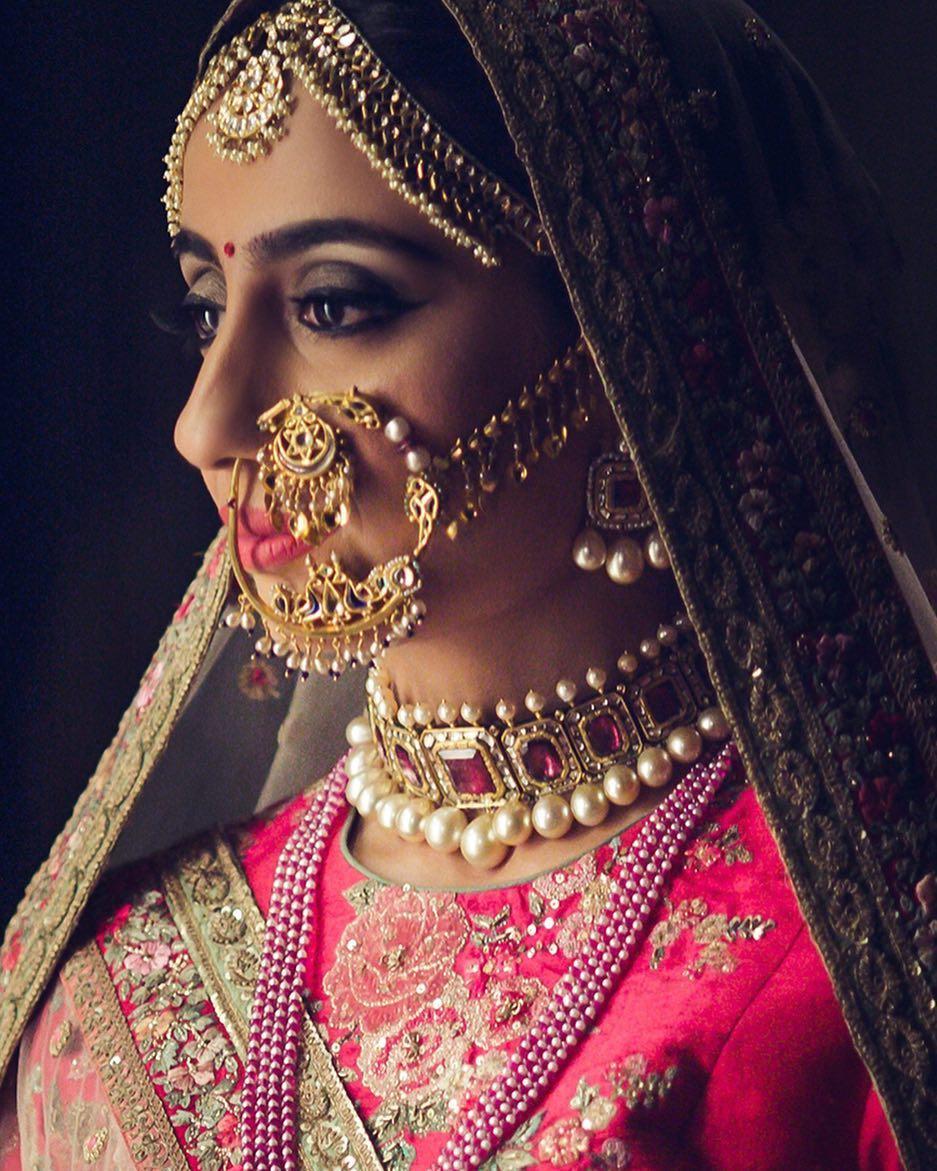 Choker necklaces are every millennial bride's favourite. Apart from being a western influence, there is nothing about the bridal choker necklace that is western. However, we have to agree that there was a brief period of time a few years back when the choker trend had almost become obsolete. But now that it's back, we are happier than the brides are. The reason why every bride loves this trend is that it gives a slimming effect to their face and body while making their neck seem longer.
Our Pick: Amongst a gazillion pearl jewellery designs with price that fits your budget, we wanted to pick something extraordinary for you on your big day. This one is popularly called as the Jadvi Laccha choker that has rubies embedded on it and small and big pearls around it making it look like the perfect choice for a bride's special day.
Estimated Price Range: ₹1,00,000 and above
Styling Tip: While emeralds, rubies, and pearls are all stones that make a bridal choker necklace work, they look the best when paired with V neck or strapless necklines.
Satlada With Pearl Strands and Pear Drops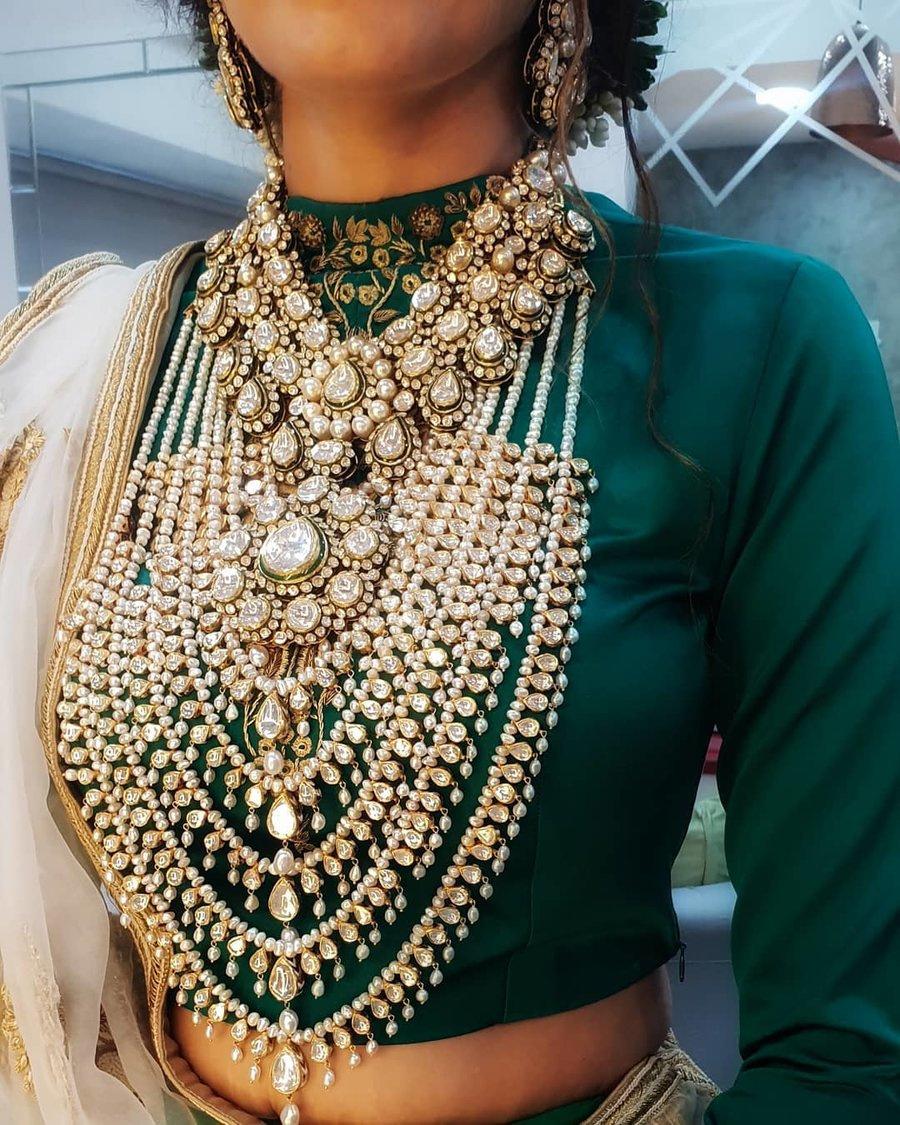 Image Courtesy: Orange the Salon
Satlada for most brides is one of the most delicate yet the most ethereal looking necklace style. While some may think it to be a type of Rani Haar, the truth is that it looks very different from any other necklace style including the Rani Haar. As the name suggests this one has seven layers of pearls or gems that come up till their waist making them look nothing less than a dramatic dream.
Our Pick: Amongst all the pearl jewellery designs with price that are pocket-friendly, the Satlada is a popular bridal necklace style that looks the best with pearls. Just like this beautiful Kundan Satlada with pearl strands and pearl drops all over is what we call as a masterpiece for the wedding day.
Estimated Price Range: ₹80,000 and above
Styling Tip: From low scoop necklines to sweetheart neck blouses, there is a long list of styles that a Satlada works well with. For brides that have a fairly simple blouse, this Satlada design is what can make your blouse stand out on your wedding day.
Gulbandh or Princess Necklace With Pearls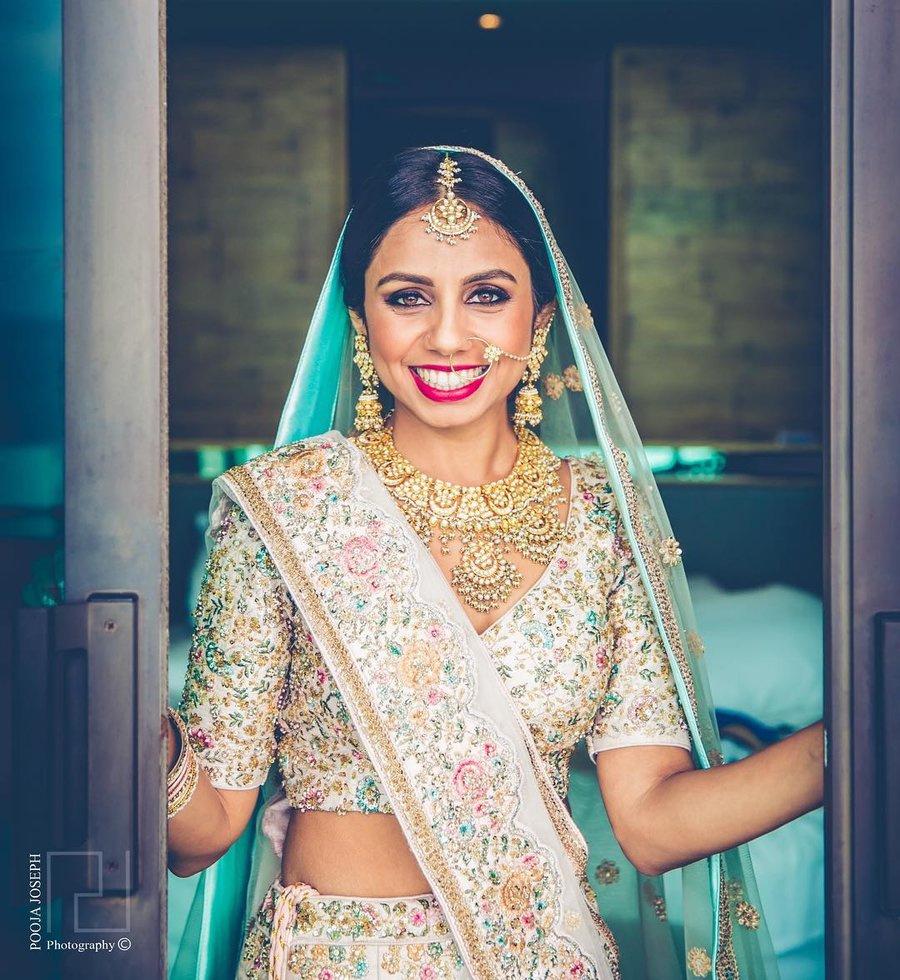 Image Courtesy: Pooja Joseph Photography
For those of you who have no idea about what a Gulabandh necklace is, it is one that sits below your collarbone and has a flattering length. Gulbandh is one of the most graceful and classy necklace styles that the brides of today love. With thousands of options to choose from, the princess necklace that has pearl jewellery designs with price as exclusive as the necklace is, has to be the one that catches your attention almost immediately.
Our Pick: This beautiful Kundan Gulbandh with moon-shaped hangings all around is one of the sleekest pearl jewellery designs with price a little on the higher end. This one is for our brides that want to go with something classic and yet want to add a touch of modernity to it. The Kundan Gulbandh being the classic choice and the Chand hangings adding a millennial touch to it, we are sure you're already convinced to choose this one for your big day.
Estimated Price Range: ₹3,00,000 and above
Styling Tip: Gulbandh necklaces when paired with crew neck blouses amp up the look of the blouse, especially if you're going with pearl jewellery designs with price as high as you wish to nail your look on your wedding day. For the brides that do not like crew neck blouses, make sure you choose a neckline that enhances the look of your princess necklace, like the one we picked for you would look best with scoop or V neckline.
Aadh Necklace With Pearl Details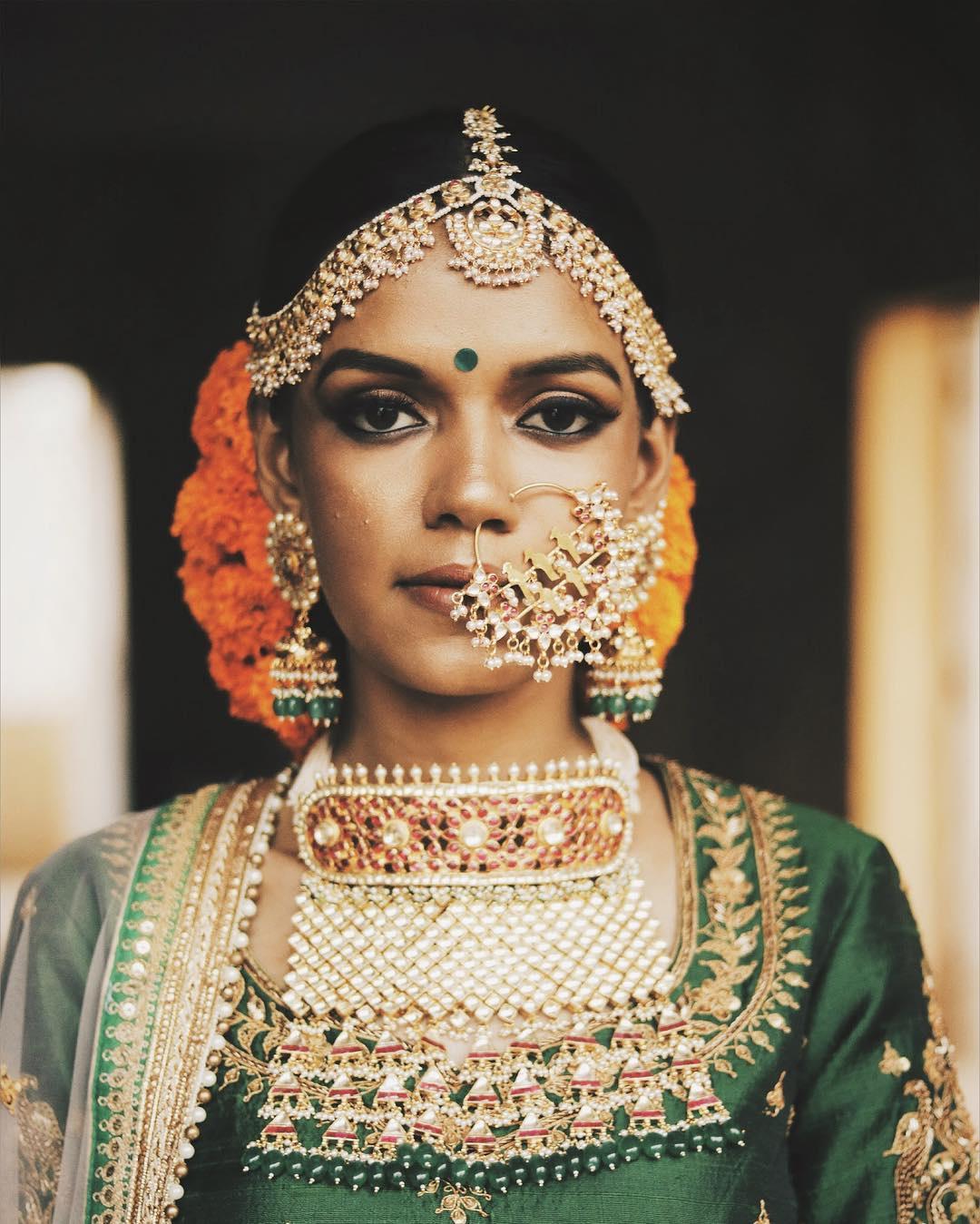 The most basic way to describe a traditional Aadh necklace is that it is like a choker necklace continued with strings of triangles in a geometrical shape. The Aadh necklace is a Rajasthani necklace style and is one that almost comes up till the chest, making it a more viable option for brides that have a maximalist style.
Our Pick: While we love picking something out of the box, for Aadh necklace we thought it would be apt to go with a traditional choice that has rubies and emeralds along with Kundan triangles decorate with tiny pearl details all around. This is one of the most dramatic pearl jewellery designs with price absolutely appropriate for the kind of look it gives the bride.
Estimated Price Range: ₹2,50,000 and above
Styling Tip: Traditional jewellery with a traditional outfit is a concept we all know of, but for the millennial brides we'd suggest to go with a slightly less traditional outfit and ensure that their jewellery becomes the highlight of the look. However, since your Aadh necklace is OTT traditional, make sure that all your other jewellery and accessories are equally traditional too.
The Bib Necklace With Pearls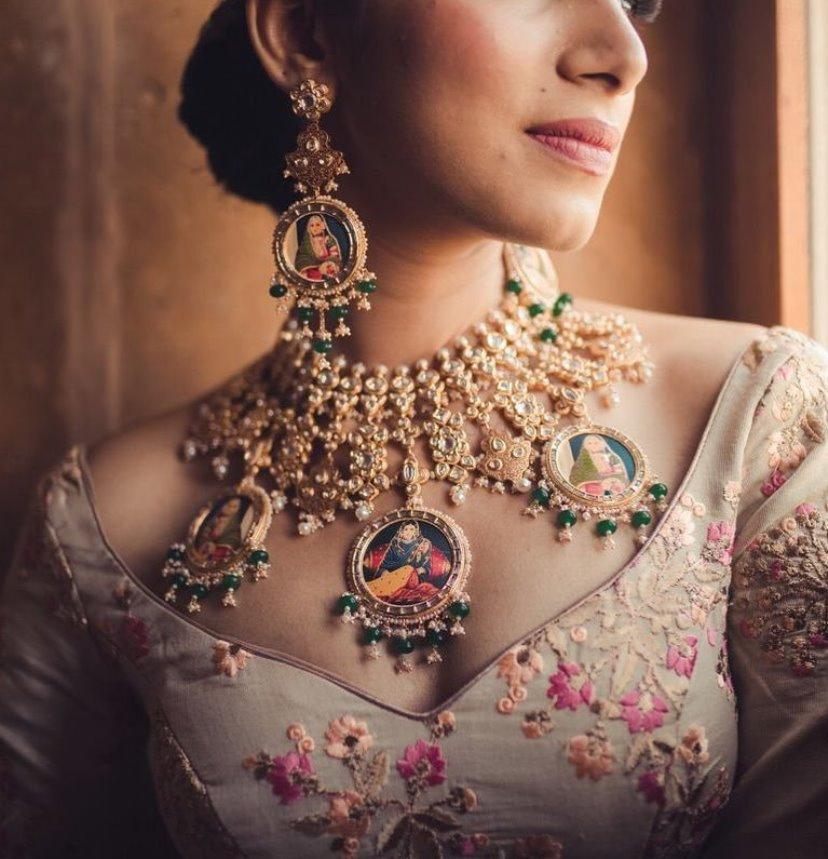 Have you ever observed a child's bib carefully? Well, then you can fairly imagine what a bib necklace would look like. It is one that is shaped just like a child's bib while they can be differentiated depending on how heavy or light it has been made to look. Some bib necklaces are so heavy that you can hardly see the bride's skin beneath, while some play with designs in a manner that it looks heavy while being extremely delicate and minimalistic too.
Our Pick: While choosing one the most common bridal necklace style we kept in mind to be a little less traditional and pick something that is eccentric just like our brides of today. Therefore this unique Kundan bib necklace with antique portrait hangings and delicate pearl detailing is what will get all the eyeballs on you for your big day.
Estimated Price Range: ₹1,50,000 and above
Styling Tip: Bib necklaces look best when paired with low neck blouses and because they are slightly bigger than most other styles and seem a little OTT, it is always better to keep the earrings comparatively simpler. You do not want to overdo anything on your big day especially when going in for pearl jewellery designs with price as high as this eccentric design.
Navratan Necklace With Pearl Drops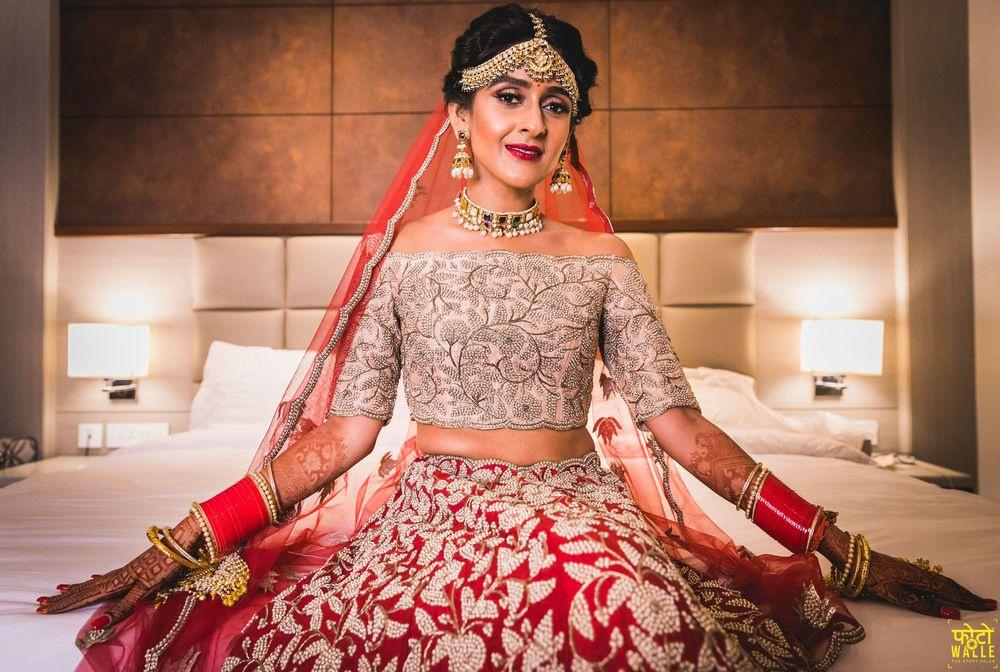 While this is known to be an unusual choice for brides on their big day, the fact is that the different coloured gemstones in a bridal necklace adds colour to the attire making the bride look extraordinarily vibrant. The nine different precious and semi-precious gems used in a Navratan necklace are pearls, emerald, ruby, red coral, yellow sapphire, diamond, blue sapphire, cat's eye and hessonite.
Our Pick: While Navratan gems look good in any necklace style, we've chosen a minimalistic choker pattern for you with big pearl drops around the neck to make it look even more graceful. This one is truly for the brides that have a minimalistic style and are looking to go for a less traditional look.
Estimated Price Range: ₹2,00,000 and above
Styling Tip: As all the nine precious and semi-precious gemstones are extremely eye-catching, you must pair them with lighter shades of bridal lehenga like peach, lilac, grey, and beige. For those wanting to go for the darker shade can go for a pink, reds and orange as they are Indian traditional colours that will look good with the Navratan necklace.
All our pearl jewellery designs with price in popular bridal necklace styles are some of the best choices that the brides of today must shortlist from. For your big day, we want nothing but the best for you and therefore our list of pearl jewellery designs with price are limited and exclusive just like your taste.
Tell us in comments if these pearl jewellery designs with price helped you make the right decision.